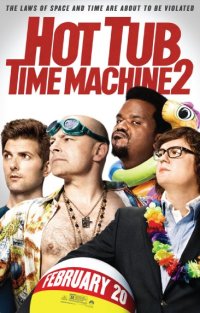 Craig Robinson, Rob Corddry, Clark Duke and Chevvy Chase have all returned for Hot Tub Time Machine 2.
John Cusack is conspicuously absent but Adam Scott joins the cast as Cusack's son twenty years in the future.
Rumors swirled about why Cusack did't return to the cast. He was too busy. "Guys, I'd love to do the sequel but I've been sooo busy."  This sounds more like an excuse why your friends never call you back and not why a major star doesn't return for a sequel.
The rumors swirled round and round…The film only made $50 million or, our favorite, his character arc had "peaked."
Um, this is a movie about a group of guys that get wasted and travel through time using a hot tub… we're pretty sure they could have written around Cusack's "arc" and found room for him into the script.
The more probable reason is that he just didn't want to do it. Or that he only travels to the 80s. Either way, we're bummed Cusack isn't returning but the flick looks like it should be a ton of fun.
Hot Tub Time Machines hits theaters on February 2o.