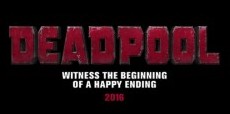 We've been waiting patiently ever since the Deadpool trailer from leaked at Comic-Con!
You probably saw the Deadpool trailer Christmas day since we're sure you're weren't surfing the Internet while spending time with your families, right? Ok, don't answer that!
Deadpool is based Marvel Comics biggest anti-hero and tells the origin story of a former Special Forces operative turned mercenary Wade Wilson (Ryan Reynolds), who is given accelerated healing powers after being exposed to a rogue experiment.
Armed with his new abilities and a dark, twisted sense of humor, Deadpool hunts down the man who nearly destroyed his life.
Deadpool also stars T.J. Miller as Weasel, Gina Carano as Angel Dust, Brianna Hildebrand as Negasonic Teenage Warhead, Morena Baccarin as Copycat and Ed Skrein as Ajax.
The film will also feature the mutant Colossus, voiced by Serbian actor Stefan Kapicic. ombieland writers Rhett Reese and Paul Wernick. Confirmed to be rated R, Deadpool is scheduled for a release on February 12, 2016.
Release date: February 12, 2016
(3D/2D theaters and IMAX 3D)
Studio: 20th Century Fox
Director: Tim Miller
MPAA Rating: R
Screenwriters: Paul Wernick, Rhett Reese
Starring: Ryan Reynolds, Morena Baccarin, T.J. Miller, Gina Carano, Ed Skrein, Brianna Hildebrand
Genre: Action, Adventure
Duration: N/A
Copyright Holder: N/A
Copyright: N/A
Official website: Deadpoolwebsite.com| Facebook| Twitter| Instagram| Pinterest
Deadpool Trailer (Green Band version)
Red Band Version
Deadpool Trailer (Red Band version)
The 4th wall just got bigger. And digital. Happy #12DaysOfDeadpool! pic.twitter.com/0DIsTPId1d

— Deadpool Movie (@deadpoolmovie) December 22, 2015