W
hen it comes to celebrity idolization, every kid who grew up in the 1970s and '80s knew the ins and outs of their favorite
Star Wars
actors.
Adam Scott
was one of those kids. The 
Parks and Rec
star just appeared on 
Jimmy Kimmel Live
and dished on his love of
Mark Hamill
. Little did he know he was in for a huge surprise.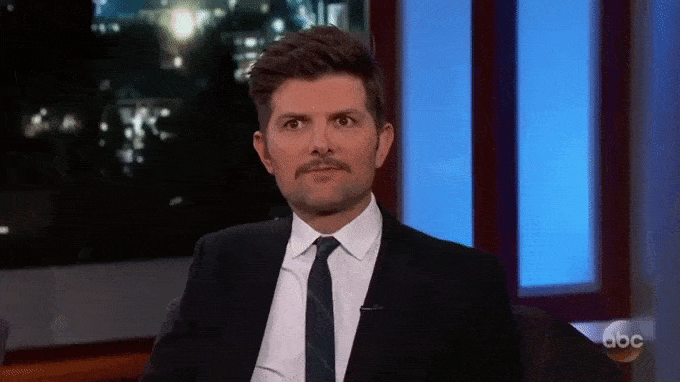 Adam Scott was telling Kristen Bell (who is guest-hosting for Kimmel temporarily) about how he invited Mark Hamill to his birthday party when he was a kid. Hamill stars as the iconic Luke Skywalker in the Star Wars films. "He didn't show up," Scott said. "I remember not being crushed or anything. It was fine. I knew he must have been incredibly busy. But I guess it was like two–"
Related: New Han Solo Anthology Characters Revealed for Star Wars Day
At that moment, he got cut off by a familiar sounding soundtrack. John Williams' score from Star Wars started playing as Scott looked befuddled. Then, the camera cut over to a dark room filled with stars and smoke. A solitary figure stood holding a green lightsaber. That's when Scott realized what was going on. "No, no way!" he said.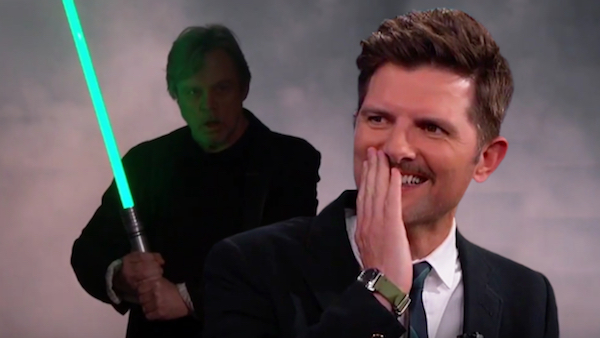 As Mark Hamill strode through the door, Scott shouted "No f-cking way!"
Hamill simply replied, "I'm sorry I missed your birthday."
Watch the video here:
Looks like Hamill more than made up for missing Adam Scott's birthday party. Chances are, he couldn't ask for a better gift.
–MovieSpoon Staff