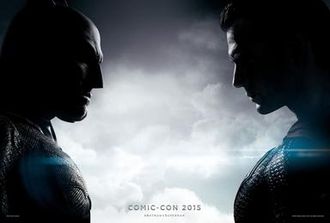 The cast of characters and the cast don't get more high-powered than the upcoming Batman v Superman: Dawn of Justice action thriller from Warner Brothers, which is due out March 25, 2016.
Yes, that's seven months away, but the prediction here is that the film will be one of the more highly anticipated films of 2016, especially after the Star Wars embarrassment (you heard me right) completes its retreat from theaters after a Christmas debut in 2015.
Batman v Superman will feature cleft of chin Ben Affleck as Batman and steely-eyed Henry Cavill as the Refugee from Kripton.
Wonder Woman will also make an appearance and the cast includes Laurence Fishburne,  Jeremy Irons, Holly Hunter, Gal Gadot, Jesse Eisenberg, Diane Lane and Amy Adams, playing, respectively, Perry White, Alfred Pennyworth, U.S. Senator Finch, Wonder Woman, Lex Luthor, adoptive mom Martha Kent and Lois Lane.
The film, directed by Zach Snyder, promises to be a departure from both the Batman and Superman films of old, as the feature characters become more haunted and human than ever. Enjoy the clip. Others to follow.