"The Nun" Scares Up Strong September Box Office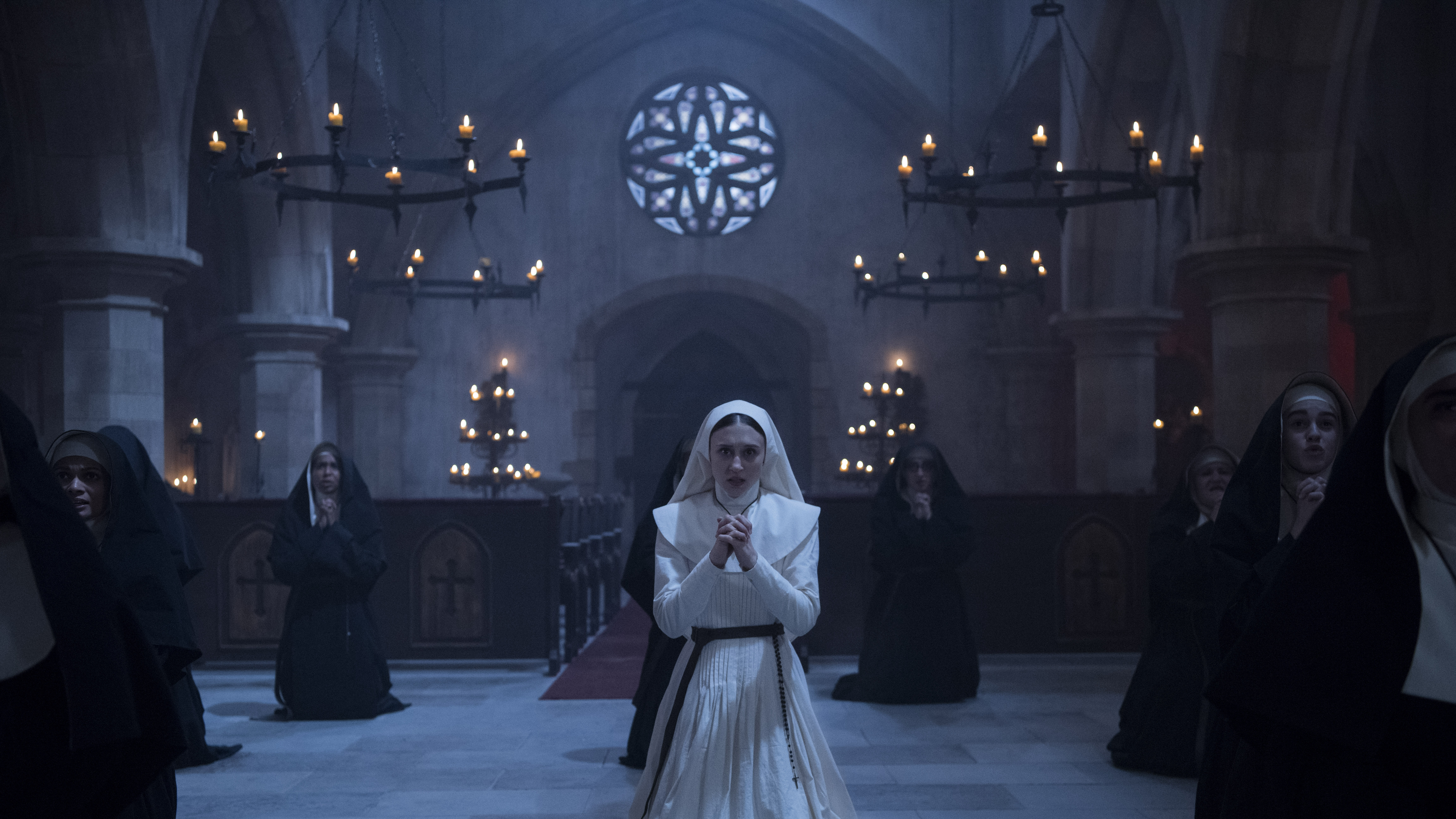 September has its first box office champion to topple August's hit of Crazy Rich Asians, and by a substantial amount at that. The Nun, a spin-off and prequel to The Conjuring 2's scary nun ghost in the painting, has earned an impressive $53.5 million for its debut weekend. That's an exceptional premiere to warrant the film's budget of $22 million, rather high for horror. The future is looking bright for The Conjuring franchise. Still, Crazy Rich Asians is still going strong as the romantic comedy of the year, grossing another $13.6 million for a domestic total now sitting at $136 million. With plans for a sequel already in the works and a chance at hitting $200 million, the film may very well carry deep into fall considering it's still in the top five after four weeks.
Also debuting to a decent take for the weekend is Peppermint, an action-oriented thriller starring a revenge-seeking Jennifer Garner. The film made $13.2 million in its first weekend which may be a bit disappointing for a $25 million budget, but it may have decent enough to legs to make a profit depending on how September shapes up.
Plenty of the returning films are holding on strong. The Meg, the shark movie with Jason Statham, has remained in the top five long enough to clear its budget, with a domestic total now at $131 million. Also sticking around is the social media thriller Searching, dropping only 25% to make $4.5 million for the weekend, the domestic total sitting at $14.3 million. And BlacKkKlansman, Spike Lee's comedy about infiltrating the Ku Klux Klan, is still hanging in the top 10, making another $1.5 million for a domestic total of $43 million, stunning results for a $15 million film in somewhat limited release.
View the full box office weekend results below.
The Nun ($53,500,000)
Crazy Rich Asians ($13,600,000)
Peppermint ($13,260,000)
The Meg ($6,030,000)
Searching ($4,515,000)
Mission: Impossible – Fallout ($3,800,000)
Disney's Christopher Robin ($3,196,000)
Operation Finale ($3,043,000)
Alpha ($2,505,000)
BlacKkKlansman ($1,565,000)
Next weekend will be a battle of a returning alien hunter and an odd thriller. The Predator, a remake of the alien franchise directed by Shane Black, will be in 3,900 theaters while A Simple Favor, a thriller directed by comedy director Paul Feig, will hit 3,000 theaters. Of the smaller releases are Pure Flix's latest religious picture Unbroken: Path to Redemption and the Matthew McConaughey starring cop drama White Boy Rick. There's little doubt that The Predator will swoop in to claim the weekend.
"Aquaman" Washes Out Christmas, "Bumblebee" and "Poppins" Close Behind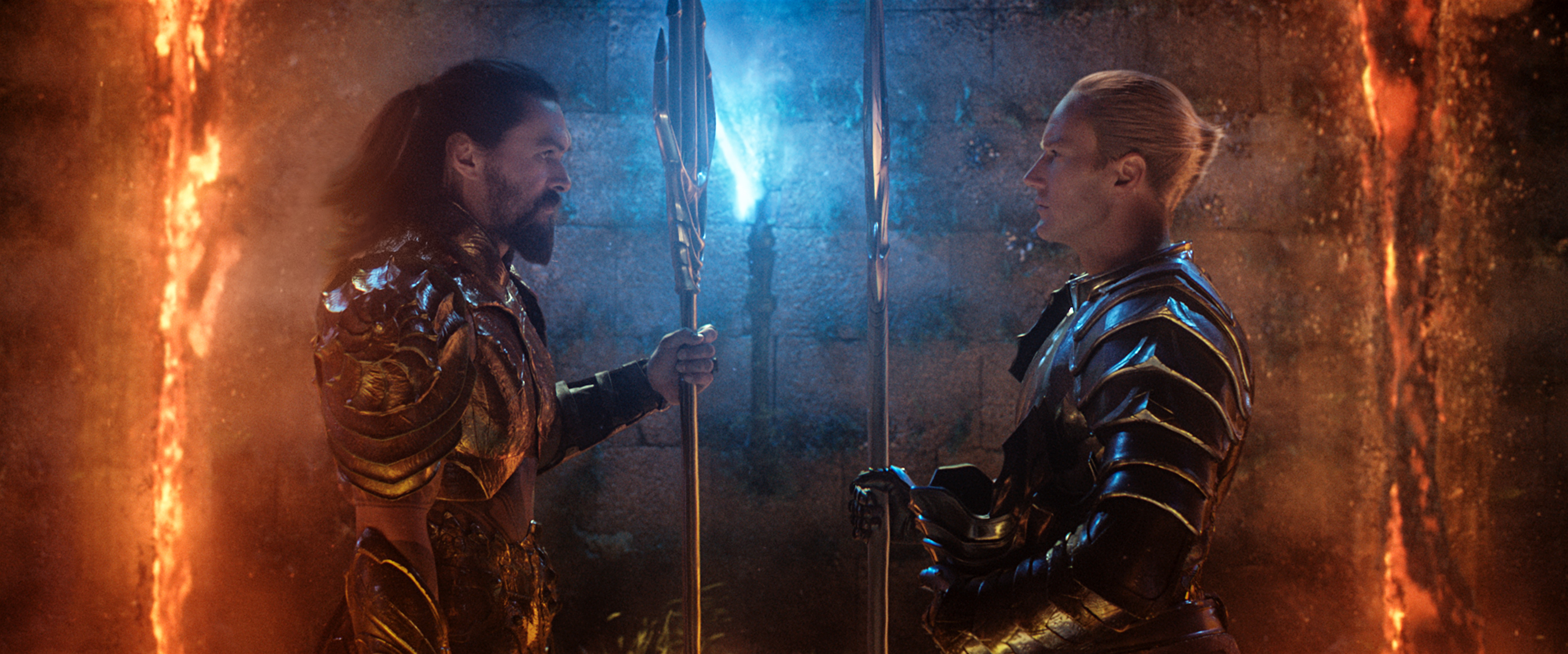 Christmas weekend was a savage one. All manner of genre films came out to play, eager to be the biggest blockbuster of holidays. But there could only be one winner and it was the king of the oceans. Aquaman, the Jason Momoa starring superhero epic based on the DC Comics character, arrived at #1 for the weekend with a domestic gross of $67 million. Though it has a ways to go as such an epic to make its money back, the film is off to an enthusiastic start.
Following closely behind Disney's Mary Poppins Returns, the sequel to the Disney musical classic now starring Emily Blunt, earning a weekend debut of $23.5 million. Despite opening early on Wednesday, the film still only made about $32 million which isn't looking especially strong for Disney during the holidays. This is especially concerning given that the film is a close call for the #2 slot as Bumblebee, the Transformers spin-off of the titular heroic transforming robot, came up with a $21 million gross. That being said, Bumblebee's opening is concerning given the big opening grosses of the previous Transformers film that were usually massive.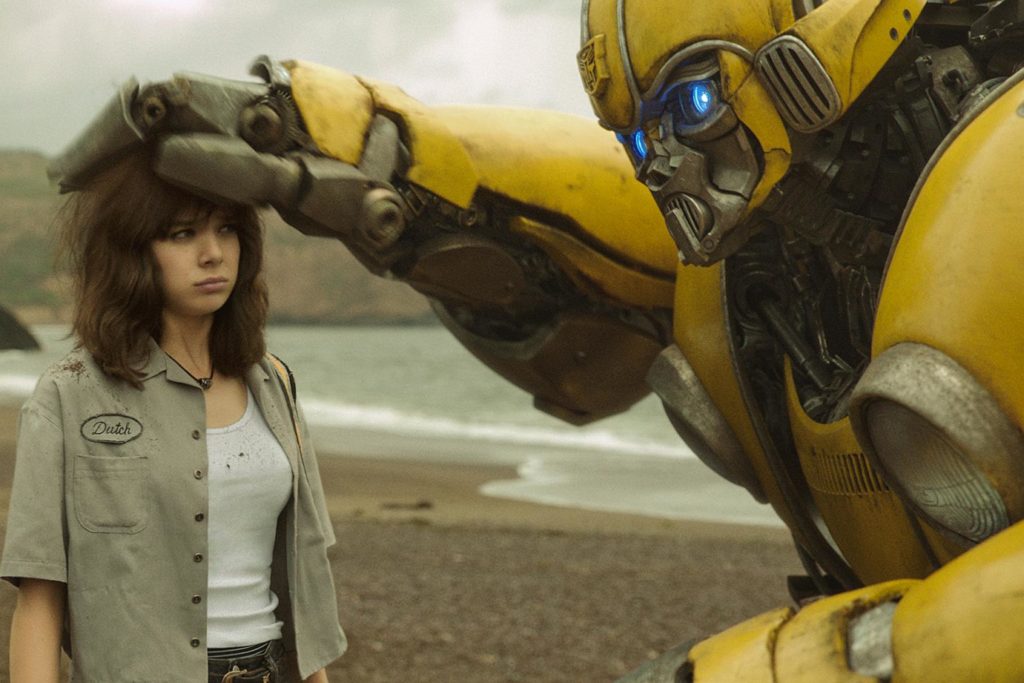 But that's nothing compared to the low debuts of the films that were not intended as genre blockbusters. Second Act, a romantic comedy starring Jennifer Lopez, would debut at #7 with a domestic gross of $6.4 million. Even further down the list is Welcome to Marwen, the new Robert Zemeckis directed drama starring Steve Carell, came in at #9 with a box office of $2.3 million. Brutal.
View the full top 10 box office results below:
Aquaman ($67,400,000)
Mary Poppins Returns ($23,523,121)
Bumblebee ($21,610,000)
Spider-Man: Into the Spider-Verse ($16,635,000)
The Mule ($9,727,000)
Dr. Seuss' The Grinch ($8,548,370)
Second Act ($6,480,000)
Ralph Breaks the Internet ($4,702,425)
Welcome to Marwen ($2,366,560)
Mary Queen of Scots ($2,277,820)
Next weekend may be a bit of quiet one as we shall see how the films released on Christmas Day will fair. Holmes and Watson, the new Sherlock Holmes comedy starring Will Ferrell and John C. Reilly, opens to 2,700 theaters. Vice, Adam McKay's new biopic dramedy about Dick Cheney with Christian Bale playing the character, is opening to 2,300 theaters. Stan & Ollie, a biopic on Laurel & Hardy starring Steve Coogan and John C. Reilly, will be in a limited number of theaters on December 28th.
First Box Office Weekend of 2019 Finds "Aquaman" King (Again)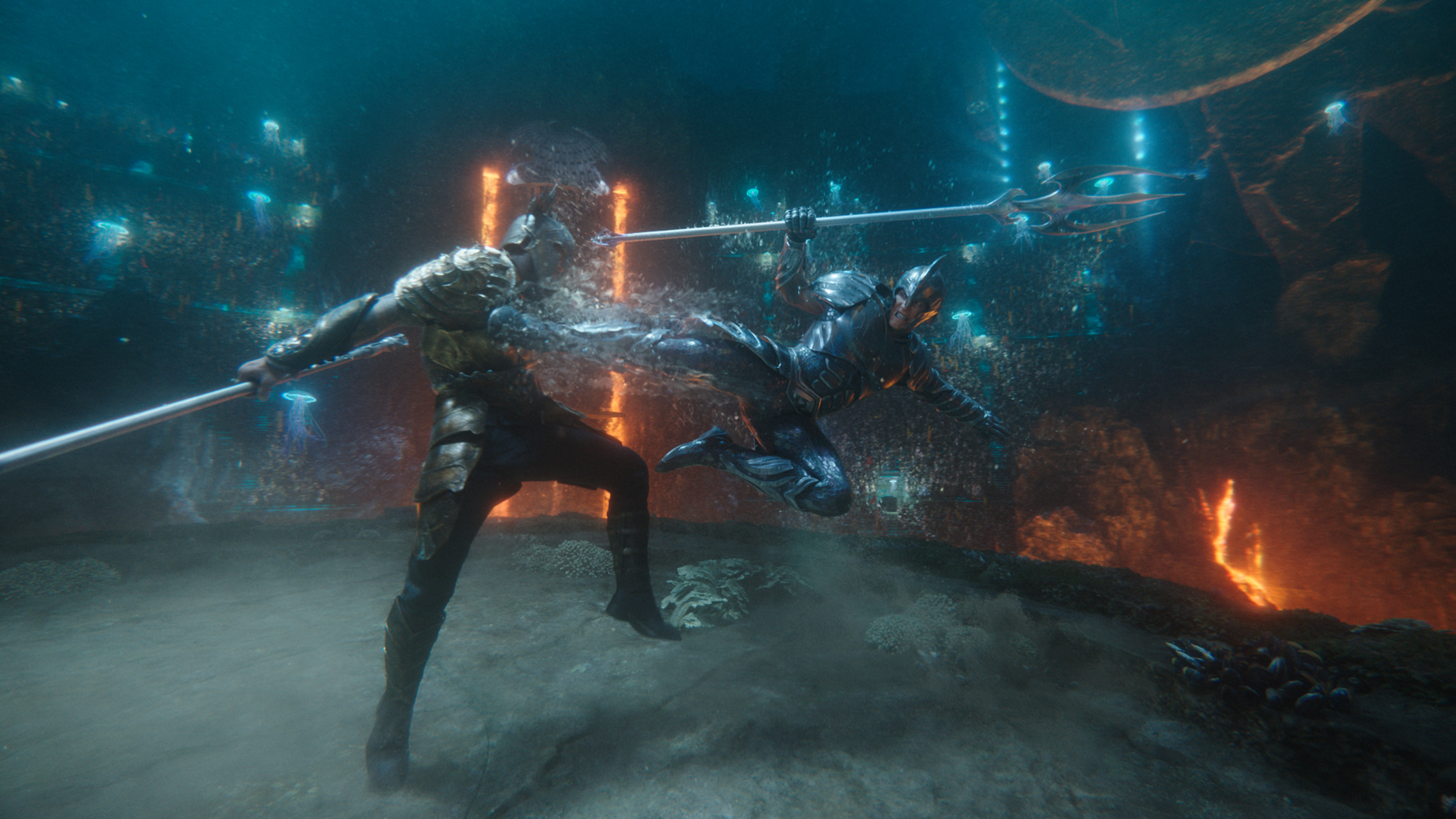 It's a new year and so we enter into the chilly month of January, usually reserved for Oscar nominations to strut their stuff and mediocre-to-decent films to swoop in and make a mint. Similar to last year, the first big new film a lukewarm horror picture. Escape Room, the horror film based on the party activity craze of escape rooms, debuted at #2 with a decent January take of $18 million. Not a terrible opening at all for such a horror film but most of its bigger gross was eaten up by Aquaman, the DC superhero epic that continues to make waves. Even though the film took a 41% dip from last weekend, the movie has currently $259 domestic with a worldwide gross total of $940 million. It's a big success for DC Comics trying to catch up with Marvel Comics at the box office and Aquaman is still looking good coming into a slow January.
With Escape Room being the only major release, there are no big surprises for the shifting of placement. Mary Poppins Returns holds firm as a family film for winter, the domestic total now sitting at $138 million. Spider-Man: Into the Spider-Verse, having recently won the Golden Globe for Best Animated Feature, is still just below with a domestic gross of $133 million. Still struggling to crack $100 million is Bumblebee, the Transformers spin-off. Despite being the highest-rated Transformers movie by miles, the film has only made $97 million after three weekends.
The longest holdout in the top 10 box office is Ralph Breaks The Internet, Disney's cyberspace adventure sequel. Released during Thanksgiving, the Disney animated film has to date made $187 million domestic after seven weekends. Just below it, however, is a film that has been in theaters for two weekends but has already seen a massive drop, Holmes and Watson, making headlines for being one of the worst films of the year with a descending box office.
View the full top 10 box office for the weekend below:
Aquaman ($30,700,000)
Escape Room ($18,000,000)
Mary Poppins Returns ($15,773,000)
Spider-Man: Into the Spider-Verse ($13,010,000)
Bumblebee ($12,775,000)
The Mule ($9,040,000)
Vice ($5,803,490)
Second Act ($4,910,000)
Ralph Breaks the Internet ($4,685,000)
Holmes and Watson ($3,400,000)
Next weekend will feature some bigger competition of dogs, clones, and soft human drama. A Dog's Way Home, a spiritual sequel to A Dog's Purpose, will debut in 3,000 theaters. Replicas, a sci-fi thriller starring Keanu Reeves, will hit 2,500 theaters. The Upside, a dramedy where Bryan Cranston plays a paraplegic and Kevin Hart is an inept assistant, will premiere to 3,000 theaters. The battle is ultimately between A Dog's Way Home and The Upside but I'm willing to bet a PG dog movie will take the top spot or about as high a spot it can muster with Aquaman still in play.
"The Upside" Topples Over "Aquaman", "Dog's Way Home" Trails Behind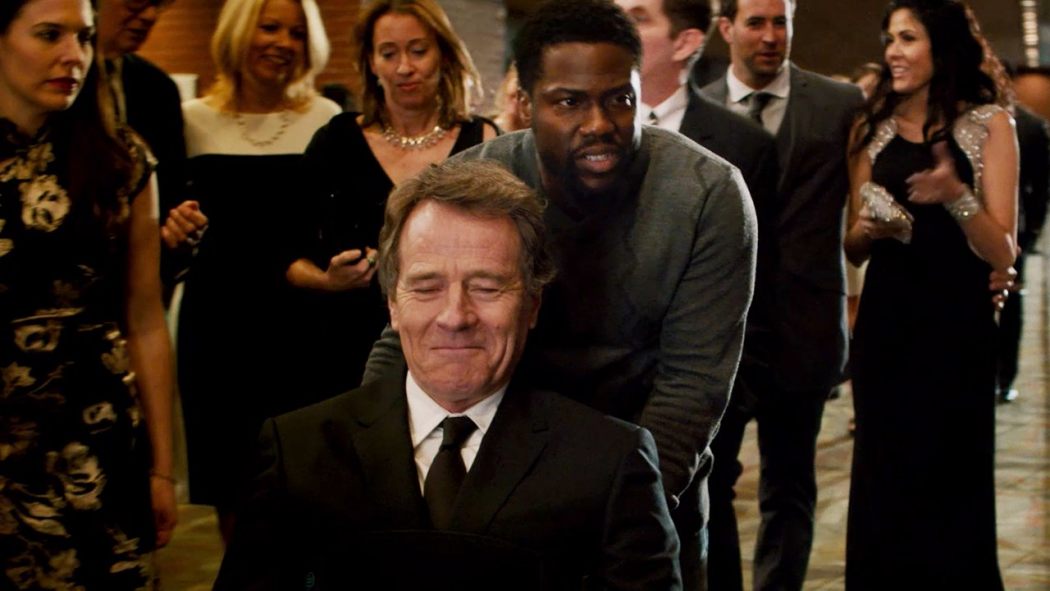 Delving deeper into January, the King of the Ocean has finally been toppled by a thin wave of the right drama at the right time. The Upside, the paraplegic dramedy starring Bryan Cranston and Kevin Hart, debuted at #1 for the weekend with a domestic gross of $19.5 million. It wasn't exactly a huge opening but it was just high enough to conquer over Aquaman. The DC Comic book character played by Jason Mamoa has been the biggest money-maker since its debut before Christmas and it continues to grow in box office even after being bumped down to #2. In its fourth weekend, the superhero epic made $17 million, the domestic total now sitting at $287 million. Worth noting is that the international box office is now sitting at over $1 billion.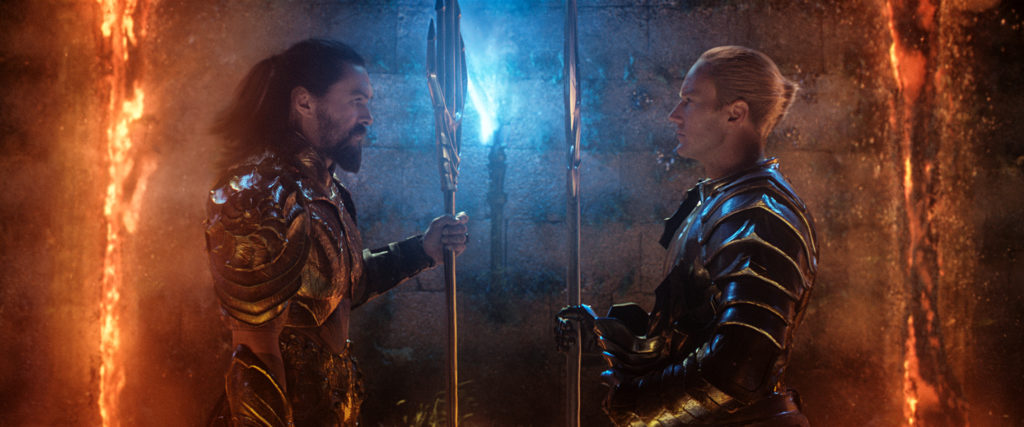 Another premiere for the weekend trailing slightly behind is A Dog's Way Home, the spiritual sequel to the dog drama A Dog's Purpose. The film came in at #3 with a domestic gross debut of $11 million. Not a terrible opening for the $18 million dog movie, fairing far better than the other debut, the sci-fi thriller Replicas, which was so low it's not even in the top 10.
Spider-Man continues to prove he has the moves to stick close to the top in the box office since its December debut. In its fifth weekend, the animated superhero adventure made $9 million with a total of $147 million domestic. Considering the movie moved up slightly from its spot last weekend with a rather low percentage drop, expect Spider-Man to hang around until the end of January and maybe a bit into February.
Expanding this weekend and shooting up in the box office is the Ruth Bader Ginsburg biopic On the Basis of Sex. After blowing up into 1,800+ theaters, the film made a weekend gross of $6 million, boosting its domestic total to $10.5 million. It probably won't stick around too long as January continues to crowd for awards season but we'll wait and see how much staying power it has over the coming weeks.
View the full top 10 box office results for the weekend below:
The Upside ($19,590,000)
Aquaman ($17,265,000)
A Dog's Way Home ($11,300,000)
Spider-Man: Into the Spider-Verse ($9,000,000)
Escape Room ($8,900,000)
Mary Poppins Returns ($7,215,000)
Bumblebee ($6,775,000)
On the Basis of Sex ($6,227,000)
The Mule ($5,545,000)
Vice ($3,278,644)
Next weekend will be all about Shyamalan Glass, the sequel to 2016's Split, will be hitting 3,500 theaters. Does director M. Night Shyamalan still have the box office draw for his closure of a trilogy? Stay tuned for next weekend to see if he can best Aquaman and The Upside for the top spot.