"The Happytime Murders" is Filthy Fluff Without Cleverness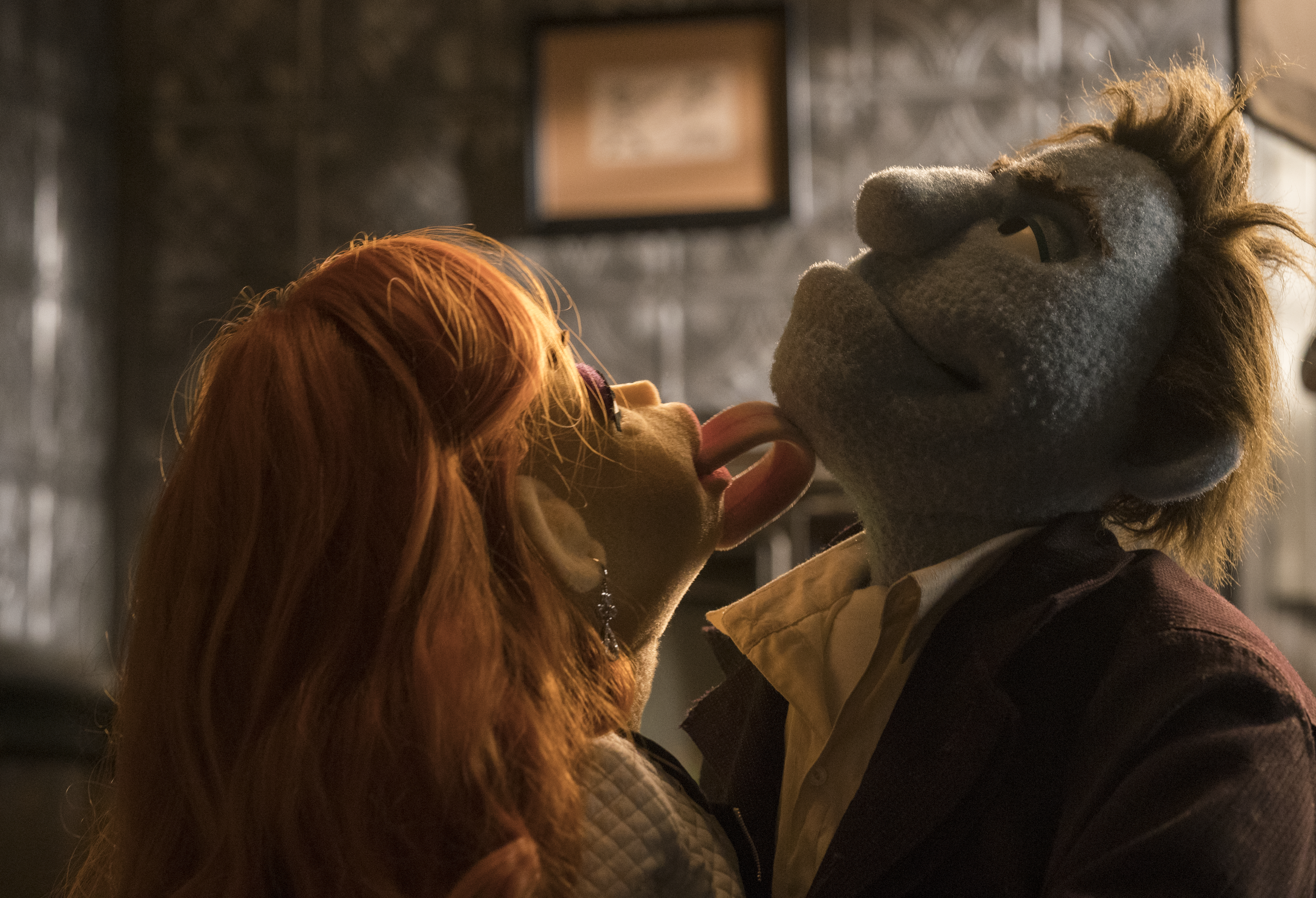 The humor, no, the entire appeal of The Happytime Murders is about how funny it is that puppets are inserted into a detective story. I'm sure it was probably a refreshing break for director Brian Henson to cut loose from the usual wholesome tone of the Muppet movies and go nuts with profanity, sex, and violence. But once all the blood and other bodily fluids have settled on the rotten cotton, what more does the farce have to offer? Not much, as it turns out. The film hopes you'll be so grossed out by the sight of an octopus sexually stimulating a cow you won't mind the gag repeated three times.
Phil Philips is the private detective of the darkly comedic crime picture. He's a puppet and exists in a world of other puppets that have been treated as second-class citizens. They're paid little, openly spoken of as freaks, and become easy targets for dogs to rip them to shreds. They have puppet hospitals, puppet pornography, and even their own puppet cocaine, which looks more like the lethal version of Pixy Stix. Puppet police were almost a thing until one bad incident with Phil that got him kicked off the force and straight into the bottle.
Phil's latest case involves a series of murders against the cast of the mostly-puppet 1980s sitcom The Happytime Gang. For the grizzly case, or about as grizzly as exploding fluff can seem, he teams up with his former partner Detective Connie Edwards, played by a snarky and foul-mouthed Melissa McCarthy. They rekindle their relationship while investigating the murders, mostly by means of slurring profanity back and forth, eventually laughing at their own brashness. Could romance bloom? Probably not. The film never seems that ambitious.
What follows is a series of missed opportunities for what could be done with a raunchy puppet show. A 1980s sitcom could have some interesting scenes and callbacks but very little comedy amounts from its contents, past the easy jokes of bunnies that poop Easter eggs and brother/sister puppets that birth hideous puppet kids. Phil is such a bore of a puppet, playing it far too serious and subtle as a classically alcoholic detective. Sure, every now and then he'll do something outlandish, as when he spews silly string when achieving orgasm, but there's not much to his character past his vulgarity.
Come to think of it, there isn't much to anybody in this film past being joke vehicles that stall with ideas. McCarthy's character has a unique characteristic of having puppet organs in her body but this amounts to little more than an excuse for her body to process puppet drugs. Phil's secretary Bubbles is played by Maya Rudolph as a PI's assistant out of the 1940s but she doesn't have much to do past being an odd airhead, easily distracted by bananas for some unexplained reason. And the sitcom characters targeted for the murders are all so simple we're given no more than a scene or two between each of them before meeting a fluffy or explosive end. You won't miss them though, considering the goofball-turned-druggie Goofer can only babble about penises and having sex for money. He's mercifully reduced to one scene.
There's very little reason to care about anyone in this story that none of the low-brow gags carry any cleverness, nor do the sentimental mystery moments amount to little more than cliche melodrama. Part of what made the Muppets so unique and iconic was that there was personality and character behind the socks. The characters of this adult puppet film want us to laugh at them as socks that say dirty words and that "sock" is a racist term. Is that all there is to this film with basic jokes about a puppet society? Unfortunately so, given that the movie doesn't have enough smarts to push the R-rating further with more graphic puppet sex and violence. If you're going to switch on the gross-out gag machine, don't leave it at low energy.
Much like 2016's CGI raunch fest Sausage Party, The Happytime Murders relies on the subversion of its kid-friendly medium. This may be new territory for the Henson-directed puppet productions, but it's not the first to try this concept. The whole adult puppet comedy aspect was better defined in the TV show Greg the Bunny and given a proper sense of biting and offensiveness in Peter Jackson's Meet the Feebles. If the Henson Alternative studio wants to play in this backyard of sex and violence amid commentary and bodily functions, they've got to step up their game. You need more than puppets slinging the F word like candy and acting like sexual deviants to have a capable comedy. The Muppets were wickedly witty by comparison, considering Kermit the Frog never needed to ejaculate all over a room for a laugh.
Review: "The Predator" is a Humorous Homage, Sometimes Fun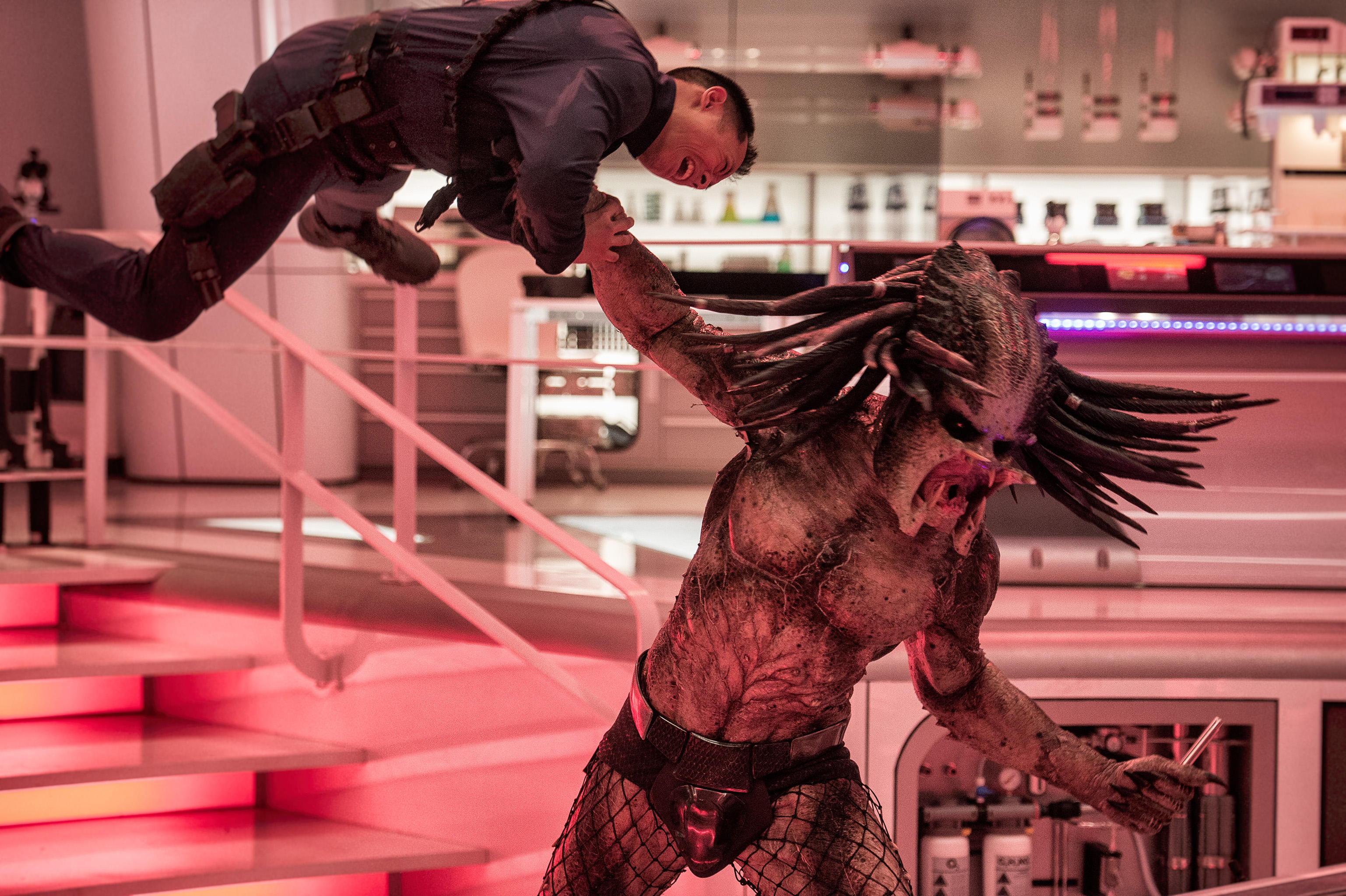 Shane Black's The Predator is simultaneously the most no-nonsense and all-nonsense entry of the series. It does away with a lot of the fat for its story, skipping briskly through its introduction so that gory action of a human-hunting alien arrives quickly. It also doesn't try to take itself seriously, favoring a comedic format to its writing so high on the goofiness it may as well be labeled a parody of the previous films. This odd assembly prevents such a generically titled film from becoming just another tired retread of a dug-up franchise, hit or miss though it may be.
In order to get the bloody gears grinding, Black throws a lot of inexplicably odd actions at the screen. I didn't set my watch, but I'm pretty sure it was less than a minute before the first Predator marches onto the screen, crashing onto Earth and going about its secret mission. Encountering the Predator and his arsenal is sniper-for-hire and former Army Ranger, Quinn McKenna (Boyd Holbrook), who not only takes to the Predator tech quickly but also takes the risk of swallowing some of it so it can't be found. To cash in on newly acquired treasures from outer space, he decides to ship the rest of the alien technology to his mailbox. Seems like a ridiculous idea, but it needs to be done so that the story can arrive on schedule to include a Predator-savvy scientist (Olivia Munn), a greedy government villain (Sterling K. Brown), a savant of an autistic kid with a smart mouth (Jacob Tremblay), and a team of mercenaries that includes a jokester (Keegan-Michael Key) and one with Tourette's syndrome (Thomas Jane).
I could detail the elaborate scheme of the Predators and the tactics used by the human characters, but does it matter? There are convoluted plot elements for sure, including the most ridiculous use of Asperger's Syndrome as a plot twist, but all that this amounts to is the self-aware knowledge of a goofy gore fest. The script, co-written by Shane Black, always seems careful never to go overboard with exposition without a joke in between. A key scene that could have been a bore is the initial alien dissection scene, its purpose to describe the new Predator and decipher his visit. Munn harps on why the scientists have called the alien a Predator when his purpose seems more akin to a big-game hunter.
While the choice to favor knowing comedy or dark action is a smart one, it's not exactly a home run of ideas. The first act, in particular, has some rather stale nostalgic callbacks that one would expect from a lesser retread. Variations on some of Arnold Schwarzenegger's iconic lines from the first film about choppers and the ugliness of the Predator felt so lame that I started gripping my seat, bracing for the entire film to be this adrift of inspiration. But the film thankfully proceeds down its own silly path by the second act, turning into a non-stop bloody bonanza of alien-on-human action. The gore goes for the gusto so heavily that it becomes just as strong as the comical banter between Holbrook and his team of gun-toting good guys, trying to stop the Predator from killing a kid and the government from killing them first.
There's a lot of dumb and messiness in The Predator, but the constant winking from Black's director and the all-star cast save it from being another PG-13 snoozer of a repeat. Armed with machine-gun speed comedy, violence more than worthy of an R rating, and a giddy sense that is always present, what could've been a merry-go-round turns into more of a roller coaster experience of a Predator movie. Black doesn't exactly rework the Predator mythos into something new or even more akin to its quality camp roots, but he does have fun with the material. And when you've got a multi-mouthed alien with braids turning humans into hamburger, you've gotta have some fun mocking the spectacle, especially after so many films that take themselves far too seriously.
"The Nun" Scares Up Strong September Box Office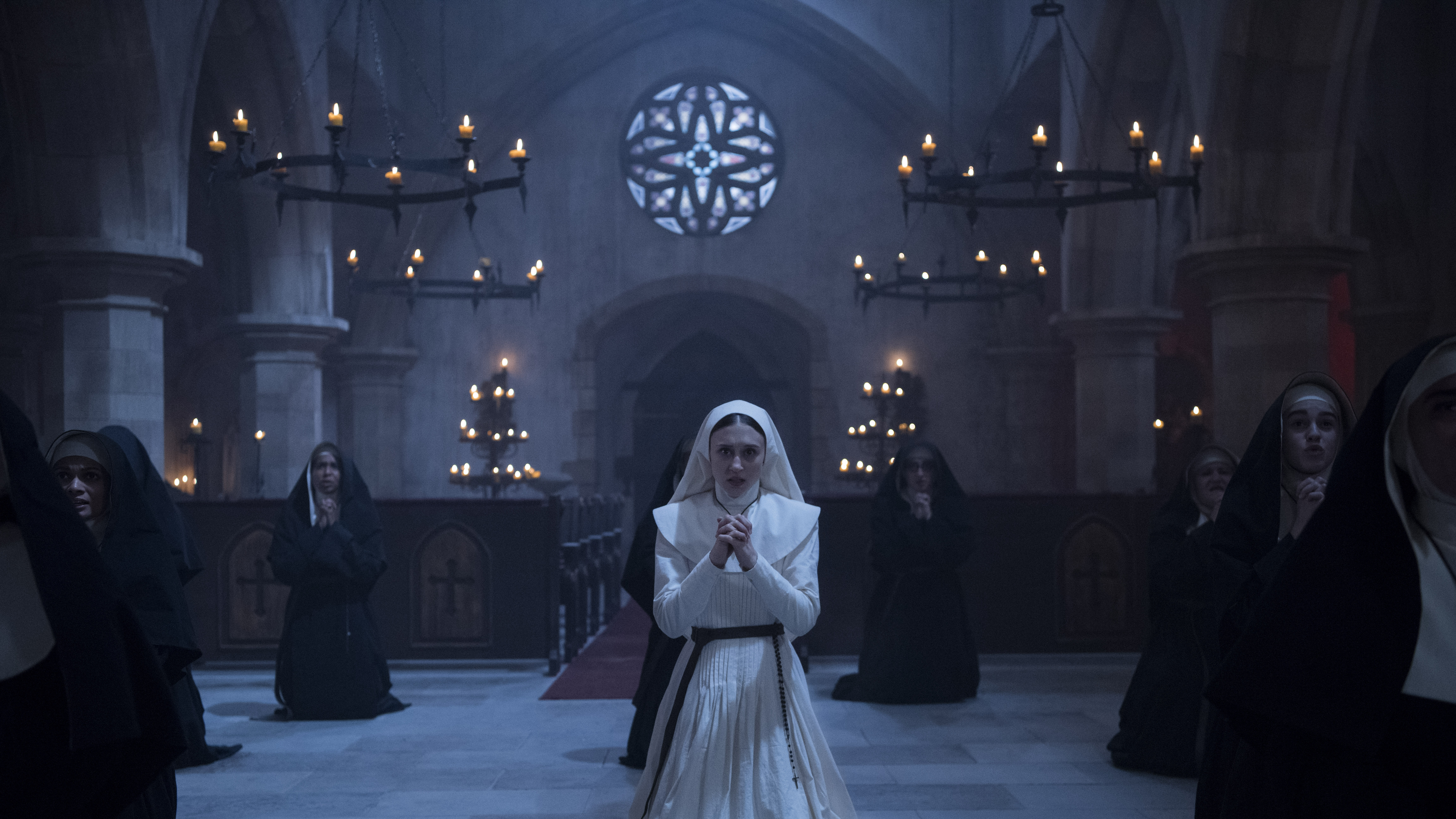 September has its first box office champion to topple August's hit of Crazy Rich Asians, and by a substantial amount at that. The Nun, a spin-off and prequel to The Conjuring 2's scary nun ghost in the painting, has earned an impressive $53.5 million for its debut weekend. That's an exceptional premiere to warrant the film's budget of $22 million, rather high for horror. The future is looking bright for The Conjuring franchise. Still, Crazy Rich Asians is still going strong as the romantic comedy of the year, grossing another $13.6 million for a domestic total now sitting at $136 million. With plans for a sequel already in the works and a chance at hitting $200 million, the film may very well carry deep into fall considering it's still in the top five after four weeks.
Also debuting to a decent take for the weekend is Peppermint, an action-oriented thriller starring a revenge-seeking Jennifer Garner. The film made $13.2 million in its first weekend which may be a bit disappointing for a $25 million budget, but it may have decent enough to legs to make a profit depending on how September shapes up.
Plenty of the returning films are holding on strong. The Meg, the shark movie with Jason Statham, has remained in the top five long enough to clear its budget, with a domestic total now at $131 million. Also sticking around is the social media thriller Searching, dropping only 25% to make $4.5 million for the weekend, the domestic total sitting at $14.3 million. And BlacKkKlansman, Spike Lee's comedy about infiltrating the Ku Klux Klan, is still hanging in the top 10, making another $1.5 million for a domestic total of $43 million, stunning results for a $15 million film in somewhat limited release.
View the full box office weekend results below.
The Nun ($53,500,000)
Crazy Rich Asians ($13,600,000)
Peppermint ($13,260,000)
The Meg ($6,030,000)
Searching ($4,515,000)
Mission: Impossible – Fallout ($3,800,000)
Disney's Christopher Robin ($3,196,000)
Operation Finale ($3,043,000)
Alpha ($2,505,000)
BlacKkKlansman ($1,565,000)
Next weekend will be a battle of a returning alien hunter and an odd thriller. The Predator, a remake of the alien franchise directed by Shane Black, will be in 3,900 theaters while A Simple Favor, a thriller directed by comedy director Paul Feig, will hit 3,000 theaters. Of the smaller releases are Pure Flix's latest religious picture Unbroken: Path to Redemption and the Matthew McConaughey starring cop drama White Boy Rick. There's little doubt that The Predator will swoop in to claim the weekend.
Review: "The Nun" Offers Few Scares and Fun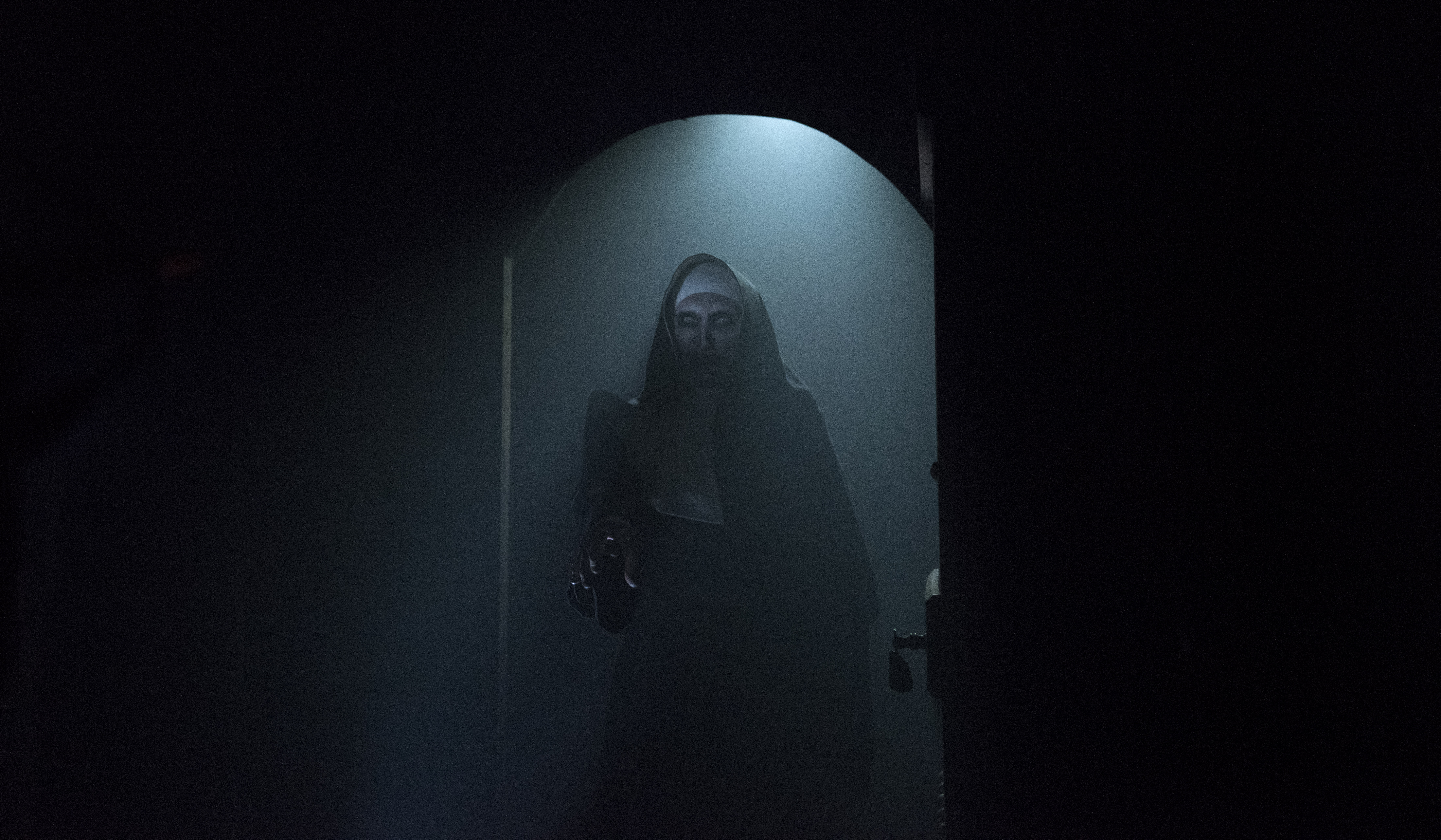 And from The Conjuring another spin-off cometh, presenting origins we didn't really need to know for spooky supporting demons. If these films weren't already showing cracks, The Nun comes crumbling, struggling to find scary and fun stuff to do with a nun that looks like she went to a goth concert. She looks great with the contrast of white and black that blends perfectly in the darkness. She's unfortunately squandered in a film that is such a mess it dips between horror, comedy, and adventure.
The setting is 1952, Romania, where a nun has just committed suicide by hanging. To investigate this dark matter, the Vatican sends a ragtag duo of a priest and a nun familiar with the area and the demonic. The priest is Father Burke (Demián Bichir), having previously performed an exorcism and struggling to make himself boring with a crossword puzzle hobby. The nun is Sister Irene (Taissa Farmiga), a yet-to-have-taken-her-vows woman that is a bit of a rebel around the convent with her talk of dinosaurs and not wearing her habit. They venture to Romania, and with the help of a French-Canadian farmer going by the name Frenchie (Jonas Bloquet), they'll discover the dark secrets of the church turned haunted house.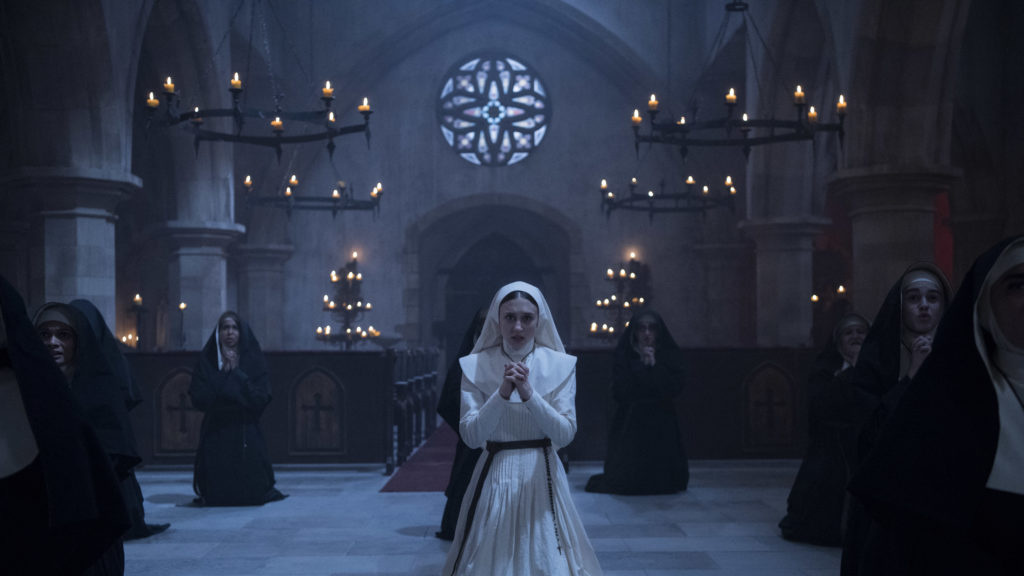 The scare playbook from The Conjuring universe appears very dusty in this film. The majority of frights rely on the cheapest and tiresome of stagings: see something potentially scary in the distance, look away, it's gone. Irene thinks she spots a nun in the shadows; turns away, turns back, gone. Burke thinks he spots the child he was unable to save from his previous exorcism; there one shot, gone the next. The other overused scare tactic is that of slowly venturing towards something scary. The demons are hoping our holy heroes will be dumb enough to follow every come-hinder spooky trap, to the point where Father Burke is being led by a bell being dragged on a string.
There's a lot of disbelief suspension required to go along for the ride. There are visions of previous nuns of the church, but they're staged as unconvincing twists that require the priest and nun to accept the answers of a faceless nun at (no) face value. A scary nun shrouded in black with a sinister voice recommends they spend the night. Surely nothing spooky will happen come nightfall. But, surprise, spookiness on cue! They investigate more and some other nuns they meet recommend staying another night. I'd think about breaking out the good book and a cross on that second sleep considering all the haunted hijinks. The Romanian haunted church comes complete with a graveyard of many crosses, where crows caw during the day and mist mysteriously crops up at night. Oh, and snakes.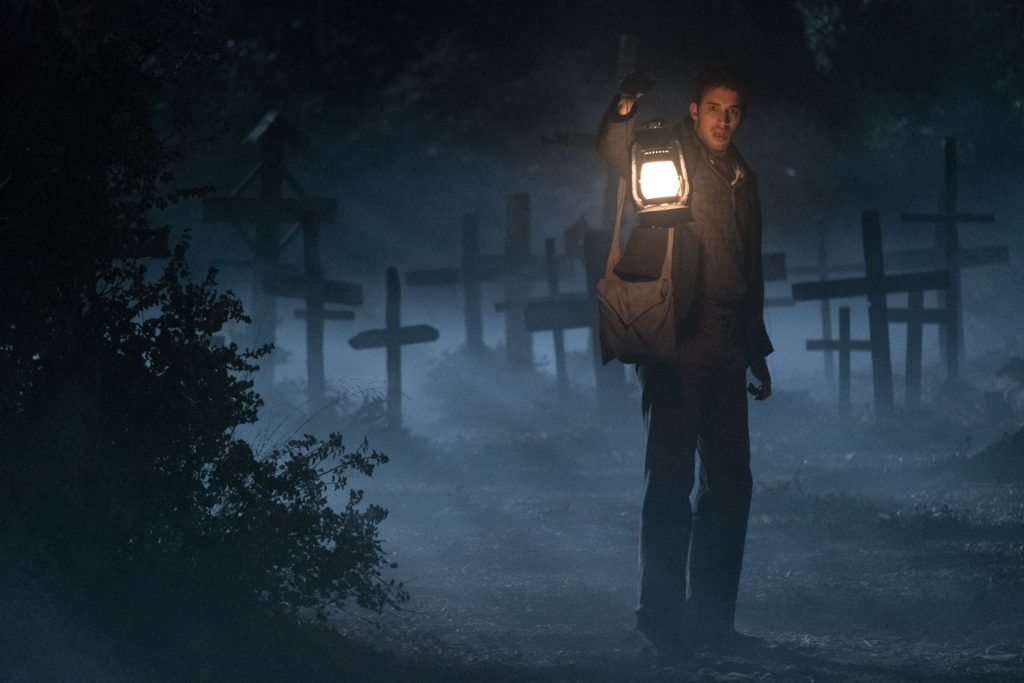 Speaking of snakes, the film seems to grow so bored of its by-the-book haunted house method that it slips into Indiana Jones territory. Consider how Frenchie comes to the rescue in the third act as the comical action hero, chopping off the heads of zombies and shooting them with a shotgun. He seems to only come back when it's time to explore underground passages with torches, searching for a religious artifact that can stop demons from hell. This adventure angle makes Jonas Bloquet the best part of the film, even if it feels like he's a character that became lost on his way to the set of another tomb.
The Nun delivers the bare bones of what we've come to expect from this Warner Bros horror franchise. There's some decent camera work and some technically sound frights here and there, despite some rather poor editing to keep everything on schedule and twisty. One aspect I could always count on enjoying was the audience reactions during these movies. They didn't let me down. One viewer was so spooked by the silence after a nun's cracked neck that he exclaimed "WTF" during the screening. It was the biggest laugh of the movie and one of the few reasons I have left to keep returning to this style of horror because there's not a whole in The Nun itself to keep me satiated with terror or fun.