Sony Releases 'The Interview'; List Of Theaters Where You Can See It!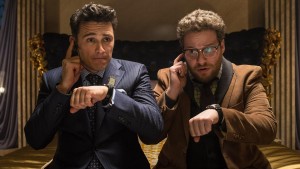 In an unexpected reversal, Sony has decided to release The Interview. This is the "controversial" film that North Korea and Kim Jong Un doesn't want you to see.
Instead of bowing to the threats from North Korea and cyber terrorist group, The Guardians of Peace, independent theater chains have stepped up to show the movie and Sony has agreed to distribute the film. You can also stream the film on YouTube for $5.99 here.
Needless to say, Seth Rogen is pretty psyched today:
You wanna watch The Interview?? You can RIGHT F-ING NOW!! Go to http://t.co/IRhW7juZWn. Thanks Sony for making it happen. Booyah.

— Seth Rogen (@Sethrogen) December 24, 2014
Here's a list of theaters where you can see The Interview, as reported by Mashable.
Alabama
The Edge 12, Birmingham
Arizona
Harkins Theatres, Phoenix
Loft Cinema, Tuscon
The Valley Art, Tempe
Arkansas
Riverdale 10, Little Rock
California
Agoura Hills Stadium 8, Agoura Hills
Cinefamily, Los Angeles
Cinémas Palme D'Or, Coachella Valley
Commerce 14, City of Commerce
Crest Westwood, Los Angeles
Digital Gym, San Diego
East Hills Mall, Bakersfield
Foothill Cinema Stadium 10, Azusa
Fontana 8, Fontana
Granada Hills 9, Granada Hills
Janss Marketplace 9, Thousand Oaks
Jurupa 14, Jurupa
Los Feliz 3, Los Angeles
Mission Grove Theaters, Riverside
Laemmle's North Hollywood 7, Los Angeles (starting Dec. 31)
Perris 10, Perris
Rialto Cinemas, Berkeley
Santa Paula 7, Santa Paula
Sterling 6, San Bernardino
Van Nuys Plant 16, Van Nuys
UltraLuxe Anaheim Cinemas in Gardenwalk, Anaheim
University Village 10, Riverside
Westminster 10, Westminster
Colorado
Alamo, Littleton
Lyric Cinema Cafe, Ft. Collins
Delaware
Penn Cinemas Riverfront, Wilmington
Rehoboth Beach's Movies at Midway, Lewes
Westown Movies, Middletown
Florida
Sun-Ray Cinema, Jacksonville
Swap-Shop Drive-In, Ft. Lauderdale
Georgia
Plaza Theater, Atlanta
Illinois
Hollywood Blvd. Cinemas, Woodridge
Art Theater Co-Op, Champaign (beginning 1/2)
Indiana
Jasper 8 Theatres, Jasper
Kentucky
Maiden Alley Cinema, Paducah
Louisiana
Chalmette Movies, Chalmette
The Robinson Film Center, Shreveport
Maryland
Eastpoint Center 10, Baltimore
Massachusetts
AppleCinemas, Cambridge
Michigan
The Bijou, Traverse City
Alamo, Kalamazoo
State Theatre, Ann Arbor
Minnesota
St. Anthony Main Theatre, Minneapolis
The Film Society of Minneapolis/St. Paul, Minneapolis
Missouri
Alamo Main Street, Kansas City
Chase Park Plaza, St. Louis
MX Movies, St. Louis
New Mexico
John Cocteau Cinema, Santa Fe
New York
Alamo, Yonkers
Cinema Village, Manhattan
Cinemopalis, Ithica
Cinema Arts Centre, Huntington
Island Cinemas, Mastic
Kew Gardens Theatre, Queens
North Carolina
Palace Pointe, Roxboro
North Dakora
Fargo Theatre, Fargo
Ohio
Gateway Film Center, Columbus
Tower City Cinemas, Cleveland
Oklahoma
Circle Cinema, Tulsa
Oregon
Fox Theatre, Dallas
Pennsylvania
Southside Works Cinema, Pittsburgh
Rhode Island
Cable Car Cinema and Cafe
South Carolina
Terrace Theatre, Charleston
The Nickelodeon, Columbia (starting 12/26)
Tennessee
Belcourt Theatre, Nashville
Franklin Theatre, Franklin
Texas
Alamo Lakeline, Austin
Alamo Slaughter, Austin
Alamo South Lamar, Austin
Alamo Ritz, Austin
Alamo Vintage Park, Houston
Alamo Mason Park, Katy
Alamo, Lubbock
Alamo Marketplace, New Braunfels
Alamo, Richardson
Alamo Park North, San Antonio
Alamo Westlakes, San Antonio
City Base Cinema, San Antonio
Look Cinemas, Dallas
Utah
Brewvies Cinemas Pub, Salt Lake City
Megaplex Theatres, South Jordan
Vermont
Merril's Roxy, Burlington
Virginia
Alamo Loudoun, Ashburn
Cinemall, Abingdon
Wisconsin
Fond du Lac Theatre, Fond du Lac
Grand Cinema Theaters, New London
"Captain Marvel" Retains Top Slot at the Box Office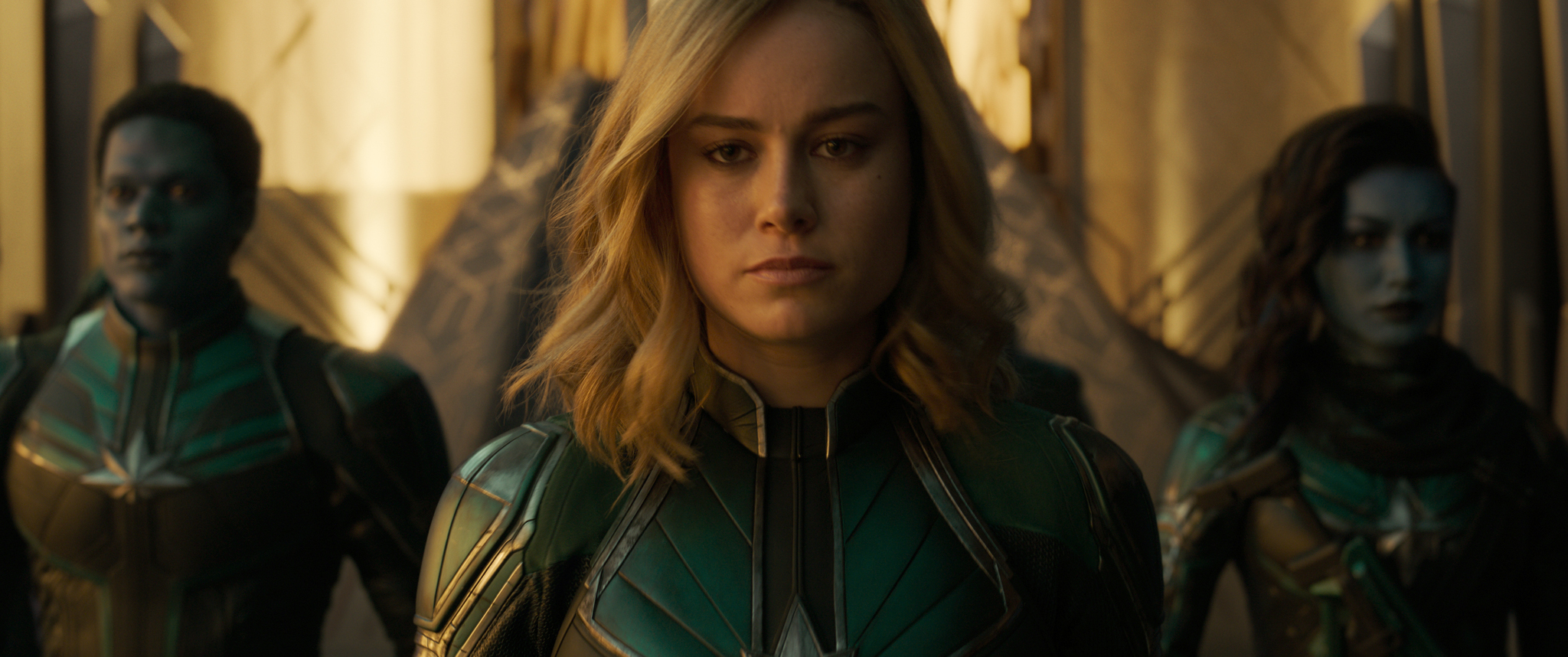 It's no surprise that in its second weekend, the first Marvel Cinematic Universe of 2019 is still riding high. Captain Marvel, the latest in the MCU with Brie Larson starring as the lead, generated another $69 million over the weekend, placing its domestic total at $266 million. Tallying up the international box office, the film's global total to date is $760 million. Despite the online controversy, the film is looking to be another strong box office smash for Disney and Marvel.

As for the premieres for the weekend, and there were plenty, they were all over the map. Just below Captain Marvel was the animated adventure Wonder Park, bringing in $16 million, another film with controversy when the director's name was removed from the picture after sexual harassment charges. Five Feet Apart, the dying teen drama about a romance amid cystic fibrosis, only came in at #3 with a weekend gross of $13 million. And debuting the lowest in the top 10 for debuts was Captive State, a sci-fi dystopian tale, only making $3 million. The film debuted so low the little film No Manches Frida 2 was able to sneak about it at #6 with a gross of $3.8 million.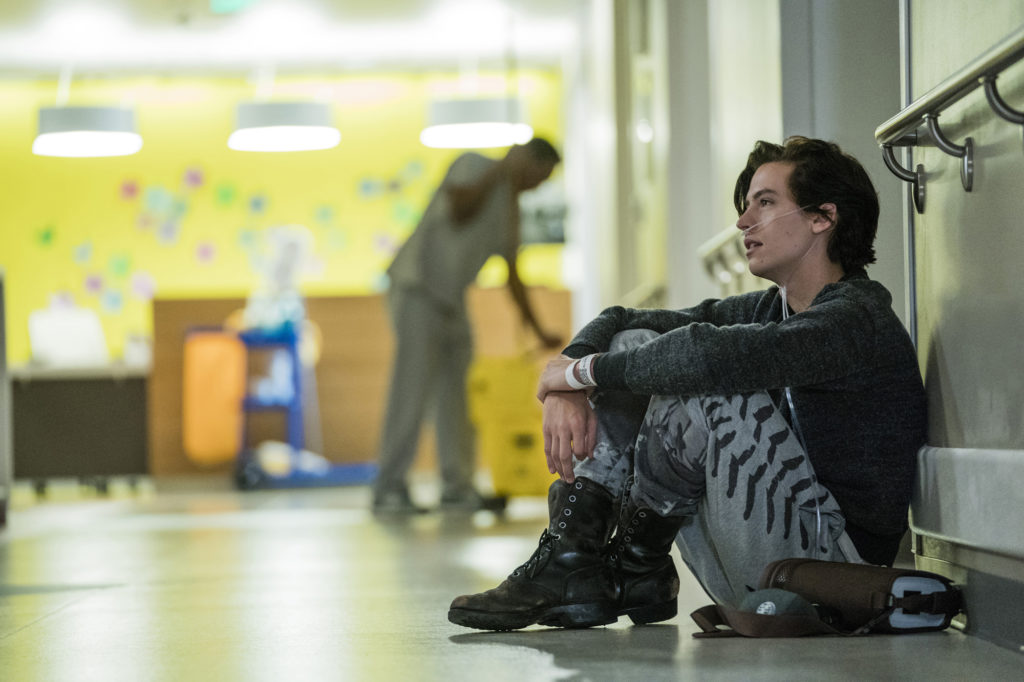 Drops were fairly low all around for the returning films, mostly because Captain Marvel was dominating the previous weekend. The only milestone worth noting is that The LEGO Movie 2, after six weeks at the box office, finally cracked $100 million. And the sun is now setting on Green Book's post-Oscar run by coming in at #10 for the final weekend of its top 10 run over the past few weeks.

View the full top ten weekend box office results below:
Captain Marvel ($69,318,000)
Wonder Park ($16,000,000)
Five Feet Apart ($13,150,000)
How to Train Your Dragon: The Hidden World ($9,345,000)
Tyler Perry's A Madea Family Funeral ($8,085,000)
No Manches Frida 2 ($3,894,000)
Captive State ($3,163,000)
The LEGO Movie 2: The Second Part ($2,135,000)
Alita: Battle Angel ($1,900,000)
Green Book ($1,277,000)

Next weekend, Captain Marvel may very well have some competition when Jordan Peele's new horror film Us hits over 3,600 theaters.

"Dragon" Continues To Soar, "Funeral" Close Behind, "Green Book" Back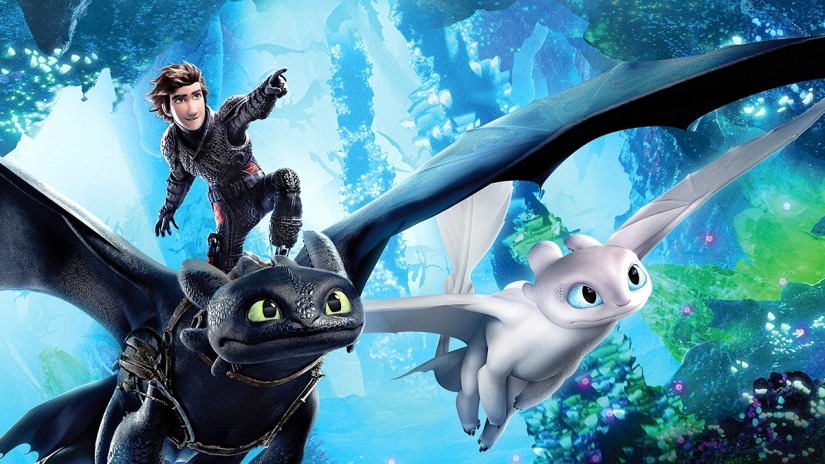 With little competition for the weekend, How to Train Your Dragon: The Hidden World, the third in the animated fantasy saga, was able to secure the box office once more. In its second weekend, the animated epic made $30 million to push its domestic total to $97 million. So far the film has done about the same as the previous film and is on track to stay in the top 10 for a few more weeks in March.
Debuts this weekend were small with one big exception. Tyler Perry's latest Madea film, A Madea Family Funeral, naturally made a relatively big splash with its dedicated audience. Starting at #2, the film made $27 million for its first weekend. No word on the budget yet but it's most likely on a budget as most Tyler Perry productions are, so it's safe to call this a success, especially for debuting with a box office so close to Dragon.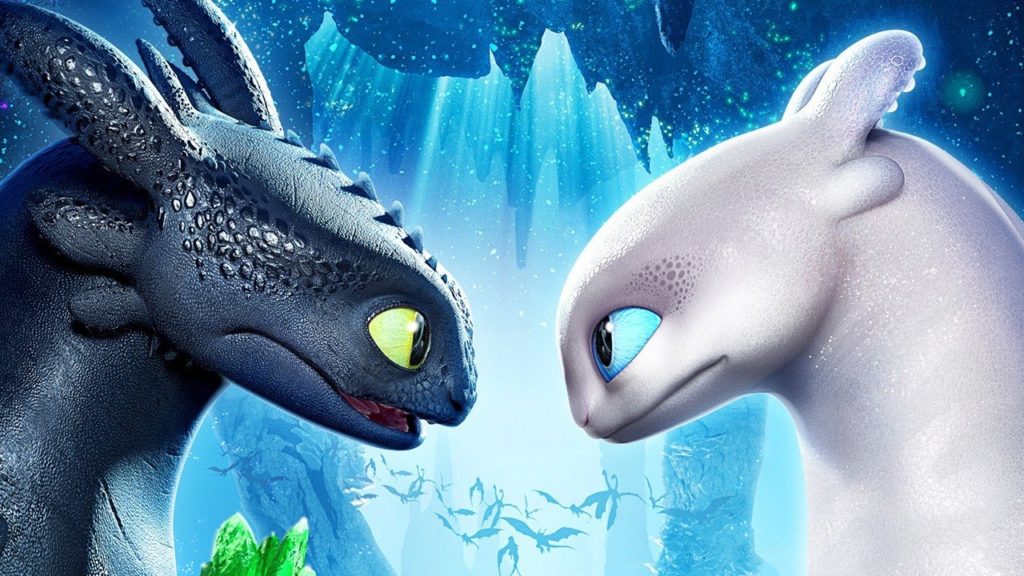 The rest of the premieres were not as strong at all. Greta, the new thriller starring Chloe Moretz, debuted all the way down at #8 with $4.5 million box office. To be fair, however, the film was in a constant battle for its spot as three other films also reported earnings around $4 million for the weekend. Of note, Green Book, fresh off winning the Academy Award for Best Picture one weekend ago, splashed back into more theaters to arise even higher in the top 10 with its domestic total now sitting at $73 million. Don't count on it remaining there long as bigger blockbusters will be swooping as we plow through the last remnants of winter movies.
Check out the full listing of the top 10 box office weekend results below:
How to Train Your Dragon: The Hidden World ($30,046,000)
Tyler Perry's A Madea Family Funeral ($27,050,000)
Alita: Battle Angel ($7,000,000)
The LEGO Movie 2: The Second Part ($6,615,000)
Green Book ($4,711,000)
Fighting With My Family ($4,691,284)
Isn't it Romantic ($4,645,000)
Greta ($4,585,000)
What Men Want ($2,700,000)
Happy Death Day 2U ($2,516,000)
Next weekend is once again all about Marvel as their latest superhero solo film, Captain Marvel, will be appearing in 4,100 theaters.
Review: "Captain Marvel" is a Solidly Sensational Sci-Fi Adventure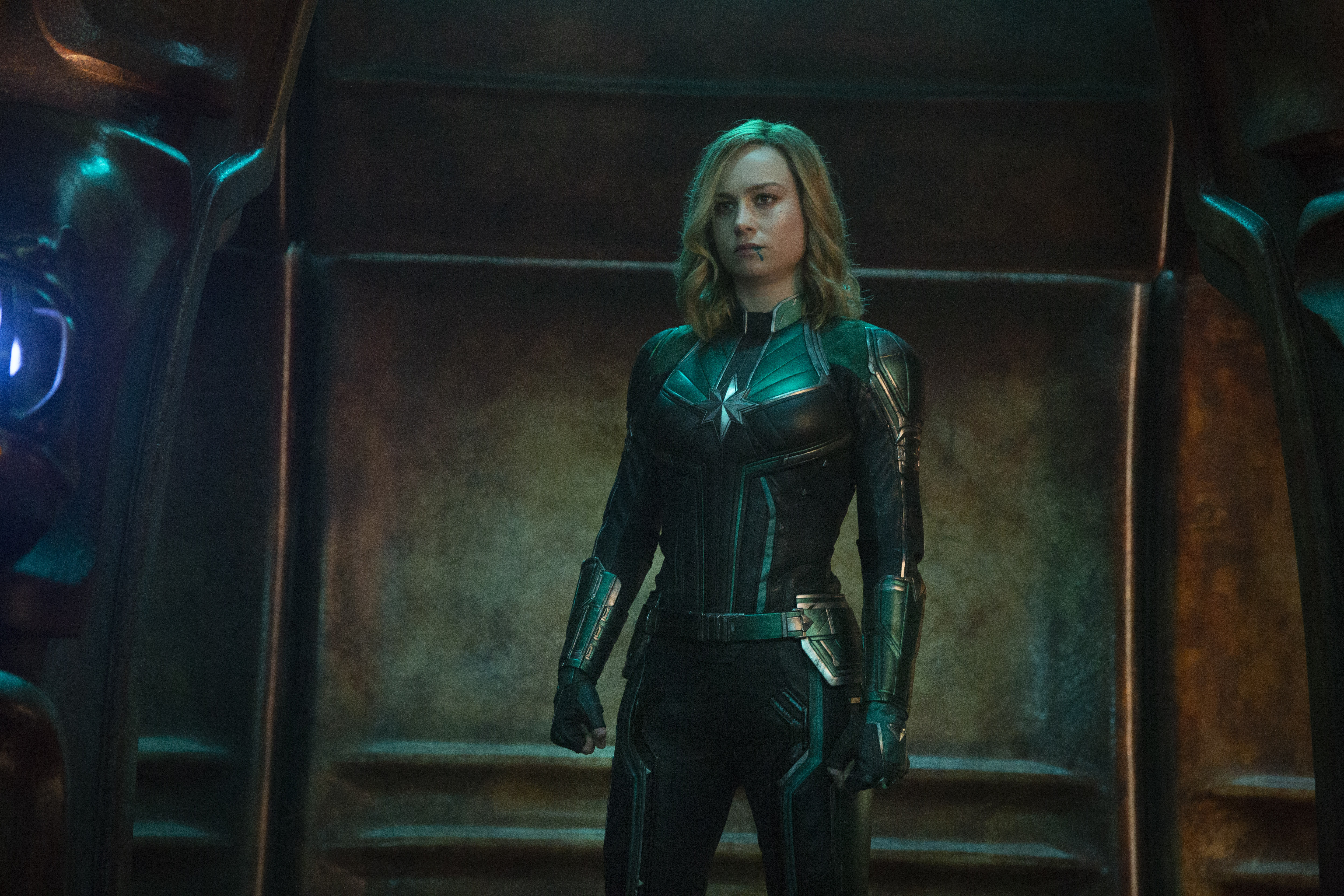 Captain Marvel joins the ranks of the Marvel Cinematic Universe in a much different way. She slides into the MCU via a twisty sci-fi adventure of the 1990s, before the Avengers were formed. And though the film does serve as a strong bridge picture that answers a few more questions about the Marvel universe, the film quickly becomes its own thing and gives its hero a real identity as the powerful addition to the superhero ensemble.

Brie Larson plays Carol Danvers, a woman not sure if she's a human pilot of Earth or a soldier of the Kree empire's Starforce. There's little time to explore these conflicting visions she's having when there's special energy powers to control and a war being waged against the shape-shifting Skrull alien creatures. A detour to 1990s Earth gives her a bit of time to find out more while also hunting down some more Skrulls, leading to some interesting scenarios when combatting aliens that could look like old ladies.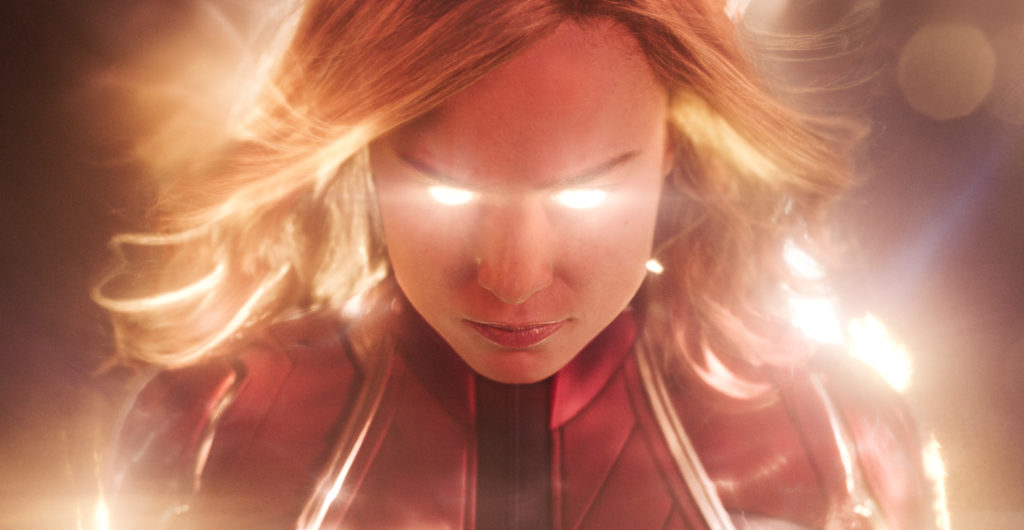 Carol's landing on Earth leads to treading down familiar Marvel timeline territory as well as evoking plenty of dated 1990s bits. What started drawing me into the picture was how the film holds itself back from the obvious. The 1990s setting is used for some gags of video stores and Windows 95, sure, but never goes the extra mile of becoming an aggravating reference fest, keeping a certain vibe the way Guardians of the Galaxy embraced the 1970s and 1980s. And just like that film, there's a nostalgic soundtrack to boot, with choice tracks for just the right cue.

Samuel L. Jackson pops up in the film as a younger Nick Fury with his two eyes still intact. He teams up with Carol in her intergalactic spy adventure and thankfully never goes to the booming lengths he was known for that decade. And the filmmakers could have easily made this younger Fury go full Die Hard 3 or Pulp Fiction but he never does, always keeping that cool persona he has been known for in the Marvel Cinematic Universe.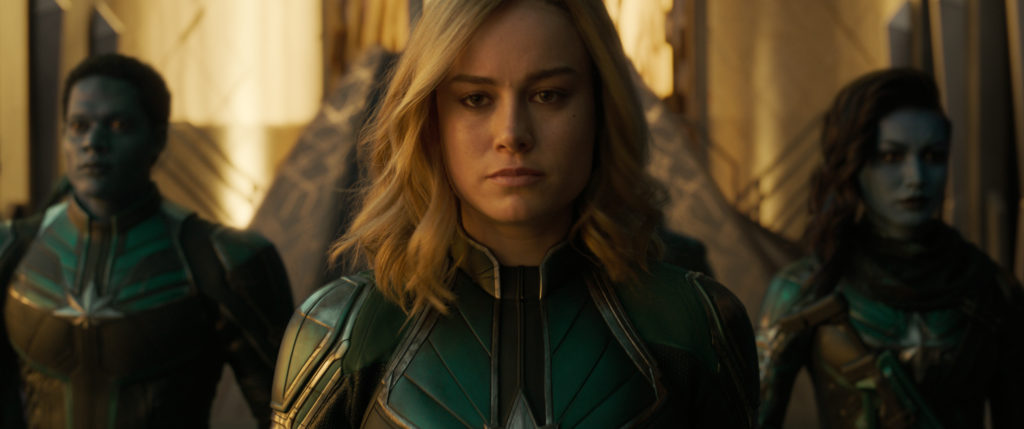 But the one aspect that is never shunned and built up grandly is the aspect of female empowerment. Danvers is established as a woman who doesn't have a clear identity or mindful nature of galactic politics and has to build herself up when she realizes she may be a very powerful pawn in a big game of intergalactic chess. Her memories are that of always being told to back off from non-traditional activities for girls and, sure enough, she rises up to become the smirking and energy-shooting hero when the final piece of her character puzzle is pieced together. It's just unfortunate that the film spends so much time doing the building amid a twisty sci-fi spy story that Brie never gets a moment to shine as brightly as she could, despite a very enthusiastic third-act closer.

If we're being blunt, no, Captain Marvel doesn't quite have the same gravity to be a cultural milestone of a comic book movie. Where others have pointed to Black Panther as not the first the most insightful and cultural of black-led superhero movies, I doubt many will look towards Captain Marvel as the grandest of female-led comic book movies, making its motives known with the power and subtlety of a supernova. But, in terms of what the film is aiming towards, it doesn't have to prove anything to anyone and that's perhaps the point. I just wish that Captain Marvel's astounding powers to destroy starships and aliens had a much bigger punch for a picture that wants to obliterate the glass ceiling and merely cuts a narrow hole within the MCU. It's a nice hole, mind you, and still weaves a capable and compelling sci-fi adventure with a surprisingly more engaging finale than most Marvel solos.