Sony Hack: North Korea Responds to US Sanctions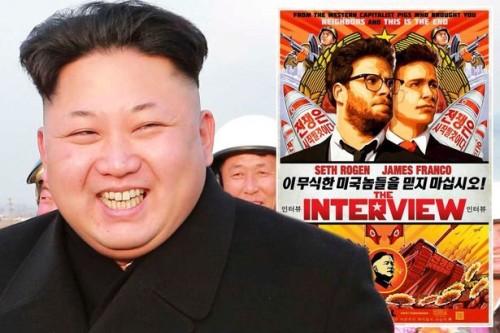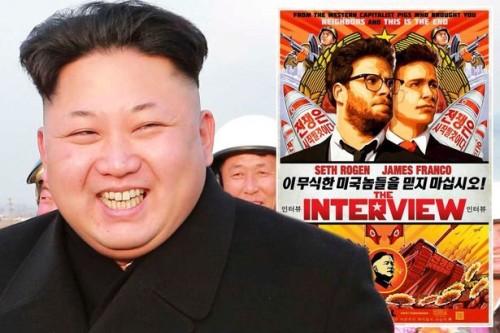 According to CNN, North Korea lashed out at the United States on Sunday, calling a new set of recently levied economic sanctions repugnant and hostile.
"The policy persistently pursued by the U.S. to stifle (North Korea), groundlessly stirring up bad blood towards it would only harden its will and resolution," a statement attributed to North Korea's Foreign Ministry said.
On Friday, the United States hit North Korea with the new sanctions after the FBI said North Korea was behind last month's computer hack at Sony.
The White House said a new executive order targets leaders in North Korea's government, preventing them from accessing property and entering the United States. The isolated nuclear regime, which has denied involvement in the Sony hack, was already subject to a strict set of U.S. economic restrictions.
Read the full article on CNN.
James Franco Opens Up About 'The Interview' Post Sony Hack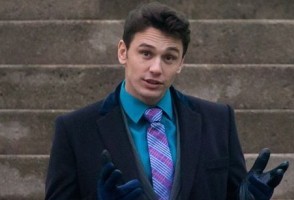 It's been a few weeks since fracas around the Sony hack and the release of The Interview dominated holiday headlines.
The film was finally released online through outlets like YouTube and to a limited theatrical release in a handful of indie theaters after the big chains pulled the move over fear of a terrorist attack.
While we've moved on and most of the movie chatter has been dominated by the Clint Eastwood' record setting war drama, 'American Sniper', The Interview has quietly gone on to rake in $45 million in sales, despite initial fears that the movie would never been seen, and that run will continue now that the film is available on Netflix.
In a recent article in The Guardian, James Franco opened up about how the stress of the Sony hack made him physically sick. .
"There was this pressure. There was so much attention on it — attention on a level you never expected. It was a shock to my system, and I got sick," he said. "But I was never scared for my safety or anything."
In The Interview, Franco plays a blowhard talk show host, chaperoned by his producer played by Seth Rogen – the pair are hired by the CIA to assassinate Kim Jong-un after the pair secure an interview with the North Korean leader.
The storyline angered a hacking group linked to the country, who leaked a vast amount of data from Sony, and whose terror threats caused the film to be pulled from cinemas. It has since been successful via on-demand services and a small theatrical release in independent cinemas, earning $45m.
Franco added: "It was a situation where there was nothing for me to do to. As soon as they called the press off, and the movie was pulled from theatres, there was nothing to do. They weren't looking to me to make any decisions. It was just sitting around and staying quiet."
Read the full article on The Guardian.
'The Interview' Available Online Via Sony Site, YouTube, Google & XBox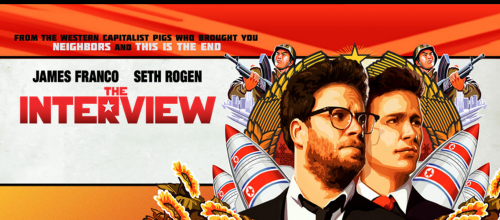 In another dramatic move, Sony Pictures has decided to stream The Interview online on it's own site – SeeTheInterview.com – and on YouTube, Google Play and Microsoft's Xbox for $5.99. The release comes on Christmas Eve (a day ahead of the theatrical release in approximately 300 interdependently owned theaters across the US).
Sony's move is the latest in what could have been be the surreal plot line in another yet-to-be-made silly movie – North Korea hacks Sony in order to stop the release of a comedy movie about its own dictator, Kim Jong Un.
The digital release could foreshadow a seismic shift in digital distribution strategies for major studios. Independent films have started to become available on demand via cable providers the same day as the theatrical release but major studios have been slow adopt the model.
This could also lead to Sony's reevaluation of one of its digital properties, Crackle.com, which has Sony has purportedly thought about shutting down and/or selling.
According to Sony CEO Michael Lynto, "It has always been Sony's intention to have a national platform on which to release this film. With that in mind, we reached out to Google, Microsoft and other partners last Wednesday, Dec. 17th, when it became clear our initial release plans were not possible. We are pleased we can now join with our partners to offer the film nation-wide today."
Here's where you can stream The Interview:
1) www.seetheinterview.com. The site is sponsored by Sony Pictures in partnership with Kernel.
2) youtube.com/movies. You can also watch on Chromecast, Apple TV, PlayStation and Xbox.
3) play.google.com. Watch on mobile devices or on your Internet-connected TVs via Chromecast, Roku or Nexus Player.
4) XboxVideo.com. Rent or buy via Microsoft's Xbox Video.
Sony Releases 'The Interview'; List Of Theaters Where You Can See It!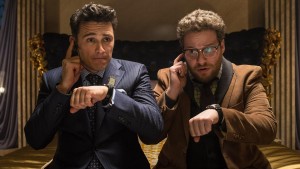 In an unexpected reversal, Sony has decided to release The Interview. This is the "controversial" film that North Korea and Kim Jong Un doesn't want you to see.
Instead of bowing to the threats from North Korea and cyber terrorist group, The Guardians of Peace, independent theater chains have stepped up to show the movie and Sony has agreed to distribute the film. You can also stream the film on YouTube for $5.99 here.
Needless to say, Seth Rogen is pretty psyched today:
You wanna watch The Interview?? You can RIGHT F-ING NOW!! Go to http://t.co/IRhW7juZWn. Thanks Sony for making it happen. Booyah.

— Seth Rogen (@Sethrogen) December 24, 2014
Here's a list of theaters where you can see The Interview, as reported by Mashable.
Alabama
The Edge 12, Birmingham
Arizona
Harkins Theatres, Phoenix
Loft Cinema, Tuscon
The Valley Art, Tempe
Arkansas
Riverdale 10, Little Rock
California
Agoura Hills Stadium 8, Agoura Hills
Cinefamily, Los Angeles
Cinémas Palme D'Or, Coachella Valley
Commerce 14, City of Commerce
Crest Westwood, Los Angeles
Digital Gym, San Diego
East Hills Mall, Bakersfield
Foothill Cinema Stadium 10, Azusa
Fontana 8, Fontana
Granada Hills 9, Granada Hills
Janss Marketplace 9, Thousand Oaks
Jurupa 14, Jurupa
Los Feliz 3, Los Angeles
Mission Grove Theaters, Riverside
Laemmle's North Hollywood 7, Los Angeles (starting Dec. 31)
Perris 10, Perris
Rialto Cinemas, Berkeley
Santa Paula 7, Santa Paula
Sterling 6, San Bernardino
Van Nuys Plant 16, Van Nuys
UltraLuxe Anaheim Cinemas in Gardenwalk, Anaheim
University Village 10, Riverside
Westminster 10, Westminster
Colorado
Alamo, Littleton
Lyric Cinema Cafe, Ft. Collins
Delaware
Penn Cinemas Riverfront, Wilmington
Rehoboth Beach's Movies at Midway, Lewes
Westown Movies, Middletown
Florida
Sun-Ray Cinema, Jacksonville
Swap-Shop Drive-In, Ft. Lauderdale
Georgia
Plaza Theater, Atlanta
Illinois
Hollywood Blvd. Cinemas, Woodridge
Art Theater Co-Op, Champaign (beginning 1/2)
Indiana
Jasper 8 Theatres, Jasper
Kentucky
Maiden Alley Cinema, Paducah
Louisiana
Chalmette Movies, Chalmette
The Robinson Film Center, Shreveport
Maryland
Eastpoint Center 10, Baltimore
Massachusetts
AppleCinemas, Cambridge
Michigan
The Bijou, Traverse City
Alamo, Kalamazoo
State Theatre, Ann Arbor
Minnesota
St. Anthony Main Theatre, Minneapolis
The Film Society of Minneapolis/St. Paul, Minneapolis
Missouri
Alamo Main Street, Kansas City
Chase Park Plaza, St. Louis
MX Movies, St. Louis
New Mexico
John Cocteau Cinema, Santa Fe
New York
Alamo, Yonkers
Cinema Village, Manhattan
Cinemopalis, Ithica
Cinema Arts Centre, Huntington
Island Cinemas, Mastic
Kew Gardens Theatre, Queens
North Carolina
Palace Pointe, Roxboro
North Dakora
Fargo Theatre, Fargo
Ohio
Gateway Film Center, Columbus
Tower City Cinemas, Cleveland
Oklahoma
Circle Cinema, Tulsa
Oregon
Fox Theatre, Dallas
Pennsylvania
Southside Works Cinema, Pittsburgh
Rhode Island
Cable Car Cinema and Cafe
South Carolina
Terrace Theatre, Charleston
The Nickelodeon, Columbia (starting 12/26)
Tennessee
Belcourt Theatre, Nashville
Franklin Theatre, Franklin
Texas
Alamo Lakeline, Austin
Alamo Slaughter, Austin
Alamo South Lamar, Austin
Alamo Ritz, Austin
Alamo Vintage Park, Houston
Alamo Mason Park, Katy
Alamo, Lubbock
Alamo Marketplace, New Braunfels
Alamo, Richardson
Alamo Park North, San Antonio
Alamo Westlakes, San Antonio
City Base Cinema, San Antonio
Look Cinemas, Dallas
Utah
Brewvies Cinemas Pub, Salt Lake City
Megaplex Theatres, South Jordan
Vermont
Merril's Roxy, Burlington
Virginia
Alamo Loudoun, Ashburn
Cinemall, Abingdon
Wisconsin
Fond du Lac Theatre, Fond du Lac
Grand Cinema Theaters, New London