J
udging by how the actors talk,
Marvel
has a hit team prepared to take them out at any moment if they start spilling too many secrets.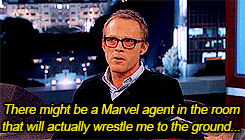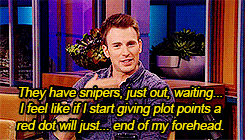 Shouldn't one of the founding fathers of Marvel, Stan Lee, be immune to scrutiny? Apparently not!
In the midst of an interview at Denver Comic Con on Saturday, Lee was asked what his favorite Marvel cameo was. "It's hard to pick my favorite cameo, because as you know they're all masterpieces," the comic mogul stated.
"I have a favorite, but I can't tell you what it is because it hasn't appeared yet," he added. Lee started talking about how he has three upcoming cameos, which he filmed all at once out on the east coast.
"One of the cameos I did was for the…" he began, but he was never able to finish his statement.  A Marvel executive offstage in the front of the audience quickly cut him off.
"Stan, Stan, you can't talk about that," the man said. Lee tried to get some clarification on how far he was able to go, but unfortunately he had already said enough.
Read more to see Stan Lee's reaction: