Creed has grossed just under $100M following the Christmas holiday weekend.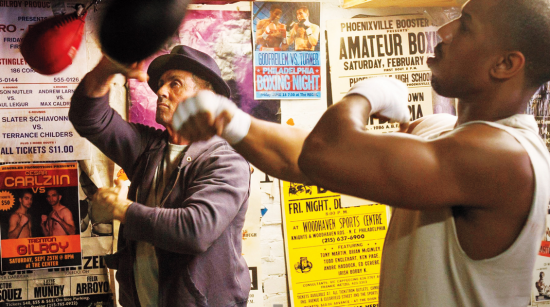 Creed is about Adonis "Donnie" Johnson, played by Michael B. Jordan, a young fighter who gave up his surname, Creed, due to the resentment over his father's death at a young age.
Yes, Adonis is the son of Rocky Balboa's nemesis in the first four pictures, including the 1976 film that won the Academy Award for Best Picture. Of course, this suggests that Stallone pretty much knew how to make a movie from the start, even as he re-makes the same picture again and again. But where Rocky punched beef carcasses in the first film to show he was a brute with a comic touch, Creed is fighting his legacy. As Rocky tells him, his No. 1 opponent is the fighter looking back at him in the mirror.
Young Creed, it turns out, is a highly successful businessman living in a mansion with his former step mother, who finds Creed living in foster care and takes him in at an early age. Fast forwarding to his 20s, Creed is driving luxury cars and doing quite well. But he cannot resist the urge to drive down to Tijuana, Mexico, on weekends and fight it out in a decidedly low-level boxing circuit. He does well there and, in time, he is driven to see how good he might be, given his father was once the world heavy weight champion and all. So the young man with an angry chip on his shoulder moves to Philadelphia to look up Rocky for some serious big-league training.
Remember, this is training so that he could get his brains bashed to pulp in the fighting game. This means the audience has to forgive the idea that young executives driving luxury cars and living in mansions do not risk their lives for some adolescent whim, no matter who their father might be.
But this is Stallone's world which, punch for punch, trades in credibility for sentimentality, just so long as it culminates in a likable boxer fighting for his honor in a highly publicized prize fight watched around the world. These are big-stake emotions easily manipulated and Stallone knows the tricks by heart. Enter the extraordinarily beautiful, mousy girlfriend – in this case a singer, who, if you like sentimentality, happens to suffer from a progressive hearing loss, which will some day wipe out her heartfelt ambitions in music.
Not enough sentimentality yet? Not for Stallone, who has Rocky diagnosed with cancer just before the big fight. Now, everyone has some honor to fight for, because stubborn Rocky is not interested in medical treatment. Should everyone just give up – or should everybody throw one more punch? You already know the answer to that.
Creed is, as the trailers promised, is the exact same story as the first Rocky picture and all of them in between, as well. With Creed, however, Stallone is far more sure of himself. All those clownish pranks in the first films, including Rocky's snuffling deese and dose Philadelphia accent, are gone. Where Rocky was film making 101 — Star Wars in a boxing ring — Creed is creative, subtle and much more mature. Of course, the joy inherent in physical exertion is still there. But, face it, whether he is making a decent film or just another boxing pancake, Stallone knows how to throw a punch – a sentimental punch, that is.
Creed is not a great film, but is a masterful sports film. This is Rocky's arena. I just hope it doesn't win Best Picture again. If it does, we will never hear the end of it.