Scary Monsters & Super Creeps: Who is Frankenstein?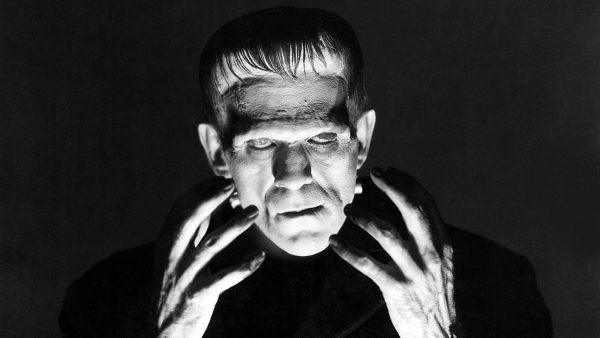 Who is Frankenstein? We've got all the info you need one of the original monsters!
[dropcap]'T[/dropcap]is the season for monster madness, so we decided to delve into the stories behind our favorite movie monsters. It can be a struggle to choose which Halloween movies to watch because there are so many good ones out there, but as we look into all the classics, you're bound to get plenty of inspiration for All Hallow's Eve.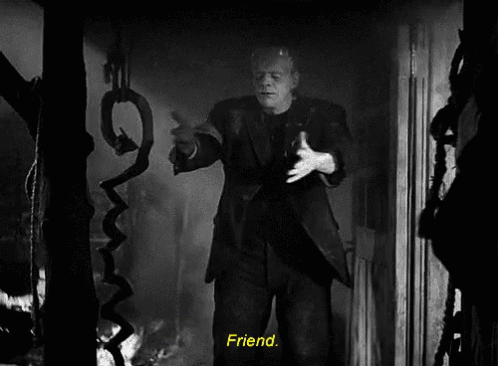 First up, we're getting freaky with Frankenstein! To be clear, we're actually talking about the monster created by Dr. Frankenstein (or was Dr. Frankenstein the real monster, hmm?), but for the sake of brevity, we'll stick with calling the bolt-necked creep "Frankenstein."
Who is Frankenstein?
Frankenstein is a fictional character conceived by author Mary Shelley in the novel Frankenstein; or, The Modern Prometheus. In the novel, Dr. Victor Frankenstein decides to create a human-like creature, but unfortunately, the creature ends up being terrifying and is shunned by society. When the monster demands that Victor create a female like him so he can be happy, it begins a tragic tale of distrust and fright between Victor and his creation.
When was Frankenstein written?
Mary Shelley's book was published in 1818.
What movies has Frankenstein been in?
The character has sparked the imagination of many filmmakers, from those who see him as an iconic Halloween monster to those who believe Frankenstein to be deserving of sympathy.
The most memorable depiction first came with Frankenstein in 1931, and Boris Karloff's depiction of the monster has become iconic. The Bride of Frankenstein came out just four years later, and has also had quite a pop culture impact.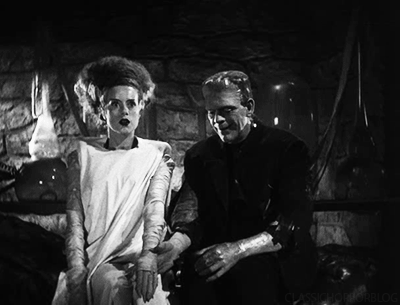 In more recent years, adaptations of the character and stories of Frankenstein have appeared in the likes of Van Helsing, The Rocky Horror Picture Show, Frankenweenie and I, Frankenstein.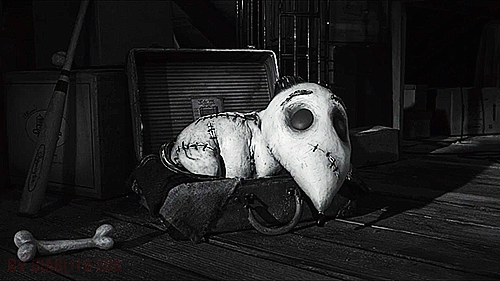 Does Frankenstein have powers?
Nope! He's just scary looking and usually really big, which gives him a bit more strength than usual.
–MovieSpoon Staff
Review: "The House With a Clock In Its Walls" Ticks With Messy Magic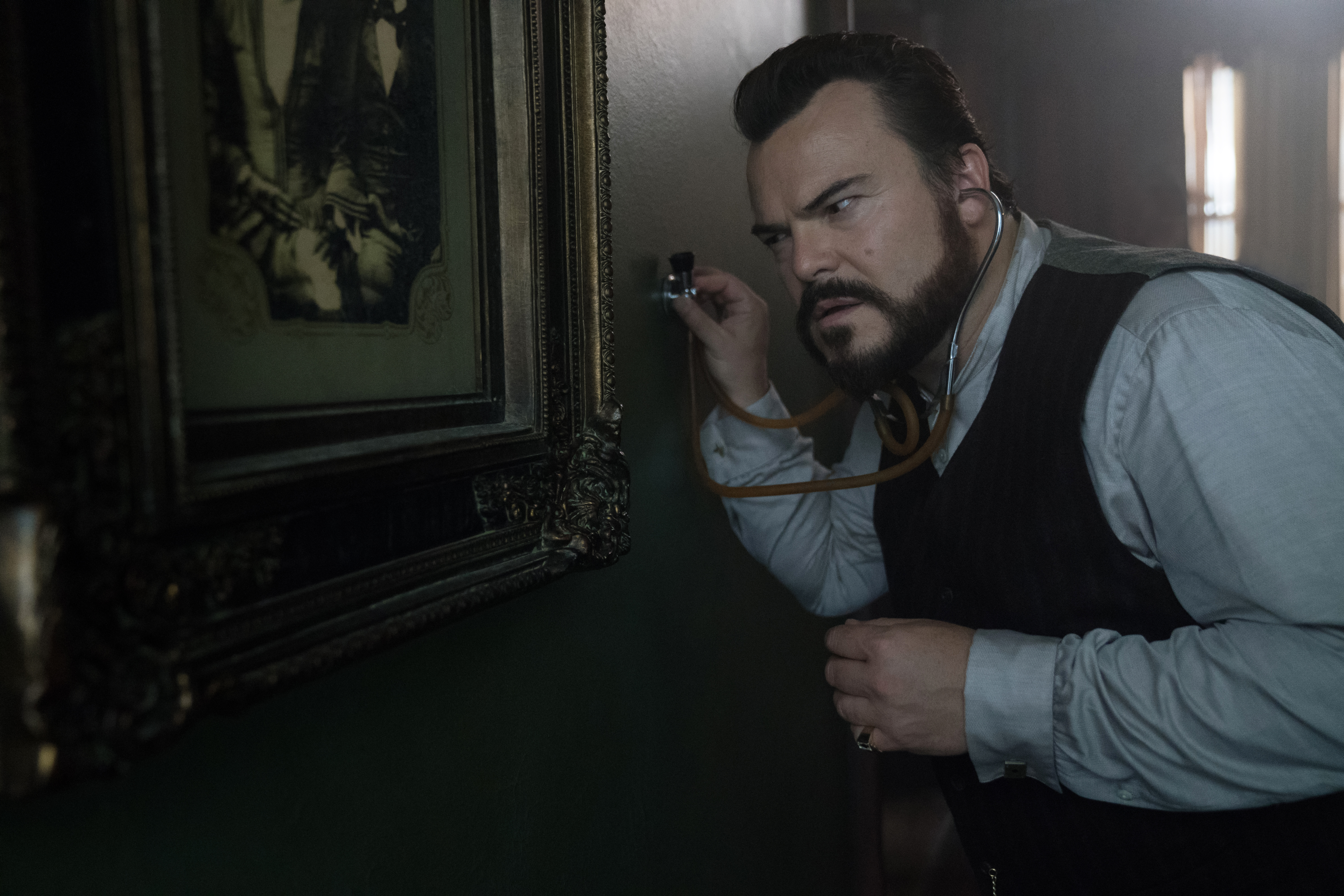 Eli Roth's The House With a Clock In Its Walls has a lot going on to be the type of haunted house horror perfect for the Goosebump-loving kids. It has warlock lore, a spooky house of surprises, a plucky young magician in training, and a sinister plot by a zombie to activate a magical doomsday device. And though Roth keeps his giddy gore desires in check for a PG picture, he may have toned himself down too much for a film that feels docile and messy when it has all the elements to be fantastical and exciting.
It's a somewhat familiar staging of the underdog kid, Lewis Barnavelt (Owen Vaccaro), being taken under the wing of a master of mysticism. Well, maybe not a master. Lewis's uncle Jonathan Barnavelt (Jack Black) isn't exactly the greatest wielder of magic given his residence of a creepy old house in 1950s Michigan. He can't even hold an accent. What he can do is teach Lewis his ways of performing the fascinating tricks of harnessing energy, achieving floatation, and making your bed in the morning with a mere flick of the wrist. He also has a magically astute neighbor by the name of Florence Zimmerman (Cate Blanchett), a witty witch that seems to have more problems with confidence than conjuring.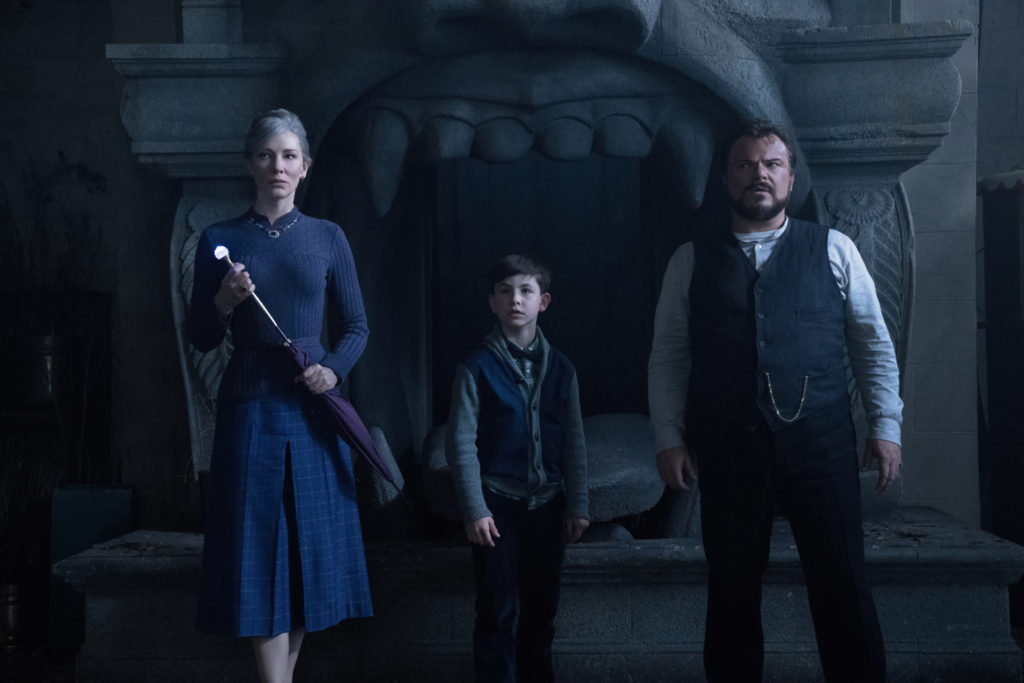 There's certainly a lot going on inside Jonathan's house of odd wonders. There's a mysterious clock ticking in the walls that Jonathan hasn't found since he moved in. Many inanimate objects become living characters, including a chair that acts like a dog. The ghosts of-of Lewis's dead parents haunt him at night, pushing him towards clues to their revival. A book of dark magic remains locked away, never to be spoken of or used by Lewis, too irresistible for a curious kid to resist. And there's a sordid history within the house of an evil magician (Kyle MacLachlan) and his magical doomsday device! Oh, and there are cookies that are apparently eaten at every meal.
And yet it all ends up being a mess that struggles through some very predictable scenes to get to the next set piece. So many gears are turning that the story hardly has time for the arcs of Lewis's school friends of the bully Tarby (Sunny Suljic) and the insect-loving girl who could end up being Lewis's crush. It's rather a shame that Eli Roth's family-friendly horror picture has to stay on such a rigid track considering how well the many dozen elements do on their own. The highlight of the picture is undeniably the chemistry between Jonathan and Florence. They're so sharp and hilarious one wonders why the two of them even need Lewis in the picture

While I don't want to be too hard on child actors, Owen Vaccaro has a handful of scenes that simply don't work with his delivery, namely his tearful pleas which are so overblown I had to wonder if his character was faking the sadness. Another strong actor is Kyle MacLachlan when in the form of a sinister zombie, but his voice is given a demonic twang with electronic manipulation that makes him sound more like a robot with his lesser lines. Anyone who has seen him play the vessel of Bob on Twin Peaks knows that Kyle doesn't need a deeper voice to be intimidating.
I was very torn with The House With a Clock in its Walls as a scary kids' fantasy that sometimes has fun and other times going through the magical apprentice motions. Kids seeking some Halloween thrills will doubt get a kick out of the presentation, especially with the lowbrow gags of a topiary lion that can't stop pooping. There's some pluck and plenty of whimsy so much of it comes through a rather standard storytelling design that I almost wished Roth would break the monotony with a head explosion. He comes close in a scene where Florence starts using her wand as a shotgun to turn demonic pumpkins into piles of orange mush, but it's still not quite enough to make the movie anything more than decent entertainment for kids seeking silly scares and a timid affair for adults seeking more.
The Predator Makes Mild Blast For Weekend Debut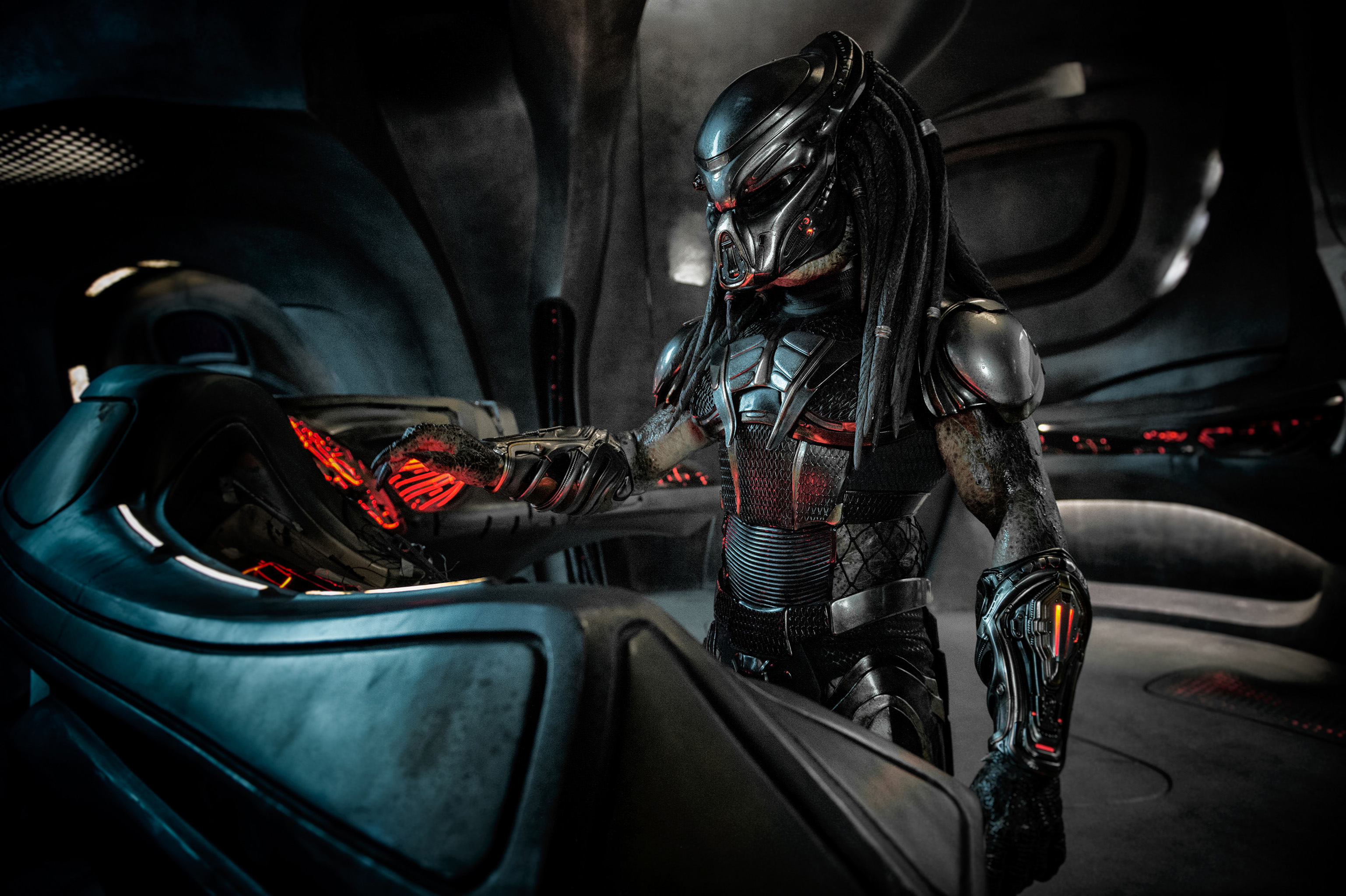 While last weekend was a stellar box office debut for The Nun, the weekend is much more low-key with reduced debuts and descending grosses. Shane Black's The Predator, the latest sequel to sci-fi/horror Predator franchise, came in at #1 but still made a small amount with a box office debut of $24 million. It has a ways to go before toppling its beefy budget of $88 million, but it may survive through a rather slow September.
The Nun was not too far behind as a pleasing horror picture from Warner Bros' The Conjuring universe. In its second weekend, the film made $18.2 million. While this is a 66% drop from its first weekend, the film did have an amazing start on its premiere that the total domestic is sitting at $85 million. So far, it's the biggest success of September as the other premieres are not doing so well. A Simple Favor, the new comedy by Paul Feig, only made $16 million. White Boy Rick, a true crime story starring Matthew McConaughey, brought in $8.8 million. And even further down the list is Unbroken: Path to Redemption, the new religious sports film by Pure Flix, came in with $2.3 million.
No surprise that the strong films from August are still chugging away with small drops. Crazy Rich Asians, the hit romantic comedy, only took a 33% drop with its domestic total now at $149 million. The Meg, the giant shark movie starring Jason Statham, only took a 37% drop with a domestic gross of $137 million. And even Searching, the social media mystery movie, only took a 30% drop to have a total sitting at $19 million.
View the full top 10 weekend box office below:
The Predator ($24,000,000)
The Nun ($18,200,000)
A Simple Favor ($16,050,000)
White Boy Rick ($8,800,000)
Crazy Rich Asians ($8,700,000)
Peppermint ($6,070,000)
The Meg ($3,805,000)
Searching ($3,200,000)
Unbroken: Path to Redemption ($2,350,000)
Mission: Impossible – Fallout ($2,315,000)
Next weekend, The Predator will do battle with fantasy, drama, and politics. Eli Roth's The House With a Clock in its Walls, a family-friendly fantasy film, will premiere in 3,300 theaters. Michael Moore's political documentary Fahrenheit 11/9 will debut in 1,500 theaters. And the Dan Fogelman directed drama Life Itself, starring Oscar Isaac and Olivia Wilde, will hit 2,500 theaters.
Review: "The Predator" is a Humorous Homage, Sometimes Fun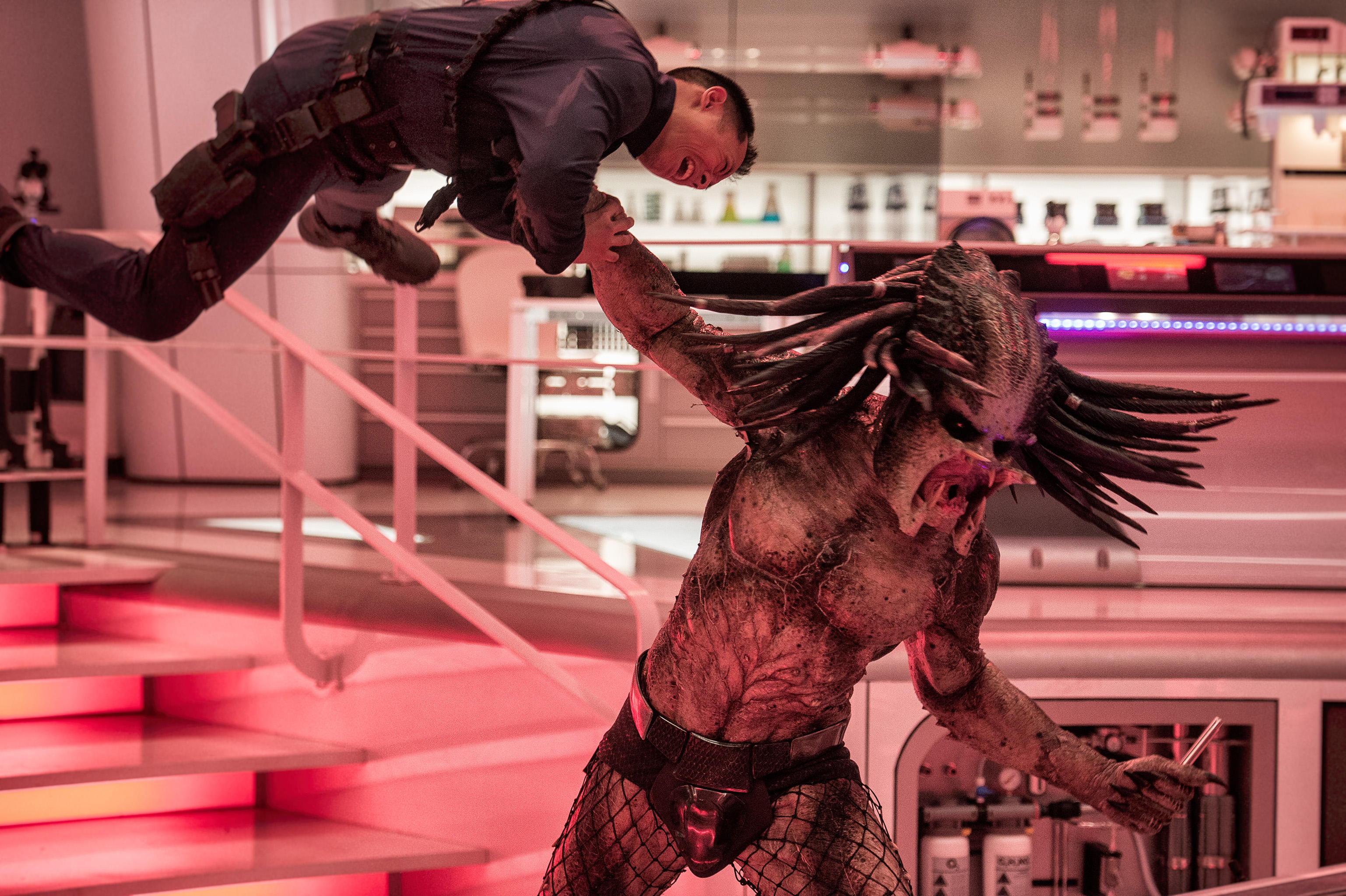 Shane Black's The Predator is simultaneously the most no-nonsense and all-nonsense entry of the series. It does away with a lot of the fat for its story, skipping briskly through its introduction so that gory action of a human-hunting alien arrives quickly. It also doesn't try to take itself seriously, favoring a comedic format to its writing so high on the goofiness it may as well be labeled a parody of the previous films. This odd assembly prevents such a generically titled film from becoming just another tired retread of a dug-up franchise, hit or miss though it may be.
In order to get the bloody gears grinding, Black throws a lot of inexplicably odd actions at the screen. I didn't set my watch, but I'm pretty sure it was less than a minute before the first Predator marches onto the screen, crashing onto Earth and going about its secret mission. Encountering the Predator and his arsenal is sniper-for-hire and former Army Ranger, Quinn McKenna (Boyd Holbrook), who not only takes to the Predator tech quickly but also takes the risk of swallowing some of it so it can't be found. To cash in on newly acquired treasures from outer space, he decides to ship the rest of the alien technology to his mailbox. Seems like a ridiculous idea, but it needs to be done so that the story can arrive on schedule to include a Predator-savvy scientist (Olivia Munn), a greedy government villain (Sterling K. Brown), a savant of an autistic kid with a smart mouth (Jacob Tremblay), and a team of mercenaries that includes a jokester (Keegan-Michael Key) and one with Tourette's syndrome (Thomas Jane).
I could detail the elaborate scheme of the Predators and the tactics used by the human characters, but does it matter? There are convoluted plot elements for sure, including the most ridiculous use of Asperger's Syndrome as a plot twist, but all that this amounts to is the self-aware knowledge of a goofy gore fest. The script, co-written by Shane Black, always seems careful never to go overboard with exposition without a joke in between. A key scene that could have been a bore is the initial alien dissection scene, its purpose to describe the new Predator and decipher his visit. Munn harps on why the scientists have called the alien a Predator when his purpose seems more akin to a big-game hunter.
While the choice to favor knowing comedy or dark action is a smart one, it's not exactly a home run of ideas. The first act, in particular, has some rather stale nostalgic callbacks that one would expect from a lesser retread. Variations on some of Arnold Schwarzenegger's iconic lines from the first film about choppers and the ugliness of the Predator felt so lame that I started gripping my seat, bracing for the entire film to be this adrift of inspiration. But the film thankfully proceeds down its own silly path by the second act, turning into a non-stop bloody bonanza of alien-on-human action. The gore goes for the gusto so heavily that it becomes just as strong as the comical banter between Holbrook and his team of gun-toting good guys, trying to stop the Predator from killing a kid and the government from killing them first.
There's a lot of dumb and messiness in The Predator, but the constant winking from Black's director and the all-star cast save it from being another PG-13 snoozer of a repeat. Armed with machine-gun speed comedy, violence more than worthy of an R rating, and a giddy sense that is always present, what could've been a merry-go-round turns into more of a roller coaster experience of a Predator movie. Black doesn't exactly rework the Predator mythos into something new or even more akin to its quality camp roots, but he does have fun with the material. And when you've got a multi-mouthed alien with braids turning humans into hamburger, you've gotta have some fun mocking the spectacle, especially after so many films that take themselves far too seriously.