Review: 'Zootopia' is More Than Just Fluff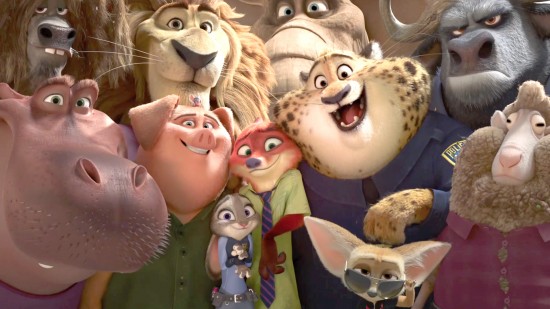 [dropcap]I[/dropcap]t's rare to see a modern animated film have strong allegories, but also a fantastical world to wrap them within. Zootopia deals with topics such as racism, sexism, prejudice and stereotypes, but only as bluntly as they should appear in a world of anthropomorphic animals.
It's probably not something you'd expect from the Walt Disney Studios that tends to favor the simpler and award-winning stories of Frozen and Big Hero 6. But in the current crop of animated films that dabble in simplistic slapstick and templated shlock, Zootopia stands out just enough to turn some heads on how to make a movie about CGI animals both creative and thoughtful.
Zootopia constructs a society where all animals have learned to live in harmony. Hamsters ride the train with rhinos, a sheep acts as a secretary to a tiger and giraffes can get a decent cup of coffee on their morning commute. Despite the boasting of defeating nature over nurture with prey living among predators, a few hurdles exist to be climbed.
Judy Hopps (Ginnifer Goodwin) is a rabbit that wants to be a cop, but there has never been a bunny police officer before – most bunnies appear to be farmers. When relayed this information by her parents, Judy cheerfully states that she'll just have to be the first, as if it's no big challenge. But it turns out to be one of the most difficult tasks of her life with a societal mindset that bunnies are too cute and small to handle big cases. She certainly stands out in a room of officers that range from water buffalo to elephants.
Reduced to the level of a meter maid, Judy seeks to prove herself by solving one of the many missing mammal cases throughout Zootopia. Her only lead is the cunning fox Nick Wilde (Jason Bateman), a shameless hustler that specializes in taking advantage of kindness and making a quick couple hundred dollars.
Judy uses all her wits and smarts to force Nick into helping her crack the case and proves she's not just some dumb little bunny. At the same time, Nick also desires to excel past his predator ancestors to be more than just an astute huckster. And the conspiracy they uncover is thankfully smart enough to not be obvious and have a few unique twists.
The premise sounds simple enough for a buddy picture fused with a conspiracy plot. But the exceptional direction of Rich Moore and Byron Howard elevates every scene to its full potential.
There is an immense construction to the world of Zootopia that divides up regions into different climates from rainforests to a tundra. The inner urbanized part of Zootopia has various areas built for creatures big and small; hippos have a dry-off station after emerging from water and small moles go shopping in their own pint-sized district. The attention to detail to every aspect of this society is a grand visual treat.
While kids will marvel at the amazing animation and character designs, adults will have plenty to admire in the humor. There are satirical digs at the studio with the way a street vendor sells bootleg versions of familiar Disney movies and one very clever slam on Frozen. The thematic elements contain loving satire to The Godfather and Chinatown, but clever enough to be appropriate for the story rather than just be direct references.
The comedy is also just as smart with the right amount of timing. One of the most uproarious scenes involves Judy and Nick gathering information from a DMV run by sloths. The full version of this scene was used in one of the trailers. Having already seen it, I still laughed hard at this scene for it tenacity to draw out the lazy nature of sloths. The absurdity is golden.
Everything about
Zootopia
 works more effectively than expected for another animated movie about talking animals. There is intelligence to its story of social drama and equal parts wit in its vibrant animation. The result is a film that can be timely in its important message, but still be a genuinely pleasing production that families can indulge in for cute laughs. I didn't even mind that the movie ends with the cliché dancing of characters to the tune of Shakira (anthropomorphized as a gazelle). You go ahead and have your dance,
Zootopia
 – you've earned it.
[author title="About the Author" image="http://popstermedia.com/wp-content/uploads/2015/07/mark_mcpherson-300×221-150×150.jpg"]Movie nut Mark McPherson has been all about movies since working at a video store in his youth. His talents range from video editing to animation to web development, but movies have always been his passion to write about.[/author]
"Ralph" Reigns Again on Slow Box Office Weekend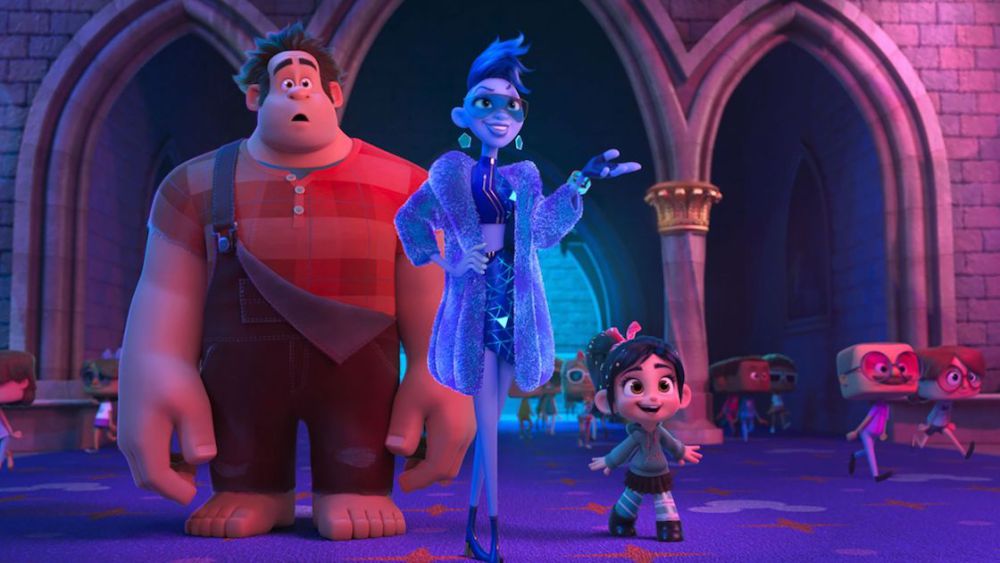 We're currently in the eye of the fall movie storm. All is fairly quiet this weekend. The only new release was that of a small horror film, The Possession of Hannah Grace. So small, in fact, that it only came in at #7 for the weekend with a gross of $6.5 million. As such, few films moved very far from their spots. Last weekend's winner, the animated adventure Ralph Breaks The Internet, was once again on top, even though it wasn't a very strong second weekend of $25 million, a 54% drop. Still, the film has made $119 million so far and is well on its way to covering its $175 million budget.
Surprisingly jumping up a spot is Dr. Seuss' The Grinch, the latest animated film Illumination Studios based on the classic Christmas book. The film jumped up from #3 to #2, making $17 million with the domestic gross now up to $203 million. Creed II, the sequel to the Rocky spinoff, took a step down for its second weekend, grossing $16 million with a domestic total of $81 million. It's no surprise that the biggest drop of the weekend was Fantastic Beasts: The Crimes of Grindelwald, the sequel to the Harry Potter spinoff. Due to low critic ratings and poor fan reactions, the film tumbled 61% with its domestic gross sitting at $134 million.
View the full top 10 box office winner for the weekend below.
Ralph Breaks The Internet ($25,756,000)
Dr. Seuss' The Grinch ($17,730,000)
Creed II ($16,832,863)
Fantastic Beasts: The Crimes of Grindelwald ($11,200,000)
Bohemian Rhapsody ($8,100,000)
Instant Family ($7,150,000)
The Possession of Hannah Grace ($6,500,000)
Robin Hood ($4,700,000)
Widows ($4,400,000)
Green Book ($3,900,000)
Next weekend is so sparse with new content that the biggest release is going to be an anniversary screening of Schindler's List, hitting 1,000 screens. It's a good time to take in some smaller releases as Mary Queen of Scots, Ben is Back, and Vox Lux will be having limited releases. So it's safe to expect a repeat of this weekend's trends in the box office.
"Ralph" Breaks The Box Office, "Creed" Close Behind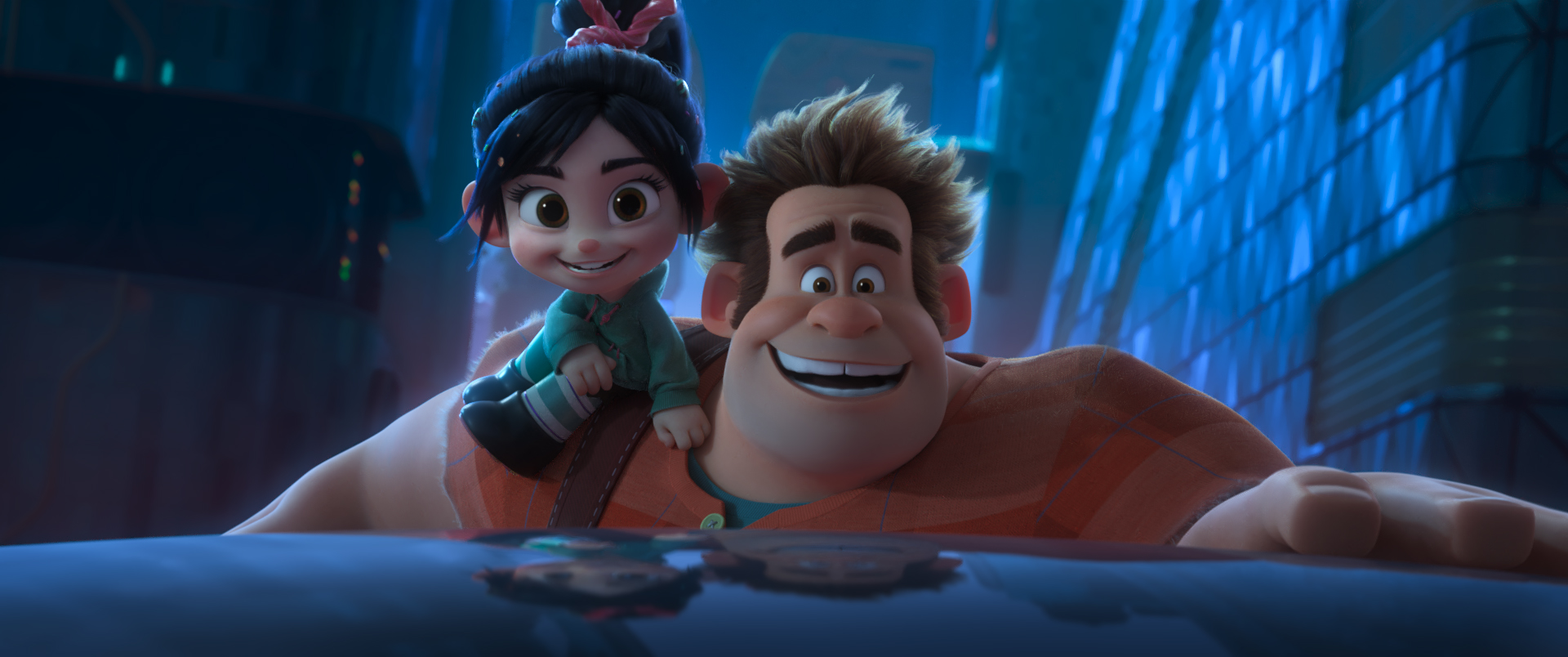 Thanksgiving week is a time for family and there were plenty out to the theater last week for an animated family picture. Ralph Breaks The Internet, the Disney-animated sequel to 2012's video game adventure comedy Wreck-It Ralph, came in at #1 for the weekend with $55 million and $84 million since its debut on Wednesday. This puts it above the Disney studio's previous Thanksgiving hit Moana, which had a 5-day total of $82 million.
Not too far behind is Creed II, the sequel to the Rocky spin-off starring Michael B. Jordan and Sylvester Stallone. The boxing sequel took in $35 million for the weekend and $55 million since Wednesday. This is a stronger opening than the first film which came in at $29 million for the weekend.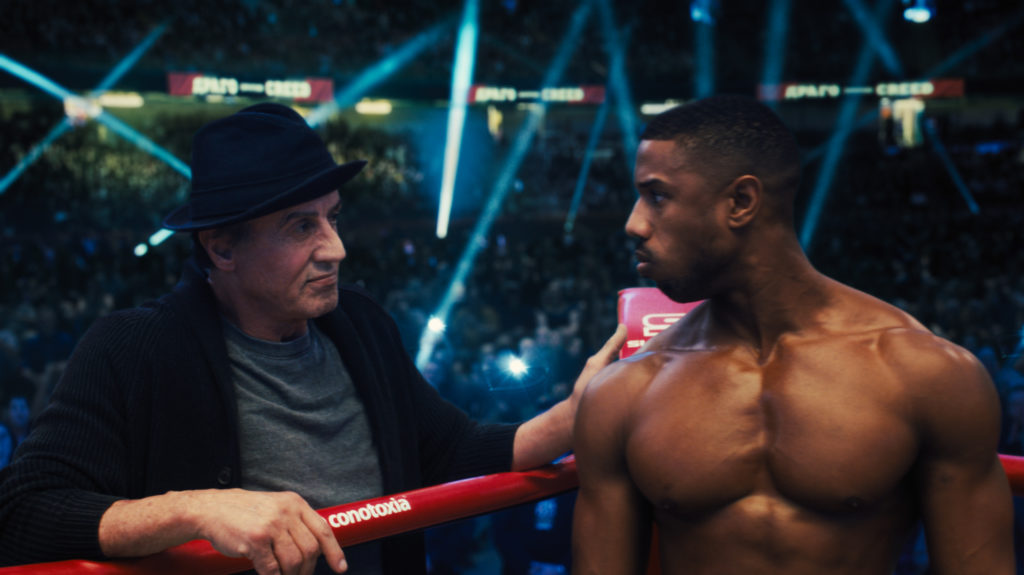 And it was slim leftovers for the two other debuts. Robin Hood, the latest action remake of the classic tale, came in at #7 with only $9 million for the weekend, $14 million since Wednesday. Green Book, a drama about a black singer in the racist south of America, came in at #9 for its expanded week to make $5 million for the weekend and $7 million for its domestic total.
The Crimes of Grindelwald is not fairing to well for its second weekend. The Harry Potter spin-off has dropped to #4 with a domestic weekend gross of $30 million, a 52% drop. The film still hasn't cleared its $200 million budget with a domestic gross of $117 million and it looks like it may never cross that mark as we head into December with more genre titles. Beating it out for #3 is Dr. Seuss' The Grinch, the theatrically animated adaptation by Illumination, that is proving to have great legs coming into the holiday season. Worth noting at #10 is A Star Is Born, its domestic total now having crossed $191 million to make it one of the most profitable films of the year.
View the full top 10 box office results for the weekend below:
Ralph Breaks The Internet ($55,672,000)
Creed II ($35,293,000)
Dr. Seuss' The Grinch ($30,210,000)
Fantastic Beasts: The Crimes of Grindelwald ($29,650,000)
Bohemian Rhapsody ($13,855,000)
Instant Family ($12,500,000)
Robin Hood ($9,125,000)
Widows ($7,955,000)
Green Book ($5,443,000)
A Star is Born ($3,005,000)
Next weekend is, well, it's pretty dead. So dead that a ghost movie is occupying the rather blank spot. Possession of Hannah Grace, a modest horror production, will be arriving in under 2,000 theaters. So it's fair to say you can expect Ralph to breakthrough for another weekend of success.
"Creed II" Gets Raw and Rickety with Rocky-isms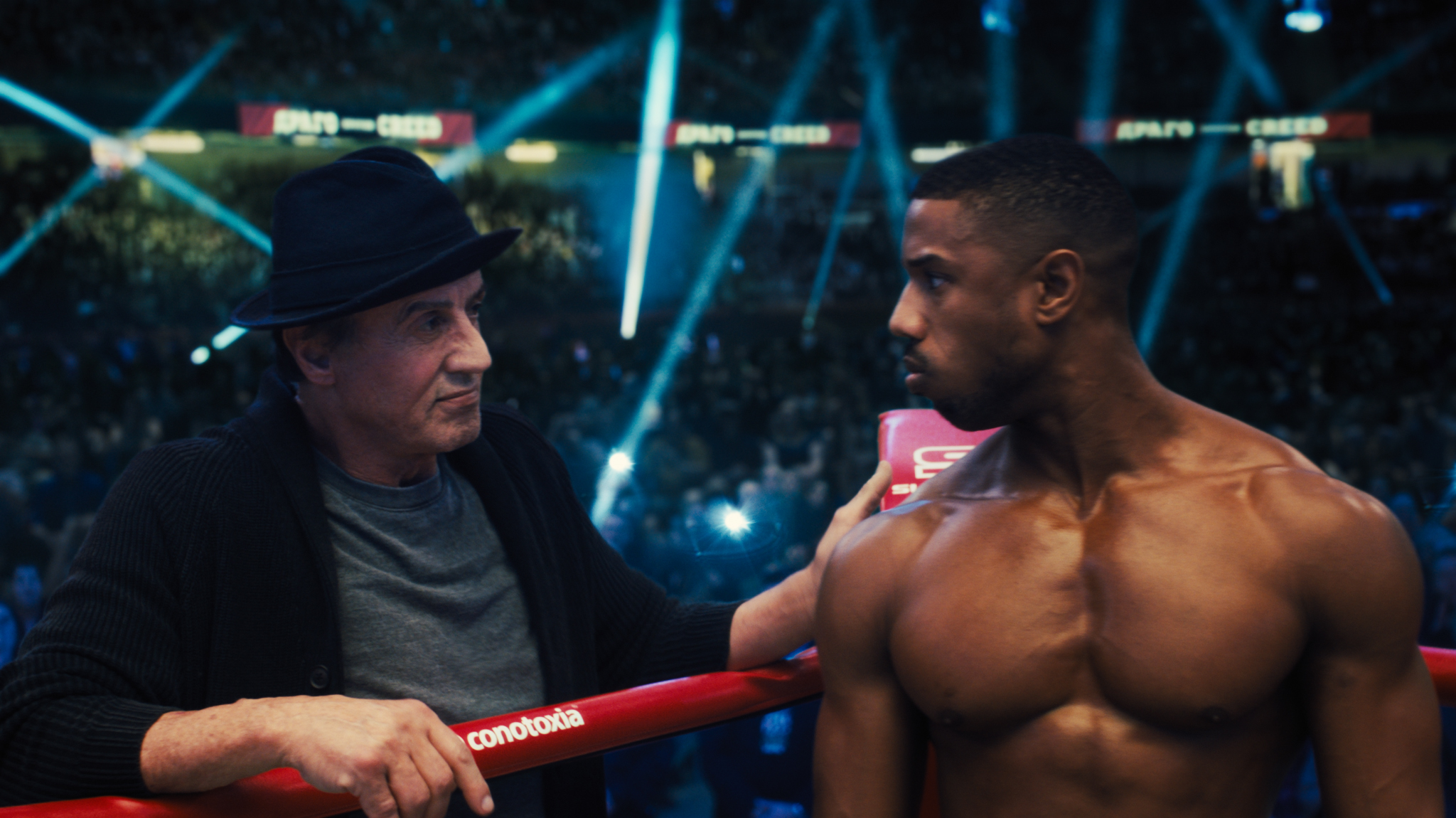 Creed II, despite showing no shortage of boxing enthusiasm, falls prey to all the predictable theatrics and pitfalls of a sports sequel. It takes the character of Adonis Creed and prepares him to weather familiar territory in the Rocky franchise, pumping him up for the long haul of taking on new challenges. It's very much a "more" sequel; more intensity in the fights, more drama stirred up outside the ring, and more theatrical music to turn the one-on-one boxing matches into towering and thunderous battles of gods. And while Creed certainly still has some of that charm in its eyes and adrenaline in its veins, there's an unfortunate feeling one can't shake that there's not a lot of new tricks for this spin-off franchise.
Michael B. Jordan still has the right stuff as Adonis Creed. He's a fierce competitor when he slips on the gloves and a fearful mess when it comes to taking the next step in his relationship with his best girl Bianca (Tessa Thompson). His mentor Rocky (Sylvester Stallone) is still in his corner to coach his many matches but there's one fight he won't be there for. Remember Ivan Drago from Rocky IV? He's back, reprised by Dolph Lundgren, and has a new young Russian contender, his son Viktor (Florian Munteanu), ready to defeat Rocky's boxing apprentice. You may recall that Drago was the one who killed Creed's father, Apollo. Time for a revenge fight!
The story makes its intentions clear from the first scene where Creed repeats the inspiring mantra of only fighting for himself and proving nothing to nobody else. Indeed, Jordan remains the centerpiece so prominently he pushes aside all other characters and arcs. Consider how Ivan has a lot riding on this fight, not only to seek revenge but also to gain the favor of his country and his ex-wife, who apparently left him for being a loser. It sounds a little too cartoonish of a villain plot and the film almost out of mercy never draws too much attention to this plight. Also absent from the second half is Buddy Marcelle (Russell Hornsby), another villain trying to push the boxing narrative of Creed vs. Drago and keep that match on the schedule. There's a lingering theme amid these characters about when the fight isn't worth it, yet all that questioning evaporates when the film quickly settles into being the guaranteed crowd pleaser of Adonis winning the fight.
Purely on the aspect of boxing, the film is neat to watch. It plays up the theatrics of the matches with an epic score and gets up close and personal with the punches. You feel every blow as the soundtrack boasts the brutal slugs to the face and ribs, almost as loud and grand as the epic music trying to drive the excitement up further. And while it is thrilling to get engaged in the main events of the picture, there's that lesser drama that hinders a bigger film. Consider how Drago's son seems defeated before the final blow is struck, more emotionally than physically. The triumphant punch across the face with a rousing reprisal of that old Rocky theme is all but assured at that point.
Where the film kept winning me back wasn't so much in the fights but in the quieter drama. There's an ease to scenes where Rocky and Creed are merely talking about family and what's most important in life. The two of them ooze with warmth where I found myself particularly charmed at a simple departure of Creed asking if Rocky is good and he gives a relaxed assurance before strolling off to let Adonis purpose to Bianca. And while the scenes between Jordan and Thompson are rather sweet, there's no stopping the power of Phylicia Rashad as Creed's mother, dominating scenes where she playfully asks about kids and powerfully puts the boy in his place when it comes to choosing his battles.
While I enjoyed Creed II and have no doubt that it'll inspire cheers in the theater, I couldn't help but notice all the tired tropes being unearthed, properly dusted off as they may be. There's a training montage, a fall from grace, and plenty of televised boxing decadence. The first Creed film was exciting and inspiring because it felt new and refreshing. Creed II, however, gets too comfortable with that old Rocky formula, where the film becomes more centered on the match than the character. We certainly get a rousing fight but little more than that as Creed II comes up abundant on muscle and lower on the relatable human aspects. Here's hoping Creed III won't feature him fighting Mr. T's protege.