Review: 'Warcraft' Is All War, But No Craft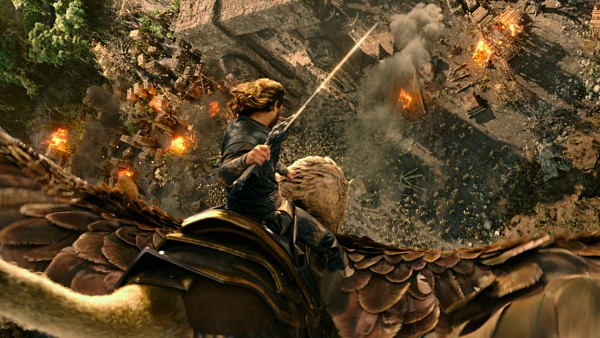 [dropcap]A[/dropcap]lright, let me put my cards on the table. I have played the Warcraft video games from the 1990s, but not the pop culture phenomenon of World of Warcraft. I've never read a Warcraft book, comic book or even a strategy guide for that matter.
So while I may not be familiar with the abundance of lore coupled with Warcraft, I can state that the movie did capture the atmosphere of watching other people play World of Warcraft. I spent my college days in dorms where students would be glued to their screens in walleyed hypnosis over this fantasy game. They'd spend hours upon hours mindlessly grinding levels by clicking profusely, waiting for their character to walk to the next enemy and then clicking some more. They spoke to one another in nasally and droning voices that made them sound less as warriors or wizards and more as accountants doing taxes. That level of monotony and disinterest can be felt in this movie.
The movie begins with the introduction of a race of war-loving beings known as the Orcs, portrayed as CGI monstrosities with big teeth, big hands and big feet. Their world is dying and they now rely on the dark magic of an evil Orc who uses the power of souls to open a portal to a new world. The world they seek to conquer is known as Azeroth and it's occupied by humans, elves, dwarves, griffins and wizards (and possibly more fantasy creatures).
But the portal is only strong enough to bring a few Orcs through at a time. They need more souls to make it open, so the handful of Orcs that went through starts capturing humans to use as fuel for the portal. Why don't they just talk to the humans about their dilemma?
Related: Review: 'Now You See Me 2' Has More Magic, More Tricks & More Problems
Well, the orcs don't speak the words of man, but apparently some of their lesser Orc half-breeds can speak it for some unexplained reason. There are also plot elements of fantasy creature councils, traditions that the Orcs are struggling to protect, pathos for a baby, etc. Don't bother getting too invested in these plot elements, however, as most of them are either underdeveloped or left out to dry for a supposed sequel.
In this struggle for survival and land, a slew of laughable and underdeveloped characters are thrown at the screen. Durotan (Toby Kebbell), one of the chiefs of the Orcs, fears for the future of his people and his newly born child that he brings with the horde to Azeroth for some reason. Sir Anduin Lothar (Travis Fimmel) commands the human armies that drive back the Orcs, but is concerned about having his hardly acknowledged son on the battlefield.
Garona (Paula Patton) is a half-Orc slave that will be given sanctuary if she can help the humans with defeating the horde, but floats between so many strange motivations of who to trust, kill or seduce. Khadgar (Ben Schnetzer) is a young mage that seeks to prove his worth and play a bigger role in the forthcoming war, but everybody hates him for some reason. The mysterious wizard Medivh (Ben Foster) is supposed to be an all-powerful being, but appears more as a disinterested stoner with his long hair and thin beard. This punk doesn't have the presence or the facial hair to go toe-to-toe with Gandalf or Merlin.
All of these characters do little more than go through the motions based on both a crowded script and low-level acting abilities. There are small nuggets of scenes reserved for these actors to display some level of charisma and every one of them fall flat on their face in failed attempts at levity and drama. I could hear a few pity laughs in the audience during most of these awkward moments.
For Azeroth being filled with wizards, griffins, dwarves and elves, Warcraft does a rather terrible job at building up its world. The movie introduces the human kingdom of Stormwind, but we don't see much of it outside the throne room, war room and dungeon (all of which are not that impressive). We don't get to meet the people, understand their customs or experience their culture. I suppose we just have to accept it as your average fantasy kingdom and move on.
The fight scenes, which will most likely be the biggest draw, are decent at best. For the first few minutes, the combat is shocking and brutal. But by the time the movie reaches its tenth head smashed in by an Orc hammer, the abundance of brutality begins to lose impact fast. Quantity takes priority over quality as legions of knights square off against hordes of Orc warriors in large overhead shots.
[divider]Read more to check out the trailer:[divider]
Review: "First Moon" is an Emotional and Exciting Race to Space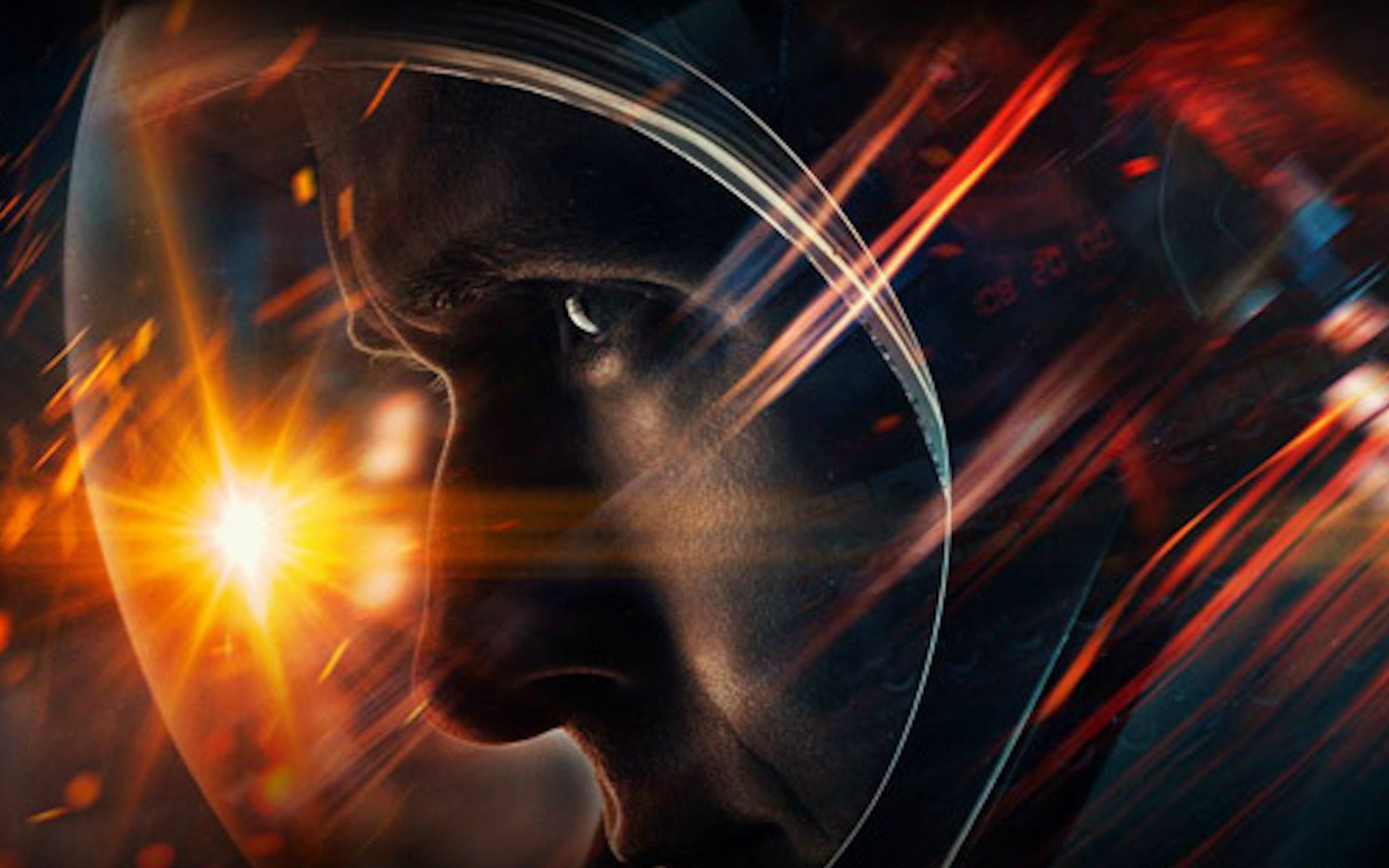 Damien Chazelle's take on Neil Armstrong's tough road to making it to the moon may not be the most accurate but it is certainly entertaining. Similar to how he directed intense jazz players in Whiplash, he lets us feel everything in Neil's missions, from the rickety and nightmarish howling of straining spacecraft to the deepest fears of death always one error away. While the accuracy and motivation are debatable, there's no denying that Chazelle locks us in as tight as Armstrong was to that rocket and never lets us go.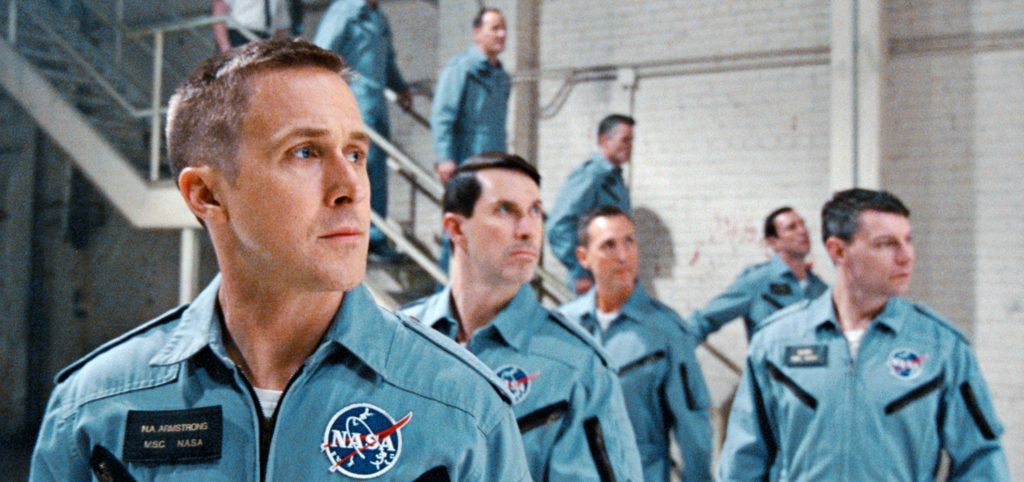 Ryan Gosling plays Neil Armstrong as a pilot of few words, so focused on the next mission he pushes aside the death of his young daughter to get back to work. He doesn't let it affect him but Chazelle's direction suggests it does in a pocket of his mind. To keep his mind off such a traumatic event for his family, he pursues and is accepted into the Gemini program for the ambitious mission of traveling to the moon. His tone doesn't sit well with his wife Janet (Claire Foy). She's willing to stick with him, raise his son, and have another child, but she can't stand the toll. Her husband is so distant and plainspoken, hiding all emotion that it drives her nuts to see his comrades bite the dust in the dangerous testing leading up to the ultimate launch. There's a good man in there but he's committed when it comes to the business of reaching the stars.
Armstrong's journey always keeps us in the cockpit where he is, witnessing with his limited scope of what the glass and gauges allow. It's intense to listen to the alarms go off, the metal straining, and the static-laced radio voices calmly state firm instructions and warnings. Few times do we cut away from the chaos when things spin wildly out of control, sometimes literally when a test of docking procedures sends his craft hurtling through the darkness of space as the grinding speed never seems to stop. He faces many fearful challenges, including a test of the lunar lander that goes up in flames. Yet he shakes off the dirt and keeps going. One person heading the team asks if all this will be worth the cost. "It's a little late to ask that question," Armstrong responds.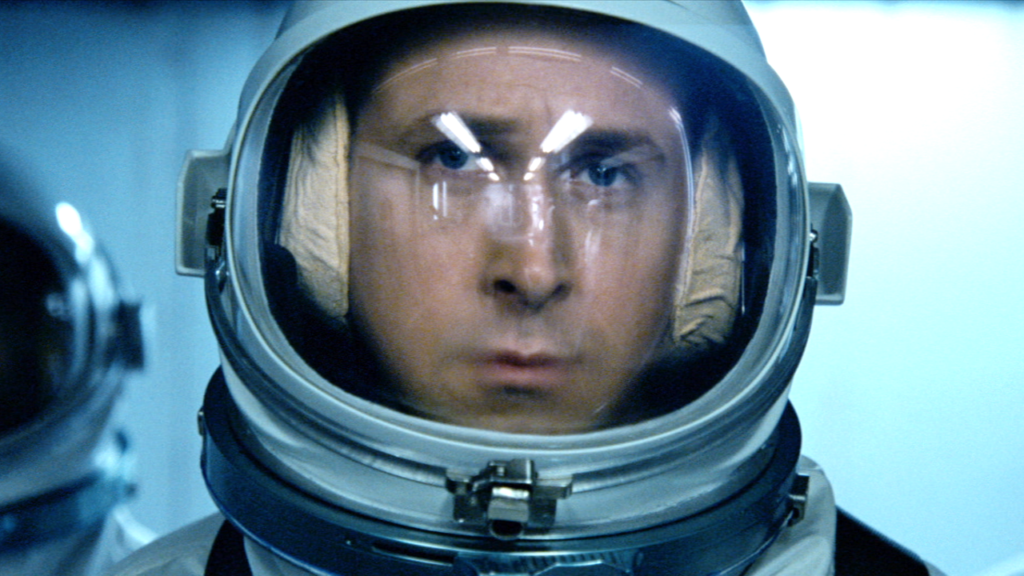 The few times we do cut away from Armstrong focuses on his wife trying to keep it together, expertly played by Claire Foy. Janet strains and stresses, sure, but she realizes that if she doesn't try to snap Neil out of his tunnel vision that she'll lose him before she knows it. One of her best scenes features her finally confronting Neil before heading off to the grand launch, shouting at him to say something to his children instead of treating it like one long business trip. But as they sit the kids down and Neil tries to explain where he's going, he treats it more like a press conference than a family meeting and Janet coldly realizes this is her husband.
Where the film unfortunately plateaus is in its finale of when Neil Armstrong and the cocky Buzz Aldrin (Corey Stoll) finally make the landing on the moon surface. Chazelle keeps this section quiet and contemplative, letting the original transmission audio fill in some of the gaps. It's perhaps too contemplative the way the imagery and soft soundtrack tries to bring Neil's grips with death to a realization. It's a scene that perhaps comes off melodramatic but Chazelle's direction keeps us more in the moment than rolling our eyes at the emotional bells and whistles of a realized character. The exceptional cinematography becomes astounding to be lost within, from the great use of lighting and shadows everywhere from the cramped quarters of the capsule to the hallway of the Armstrong household.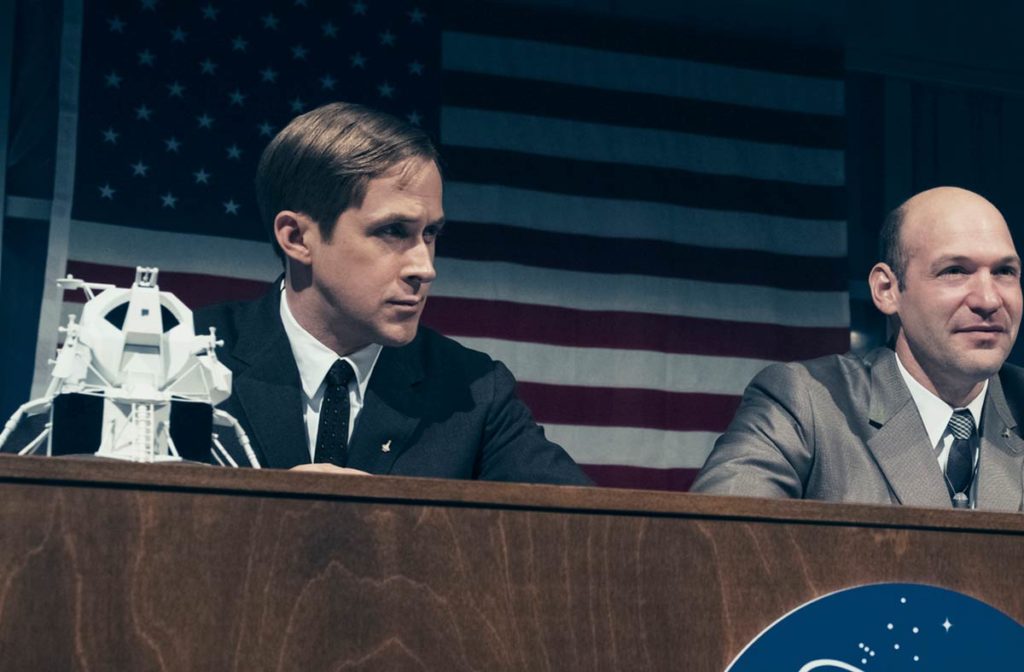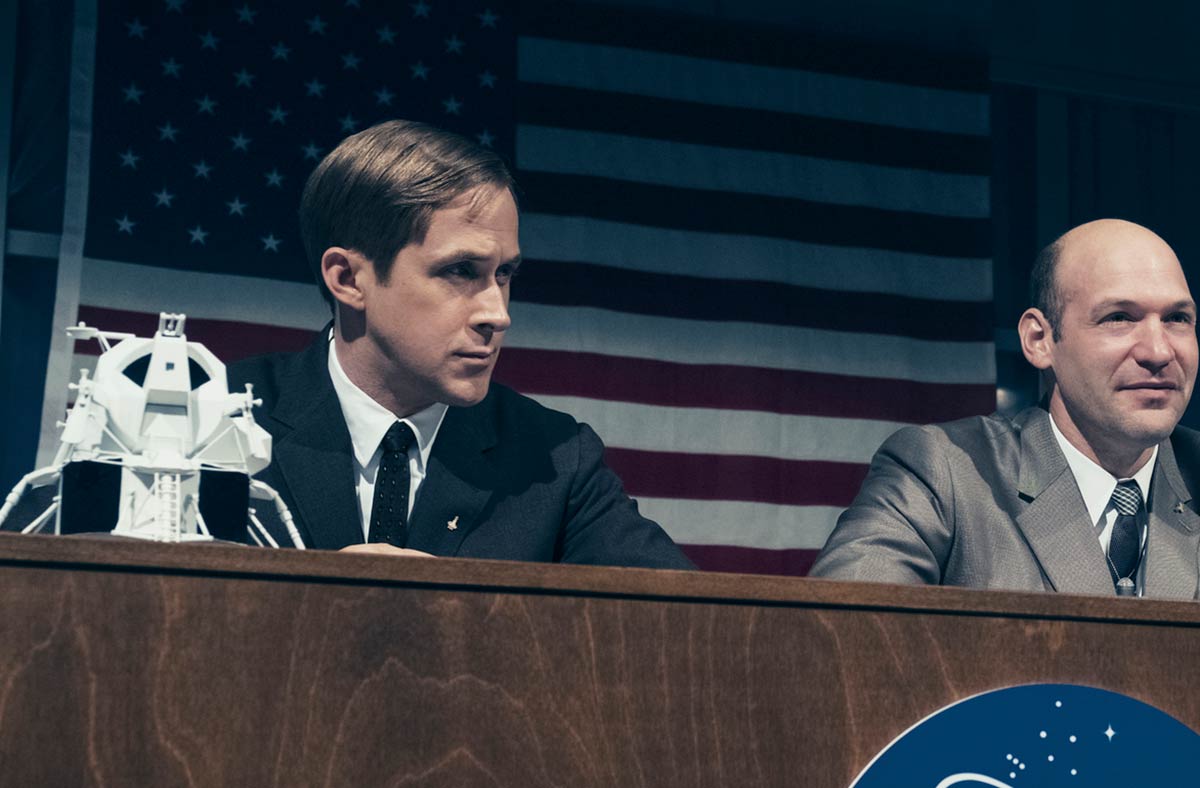 First Man is definitely an intriguing and gorgeous film, one that should certainly be seen in IMAX for the full effect of its well-shot sequences, but it still feels lacking as Chazelle's lesser film. This fault mostly lies in how Armstrong's aim shuts out most of the other elements of the film, including his co-pilots who have arcs that peter out as the mission takes on greater importance. While the film succeeds at making us stare directly into Armstrong's psyche, there are too many distractions that I sometimes wish the story veered off course from its obvious target.
Review: David Gordon Green's "Halloween" Revives The Fear and Terror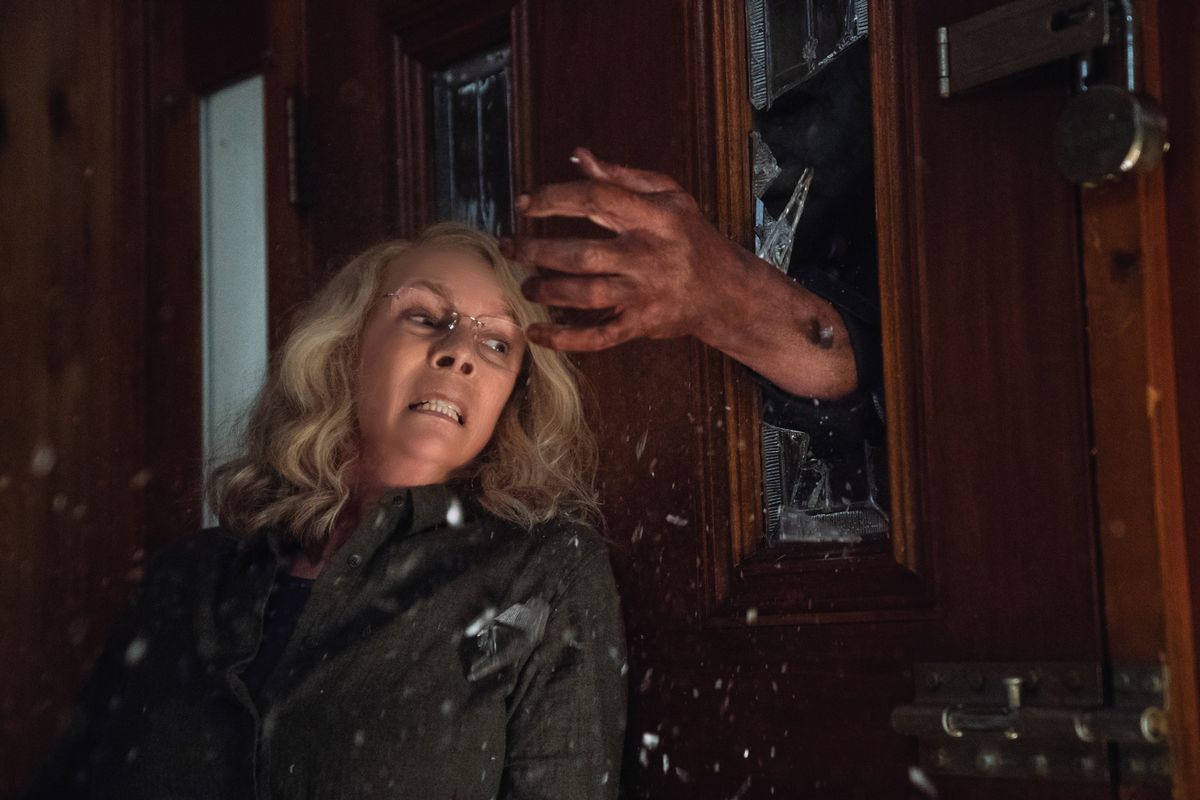 After numerous sequels, remakes, reboots, and even a failed divergence of trying to weave the saga into an anthology, it is ultimately David Gordon Green's take on Halloween that is the worthy successor. It may have taken forty years to find that perfect follow-up but, as we've seen from the likes of Blade Runner 2049 and Mad Max: Fury Road, several decades can make a world of difference for a sequel. And though we had to suffer through a long road to get here, we've finally arrived at the true Halloween film I've been pining for. And it feels so good to have a slasher picture so grim, beautiful, straightforward, and intense.
Despite being titled as Halloween, like another dreary retread, this new film acts as the true sequel forty years later, ignoring previous entries. Jamie Lee Curtis returns to the role of Laurie Strode and she's been waiting for her attacker Michael Myers, preparing for his return. He's been locked up in solitary confinement for decades but Laurie is no fool when it comes to horror movie logic. She's had plenty of prep time and nightmares that never cease to keep her pumped for Michael's next rampage. And it's coming up quickly when Michael is transferred to a high-security prison and makes his escape during transport.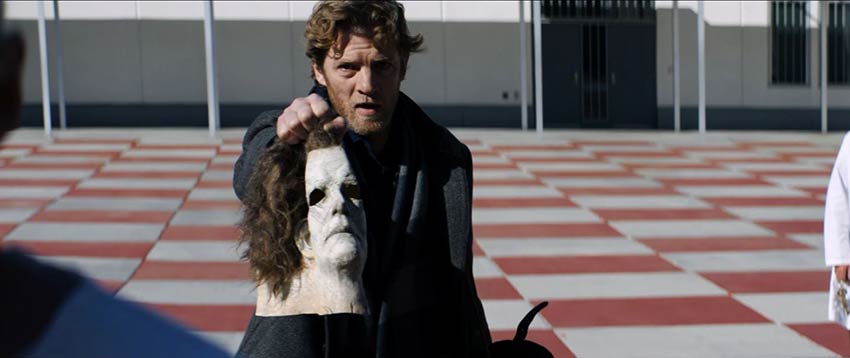 It's back to basics for the classic killer, slowly slipping back into his groove of intimidation and murder. He gets back his old attire by swiping a mechanic's uniform to fit his massive frame and acquiring his old iconic Halloween mask that looks as though it hasn't been washed since the 1970s. He's a ways off from Laurie's home but works his way over by attacking the neighborhood of Laurie's family that includes her daughter Karen Strode (Judy Greer), her teenage granddaughter Allyson (Andi Matichak), and Karen's husband Ray (Toby Huss). Taking a stroll on Halloween night, he breaks into homes, finds some weapons, and begins his night of many stabbings with his following piano theme.
What makes this film so effective is that it never feels the need to delve deeper into Michael's past, keeping his motivations a silent enigma hidden behind his mask and heavy breathing. There are many attempts to understand him, as with nosey podcasts journalists hoping to land a story and a curious psychologist who wants to know Michael's secret of evil. Michael won't spill the beans; he'd rather spill guts. Even Laurie, with her rocky history of not being trusted by her family, obsessed with keeping her home safe, and driven mad by Michael's existence, has a tone that feels more natural than expositional. She'll never slow down to explain herself when it comes to the dangers of Michael or how her odd house of tricks functions for trapping the killer she knows will come. She, too, will be interviewed by the podcasters and she won't give them much, as though her wish to survive the night and kill Michael won't come true if you tell.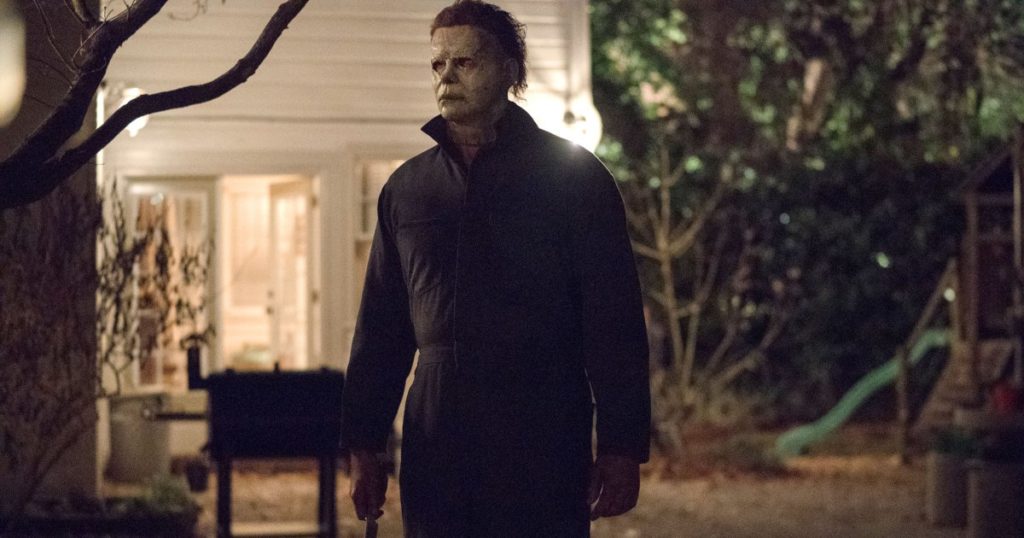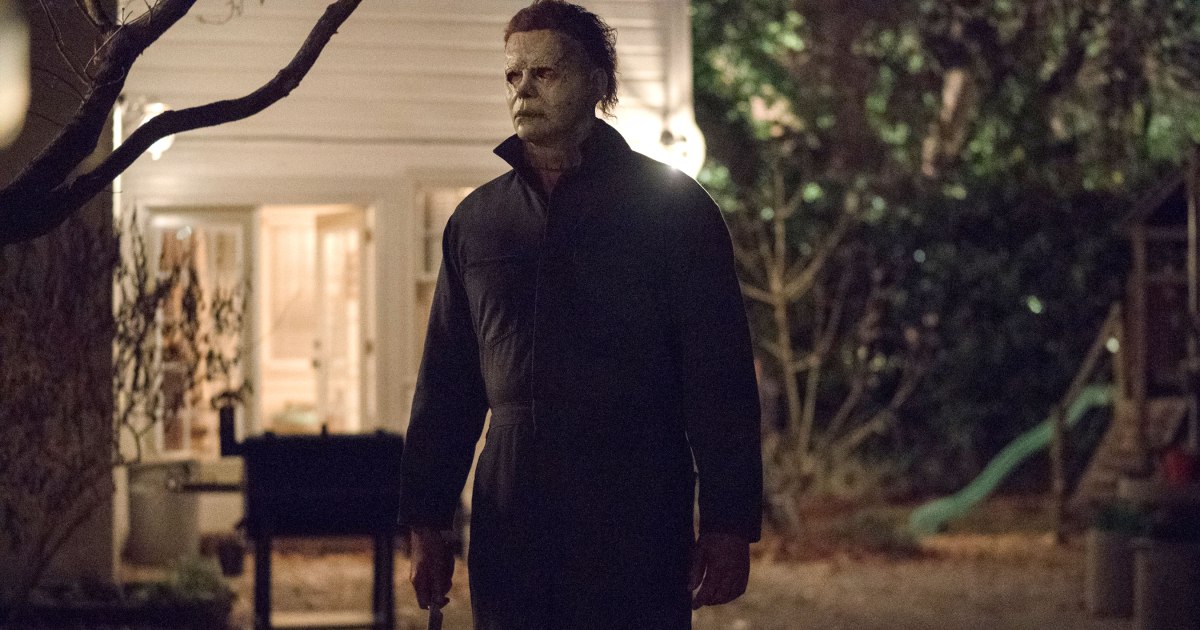 David Gordon Green's direction is superbly on track for matching the style of the original. The atmosphere always carries a creepy and intimidating feel, that familiar and simple John Carpenter style score piercing the tension almost as sharply as Michael's knife. Michael's kills are kept clever, bloody, and chilling; sometimes he'll go as simple as choking someone to death with his giant hands and sometimes he'll bring his boot down to splatter brains into the pavement. For as elaborate as it seems, I dug how Laurie's secluded home comes with a slasher security system, including multiple door locks, an underground bunker of supplies, and special locks she can use to secure rooms she's already explored. It turns Laurie into more of the screaming warrior than the scream queen she was originally known for. And there's something oh-so-satisfying about transforming her into the gritty grandma with an arsenal of guns.
I doubt most jaded modern horror audiences would be as spooked into terror at the almost quaint killing spree of Michael Myers with his classic tactics but Halloween keeps a focus by maintaining its style and tone with grace. It's a brilliantly shot film, from the checkerboard floors of a mental institution to the darkly lit interiors of Laurie's stronghold, including some subtle callbacks and an alternate take on familiar shots. It's viciously violent, slowly establishing that nobody is safe from the massacre via Myers, including kids. There are even a few twists thrown in to keep the story more interesting. Ultimately, it's a wickedly faithful throwback to what made Halloween so gripping and infatuating before the saga descended into Stonehenge mysticism, a reality show, and dreams of white horses.
"First Man" Fumbles In Crowded Weekend, "Venom" Drops and Tops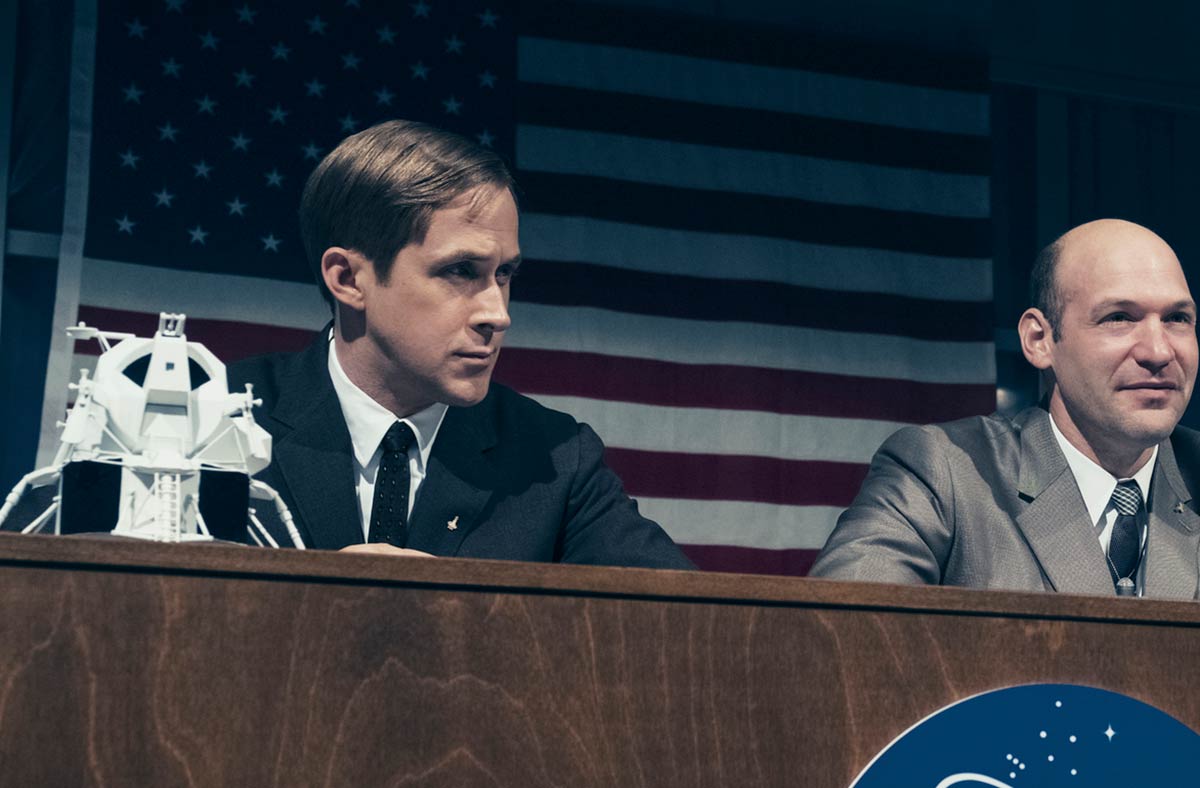 October is proving to be a crowded month for genre pictures and Oscar-worthy films. As such, it's astounding that a superhero film has managed to set records for the month. Venom, Sony's Marvel movie about the anti-hero, continues to be at #1 in its second weekend with a weekend gross of $35 million. This brings its domestic total to a towering $142.8 million, covering its $100 million budget. Once again, not far behind it is A Star is Born, the musical drama with Bradley Cooper and Lady Gaga, ends up at #2 with a weekend gross of $28 million, the domestic total sitting at $94 million, still great for a $36 million budget.
There were a host of new releases this weekend but weren't as successful as they trailed behind the top two. First Man, the Neil Armstrong movie starring Ryan Gosling, only made $16.5 million, a major disappointment for the $59 million film. Just beneath it was Goosebumps 2: Haunted Halloween, a sequel to the 2015 family horror film based on the books by R.L. Stine, coming in close with $16.2 million. Further down was Bad Times At The El Royale, the all-star ensemble campy thriller, making $7.2 million. Expanding for the weekend was The Hate U Give, the racially charged drama, but the expansion to over 200 more theaters did little to push it up the chart, making $1.7 million.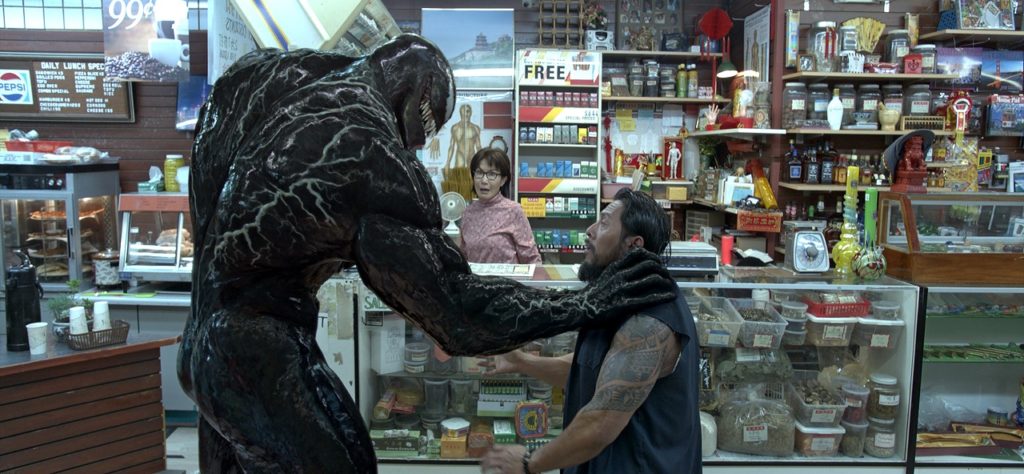 Though Venom took the big dip for the weekend with a 55% drop, it still ended up being the biggest money-maker of the weekend. It's no surprise that the other big drop was for The House With A Clock In Its Walls falling 45% because there's not exactly enough room for two Jack Black scary family comedies. Both Smallfoot, the animated comedy with the voice of Channing Tatum, and Night School, the education comedy starring Kevin Hart, each had only 35% drops. But it was ultimately the comedy A Simple Favor that took the biggest hit of dropping 59% to #10 in the box office.
View the full top 10 of the weekend box office below:
Venom ($35,700,000)
A Star Is Born ($28,000,000)
First Man ($16,500,000)
Goosebumps 2: Haunted Halloween ($16,225,000)
Smallfoot ($9,300,000)
Night School ($8,035,000)
Bad Times At The El Royale ($7,225,000)
The House With A Clock In Its Walls ($3,975,000)
The Hate U Give ($1,765,000)
A Simple Favor ($1,380,000)
Next weekend will be far less crowded with a heavy-hitter horror film aiming for the top spot. While The Hate U Give will be expanding even more into 2,300 theaters, the new Halloween, starring Jamie Lee Curtis, will be hitting 3,700 theaters, presenting the biggest threat to Venom's quickly draining box office.