Review: The Draining Charm of 'Insidious: The Last Key'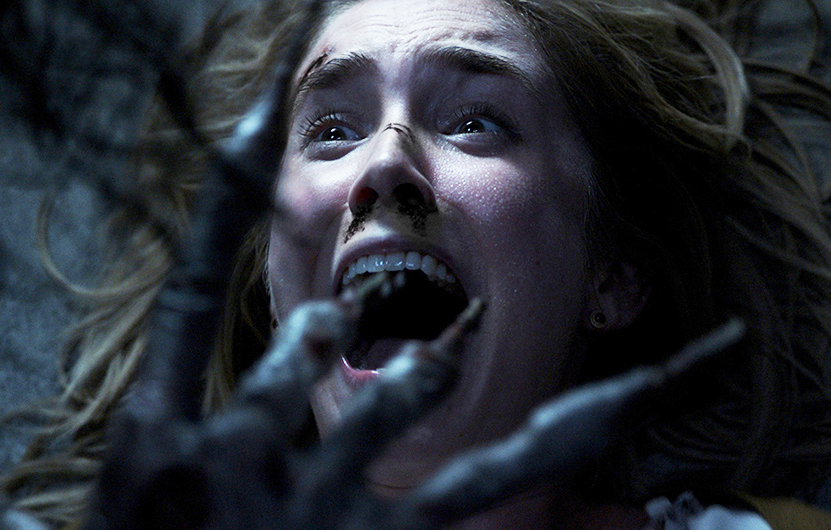 When I last left Insidious with its third chapter, I noted how this horror series finally found its groove in Lin Shaye playing a kick-butt psychic Elise with her lovable ghost-hunting duo of Tucker (Angus Sampson) and Specs (Leigh Whannell) in tow. But The Last Key seems to settle in almost too comfortable with its characters. For a story that details more of Elise's past, it feels strangely casual with its dark origins, accented with the cute comradery of the paranormal-investigating trio. Don't get me wrong; I still love this collection of characters, but something so personal as this felt like it should have been more than, as Elise describes her work, another day at the office.
Let's take a moment to acknowledge the fun chemistry between Shaye, Sampson, and Whannell. Few horror films that go for the easy jumpscares and messy logic of investigating ghosts rarely give us such a likable group. Their antics are amusing with Shaye's motherly leadership, Sampson's big-lug nature, and Spec's awkwardly chipper way of trying to wedge into the conversation. Even though they're working with a script that's requiring their charisma to be stretched as far as it can go, they become such a lovable pack that they could have their own series. This is why it's a bit disheartening that this film feels like the sputtering end to their journey.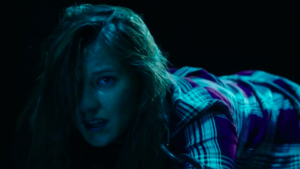 Their latest case involves the house where Elise grew up. The newest owner has been experiencing some hauntings in the house and is in need of some help. Elise is reluctant at first but realizes she can't run from the past, only barrel towards it with Tucker and Specs in their new ghost-hunting RV. She arrives to discover the house is still housing a ghastly monster that brandishes keys on its fingertips, using each one to lock out a sense of your soul. It's a pretty creepy creature in design, but, as with everything in The Last Key, feels underutilized for all its terror. The most frightening things you'll see him do is shove keys in your flesh and smack you across a room. Paranormal demons apparently have wicked backhands.
The enjoyment of the story depends on how accepting you can be of the multitude of twists and revelations thrown at the screen. The more Elise delves into her past, the more crazy stuff she discovers. She grew up believing her powers made her mad, but maybe she wasn't all that crazy. She thought she was the only one, but perhaps there is another. The current occupant of the house is a drunk, but maybe he's more. The movie continues to spin these crazy surprises around every turn, just in case the many jump scares don't make your eyes wide.
It's sad that a film series such as this resorts to an onslaught of crazy plot additions without bothering to explore much of what it already has. There's heaps of wasted potential that mounts almost as high as the twists. Elise grew up in a house close to a prison where the flickering electricity meant a death row inmate had passed on. She mentions some spirits, but we rarely see them. Sure, there's a prison motif in The Further, the paranormal realm that Elise has the power to travel within, but it never showcases much past the smoke and cages. There's a lot to unpack that nearly all the dialogue is reduced to simple exposition, robbing the film of its more remarkable moments where Elise reconnects with her brother and Tucker and Specs hopelessly try to woo two sisters they meet in town.
For as much as I smiled at the laughs brought on by the talented cast and the creative creepiness with Elise's haunted house of her youth, I fear the Insidious films have reached their end for enjoyment unceremoniously. There are bursts of brilliance here and there, as when the audio crackles so we can hear Tucker's fancy ghost microphone, but they're few and far between in a story that could use more character and less gimmicks. The previous film left me hopeful the future of the franchise, but not this time. It's such a shame considering the franchise had built up such a strong ensemble and can't find them a robust script fitting of their characters. They deserve more than the standard rollercoaster horror vehicle that has run out of steam for them. Maybe an Insidious series isn't such a bad idea after all. I'll bet series writers could find more to do with that ghost-hunting RV then use it as a mere conveyance.
[author title="About the Author" image="http://popstermedia.com/wp-content/uploads/2015/07/mark_mcpherson-300×221-150×150.jpg"]Movie Reviewer Mark McPherson has been all about movies since working at a video store in his youth. His talents range from video editing to animation to web development, but movies have always been his passion to write about.[/author]
Review: "The Predator" is a Humorous Homage, Sometimes Fun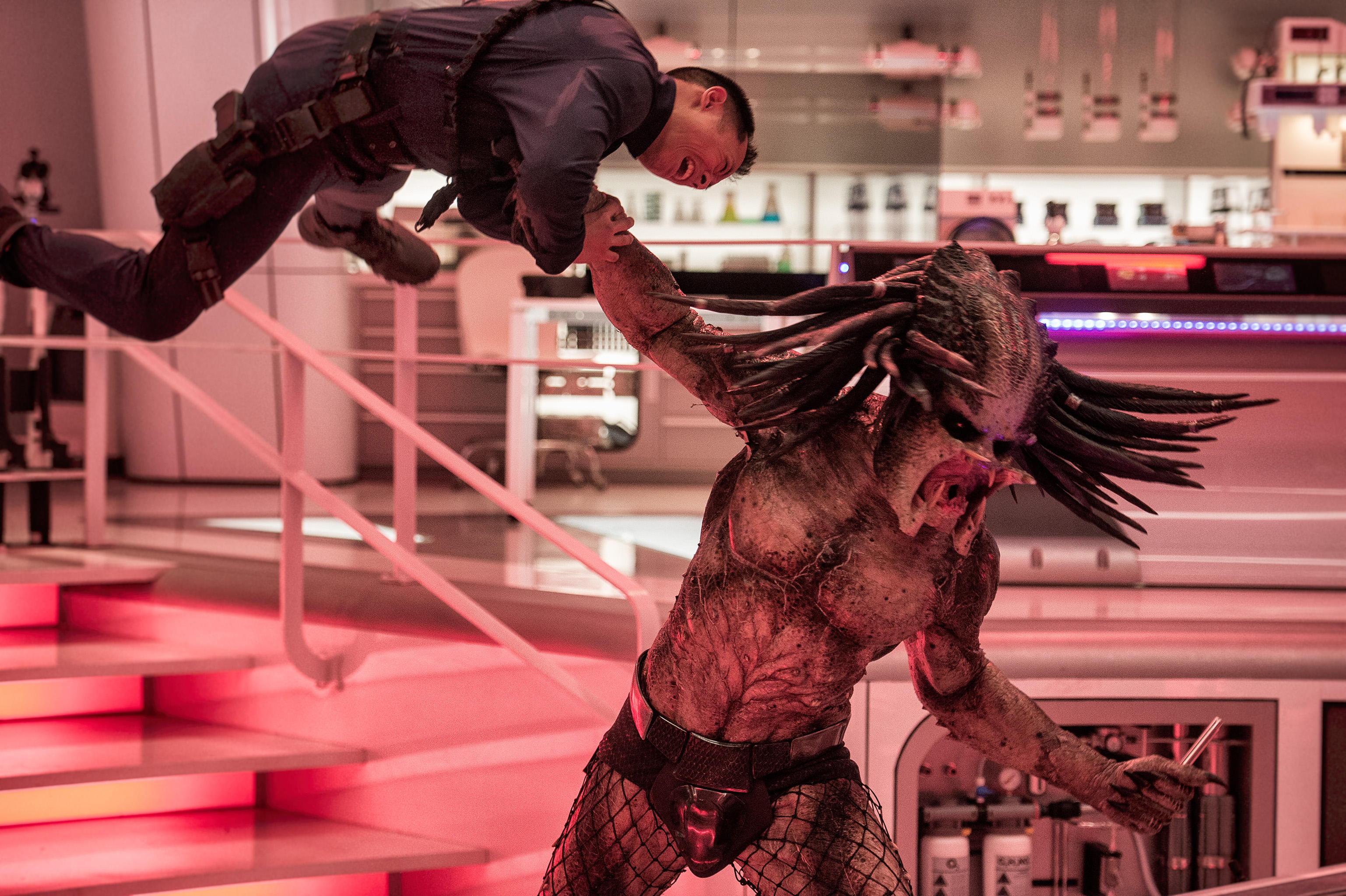 Shane Black's The Predator is simultaneously the most no-nonsense and all-nonsense entry of the series. It does away with a lot of the fat for its story, skipping briskly through its introduction so that gory action of a human-hunting alien arrives quickly. It also doesn't try to take itself seriously, favoring a comedic format to its writing so high on the goofiness it may as well be labeled a parody of the previous films. This odd assembly prevents such a generically titled film from becoming just another tired retread of a dug-up franchise, hit or miss though it may be.
In order to get the bloody gears grinding, Black throws a lot of inexplicably odd actions at the screen. I didn't set my watch, but I'm pretty sure it was less than a minute before the first Predator marches onto the screen, crashing onto Earth and going about its secret mission. Encountering the Predator and his arsenal is sniper-for-hire and former Army Ranger, Quinn McKenna (Boyd Holbrook), who not only takes to the Predator tech quickly but also takes the risk of swallowing some of it so it can't be found. To cash in on newly acquired treasures from outer space, he decides to ship the rest of the alien technology to his mailbox. Seems like a ridiculous idea, but it needs to be done so that the story can arrive on schedule to include a Predator-savvy scientist (Olivia Munn), a greedy government villain (Sterling K. Brown), a savant of an autistic kid with a smart mouth (Jacob Tremblay), and a team of mercenaries that includes a jokester (Keegan-Michael Key) and one with Tourette's syndrome (Thomas Jane).
I could detail the elaborate scheme of the Predators and the tactics used by the human characters, but does it matter? There are convoluted plot elements for sure, including the most ridiculous use of Asperger's Syndrome as a plot twist, but all that this amounts to is the self-aware knowledge of a goofy gore fest. The script, co-written by Shane Black, always seems careful never to go overboard with exposition without a joke in between. A key scene that could have been a bore is the initial alien dissection scene, its purpose to describe the new Predator and decipher his visit. Munn harps on why the scientists have called the alien a Predator when his purpose seems more akin to a big-game hunter.
While the choice to favor knowing comedy or dark action is a smart one, it's not exactly a home run of ideas. The first act, in particular, has some rather stale nostalgic callbacks that one would expect from a lesser retread. Variations on some of Arnold Schwarzenegger's iconic lines from the first film about choppers and the ugliness of the Predator felt so lame that I started gripping my seat, bracing for the entire film to be this adrift of inspiration. But the film thankfully proceeds down its own silly path by the second act, turning into a non-stop bloody bonanza of alien-on-human action. The gore goes for the gusto so heavily that it becomes just as strong as the comical banter between Holbrook and his team of gun-toting good guys, trying to stop the Predator from killing a kid and the government from killing them first.
There's a lot of dumb and messiness in The Predator, but the constant winking from Black's director and the all-star cast save it from being another PG-13 snoozer of a repeat. Armed with machine-gun speed comedy, violence more than worthy of an R rating, and a giddy sense that is always present, what could've been a merry-go-round turns into more of a roller coaster experience of a Predator movie. Black doesn't exactly rework the Predator mythos into something new or even more akin to its quality camp roots, but he does have fun with the material. And when you've got a multi-mouthed alien with braids turning humans into hamburger, you've gotta have some fun mocking the spectacle, especially after so many films that take themselves far too seriously.
"The Nun" Scares Up Strong September Box Office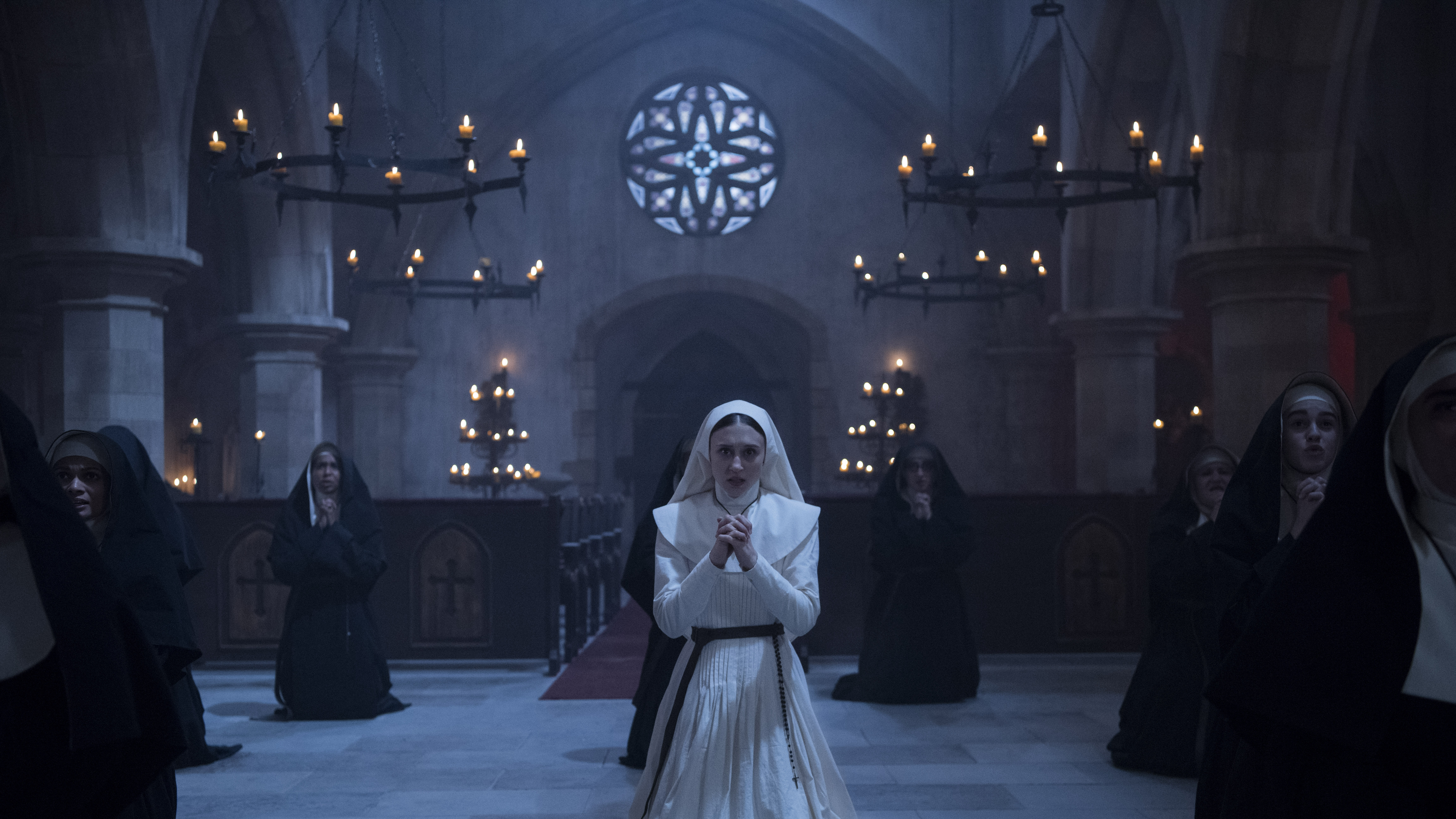 September has its first box office champion to topple August's hit of Crazy Rich Asians, and by a substantial amount at that. The Nun, a spin-off and prequel to The Conjuring 2's scary nun ghost in the painting, has earned an impressive $53.5 million for its debut weekend. That's an exceptional premiere to warrant the film's budget of $22 million, rather high for horror. The future is looking bright for The Conjuring franchise. Still, Crazy Rich Asians is still going strong as the romantic comedy of the year, grossing another $13.6 million for a domestic total now sitting at $136 million. With plans for a sequel already in the works and a chance at hitting $200 million, the film may very well carry deep into fall considering it's still in the top five after four weeks.
Also debuting to a decent take for the weekend is Peppermint, an action-oriented thriller starring a revenge-seeking Jennifer Garner. The film made $13.2 million in its first weekend which may be a bit disappointing for a $25 million budget, but it may have decent enough to legs to make a profit depending on how September shapes up.
Plenty of the returning films are holding on strong. The Meg, the shark movie with Jason Statham, has remained in the top five long enough to clear its budget, with a domestic total now at $131 million. Also sticking around is the social media thriller Searching, dropping only 25% to make $4.5 million for the weekend, the domestic total sitting at $14.3 million. And BlacKkKlansman, Spike Lee's comedy about infiltrating the Ku Klux Klan, is still hanging in the top 10, making another $1.5 million for a domestic total of $43 million, stunning results for a $15 million film in somewhat limited release.
View the full box office weekend results below.
The Nun ($53,500,000)
Crazy Rich Asians ($13,600,000)
Peppermint ($13,260,000)
The Meg ($6,030,000)
Searching ($4,515,000)
Mission: Impossible – Fallout ($3,800,000)
Disney's Christopher Robin ($3,196,000)
Operation Finale ($3,043,000)
Alpha ($2,505,000)
BlacKkKlansman ($1,565,000)
Next weekend will be a battle of a returning alien hunter and an odd thriller. The Predator, a remake of the alien franchise directed by Shane Black, will be in 3,900 theaters while A Simple Favor, a thriller directed by comedy director Paul Feig, will hit 3,000 theaters. Of the smaller releases are Pure Flix's latest religious picture Unbroken: Path to Redemption and the Matthew McConaughey starring cop drama White Boy Rick. There's little doubt that The Predator will swoop in to claim the weekend.
Review: "The Nun" Offers Few Scares and Fun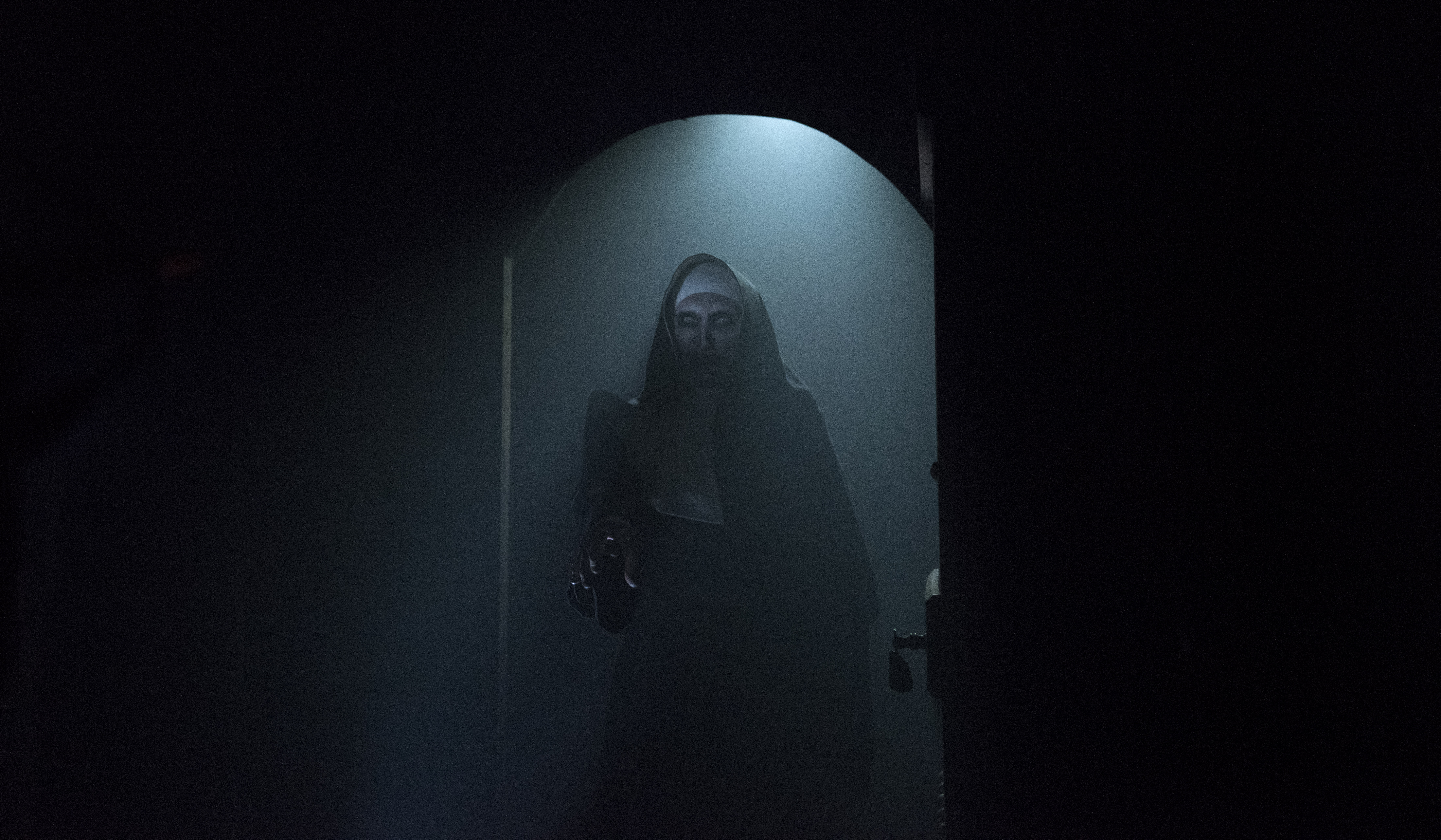 And from The Conjuring another spin-off cometh, presenting origins we didn't really need to know for spooky supporting demons. If these films weren't already showing cracks, The Nun comes crumbling, struggling to find scary and fun stuff to do with a nun that looks like she went to a goth concert. She looks great with the contrast of white and black that blends perfectly in the darkness. She's unfortunately squandered in a film that is such a mess it dips between horror, comedy, and adventure.
The setting is 1952, Romania, where a nun has just committed suicide by hanging. To investigate this dark matter, the Vatican sends a ragtag duo of a priest and a nun familiar with the area and the demonic. The priest is Father Burke (Demián Bichir), having previously performed an exorcism and struggling to make himself boring with a crossword puzzle hobby. The nun is Sister Irene (Taissa Farmiga), a yet-to-have-taken-her-vows woman that is a bit of a rebel around the convent with her talk of dinosaurs and not wearing her habit. They venture to Romania, and with the help of a French-Canadian farmer going by the name Frenchie (Jonas Bloquet), they'll discover the dark secrets of the church turned haunted house.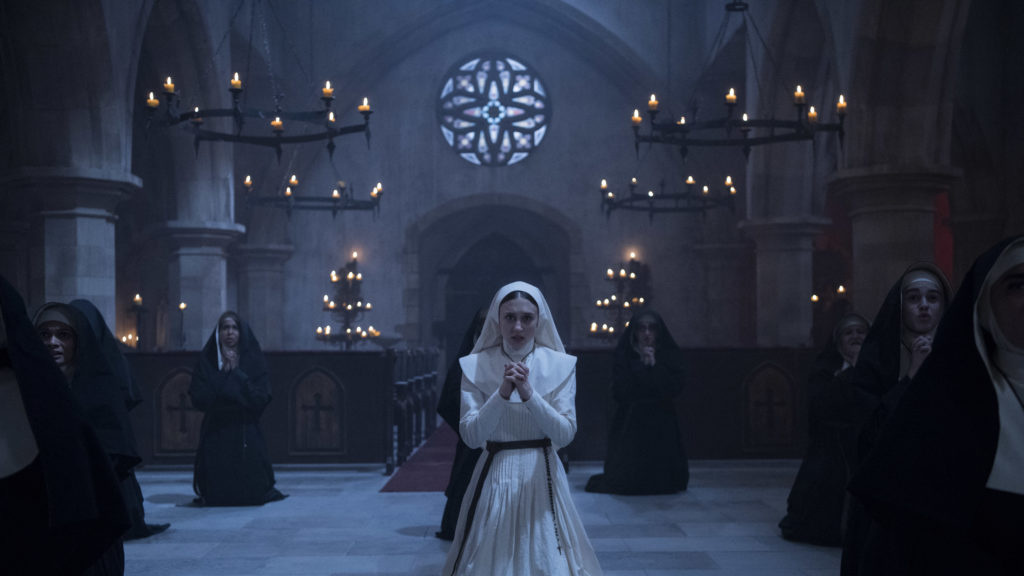 The scare playbook from The Conjuring universe appears very dusty in this film. The majority of frights rely on the cheapest and tiresome of stagings: see something potentially scary in the distance, look away, it's gone. Irene thinks she spots a nun in the shadows; turns away, turns back, gone. Burke thinks he spots the child he was unable to save from his previous exorcism; there one shot, gone the next. The other overused scare tactic is that of slowly venturing towards something scary. The demons are hoping our holy heroes will be dumb enough to follow every come-hinder spooky trap, to the point where Father Burke is being led by a bell being dragged on a string.
There's a lot of disbelief suspension required to go along for the ride. There are visions of previous nuns of the church, but they're staged as unconvincing twists that require the priest and nun to accept the answers of a faceless nun at (no) face value. A scary nun shrouded in black with a sinister voice recommends they spend the night. Surely nothing spooky will happen come nightfall. But, surprise, spookiness on cue! They investigate more and some other nuns they meet recommend staying another night. I'd think about breaking out the good book and a cross on that second sleep considering all the haunted hijinks. The Romanian haunted church comes complete with a graveyard of many crosses, where crows caw during the day and mist mysteriously crops up at night. Oh, and snakes.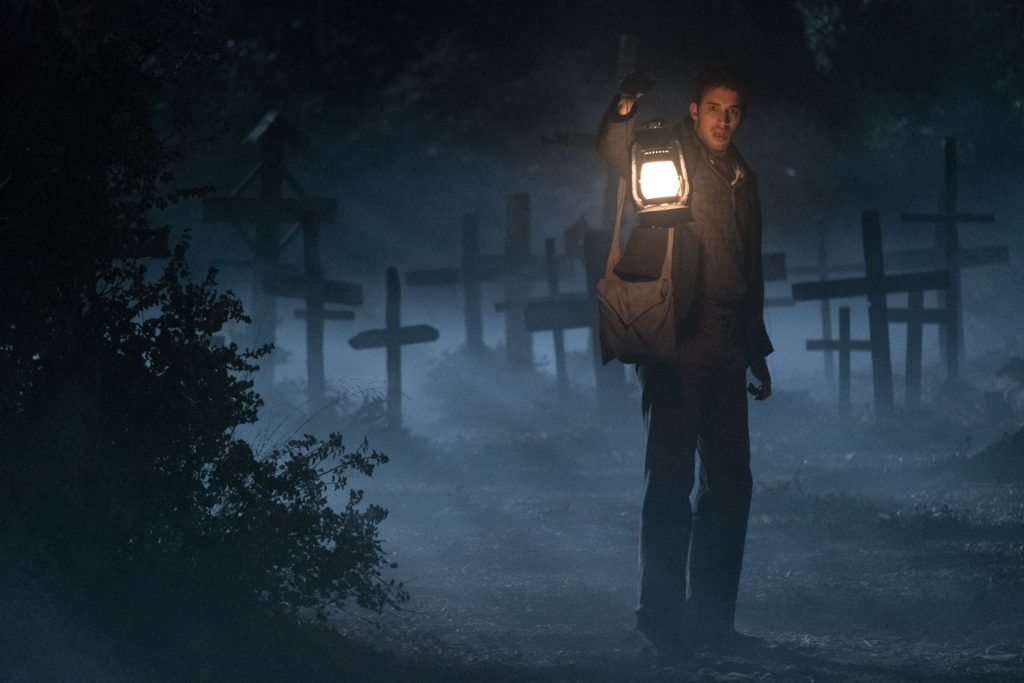 Speaking of snakes, the film seems to grow so bored of its by-the-book haunted house method that it slips into Indiana Jones territory. Consider how Frenchie comes to the rescue in the third act as the comical action hero, chopping off the heads of zombies and shooting them with a shotgun. He seems to only come back when it's time to explore underground passages with torches, searching for a religious artifact that can stop demons from hell. This adventure angle makes Jonas Bloquet the best part of the film, even if it feels like he's a character that became lost on his way to the set of another tomb.
The Nun delivers the bare bones of what we've come to expect from this Warner Bros horror franchise. There's some decent camera work and some technically sound frights here and there, despite some rather poor editing to keep everything on schedule and twisty. One aspect I could always count on enjoying was the audience reactions during these movies. They didn't let me down. One viewer was so spooked by the silence after a nun's cracked neck that he exclaimed "WTF" during the screening. It was the biggest laugh of the movie and one of the few reasons I have left to keep returning to this style of horror because there's not a whole in The Nun itself to keep me satiated with terror or fun.