I've often cited director Jaume Collet-Serra as the director of the "better" Liam Neeson action films. He places Neeson in thrilling scenarios that are not exactly original, but still simmering with excitement. The Commuter is no different, maintaining Jaume's ability never to surprise, but never bore. You're not wrong if you thought this movie was just Jaume and Neeson's previous film Non-Stop, only with the plane swapped for a train, but it's still just as stirring and entertaining. Don't force that phone out of Neeson's hand if it ain't broken.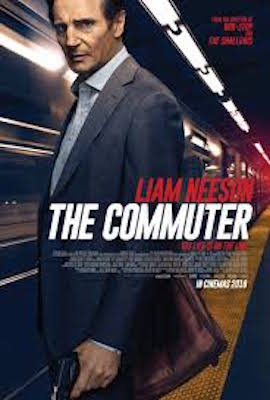 You can play a game of bingo with trying to spot all the Neesonisms. He plays Michael McCauley, an insurance salesman who was recently fired and has a family to fund. At one point we'll learn that he used to be a cop. Not long into the film and he'll be talking to a terrorist on a cell phone, holding his family hostage unless he completes a task. His task will involve tracking down a certain mysterious passenger and retrieve some mysterious MacGuffin. Naturally, the terrorist has secret agents on the train tracking his every move. And he'll need to find the right person by the last stop before his family becomes the next casualties in the slowly stacking body count.
Jaume's direction is as striking and inventive as it ever was. He leads the camera through everything from the hole in ticket stubs to the roaring wheels of the train. In what I hope is becoming a new tradition, Neeson will also battle someone with an unusual weapon. In Jaume's previous Neeson film, Run All Night, it was flaming two-by-fours. In this movie, it's a guitar he brandishes against someone with an ax. There's plenty of gritty fist fights to be had, including one where bodies are forced out the train window while an opposite track train zooms by. And it wouldn't be an action-packed thriller if we didn't see the train fly off the tracks in a grand spectacle of destruction.
The Commuter, however, stays relatively on track. Don't get me wrong; it does become very preposterous as it goes along. Everything seems as though its well-coordinated to conspire against Neeson's character that he has to turn into as much of a detective as he does a kick-butt action hero. There's a lot of lost potential with such a complex scenario where so much more could be explored. A major disappointment is the supporting players of Patrick Wilson and Sam Neill being reduced to bookended roles. Both are fantastic actors and fun to watch in their very brief scenes that it's a shame they don't stay with the story as consistently. Oh, and we don't get a scene of Neeson fist-fighting atop a speeding train.
This is the type of film that after a while you stop caring about the convoluted conspiracy and become more infatuated with the spinning wheels of a familiar vehicle. On that level, The Commuter is a fun enough thriller that always keeps the mind moving, the blood pumping, and the eyes entertained. Neeson proves he still has some fire in his belly at 65 with another role that finds him desperate, furious, scared, and sympathetic. He never misses a beat, including an amusing moment of commentary when he overhears an investor working for Goldman Sachs, giving him the finger and telling him F you on behalf of the middle class. Jaume hasn't lost it either in staging engaging action and tension building shots. I don't know how long he can keep the Neeson-in-duress-on-the-phone genre going, but it's proven to have some remarkable mileage thus far.