Review: "Super Troopers 2" is a Fuller, Thicker Mustachioed Comedy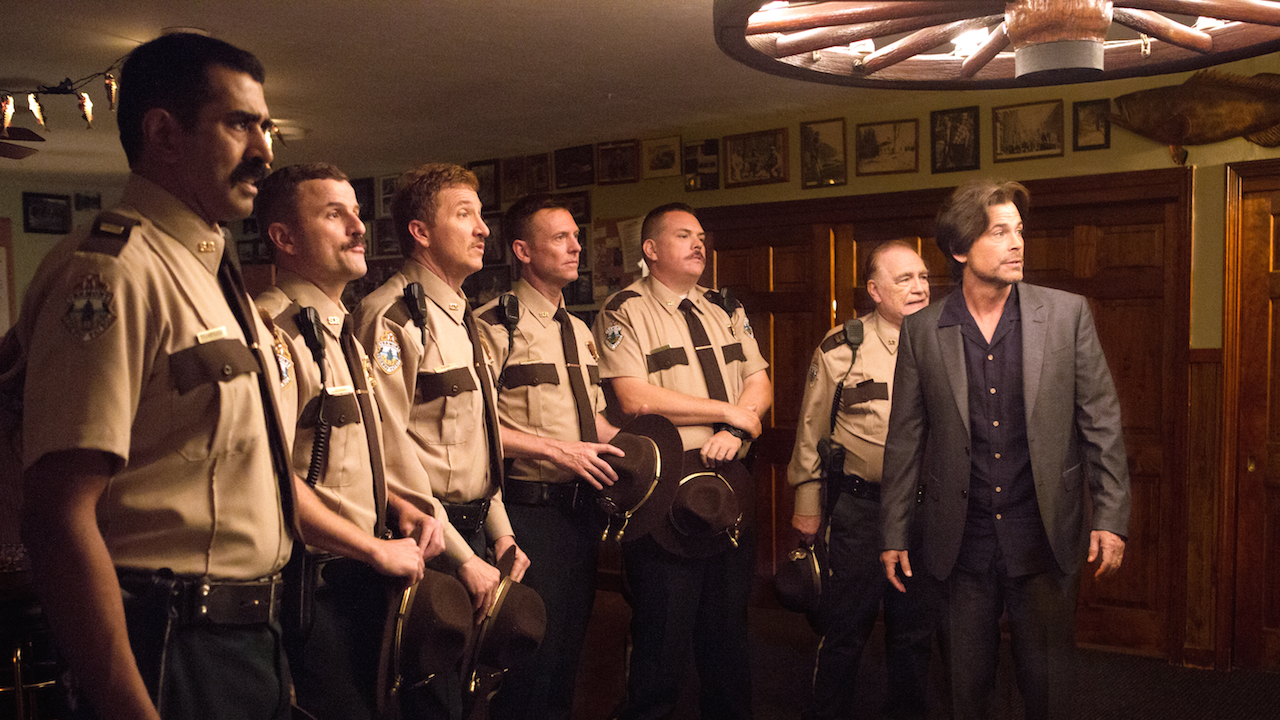 The comedy troupe Broken Lizard returns to the road for another batch of skits about highway patrolmen going Animal House on the job. Worth noting is that the ensemble and their fans made Super Troopers 2 possible thanks to campaigns to raise funding for the film. While their fervent desire to brandish the badges and mustaches once more wasn't exactly an inspiring ascension past lowbrow chow, there's undoubtedly enough hilarious skits present to topple the small hurdle of being better than the original Super Troopers.
Despite a change of scenery, the formula remains relatively the same after the whole gang is gathered back together. In a plot that's straight out of a ludicrous cartoon, a portion of Vermont is taking control of Canadian territory, and this new pocket of American land needs to swap out of the law enforcement. Into the rustic woods comes the collective of jovial highway patrolmen to goof off and enforce the law. But mostly goof off. When not making college-level pranks and zingers, they're once again on the trail of drugs that once again leads to a conspiracy that once again results in a saving-the-day situation for the bumbling jesters of varied mustaches.
At its core, yes, this is a flimsy premise and little more than an excuse for more skits. It's a script that makes no major attempt to cover up that the small-town mayor of Guy Le Franc, played by Rob Lowe with an overblown exaggeration of an accent, is our secret villain for trying to raise tension between Americans and Canadians in the area. This is not a spoiler. The film telegraphs reasonably early that he's in on the web of corruption, how he so quickly stirs the pot. It's also not much of a twist that the cocky mounties transitioning are too alike of the patrolmen to be their evil twins, nor is the obligatory French love interest that exists for little more than kinks and twists.
What matters most is how funny this ensemble can be in this bizarre scenario, and they manage to pull out more hilarious bits than they do dead-on-arrival gags. The most durable member of the pack is Jay Chandrasekhar playing Thorny, the trooper with the biggest batch of facial hair suitable for mustache rides. His delivery and smugness make him the most pleasing to watch, even if he's reduced to the running gag of taking female hormones with expected results. The glue of the picture is undeniably Brian Cox as Captain John O'Hagen, shouting and scowling at the misbehavior of his men, but not above joining in the insanity when it suits his position.
But then there's Kevin Heffernan, playing the tubby and obnoxious Farva, a trooper of infinite tasteless jokes and annoying delivery. There are only two ways to find funny in Farva; either you laugh at his ineptitude to consistently be a pest or laugh along with his terrible jokes. He's fun to watch in how his cocky nature catches up with him, but now and then it feels as though his lowest-of-the-lowbrow jokes are supposed to be genuinely funny. They may not be, but with how many duds of dumb the script slings out, Farva does tread on the nerves a few more times than he should.
The good news is that there are more smile and laugh-worthy gags to outweigh the ones that crash and burn. Sometimes it's the most straightforward delivery of the troupe. In the build-up to a bit where Farva touches an electrified police radio, O'Hagen bewilderedly questions why Farva never chews M&Ms. There's no particular punchline to this exchange, but Brian Cox's expression and Farva's commitment to swallowing candy just made me crack up. Perhaps it's the juxtaposition of the more over-the-top skits of trying to get a bear out of the office, dumping mounties off in the woods naked, or the entire patrolmen ensemble trying out the various drugs they found to determine what they do.
While I found the previous film strictly hit-or-miss, Super Troopers 2 manages to be fast and crude enough to deliver more hits narrowly. There are some less-than-stellar cameos by the likes of Sean William Scott and Damon Wayans Jr., but there's also some pleasing appearances by Lynda Carter and Jim Gaffigan. There are some lame asides as when the men hallucinate themselves in a pot-smoking rock band on the run from the law, but the momentum thankfully builds back up by the time Jay Chandrasekhar starts taking female hormone pills with clever Canadian branding. It's a mixed bag of bushy-faced shenanigans, but with just enough absurdity to not be too disappointed by the film's obligatory ending. The mustache ride still had a quart of laughs left in this franchise, though I can't see it going any further, barring being under the influence while viewing.
[author title="About the Author" image="http://popstermedia.com/wp-content/uploads/2015/07/mark_mcpherson-300×221-150×150.jpg"]Movie Reviewer Mark McPherson has been all about movies since working at a video store in his youth. His talents range from video editing to animation to web development, but movies have always been his passion to write about.[/author]
Review: "The House With a Clock In Its Walls" Ticks With Messy Magic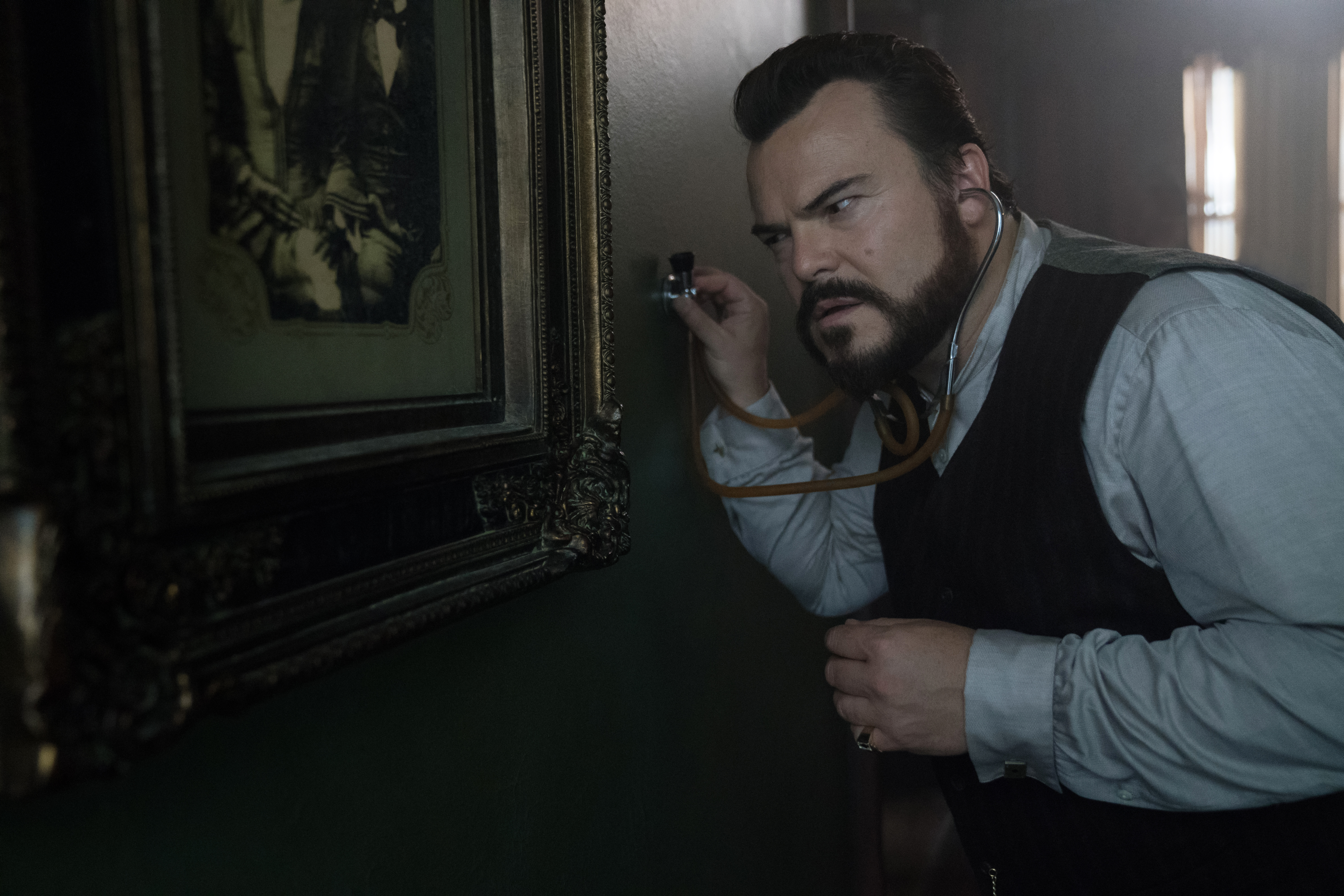 Eli Roth's The House With a Clock In Its Walls has a lot going on to be the type of haunted house horror perfect for the Goosebump-loving kids. It has warlock lore, a spooky house of surprises, a plucky young magician in training, and a sinister plot by a zombie to activate a magical doomsday device. And though Roth keeps his giddy gore desires in check for a PG picture, he may have toned himself down too much for a film that feels docile and messy when it has all the elements to be fantastical and exciting.
It's a somewhat familiar staging of the underdog kid, Lewis Barnavelt (Owen Vaccaro), being taken under the wing of a master of mysticism. Well, maybe not a master. Lewis's uncle Jonathan Barnavelt (Jack Black) isn't exactly the greatest wielder of magic given his residence of a creepy old house in 1950s Michigan. He can't even hold an accent. What he can do is teach Lewis his ways of performing the fascinating tricks of harnessing energy, achieving floatation, and making your bed in the morning with a mere flick of the wrist. He also has a magically astute neighbor by the name of Florence Zimmerman (Cate Blanchett), a witty witch that seems to have more problems with confidence than conjuring.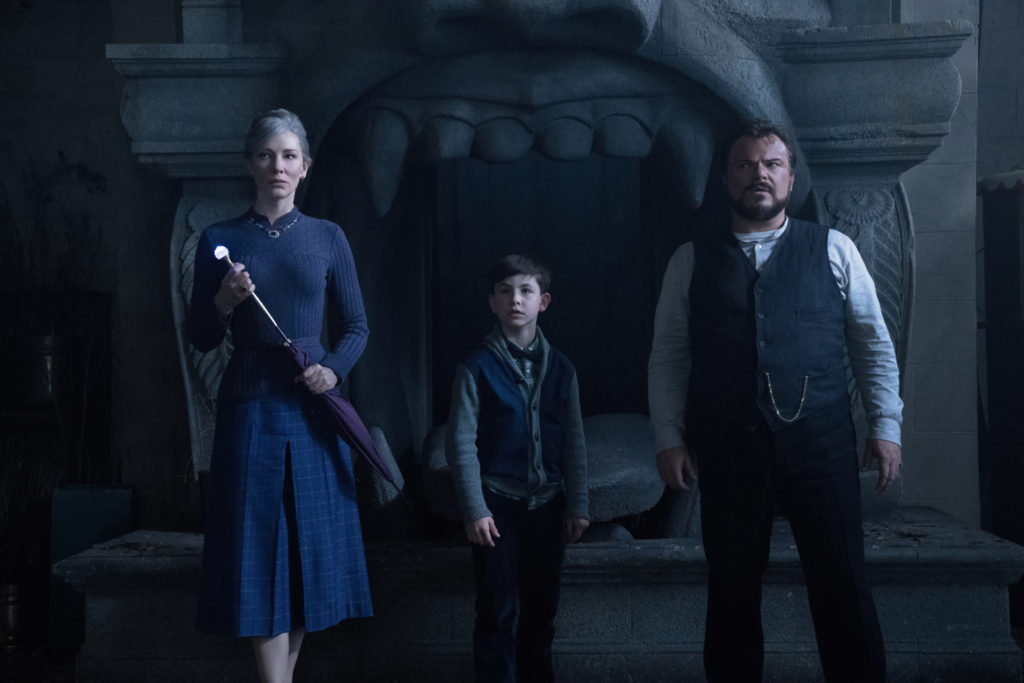 There's certainly a lot going on inside Jonathan's house of odd wonders. There's a mysterious clock ticking in the walls that Jonathan hasn't found since he moved in. Many inanimate objects become living characters, including a chair that acts like a dog. The ghosts of-of Lewis's dead parents haunt him at night, pushing him towards clues to their revival. A book of dark magic remains locked away, never to be spoken of or used by Lewis, too irresistible for a curious kid to resist. And there's a sordid history within the house of an evil magician (Kyle MacLachlan) and his magical doomsday device! Oh, and there are cookies that are apparently eaten at every meal.
And yet it all ends up being a mess that struggles through some very predictable scenes to get to the next set piece. So many gears are turning that the story hardly has time for the arcs of Lewis's school friends of the bully Tarby (Sunny Suljic) and the insect-loving girl who could end up being Lewis's crush. It's rather a shame that Eli Roth's family-friendly horror picture has to stay on such a rigid track considering how well the many dozen elements do on their own. The highlight of the picture is undeniably the chemistry between Jonathan and Florence. They're so sharp and hilarious one wonders why the two of them even need Lewis in the picture

While I don't want to be too hard on child actors, Owen Vaccaro has a handful of scenes that simply don't work with his delivery, namely his tearful pleas which are so overblown I had to wonder if his character was faking the sadness. Another strong actor is Kyle MacLachlan when in the form of a sinister zombie, but his voice is given a demonic twang with electronic manipulation that makes him sound more like a robot with his lesser lines. Anyone who has seen him play the vessel of Bob on Twin Peaks knows that Kyle doesn't need a deeper voice to be intimidating.
I was very torn with The House With a Clock in its Walls as a scary kids' fantasy that sometimes has fun and other times going through the magical apprentice motions. Kids seeking some Halloween thrills will doubt get a kick out of the presentation, especially with the lowbrow gags of a topiary lion that can't stop pooping. There's some pluck and plenty of whimsy so much of it comes through a rather standard storytelling design that I almost wished Roth would break the monotony with a head explosion. He comes close in a scene where Florence starts using her wand as a shotgun to turn demonic pumpkins into piles of orange mush, but it's still not quite enough to make the movie anything more than decent entertainment for kids seeking silly scares and a timid affair for adults seeking more.
The Predator Makes Mild Blast For Weekend Debut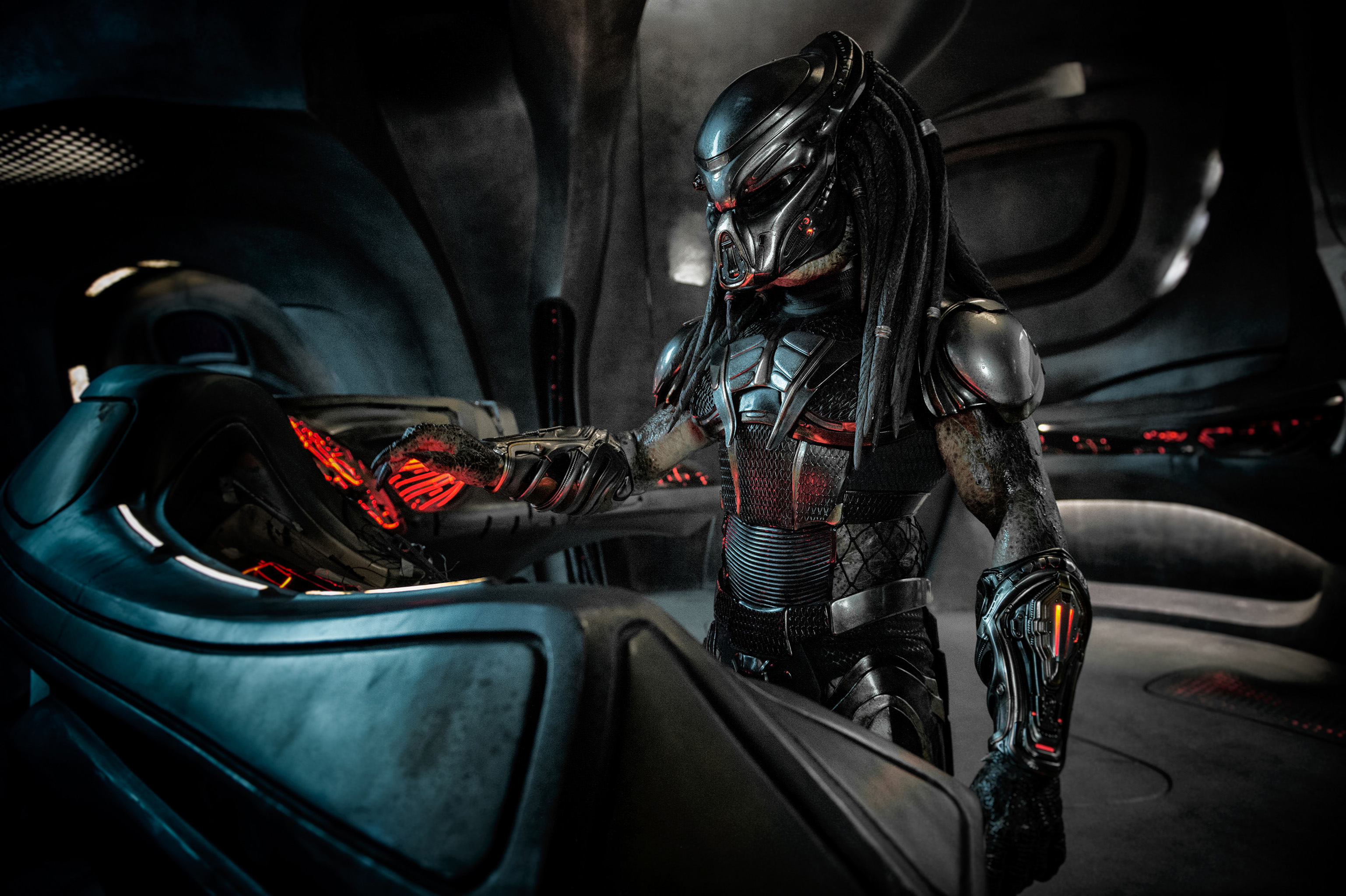 While last weekend was a stellar box office debut for The Nun, the weekend is much more low-key with reduced debuts and descending grosses. Shane Black's The Predator, the latest sequel to sci-fi/horror Predator franchise, came in at #1 but still made a small amount with a box office debut of $24 million. It has a ways to go before toppling its beefy budget of $88 million, but it may survive through a rather slow September.
The Nun was not too far behind as a pleasing horror picture from Warner Bros' The Conjuring universe. In its second weekend, the film made $18.2 million. While this is a 66% drop from its first weekend, the film did have an amazing start on its premiere that the total domestic is sitting at $85 million. So far, it's the biggest success of September as the other premieres are not doing so well. A Simple Favor, the new comedy by Paul Feig, only made $16 million. White Boy Rick, a true crime story starring Matthew McConaughey, brought in $8.8 million. And even further down the list is Unbroken: Path to Redemption, the new religious sports film by Pure Flix, came in with $2.3 million.
No surprise that the strong films from August are still chugging away with small drops. Crazy Rich Asians, the hit romantic comedy, only took a 33% drop with its domestic total now at $149 million. The Meg, the giant shark movie starring Jason Statham, only took a 37% drop with a domestic gross of $137 million. And even Searching, the social media mystery movie, only took a 30% drop to have a total sitting at $19 million.
View the full top 10 weekend box office below:
The Predator ($24,000,000)
The Nun ($18,200,000)
A Simple Favor ($16,050,000)
White Boy Rick ($8,800,000)
Crazy Rich Asians ($8,700,000)
Peppermint ($6,070,000)
The Meg ($3,805,000)
Searching ($3,200,000)
Unbroken: Path to Redemption ($2,350,000)
Mission: Impossible – Fallout ($2,315,000)
Next weekend, The Predator will do battle with fantasy, drama, and politics. Eli Roth's The House With a Clock in its Walls, a family-friendly fantasy film, will premiere in 3,300 theaters. Michael Moore's political documentary Fahrenheit 11/9 will debut in 1,500 theaters. And the Dan Fogelman directed drama Life Itself, starring Oscar Isaac and Olivia Wilde, will hit 2,500 theaters.
Review: "The Predator" is a Humorous Homage, Sometimes Fun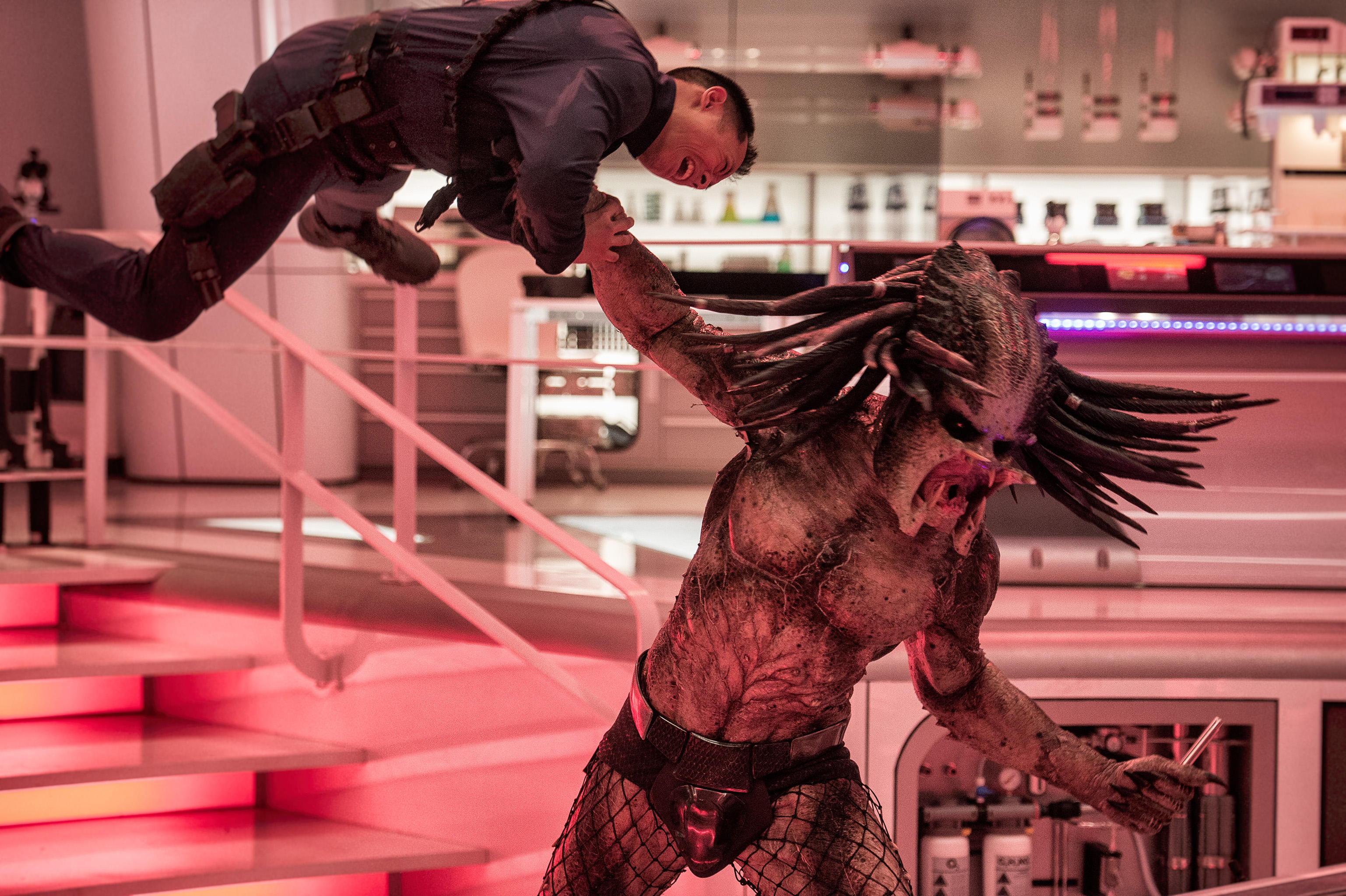 Shane Black's The Predator is simultaneously the most no-nonsense and all-nonsense entry of the series. It does away with a lot of the fat for its story, skipping briskly through its introduction so that gory action of a human-hunting alien arrives quickly. It also doesn't try to take itself seriously, favoring a comedic format to its writing so high on the goofiness it may as well be labeled a parody of the previous films. This odd assembly prevents such a generically titled film from becoming just another tired retread of a dug-up franchise, hit or miss though it may be.
In order to get the bloody gears grinding, Black throws a lot of inexplicably odd actions at the screen. I didn't set my watch, but I'm pretty sure it was less than a minute before the first Predator marches onto the screen, crashing onto Earth and going about its secret mission. Encountering the Predator and his arsenal is sniper-for-hire and former Army Ranger, Quinn McKenna (Boyd Holbrook), who not only takes to the Predator tech quickly but also takes the risk of swallowing some of it so it can't be found. To cash in on newly acquired treasures from outer space, he decides to ship the rest of the alien technology to his mailbox. Seems like a ridiculous idea, but it needs to be done so that the story can arrive on schedule to include a Predator-savvy scientist (Olivia Munn), a greedy government villain (Sterling K. Brown), a savant of an autistic kid with a smart mouth (Jacob Tremblay), and a team of mercenaries that includes a jokester (Keegan-Michael Key) and one with Tourette's syndrome (Thomas Jane).
I could detail the elaborate scheme of the Predators and the tactics used by the human characters, but does it matter? There are convoluted plot elements for sure, including the most ridiculous use of Asperger's Syndrome as a plot twist, but all that this amounts to is the self-aware knowledge of a goofy gore fest. The script, co-written by Shane Black, always seems careful never to go overboard with exposition without a joke in between. A key scene that could have been a bore is the initial alien dissection scene, its purpose to describe the new Predator and decipher his visit. Munn harps on why the scientists have called the alien a Predator when his purpose seems more akin to a big-game hunter.
While the choice to favor knowing comedy or dark action is a smart one, it's not exactly a home run of ideas. The first act, in particular, has some rather stale nostalgic callbacks that one would expect from a lesser retread. Variations on some of Arnold Schwarzenegger's iconic lines from the first film about choppers and the ugliness of the Predator felt so lame that I started gripping my seat, bracing for the entire film to be this adrift of inspiration. But the film thankfully proceeds down its own silly path by the second act, turning into a non-stop bloody bonanza of alien-on-human action. The gore goes for the gusto so heavily that it becomes just as strong as the comical banter between Holbrook and his team of gun-toting good guys, trying to stop the Predator from killing a kid and the government from killing them first.
There's a lot of dumb and messiness in The Predator, but the constant winking from Black's director and the all-star cast save it from being another PG-13 snoozer of a repeat. Armed with machine-gun speed comedy, violence more than worthy of an R rating, and a giddy sense that is always present, what could've been a merry-go-round turns into more of a roller coaster experience of a Predator movie. Black doesn't exactly rework the Predator mythos into something new or even more akin to its quality camp roots, but he does have fun with the material. And when you've got a multi-mouthed alien with braids turning humans into hamburger, you've gotta have some fun mocking the spectacle, especially after so many films that take themselves far too seriously.