Review: 'Star Wars: The Last Jedi' Slowly Satisfies with Busy Space Opera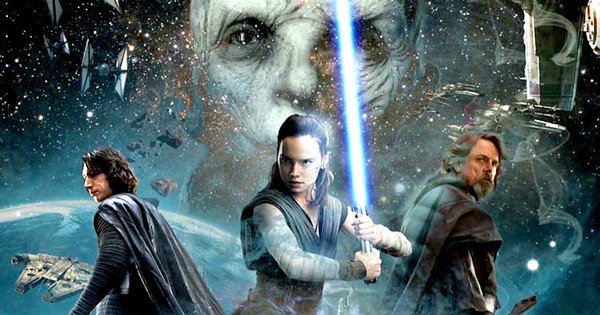 There's a lot to unload from The Last Jedi, the intensely-awaited continuance of the new Star Wars trilogy. I went in with the intent of making a list of the film's primary plot points to avoid writing any crucial spoilers in my review. That list turned out to be longer than I thought, occupying two pages of my reporter's notebook. As you may have guessed from such a length, the film does answer many of the questions left hanging after The Force Awakens and even brings a handful of arcs to conclusions I was not anticipating. That's the good news. The bad news is that it's all scrunched into a 152-minute epic that hardly has time to breathe between dark discoveries, weird alien creatures, and booming space battles.
As the middle chapter of this latest Star Wars trilogy, director Rian Johnson has aimed to make The Last Jedi the familiar narrative of kicking the heroes down a hole to crawl out of, and it's a mighty big hole this time. The Resistance, led by General Leia Organa (Carrie Fisher), are now falling back after their successful destruction of the First Order's Starkiller Base, the mega Death Star that could blow up multiple planets at a time. The First Order still has an armada with a massive battleship, The Dreadnought, that might not be able to blow up planets, but can make short work of a Resistance Base or an entire fleet. Even if that ship goes down, there's no shortage of big cannons for blowing up rebel scum, from space and land.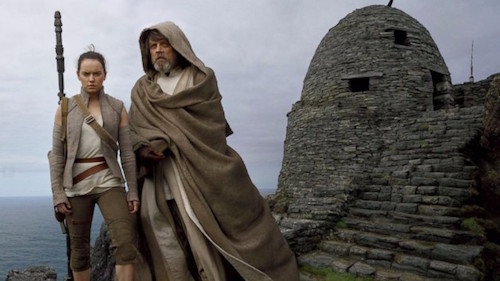 Facing their toughest hour, the Resistance needs all the help it can get from some unlikely heroes. Fighter pilot Poe Dameron (Oscar Isaac) continues to lead the Resistance fighters into battle but needs to learn to make better calls that don't lead all his men towards kamikaze maneuvers (and there's a lot of them in this film). Stormtrooper-turned-Resistance-fighter Finn (John Boyega) believes he can use his First Order knowledge to save the day but will require some extra help from the plucky engineer Rose (Kelly Marie Tran). Both will have to contend with the stern Vice Admiral Amilyn Holdo (Laura Dern) that has her risky strategies as well.
Elsewhere, potential Jedi knight Rey (Daisy Ridley) has sought the tutelage of hermit Jedi Luke Skywalker (Mark Hamill), whose days of wielding the powers of the Force are behind him. Of course, there's the obvious comparison to the similar trials Luke went through in The Empire Strikes Back with Master Yoda. History is repeating itself, but Luke is a far more notable curmudgeon for wanting to change all that this time. And after what he reveals about the First Order's star Sith Lord Kylo Ren (Adam Driver), you start to understand his desire to cut himself off from the world. By that same token, the more we learn about Kylo Ren's history, his plight is a little more sympathetic for his rage and bitterness for not appeasing the sinister Supreme Leader Snoke (Andy Serkis).
These characters and themes are enough to weave a brilliantly somber bridge picture but must struggle to share the screen with so much else going on in the plot. Even at over two hours, the film feels overstuffed with so much going on that some of the more strong emotional scenes don't carry as massive an impact as they should. I liked the inclusion of Benicio del Toro as a shapeshifter, but his introduction requires a detour to a casino planet that feels criminally underexplored, even with the abundance of alien-looking patrons and weird horse creatures raced for sport. There's an epic fight between Finn and his bitter former superior Captain Phasma (Gwendoline Christie), but she arrives so late to the party that their confrontation doesn't hold the same level of intensity that was present in the previous film. There's a backstory to Rose and her mission but she is fighting for screen time so badly. There are so many character arcs, backstories, Jedi mythos, space battles, lightsaber duels, and technobabble of ship strategies that there's enough material here for three whole movies. No wonder Rian Johnson is considering making an entire Star Wars trilogy of his very own.
There's a lot to like about The Last Jedi, but so much great stuff is rushed towards the screen that there's only enough time to see them as merely good stuff. I missed the more straightforward style of adventure from The Force Awakens where a handful of heroes are followed and developed. Now there are even more characters and splintering arcs that always kept the movie moving but only made me wish it would take the time to stop and smell the oddly-colored flowers. As a result, many of the film's quieter and more psychological moments come off without as much depth. There's no time for letting these scenes play out longer; not when there are cute little Porg creatures to latch onto the fuzzy Chewbacca like pesky puppies.
For cramming so much into this story, there's no doubt this will be a very divisive film for the Star Wars fans, especially those with fan theories that will perhaps be dismayed all their predictions did not come true. Still, I have to give Rian Johnson credit for going a little bolder by attempting to defy convention and not leave too many loose threads hanging by the end of the picture. The humor is still there, the space battles are more epic, and there are enough twists to keep the story interesting with no guarantees about who will survive. At the very least, Hamill's performance is a major highlight, portraying Luke as the most badass Jedi that ever lived. If The Force Awakens was a fitting salute to Han Solo and Rogue One a tribute to making Darth Vader a fearsome foe, this movie is Luke's time to shine as the brightest spark of heroism in this saga. The Force is certainly still with him.
[author title="About the Author" image="http://popstermedia.com/wp-content/uploads/2015/07/mark_mcpherson-300×221-150×150.jpg"]Movie Reviewer Mark McPherson has been all about movies since working at a video store in his youth. His talents range from video editing to animation to web development, but movies have always been his passion to write about.[/author]
Deadpool Dethrones Avengers With Triple-Digit Debut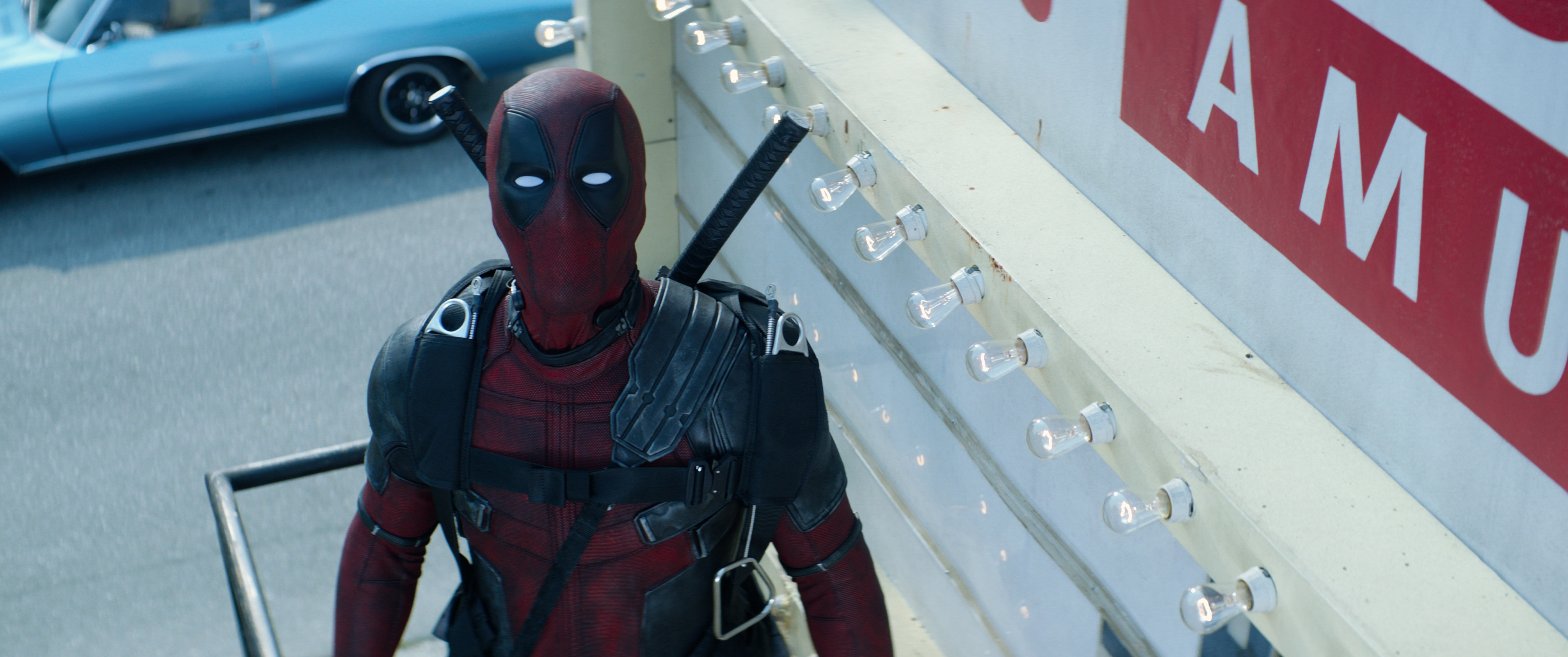 The first film to knock down Marvel Studio's towering juggernaut of Avengers: Infinity War from the #1 slot has arrived. It's no surprise that it would indeed be another superhero movie, but it is surprising by how much it overtook. Deadpool 2, Fox's Marvel property of a fourth-wall breaking anti-hero that satirizes comic book movies, premiered to a huge first weekend of $125 million domestic. Despite being just a few million dollars short of its previous film, it's still an impressive achievement for an R-rated Marvel movie that keeps the momentum going both in comedy and box office. Even more impressive is it's worldwide gross that is currently sitting at a beefy $301 million. Expect it to stick around for such a successful first weekend.
With such a high take from Deadpool, Avengers: Infinity War naturally took a big hit. Dropping by 53%, the blockbuster made only $28.6 million in fourth weekend. It's still standing tall with a domestic total of $595 million, but it's doubtful at this point that it'll reach the same heights as Marvel's earlier 2018 blockbuster of Black Panther. Other debuts this week were not so lucky with such limited takes. The all-female comedy Book Club premiered at #3 for the weekend with a $12.5 million domestic gross. The family comedy Show Dogs placed at #6 with $6 million in its domestic take.
Returning films are weathering the Marvel storm decently with expected drops. A Quiet Place is still hanging in there with the lowest drop of the weekend, bringing in another $4 million to boost its domestic total up to $176 million, still an amazing gross for the $17 million horror movie that could. The giant monster movie Rampage is clinging to the top 10 in its #9 slot, but it's not looking good for such expensive blockbuster still so far away from meeting its budget. And RBG, the documentary on Ruth Bader Ginsberg, remains in the #10 spot from last weekend with its domestic total now up to $3.8 million.
View the full top 10 for the weekend below.
Deadpool 2 ($125,000,000)
Avengers: Infinity War ($28,672,000)
Book Club ($12,500,000)
Life of the Party ($7,725,000)
Breaking In ($6,470,000)
Show Dogs ($6,034,770)
Overboard ($4,725,000)
A Quiet Place ($4,040,000)
Rampage ($1,500,000)
RBG ($1,280,000)
Next weekend will pit Deadpool against another anti-hero in Disney's Solo: A Star Wars Story, the Star Wars side story on Han Solo. It will indeed be interesting to see how a Star Wars movie plays in the summer as the previous three Disney Star Wars productions have all been massive blockbusters in December. For debuting in 4,200 theaters, the pressure is on to see Star Wars topple Marvel.
Another Astounding Weekend at the Box Office for Avengers: Infinity War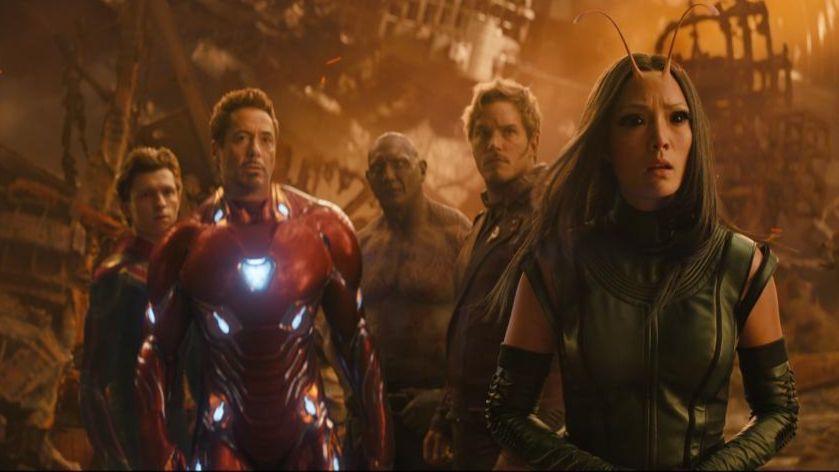 Box Office Weekend 5/4/18-5/6/18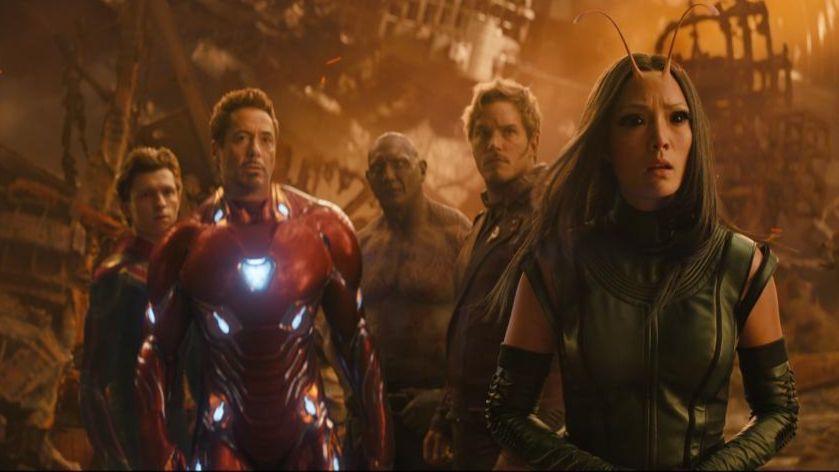 Not the least bit surprising, Marvel's Avengers: Infinity War has dominated the weekend box office with another massive gross. In its second weekend, the grandest superhero ensemble to date brought in $112.4 million. This brings its domestic total up to $450 million, and its worldwide take well over $1 billion. Time will tell if it has the legs, however, to hold its own against Marvel's other superhero epic this year, Black Panther. Considering Black Panther is still in the top 10, and has almost passed $700 million domestic, it'll be a close race between the two Marvel movies.
Of course, the success of the Avengers is due in no small part to this being a rather sparse weekend of premieres appearing in fewer theaters. Braving the Marvel storm to come in at #2 was the romantic comedy remake, Overboard, starring Eugenio Derbez and Anna Faris, making $14.7 million domestic. And if that's the gross of the #2 spot, you can imagine how lower the other films are. Tully, a new comedy Jason Reitman and starring Charlize Theron, came in at #6 with a domestic gross of $3.1 million. Further down at #10 is the new David Tennant starring thriller, Bad Samaritan, making $1.7 million for the weekend.
There were expected dips all around with no huge surprises, but many of the successful films that have hung around are growing a considerable gross. John Krasinski's A Quiet Place had the lowest drop and is currently sitting at a robust $159 million domestic total. Ryan Coogler's Black Panther has already blazed many records, but it's only $7 million away from clearing $700 million domestic.
See the full top 10 box office results below.
Avengers: Infinity War ($112,474,000)
Overboard ($14,750,000)
A Quiet Place ($7,600,000)
I Feel Pretty ($4,900,000)
Rampage ($4,620,000)
Tully ($3,186,000)
Black Panther ($3,146,000)
Truth or Dare ($1,885,000)
Super Troopers 2 ($1,815,000)
Bad Samaritan ($1,758,000)
Next weekend, Avengers will be battling against the Melissa McCarthy starring comedy Life of the Party and the Gabrielle Union starring thriller Breaking In. Considering that Life of the Party will have the most significant theater count, McCarthy has the only real shot at being the first film to knock the superhero giant down from the top 10, though it's doubtful of the Avengers hype will have died down by then.
Life of the Party and Breaking In Dominated by Avengers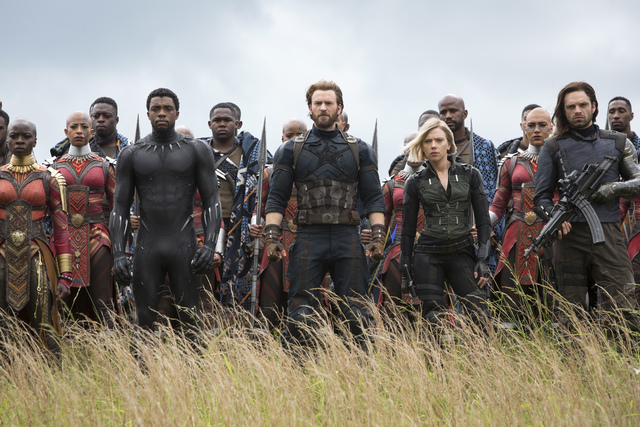 Box Office Report 5/11/18 – 5/13/18
In its third weekend, Avengers: Infinity War is still going strong with a beefy #1 spot that has yet to be bested. Marvel Studio's latest superhero epic amassed $61.8 million for the weekend, soaring its total domestic gross up to $547 million. The film has managed to make more than Marvel's other 2018 hit, Black Panther, in the same amount of time, but whether it'll reach the same domestic gross remains to be seen. With the oncoming superhero film next week and a Star Wars film following, it'll have some fierce competition.
The two newest films this week slid comfortably into the slots just below. Life of the Party, the new back-to-school comedy with Melissa McCarthy, predictably hit the #2 spot for being a female-centric comedy released on Mother's Day weekend. While it didn't exactly take the cake, the film did make $18.5 million to earn its spot during another Marvel cinematic snowstorm of a weekend. Just below it was the new thriller Breaking In, grossing $16.5 million, which is not too shabby for a film debuting in only 2500 theaters.
There were surprisingly low dips all around in the top 10. The smallest drop was for A Quiet Place, still hanging in there as the surprise horror hit, earning $6.4 million to boost its domestic total to $169.5 million. It's not too surprising that the most significant drop was for Black Panther, grossing only $1.9 million. It's a predictable drop considering the movie has been out for thirteen weeks, is already available to buy digitally, and will be out on DVD and Blu-ray by this Tuesday. It's still a considerable feat for a film that has domestically grossed $696 million so far.
One film worth mentioning that snuck into the top 10 is RGB, the documentary on Ruth Bader Ginsburg, expanding for the weekend into 180 theaters. That's very impressive for such a small film to conquer the #10 spot on Mother's Day weekend with a $1.1 million gross.
View the full top 10 list below.
Avengers: Infinity War ($61,817,000)
Life of the Party ($18,500,000)
Breaking In ($16,500,000)
Overboard ($10,100,000)
A Quiet Place ($6,400,000)
I Feel Pretty ($3,710,000)
Rampage ($3,380,000)
Tully ($2,240,000)
Black Panther ($1,932,000)
RGB ($1,165,000)
Next weekend, Infinity War will be going up against a real contender with Deadpool 2, the sequel to the Ryan Reynolds starring superhero comedy that broke records in 2016. Also vying for the box office will be the dog comedy, Show Dogs, and the aged female-oriented comedy, Book Club.