Review: 'Spectre' (Not Skyfall) Is James Bond At His Best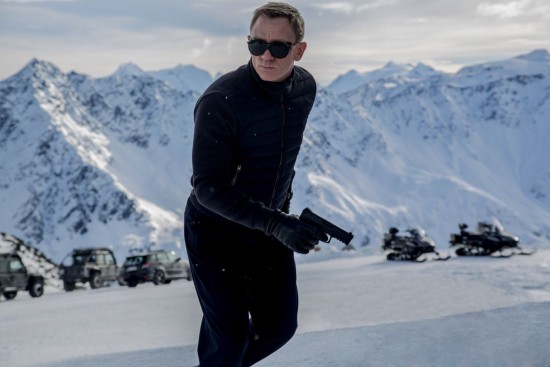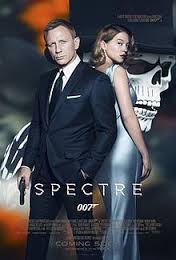 I took a second look at the new James Bond feature Spectre on Monday night to make sure what I had experienced in my first viewing was correct. It turns out that I was right. The new Bond film is the best in the series, going all the way back to 1962, when the franchise started with the smart, impeccably dressed Sean Connery, who remains to this day the unbeatable Bond.
Certainly, much of the reason that Spectre with Daniel Craig in the lead role has bested the super-spy's best days from the 1960s has to do with the benefits of modern production standards. Some of Bond's dry wit from Dr. No, Goldfinger and other gems doesn't always hold up very well, either. Nevertheless, it has not been since Thunderball (1965), From Russia With Love (1964) and Goldfinger (1964) that Bond has has had such a grand, sweeping story line to attend to.
Let's get real: Skyfall probably should not have been a Bond film in the first place. It was about stopping a disgruntled former employee who was going postal. In the end, a huge stone house blows up. The explosion is huge, but whoever heard of a stone house blowing up – with, what, five minutes of gas leaking to set it off?
Bond is supposed to be a spy, not a cop or a vigilante and in Skyfall the mystery just wasn't there. In Skyfall, the villain Silva, played by Javiar Bardem, was found in about 15 minutes. After that, it was just police work. Yes, Silva is the most memorable Bond villain in decades, but I still haven't figured out how he went from being a captured and tortured British agent to having an army of minions, given his grand scheme is simply to get back at his old boss.
Suffice it to say, one of the requirements of being a Bond villain is you have to be seeking world dominance. Getting back at your old boss just doesn't cut it.
In contrast, Spectre is epic espionage right up to the point that British intelligence has been infiltrated up to the highest level. Yes, it's beyond hokey to have Franz Oberhauser (aka Ernst Stavro Blofeld), the head of Spectre, played wonderfully by Christoph Waltz, turn out to be the son of the man who took in young James Bond, when his parents died. But that does portray Blofeld as someone with a lifelong grudge, given he faked his own death as a teenager. (That's pretty much when masterminds of mayhem go bad, I guess. If you don't start young, it's hard to rise to the ranks of evil genius until you're too old to enjoy it.)
Skyfall established Bond as an orphan, so now we're stuck with making sure every move he makes fits in with someone with a shattered childhood. Too bad. I just liked him as an impeccably
dressed spy. Now he's billed as an assassin and an alcoholic with anti-social tendencies. He's vulnerable now for psycho-social reasons, but I liked him better when he was simply invisible.
Spectre, for the most part, overcomes Daniel Craig's shortcomings as the current Bond. Just for a start, Craig is not particularly dashing or elegant and Bond's famous wit with Craig just comes across like an acerbic teenager. He's supposed to outsmart the bad guys, but Craig just seems like he's biggest asset is his determination. Sean Connery was detached, where Craig takes things personally. He also seems to grope and slobber on his many female conquests, rather than caress and please them. He's supposed to be worldly, not a freshman who feels lucky he's about to get laid.
It is Spectre's plot, the ever-changing scenery and the rest of the cast that are truly magnificent. Dr. Madeleine Swann played by Lea Seydoux is the best Bond babe ever. She's smart, modern, level-headed and wonderfully coquettish when she needs to be. Ralph Fiennes does well replacing Judi Dench as M (I always thought she was wrong for the part, anyway; you wouldn't cast Angela Lansbury as the head of the CIA, would you?) Ben Whishaw is terrific as quartermaster Q and Naomie Harris is outstanding as Eve Moneypenny.
Spectre might be what David Lean would have done with a Bond assignment. It's tense, sweeping, grand and does Ian Flemming proud. I give it four stars plus. And, just to say so, Rotten Tomatoes has it all wrong. Time, I guarantee it, will be very kind to this film.
Rating: 5 Stars
Contributor: Anthony Hall
Deadpool Dethrones Avengers With Triple-Digit Debut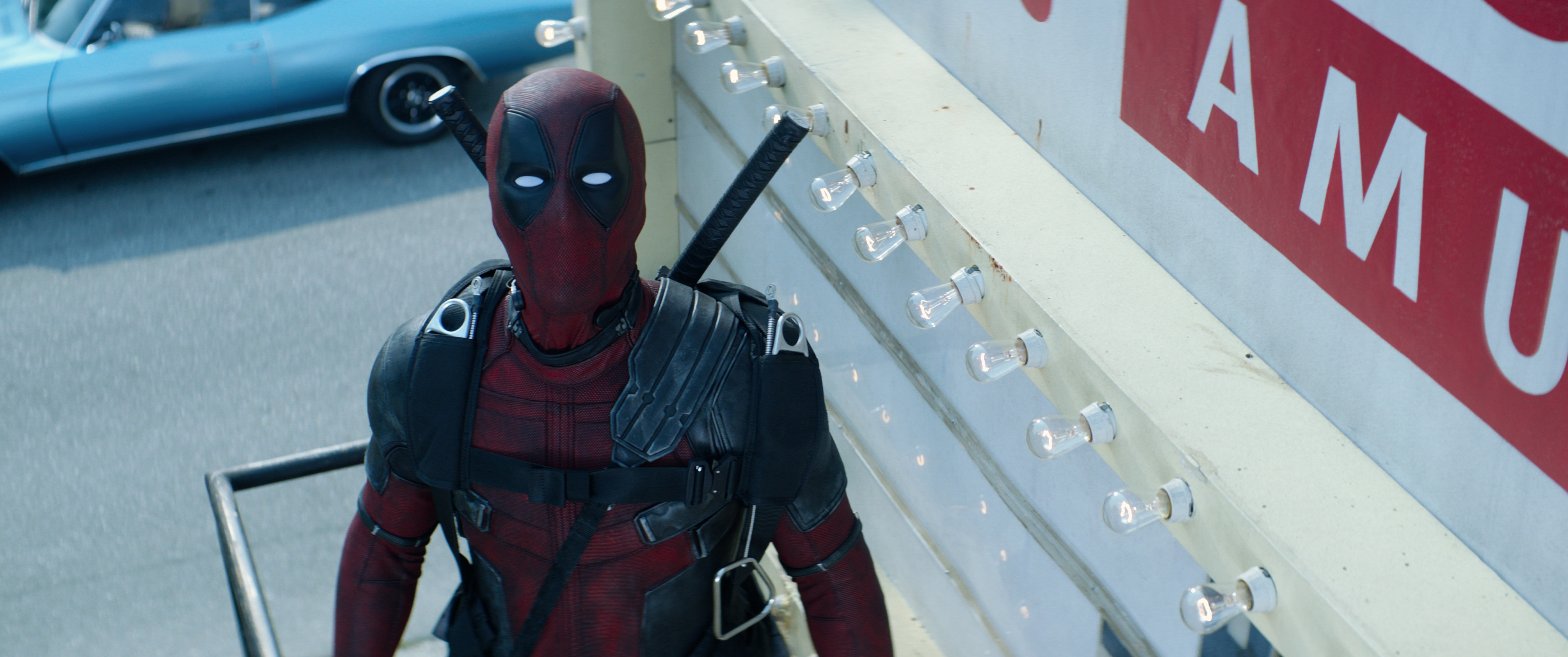 The first film to knock down Marvel Studio's towering juggernaut of Avengers: Infinity War from the #1 slot has arrived. It's no surprise that it would indeed be another superhero movie, but it is surprising by how much it overtook. Deadpool 2, Fox's Marvel property of a fourth-wall breaking anti-hero that satirizes comic book movies, premiered to a huge first weekend of $125 million domestic. Despite being just a few million dollars short of its previous film, it's still an impressive achievement for an R-rated Marvel movie that keeps the momentum going both in comedy and box office. Even more impressive is it's worldwide gross that is currently sitting at a beefy $301 million. Expect it to stick around for such a successful first weekend.
With such a high take from Deadpool, Avengers: Infinity War naturally took a big hit. Dropping by 53%, the blockbuster made only $28.6 million in fourth weekend. It's still standing tall with a domestic total of $595 million, but it's doubtful at this point that it'll reach the same heights as Marvel's earlier 2018 blockbuster of Black Panther. Other debuts this week were not so lucky with such limited takes. The all-female comedy Book Club premiered at #3 for the weekend with a $12.5 million domestic gross. The family comedy Show Dogs placed at #6 with $6 million in its domestic take.
Returning films are weathering the Marvel storm decently with expected drops. A Quiet Place is still hanging in there with the lowest drop of the weekend, bringing in another $4 million to boost its domestic total up to $176 million, still an amazing gross for the $17 million horror movie that could. The giant monster movie Rampage is clinging to the top 10 in its #9 slot, but it's not looking good for such expensive blockbuster still so far away from meeting its budget. And RBG, the documentary on Ruth Bader Ginsberg, remains in the #10 spot from last weekend with its domestic total now up to $3.8 million.
View the full top 10 for the weekend below.
Deadpool 2 ($125,000,000)
Avengers: Infinity War ($28,672,000)
Book Club ($12,500,000)
Life of the Party ($7,725,000)
Breaking In ($6,470,000)
Show Dogs ($6,034,770)
Overboard ($4,725,000)
A Quiet Place ($4,040,000)
Rampage ($1,500,000)
RBG ($1,280,000)
Next weekend will pit Deadpool against another anti-hero in Disney's Solo: A Star Wars Story, the Star Wars side story on Han Solo. It will indeed be interesting to see how a Star Wars movie plays in the summer as the previous three Disney Star Wars productions have all been massive blockbusters in December. For debuting in 4,200 theaters, the pressure is on to see Star Wars topple Marvel.
Another Astounding Weekend at the Box Office for Avengers: Infinity War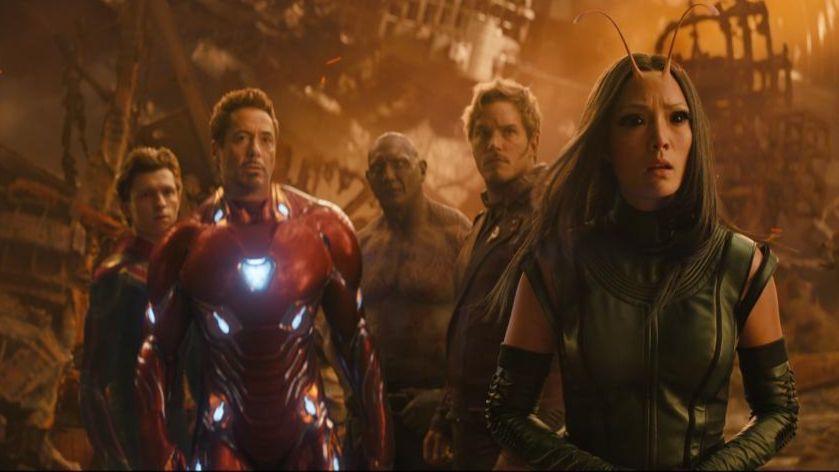 Box Office Weekend 5/4/18-5/6/18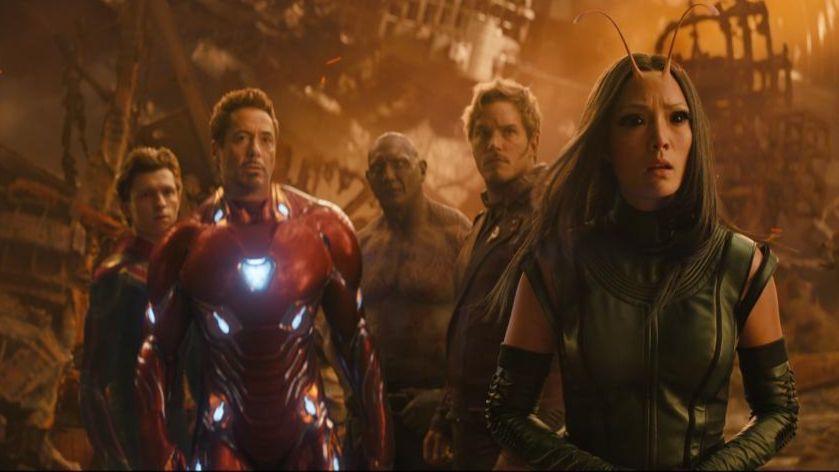 Not the least bit surprising, Marvel's Avengers: Infinity War has dominated the weekend box office with another massive gross. In its second weekend, the grandest superhero ensemble to date brought in $112.4 million. This brings its domestic total up to $450 million, and its worldwide take well over $1 billion. Time will tell if it has the legs, however, to hold its own against Marvel's other superhero epic this year, Black Panther. Considering Black Panther is still in the top 10, and has almost passed $700 million domestic, it'll be a close race between the two Marvel movies.
Of course, the success of the Avengers is due in no small part to this being a rather sparse weekend of premieres appearing in fewer theaters. Braving the Marvel storm to come in at #2 was the romantic comedy remake, Overboard, starring Eugenio Derbez and Anna Faris, making $14.7 million domestic. And if that's the gross of the #2 spot, you can imagine how lower the other films are. Tully, a new comedy Jason Reitman and starring Charlize Theron, came in at #6 with a domestic gross of $3.1 million. Further down at #10 is the new David Tennant starring thriller, Bad Samaritan, making $1.7 million for the weekend.
There were expected dips all around with no huge surprises, but many of the successful films that have hung around are growing a considerable gross. John Krasinski's A Quiet Place had the lowest drop and is currently sitting at a robust $159 million domestic total. Ryan Coogler's Black Panther has already blazed many records, but it's only $7 million away from clearing $700 million domestic.
See the full top 10 box office results below.
Avengers: Infinity War ($112,474,000)
Overboard ($14,750,000)
A Quiet Place ($7,600,000)
I Feel Pretty ($4,900,000)
Rampage ($4,620,000)
Tully ($3,186,000)
Black Panther ($3,146,000)
Truth or Dare ($1,885,000)
Super Troopers 2 ($1,815,000)
Bad Samaritan ($1,758,000)
Next weekend, Avengers will be battling against the Melissa McCarthy starring comedy Life of the Party and the Gabrielle Union starring thriller Breaking In. Considering that Life of the Party will have the most significant theater count, McCarthy has the only real shot at being the first film to knock the superhero giant down from the top 10, though it's doubtful of the Avengers hype will have died down by then.
Life of the Party and Breaking In Dominated by Avengers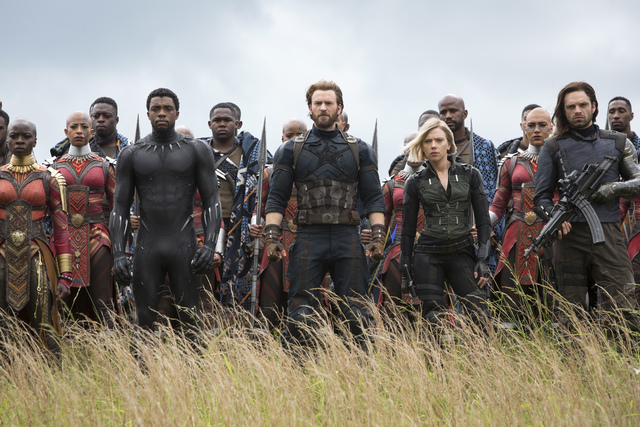 Box Office Report 5/11/18 – 5/13/18
In its third weekend, Avengers: Infinity War is still going strong with a beefy #1 spot that has yet to be bested. Marvel Studio's latest superhero epic amassed $61.8 million for the weekend, soaring its total domestic gross up to $547 million. The film has managed to make more than Marvel's other 2018 hit, Black Panther, in the same amount of time, but whether it'll reach the same domestic gross remains to be seen. With the oncoming superhero film next week and a Star Wars film following, it'll have some fierce competition.
The two newest films this week slid comfortably into the slots just below. Life of the Party, the new back-to-school comedy with Melissa McCarthy, predictably hit the #2 spot for being a female-centric comedy released on Mother's Day weekend. While it didn't exactly take the cake, the film did make $18.5 million to earn its spot during another Marvel cinematic snowstorm of a weekend. Just below it was the new thriller Breaking In, grossing $16.5 million, which is not too shabby for a film debuting in only 2500 theaters.
There were surprisingly low dips all around in the top 10. The smallest drop was for A Quiet Place, still hanging in there as the surprise horror hit, earning $6.4 million to boost its domestic total to $169.5 million. It's not too surprising that the most significant drop was for Black Panther, grossing only $1.9 million. It's a predictable drop considering the movie has been out for thirteen weeks, is already available to buy digitally, and will be out on DVD and Blu-ray by this Tuesday. It's still a considerable feat for a film that has domestically grossed $696 million so far.
One film worth mentioning that snuck into the top 10 is RGB, the documentary on Ruth Bader Ginsburg, expanding for the weekend into 180 theaters. That's very impressive for such a small film to conquer the #10 spot on Mother's Day weekend with a $1.1 million gross.
View the full top 10 list below.
Avengers: Infinity War ($61,817,000)
Life of the Party ($18,500,000)
Breaking In ($16,500,000)
Overboard ($10,100,000)
A Quiet Place ($6,400,000)
I Feel Pretty ($3,710,000)
Rampage ($3,380,000)
Tully ($2,240,000)
Black Panther ($1,932,000)
RGB ($1,165,000)
Next weekend, Infinity War will be going up against a real contender with Deadpool 2, the sequel to the Ryan Reynolds starring superhero comedy that broke records in 2016. Also vying for the box office will be the dog comedy, Show Dogs, and the aged female-oriented comedy, Book Club.