Review: 'Spectre' (Not Skyfall) Is James Bond At His Best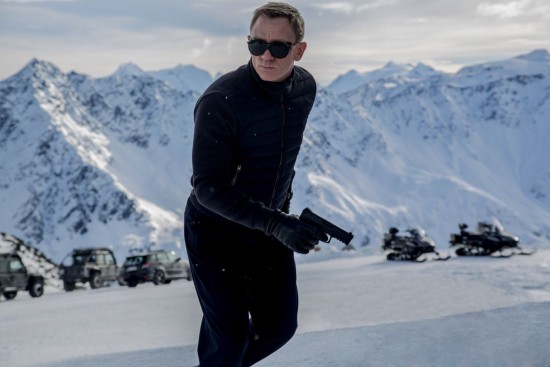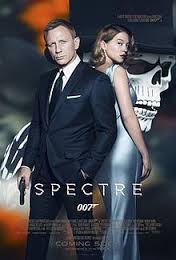 I took a second look at the new James Bond feature Spectre on Monday night to make sure what I had experienced in my first viewing was correct. It turns out that I was right. The new Bond film is the best in the series, going all the way back to 1962, when the franchise started with the smart, impeccably dressed Sean Connery, who remains to this day the unbeatable Bond.
Certainly, much of the reason that Spectre with Daniel Craig in the lead role has bested the super-spy's best days from the 1960s has to do with the benefits of modern production standards. Some of Bond's dry wit from Dr. No, Goldfinger and other gems doesn't always hold up very well, either. Nevertheless, it has not been since Thunderball (1965), From Russia With Love (1964) and Goldfinger (1964) that Bond has has had such a grand, sweeping story line to attend to.
Let's get real: Skyfall probably should not have been a Bond film in the first place. It was about stopping a disgruntled former employee who was going postal. In the end, a huge stone house blows up. The explosion is huge, but whoever heard of a stone house blowing up – with, what, five minutes of gas leaking to set it off?
Bond is supposed to be a spy, not a cop or a vigilante and in Skyfall the mystery just wasn't there. In Skyfall, the villain Silva, played by Javiar Bardem, was found in about 15 minutes. After that, it was just police work. Yes, Silva is the most memorable Bond villain in decades, but I still haven't figured out how he went from being a captured and tortured British agent to having an army of minions, given his grand scheme is simply to get back at his old boss.
Suffice it to say, one of the requirements of being a Bond villain is you have to be seeking world dominance. Getting back at your old boss just doesn't cut it.
In contrast, Spectre is epic espionage right up to the point that British intelligence has been infiltrated up to the highest level. Yes, it's beyond hokey to have Franz Oberhauser (aka Ernst Stavro Blofeld), the head of Spectre, played wonderfully by Christoph Waltz, turn out to be the son of the man who took in young James Bond, when his parents died. But that does portray Blofeld as someone with a lifelong grudge, given he faked his own death as a teenager. (That's pretty much when masterminds of mayhem go bad, I guess. If you don't start young, it's hard to rise to the ranks of evil genius until you're too old to enjoy it.)
Skyfall established Bond as an orphan, so now we're stuck with making sure every move he makes fits in with someone with a shattered childhood. Too bad. I just liked him as an impeccably
dressed spy. Now he's billed as an assassin and an alcoholic with anti-social tendencies. He's vulnerable now for psycho-social reasons, but I liked him better when he was simply invisible.
Spectre, for the most part, overcomes Daniel Craig's shortcomings as the current Bond. Just for a start, Craig is not particularly dashing or elegant and Bond's famous wit with Craig just comes across like an acerbic teenager. He's supposed to outsmart the bad guys, but Craig just seems like he's biggest asset is his determination. Sean Connery was detached, where Craig takes things personally. He also seems to grope and slobber on his many female conquests, rather than caress and please them. He's supposed to be worldly, not a freshman who feels lucky he's about to get laid.
It is Spectre's plot, the ever-changing scenery and the rest of the cast that are truly magnificent. Dr. Madeleine Swann played by Lea Seydoux is the best Bond babe ever. She's smart, modern, level-headed and wonderfully coquettish when she needs to be. Ralph Fiennes does well replacing Judi Dench as M (I always thought she was wrong for the part, anyway; you wouldn't cast Angela Lansbury as the head of the CIA, would you?) Ben Whishaw is terrific as quartermaster Q and Naomie Harris is outstanding as Eve Moneypenny.
Spectre might be what David Lean would have done with a Bond assignment. It's tense, sweeping, grand and does Ian Flemming proud. I give it four stars plus. And, just to say so, Rotten Tomatoes has it all wrong. Time, I guarantee it, will be very kind to this film.
Rating: 5 Stars
Contributor: Anthony Hall
"Glass" Glows Amid Dim Weekend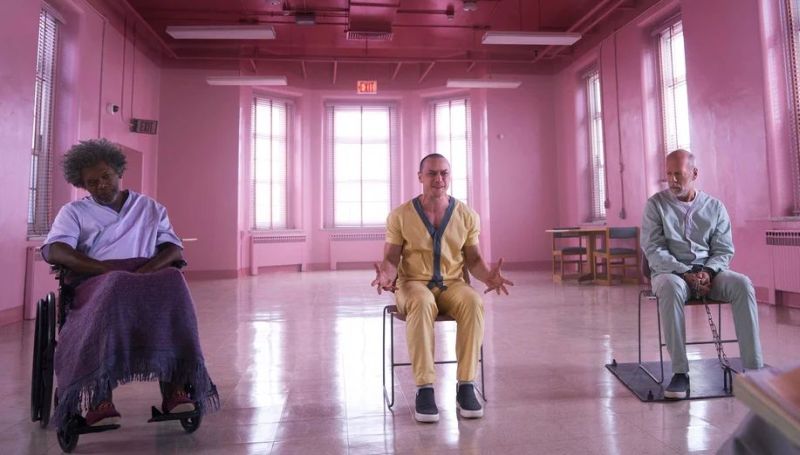 The weekend of the Super Bowl found the box office low about as expected with not a single film making over $10 million for the weekend. As such, there were very few surprises with which films ended up where. Just as with last week, Glass is at #1 for its third weekend, coming in with $9.5 million, shaping up to be another financially successful film from M. Night, though it'll start dropping as we head into February. Just behind it is the dramedy The Upside, pulling up close with $8.8 million as it expanded into a few more theaters for the weekend.
The premiere for the weekend, Miss Bala, a cartel thriller, only debuted at #3 with a box office debut of $6.7 million. Not a very strong opening but it did manage to get just above the December box office hang-on superhero movies of Aquaman and Spider-Man: Into the Spider-Verse, still in the top 5. Green Book, coming up on awards season, soared higher in the box office upon expansion and The Kid Who Would Be King, unfortunately, won't be seeing much of an audience going into February.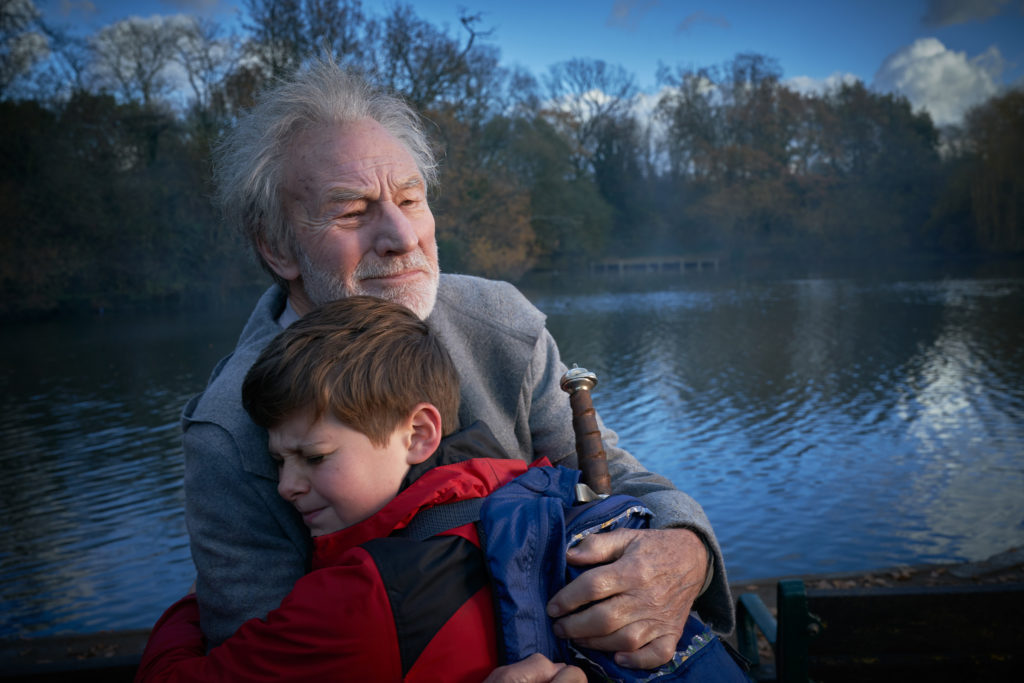 Debuting in a very limited engagement is Peter Jackson's They Shall Not Grow Old, a WWI documentary with restored footage. The film had originally opened the last week of December in a handful of theaters but thankfully expanded into more theaters where it was strong enough to make it to #10.
Glass ($9,535,000)
The Upside ($8,850,000)
Miss Bala ($6,700,000)
Aquaman ($4,785,000)
Spider-Man: Into the Spider-Verse ($4,410,000)
Green Book ($4,317,000)
The Kid Who Would Be King ($4,200,000)
A Dog's Way Home ($3,510,000)
Escape Room ($2,900,000)
They Shall Not Grow Old ($2,405,000)
Next weekend is all about the LEGO. LEGO Movie 2, the animated sequel, will be hitting over 4,000 theaters. Also opening will be the thriller Cold Pursuit in 2,500 theaters, the killer-kid horror The Prodigy opening in 2,500 theaters, and the gender comedy What Men Want in 2,800 theaters.
"Glass" Holds Firm, "King" and "Serenity" Sink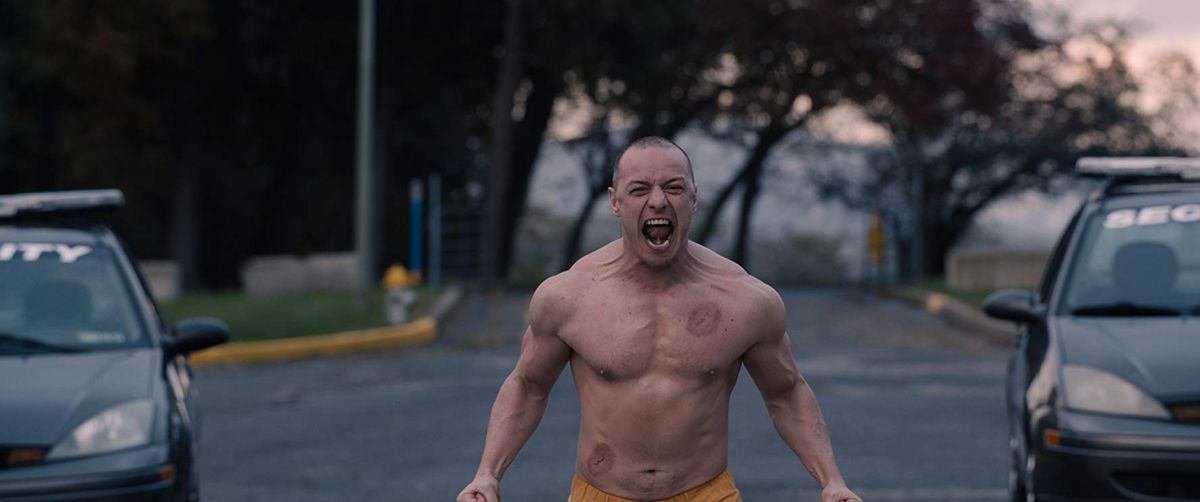 M. Night's Glass already had a lot of hype for being the most anticipated movie of January and the popularity is proving it. Now in its second weekend, the thriller has made another $19 million and has shown itself to be a box office success even in the colder months of January where it's not exactly pulling in the largest of box office numbers. Not exactly a twist from a director known for twists.
The premieres for the weekend didn't fare well at all. The Kid Who Would Be King, Joe Cornish's kid-oriented fantasy of modern knights and demons, debuted only at #4 with a weekend gross of $7.2 million, lagging not far behind Aquaman which made $7.3 million. It seems strange that family entertainment wouldn't be a bigger hit in a month with little of that. But then again, Spider-Man: Into the Spider-Verse is still in theaters and still doing well at #5, proving to have the legs to stick around into February as it continues to win awards for being a groundbreaking animated film.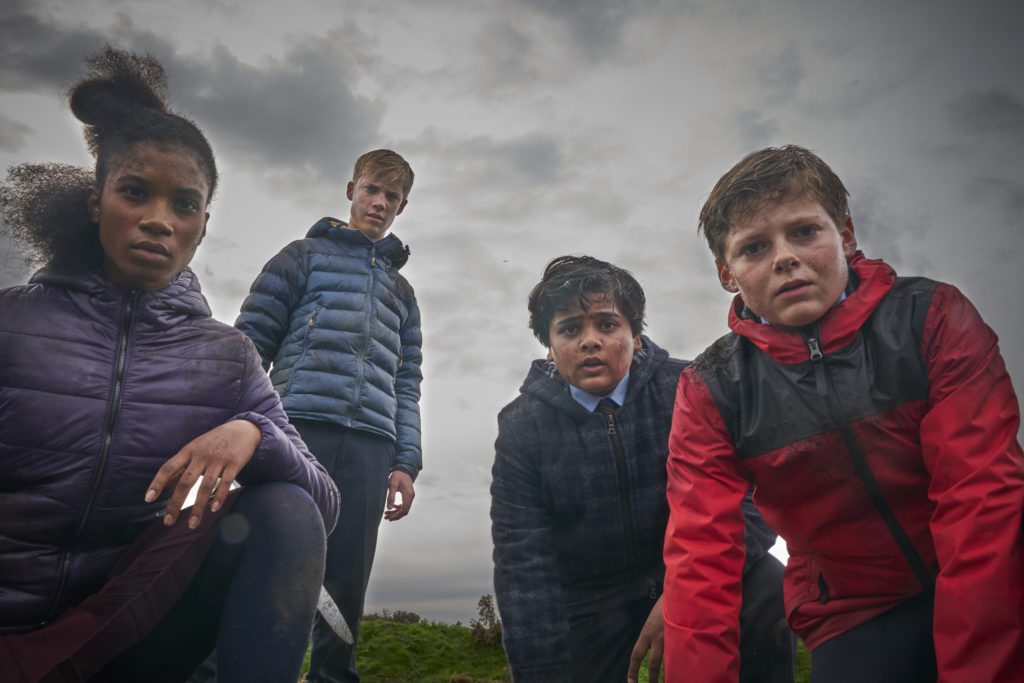 Also debuting lower is Serenity, a new drama by Steven Knight. This one doesn't seem as surprising given both the lack of promotion for the picture and the abysmally negative critic reviews, declaring the film as an early front-runner for the worst of the year. The movie only came in at #8 for the weekend with a gross of $4.8 million.
Worth noting is that Dragon Ball Super: Broly is still hanging in the top 10, latching onto the #10 spot with a gross of $3.6 million. Though not the biggest box office compared to its competition, it's a big success for FUNimation pushing anime into theaters given they've yet to have as big of a release as this one and for such a long time. Most anime they release in theaters are only present for a weekend if that and tend not to crack the top 10 as often. Dragon Ball Super has become the exception and may lead to more anime screenings to larger theater counts in the future.
See the full top 10 for the weekend below:
Glass ($19,049,000)
The Upside ($12,240,000)
Aquaman ($7,350,000)
The Kid Who Would Be King ($7,250,000)
Spider-Man: Into the Spider-Verse ($6,150,000)
Green Book ($5,413,000)
A Dog's Way Home ($5,225,000)
Serenity ($4,800,000)
Escape Room ($4,275,000)
Dragon Ball Super: Broly ($3,600,000)
Review: "Alita: Battle Angel" Fights Faithful, Dark, Fun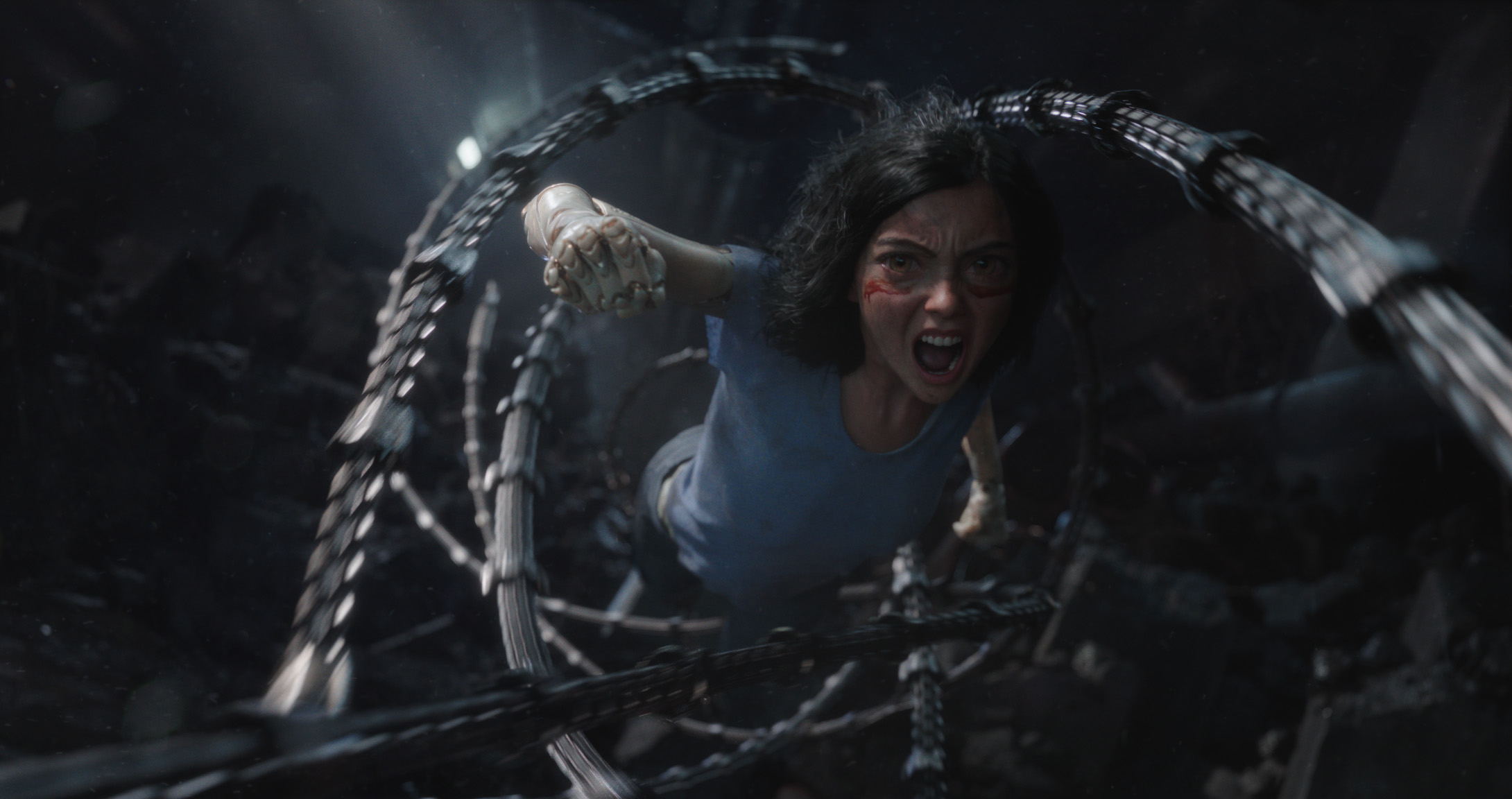 When it comes to films based on Japanese anime and manga, they have a record far more stumbling than that of video game movies. These types of movies have been plagued with everything from confused direction (Dragonball Evolution) to cheap translations (Fist of the North Star) to awkward whitewashing (Ghost in the Shell). But Alita: Battle Angel may just be the first film to break that mold, at least from a translation point.
One would hope that the screenplay writer James Cameron would put some dedication into this project he had been talking about making happen for nearly two decades. Surprisingly, he matches the source material well. The world is perfectly defined with a cyberpunk dystopia of the far future, the elites residing in a metropolis of the sky while the poor cyborgs struggle on the surface world of garbage. Also present is the grim atmosphere which I questioned if Cameron would delve into, given that the original story was a depressing one of pathos, amputation, decapitation, bifurcation, and the murdering of a dog.
The film has all of this in telling the story of Alita (Rosa Salazar), a mysterious teenage cyborg found with very little of her body in a heap of dumped robot parts. Determined to rebuild her and give her a new life as a teenage girl is Doctor Ido (Christoph Waltz), committed to being a charity of a cybernetics doctor when so few can afford so much in artificial limbs they need. Alita is a kind girl, made all the more sweet with those artificially giant eyes added digitally. While this may really give her the look of an uncanny valley creation in hopes of replicating that anime style, it works well in defining Alita as both an artificial being and fitting in with the odd nature of cyborg society.
There's a progressive build of Alita discovering both the world around her and uncovering her cloudy past. She takes as much of an interest in the fast-paced violent sport of Motorball as she does the scrappy young Hugo (Keean Johnson), potential boyfriend material. But she'll soon come to learn that not everybody is who they appear to be, as both Hugo and Ido have secrets they haven't revealed as the web of corruption in the city runs deep. All of it relates back to the giant floating paradise in the clouds that everybody shoots for, including the smug gangster leader Vector (Mahershala Ali) who acts as a puppet for those above, sometimes literally. Everyone wants to make it to the top and they're willing to break any rule to get there.
Of course, it's no shock that Alita is the girl to shake things up and fight the system. This is where director Robert Rodriguez takes the helm of this project and gives it his own flavor of slick and violent action. He really pushes that PG-13 rating to the limit of how much you can get away with in dicing up cyborgs, staging intimidating barroom brawls and vicious battles on a giant racetrack. Even for a director known for plenty of violence in his films, Rodriguez still manages to cram in a number of ouch-worthy moments where characters are sliced in half or have their faces chopped at an angle. Also present is Rodriguez's trademark humor that manages to fit in snugly amid the more tragic parts of this cyberpunk tale.
Alita still has a few kinks in the armor with some clunky bits of dialogue and emotions that run a little flat here and there. But I must admit I was surprised with how well this film holds together for being so ambitious in pursuing such a story, sticking to its essentials while still giving off a vibe all its own. I recall far back as being a teenager when hearing about Cameron's plan to adopt the original manga into a live-action movie and doubting it would ever see the light of day, especially with his crowded schedule and the lacking adaptations over the years. But, lo and behold, I'm astounded to not only see the movie made but that it's also well-made and true to its roots. A solid picture for fans of the manga/anime and a pleasing cyberpunk tale for newcomers of a teenage cyborg kicking metallic butts.