Review: "Skyscraper" Lumbers With Thrills Pulsating and Passive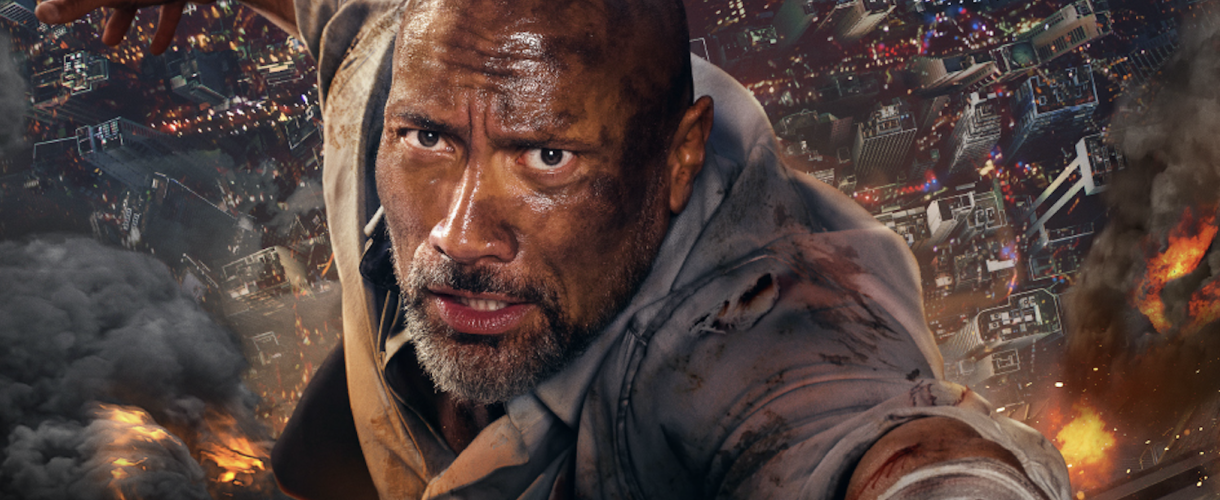 Dwayne Johnson can work wonders on a lackluster script, but there's only so much he can do in a Die Hard retread. There's nothing inherently wrong with taking from such an iconic source and weave something thrilling out of that foundation. But when that irresistible Johnson charm can't break through the towering theatrics, all we're left with is a spectacle that is more big and loud than bright and exhilarating, never fully embracing the silliness of scaling a ludicrously built tower.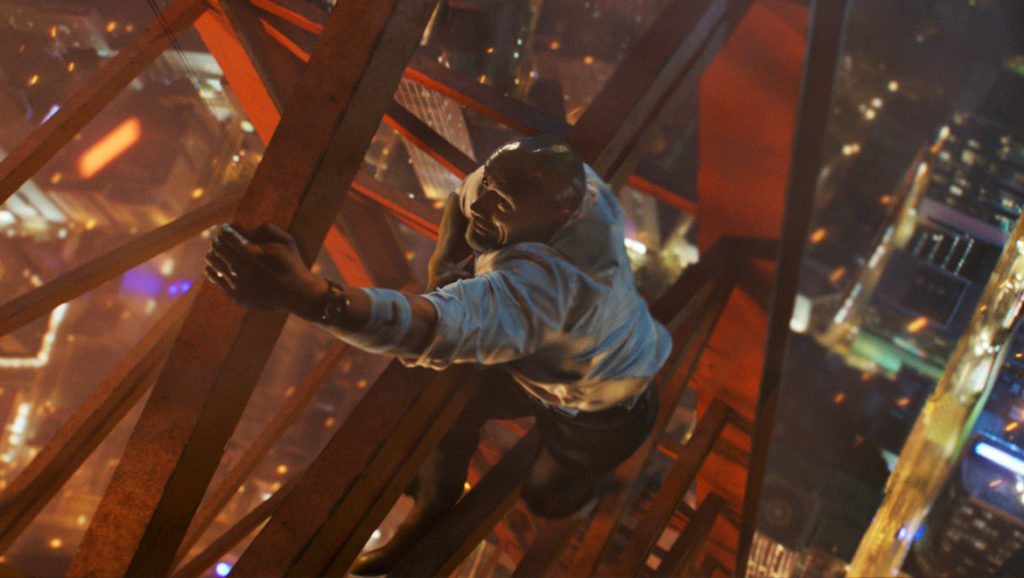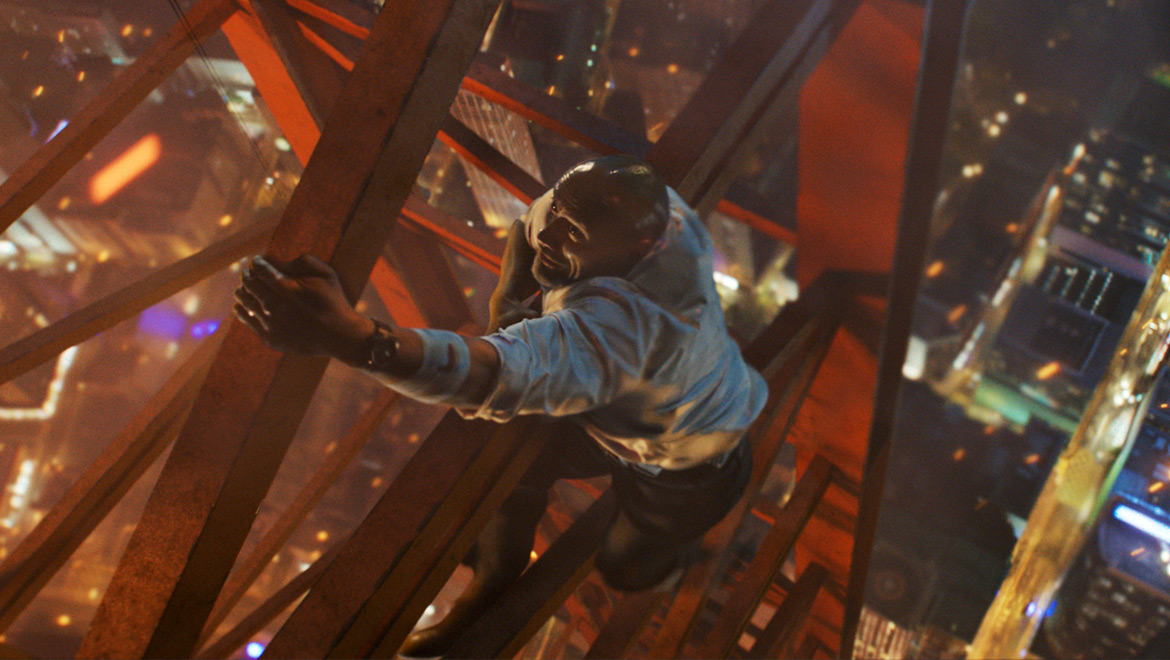 Johnson plays Will Sawyer with a unique backstory but little personality. He was once an FBI agent that lost his leg in a hideous hostage situation. Now he has taken a safer job as a safety inspector for China's most massive towers due to open upper residential floors, bringing along his family for a working vacation. Johnson's brighter smile and warm presence don't come through as well this time, due in part to his character having a darker past and a tougher time getting around with an artificial leg. Fair enough, but when the tower is set aflame by gun-toting terrorists, I really wished that giddier Dwayne could come out and play, past some pleasing pulsations of his muscles jumping great distances and fighting the bad guys.
The setup to the grand showpiece of Dwayne clinging to windows and narrowly escaping explosions is fairly pedestrian, casually concocting all the elements and never harping on them too long, lest we be drowned in cliches. Chin Han plays the wealthy builder of the structure, concealing a secret and a MacGuffin that the villain want so badly they'll cause a public scene to get it. The lead terrorist is played by Roland Møller with a sinister look and a Scandinavian accent, so blandly conceived it's no wonder he works for someone higher up. Even more bland is his female cohort (Hannah Quinlivan), kicked to the curb of the tower excitement with her tight black outfit and sexy looking hair dangling off the side of her face. There's also a cowardly English investor (Noah Taylor) and a long-time pal of Will played by Pablo Schreiber to fill out the twist fodder.
This is a film that really does require your brain to be shut off given how much lost potential and generic action-movie-isms crowd the screen. The first act is the biggest slog, holding the hand of the audience for everything that will follow. Will stresses to his wife that the easiest way to fix a smartphone is to turn it off and on again. I fully expected this to play a role in the climax but hoped Neve Campbell wouldn't literally say those words. Chris Han shows off his holographic room that is little more than a hall of mirrors; seems like a good place for a disorienting shootout. As Hannah Quinlivan watches a hired hacker sabotage the tower's fire suppression systems, the hacker states boastfully that only he can shut it down from that point forward. Take a wild guess what Quinlivan will do next when she hears this information.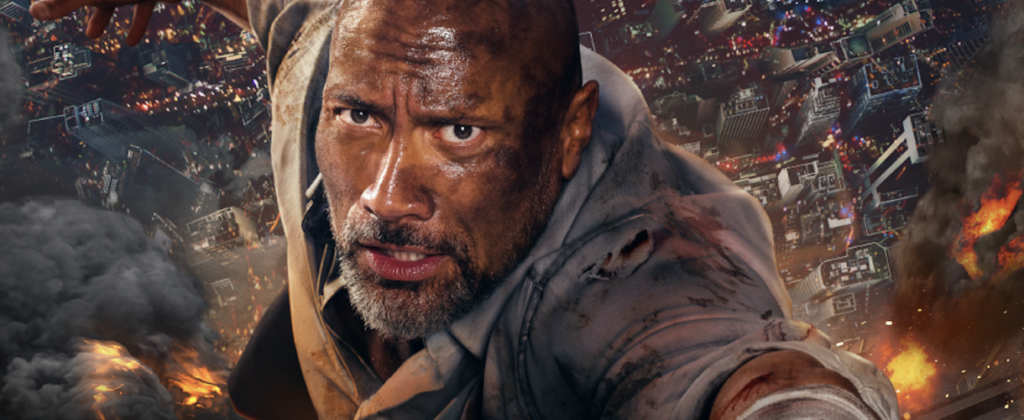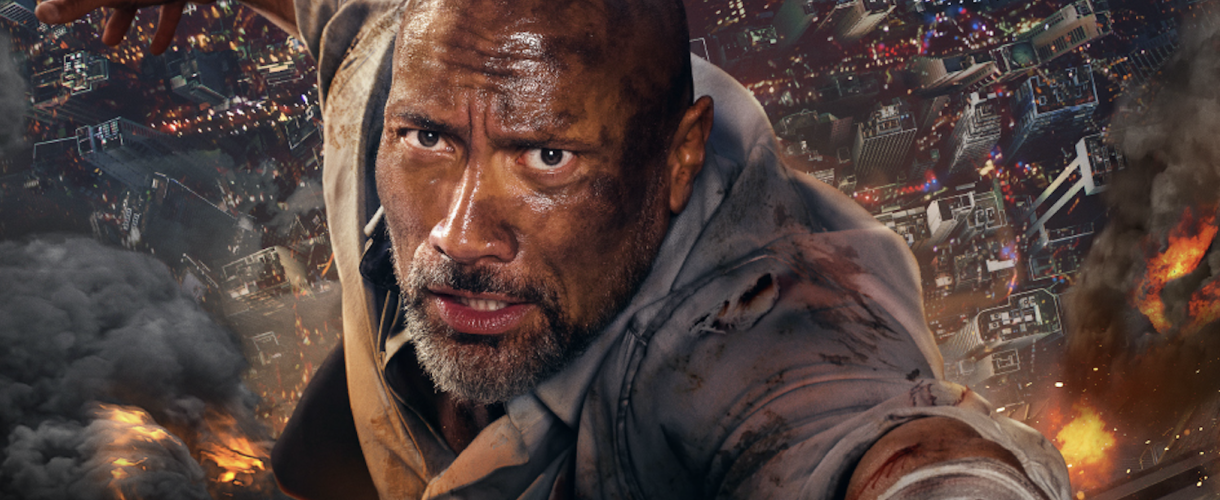 Okay, but that's all the plotty stuff and, let's be honest, nobody is watching this picture for a stirring thriller about criminal bank accounts and tracking software. They want to Dwayne do stunts, and he delivers plenty, from jumping off a crane to swinging like Tarzan to escape a blaze. That's all well and good, but we know Johnson is capable of these impressive theatrics, including some brutal fights that lead to much smashing. We also know he can be charming and has a great personality. So why is he strangely silent during these sequences? He seems to only talk when he has some forgettable one-liner to sling, making commentary on fixability with duct tape and telling himself he's crazy for crawling along windows. This role feels as though it would be better suited for a beefy actor with more muscle than speech; not someone who can exude enthusiasm with more than enough wit to match his strength.
Neve Campbell surprisingly gets to do quite a bit more than cowering in corners with the kids. She takes charge in scenes where's she'll stab terrorists, smack them with car doors, and get in some good kicks and punches. While it's fun watching Campbell take charge, I questioned where she learned all these stellar fighting skills for having previously been a surgeon. Perhaps Johnson inducted her in his action hero training program, coming standard with their marriage.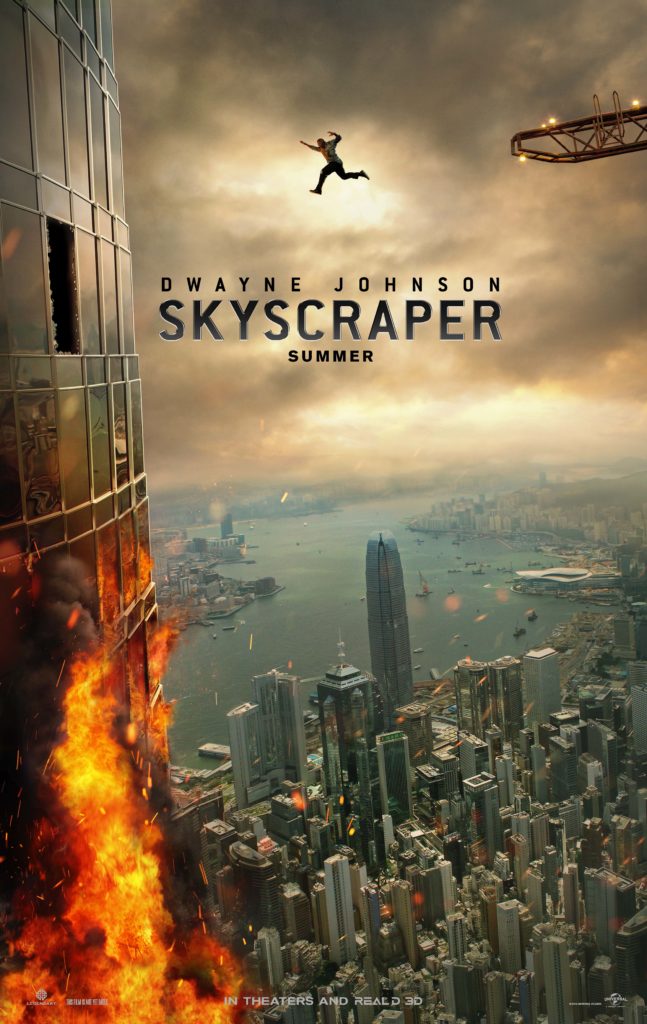 Skyscraper is sufficient as mindless summer entertainment but it does little more than that when I know it could do more. Johnson has the smarts to be a more charming hero than a mindless brute that can hoist himself across a building or literally hold up a crumbling bridge with little more than his buff arms. A massive tower with thousands of technological features could lead to an array of astonishing action sequences, but the most we see is a gripping dash through a burning wildlife enclosure. If there only a few more fun bits of dialogue, more outlandish stunts, and a braver embrace of the dumb, this big blockbuster could have been more audacious than obligatory.
The Predator Makes Mild Blast For Weekend Debut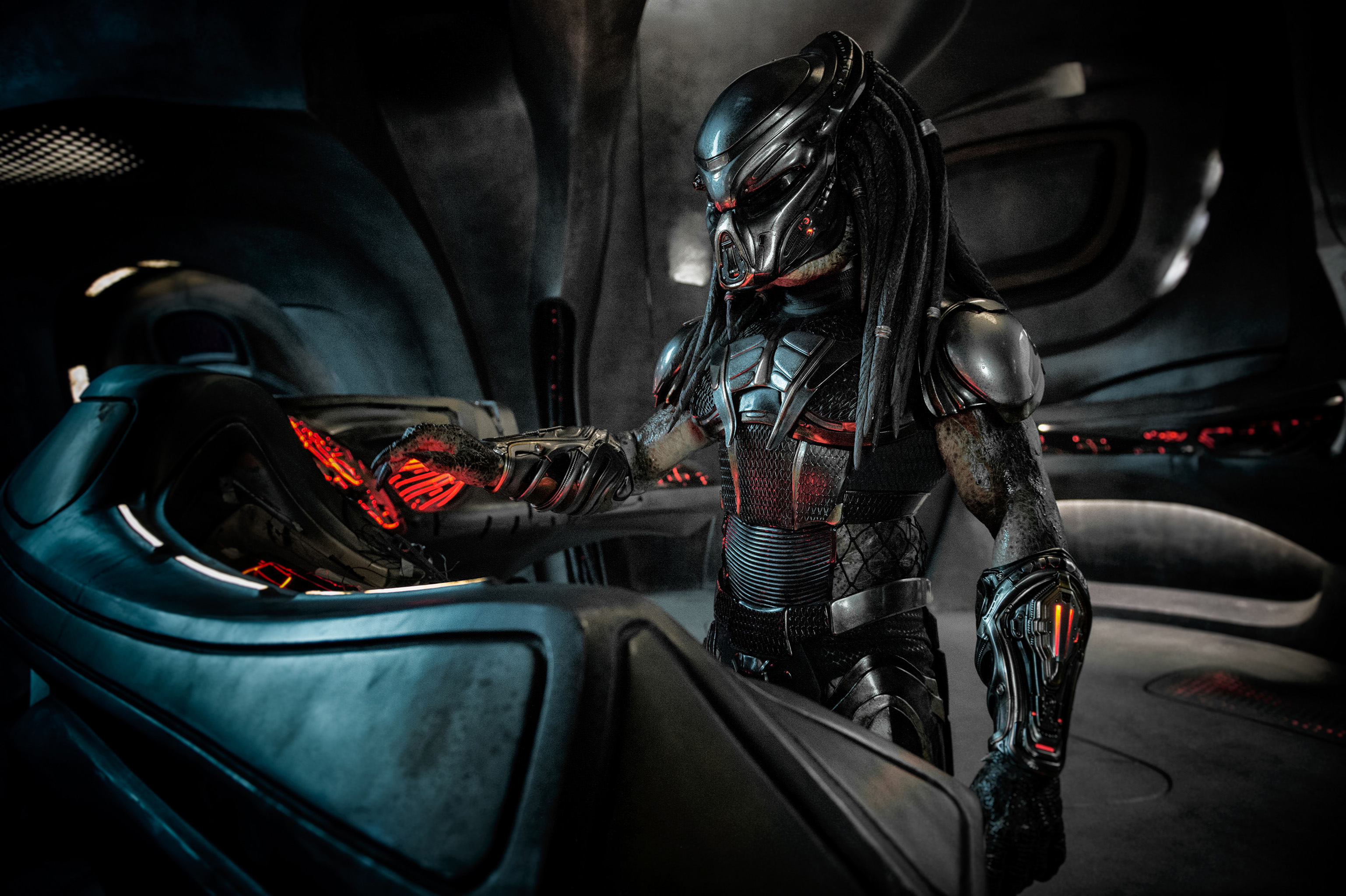 While last weekend was a stellar box office debut for The Nun, the weekend is much more low-key with reduced debuts and descending grosses. Shane Black's The Predator, the latest sequel to sci-fi/horror Predator franchise, came in at #1 but still made a small amount with a box office debut of $24 million. It has a ways to go before toppling its beefy budget of $88 million, but it may survive through a rather slow September.
The Nun was not too far behind as a pleasing horror picture from Warner Bros' The Conjuring universe. In its second weekend, the film made $18.2 million. While this is a 66% drop from its first weekend, the film did have an amazing start on its premiere that the total domestic is sitting at $85 million. So far, it's the biggest success of September as the other premieres are not doing so well. A Simple Favor, the new comedy by Paul Feig, only made $16 million. White Boy Rick, a true crime story starring Matthew McConaughey, brought in $8.8 million. And even further down the list is Unbroken: Path to Redemption, the new religious sports film by Pure Flix, came in with $2.3 million.
No surprise that the strong films from August are still chugging away with small drops. Crazy Rich Asians, the hit romantic comedy, only took a 33% drop with its domestic total now at $149 million. The Meg, the giant shark movie starring Jason Statham, only took a 37% drop with a domestic gross of $137 million. And even Searching, the social media mystery movie, only took a 30% drop to have a total sitting at $19 million.
View the full top 10 weekend box office below:
The Predator ($24,000,000)
The Nun ($18,200,000)
A Simple Favor ($16,050,000)
White Boy Rick ($8,800,000)
Crazy Rich Asians ($8,700,000)
Peppermint ($6,070,000)
The Meg ($3,805,000)
Searching ($3,200,000)
Unbroken: Path to Redemption ($2,350,000)
Mission: Impossible – Fallout ($2,315,000)
Next weekend, The Predator will do battle with fantasy, drama, and politics. Eli Roth's The House With a Clock in its Walls, a family-friendly fantasy film, will premiere in 3,300 theaters. Michael Moore's political documentary Fahrenheit 11/9 will debut in 1,500 theaters. And the Dan Fogelman directed drama Life Itself, starring Oscar Isaac and Olivia Wilde, will hit 2,500 theaters.
Review: "The Predator" is a Humorous Homage, Sometimes Fun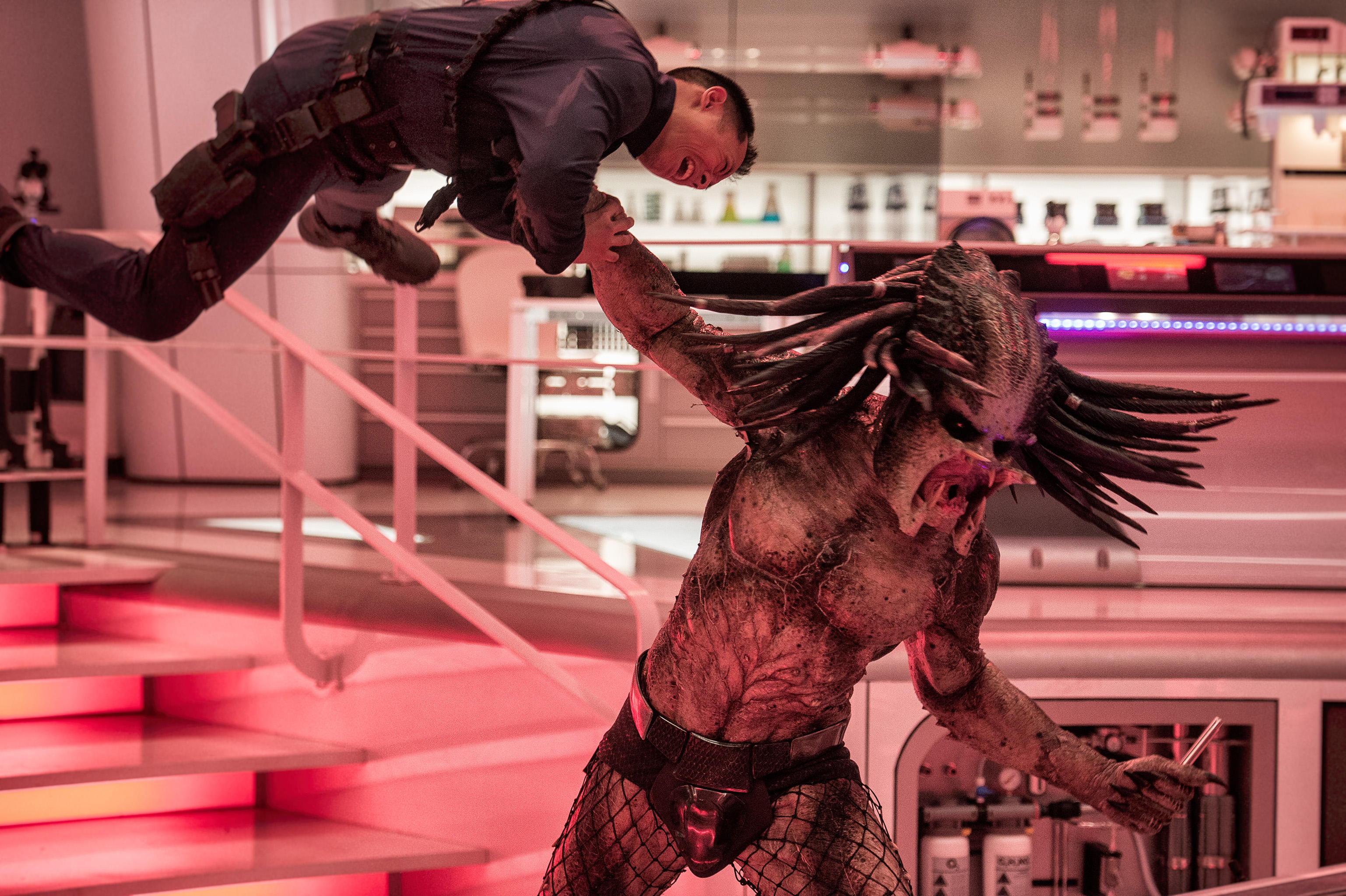 Shane Black's The Predator is simultaneously the most no-nonsense and all-nonsense entry of the series. It does away with a lot of the fat for its story, skipping briskly through its introduction so that gory action of a human-hunting alien arrives quickly. It also doesn't try to take itself seriously, favoring a comedic format to its writing so high on the goofiness it may as well be labeled a parody of the previous films. This odd assembly prevents such a generically titled film from becoming just another tired retread of a dug-up franchise, hit or miss though it may be.
In order to get the bloody gears grinding, Black throws a lot of inexplicably odd actions at the screen. I didn't set my watch, but I'm pretty sure it was less than a minute before the first Predator marches onto the screen, crashing onto Earth and going about its secret mission. Encountering the Predator and his arsenal is sniper-for-hire and former Army Ranger, Quinn McKenna (Boyd Holbrook), who not only takes to the Predator tech quickly but also takes the risk of swallowing some of it so it can't be found. To cash in on newly acquired treasures from outer space, he decides to ship the rest of the alien technology to his mailbox. Seems like a ridiculous idea, but it needs to be done so that the story can arrive on schedule to include a Predator-savvy scientist (Olivia Munn), a greedy government villain (Sterling K. Brown), a savant of an autistic kid with a smart mouth (Jacob Tremblay), and a team of mercenaries that includes a jokester (Keegan-Michael Key) and one with Tourette's syndrome (Thomas Jane).
I could detail the elaborate scheme of the Predators and the tactics used by the human characters, but does it matter? There are convoluted plot elements for sure, including the most ridiculous use of Asperger's Syndrome as a plot twist, but all that this amounts to is the self-aware knowledge of a goofy gore fest. The script, co-written by Shane Black, always seems careful never to go overboard with exposition without a joke in between. A key scene that could have been a bore is the initial alien dissection scene, its purpose to describe the new Predator and decipher his visit. Munn harps on why the scientists have called the alien a Predator when his purpose seems more akin to a big-game hunter.
While the choice to favor knowing comedy or dark action is a smart one, it's not exactly a home run of ideas. The first act, in particular, has some rather stale nostalgic callbacks that one would expect from a lesser retread. Variations on some of Arnold Schwarzenegger's iconic lines from the first film about choppers and the ugliness of the Predator felt so lame that I started gripping my seat, bracing for the entire film to be this adrift of inspiration. But the film thankfully proceeds down its own silly path by the second act, turning into a non-stop bloody bonanza of alien-on-human action. The gore goes for the gusto so heavily that it becomes just as strong as the comical banter between Holbrook and his team of gun-toting good guys, trying to stop the Predator from killing a kid and the government from killing them first.
There's a lot of dumb and messiness in The Predator, but the constant winking from Black's director and the all-star cast save it from being another PG-13 snoozer of a repeat. Armed with machine-gun speed comedy, violence more than worthy of an R rating, and a giddy sense that is always present, what could've been a merry-go-round turns into more of a roller coaster experience of a Predator movie. Black doesn't exactly rework the Predator mythos into something new or even more akin to its quality camp roots, but he does have fun with the material. And when you've got a multi-mouthed alien with braids turning humans into hamburger, you've gotta have some fun mocking the spectacle, especially after so many films that take themselves far too seriously.
"The Nun" Scares Up Strong September Box Office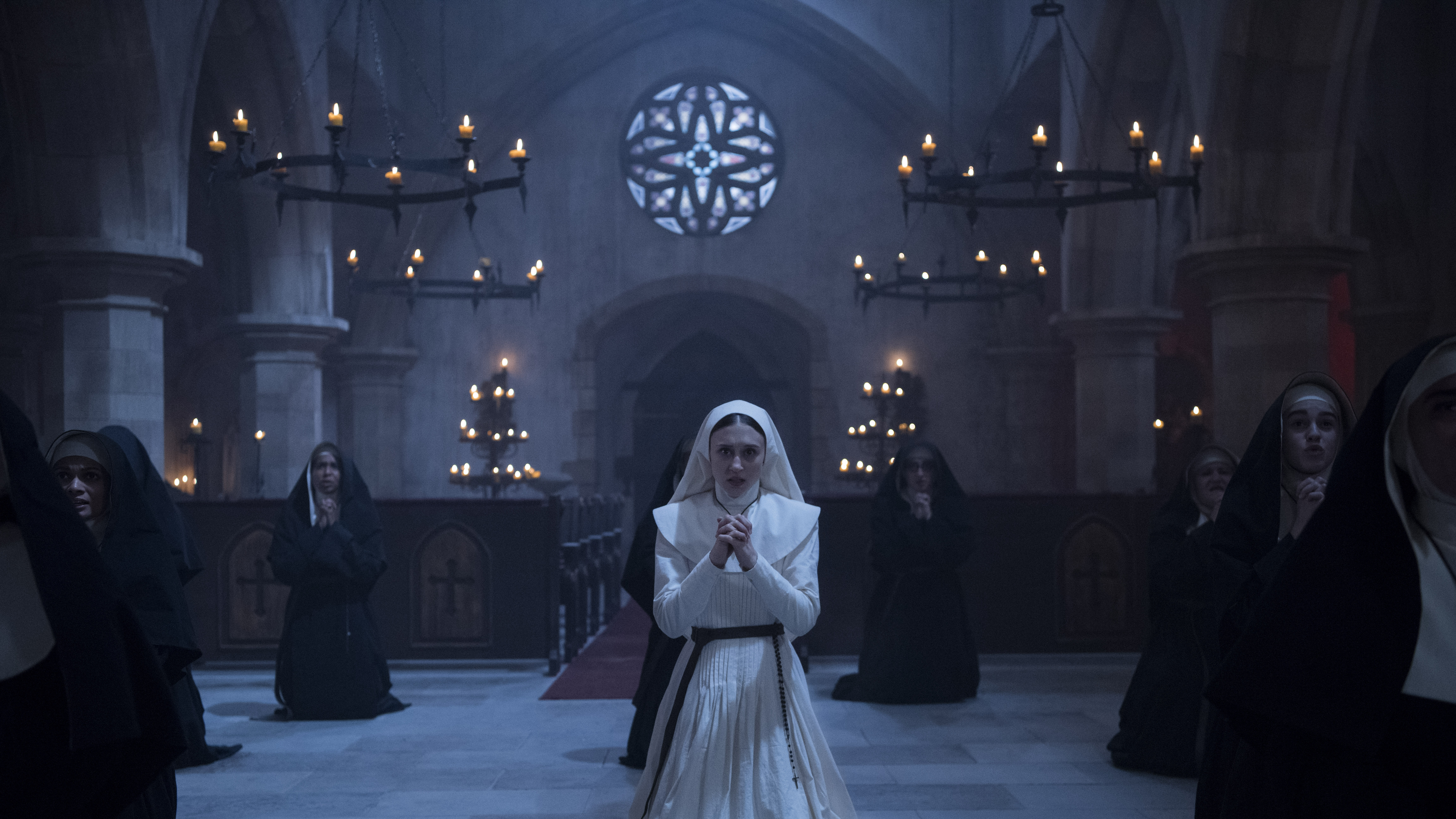 September has its first box office champion to topple August's hit of Crazy Rich Asians, and by a substantial amount at that. The Nun, a spin-off and prequel to The Conjuring 2's scary nun ghost in the painting, has earned an impressive $53.5 million for its debut weekend. That's an exceptional premiere to warrant the film's budget of $22 million, rather high for horror. The future is looking bright for The Conjuring franchise. Still, Crazy Rich Asians is still going strong as the romantic comedy of the year, grossing another $13.6 million for a domestic total now sitting at $136 million. With plans for a sequel already in the works and a chance at hitting $200 million, the film may very well carry deep into fall considering it's still in the top five after four weeks.
Also debuting to a decent take for the weekend is Peppermint, an action-oriented thriller starring a revenge-seeking Jennifer Garner. The film made $13.2 million in its first weekend which may be a bit disappointing for a $25 million budget, but it may have decent enough to legs to make a profit depending on how September shapes up.
Plenty of the returning films are holding on strong. The Meg, the shark movie with Jason Statham, has remained in the top five long enough to clear its budget, with a domestic total now at $131 million. Also sticking around is the social media thriller Searching, dropping only 25% to make $4.5 million for the weekend, the domestic total sitting at $14.3 million. And BlacKkKlansman, Spike Lee's comedy about infiltrating the Ku Klux Klan, is still hanging in the top 10, making another $1.5 million for a domestic total of $43 million, stunning results for a $15 million film in somewhat limited release.
View the full box office weekend results below.
The Nun ($53,500,000)
Crazy Rich Asians ($13,600,000)
Peppermint ($13,260,000)
The Meg ($6,030,000)
Searching ($4,515,000)
Mission: Impossible – Fallout ($3,800,000)
Disney's Christopher Robin ($3,196,000)
Operation Finale ($3,043,000)
Alpha ($2,505,000)
BlacKkKlansman ($1,565,000)
Next weekend will be a battle of a returning alien hunter and an odd thriller. The Predator, a remake of the alien franchise directed by Shane Black, will be in 3,900 theaters while A Simple Favor, a thriller directed by comedy director Paul Feig, will hit 3,000 theaters. Of the smaller releases are Pure Flix's latest religious picture Unbroken: Path to Redemption and the Matthew McConaughey starring cop drama White Boy Rick. There's little doubt that The Predator will swoop in to claim the weekend.