Review: Rampage is a Monster Mash Most Mild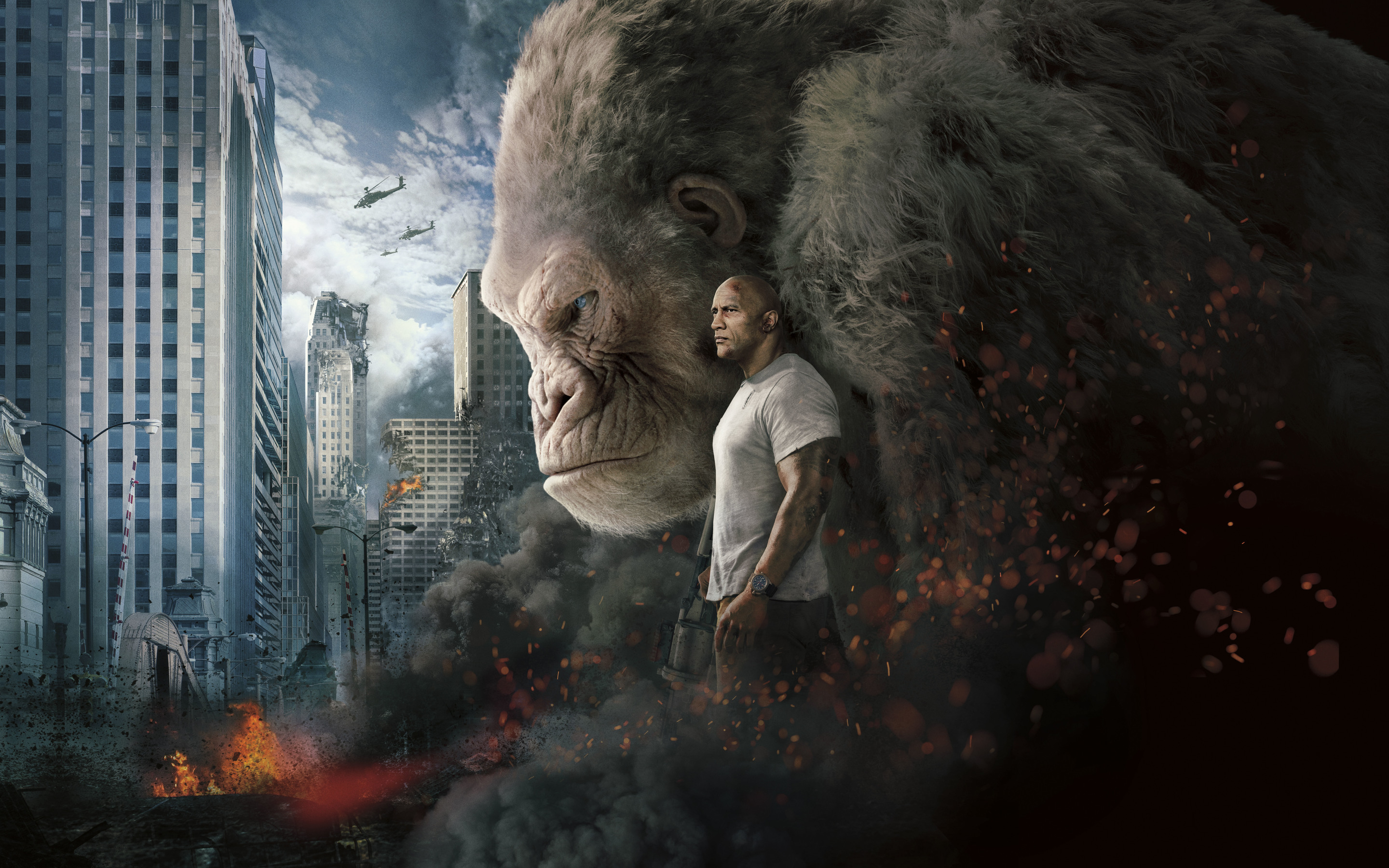 An exhausted Dwayne Johnson watches a giant wolf fly through the air on webbed arms, muttering to himself "Of course the wolf flies." Naturally. Why wouldn't it in a movie where mysterious gasses turn predatory animals into city-destroying giants? It's that loose logic that makes these spectacles entertaining. I only the film had a little more of that self-awareness to propel Rampage past being just a smile-worthy farce of dazzling special effects.
The plot is ripped right of the old and dusty book of 1950s B-movies. An experimental gas aboard a space station, contained within three containers, descends on the planet. It infects three creatures, turning them into angry mutants that just can't resist that urge to toss a human or topple a skyscraper. One of the animals is George, an albino gorilla residing at a California wildlife enclosure. Dwayne Johnson plays Davis, a primatologist that is smart enough to reason with George and buff enough to crack jokes with him. So when George starts growing larger, growling louder, and smashing property, there's some heartbreak in their relationship of man and ape.
Davis' character trait that isn't abundantly clear is that he likes being around wild animals more than he does people. It's understandable in this context as there are a lot of nasty people after George. There's an evil corporation that wants to cover up their experiment, led by a sharply-dressed vixen (Malin Åkerman) and her bumbling brother (Jake Lacy). There's a collective of well-armed mercenaries gleefully hunting down the monsters, led by a bearded badass (Joe Manganiello). There's a secret government organization trying to more properly contain the creatures, led by a smirking agent (Jeffrey Dean Morgan) that is having way too much fun with his work. And there's the US military, led by a cocky Colonel (Demetrius Grosse) that is convinced enough firepower will take down these monstrous beasts. Perhaps the lovely Dr. Kate Caldwell (Naomie Harris) will bring him out of his shell.
The film keeps itself on the strict schedule of the giant monster movie formula. We get the briefest of relationship establishing for Davis and George, relegated to some silly sign-language before George inhales the gas and goes on a, well, rampage. Then it's a mountain of exposition and loose rules to properly stage an excuse for a giant gorilla, wolf, and crocodile to mess up a city. I honestly surprised how by the book the film felt to go with the boring babblings of genetic mutation and radio signal attraction to concoct this story. There's a devotion to the genre that is so faithful I started getting antsy for the film to go back to its self-aware insanity.
What kept winning back from the onslaught of exposition and backstory are bits and pieces of solid characters scattered throughout the film. Dwayne Johnson naturally oozes charisma and has some fun with the material, as well as finding the right scenes to draw attention to his massive biceps. Jeffrey Dean Morgan is always entertaining to watch, but he seems stuck in the familiar character of Negan from The Walking Dead, making me weary if this is the future of his career. I even liked the human villains of Malin Åkerman as a sexy schemer and Jake Lacy as an always-nervous cohort.
But they're not the real stars, of course. Fans of the game have most likely come to see the big-screen CGI treatment for the giant monsters of George, Ralph, and Lizzie. All three will converge on a city and do what they did best in the games; causing mass-destruction. But for hiding the monsters for so long, their action-packed battle comes off more standard than exhilarating. There are a few moments of campy joy that involve eating humans and decapitation, but, much like all of the movie's pleasure, it's sandwiched between less impressive scenes. Less effective than the close-ups of the monsters are the wide shots where we can see all the carnage clearly but feel too safe and by-the-numbers. I dunno, something about watching a monster attack from a distance doesn't hold the same thrill as when you're looking up at a giant albino gorilla tossing tanks into the air.
In its cartoonish and knowing state, Rampage can be fun but I wish it had the monster guts to have more fun. Though I left smiling and satiated with it popcorn thrills, I kept wanting just a bit more to enjoy the picture past the expects sights and sounds. Maybe a few more jokes between Dwayne Johnson and the ape or a half-dozen more amusing deaths via a monster attack. But for many, the sight of an albino gorilla duking out in the city against flying wolves and spiked crocodiles will be enough. For my inner-child who went goofy over Jurassic Park as a kid, it was indeed plenty to keep the eyes enthralled with a cool battle to relay for the schoolyard.
[author title="About the Author" image="http://popstermedia.com/wp-content/uploads/2015/07/mark_mcpherson-300×221-150×150.jpg"]Movie Reviewer Mark McPherson has been all about movies since working at a video store in his youth. His talents range from video editing to animation to web development, but movies have always been his passion to write about.[/author]
"Ralph" Reigns Again on Slow Box Office Weekend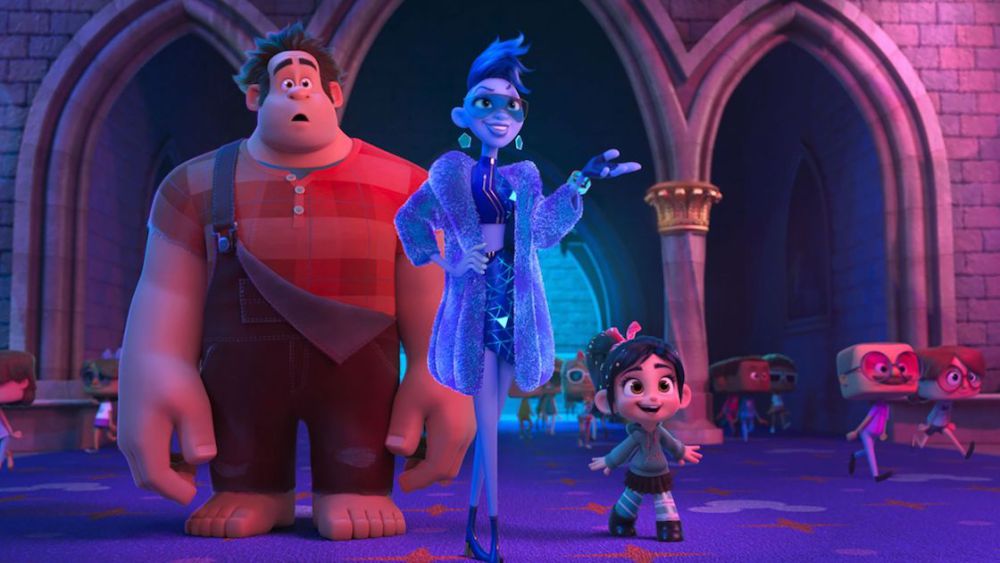 We're currently in the eye of the fall movie storm. All is fairly quiet this weekend. The only new release was that of a small horror film, The Possession of Hannah Grace. So small, in fact, that it only came in at #7 for the weekend with a gross of $6.5 million. As such, few films moved very far from their spots. Last weekend's winner, the animated adventure Ralph Breaks The Internet, was once again on top, even though it wasn't a very strong second weekend of $25 million, a 54% drop. Still, the film has made $119 million so far and is well on its way to covering its $175 million budget.
Surprisingly jumping up a spot is Dr. Seuss' The Grinch, the latest animated film Illumination Studios based on the classic Christmas book. The film jumped up from #3 to #2, making $17 million with the domestic gross now up to $203 million. Creed II, the sequel to the Rocky spinoff, took a step down for its second weekend, grossing $16 million with a domestic total of $81 million. It's no surprise that the biggest drop of the weekend was Fantastic Beasts: The Crimes of Grindelwald, the sequel to the Harry Potter spinoff. Due to low critic ratings and poor fan reactions, the film tumbled 61% with its domestic gross sitting at $134 million.
View the full top 10 box office winner for the weekend below.
Ralph Breaks The Internet ($25,756,000)
Dr. Seuss' The Grinch ($17,730,000)
Creed II ($16,832,863)
Fantastic Beasts: The Crimes of Grindelwald ($11,200,000)
Bohemian Rhapsody ($8,100,000)
Instant Family ($7,150,000)
The Possession of Hannah Grace ($6,500,000)
Robin Hood ($4,700,000)
Widows ($4,400,000)
Green Book ($3,900,000)
Next weekend is so sparse with new content that the biggest release is going to be an anniversary screening of Schindler's List, hitting 1,000 screens. It's a good time to take in some smaller releases as Mary Queen of Scots, Ben is Back, and Vox Lux will be having limited releases. So it's safe to expect a repeat of this weekend's trends in the box office.
"Ralph" Breaks The Box Office, "Creed" Close Behind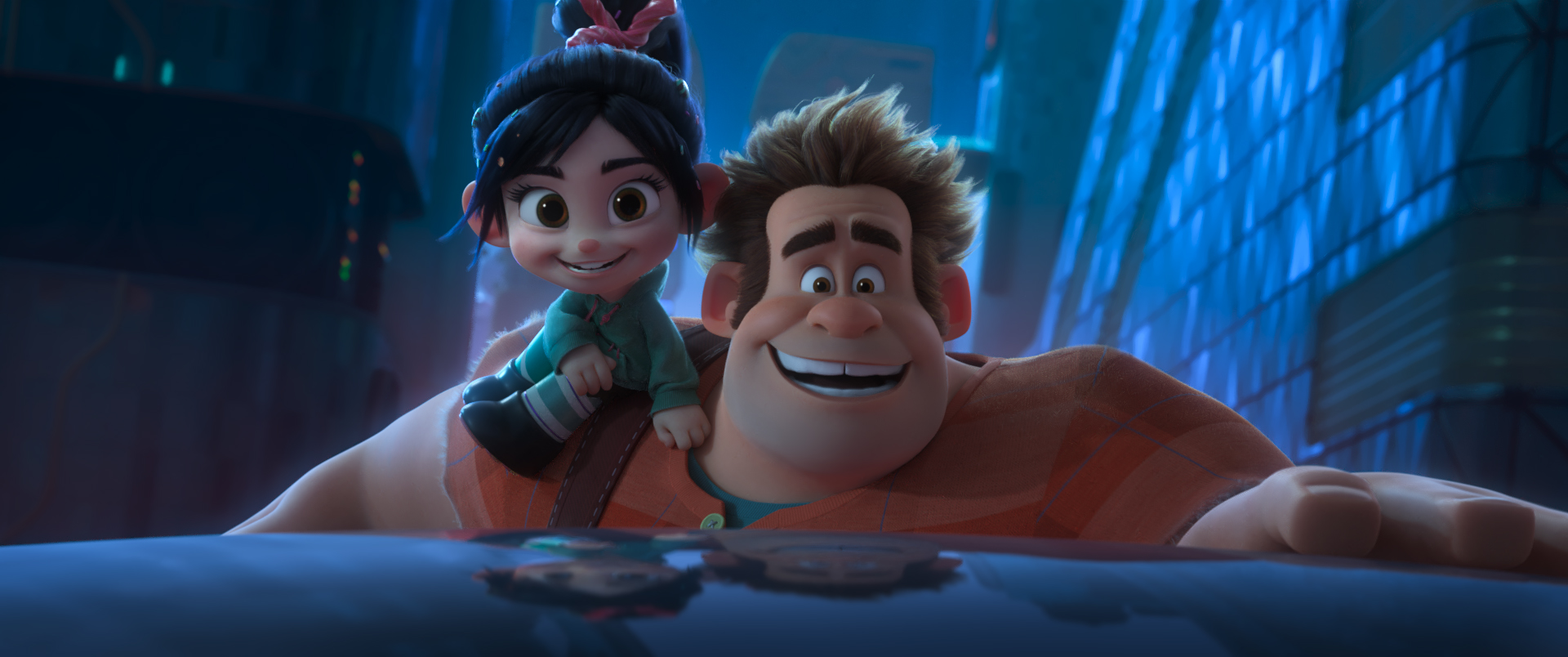 Thanksgiving week is a time for family and there were plenty out to the theater last week for an animated family picture. Ralph Breaks The Internet, the Disney-animated sequel to 2012's video game adventure comedy Wreck-It Ralph, came in at #1 for the weekend with $55 million and $84 million since its debut on Wednesday. This puts it above the Disney studio's previous Thanksgiving hit Moana, which had a 5-day total of $82 million.
Not too far behind is Creed II, the sequel to the Rocky spin-off starring Michael B. Jordan and Sylvester Stallone. The boxing sequel took in $35 million for the weekend and $55 million since Wednesday. This is a stronger opening than the first film which came in at $29 million for the weekend.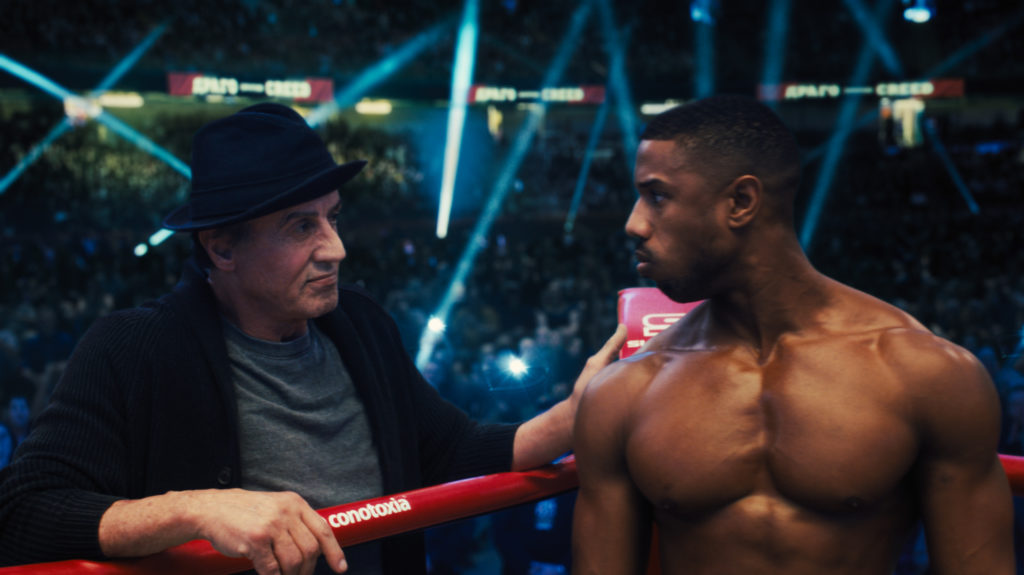 And it was slim leftovers for the two other debuts. Robin Hood, the latest action remake of the classic tale, came in at #7 with only $9 million for the weekend, $14 million since Wednesday. Green Book, a drama about a black singer in the racist south of America, came in at #9 for its expanded week to make $5 million for the weekend and $7 million for its domestic total.
The Crimes of Grindelwald is not fairing to well for its second weekend. The Harry Potter spin-off has dropped to #4 with a domestic weekend gross of $30 million, a 52% drop. The film still hasn't cleared its $200 million budget with a domestic gross of $117 million and it looks like it may never cross that mark as we head into December with more genre titles. Beating it out for #3 is Dr. Seuss' The Grinch, the theatrically animated adaptation by Illumination, that is proving to have great legs coming into the holiday season. Worth noting at #10 is A Star Is Born, its domestic total now having crossed $191 million to make it one of the most profitable films of the year.
View the full top 10 box office results for the weekend below:
Ralph Breaks The Internet ($55,672,000)
Creed II ($35,293,000)
Dr. Seuss' The Grinch ($30,210,000)
Fantastic Beasts: The Crimes of Grindelwald ($29,650,000)
Bohemian Rhapsody ($13,855,000)
Instant Family ($12,500,000)
Robin Hood ($9,125,000)
Widows ($7,955,000)
Green Book ($5,443,000)
A Star is Born ($3,005,000)
Next weekend is, well, it's pretty dead. So dead that a ghost movie is occupying the rather blank spot. Possession of Hannah Grace, a modest horror production, will be arriving in under 2,000 theaters. So it's fair to say you can expect Ralph to breakthrough for another weekend of success.
"Creed II" Gets Raw and Rickety with Rocky-isms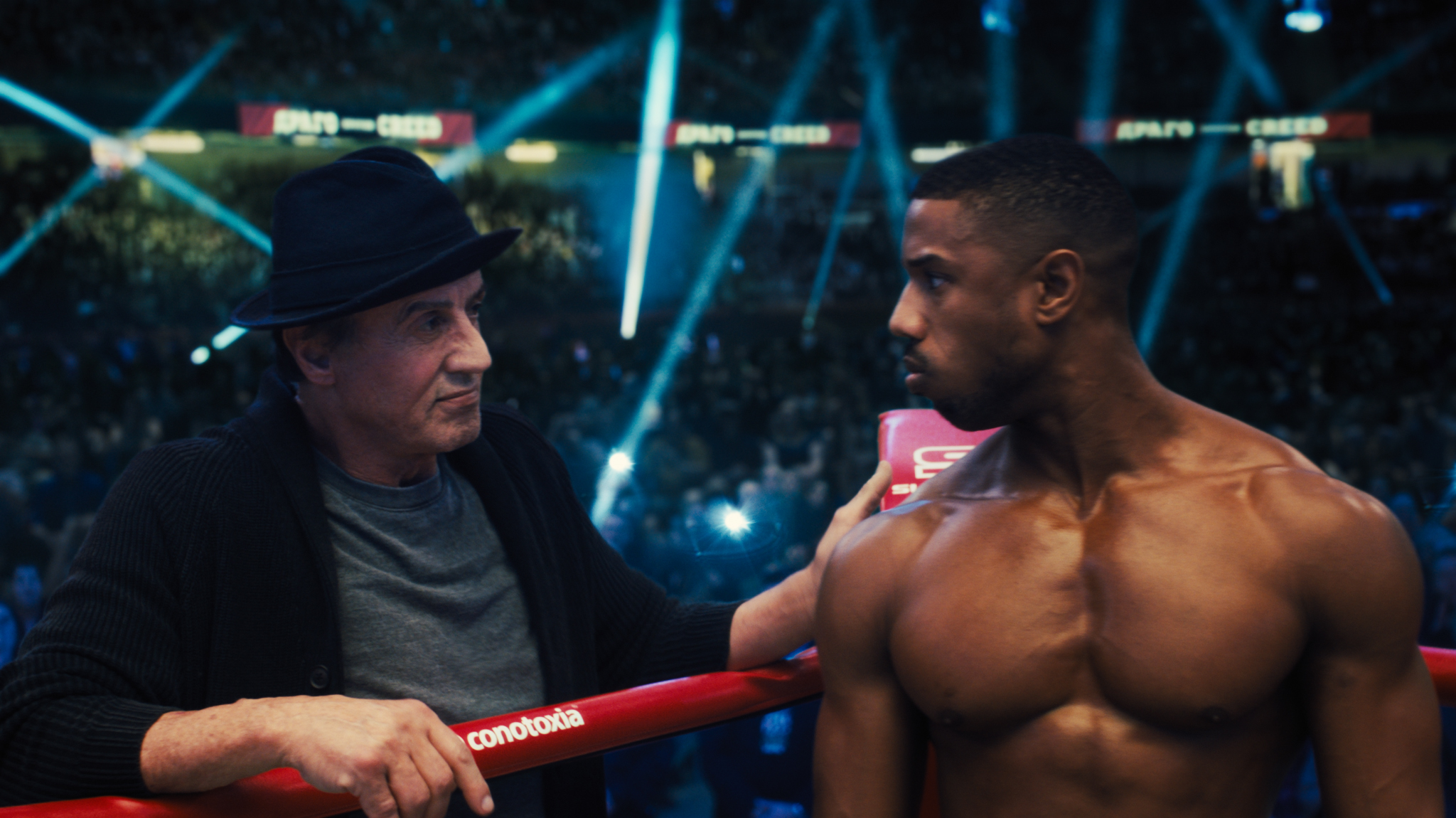 Creed II, despite showing no shortage of boxing enthusiasm, falls prey to all the predictable theatrics and pitfalls of a sports sequel. It takes the character of Adonis Creed and prepares him to weather familiar territory in the Rocky franchise, pumping him up for the long haul of taking on new challenges. It's very much a "more" sequel; more intensity in the fights, more drama stirred up outside the ring, and more theatrical music to turn the one-on-one boxing matches into towering and thunderous battles of gods. And while Creed certainly still has some of that charm in its eyes and adrenaline in its veins, there's an unfortunate feeling one can't shake that there's not a lot of new tricks for this spin-off franchise.
Michael B. Jordan still has the right stuff as Adonis Creed. He's a fierce competitor when he slips on the gloves and a fearful mess when it comes to taking the next step in his relationship with his best girl Bianca (Tessa Thompson). His mentor Rocky (Sylvester Stallone) is still in his corner to coach his many matches but there's one fight he won't be there for. Remember Ivan Drago from Rocky IV? He's back, reprised by Dolph Lundgren, and has a new young Russian contender, his son Viktor (Florian Munteanu), ready to defeat Rocky's boxing apprentice. You may recall that Drago was the one who killed Creed's father, Apollo. Time for a revenge fight!
The story makes its intentions clear from the first scene where Creed repeats the inspiring mantra of only fighting for himself and proving nothing to nobody else. Indeed, Jordan remains the centerpiece so prominently he pushes aside all other characters and arcs. Consider how Ivan has a lot riding on this fight, not only to seek revenge but also to gain the favor of his country and his ex-wife, who apparently left him for being a loser. It sounds a little too cartoonish of a villain plot and the film almost out of mercy never draws too much attention to this plight. Also absent from the second half is Buddy Marcelle (Russell Hornsby), another villain trying to push the boxing narrative of Creed vs. Drago and keep that match on the schedule. There's a lingering theme amid these characters about when the fight isn't worth it, yet all that questioning evaporates when the film quickly settles into being the guaranteed crowd pleaser of Adonis winning the fight.
Purely on the aspect of boxing, the film is neat to watch. It plays up the theatrics of the matches with an epic score and gets up close and personal with the punches. You feel every blow as the soundtrack boasts the brutal slugs to the face and ribs, almost as loud and grand as the epic music trying to drive the excitement up further. And while it is thrilling to get engaged in the main events of the picture, there's that lesser drama that hinders a bigger film. Consider how Drago's son seems defeated before the final blow is struck, more emotionally than physically. The triumphant punch across the face with a rousing reprisal of that old Rocky theme is all but assured at that point.
Where the film kept winning me back wasn't so much in the fights but in the quieter drama. There's an ease to scenes where Rocky and Creed are merely talking about family and what's most important in life. The two of them ooze with warmth where I found myself particularly charmed at a simple departure of Creed asking if Rocky is good and he gives a relaxed assurance before strolling off to let Adonis purpose to Bianca. And while the scenes between Jordan and Thompson are rather sweet, there's no stopping the power of Phylicia Rashad as Creed's mother, dominating scenes where she playfully asks about kids and powerfully puts the boy in his place when it comes to choosing his battles.
While I enjoyed Creed II and have no doubt that it'll inspire cheers in the theater, I couldn't help but notice all the tired tropes being unearthed, properly dusted off as they may be. There's a training montage, a fall from grace, and plenty of televised boxing decadence. The first Creed film was exciting and inspiring because it felt new and refreshing. Creed II, however, gets too comfortable with that old Rocky formula, where the film becomes more centered on the match than the character. We certainly get a rousing fight but little more than that as Creed II comes up abundant on muscle and lower on the relatable human aspects. Here's hoping Creed III won't feature him fighting Mr. T's protege.