Review: "The Greatest Showman" is a Musical Most Mild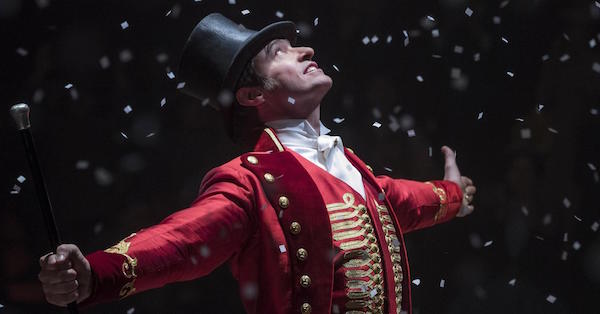 A big mistake was made with The Greatest Showman in how the posters came billed with music by the lyricists of La La Land, last year's musical Oscar-contender. The excellent use of jazz and classic Hollywood dance numbers gave La La Land a splash of original energy and wonder. By comparison, The Greatest Showman is a mere fizzle of that talent with music better suited for the radio than your collection. Strangely, it's fitting for the selling of a biopic on P.T. Barnum, a man that made a professional living out huckstering and placing butts in seats.
Hugh Jackman plays Barnum with a giddy smile and adventurous spirit. He's inspired early in his life to make a name for himself, desiring to be a big success in the eyes of his lovely wife Charity (Michelle Williams) and her snobbish wealthy parents. Sure, he brought about two beautiful little girls, but it's not enough; not when he loses his job and needs the money. Through his brand of slick-talking and fast-fingers, he opens up a museum of oddities. Only a mind so imaginative could conceive something so weird. And when the public doesn't warm up to his strange doodads and taxidermied animals, he gets even weirder to bring himself out of debt.
It isn't long before his museum turns into a show, starring the most unlikely of attractions. Figures big and small, hairy and scaly, colorful and colorless, are all hired on as entertainers for his grand show. They're naturally hesitant to perform; Lettie Lutz (
Keala Settle
) is shy about others looking more at her beard than hearing her voice and Charles Stratton (
Sam Humphrey
) doesn't feel like being a spectacle as a dwarf. But with some more of that Barnum negotiating, he'll get Lettie belting out tunes and Charles in a General outfit while riding around the ring. His exploits will reach further to hire playwright Phillip Carlyle (
Zac Efron
) as his partner and famous singer Jenny Lind (
Rebecca Ferguson
) as a traveling act. And the circus only gets crazier with public opposition, dissension in the ranks, and problems at homes.
A story so chaotic and astonishing as Barnum's could be wonderfully weird but director Michael Gracey takes a surprisingly timid take to hit that PG rating. He manages to avoid the most bitter of drama in Barnum's clouded actions for fame by loading the film up with so much. Aspects such as his wife's unease of his decisions, his daughters disapproving of his status, and Barnum's desires to be one-up his father-in-law is diced up with the antics of the show. Okay, then let's get into the characters of the show. There's plenty to explore with Lettie coming into her own as a confident singer and the trapeze artist Anne Wheeler (Zendaya) forming a romance with Carlyle. But like a circus with too many acts, I never felt like I had gotten more than the necessary theatrics, leaving me eager for certain performances to come back to the stage. The film is expediently cut that you won't have time to appreciate much in its bouncy jumps from scene to scene.
Despite the incredible vocal talents and superb choreography, most of the songs are not all that memorable. This is mostly the fault of its style which comes in the form of a contemporary Broadway, music that is meant more for volume and pulse than style and distinction. Jenny Lind sang some fantastic opera in real life but the movie swaps that for what sounds like a pop idol, fitting with the film's modernizing tone. It's a style built for Broadway and radio play, but when a soundtrack feels more built than crafted, it's nothing worth downloading immediately.
There's a part of me that wants to buy into the Barnum cavalcade of amazement, treating his life as a musical journey of excitement and playfulness. And yet there's a part that knows I'm being deceived when the drama comes so easy, the songs so ho-hum, and the story so sporadic in its mad dash editing. It's a film that indeed moves and never fails to deliver on the song, and dance one has come to expect with musicals, but the expectations are what kept holding the film back. I could see the obligatory moment coming where Barnum's troupe try to pull him out of his bottle with a song and took this as an opportunity to step out for the restroom. I returned to, as I expected, the troupe dancing on bar tables as Barnum's spirit lifts. I wish I had trusted my instincts enough to duck out for popcorn when the Barnum museum burns down, and the oddity collective repeats the process.
[author title="About the Author" image="http://popstermedia.com/wp-content/uploads/2015/07/mark_mcpherson-300×221-150×150.jpg"]Movie Reviewer Mark McPherson has been all about movies since working at a video store in his youth. His talents range from video editing to animation to web development, but movies have always been his passion to write about.[/author]
"Bumblebee" Swaps Insulting Action For Lighter Adventure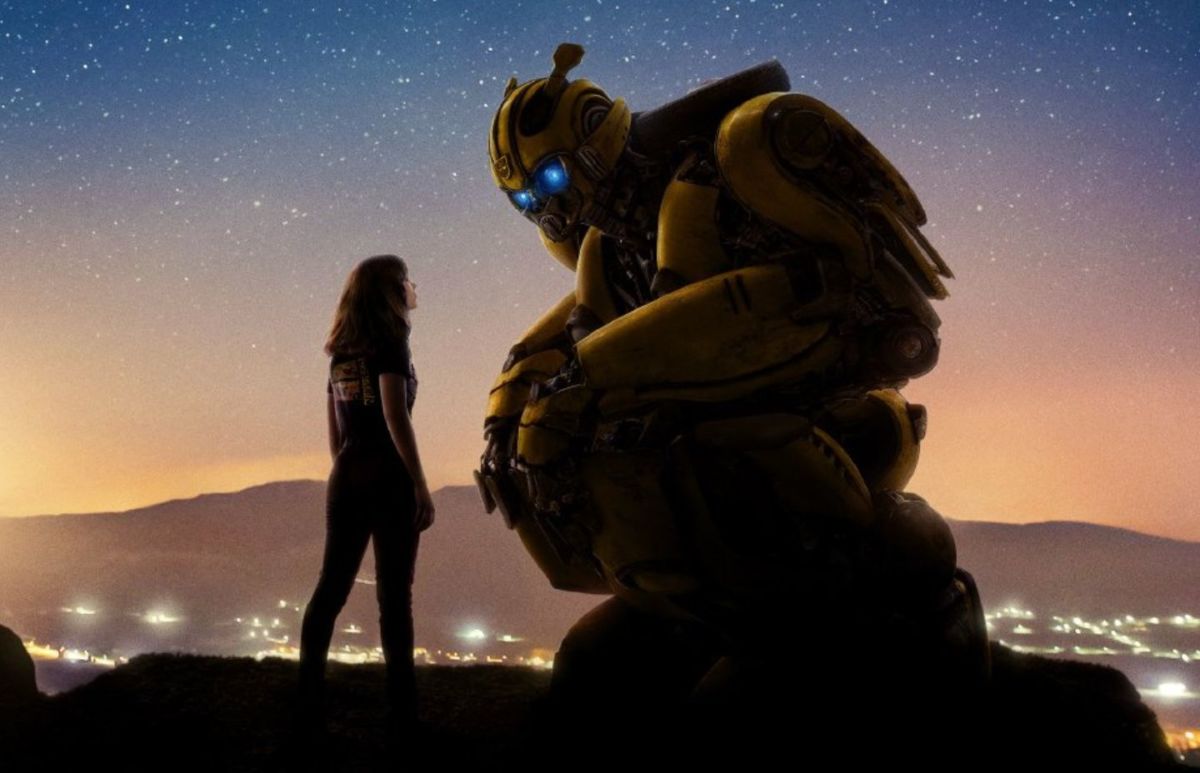 As the first spin-off of Michael Bay's Transformers saga, BumbleBee is a huge shift from the usual gears. It's as though Travis Knight took a good, hard look at the clunky and sloppy nature of the series and decided to give it an overhaul. Gone are the mounting and confusing story arcs that seemed to needlessly double with each sequel. The cynical nature has been removed, replacing the human and robot heroes with more quirky and heartfelt ones, albeit within the cartoonish realm of a 1980s adventure fit for kids. All of these changes don't exactly make the film a stellar Transformers movie but it at least earns the title of being the best of the lot for the rather low bar it had to cross.
It helps that the Transformers lore is kept to a simpler story. As a prequel, we learn how BumbleBee was the first of the heroic Autobots to land on Earth after losing the battle for Cybertron against the evil Decepticons. His mission is to ensure that Earth is safe and free of Decepticon interference until the other Autobots arrive. But during a scuffle with one following evil robot, BumbleBee has his memory wiped and his voice taken, just in case you were wondering why the transforming robot only speaks through the radio.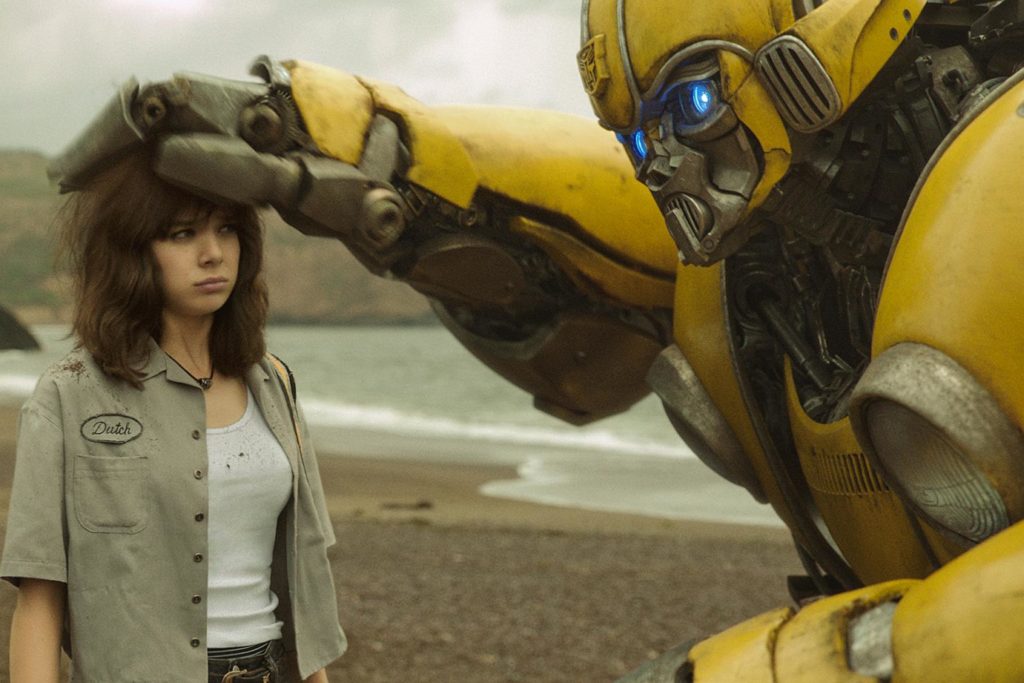 Helping him to communicate is Charlie (Hailee Steinfeld), a teenage mechanic prodigy with a life in need of a tune-up. And unlike previous Transformers human tagalongs, she deserves it. She's a smart kid, great with a wrench, has good taste in music, and is naturally depressed by her dad passing. Charlie feels that nobody can understand her so, naturally, the confused BumbleBee takes a liking to her easily as she teaches him about human life and music, something that the robot from another planet has opinions about. Who knew that Cybertronians have an instant disliking for Rick Astley?
Of course, it wouldn't be a Transformers movie without some evil Decepticons trying to take over the planet. Similar to everything else in the film, this plot has been pruned down to be less messy as only two Decepticons of Shatter (Angela Bassett) and Dropkick (Justin Theroux) come to Earth for the invasion. Their mission is less convoluted; kill BumbleBee and kill all the humans. And you better believe they kill the gullible American government stooges that place their trust in these robots that pretend to be working with them. Don't worry, parents; the robots will only zap the humans into liquid goo as opposed to bloody slop, for whatever that tweak may be worth.
Much of the junk has been scraped off the Bay-formers saga to be a more thoughtful and sympathetic film but some of the lameness remains. I don't know why the film bothered to mention that the story takes place in 1987; the setting goes out of its way to prove this point, from ALF on the television to a VHS copy of The Breakfast Club to posters of The Thing on room walls. John Cena plays a cocky military agent who never quite crosses over into Wahlberg craziness with his meatheaded nature but still occupies the tired trope of the series with the military blindly trusting robots from space. Charlie has a neighborhood friend Memo (Jorge Lendeborg Jr.) who wants to be her boyfriend but he thinks he's too nerdy to ever have a girlfriend. I find it hard to believe a teenager with a rather trimmed body, which he does show off while shirtless, could have that much trouble finding a girl in a community of divers and beach lovers. But perhaps it's a subversion of such a person, as the film blatantly tries to toss out the suggestion that Charlie and Memo will kiss by the end, as if nudging the audience to say, "See? We're not THAT predictable."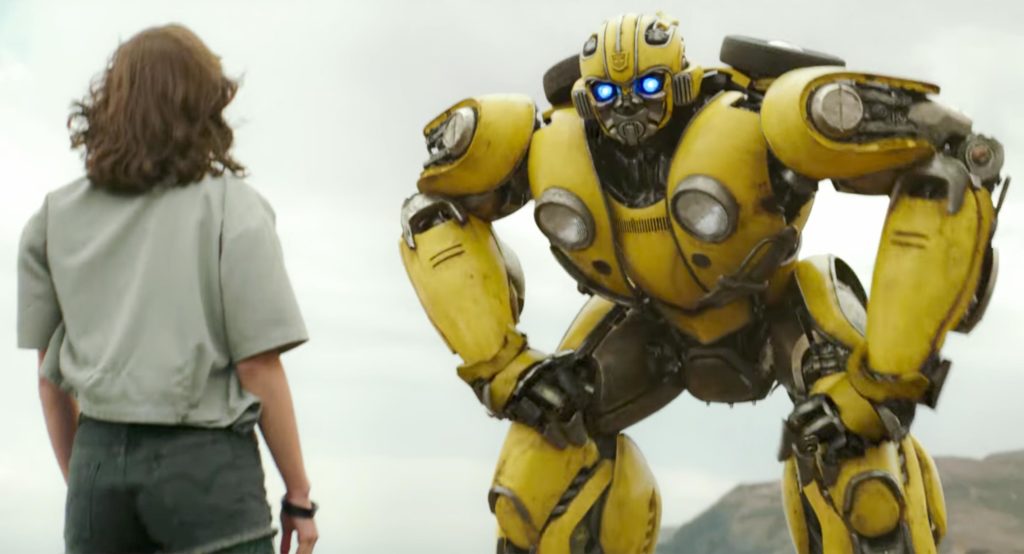 BumbleBee is Diet Transformers; all the robot action and adventure, none of the Michael Bay insanity, but loaded with artificial sweeteners. While I'd like to applaud the film for trying to take a sweeter and gentler route to its tale of giant robots that turn people into slime, it doesn't feel like enough to carry the film past being a passive special effects adventure for the kids. Still, that may be the best part of the film with how it finally feels better targeted at its key demographic of kids, even inspiring for little girls that love the Transformers brand. Worth noting are the simplified designs of the robots that look more like the original cartoon than junkyard explosions. But if the spin-offs want to play more in the field of E.T. and The Iron Giant, they've got to tune up the heart to make me care more about a mute robot who can transform into a car. I was almost there but I need more character out of him than his innocent means of pranks and exploring a house he's too big for. For a Transformers film, those scenes are cute moments. For stories of a kid and their alien pal, it's par for the course.
"Aquaman" Washes Out Christmas, "Bumblebee" and "Poppins" Close Behind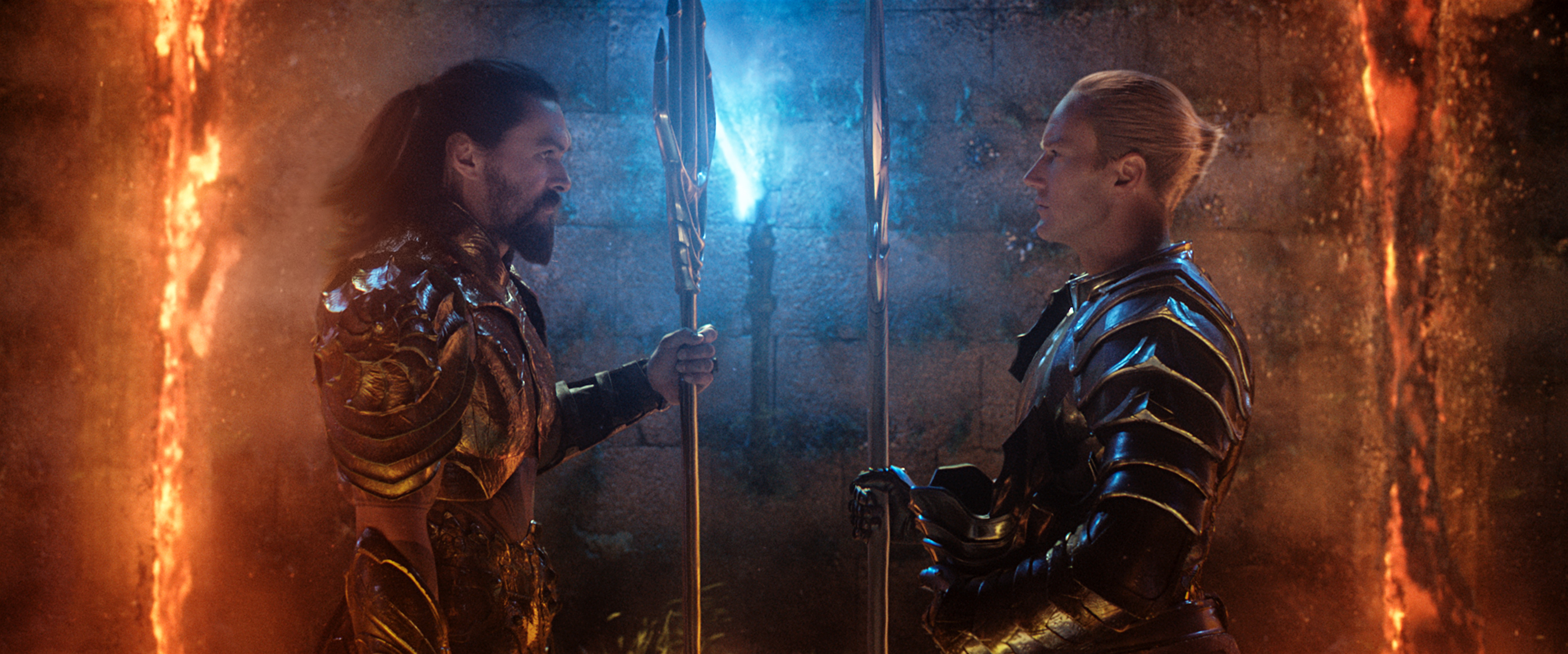 Christmas weekend was a savage one. All manner of genre films came out to play, eager to be the biggest blockbuster of holidays. But there could only be one winner and it was the king of the oceans. Aquaman, the Jason Momoa starring superhero epic based on the DC Comics character, arrived at #1 for the weekend with a domestic gross of $67 million. Though it has a ways to go as such an epic to make its money back, the film is off to an enthusiastic start.
Following closely behind Disney's Mary Poppins Returns, the sequel to the Disney musical classic now starring Emily Blunt, earning a weekend debut of $23.5 million. Despite opening early on Wednesday, the film still only made about $32 million which isn't looking especially strong for Disney during the holidays. This is especially concerning given that the film is a close call for the #2 slot as Bumblebee, the Transformers spin-off of the titular heroic transforming robot, came up with a $21 million gross. That being said, Bumblebee's opening is concerning given the big opening grosses of the previous Transformers film that were usually massive.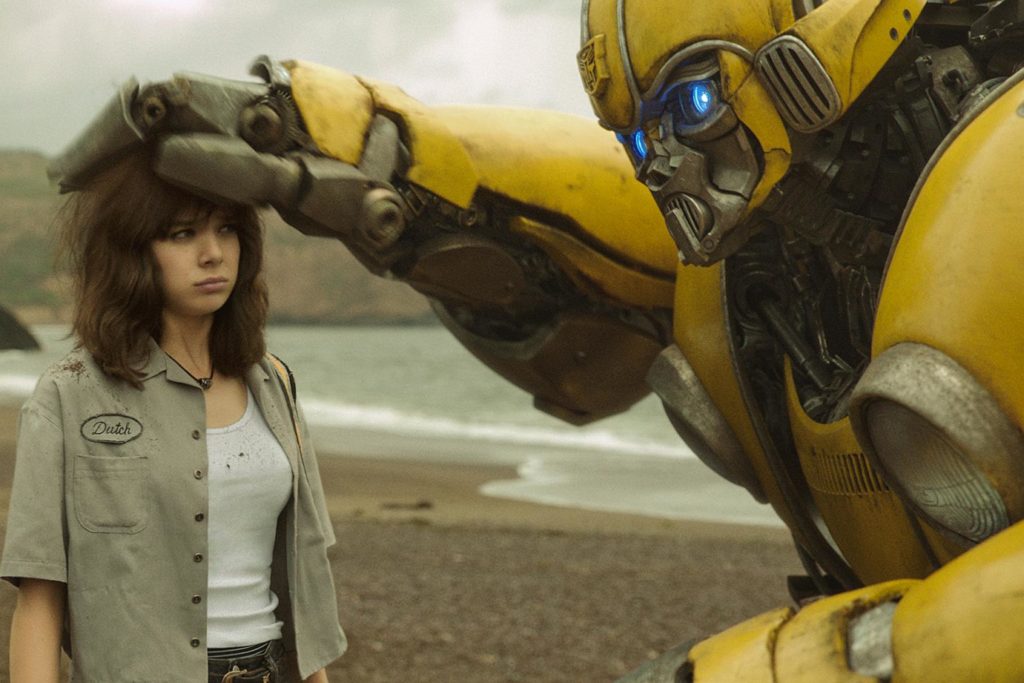 But that's nothing compared to the low debuts of the films that were not intended as genre blockbusters. Second Act, a romantic comedy starring Jennifer Lopez, would debut at #7 with a domestic gross of $6.4 million. Even further down the list is Welcome to Marwen, the new Robert Zemeckis directed drama starring Steve Carell, came in at #9 with a box office of $2.3 million. Brutal.
View the full top 10 box office results below:
Aquaman ($67,400,000)
Mary Poppins Returns ($23,523,121)
Bumblebee ($21,610,000)
Spider-Man: Into the Spider-Verse ($16,635,000)
The Mule ($9,727,000)
Dr. Seuss' The Grinch ($8,548,370)
Second Act ($6,480,000)
Ralph Breaks the Internet ($4,702,425)
Welcome to Marwen ($2,366,560)
Mary Queen of Scots ($2,277,820)
Next weekend may be a bit of quiet one as we shall see how the films released on Christmas Day will fair. Holmes and Watson, the new Sherlock Holmes comedy starring Will Ferrell and John C. Reilly, opens to 2,700 theaters. Vice, Adam McKay's new biopic dramedy about Dick Cheney with Christian Bale playing the character, is opening to 2,300 theaters. Stan & Ollie, a biopic on Laurel & Hardy starring Steve Coogan and John C. Reilly, will be in a limited number of theaters on December 28th.
First Box Office Weekend of 2019 Finds "Aquaman" King (Again)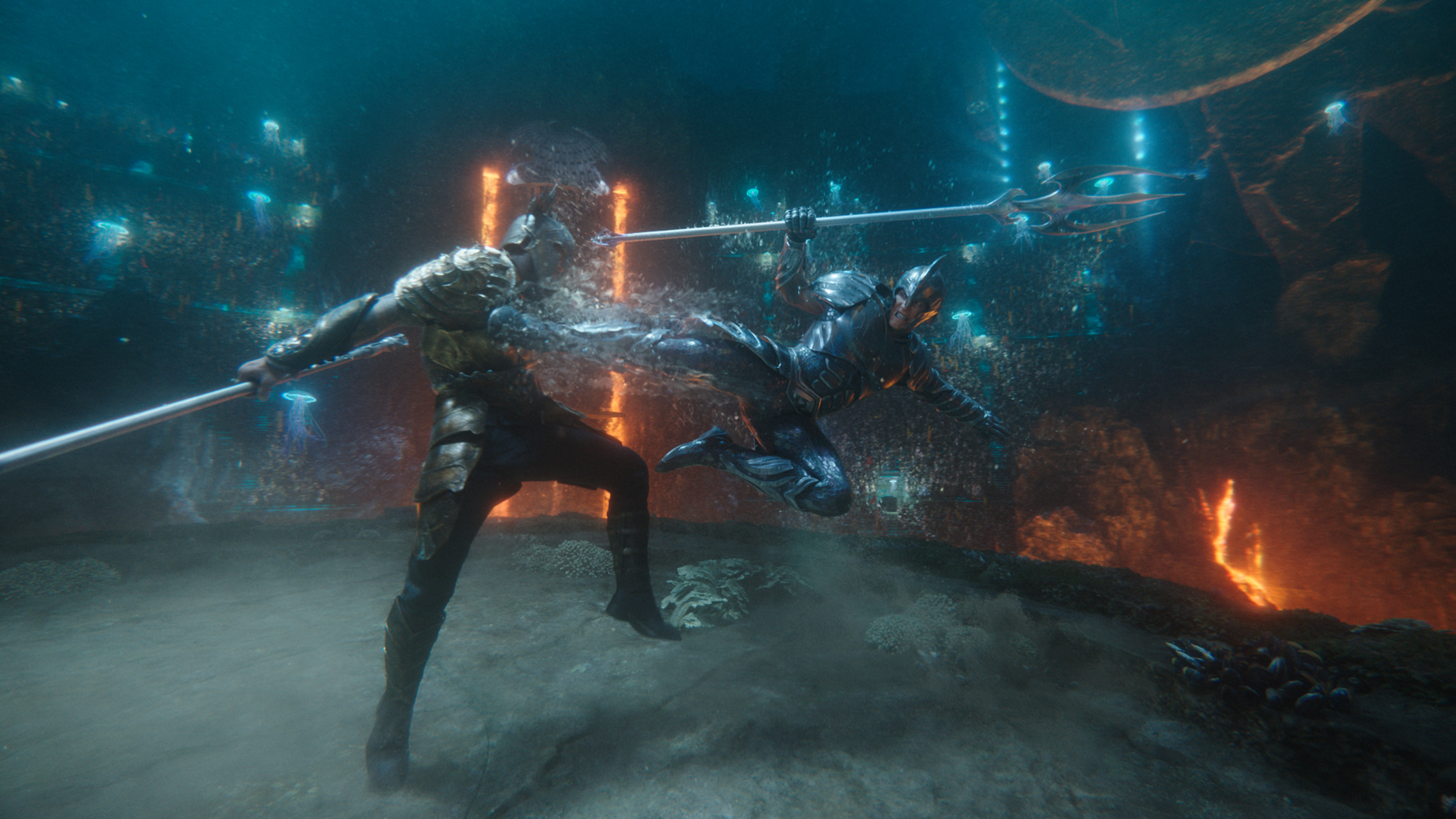 It's a new year and so we enter into the chilly month of January, usually reserved for Oscar nominations to strut their stuff and mediocre-to-decent films to swoop in and make a mint. Similar to last year, the first big new film a lukewarm horror picture. Escape Room, the horror film based on the party activity craze of escape rooms, debuted at #2 with a decent January take of $18 million. Not a terrible opening at all for such a horror film but most of its bigger gross was eaten up by Aquaman, the DC superhero epic that continues to make waves. Even though the film took a 41% dip from last weekend, the movie has currently $259 domestic with a worldwide gross total of $940 million. It's a big success for DC Comics trying to catch up with Marvel Comics at the box office and Aquaman is still looking good coming into a slow January.
With Escape Room being the only major release, there are no big surprises for the shifting of placement. Mary Poppins Returns holds firm as a family film for winter, the domestic total now sitting at $138 million. Spider-Man: Into the Spider-Verse, having recently won the Golden Globe for Best Animated Feature, is still just below with a domestic gross of $133 million. Still struggling to crack $100 million is Bumblebee, the Transformers spin-off. Despite being the highest-rated Transformers movie by miles, the film has only made $97 million after three weekends.
The longest holdout in the top 10 box office is Ralph Breaks The Internet, Disney's cyberspace adventure sequel. Released during Thanksgiving, the Disney animated film has to date made $187 million domestic after seven weekends. Just below it, however, is a film that has been in theaters for two weekends but has already seen a massive drop, Holmes and Watson, making headlines for being one of the worst films of the year with a descending box office.
View the full top 10 box office for the weekend below:
Aquaman ($30,700,000)
Escape Room ($18,000,000)
Mary Poppins Returns ($15,773,000)
Spider-Man: Into the Spider-Verse ($13,010,000)
Bumblebee ($12,775,000)
The Mule ($9,040,000)
Vice ($5,803,490)
Second Act ($4,910,000)
Ralph Breaks the Internet ($4,685,000)
Holmes and Watson ($3,400,000)
Next weekend will feature some bigger competition of dogs, clones, and soft human drama. A Dog's Way Home, a spiritual sequel to A Dog's Purpose, will debut in 3,000 theaters. Replicas, a sci-fi thriller starring Keanu Reeves, will hit 2,500 theaters. The Upside, a dramedy where Bryan Cranston plays a paraplegic and Kevin Hart is an inept assistant, will premiere to 3,000 theaters. The battle is ultimately between A Dog's Way Home and The Upside but I'm willing to bet a PG dog movie will take the top spot or about as high a spot it can muster with Aquaman still in play.