Review: "The Greatest Showman" is a Musical Most Mild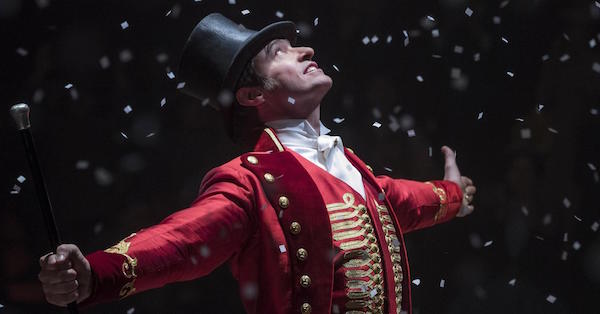 A big mistake was made with The Greatest Showman in how the posters came billed with music by the lyricists of La La Land, last year's musical Oscar-contender. The excellent use of jazz and classic Hollywood dance numbers gave La La Land a splash of original energy and wonder. By comparison, The Greatest Showman is a mere fizzle of that talent with music better suited for the radio than your collection. Strangely, it's fitting for the selling of a biopic on P.T. Barnum, a man that made a professional living out huckstering and placing butts in seats.
Hugh Jackman plays Barnum with a giddy smile and adventurous spirit. He's inspired early in his life to make a name for himself, desiring to be a big success in the eyes of his lovely wife Charity (Michelle Williams) and her snobbish wealthy parents. Sure, he brought about two beautiful little girls, but it's not enough; not when he loses his job and needs the money. Through his brand of slick-talking and fast-fingers, he opens up a museum of oddities. Only a mind so imaginative could conceive something so weird. And when the public doesn't warm up to his strange doodads and taxidermied animals, he gets even weirder to bring himself out of debt.
It isn't long before his museum turns into a show, starring the most unlikely of attractions. Figures big and small, hairy and scaly, colorful and colorless, are all hired on as entertainers for his grand show. They're naturally hesitant to perform; Lettie Lutz (
Keala Settle
) is shy about others looking more at her beard than hearing her voice and Charles Stratton (
Sam Humphrey
) doesn't feel like being a spectacle as a dwarf. But with some more of that Barnum negotiating, he'll get Lettie belting out tunes and Charles in a General outfit while riding around the ring. His exploits will reach further to hire playwright Phillip Carlyle (
Zac Efron
) as his partner and famous singer Jenny Lind (
Rebecca Ferguson
) as a traveling act. And the circus only gets crazier with public opposition, dissension in the ranks, and problems at homes.
A story so chaotic and astonishing as Barnum's could be wonderfully weird but director Michael Gracey takes a surprisingly timid take to hit that PG rating. He manages to avoid the most bitter of drama in Barnum's clouded actions for fame by loading the film up with so much. Aspects such as his wife's unease of his decisions, his daughters disapproving of his status, and Barnum's desires to be one-up his father-in-law is diced up with the antics of the show. Okay, then let's get into the characters of the show. There's plenty to explore with Lettie coming into her own as a confident singer and the trapeze artist Anne Wheeler (Zendaya) forming a romance with Carlyle. But like a circus with too many acts, I never felt like I had gotten more than the necessary theatrics, leaving me eager for certain performances to come back to the stage. The film is expediently cut that you won't have time to appreciate much in its bouncy jumps from scene to scene.
Despite the incredible vocal talents and superb choreography, most of the songs are not all that memorable. This is mostly the fault of its style which comes in the form of a contemporary Broadway, music that is meant more for volume and pulse than style and distinction. Jenny Lind sang some fantastic opera in real life but the movie swaps that for what sounds like a pop idol, fitting with the film's modernizing tone. It's a style built for Broadway and radio play, but when a soundtrack feels more built than crafted, it's nothing worth downloading immediately.
There's a part of me that wants to buy into the Barnum cavalcade of amazement, treating his life as a musical journey of excitement and playfulness. And yet there's a part that knows I'm being deceived when the drama comes so easy, the songs so ho-hum, and the story so sporadic in its mad dash editing. It's a film that indeed moves and never fails to deliver on the song, and dance one has come to expect with musicals, but the expectations are what kept holding the film back. I could see the obligatory moment coming where Barnum's troupe try to pull him out of his bottle with a song and took this as an opportunity to step out for the restroom. I returned to, as I expected, the troupe dancing on bar tables as Barnum's spirit lifts. I wish I had trusted my instincts enough to duck out for popcorn when the Barnum museum burns down, and the oddity collective repeats the process.
[author title="About the Author" image="http://popstermedia.com/wp-content/uploads/2015/07/mark_mcpherson-300×221-150×150.jpg"]Movie Reviewer Mark McPherson has been all about movies since working at a video store in his youth. His talents range from video editing to animation to web development, but movies have always been his passion to write about.[/author]
Another Astounding Weekend at the Box Office for Avengers: Infinity War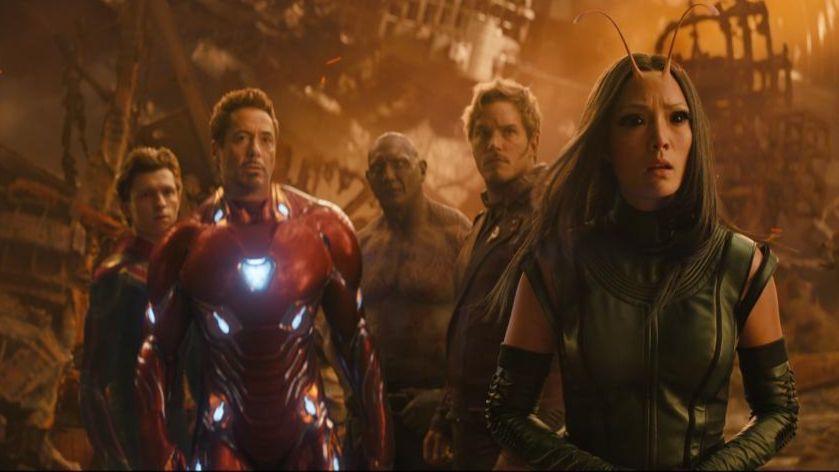 Box Office Weekend 5/4/18-5/6/18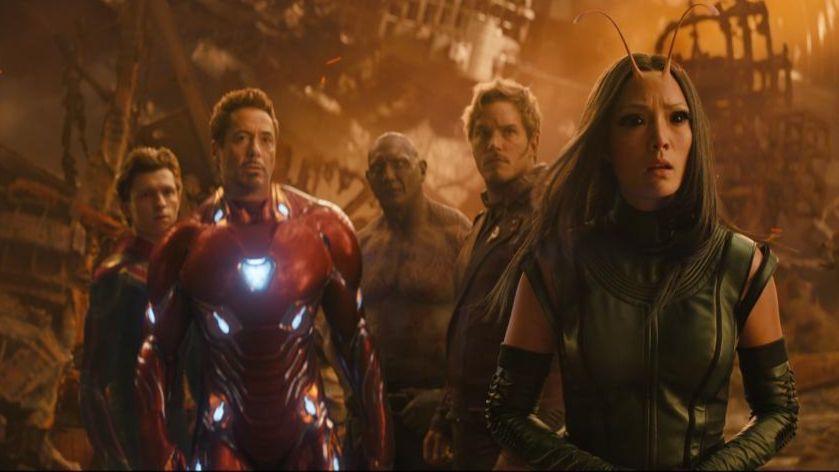 Not the least bit surprising, Marvel's Avengers: Infinity War has dominated the weekend box office with another massive gross. In its second weekend, the grandest superhero ensemble to date brought in $112.4 million. This brings its domestic total up to $450 million, and its worldwide take well over $1 billion. Time will tell if it has the legs, however, to hold its own against Marvel's other superhero epic this year, Black Panther. Considering Black Panther is still in the top 10, and has almost passed $700 million domestic, it'll be a close race between the two Marvel movies.
Of course, the success of the Avengers is due in no small part to this being a rather sparse weekend of premieres appearing in fewer theaters. Braving the Marvel storm to come in at #2 was the romantic comedy remake, Overboard, starring Eugenio Derbez and Anna Faris, making $14.7 million domestic. And if that's the gross of the #2 spot, you can imagine how lower the other films are. Tully, a new comedy Jason Reitman and starring Charlize Theron, came in at #6 with a domestic gross of $3.1 million. Further down at #10 is the new David Tennant starring thriller, Bad Samaritan, making $1.7 million for the weekend.
There were expected dips all around with no huge surprises, but many of the successful films that have hung around are growing a considerable gross. John Krasinski's A Quiet Place had the lowest drop and is currently sitting at a robust $159 million domestic total. Ryan Coogler's Black Panther has already blazed many records, but it's only $7 million away from clearing $700 million domestic.
See the full top 10 box office results below.
Avengers: Infinity War ($112,474,000)
Overboard ($14,750,000)
A Quiet Place ($7,600,000)
I Feel Pretty ($4,900,000)
Rampage ($4,620,000)
Tully ($3,186,000)
Black Panther ($3,146,000)
Truth or Dare ($1,885,000)
Super Troopers 2 ($1,815,000)
Bad Samaritan ($1,758,000)
Next weekend, Avengers will be battling against the Melissa McCarthy starring comedy Life of the Party and the Gabrielle Union starring thriller Breaking In. Considering that Life of the Party will have the most significant theater count, McCarthy has the only real shot at being the first film to knock the superhero giant down from the top 10, though it's doubtful of the Avengers hype will have died down by then.
Life of the Party and Breaking In Dominated by Avengers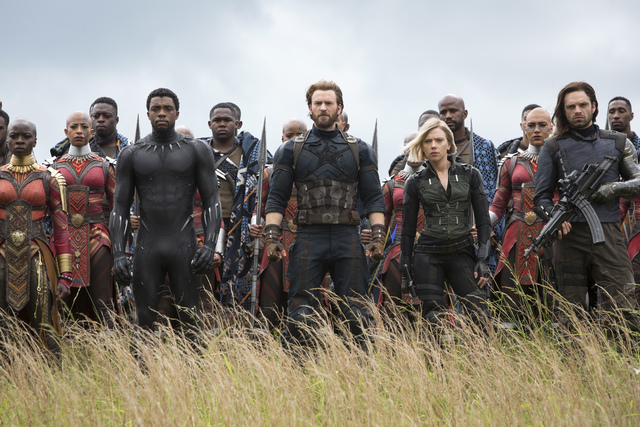 Box Office Report 5/11/18 – 5/13/18
In its third weekend, Avengers: Infinity War is still going strong with a beefy #1 spot that has yet to be bested. Marvel Studio's latest superhero epic amassed $61.8 million for the weekend, soaring its total domestic gross up to $547 million. The film has managed to make more than Marvel's other 2018 hit, Black Panther, in the same amount of time, but whether it'll reach the same domestic gross remains to be seen. With the oncoming superhero film next week and a Star Wars film following, it'll have some fierce competition.
The two newest films this week slid comfortably into the slots just below. Life of the Party, the new back-to-school comedy with Melissa McCarthy, predictably hit the #2 spot for being a female-centric comedy released on Mother's Day weekend. While it didn't exactly take the cake, the film did make $18.5 million to earn its spot during another Marvel cinematic snowstorm of a weekend. Just below it was the new thriller Breaking In, grossing $16.5 million, which is not too shabby for a film debuting in only 2500 theaters.
There were surprisingly low dips all around in the top 10. The smallest drop was for A Quiet Place, still hanging in there as the surprise horror hit, earning $6.4 million to boost its domestic total to $169.5 million. It's not too surprising that the most significant drop was for Black Panther, grossing only $1.9 million. It's a predictable drop considering the movie has been out for thirteen weeks, is already available to buy digitally, and will be out on DVD and Blu-ray by this Tuesday. It's still a considerable feat for a film that has domestically grossed $696 million so far.
One film worth mentioning that snuck into the top 10 is RGB, the documentary on Ruth Bader Ginsburg, expanding for the weekend into 180 theaters. That's very impressive for such a small film to conquer the #10 spot on Mother's Day weekend with a $1.1 million gross.
View the full top 10 list below.
Avengers: Infinity War ($61,817,000)
Life of the Party ($18,500,000)
Breaking In ($16,500,000)
Overboard ($10,100,000)
A Quiet Place ($6,400,000)
I Feel Pretty ($3,710,000)
Rampage ($3,380,000)
Tully ($2,240,000)
Black Panther ($1,932,000)
RGB ($1,165,000)
Next weekend, Infinity War will be going up against a real contender with Deadpool 2, the sequel to the Ryan Reynolds starring superhero comedy that broke records in 2016. Also vying for the box office will be the dog comedy, Show Dogs, and the aged female-oriented comedy, Book Club.
Review: "Deadpool 2" is Reheated Chimichangas That Mostly Hold Up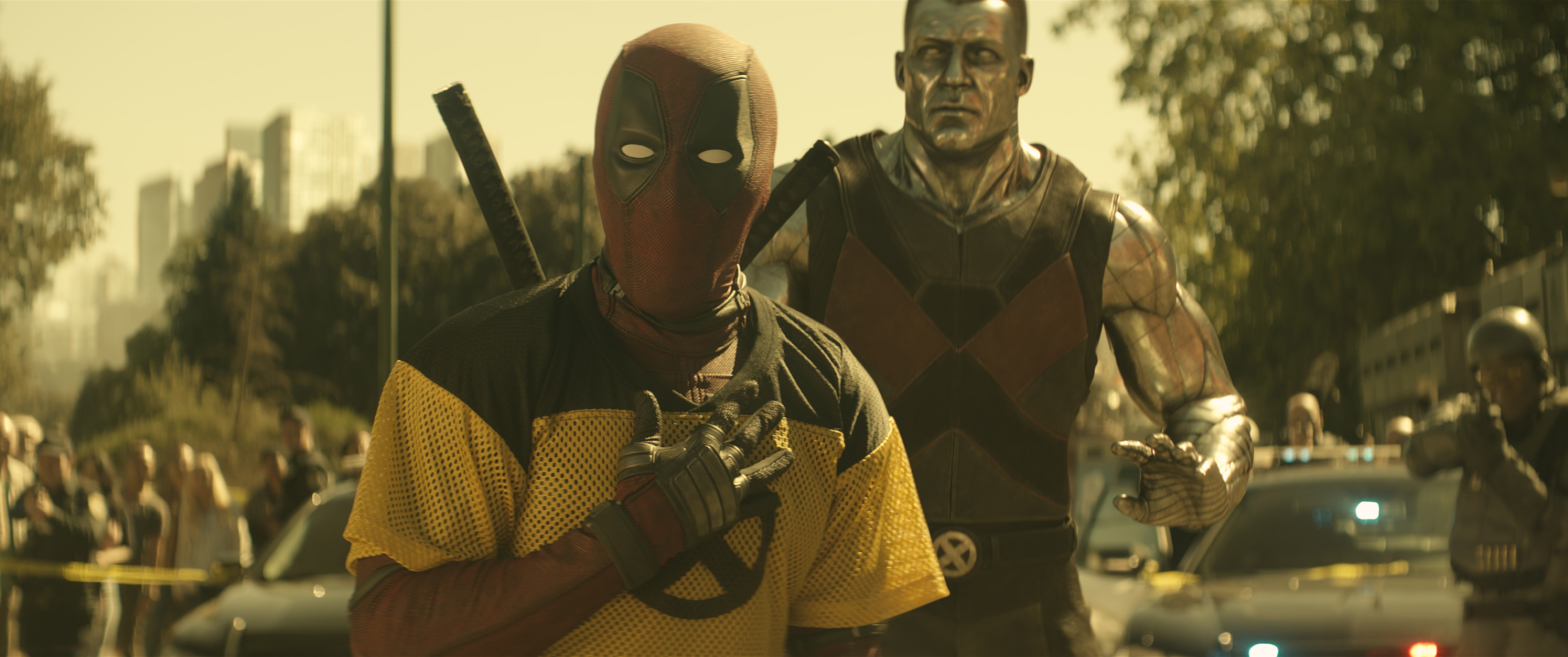 Deadpool is third-wall breaking anti-hero that feels more needed than ever in the current crop of amassing superhero films. His self-aware satire made his 2016 film a hoot with commentary on the messy timelines, the lack of casting, and even mocking Ryan Reynolds himself. And while his sequel film does maintain that fast-paced and joking nature that made the character a breath of fresh air, it's mostly the same brand we've come to expect from the merc with the mouth.
All the familiar scenes are present, even with the same bits of dialogue repeated from the previous film. There's an opening fight where Wade "Deadpool" Wilson (Ryan Reynolds) narrates how this isn't a superhero movie for the kids. There's an extended bit where he trots around the X-Men headquarters where there are little to no mutants present. Hugh Jackman isn't present in the film, but he always seems to find his way into the script in one form or another. Deadpool even rides up to the finale in a taxi and mentions chimichangas once again. While these segments still garner a laugh, there's a lingering notion with each smirk that this superhero is running out of originality.
One of my biggest complaints about the previous film was that there needed to be more actors for Deadpool to play off so that his fourth-wall narration doesn't overwhelm the screen. The sequel features the opposite, amassing too many characters for Wade to rib that they struggle to work their way into the script. Cable (Josh Brolin) is a soldier of the future that travels back in time to kill a mutant kid and becomes bitterly frustrated with Deadpool being an obstacle. This would've been enough for a buddy picture, but the film keeps stuffing in heroes. Deadpool takes a liking to Cable's target of the overweight teenage mutant Firefist (Julian Dennison), but the kid is so cocky and stand-offish that their chemistry doesn't have much time to develop. Not when Deadpool must also ally himself with Domino (Zazie Beetz), a hero whose superpower is plot armor. And while Colossus and Nega return from the previous film, their roles are so standard that they naturally become lost in the shuffle.
There's a tightrope of typical superhero staging and self-aware silliness that Deadpool walks once more, and there's a larger wobble this time around. There's a bitter pathos to push Deadpool forward in his plight, but it comes with knowledgable spite for last year's Logan pulling the same strings, of which Deadpool curses outright. A change of pace for the character is his desire to embrace the X-Men philosophy of no killing, but Wade still plays fast and loose with this logic, counterintuitive of his journey to better carve out a family.
And, wow, does the diversity angle feel so much like bullet-point lip-service, where the black Domino has no flaws, and the lesbian Nega has no character. It'd be nice to have a film where Deadpool coordinates a diverse collective, but everything is so tightly packed with little room to breathe that the inclusivity feels more like a quota, trying to appease everyone without exploring any one angle deeply. Let me know more about Domino's tragic past without wedging it in at the last minute. Give Nega some better lines considering that her girlfriend, whose only interactions are saying hi to Deadpool, has more dialogue than she does. You wouldn't even know Firefist has a problem with the perceptions of his weight if he hadn't brought it up in conversation.
Yes, Deadpool 2 is still funny, especially with one of the most hilarious mid-credit sequences in recent memory. But most of the laughs are familiar ones, reiterating previous jokes and not landing as many original ones past the update of commenting on the current state of superhero cinema. It's a bit sad that a film this satirical of the genre doesn't realize it's coming down with a severe case of sequel-itis, throwing far too many characters at the screen and hardly balancing any of them. There is levity and life in Deadpool, but it needs to start going that extra mile of absurdity in its awareness if it doesn't want to become one of the lesser superhero franchises it loves to mock so much.