Review: 'Ghostbusters' is All Female, All Nostalgic and All Cliché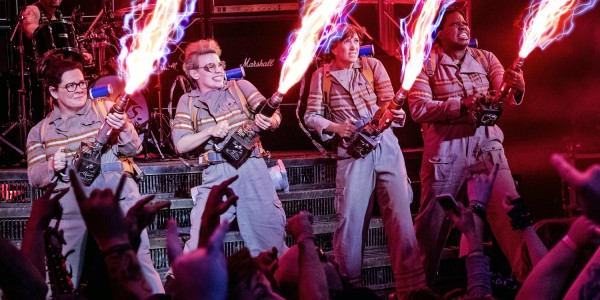 [dropcap]T[/dropcap]he first Ghostbusters movie in nearly three decades arrived with much nostalgia to bank on. Leading up to the premiere of the movie, my social media feed was all abuzz of my peers gushing over the return of the Ecto Cooler promotional drink and slime-colored Twinkies. These attempts at generating hype for the grand return of Ghostbusters were beginning to wear me down with the way fans went bonkers for green sugary treats.
By the end credits of this new movie, I felt as though I had eaten an entire box of Twinkies and chugged a gallon of Ecto Cooler. It was an experience that left me nauseous, weary and regretful, asking myself why I ever thought this would be a good idea. Those slime-colored glasses have to come off.
The new Ghostbusters banks hard off its elements of nostalgia and marquee value. The director, Paul Feig, is one of the strongest comedic forces of the decade with his all-female casts that deliver as successes, both critically and financially. He assembles his own female Ghostbuster team composed of comedy familiars Melissa McCarthy, Kristen Wiig, Kate McKinnon and Leslie Jones.
The key to what made the first Ghostbusters movie a success was the chemistry of the actors in how they played off one another. The problem with Feig's female Ghostbusters is that they are lacking comradery. Each one of them feels as though they're struggling to bust out as many one-liners as they can, refusing to let each other step over or play off of their lines.
In trying so hard to be funny, their characters come off as underdeveloped joke vehicles. Kristen Wiig plays Erin Gilbert, a meek and awkward professor struggling for tenure, but only as timidly as Wiig can play her. Kate McKinnon does her best to steal the show as the eccentric scientist/weapons expert Jillian Holtzman, but she's not given much to work with being entirely composed of random quirks. Leslie Jones fulfills the familiar everyman (everywoman?) role as MTA worker Patty Tolan, but she is so loud and sassy in her fight to be relevant that she may as well just be another wacky scientist.
As for Melissa McCarthy, arguably the most notable of the primary cast, she isn't given much of a character at all as Abby Yates. She has a history with Erin in that they both wrote a book on the paranormal, but it's mostly just a generic McCarthy character, narrowly avoiding the fat jokes of her non-Feig roles. Chris Hemsworth could have been the most pleasant surprise as the inept idiot secretary, but he's written to be so stupid that he may as well be mentally retarded. I'm surprised they even gave him lines considering he's mostly only present as beefcake eye-candy for the blushing Wiig to wrap her hands around.
The story is razor thin. Granted, story was never a strong suit of Ghostbusters, merely acting as a platform for the comedic team. But this Ghostbusters refuses to do any of the grunt work in establishing its characters, its antagonist or its paranormal lore. The evil demon Rowan (Neil Casey) is committed to unleashing ghosts on New York City. He's played so generically to the point where all he needs is a mustache to twirl as he shakes his fist at those darn Ghostbusters.
Not much is known or revealed about this character's motivations outside of him apparently being bullied and seeking revenge on humanity, a backstory only whispered in passing. Remember all the history and scientific studies the Ghostbusters did to stop the evil forces of Zuul or Vigo? The most you can expect from this group of heroes is drawing a correlation of events on a map and connecting the dots. They don't have time to know their enemy as they're too busy testing ghost-zapping shotguns and grenades.
There's an awful lot of technobabble thrown into the script, shot out at rapid speed to paint these women as smart and innovative. But when the third act arrives for the giant CGI show of invading ghosts, the script has given up explaining any of this and throws any ghost design it wants at the screen. Big-legged giant ghosts? Sure, we don't need to explain why that's here. Floating balloon mascot ghosts? Who cares if it doesn't make any sense – throw it in. A city-destroying bedsheet-ghost? Don't bother explaining why it had to be so large – we need something massive enough for the Ghostbusters to shoot at.
Click to the next page to hear about Bill Murray's cameo:
"Ralph" and "Grinch" Steal Slow Box Office Weekend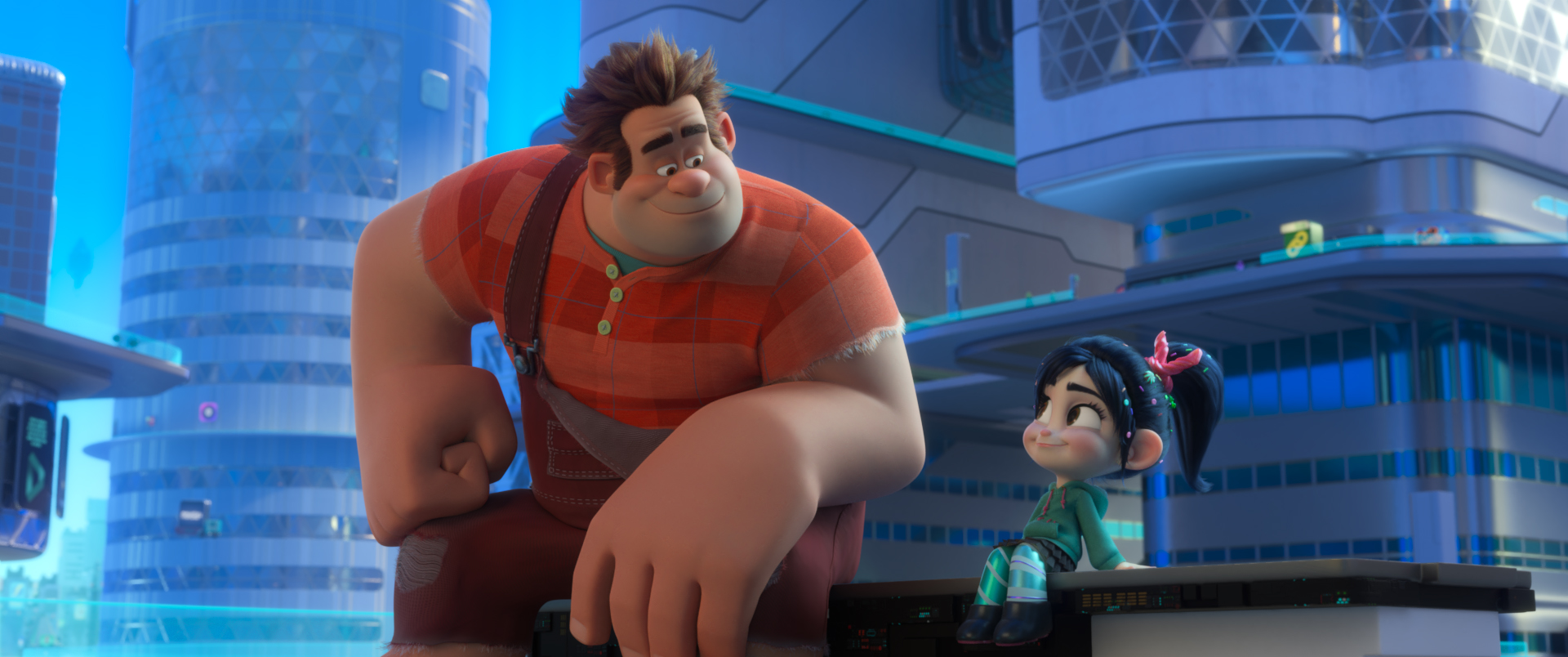 Aside from the re-release of Schindler's List, there is nothing new in the box office for the weekend. Seriously, there's nothing. And I thought last weekend was slow. With no new films in the running, it's pretty much a repeat as the box office takes a snow day.
Once again, no surprise, Ralph Breaks The Internet is still on top. In its third weekend, the animated Disney adventure grossed $16 million for the weekend and $140 million for its domestic total. It still has a ways to go to top its $175 million but it should be closing in soon. Also no surprise following closely behind is Dr. Seuss' The Grinch, the computer-animated holiday comedy based on the book by Dr. Seuss. After five weekends, it's still in the top 5, making another $15 million for the weekend and $223 million domestic total. Worth noting is that, despite this weekend being slow, the movie only took a 15% dip from last weekend. And you can bet it'll be sticking around for the rest of December.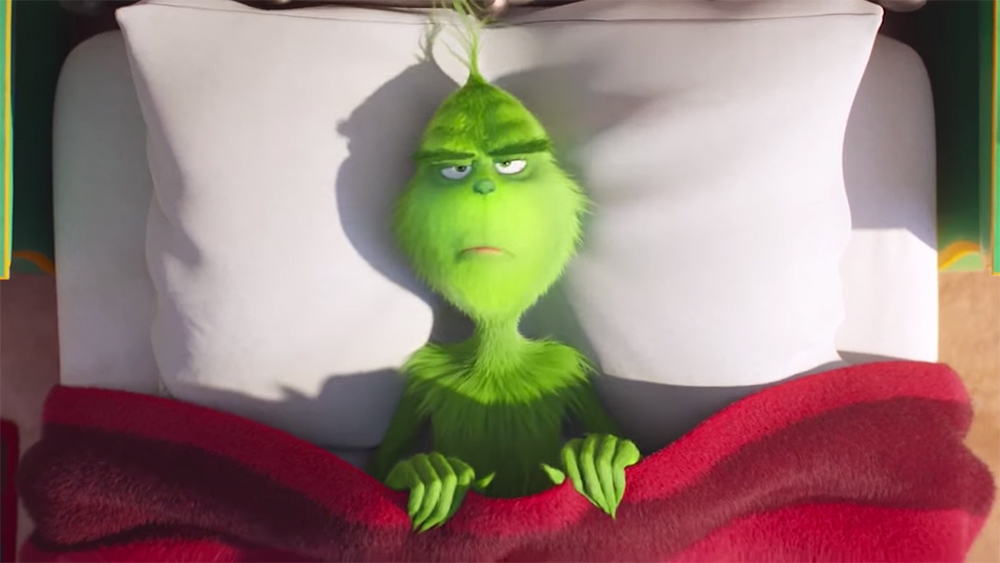 As for everything else, very few films moved from their spots with one exception. Green Book, the historical racial drama, is picking up steam and has moved up from #10 last weekend to #7 after being added to more than 100 more theaters. Good word of mouth is getting around about this film as its domestic total is now sitting at $19 million for being in less than 2,000 theaters after four weekends.
Check out the full box office results below:
Ralph Breaks The Internet ($16,141,000)
Dr. Seuss' The Grinch ($15,175,000)
Creed II ($10,322,515)
Fantastic Beasts: The Crimes of Grindelwald ($6,805,000)
Bohemian Rhapsody ($6,000,000)
Instant Family ($5,600,000)
The Possession of Hannah Grace ($3,935,000)
Robin Hood ($3,585,000)
Widows ($3,175,000)
Green Book ($3,100,000)
Next weekend, the break is over and genre movies will be in full swing. Mortal Engines, a CGI-heavy fantasy, will debut in 3,000 theaters. The Mule, a new drug-related drama directed and starring Clint Eastwood, will premiere in 2,400 theaters. And Sony's new animated superhero film, Spider-Man: Into the Spider-Verse, will be hitting 3,400 theaters. It's a pretty much a sure bet that Spider-Man will take that weekend, given its PG-rated superhero appeal and the big word-of-mouth it's getting from critic circles.
"Ralph" Reigns Again on Slow Box Office Weekend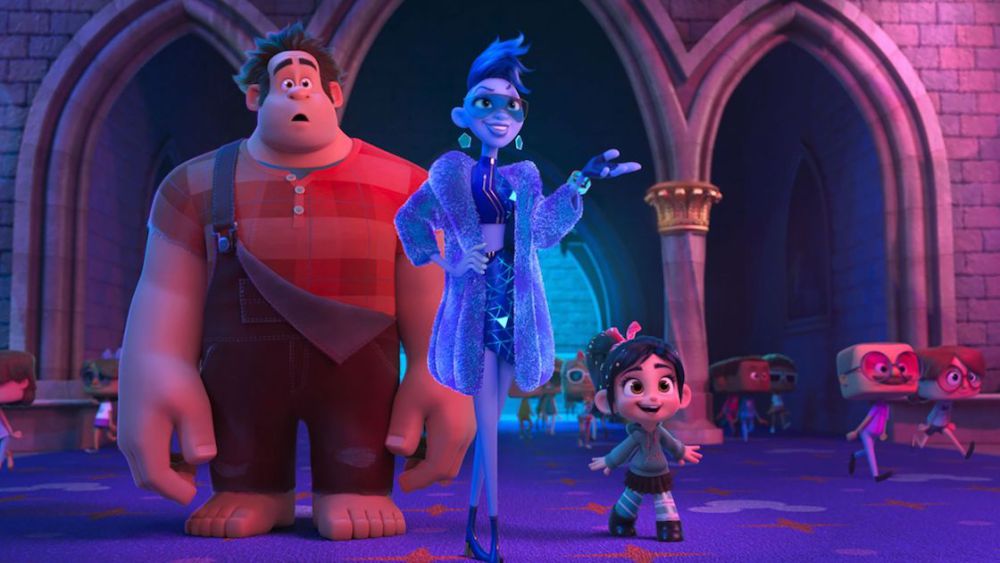 We're currently in the eye of the fall movie storm. All is fairly quiet this weekend. The only new release was that of a small horror film, The Possession of Hannah Grace. So small, in fact, that it only came in at #7 for the weekend with a gross of $6.5 million. As such, few films moved very far from their spots. Last weekend's winner, the animated adventure Ralph Breaks The Internet, was once again on top, even though it wasn't a very strong second weekend of $25 million, a 54% drop. Still, the film has made $119 million so far and is well on its way to covering its $175 million budget.
Surprisingly jumping up a spot is Dr. Seuss' The Grinch, the latest animated film Illumination Studios based on the classic Christmas book. The film jumped up from #3 to #2, making $17 million with the domestic gross now up to $203 million. Creed II, the sequel to the Rocky spinoff, took a step down for its second weekend, grossing $16 million with a domestic total of $81 million. It's no surprise that the biggest drop of the weekend was Fantastic Beasts: The Crimes of Grindelwald, the sequel to the Harry Potter spinoff. Due to low critic ratings and poor fan reactions, the film tumbled 61% with its domestic gross sitting at $134 million.
View the full top 10 box office winner for the weekend below.
Ralph Breaks The Internet ($25,756,000)
Dr. Seuss' The Grinch ($17,730,000)
Creed II ($16,832,863)
Fantastic Beasts: The Crimes of Grindelwald ($11,200,000)
Bohemian Rhapsody ($8,100,000)
Instant Family ($7,150,000)
The Possession of Hannah Grace ($6,500,000)
Robin Hood ($4,700,000)
Widows ($4,400,000)
Green Book ($3,900,000)
Next weekend is so sparse with new content that the biggest release is going to be an anniversary screening of Schindler's List, hitting 1,000 screens. It's a good time to take in some smaller releases as Mary Queen of Scots, Ben is Back, and Vox Lux will be having limited releases. So it's safe to expect a repeat of this weekend's trends in the box office.
"Ralph" Breaks The Box Office, "Creed" Close Behind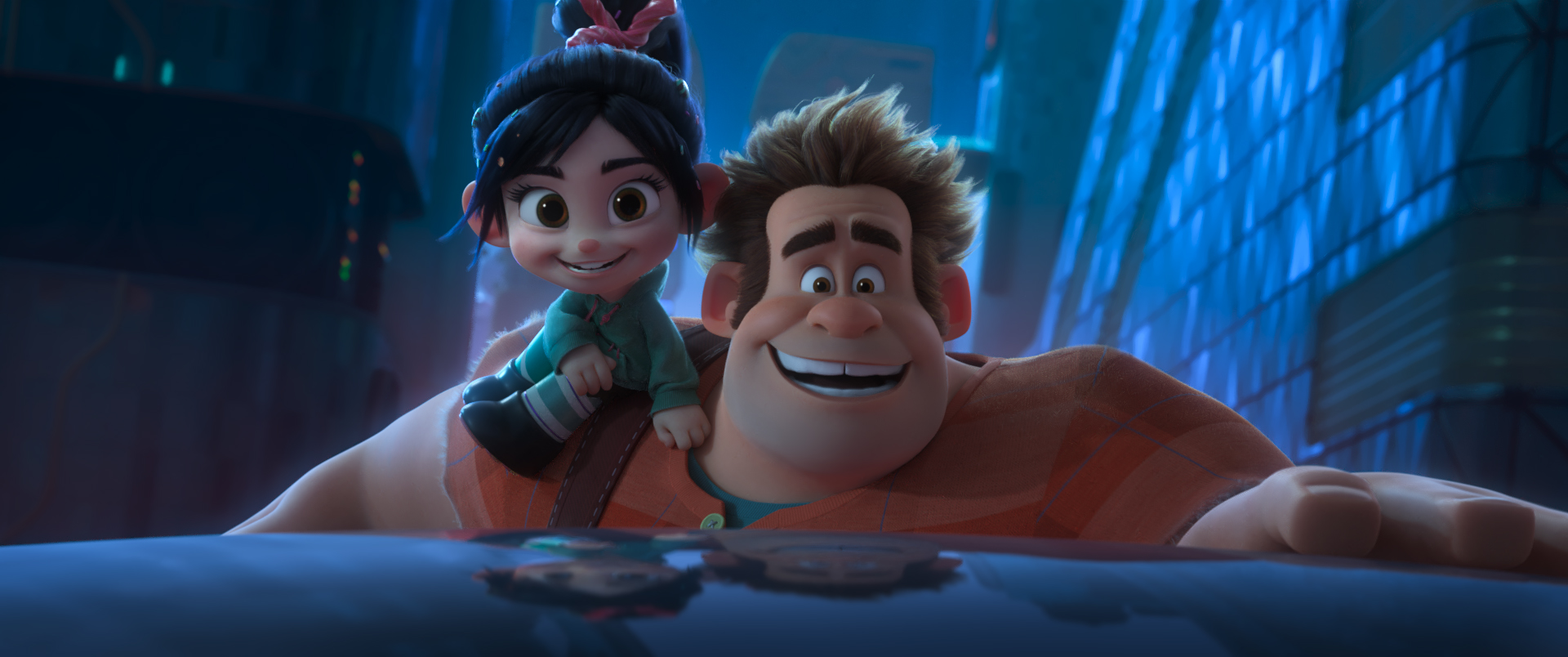 Thanksgiving week is a time for family and there were plenty out to the theater last week for an animated family picture. Ralph Breaks The Internet, the Disney-animated sequel to 2012's video game adventure comedy Wreck-It Ralph, came in at #1 for the weekend with $55 million and $84 million since its debut on Wednesday. This puts it above the Disney studio's previous Thanksgiving hit Moana, which had a 5-day total of $82 million.
Not too far behind is Creed II, the sequel to the Rocky spin-off starring Michael B. Jordan and Sylvester Stallone. The boxing sequel took in $35 million for the weekend and $55 million since Wednesday. This is a stronger opening than the first film which came in at $29 million for the weekend.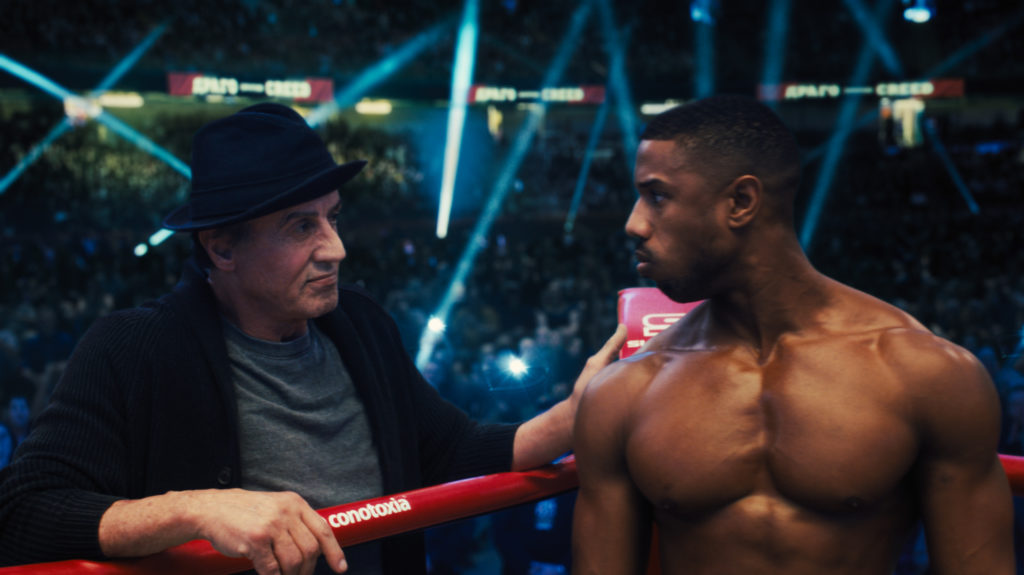 And it was slim leftovers for the two other debuts. Robin Hood, the latest action remake of the classic tale, came in at #7 with only $9 million for the weekend, $14 million since Wednesday. Green Book, a drama about a black singer in the racist south of America, came in at #9 for its expanded week to make $5 million for the weekend and $7 million for its domestic total.
The Crimes of Grindelwald is not fairing to well for its second weekend. The Harry Potter spin-off has dropped to #4 with a domestic weekend gross of $30 million, a 52% drop. The film still hasn't cleared its $200 million budget with a domestic gross of $117 million and it looks like it may never cross that mark as we head into December with more genre titles. Beating it out for #3 is Dr. Seuss' The Grinch, the theatrically animated adaptation by Illumination, that is proving to have great legs coming into the holiday season. Worth noting at #10 is A Star Is Born, its domestic total now having crossed $191 million to make it one of the most profitable films of the year.
View the full top 10 box office results for the weekend below:
Ralph Breaks The Internet ($55,672,000)
Creed II ($35,293,000)
Dr. Seuss' The Grinch ($30,210,000)
Fantastic Beasts: The Crimes of Grindelwald ($29,650,000)
Bohemian Rhapsody ($13,855,000)
Instant Family ($12,500,000)
Robin Hood ($9,125,000)
Widows ($7,955,000)
Green Book ($5,443,000)
A Star is Born ($3,005,000)
Next weekend is, well, it's pretty dead. So dead that a ghost movie is occupying the rather blank spot. Possession of Hannah Grace, a modest horror production, will be arriving in under 2,000 theaters. So it's fair to say you can expect Ralph to breakthrough for another weekend of success.