Review: "Death Wish" is a Clunky Mess of Guns-Gushing Insanity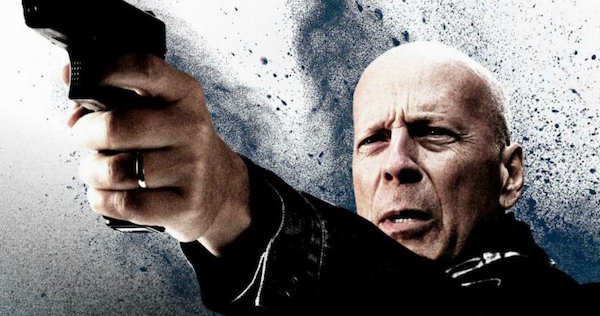 I always admired Death Wish more as an oddity than a genuinely great action picture. It's a little hard to become invested in a film series known for gratuitous amounts of graphic violence and rape, many times in the same scene. And while the Death Wish remake thankfully avoids become the exploitation mess it could have been, the film is still just as odd for its unusual mix of commentary and comedy amid bullets and blood.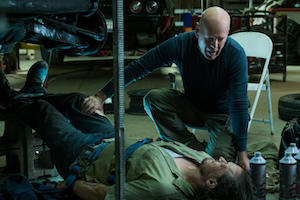 Bruce Willis now plays the role of Paul Kersey, appearing with far less hair on his head, now a Chicago surgeon as opposed to a New York architect. He has to witness day after day multiple patients with gunshot wounds rushed into the ER. It's draining work, but he can still have fun at his lovely home with his beautiful wife and college-bound daughter. Surely nothing terrible will happen to them because they're so carefree and all smiles. They're built up to be such a sugary family that the inevitable beating the wife and daughter receives only occurs after they decide to make a birthday cake for Paul secretly.
I will give Eli Roth credit in that the expected inciting incident that sets off Paul is not as hard to watch as the original. Rather than draw out a long and uncomfortable rape of a mother and daughter that leaves one dead and the other in a coma, the scene is kept tense with the tease for a sexual assault that doesn't get very far and gunshots quite subtle. That being said, Roth doesn't disappoint in the rest of the violence that becomes just as cartoonish as it does gory. Blood will splatter, neck cracked, and one unlucky thug has his skull crushed as his brains spill out.
Roth's film is one that's hard to love for its seesawing of gritty drama and over-the-top violence. You can probably guess which category he excels at best. When Willis is going on the hunt and making snarky remarks, he's in his element. When he's trying to look sad and depressed with contemplating losing his family, however, the heart isn't there, and his acting becomes downright awkward to watch as he stumbles through his quieter scenes. Almost of mercy, the film is aware enough of these shortfalls and slowly steers the focus away from the dramatic elements. It's a smart move, but it would have been an even better move if Rothe embraced more of the crazy than the relatable.
Several aspects of Paul's crusade come with consequences, but they're rarely explored. There's no point made in bringing up the dangers of copycat vigilantes that are gunned down in the street if Paul ignores, turning off a news report and then never addressing it again. Why even bother having morning radio debates on the slippery slope of Paul's revenge spree when they're just as quickly swept under the rug? Rather than dig deep into these issues or cut them out for the sake of campy violence, Roth decides to dance around them, taunting the audience with his film being culturally relevant, but not really.
And it can't be ignored how poorly timed this movie was with the current state of arguing about gun control. While the film had reportedly been pushed back because of the Vegas shooting, now it has the uncomfortable awkwardness of coming out after the Parkland shooting. I don't want to hold that against the film, but it should be noted that this film was pretty much a love letter for the NRA. This film doesn't just showcase a lot of guns; it loves firearms to a ridiculous degree. When Paul becomes inspired to go out and buy one, he's greeted in the gun shop by a bouncy blonde that perkily sets him up with a form and dismisses how tough gun safety classes are to pass, reasoning that anyone can qualify. This type of attitude would set off red flags about gun access in Chicago, but all Paul gathers from that visit is "Man, it sure takes a lot of work to get a gun. Better go steal one of a gangster."
Death Wish has its demographic down for targeting middle-aged Americans who love guns and want to take a bite out of the next generation with their dentures. Willis is a snarky anti-hero who loves shooting young punks, Vincent D'Onofrio is an all-American guy gunning for a union job, Dean Norris is a pursuing detective that thinks gluten-free foods are yucky, and the soundtrack boasts top hits of classic rock. All it's missing is a Make America Great Again hat, Willis fumbling with a smartphone, and a preachy rant about how lazy millennials are to be the elderly audience movie of the year.
And I honestly would have been okay with this over-the-top presentation if Roth decided to keep this film where it firmly belongs in cartoony gore land, going so far as to have a goon killed by a bowling ball falling off a shelf. But when he ventures outside this territory, into the world of gun violence, being a real issue with dire consequences, the cracks in the entertainment value become uncomfortably thick, as if Tarantino meshed footage of Schindler's List into Inglourious Basterds. I wanted to like Death Wish for being a bullet and blood bonanza, but not when it tries to make a point of all this madness, only to trail off into another silly segment of Willis getting in an ouch-inducing kill. Such inconsistencies made me wish this tired franchise had stayed buried, coming out as the wrong film at the wrong time.
[author title="About the Author" image="http://popstermedia.com/wp-content/uploads/2015/07/mark_mcpherson-300×221-150×150.jpg"]Movie Reviewer Mark McPherson has been all about movies since working at a video store in his youth. His talents range from video editing to animation to web development, but movies have always been his passion to write about.[/author]
"Bumblebee" Swaps Insulting Action For Lighter Adventure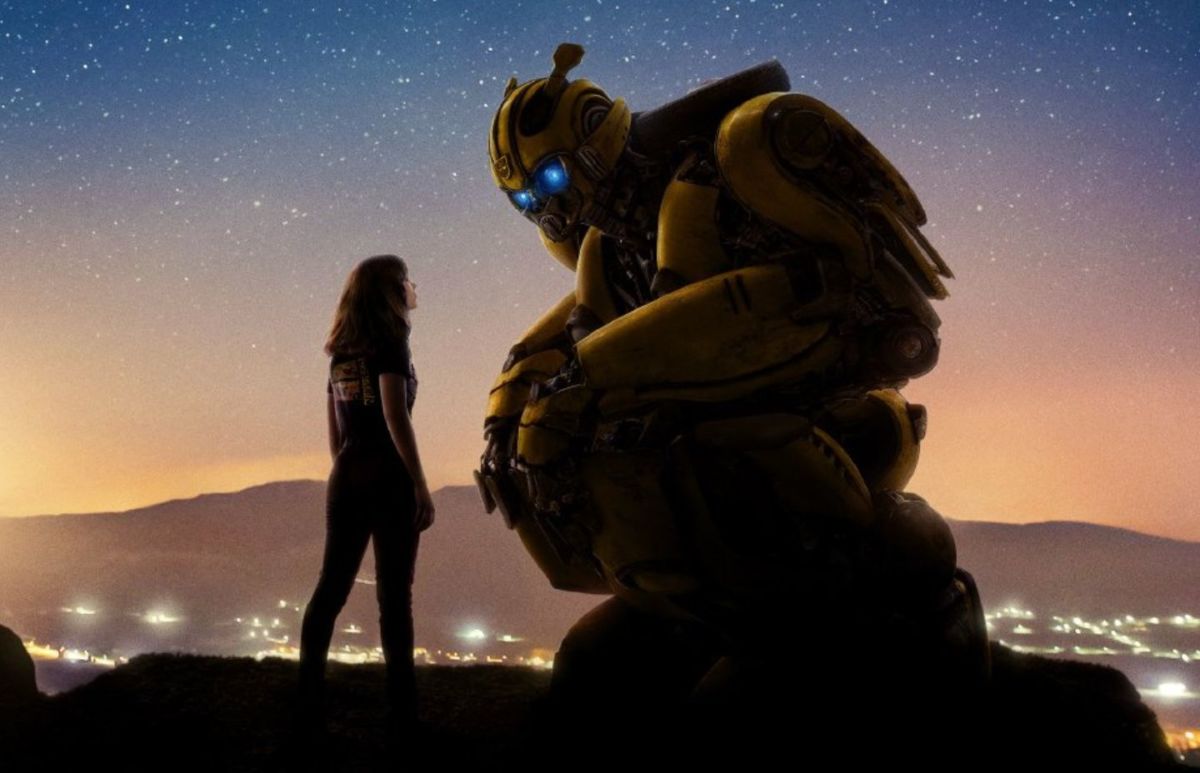 As the first spin-off of Michael Bay's Transformers saga, BumbleBee is a huge shift from the usual gears. It's as though Travis Knight took a good, hard look at the clunky and sloppy nature of the series and decided to give it an overhaul. Gone are the mounting and confusing story arcs that seemed to needlessly double with each sequel. The cynical nature has been removed, replacing the human and robot heroes with more quirky and heartfelt ones, albeit within the cartoonish realm of a 1980s adventure fit for kids. All of these changes don't exactly make the film a stellar Transformers movie but it at least earns the title of being the best of the lot for the rather low bar it had to cross.
It helps that the Transformers lore is kept to a simpler story. As a prequel, we learn how BumbleBee was the first of the heroic Autobots to land on Earth after losing the battle for Cybertron against the evil Decepticons. His mission is to ensure that Earth is safe and free of Decepticon interference until the other Autobots arrive. But during a scuffle with one following evil robot, BumbleBee has his memory wiped and his voice taken, just in case you were wondering why the transforming robot only speaks through the radio.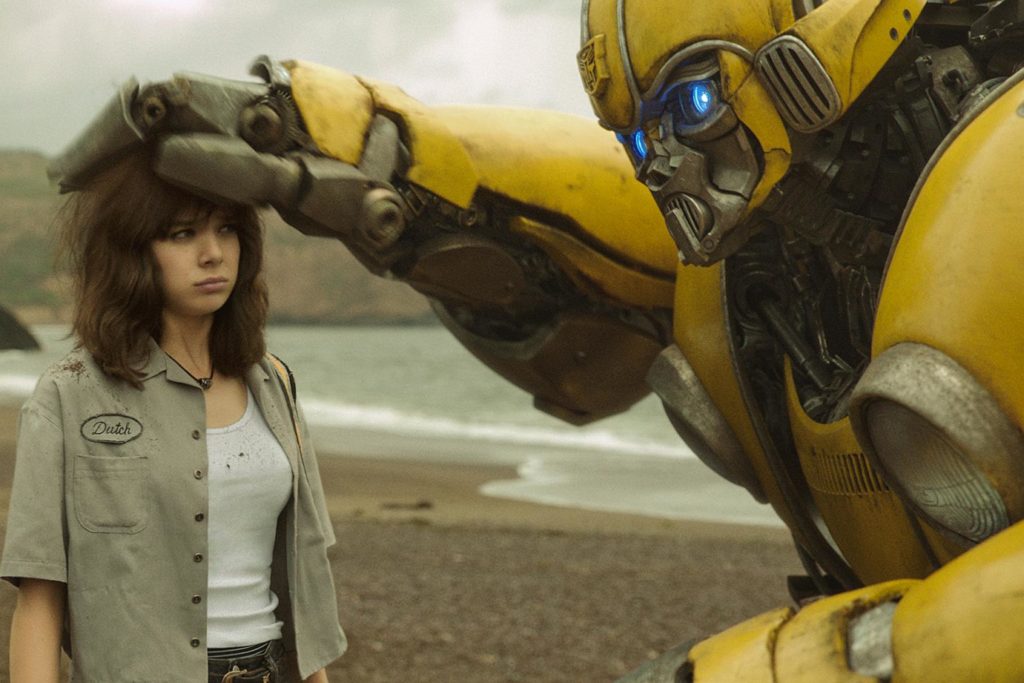 Helping him to communicate is Charlie (Hailee Steinfeld), a teenage mechanic prodigy with a life in need of a tune-up. And unlike previous Transformers human tagalongs, she deserves it. She's a smart kid, great with a wrench, has good taste in music, and is naturally depressed by her dad passing. Charlie feels that nobody can understand her so, naturally, the confused BumbleBee takes a liking to her easily as she teaches him about human life and music, something that the robot from another planet has opinions about. Who knew that Cybertronians have an instant disliking for Rick Astley?
Of course, it wouldn't be a Transformers movie without some evil Decepticons trying to take over the planet. Similar to everything else in the film, this plot has been pruned down to be less messy as only two Decepticons of Shatter (Angela Bassett) and Dropkick (Justin Theroux) come to Earth for the invasion. Their mission is less convoluted; kill BumbleBee and kill all the humans. And you better believe they kill the gullible American government stooges that place their trust in these robots that pretend to be working with them. Don't worry, parents; the robots will only zap the humans into liquid goo as opposed to bloody slop, for whatever that tweak may be worth.
Much of the junk has been scraped off the Bay-formers saga to be a more thoughtful and sympathetic film but some of the lameness remains. I don't know why the film bothered to mention that the story takes place in 1987; the setting goes out of its way to prove this point, from ALF on the television to a VHS copy of The Breakfast Club to posters of The Thing on room walls. John Cena plays a cocky military agent who never quite crosses over into Wahlberg craziness with his meatheaded nature but still occupies the tired trope of the series with the military blindly trusting robots from space. Charlie has a neighborhood friend Memo (Jorge Lendeborg Jr.) who wants to be her boyfriend but he thinks he's too nerdy to ever have a girlfriend. I find it hard to believe a teenager with a rather trimmed body, which he does show off while shirtless, could have that much trouble finding a girl in a community of divers and beach lovers. But perhaps it's a subversion of such a person, as the film blatantly tries to toss out the suggestion that Charlie and Memo will kiss by the end, as if nudging the audience to say, "See? We're not THAT predictable."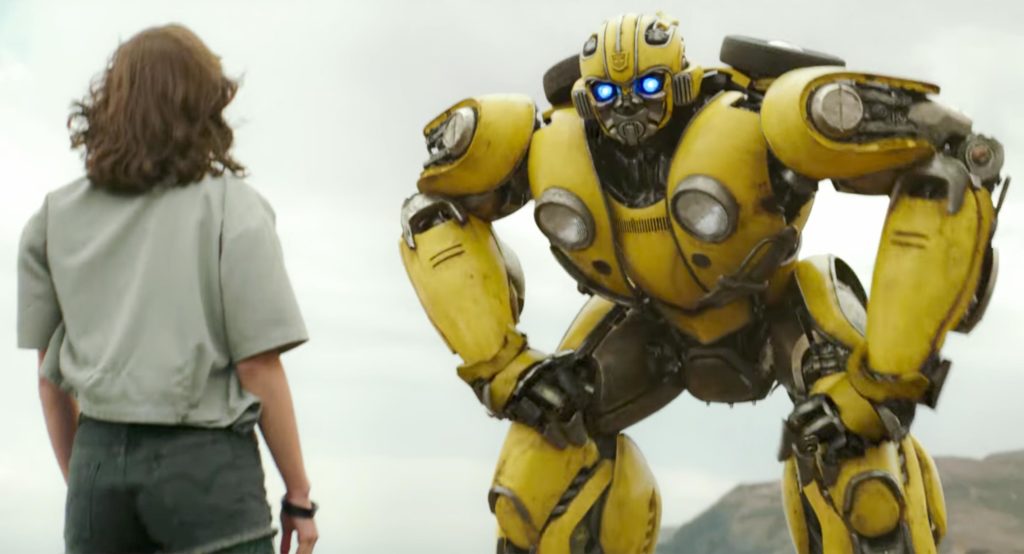 BumbleBee is Diet Transformers; all the robot action and adventure, none of the Michael Bay insanity, but loaded with artificial sweeteners. While I'd like to applaud the film for trying to take a sweeter and gentler route to its tale of giant robots that turn people into slime, it doesn't feel like enough to carry the film past being a passive special effects adventure for the kids. Still, that may be the best part of the film with how it finally feels better targeted at its key demographic of kids, even inspiring for little girls that love the Transformers brand. Worth noting are the simplified designs of the robots that look more like the original cartoon than junkyard explosions. But if the spin-offs want to play more in the field of E.T. and The Iron Giant, they've got to tune up the heart to make me care more about a mute robot who can transform into a car. I was almost there but I need more character out of him than his innocent means of pranks and exploring a house he's too big for. For a Transformers film, those scenes are cute moments. For stories of a kid and their alien pal, it's par for the course.
"Aquaman" Washes Out Christmas, "Bumblebee" and "Poppins" Close Behind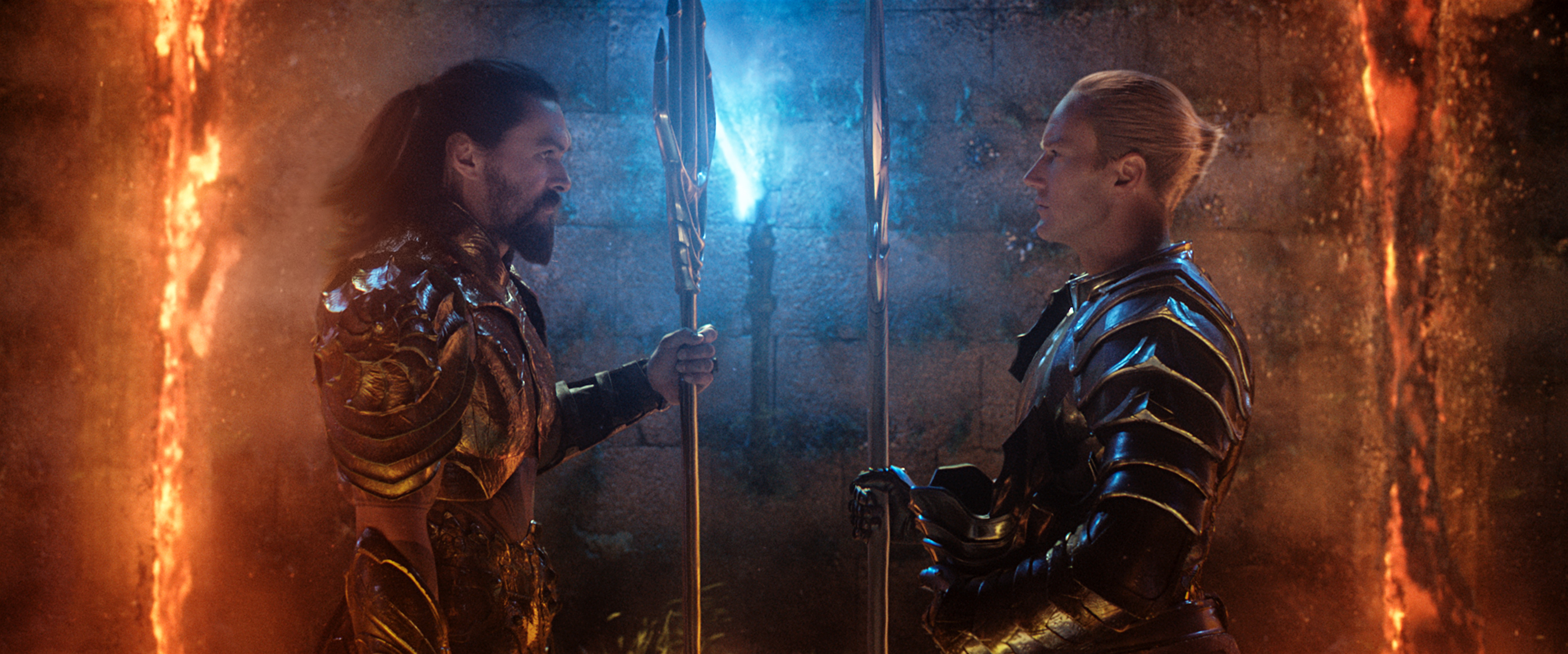 Christmas weekend was a savage one. All manner of genre films came out to play, eager to be the biggest blockbuster of holidays. But there could only be one winner and it was the king of the oceans. Aquaman, the Jason Momoa starring superhero epic based on the DC Comics character, arrived at #1 for the weekend with a domestic gross of $67 million. Though it has a ways to go as such an epic to make its money back, the film is off to an enthusiastic start.
Following closely behind Disney's Mary Poppins Returns, the sequel to the Disney musical classic now starring Emily Blunt, earning a weekend debut of $23.5 million. Despite opening early on Wednesday, the film still only made about $32 million which isn't looking especially strong for Disney during the holidays. This is especially concerning given that the film is a close call for the #2 slot as Bumblebee, the Transformers spin-off of the titular heroic transforming robot, came up with a $21 million gross. That being said, Bumblebee's opening is concerning given the big opening grosses of the previous Transformers film that were usually massive.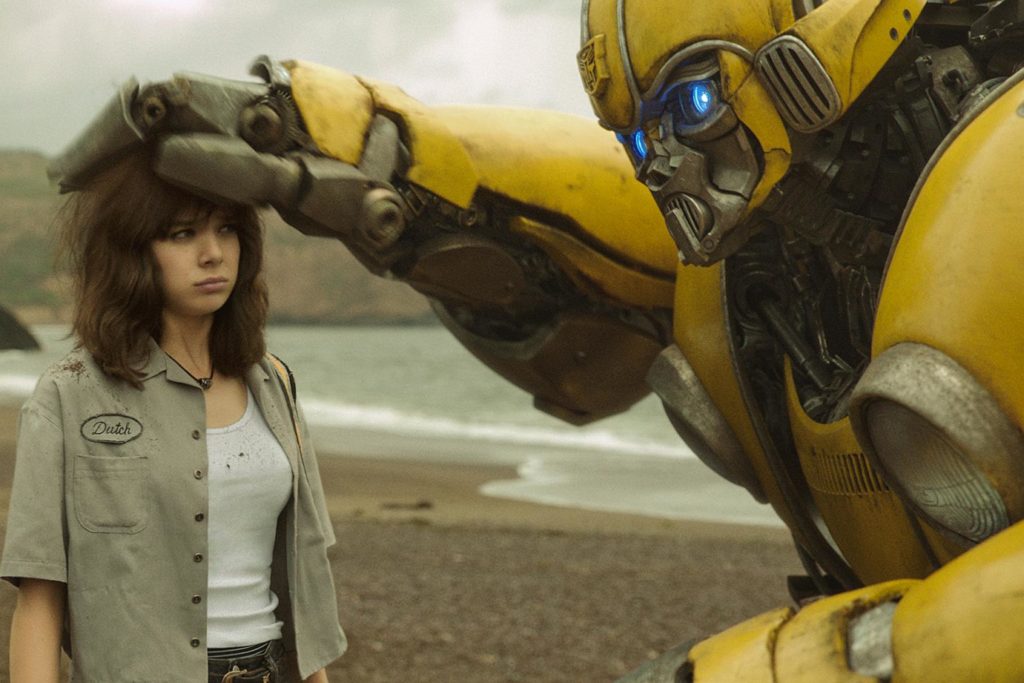 But that's nothing compared to the low debuts of the films that were not intended as genre blockbusters. Second Act, a romantic comedy starring Jennifer Lopez, would debut at #7 with a domestic gross of $6.4 million. Even further down the list is Welcome to Marwen, the new Robert Zemeckis directed drama starring Steve Carell, came in at #9 with a box office of $2.3 million. Brutal.
View the full top 10 box office results below:
Aquaman ($67,400,000)
Mary Poppins Returns ($23,523,121)
Bumblebee ($21,610,000)
Spider-Man: Into the Spider-Verse ($16,635,000)
The Mule ($9,727,000)
Dr. Seuss' The Grinch ($8,548,370)
Second Act ($6,480,000)
Ralph Breaks the Internet ($4,702,425)
Welcome to Marwen ($2,366,560)
Mary Queen of Scots ($2,277,820)
Next weekend may be a bit of quiet one as we shall see how the films released on Christmas Day will fair. Holmes and Watson, the new Sherlock Holmes comedy starring Will Ferrell and John C. Reilly, opens to 2,700 theaters. Vice, Adam McKay's new biopic dramedy about Dick Cheney with Christian Bale playing the character, is opening to 2,300 theaters. Stan & Ollie, a biopic on Laurel & Hardy starring Steve Coogan and John C. Reilly, will be in a limited number of theaters on December 28th.
First Box Office Weekend of 2019 Finds "Aquaman" King (Again)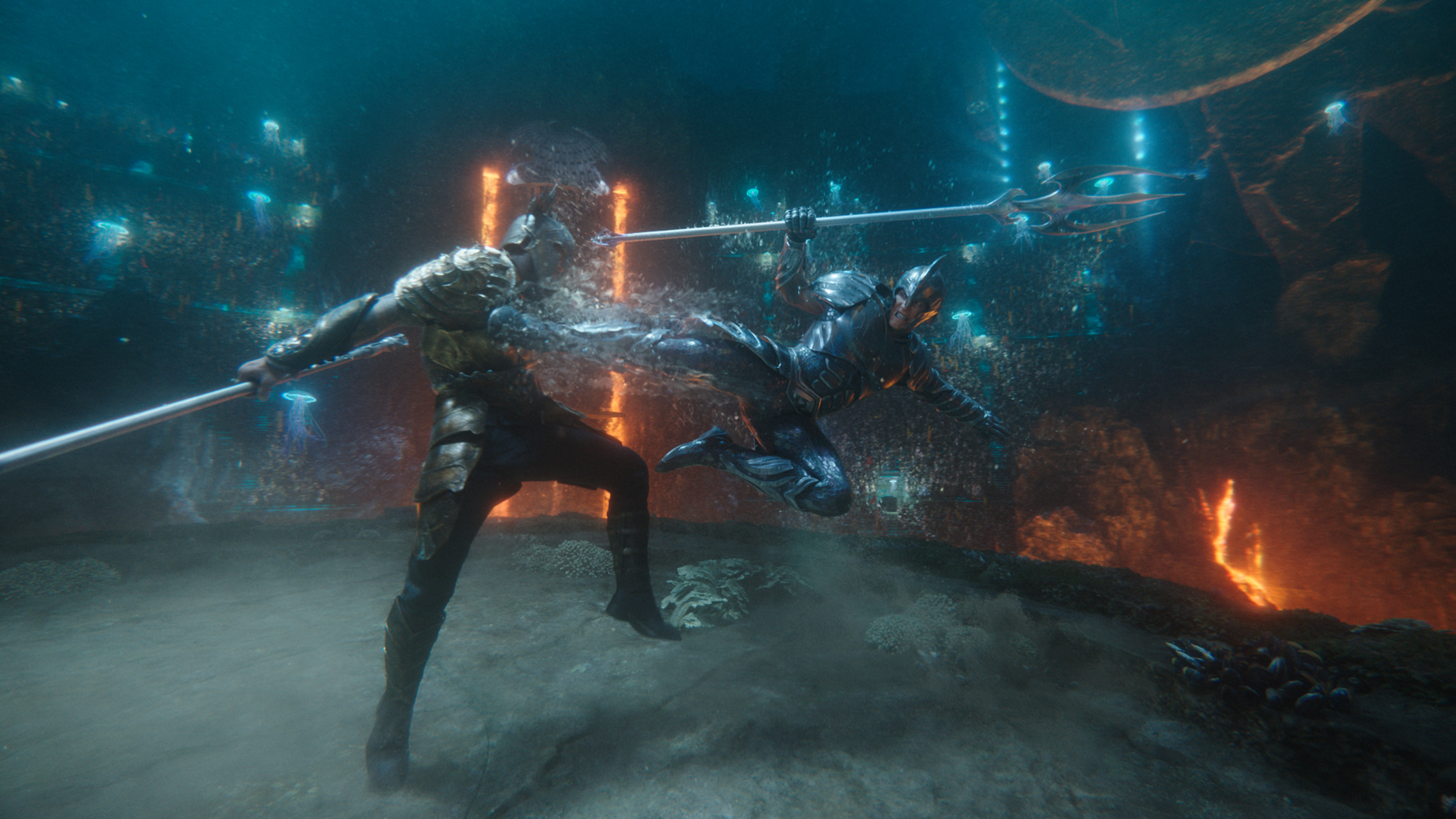 It's a new year and so we enter into the chilly month of January, usually reserved for Oscar nominations to strut their stuff and mediocre-to-decent films to swoop in and make a mint. Similar to last year, the first big new film a lukewarm horror picture. Escape Room, the horror film based on the party activity craze of escape rooms, debuted at #2 with a decent January take of $18 million. Not a terrible opening at all for such a horror film but most of its bigger gross was eaten up by Aquaman, the DC superhero epic that continues to make waves. Even though the film took a 41% dip from last weekend, the movie has currently $259 domestic with a worldwide gross total of $940 million. It's a big success for DC Comics trying to catch up with Marvel Comics at the box office and Aquaman is still looking good coming into a slow January.
With Escape Room being the only major release, there are no big surprises for the shifting of placement. Mary Poppins Returns holds firm as a family film for winter, the domestic total now sitting at $138 million. Spider-Man: Into the Spider-Verse, having recently won the Golden Globe for Best Animated Feature, is still just below with a domestic gross of $133 million. Still struggling to crack $100 million is Bumblebee, the Transformers spin-off. Despite being the highest-rated Transformers movie by miles, the film has only made $97 million after three weekends.
The longest holdout in the top 10 box office is Ralph Breaks The Internet, Disney's cyberspace adventure sequel. Released during Thanksgiving, the Disney animated film has to date made $187 million domestic after seven weekends. Just below it, however, is a film that has been in theaters for two weekends but has already seen a massive drop, Holmes and Watson, making headlines for being one of the worst films of the year with a descending box office.
View the full top 10 box office for the weekend below:
Aquaman ($30,700,000)
Escape Room ($18,000,000)
Mary Poppins Returns ($15,773,000)
Spider-Man: Into the Spider-Verse ($13,010,000)
Bumblebee ($12,775,000)
The Mule ($9,040,000)
Vice ($5,803,490)
Second Act ($4,910,000)
Ralph Breaks the Internet ($4,685,000)
Holmes and Watson ($3,400,000)
Next weekend will feature some bigger competition of dogs, clones, and soft human drama. A Dog's Way Home, a spiritual sequel to A Dog's Purpose, will debut in 3,000 theaters. Replicas, a sci-fi thriller starring Keanu Reeves, will hit 2,500 theaters. The Upside, a dramedy where Bryan Cranston plays a paraplegic and Kevin Hart is an inept assistant, will premiere to 3,000 theaters. The battle is ultimately between A Dog's Way Home and The Upside but I'm willing to bet a PG dog movie will take the top spot or about as high a spot it can muster with Aquaman still in play.