Review: "Death Wish" is a Clunky Mess of Guns-Gushing Insanity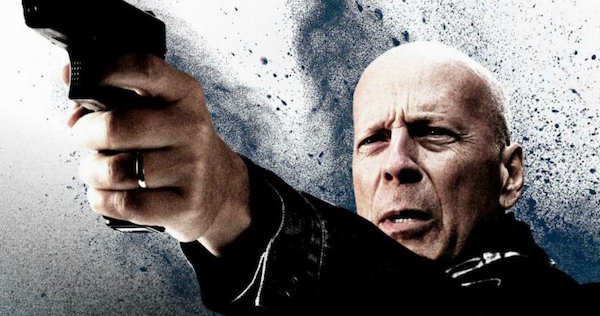 I always admired Death Wish more as an oddity than a genuinely great action picture. It's a little hard to become invested in a film series known for gratuitous amounts of graphic violence and rape, many times in the same scene. And while the Death Wish remake thankfully avoids become the exploitation mess it could have been, the film is still just as odd for its unusual mix of commentary and comedy amid bullets and blood.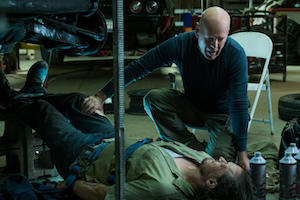 Bruce Willis now plays the role of Paul Kersey, appearing with far less hair on his head, now a Chicago surgeon as opposed to a New York architect. He has to witness day after day multiple patients with gunshot wounds rushed into the ER. It's draining work, but he can still have fun at his lovely home with his beautiful wife and college-bound daughter. Surely nothing terrible will happen to them because they're so carefree and all smiles. They're built up to be such a sugary family that the inevitable beating the wife and daughter receives only occurs after they decide to make a birthday cake for Paul secretly.
I will give Eli Roth credit in that the expected inciting incident that sets off Paul is not as hard to watch as the original. Rather than draw out a long and uncomfortable rape of a mother and daughter that leaves one dead and the other in a coma, the scene is kept tense with the tease for a sexual assault that doesn't get very far and gunshots quite subtle. That being said, Roth doesn't disappoint in the rest of the violence that becomes just as cartoonish as it does gory. Blood will splatter, neck cracked, and one unlucky thug has his skull crushed as his brains spill out.
Roth's film is one that's hard to love for its seesawing of gritty drama and over-the-top violence. You can probably guess which category he excels at best. When Willis is going on the hunt and making snarky remarks, he's in his element. When he's trying to look sad and depressed with contemplating losing his family, however, the heart isn't there, and his acting becomes downright awkward to watch as he stumbles through his quieter scenes. Almost of mercy, the film is aware enough of these shortfalls and slowly steers the focus away from the dramatic elements. It's a smart move, but it would have been an even better move if Rothe embraced more of the crazy than the relatable.
Several aspects of Paul's crusade come with consequences, but they're rarely explored. There's no point made in bringing up the dangers of copycat vigilantes that are gunned down in the street if Paul ignores, turning off a news report and then never addressing it again. Why even bother having morning radio debates on the slippery slope of Paul's revenge spree when they're just as quickly swept under the rug? Rather than dig deep into these issues or cut them out for the sake of campy violence, Roth decides to dance around them, taunting the audience with his film being culturally relevant, but not really.
And it can't be ignored how poorly timed this movie was with the current state of arguing about gun control. While the film had reportedly been pushed back because of the Vegas shooting, now it has the uncomfortable awkwardness of coming out after the Parkland shooting. I don't want to hold that against the film, but it should be noted that this film was pretty much a love letter for the NRA. This film doesn't just showcase a lot of guns; it loves firearms to a ridiculous degree. When Paul becomes inspired to go out and buy one, he's greeted in the gun shop by a bouncy blonde that perkily sets him up with a form and dismisses how tough gun safety classes are to pass, reasoning that anyone can qualify. This type of attitude would set off red flags about gun access in Chicago, but all Paul gathers from that visit is "Man, it sure takes a lot of work to get a gun. Better go steal one of a gangster."
Death Wish has its demographic down for targeting middle-aged Americans who love guns and want to take a bite out of the next generation with their dentures. Willis is a snarky anti-hero who loves shooting young punks, Vincent D'Onofrio is an all-American guy gunning for a union job, Dean Norris is a pursuing detective that thinks gluten-free foods are yucky, and the soundtrack boasts top hits of classic rock. All it's missing is a Make America Great Again hat, Willis fumbling with a smartphone, and a preachy rant about how lazy millennials are to be the elderly audience movie of the year.
And I honestly would have been okay with this over-the-top presentation if Roth decided to keep this film where it firmly belongs in cartoony gore land, going so far as to have a goon killed by a bowling ball falling off a shelf. But when he ventures outside this territory, into the world of gun violence, being a real issue with dire consequences, the cracks in the entertainment value become uncomfortably thick, as if Tarantino meshed footage of Schindler's List into Inglourious Basterds. I wanted to like Death Wish for being a bullet and blood bonanza, but not when it tries to make a point of all this madness, only to trail off into another silly segment of Willis getting in an ouch-inducing kill. Such inconsistencies made me wish this tired franchise had stayed buried, coming out as the wrong film at the wrong time.
[author title="About the Author" image="http://popstermedia.com/wp-content/uploads/2015/07/mark_mcpherson-300×221-150×150.jpg"]Movie Reviewer Mark McPherson has been all about movies since working at a video store in his youth. His talents range from video editing to animation to web development, but movies have always been his passion to write about.[/author]
The Predator Makes Mild Blast For Weekend Debut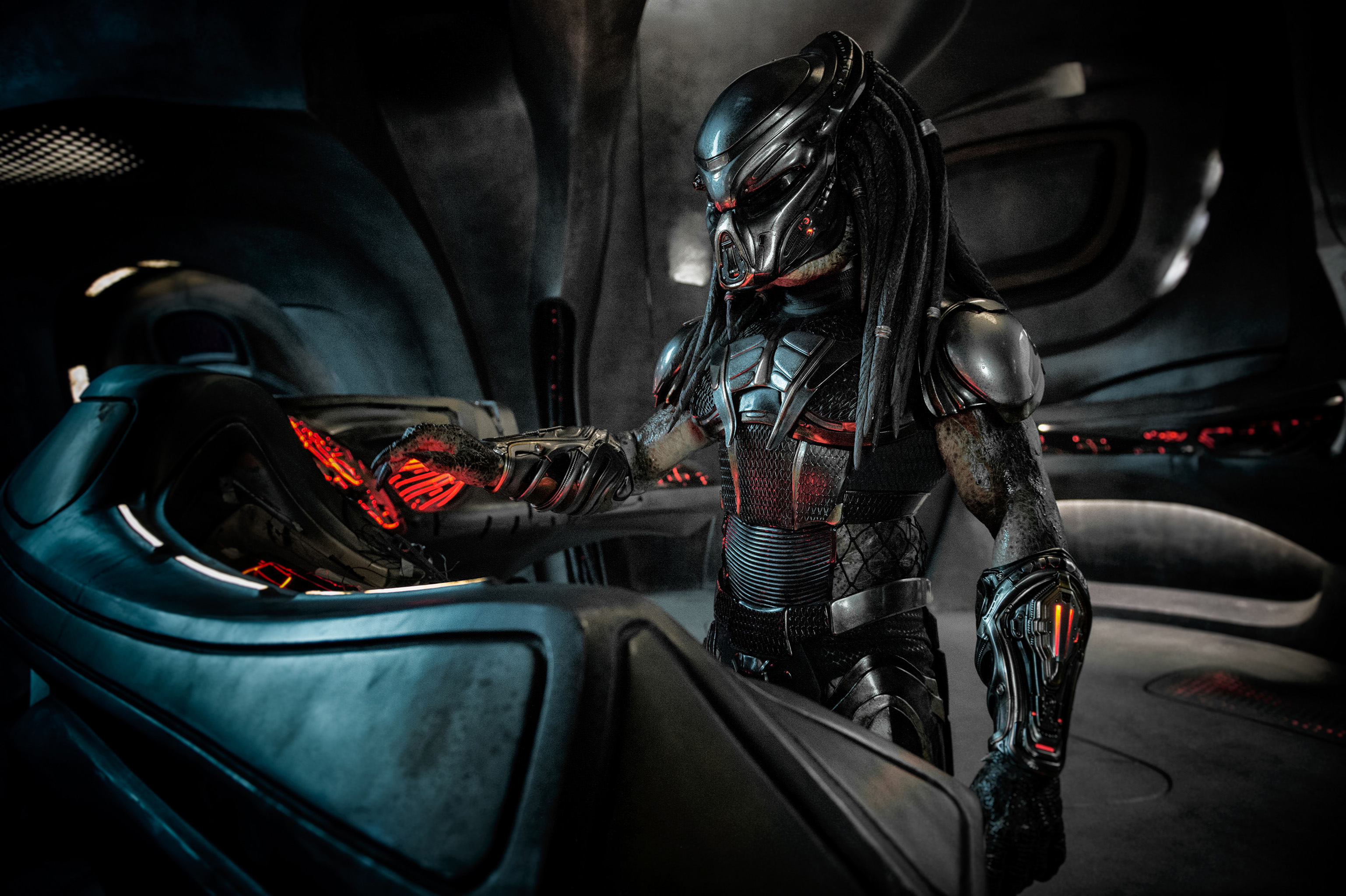 While last weekend was a stellar box office debut for The Nun, the weekend is much more low-key with reduced debuts and descending grosses. Shane Black's The Predator, the latest sequel to sci-fi/horror Predator franchise, came in at #1 but still made a small amount with a box office debut of $24 million. It has a ways to go before toppling its beefy budget of $88 million, but it may survive through a rather slow September.
The Nun was not too far behind as a pleasing horror picture from Warner Bros' The Conjuring universe. In its second weekend, the film made $18.2 million. While this is a 66% drop from its first weekend, the film did have an amazing start on its premiere that the total domestic is sitting at $85 million. So far, it's the biggest success of September as the other premieres are not doing so well. A Simple Favor, the new comedy by Paul Feig, only made $16 million. White Boy Rick, a true crime story starring Matthew McConaughey, brought in $8.8 million. And even further down the list is Unbroken: Path to Redemption, the new religious sports film by Pure Flix, came in with $2.3 million.
No surprise that the strong films from August are still chugging away with small drops. Crazy Rich Asians, the hit romantic comedy, only took a 33% drop with its domestic total now at $149 million. The Meg, the giant shark movie starring Jason Statham, only took a 37% drop with a domestic gross of $137 million. And even Searching, the social media mystery movie, only took a 30% drop to have a total sitting at $19 million.
View the full top 10 weekend box office below:
The Predator ($24,000,000)
The Nun ($18,200,000)
A Simple Favor ($16,050,000)
White Boy Rick ($8,800,000)
Crazy Rich Asians ($8,700,000)
Peppermint ($6,070,000)
The Meg ($3,805,000)
Searching ($3,200,000)
Unbroken: Path to Redemption ($2,350,000)
Mission: Impossible – Fallout ($2,315,000)
Next weekend, The Predator will do battle with fantasy, drama, and politics. Eli Roth's The House With a Clock in its Walls, a family-friendly fantasy film, will premiere in 3,300 theaters. Michael Moore's political documentary Fahrenheit 11/9 will debut in 1,500 theaters. And the Dan Fogelman directed drama Life Itself, starring Oscar Isaac and Olivia Wilde, will hit 2,500 theaters.
Review: "The Predator" is a Humorous Homage, Sometimes Fun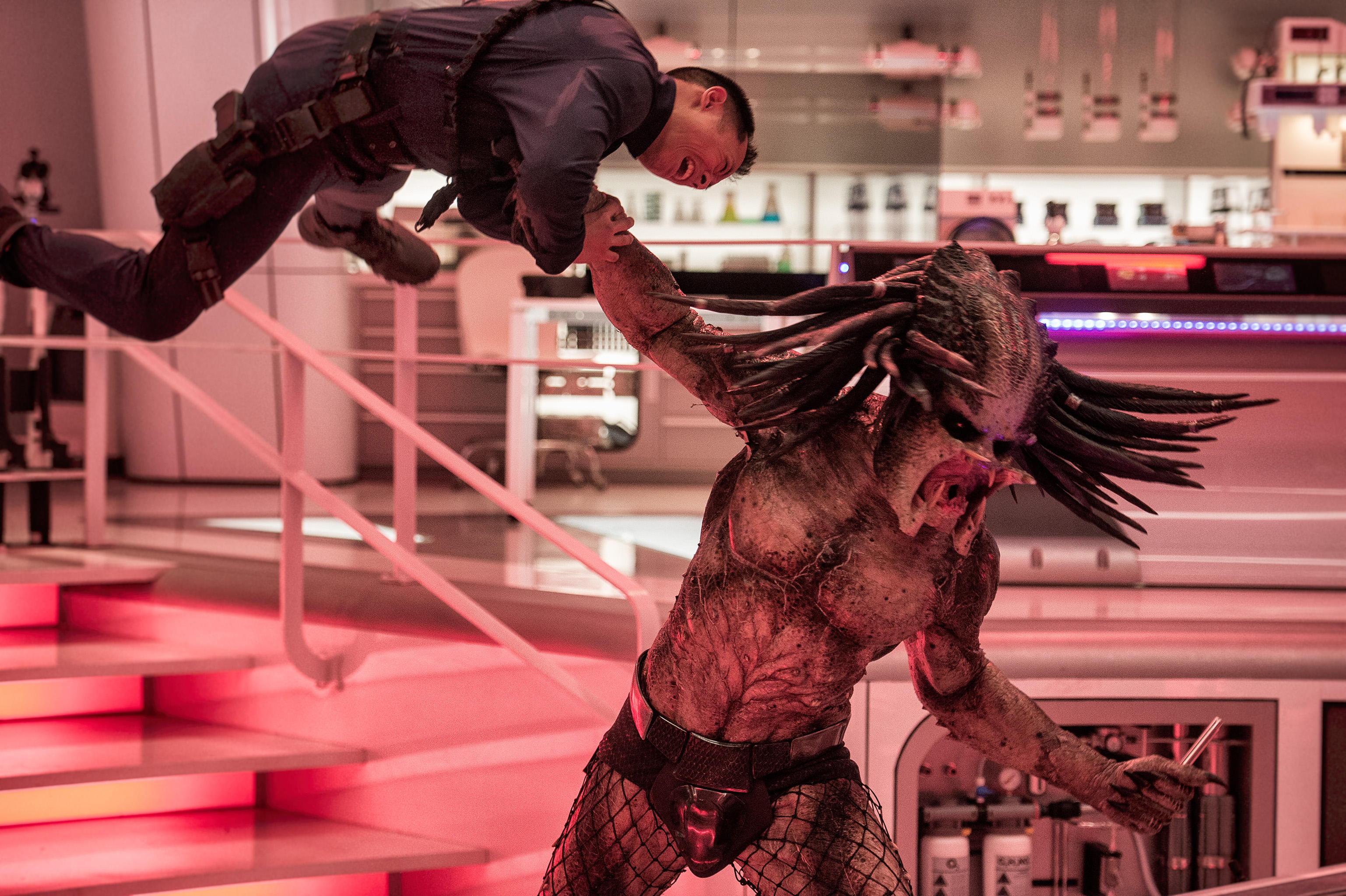 Shane Black's The Predator is simultaneously the most no-nonsense and all-nonsense entry of the series. It does away with a lot of the fat for its story, skipping briskly through its introduction so that gory action of a human-hunting alien arrives quickly. It also doesn't try to take itself seriously, favoring a comedic format to its writing so high on the goofiness it may as well be labeled a parody of the previous films. This odd assembly prevents such a generically titled film from becoming just another tired retread of a dug-up franchise, hit or miss though it may be.
In order to get the bloody gears grinding, Black throws a lot of inexplicably odd actions at the screen. I didn't set my watch, but I'm pretty sure it was less than a minute before the first Predator marches onto the screen, crashing onto Earth and going about its secret mission. Encountering the Predator and his arsenal is sniper-for-hire and former Army Ranger, Quinn McKenna (Boyd Holbrook), who not only takes to the Predator tech quickly but also takes the risk of swallowing some of it so it can't be found. To cash in on newly acquired treasures from outer space, he decides to ship the rest of the alien technology to his mailbox. Seems like a ridiculous idea, but it needs to be done so that the story can arrive on schedule to include a Predator-savvy scientist (Olivia Munn), a greedy government villain (Sterling K. Brown), a savant of an autistic kid with a smart mouth (Jacob Tremblay), and a team of mercenaries that includes a jokester (Keegan-Michael Key) and one with Tourette's syndrome (Thomas Jane).
I could detail the elaborate scheme of the Predators and the tactics used by the human characters, but does it matter? There are convoluted plot elements for sure, including the most ridiculous use of Asperger's Syndrome as a plot twist, but all that this amounts to is the self-aware knowledge of a goofy gore fest. The script, co-written by Shane Black, always seems careful never to go overboard with exposition without a joke in between. A key scene that could have been a bore is the initial alien dissection scene, its purpose to describe the new Predator and decipher his visit. Munn harps on why the scientists have called the alien a Predator when his purpose seems more akin to a big-game hunter.
While the choice to favor knowing comedy or dark action is a smart one, it's not exactly a home run of ideas. The first act, in particular, has some rather stale nostalgic callbacks that one would expect from a lesser retread. Variations on some of Arnold Schwarzenegger's iconic lines from the first film about choppers and the ugliness of the Predator felt so lame that I started gripping my seat, bracing for the entire film to be this adrift of inspiration. But the film thankfully proceeds down its own silly path by the second act, turning into a non-stop bloody bonanza of alien-on-human action. The gore goes for the gusto so heavily that it becomes just as strong as the comical banter between Holbrook and his team of gun-toting good guys, trying to stop the Predator from killing a kid and the government from killing them first.
There's a lot of dumb and messiness in The Predator, but the constant winking from Black's director and the all-star cast save it from being another PG-13 snoozer of a repeat. Armed with machine-gun speed comedy, violence more than worthy of an R rating, and a giddy sense that is always present, what could've been a merry-go-round turns into more of a roller coaster experience of a Predator movie. Black doesn't exactly rework the Predator mythos into something new or even more akin to its quality camp roots, but he does have fun with the material. And when you've got a multi-mouthed alien with braids turning humans into hamburger, you've gotta have some fun mocking the spectacle, especially after so many films that take themselves far too seriously.
"The Nun" Scares Up Strong September Box Office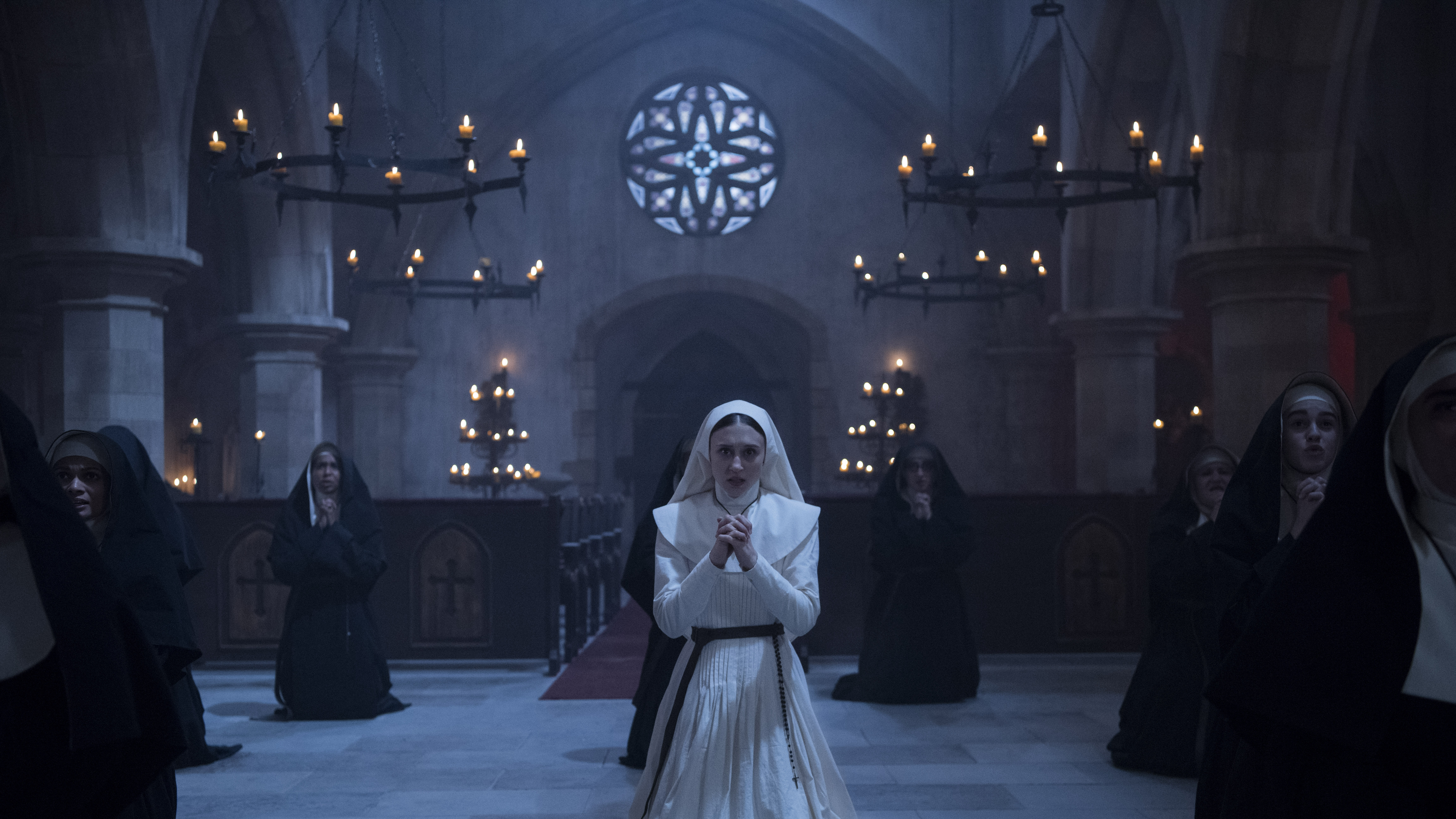 September has its first box office champion to topple August's hit of Crazy Rich Asians, and by a substantial amount at that. The Nun, a spin-off and prequel to The Conjuring 2's scary nun ghost in the painting, has earned an impressive $53.5 million for its debut weekend. That's an exceptional premiere to warrant the film's budget of $22 million, rather high for horror. The future is looking bright for The Conjuring franchise. Still, Crazy Rich Asians is still going strong as the romantic comedy of the year, grossing another $13.6 million for a domestic total now sitting at $136 million. With plans for a sequel already in the works and a chance at hitting $200 million, the film may very well carry deep into fall considering it's still in the top five after four weeks.
Also debuting to a decent take for the weekend is Peppermint, an action-oriented thriller starring a revenge-seeking Jennifer Garner. The film made $13.2 million in its first weekend which may be a bit disappointing for a $25 million budget, but it may have decent enough to legs to make a profit depending on how September shapes up.
Plenty of the returning films are holding on strong. The Meg, the shark movie with Jason Statham, has remained in the top five long enough to clear its budget, with a domestic total now at $131 million. Also sticking around is the social media thriller Searching, dropping only 25% to make $4.5 million for the weekend, the domestic total sitting at $14.3 million. And BlacKkKlansman, Spike Lee's comedy about infiltrating the Ku Klux Klan, is still hanging in the top 10, making another $1.5 million for a domestic total of $43 million, stunning results for a $15 million film in somewhat limited release.
View the full box office weekend results below.
The Nun ($53,500,000)
Crazy Rich Asians ($13,600,000)
Peppermint ($13,260,000)
The Meg ($6,030,000)
Searching ($4,515,000)
Mission: Impossible – Fallout ($3,800,000)
Disney's Christopher Robin ($3,196,000)
Operation Finale ($3,043,000)
Alpha ($2,505,000)
BlacKkKlansman ($1,565,000)
Next weekend will be a battle of a returning alien hunter and an odd thriller. The Predator, a remake of the alien franchise directed by Shane Black, will be in 3,900 theaters while A Simple Favor, a thriller directed by comedy director Paul Feig, will hit 3,000 theaters. Of the smaller releases are Pure Flix's latest religious picture Unbroken: Path to Redemption and the Matthew McConaughey starring cop drama White Boy Rick. There's little doubt that The Predator will swoop in to claim the weekend.