Review: "Black Panther" Packs the Biggest Punch of the MCU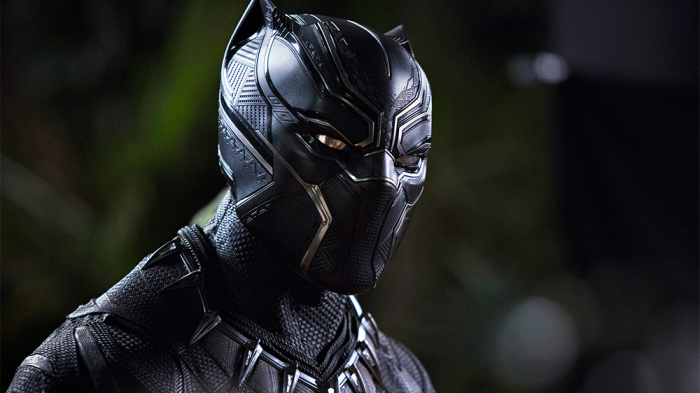 If Marvel's Thor was a watered down Shakespeare with a surfer glaze, Black Panther is the real deal. It's a tale of kingdoms and ancestors, where men of sordid family histories battle for the throne. At the same time, it's also a James Bond film of gadgets, casinos, and chases with sexy cars. But, wait, it's also profoundly political and racial with elements of xenophobia and colonialism. The only thing more astounding than seeing all of this present in a Marvel superhero film is that all of it works incredibly well and serves as Marvel's most influential and most groundbreaking of comic book films.
After the events of Captain America: Civil War, T'Challa (Chadwick Boseman) has some cleaning up to do at home before he can jump back into the Black Panther superhero suit. His father dead, he must take on the mantle of king of Wakanda. To the rest of the world, Wakanda is a third-world nation, but hidden behind a holographic shield is a thriving metropolis built on Vibranium, the same substance used for Captain America's shield. Even with all their tech, Wakanda is still a land of tradition and T'Challa must prove himself in shirtless combat atop a waterfall to be the king of his people.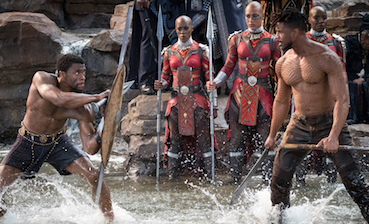 Governing a metropolis overflowing with Vibranium, he must keep at bay the cackling Klaue (Andy Serkis), a sinister dealer that fancies Vibranium and brandishes a fake arm that houses an energy gun. He could very well be our standard villain for T'Challa to foil, but he thankfully isn't the true antagonist. That title goes to Erik Stevens (Michael B. Jordan) or Killmonger as he's better known from the comic books. He is easily one of the best villains in the MCU for his pathos and plight that make some solid points. Having grown up on the streets when dear old passed was murdered, Stevens blames Wakanda's closed nature for his dark childhood and the ills of the world. It's a notion that T'Challa must weigh and not merely brush aside as a typical villain monologue. Sure, it's easy to go against Killmonger once he enacts his plan of ruling Wakanda and plans to dominate every country with Wakandan technology, but his argument about the nation being xenophobic is a strong one that can't be denied.
While Black Panther does adhere to a few familiar formula aspects of the MCU, its script manages to be original for focusing more on a classic tale of kingdoms than a quippy cape adventure. There's faith in the direction to plow ahead with its drama of bloody family histories and raw emotions of clashing cultures, evading the usual stammering jokes to poke fun at the fantastical. I had my worries with the rebellious tech Shuri (Letitia Wright) and the outsider CIA ally Everett Ross (Martin Freeman), but they thankfully never grind the picture to a halt with their silly mannerisms. By that same token, T'Challa's female forces of the stoic Okoye (Danai Gurira) and the emotionally driven Nakia (Lupita Nyong'o) never mug for the camera that much. They know they're badass and don't need to add a pointless exclamation to stress this point, doing more talking with their fists than forgettable banter.
The look of Black Panther may be one of the most thoroughly realized and gorgeous looking settings of any Marvel movie. The balance of otherworldly technology and African culture creates a unique mixture of a colorful utopia. Shuri's lab of Wakandan tech is the most remarkable of locations, dressed up like a fancy loft with its winding stairs, circular platforms, and colorful walls that make the lab appear as an art installation. The various costumes of Wakanda are fantastic and believable of what an African culture would look like if they had a boom in industry; one of the representatives of the tribes brandishes lip discs and fancy suits. The customs are rich with intrigue and mysticism, as with the ceremony where the new king must be buried in sand to communicate with his ancestors. Even the technology itself has a specific purpose and function, as with the mining train system that uses an elaborate means of light to transport Vibranium at high speeds.
Of course, it wouldn't be a Marvel movie without some superhero action, and there's just enough here to please. The car chase through the streets of South Korea is exciting with Wakandans using their tech to manipulate cars and Black Panther leaping from one vehicle to another. T'Challa's suit comes equipped with armor that is not only strong enough to take a bullet but also take that kinetic energy and use it against his enemies. The battles cliffside are the most exciting of all with raw warriors in combat for the throne. And though the climax settles on a large-scale battle of pike-wielding warriors and armored rhinos, it's a final fight that feels more earned than necessary for all the drama stirred up to this point.
With a big production and a story heavy with race and politics, Black Panther is a risky gamble of a superhero picture, but the bet on black paid off greatly. Unlike Wonder Woman, which merely placed a leading female within a typical superhero popcorn blockbuster, there's a real influence, and meta-storytelling is going on, so that isn't just another Marvel movie with a refreshing African coat. It's an inspiring tale of old-fashioned kingdom drama, well-choreographed action, dazzling fantasy, and an ending that is deeply profound for the impact you'd want to see an actual hero make in the world. It's been stated that a lot of black children are going to be attending this film in droves. They'll be pleasantly surprised to see that they're not just getting an all-black comic book movie, but one of the best comic book movies of the year that will give them more than just a satisfying dose of fists and explosions.
[author title="About the Author" image="http://popstermedia.com/wp-content/uploads/2015/07/mark_mcpherson-300×221-150×150.jpg"]Movie Reviewer Mark McPherson has been all about movies since working at a video store in his youth. His talents range from video editing to animation to web development, but movies have always been his passion to write about.[/author]
"The Grinch" Steals Box Office, "Overlord" and "Spider" Left With Scraps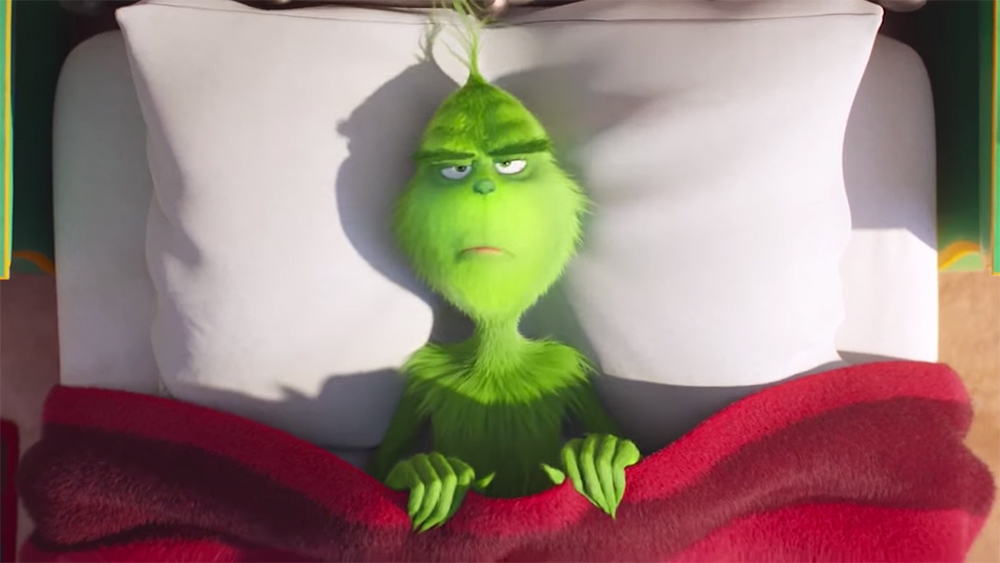 The holiday Christmas movie season starts early as it usually does in November. Just one week after The Nutcracker and the Four Realms, along comes Dr. Suess' The Grinch, the theatrical animated adaptation of the classic children's novel, helmed by Illumination Studios of Despicable Me fame. The animated comedy raked in $66 million for its first weekend, well on its way to conquering its $75 million budget as the holidays roll on. Given Illumination's track record with comedy among kids, expect the film to stick around for the next two months.
The rather high box office of Grinch stole the thunder of the other two films debuting this weekend. Overlord, a Nazi zombie action/horror romp, debuted at #3 with a domestic gross of $10.1 million, which is not exactly a strong opening for a film with a $38 million budget. But it could've been worse as The Girl in the Spider's Web: A New Dragon Tattoo Story, the action sequel to The Girl with the Dragon Tattoo, premiered at #5 with a box office take of only $8 million on a $43 million budget. Don't be surprised if you see these darker, violent films take a tumble coming into the holiday season that seeks more PG-13 genre films for the families to venture out to the theater for.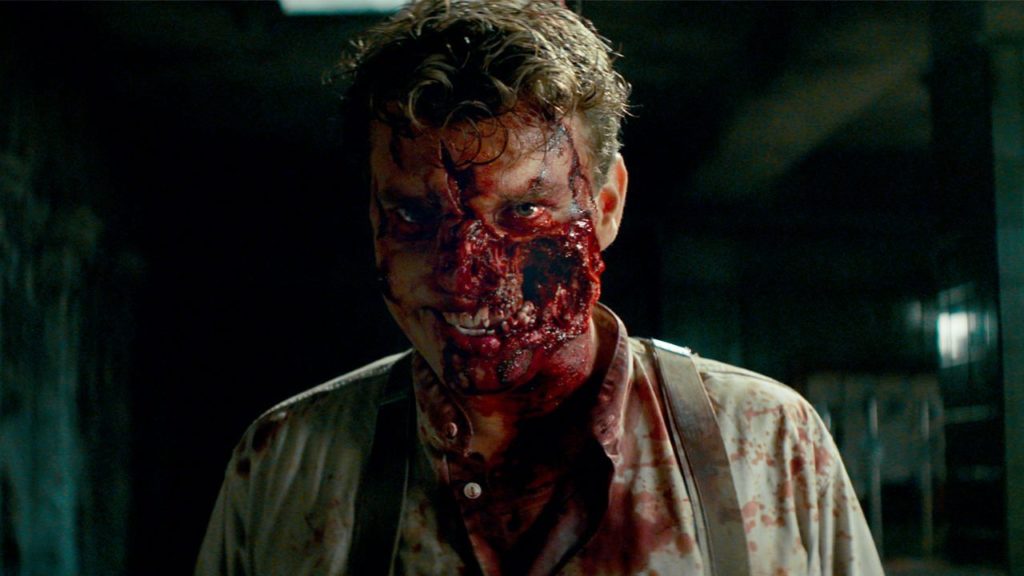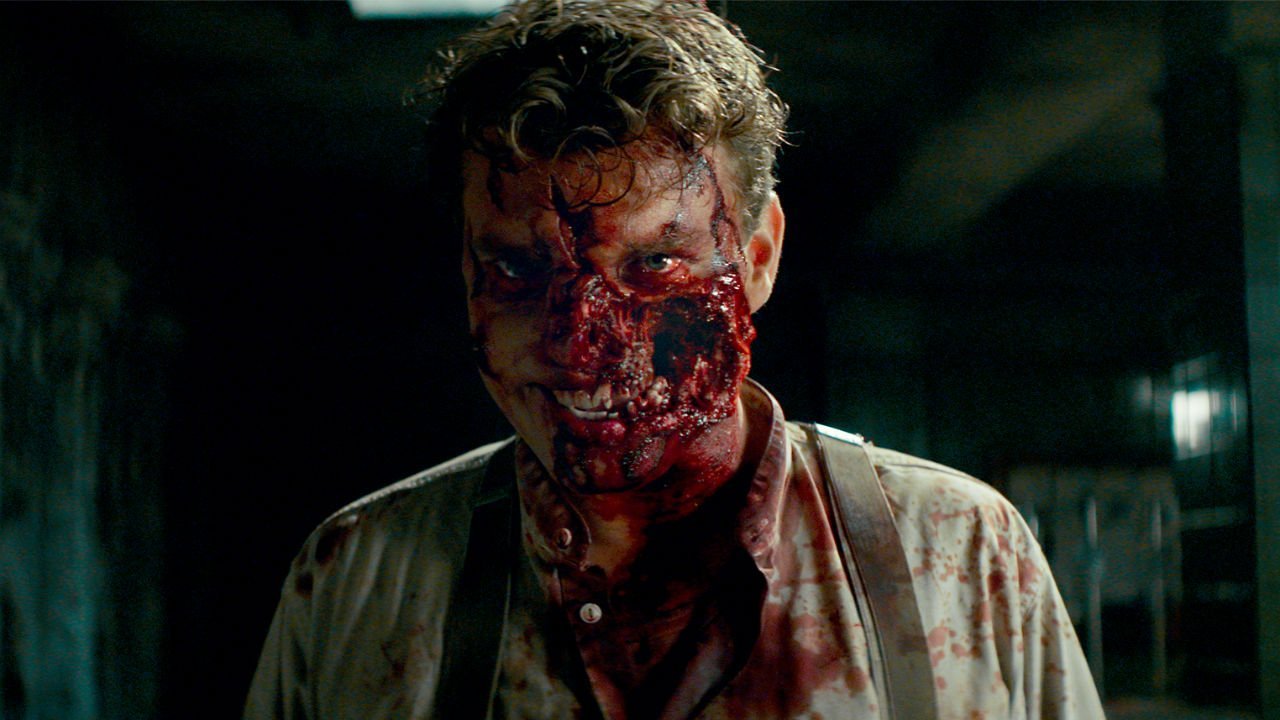 Bohemian Rhapsody, the Freddie Mercury and Queen biopic, is holding firm at #2 on its second weekend with a weekend gross of $30.8 million, bumping its domestic total up to $100 million. The Nutcracker and the Four Realms, however, isn't doing so well in its second weekend. The Disney fantasy adventure only made $9.5 million over the weekend, a 53% drop with a domestic total sitting at a meager $35 million. Not a very strong take for a Disney Christmas fantasy that cost $120 million.
It's no surprise, however, that David Gordon Green's Halloween took the biggest dip of the weekend at 64%. It's surprising the horror film is even still here at #9 in the box office, the domestic total now sitting at a very pleasing $156 million. Also holding firm once again at #10 is The Hate U Give, having made $26 million for only being in 1,100 theaters.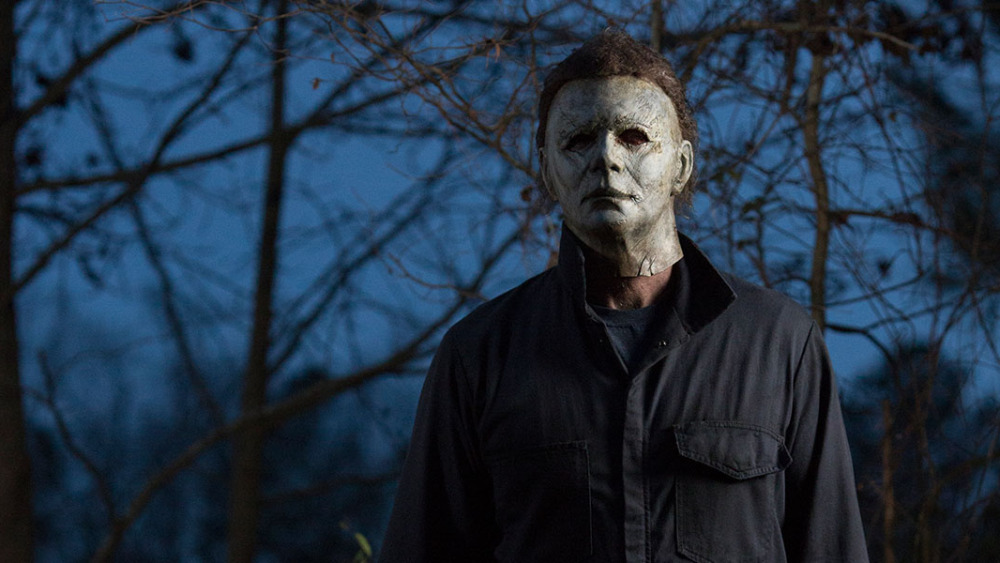 View the full top 10 box office weekend results below.
Dr. Seuss' The Grinch ($66,000,000)
Bohemian Rhapsody ($30,850,000)
Overlord ($10,100,000)
The Nutcracker and the Four Realms ($9,565,000)
The Girl in the Spider's Web: A New Dragon Tattoo Story ($8,015,000)
A Star is Born ($8,010,000)
Nobody's Fool ($6,540,000)
Venom ($4,850,000)
Halloween ($3,840,000)
The Hate U Give ($2,070,000)
Next weekend will feature magical beasts versus dysfunctional families versus women robbers. Fantastic Beasts: The Crimes of Grindelwald, the second film in the new Harry Potter spin-off series, will debut in 4,000 theaters. Instant Family, a family comedy starring Rose Byrne and Mark Wahlberg, will hit 3,000 theaters. Also debuting in 3,000 theaters will be Widows, the all-star heist picture directed by Steve McQueen and starring Viola Davis.
Review: "Overlord" is a Gritty, Gory Genre Mash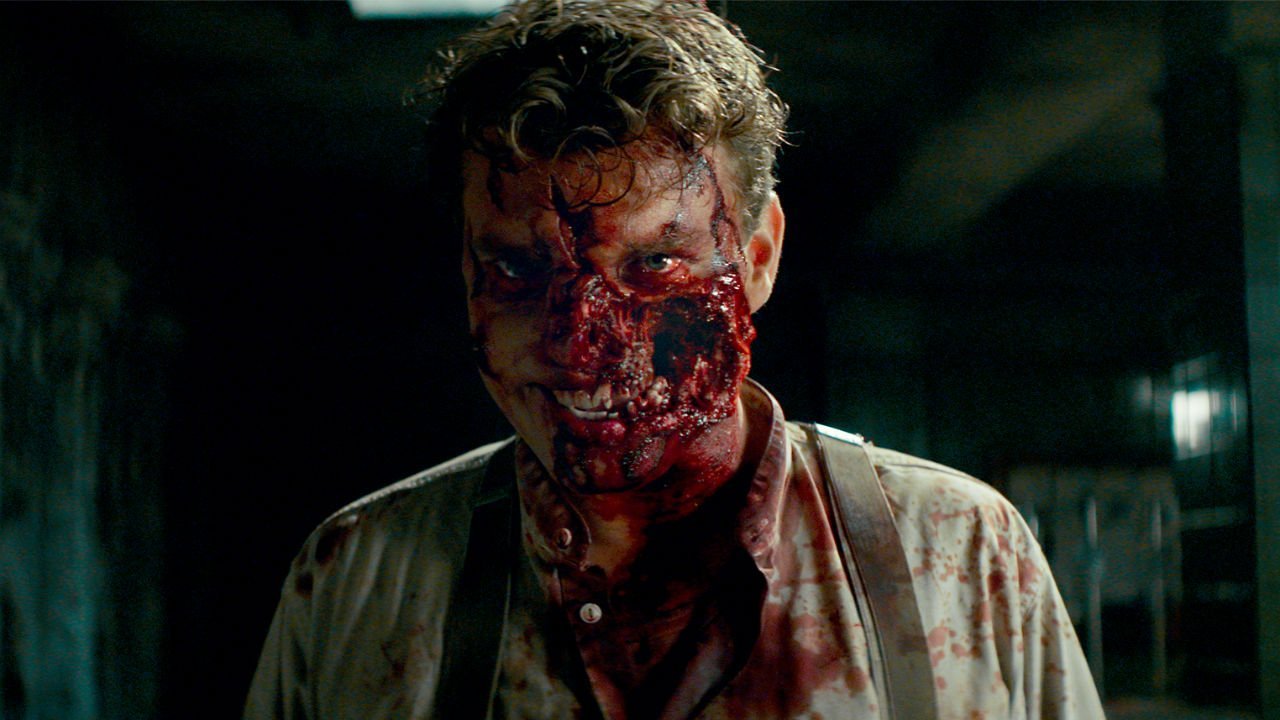 Overlord is one of those delicious genre blenders that delivers World War II action and viciously gruesome body horror into a beautifully bloody cocktail of entertainment. In the same way that From Dusk Till Dawn convinced you into watching one type of film before switching gears, so too does this war film that soon mutates into an equally as frightening tale of science experiments gone wrong. And although the subgenre of Nazi zombies is a fairly small one, this is by far one of the most fun.
Starting loud and explosive, making great use of IMAX, we're quickly thrown into the action with an interesting ensemble of soldiers tasked with taking down a Nazi control tower in French territory. Private Boyce (Jovan Adepo) is fearful of combat and reasonably so when everyone is shooting at you when making a rocky landing and losing more than half his comrades. His methods of choosing the least lethal options clashes greatly with the ruthless Captain Ford, played by a stellar Wyatt Russell, son of Kurt Russell who has that same great level of grit in his performance. Meeting up with a handful of other soldiers, they secretly make their plans in a Nazi-occupied French village to assault the tower where the Nazis have established a base.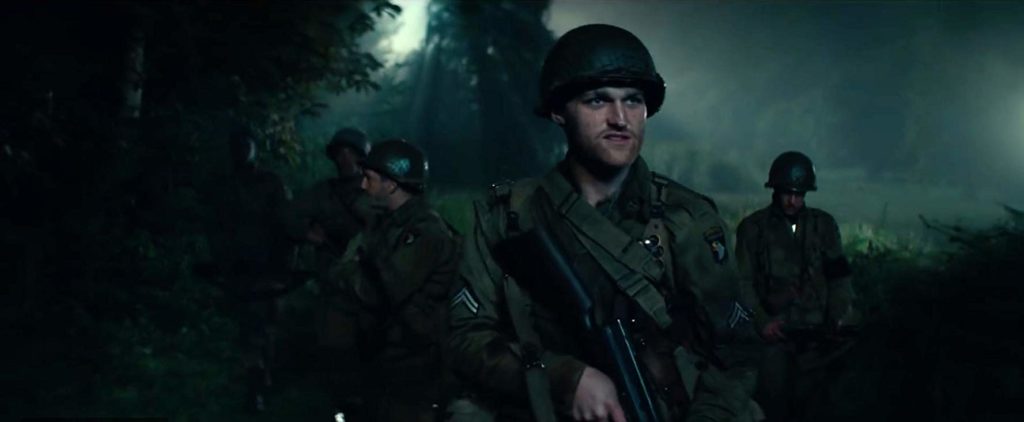 Though Boyce is prepared to take down the target, he's not prepared for what he discovers underneath the base. The Nazis have a classic mad doctor hard at work on breeding the ultimate race of super soldiers. These monsters are not ready yet and Boyce, unfortunately, happens upon the stepping stones of mangled corpses, howling undead, and decapitated heads begging for death. Of course, this is all helmed by a nervous mad scientist, Dr. Schmidt (Erich Redman), and a sneeringly sinister overseeing Nazi Officer Wafner (Pilou Asbæk).
While the Nazi experiments are in desperate need of improvement, Overlord shoots straight for the guts with gusto when it comes to the action and terror. The US soldiers are portrayed as a lot of colorful characters, including the nasally joking Tibbet (John Magaro) that provides vital comic support. The Nazis are seen as unhinged evil, never wasting an opportunity to shoot a civilian in the streets or rape a woman when she is cornered. And the monsters all feel like brilliant works of terrifying body horror, where necks snap open and chunks of flesh fall off the face. Consider how when the French civilian of Chloe (Mathilde Ollivier) gets in on the action; she quickly goes from fearful sister looking after her ailing aunt to a flamethrower-touting badass.
But what's most remarkable about all this is how it never feels the need to blatantly wink with its theatrics, shying away from trying too hard to seem badass. This movie is badass and it knows enough not to amp up the humor when setting undead zombies aflame or watching someone's body contort in unnatural ways. The tongue is buried firmly in cheek, chewing on its meaty set pieces of blood and explosions to stand firm without a knowing nod to the audience. Such earnest seems almost rare in films that want to replicate that grindhouse flavor of filmmaking.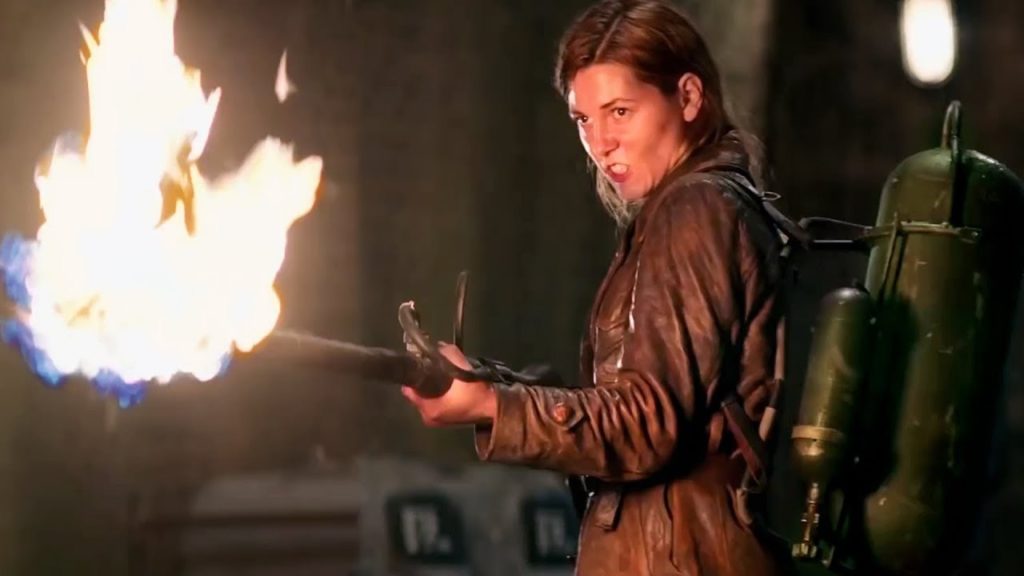 Overlord more than earns its brutal showdown of fierce fights and abundance of firey blasts, putting in all the grunt work of a capable war and horror film. With the relatively fresh direction of Julius Avery, it's a film that is smart enough to have faith in its grit of the disturbing elements from both genres that it never feels the need to spice it up too high with self-consciousness. And in its own weird way, it's serious and subtle enough that we can buy into the fantasy of a Nazi zombie story told straight with character and cunning. After all, we've already had the over-the-top angle with Dead Snow. The time has finally come for this subgenre to be taken seriously. Or about as seriously as it can be taken.
Big "Bohemian Rhapsody" Opening While "Nutcracker" Trails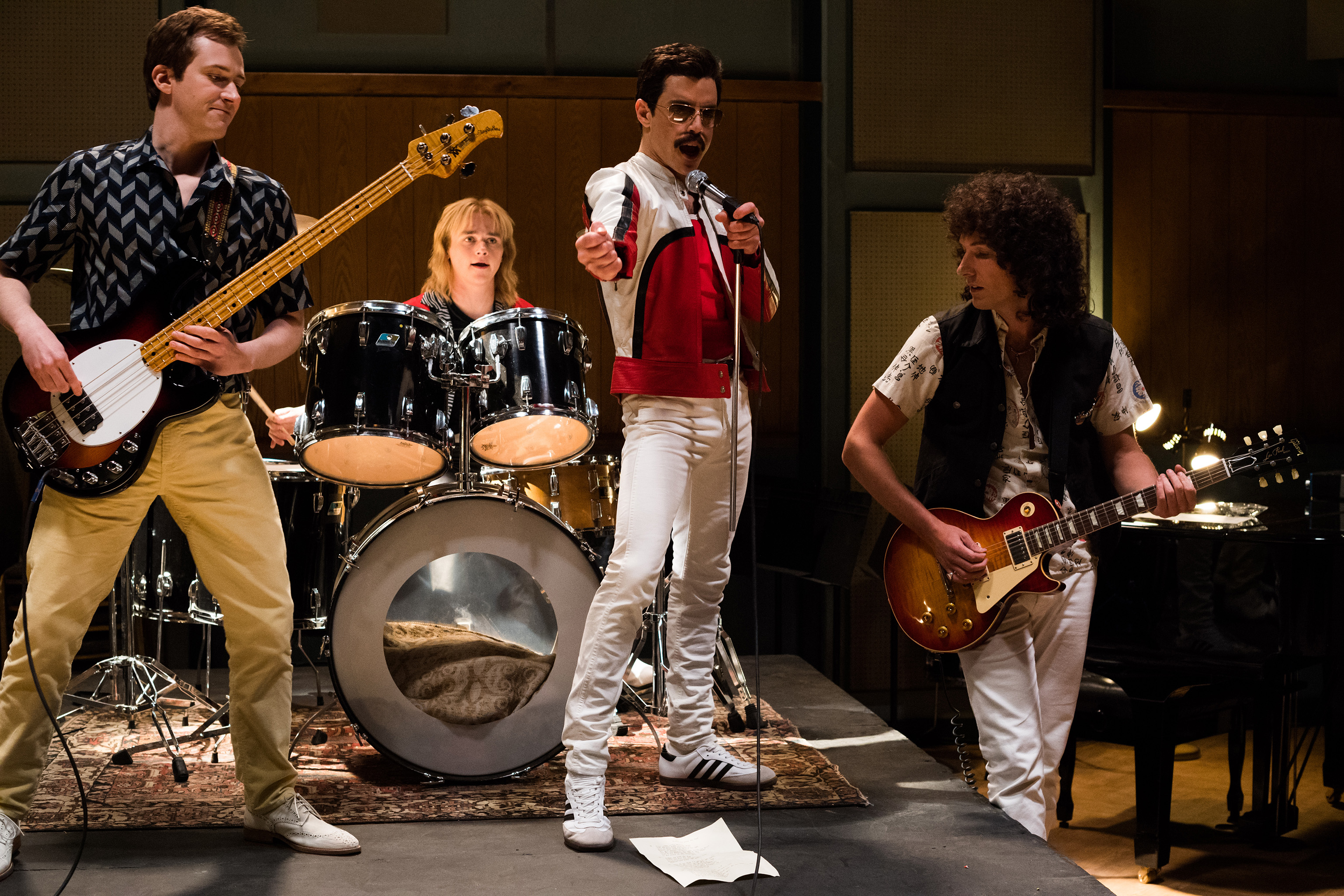 In weekend box office battle, it's Queen who is king. Bohemian Rhapsody, the Freddy Mercury and Queen biopic, came in at #1 making $50 million domestic. With a $52 million budget, this is a very successful opening for the film, despite the mixed critic reaction. Falling just behind it with less than half the take is The Nutcracker and the Four Realms, Disney's latest fantasy adventure debuting early for the Christmas season. The film did poorly with critics and even poorer at the box office, bringing in only $20 million which is not a good debut at all for such an expensive epic. Also just behind is Tyler Perry's new romantic comedy, Nobody's Fool, taking in $14 million, strangely low for a Tyler Perry movie, especially when you consider that higher budget of $19 million.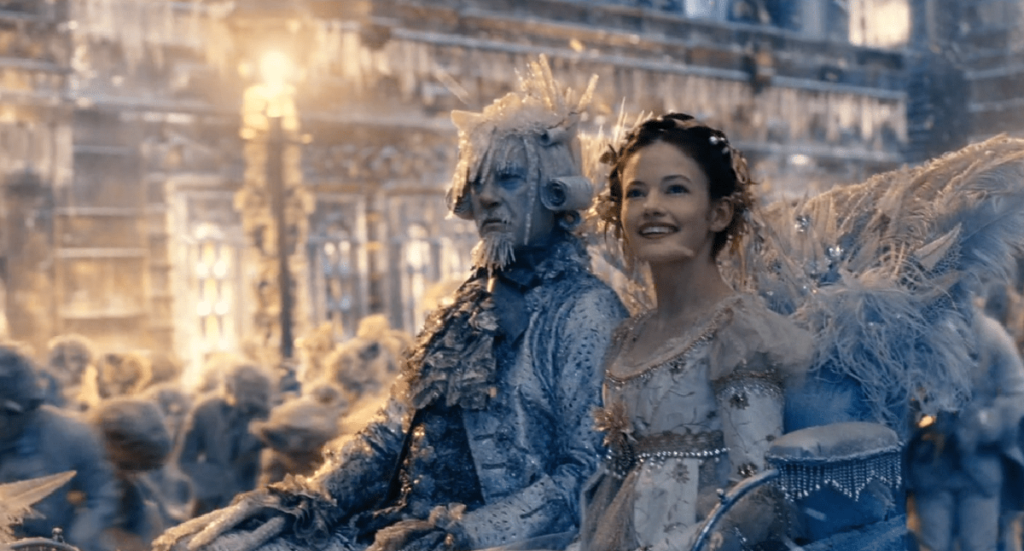 Since Halloween is over, it's natural to see that David Gordon Green's Halloween would dip in the box office and it certainly fell the lowest this week with a 64% drop. Falling sharply from #1 to #5, the film made $11 million for the weekend but it's not a huge concern given the film has already made $150 million on a budget of $10 million. Almost tying with the picture is A Star Is Born, the Bradley Cooper/Lady Gaga musical drama that has proven to be a box office darling, earning $11.1 million over the weekend with a $165 million domestic gross. And still sticking like goo to the box office is Venom, Sony's solo villain picture starring Tom Hardy, making another $7.8 million for a domestic total nearly at $200 million.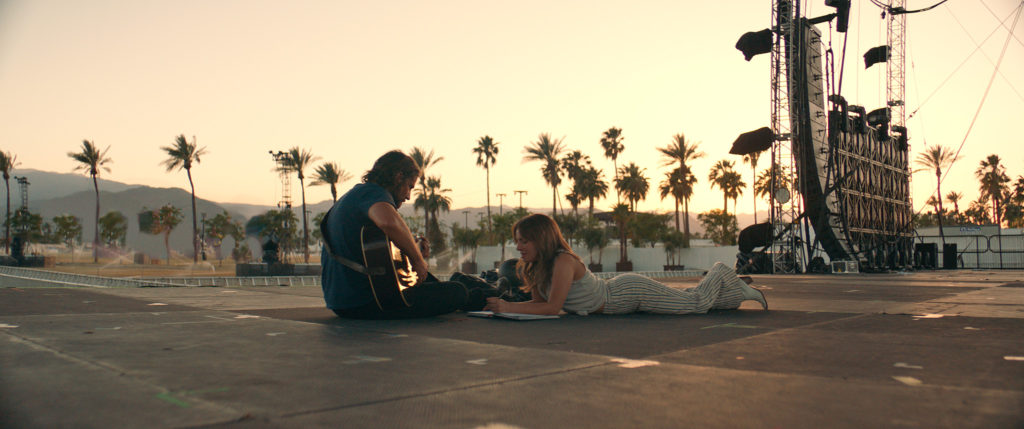 Aside from A Star is Born being the smallest drop of the weekend, it also tied for the lowest drop with Smallfoot, Warner Bros animated comedy that is proving to have modest legs to stick around. The animated film with the voices of Channing Tatum and James Cordon made $3.8 million for a $77 million domestic gross. And The Hate U Give, the racial drama, is still hanging in there at #10 with a domestic total now sitting at $23 million, rather strong for a drama that slowly rose up over the course of October.
Bohemian Rhapsody ($50,000,000)
The Nutcracker and the Four Realms ($20,000,000)
Nobody's Fool ($14,000,000)
A Star is Born ($11,100,000)
Halloween ($11,015,000)
Venom ($7,850,000)
Smallfoot ($3,805,000)
Goosebumps 2: Haunted Halloween ($3,700,000)
Hunter Killer ($3,525,000)
The Hate U Give ($3,400,000)
We hope you're ready for Christmas because those movies are going to start early. Next weekend will see the 4,000 theater debut of The Grinch, the latest animated comedy from Illumination Studios based on the classic Dr. Seuss book. But it'll have some adult competition with The Girl in the Spider's Web: A New Dragon Tattoo Story opening in 3,000 theaters (the sequel to 2011's The Girl with the Dragon Tattoo), and Overlord, a Nazi zombie action picture, opening in 2,500 theaters.