Review: "Annihilation" is Trippy Transcendence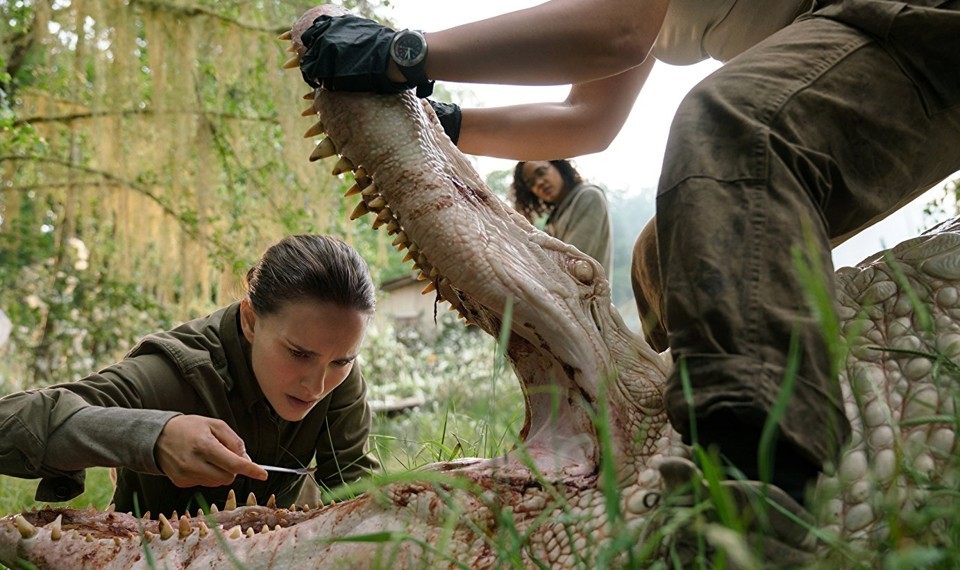 Alex Garland proved he knows how to conceive smart, gorgeous, and intense science fiction with Ex Machina, but with Annihilation, he demonstrates that he isn't just a flash-in-the-plan director. His follow-up film contains another heaping dose of profound characters, intelligent dialogue, and enough gorgeous and psychedelic sci-fi imagery to make the eyes refuse to blink. Even though Garland's film is based on the novel by Jeff VanderMeer, he approaches the material as though he read a mountain of European sci-fi comics, binge-watched Fantastic Planet, or went on the best acid trip of his life. The results are nothing short of transcendent.
Earth has been hit with a strange meteor that collides with a lighthouse in Florida. From its arrival, an expanding barrier referred to as The Shimmer starts to claim the area around the state. Many teams enter to find out what is causing this phenomenon, but nobody comes back. Enlisted for the latest expedition inside is Lena (Natalie Portman), a biologist and former soldier. When her soldier husband Kane (Oscar Isaac) is the only survivor of the last mission and not in the best of conditions, she decides to venture inside to find a reason for the alien season. She's accompanied by the all-female team of the shrill psychologist Dr. Ventress (Jennifer Jason Leigh), the kick-butt soldier Anya (Gina Rodriguez), the glasses-wearing tech Josie (Tessa Thompson), and the stoic volunteer Cass (Tuva Novotny).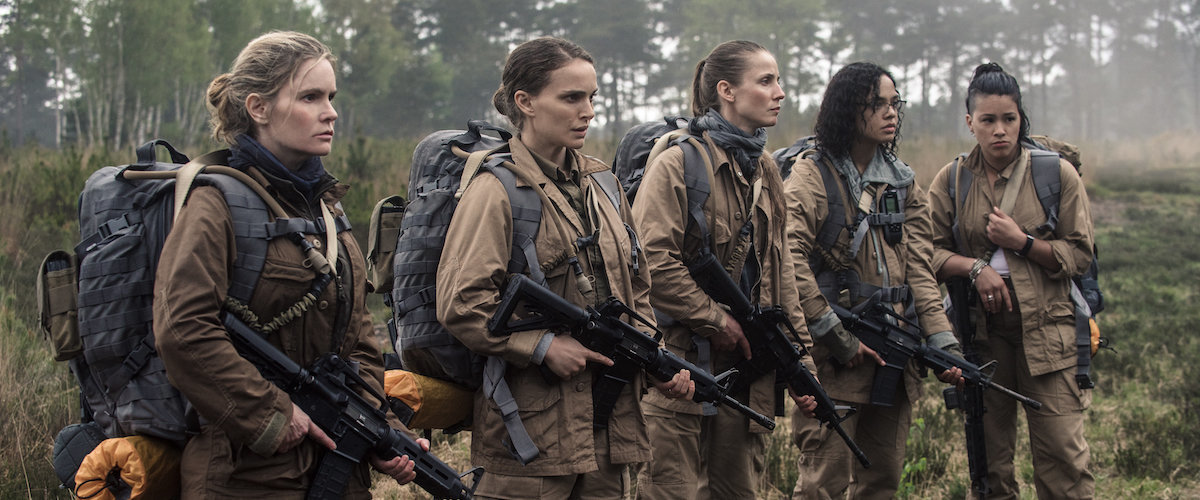 Naturally, weird stuff starts happening to the group once they enter The Shimmer. They start losing track of their memories, forgetting when they first set up camp for the night. They uncover exotic foliage and plant life, otherworldly in how it grows and contorts the environment. And, of course, some nasty mutations go on the offensive, including alligators and bears that don't quite seem to act like alligators or bears. One by one, the crew is picked off the further they trek through the oddly infested lands to reach the lighthouse and uncover the mystery.
Garland is so confident with this story that he not only shoots it non-linear but even begins the movie with the ending, stating outright who died on the mission before we even see it. The visuals slowly ease the viewer into its worlds, both the internal conflict of Lena's strained relationships and the weirdness of the Shimmer land. This is no mere monster island of creepy critters that want to repopulate their species or dominate human life. Without giving too much away, the entity causing the Shimmer has more in common with light refraction than little men from Mars that want to kill us.
But how could I possibly spoil the film's unbelievable and mostly dialogue-free third act that is pure cinema ambrosia? What the entity turns out to be and the real intentions are revealed in a vivid experience of the most surreal, beautiful, and frightening of a dreamlike sequence. To even describe beat for beat what goes down won't even come close to spoiling the visual splendor and chilling discovery of trying to figure out this puzzling picture. Any assumptions one might have had about where this story goes will melt away at this point in the film. I spoke with another critic on this ending who responded that he turned to his wife and stated that he hadn't been this high since 2001: A Space Odyssey. And it's an apt comparison for a finale that invites the audience to come closer with its weirdly intoxicating examinations of mysterious forces and our place in the world.
Annihilation encompasses so much of what makes science fiction creepy, emotional, and mind-bending. There's been talk that Paramount had wanted to rework the film, fearing that it would be too intellectual and complicated for wider audiences. Perhaps it is, but it's a film worth taking a chance on for Garland's astounding vision that was not tampered with on the final cut. It is a shame that other countries will only be seeing this film on streaming services as opposed to the theater. A movie this grand and beautiful deserves to be seen on the big screen as Garland intended. Going back to the comparison to 2001: A Space Odyssey, I heard tell that Stanley Kubrick's classic would garner repeat viewings from audiences that would get high around the theater during intermission and come back inside to lay on the floor during the film's mesmerizing second act. Is Annihilation that good? Let's just say I wouldn't venture into the alley behind the theater, but that I'd be finding a seat closer to the screen.
[author title="About the Author" image="http://popstermedia.com/wp-content/uploads/2015/07/mark_mcpherson-300×221-150×150.jpg"]Movie Reviewer Mark McPherson has been all about movies since working at a video store in his youth. His talents range from video editing to animation to web development, but movies have always been his passion to write about.[/author]
Deadpool Dethrones Avengers With Triple-Digit Debut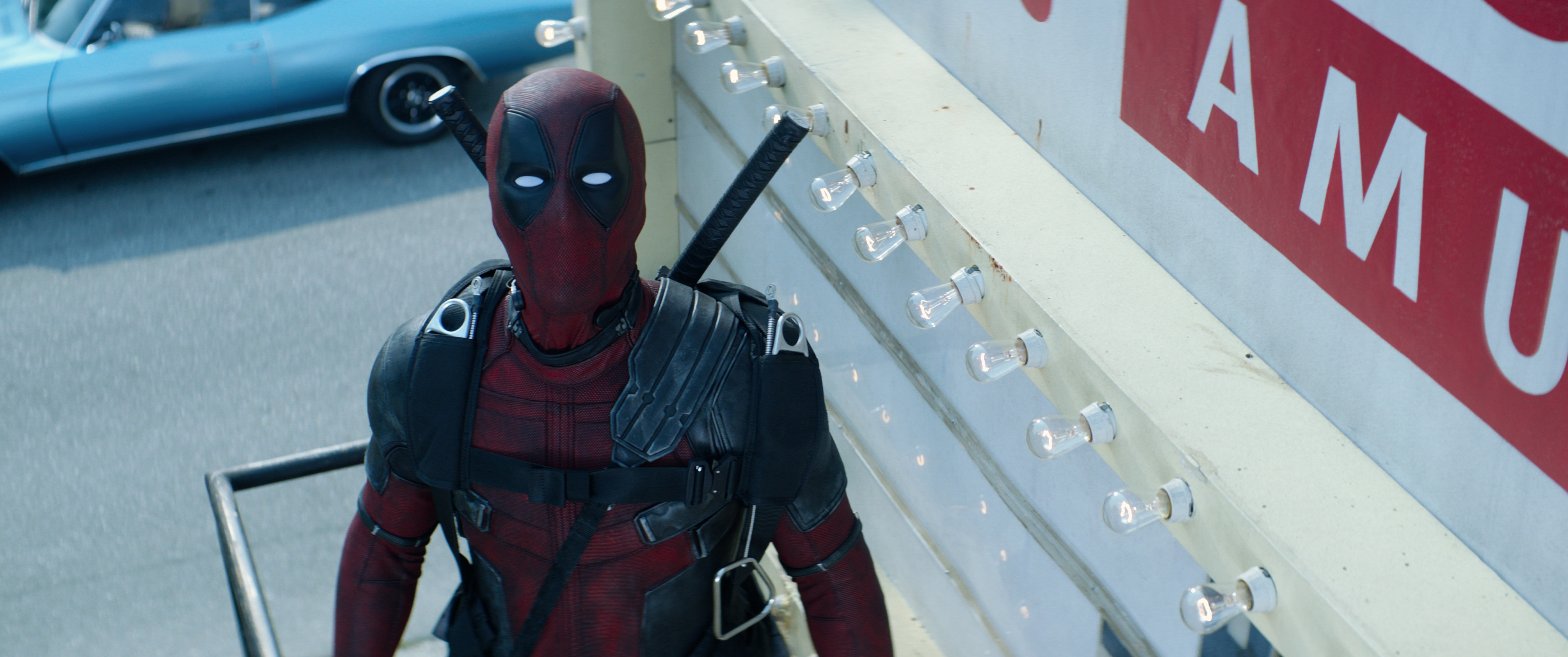 The first film to knock down Marvel Studio's towering juggernaut of Avengers: Infinity War from the #1 slot has arrived. It's no surprise that it would indeed be another superhero movie, but it is surprising by how much it overtook. Deadpool 2, Fox's Marvel property of a fourth-wall breaking anti-hero that satirizes comic book movies, premiered to a huge first weekend of $125 million domestic. Despite being just a few million dollars short of its previous film, it's still an impressive achievement for an R-rated Marvel movie that keeps the momentum going both in comedy and box office. Even more impressive is it's worldwide gross that is currently sitting at a beefy $301 million. Expect it to stick around for such a successful first weekend.
With such a high take from Deadpool, Avengers: Infinity War naturally took a big hit. Dropping by 53%, the blockbuster made only $28.6 million in fourth weekend. It's still standing tall with a domestic total of $595 million, but it's doubtful at this point that it'll reach the same heights as Marvel's earlier 2018 blockbuster of Black Panther. Other debuts this week were not so lucky with such limited takes. The all-female comedy Book Club premiered at #3 for the weekend with a $12.5 million domestic gross. The family comedy Show Dogs placed at #6 with $6 million in its domestic take.
Returning films are weathering the Marvel storm decently with expected drops. A Quiet Place is still hanging in there with the lowest drop of the weekend, bringing in another $4 million to boost its domestic total up to $176 million, still an amazing gross for the $17 million horror movie that could. The giant monster movie Rampage is clinging to the top 10 in its #9 slot, but it's not looking good for such expensive blockbuster still so far away from meeting its budget. And RBG, the documentary on Ruth Bader Ginsberg, remains in the #10 spot from last weekend with its domestic total now up to $3.8 million.
View the full top 10 for the weekend below.
Deadpool 2 ($125,000,000)
Avengers: Infinity War ($28,672,000)
Book Club ($12,500,000)
Life of the Party ($7,725,000)
Breaking In ($6,470,000)
Show Dogs ($6,034,770)
Overboard ($4,725,000)
A Quiet Place ($4,040,000)
Rampage ($1,500,000)
RBG ($1,280,000)
Next weekend will pit Deadpool against another anti-hero in Disney's Solo: A Star Wars Story, the Star Wars side story on Han Solo. It will indeed be interesting to see how a Star Wars movie plays in the summer as the previous three Disney Star Wars productions have all been massive blockbusters in December. For debuting in 4,200 theaters, the pressure is on to see Star Wars topple Marvel.
Another Astounding Weekend at the Box Office for Avengers: Infinity War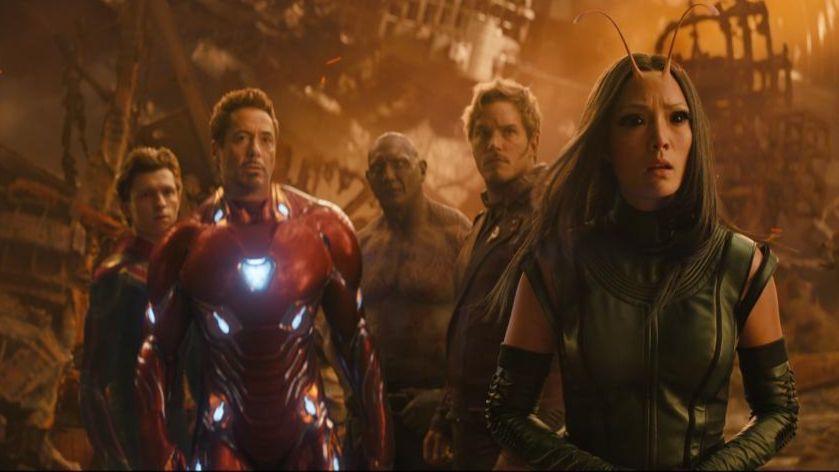 Box Office Weekend 5/4/18-5/6/18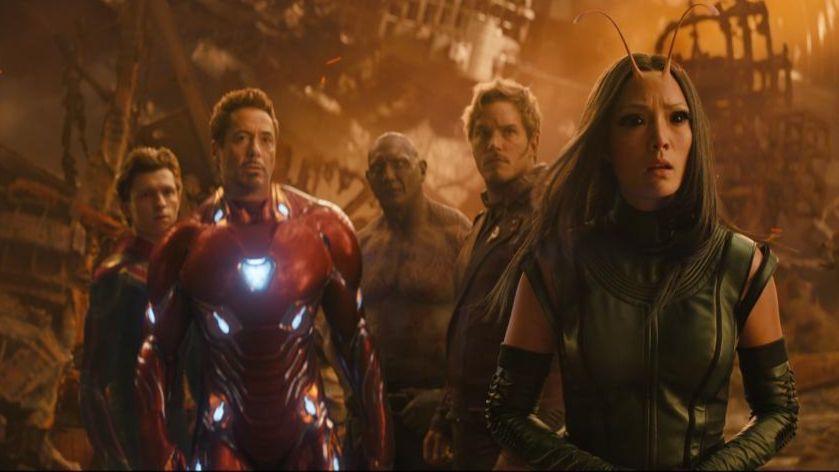 Not the least bit surprising, Marvel's Avengers: Infinity War has dominated the weekend box office with another massive gross. In its second weekend, the grandest superhero ensemble to date brought in $112.4 million. This brings its domestic total up to $450 million, and its worldwide take well over $1 billion. Time will tell if it has the legs, however, to hold its own against Marvel's other superhero epic this year, Black Panther. Considering Black Panther is still in the top 10, and has almost passed $700 million domestic, it'll be a close race between the two Marvel movies.
Of course, the success of the Avengers is due in no small part to this being a rather sparse weekend of premieres appearing in fewer theaters. Braving the Marvel storm to come in at #2 was the romantic comedy remake, Overboard, starring Eugenio Derbez and Anna Faris, making $14.7 million domestic. And if that's the gross of the #2 spot, you can imagine how lower the other films are. Tully, a new comedy Jason Reitman and starring Charlize Theron, came in at #6 with a domestic gross of $3.1 million. Further down at #10 is the new David Tennant starring thriller, Bad Samaritan, making $1.7 million for the weekend.
There were expected dips all around with no huge surprises, but many of the successful films that have hung around are growing a considerable gross. John Krasinski's A Quiet Place had the lowest drop and is currently sitting at a robust $159 million domestic total. Ryan Coogler's Black Panther has already blazed many records, but it's only $7 million away from clearing $700 million domestic.
See the full top 10 box office results below.
Avengers: Infinity War ($112,474,000)
Overboard ($14,750,000)
A Quiet Place ($7,600,000)
I Feel Pretty ($4,900,000)
Rampage ($4,620,000)
Tully ($3,186,000)
Black Panther ($3,146,000)
Truth or Dare ($1,885,000)
Super Troopers 2 ($1,815,000)
Bad Samaritan ($1,758,000)
Next weekend, Avengers will be battling against the Melissa McCarthy starring comedy Life of the Party and the Gabrielle Union starring thriller Breaking In. Considering that Life of the Party will have the most significant theater count, McCarthy has the only real shot at being the first film to knock the superhero giant down from the top 10, though it's doubtful of the Avengers hype will have died down by then.
Life of the Party and Breaking In Dominated by Avengers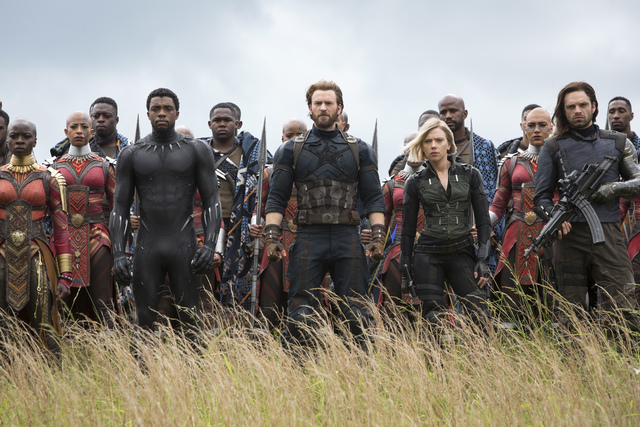 Box Office Report 5/11/18 – 5/13/18
In its third weekend, Avengers: Infinity War is still going strong with a beefy #1 spot that has yet to be bested. Marvel Studio's latest superhero epic amassed $61.8 million for the weekend, soaring its total domestic gross up to $547 million. The film has managed to make more than Marvel's other 2018 hit, Black Panther, in the same amount of time, but whether it'll reach the same domestic gross remains to be seen. With the oncoming superhero film next week and a Star Wars film following, it'll have some fierce competition.
The two newest films this week slid comfortably into the slots just below. Life of the Party, the new back-to-school comedy with Melissa McCarthy, predictably hit the #2 spot for being a female-centric comedy released on Mother's Day weekend. While it didn't exactly take the cake, the film did make $18.5 million to earn its spot during another Marvel cinematic snowstorm of a weekend. Just below it was the new thriller Breaking In, grossing $16.5 million, which is not too shabby for a film debuting in only 2500 theaters.
There were surprisingly low dips all around in the top 10. The smallest drop was for A Quiet Place, still hanging in there as the surprise horror hit, earning $6.4 million to boost its domestic total to $169.5 million. It's not too surprising that the most significant drop was for Black Panther, grossing only $1.9 million. It's a predictable drop considering the movie has been out for thirteen weeks, is already available to buy digitally, and will be out on DVD and Blu-ray by this Tuesday. It's still a considerable feat for a film that has domestically grossed $696 million so far.
One film worth mentioning that snuck into the top 10 is RGB, the documentary on Ruth Bader Ginsburg, expanding for the weekend into 180 theaters. That's very impressive for such a small film to conquer the #10 spot on Mother's Day weekend with a $1.1 million gross.
View the full top 10 list below.
Avengers: Infinity War ($61,817,000)
Life of the Party ($18,500,000)
Breaking In ($16,500,000)
Overboard ($10,100,000)
A Quiet Place ($6,400,000)
I Feel Pretty ($3,710,000)
Rampage ($3,380,000)
Tully ($2,240,000)
Black Panther ($1,932,000)
RGB ($1,165,000)
Next weekend, Infinity War will be going up against a real contender with Deadpool 2, the sequel to the Ryan Reynolds starring superhero comedy that broke records in 2016. Also vying for the box office will be the dog comedy, Show Dogs, and the aged female-oriented comedy, Book Club.