Review: "The 15:17 to Paris" Stops More Often Then Starts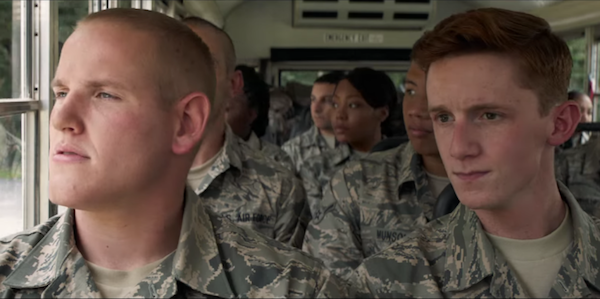 The story of three Americans who stopped a terrorist on a train in 2015 is a heroic one. But is it noble enough to be worthy of a film? While director Clint Eastwood indeed finds enough character in the three heroes and plenty of high drama in the violent encounter they faced, there's undeniable padding to fluff this story up to hit that 90-minute running time.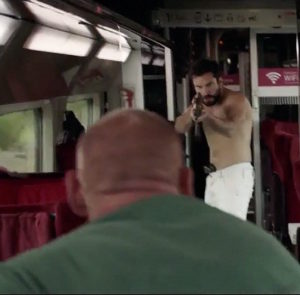 EastwoodBefore we get to the shooting on the 15:17, teased throughout the picture, we get to know our three brave men. Alek Skarlatos of the Oregon National Guard is a big guy that strove through many hardships of weight and time management to become a soldier. Spencer Stone of the US Air Force served his country in Afghanistan. Anthony Sadler is a college student that has been best friends with the other two since Catholic school. Oh, also on the train was British businessman Chris Norman who helped on the train as well, but we don't learn his story. Not in Eastwood's patriotism guzzling version of the story.
has created a nearly ironclad defense for the actors playing the three Americans since they're all played by themselves. You can't call them bad actors because they're not actors. You can't say they're wrong for the roles because they're playing themselves. That being said, Eastwood still could have used Skarlatos, Stone, and Sadler in a more professional manner where they're not awkwardly stumbling through most scenes.
Where the three work best is when they are in their element. When Skarlatos attends military training, he takes it seriously, and with a real determination and knowingness, you can see in his eyes. But when he's just hanging out with his friends to have a beer and have a laugh, the off-acting becomes far more noticeable when they need to dominate the screen. This leads to many situations that I'm sure were hilarious between the trio, but don't translate very well to the screen. I would have overlooked these issues if only the film didn't have us spend so much time with these characters goofing off and having fun. It also doesn't help when you have the stronger comedic talents of Thomas Lennon, Tony Hale, and Jaleel White in supporting roles to act as comparisons.
The story becomes far too analytical with detailing these three lives. The movie begins with them in the Catholic school where they all first meet. Their school days are nothing groundbreaking; just a regular suburban life, even when one of them moves away. They grow up to attend college where Skarlatos sets his sights on the military, inspired by a serviceman that ambles into a Jamba Juice. He goes through heavy weight training to become worthy of the service, but we don't see much of it past a quickly-edited montage with motivating narration and music, perfectly assembled for a Nike commercial. Spencer Stone was in the field in Afghanistan, but his scenes of working with his unit during operations are so dull that even Stone himself admits to the monotony of it all.
Oh, but you don't know monotony until you've seen the film slam on the brakes for the extended showcase of the boys on their European vacation. Watching this section of the film has all the allure of watching your not-so-interesting friend put on a slideshow of their trip. We see everything these three do to an absurd degree. We watch them check in to their hotel, go sightseeing, take selfies, go on boat rides, take more selfies, eat gelato, go to a museum, more selfies, and go to a nightclub where they drink too much. Nothing all that funny or exciting happens during these scenes unless Eastwood is trying too hard to weave the ennui of these heroes into the narrative. But, to be fair to the actors, they did seem natural; I believed their subtle level of interest in the pivotal scene where they enter a gelato shop, buy some gelato, and then leave without saying too much.
Thankfully, after a crawl through the desert of unnecessary vacation footage, the film finally picks up steam when we arrive at the moment on the train everyone has been waiting for. Eastwood's direction is at its best in these moments that treats the attack with real energy and grit, but low on theatrics. The music is kept to a minimum, and the camera is held close. Eastwood's almost clinical approach to the events work, keeping perspective on the situation rather than draw out more drama. On its own, this is a profound short film that does well with both paying tributes to the heroes and letting them naturally shine on the screen.
As surprising as it is to watch Eastwood take a Richard Linklater approach to examining the lives of American heroes, there's an underwhelming lack of flow, coherence, and complexity to this story. Just look at his previous film, Sully, which let us understand the mindset of Chesley Sullenberger and the specifics of what went down on that flight. Not much is divulged about the situation on the train, including the attacker which is portrayed as a faceless bad guy. Not much is worth knowing about Skarlatos, Stone, and Sadler, all of which seemed to be relatively easy-going young men.
But I'm sure the relatively inert scenes of the three guys, in addition to them being in the right place at the right time, will inspire any American to know that they can be a hero as well. And while I do like these three men and find their heroism commendable, their film treatment comes off with a certain hollowness of giving a passing a grade to the high school quarterback failing English. The real story of Skarlatos, Stone, and Sadler is a great example of American heroism; their movie counterpart is just not as inspiring or entertaining.
Review: Pleasing Heists and Nagging Winks in "Solo: A Star Wars Story"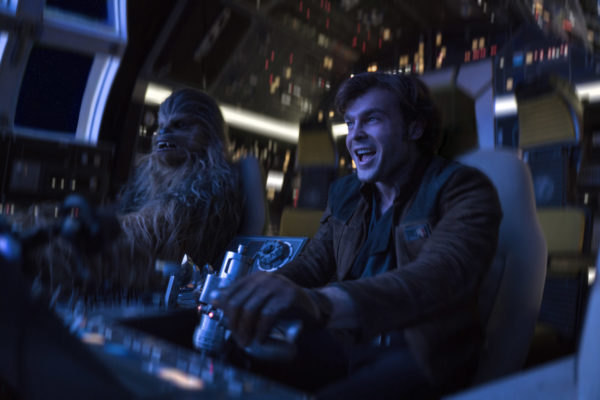 Solo is a prequel that teeters between pointless backstory and rousing world exploration. By its very conception, it is an unneeded movie, tracing origins I didn't need to see of Han Solo acquiring his blaster, ship, and Wookie. But when the story can pull itself away from its tiring foreshadowing of the Star Wars trilogy, the film nears its more engaging aspect of the swashbuckling nature a Han Solo movie should be.
Alden Ehrenreich plays the young Han Solo with a certain swagger that doesn't seem quite there yet. In many ways, this works for the benefit of an origin story by not starting off the outlaw as such. His story begins as that of a slave who escapes a nasty overlord, smuggling his way off a manufacturing planet with his thieving and piloting skills. But he needs to go back for his love Qi'ra (Emilia Clarke), giving him more of a purpose besides scoring the biggest take. This aspect sends Han down many paths, from working for the Empire in the battlefields, to snatching loot from gravity-shifting train cars, to staging a rebellion on a mining planet.
As with any prequel, there's a problem with care for the characters when we know more or less what will happen to them. We know the dashing romance between Han and Q'ira won't go anywhere and that Han's new acquaintance of the gambler Lando (Donald Glover) will make it out of this film alive. Han's questionable ally of Becket (Woody Harrelson) and his bitter crime boss Vos (Paul Bettany) probably don't have a chance of surviving this ordeal. While I'd like to set the original Star Wars trilogy aside to enjoy Han's heist film, I can't help bringing it up when there are so many knowing nudges and winks to forming the character. As if we really needed to see where Han first picked up his iconic blastr or hear a variation on the line "I've got a bad feeling about this."
When the film does decide to put down the callbacks, however, it does start to become the fast and adventurous caper that can exist on its own. There's real zip to scenes of high-speed chases through snowy mountains and dangerous maelstroms. There's a multitude of romances and twists that always keeps the blood pumping, even if it feels more like gas churning through an engine, seeming more exciting by design than delivery. And per the Star Wars design is lots of color in the settings with creative alien designs. It just wouldn't be a gangster bar in the Star Wars universe if there wasn't a singer in strange attire singing next to a crooning blob in a jar.
The cast is sufficient enough, particularly Donald Glover embodying a smirking scoundrel and Paul Bettany as a sinister force, even if his facial makeup makes him look as though a cat scratched him. Alden Ehrenreich does a decent job at trying to match the cocky nature and boastful posture of a Han Solo in the making, but there's not much time for him to fit into the role. The film is in such a rush to zoom towards a robot rebellion or a fighting an octopus near a black hole that the charisma never simmers enough to the point where Ehrenreich makes the character his own. The most unique character, despite being overtly bold in its message, is the droid of L3-37 (Phoebe Waller-Bridge), a supposed female droid that is more infatuated with droid rights than piloting for Lando. She has a romantic attraction to Lando which opens up a whole new can of worms for the Star Wars universe.
Much like the Millenium Falcon, which appears in the film as a less dirty spaceship before Han got his hands on the controls, this is a film that stops and starts, making me want to kick the projector every few minutes. When slowing down for its underwhelming conversations of how Han met Chewy, the film stalls in easy and unnecessary nostalgia. Just before it grows tedious with references, the action kicks back in and there's a glee to Han's adventure of thieving, blasting, and deceiving. And I really wished the film kept up its own pep of being its own thing so the fate of Solo doesn't loom over the picture with a depressing realization that it's not going to end well for him. It's such a rusty movie that struggles to be fun and daring you can almost hear director Ron Howard muttering that old Han Solo line "Here me baby, hold together." Solo does hold together, but crashes towards the finish line in such a broken and battered state you wonder how it even took off.
Deadpool Dethrones Avengers With Triple-Digit Debut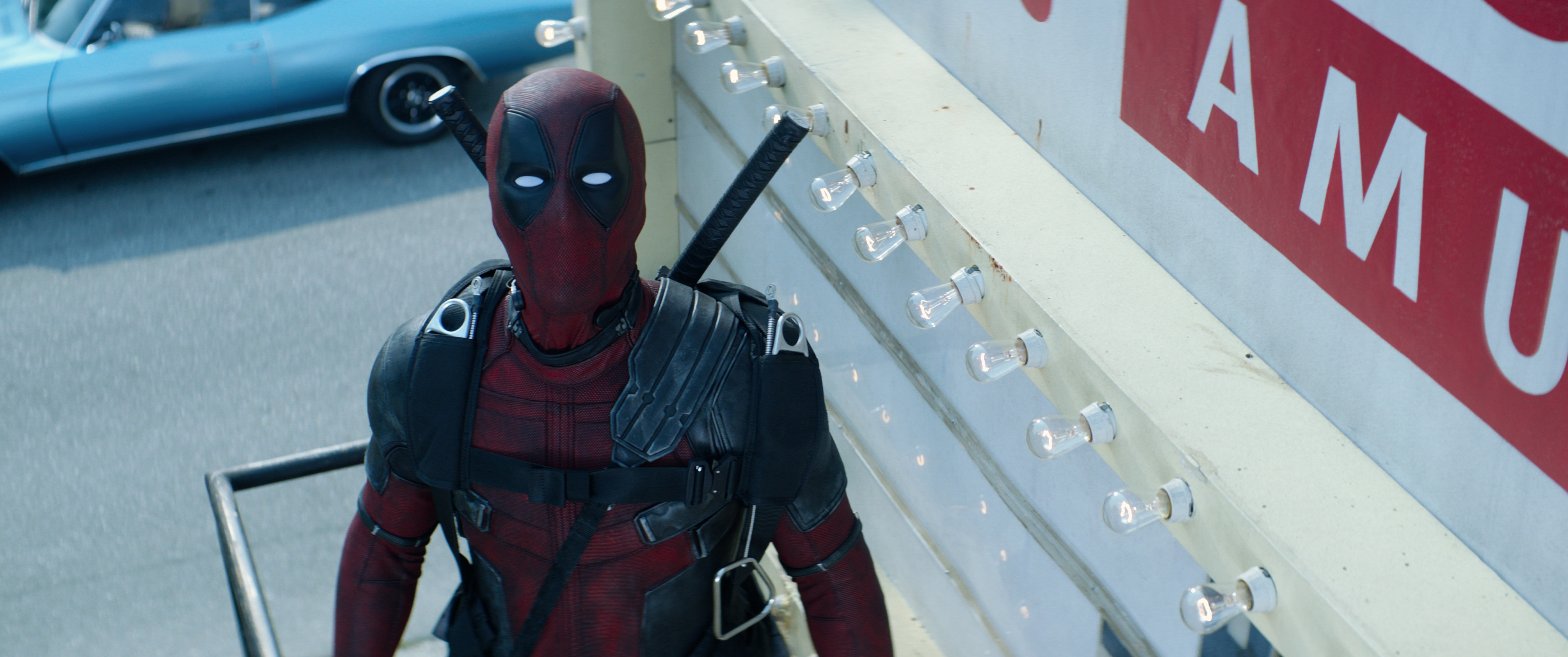 The first film to knock down Marvel Studio's towering juggernaut of Avengers: Infinity War from the #1 slot has arrived. It's no surprise that it would indeed be another superhero movie, but it is surprising by how much it overtook. Deadpool 2, Fox's Marvel property of a fourth-wall breaking anti-hero that satirizes comic book movies, premiered to a huge first weekend of $125 million domestic. Despite being just a few million dollars short of its previous film, it's still an impressive achievement for an R-rated Marvel movie that keeps the momentum going both in comedy and box office. Even more impressive is it's worldwide gross that is currently sitting at a beefy $301 million. Expect it to stick around for such a successful first weekend.
With such a high take from Deadpool, Avengers: Infinity War naturally took a big hit. Dropping by 53%, the blockbuster made only $28.6 million in fourth weekend. It's still standing tall with a domestic total of $595 million, but it's doubtful at this point that it'll reach the same heights as Marvel's earlier 2018 blockbuster of Black Panther. Other debuts this week were not so lucky with such limited takes. The all-female comedy Book Club premiered at #3 for the weekend with a $12.5 million domestic gross. The family comedy Show Dogs placed at #6 with $6 million in its domestic take.
Returning films are weathering the Marvel storm decently with expected drops. A Quiet Place is still hanging in there with the lowest drop of the weekend, bringing in another $4 million to boost its domestic total up to $176 million, still an amazing gross for the $17 million horror movie that could. The giant monster movie Rampage is clinging to the top 10 in its #9 slot, but it's not looking good for such expensive blockbuster still so far away from meeting its budget. And RBG, the documentary on Ruth Bader Ginsberg, remains in the #10 spot from last weekend with its domestic total now up to $3.8 million.
View the full top 10 for the weekend below.
Deadpool 2 ($125,000,000)
Avengers: Infinity War ($28,672,000)
Book Club ($12,500,000)
Life of the Party ($7,725,000)
Breaking In ($6,470,000)
Show Dogs ($6,034,770)
Overboard ($4,725,000)
A Quiet Place ($4,040,000)
Rampage ($1,500,000)
RBG ($1,280,000)
Next weekend will pit Deadpool against another anti-hero in Disney's Solo: A Star Wars Story, the Star Wars side story on Han Solo. It will indeed be interesting to see how a Star Wars movie plays in the summer as the previous three Disney Star Wars productions have all been massive blockbusters in December. For debuting in 4,200 theaters, the pressure is on to see Star Wars topple Marvel.
Another Astounding Weekend at the Box Office for Avengers: Infinity War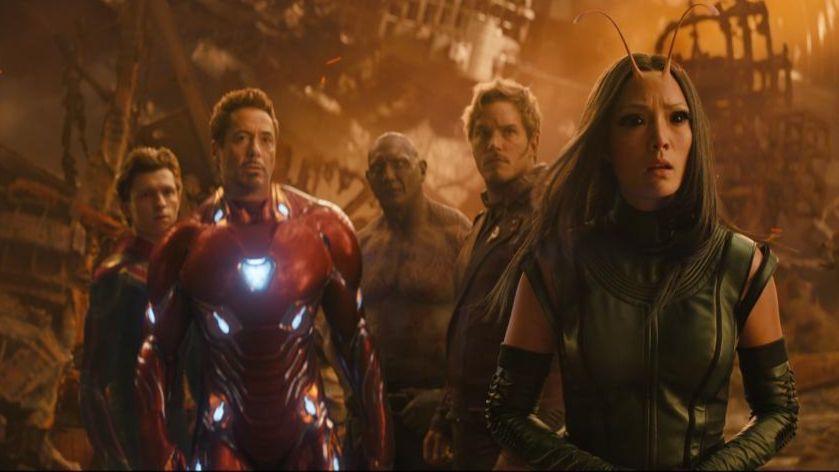 Box Office Weekend 5/4/18-5/6/18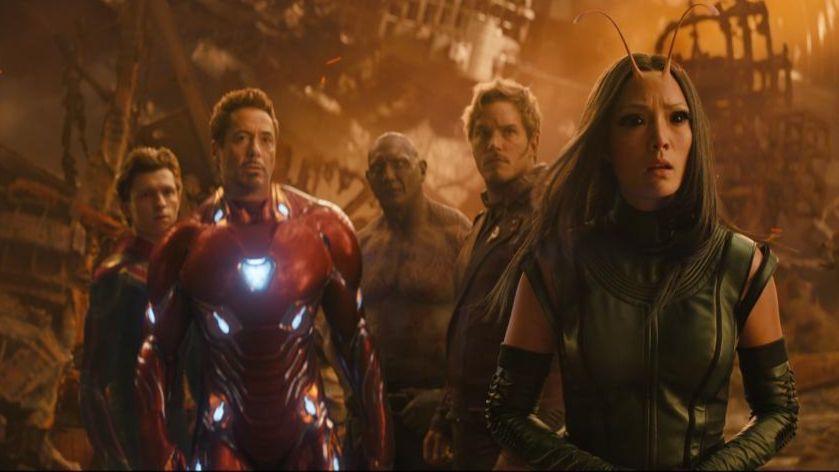 Not the least bit surprising, Marvel's Avengers: Infinity War has dominated the weekend box office with another massive gross. In its second weekend, the grandest superhero ensemble to date brought in $112.4 million. This brings its domestic total up to $450 million, and its worldwide take well over $1 billion. Time will tell if it has the legs, however, to hold its own against Marvel's other superhero epic this year, Black Panther. Considering Black Panther is still in the top 10, and has almost passed $700 million domestic, it'll be a close race between the two Marvel movies.
Of course, the success of the Avengers is due in no small part to this being a rather sparse weekend of premieres appearing in fewer theaters. Braving the Marvel storm to come in at #2 was the romantic comedy remake, Overboard, starring Eugenio Derbez and Anna Faris, making $14.7 million domestic. And if that's the gross of the #2 spot, you can imagine how lower the other films are. Tully, a new comedy Jason Reitman and starring Charlize Theron, came in at #6 with a domestic gross of $3.1 million. Further down at #10 is the new David Tennant starring thriller, Bad Samaritan, making $1.7 million for the weekend.
There were expected dips all around with no huge surprises, but many of the successful films that have hung around are growing a considerable gross. John Krasinski's A Quiet Place had the lowest drop and is currently sitting at a robust $159 million domestic total. Ryan Coogler's Black Panther has already blazed many records, but it's only $7 million away from clearing $700 million domestic.
See the full top 10 box office results below.
Avengers: Infinity War ($112,474,000)
Overboard ($14,750,000)
A Quiet Place ($7,600,000)
I Feel Pretty ($4,900,000)
Rampage ($4,620,000)
Tully ($3,186,000)
Black Panther ($3,146,000)
Truth or Dare ($1,885,000)
Super Troopers 2 ($1,815,000)
Bad Samaritan ($1,758,000)
Next weekend, Avengers will be battling against the Melissa McCarthy starring comedy Life of the Party and the Gabrielle Union starring thriller Breaking In. Considering that Life of the Party will have the most significant theater count, McCarthy has the only real shot at being the first film to knock the superhero giant down from the top 10, though it's doubtful of the Avengers hype will have died down by then.