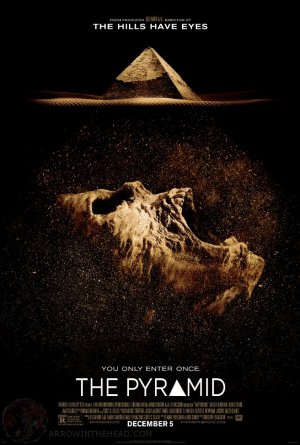 Well, we're just going to have to come out and say it – The Pyramid is getting 'buried' at the box office. According to Box Office Mojo, The Pyramid has grossed less than $2 million in the US and $4 million internationally, which depending on the budget for the film may (or may not) be so bad for the film makers.
Initially, however, The Egyptian cursed tomb flick seem to have at least a few things going for it. The film was directed by Grégory Levasseur, the long time co-writing (and childhood friend) of Alexandre Aja. The two have had a successful partnership over the years, though some more successful than others, and are best know for the terrifying Hills Have Eyes.
The film was picked up by 20th Century Fox for the distribution rights, though the film was released in less than 600 theaters in the US and has limited release in international markets (less than 20 countries).
Depending on whether you are a fan of the Horror genre (we are) these movies don't have to be good to be good, if you know what we mean. Sure Rotten Tomatoes has only give it a 7% fresh rating and it's gotten less than stellar reviews but the truth is most of us will see this streaming on Netflix or RedBox, so the film will have a life long after it's theatrical release.
And who knows, maybe it will become a cult classic!