Movie Review: 'xXx: Return of Xander Cage' Is a Fine Slice of Action Cheese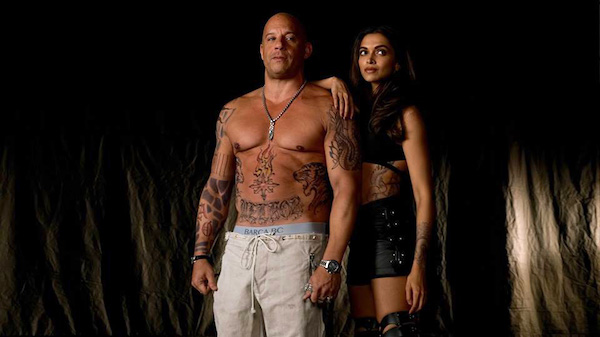 Ready for action, one-liners and dope-ness? Read our movie review of xXx: Return of Xander Cage for all the good stuff:
[dropcap]T[/dropcap]here's a smirk on Vin Diesel's face and a twinkle in his eye for the constant awareness of the movie he is making. He knows as much as we do about what to expect from such a picture. He knows we don't really care about some terrorist plot to use satellites as missiles and are more interested in watching him pull off ridiculous stunts. Samuel L. Jackson even flatout boils down this formula: "Kick some ass, get the girl and look dope while doing it." And xXx: Return of Xander Cage is most certainly dope.
Diesel reprises the role of Xander Cage, retired from the xXx program as a man who now uses his extreme sports skills to steal cable for poor villages. He mountain skis and downhill skateboards away from security forces guarding the tower, just so they can watch the big football match. I can only imagine how he goes out to get groceries.
He's called back to the secret government program after a group of outlaws has broken into the CIA HQ and stolen a device that can drop satellites from the sky. It's a standard MacGuffin given the very boring look of a big hard drive and dubbed with the most generic of titles: Pandora's Box. Where did this device come from and how does it work? Nobody knows and nobody cares. All that matters is getting back that box and keeping the "dope" levels high.
The shrill, no-fun-allowed CIA recruiter Jane (Toni Collette) manages to convince Cage into taking on the mission of finding Pandora's Box, but not unless he has a crew as crazy as he is. He's provided with a team of elite soldiers, but they're no fun as his questioning reveals none of them have done sweet BMX tricks. His colorful team consists of a teal-haired sniper chick (Ruby Rose), a gung-ho former rugby player (Rory McCann) and a fast-handed DJ with the special ability of being "fun to be around". Why the DJ? Because the movie needs a slick soundtrack and someone to spin records for the rave scene.
Xander's targets are a rogue group of outlaws led by Donnie Yen. Yen has conflicting views about Pandora's Box as does his female follower (Deepika Padukone), both debating about whether to keep the box or destroy it. But the movie never slows down to wholly question his motivations and for good reason. A rather standard and boring conversation about national security between Yen, Padukone and Diesel is made all the more exciting by playing a game of grenade hot potato during talks. Their conversation continues over an aquatic bike chase from Russian soldiers as they zip through beaches and over tidal waves. Because Donnie Yen is so likable, he will eventually agree to work with Diesel against a larger threat, but not after they have a fist fight in front of oncoming traffic.
The only element distancing the return of xXx from Diesel's current Fast and the Furious franchise is the theme of the characters (and Diesel's name-branding tattoos). Fast and the Furious was all about "family" while xXx seems to be more about trusting nobody except the weirdos. Other than that, this picture mimics the endless carnage of the FF movies, all the glee and absurdity included.
Diesel gets in plenty of big punches while shooting lots of guns, performing lots of stunts and slinging lots of one-liners. These one-liners could be groan-worthy, but Diesel sells them all with enough spirit and energy that even the most cornball of lines become lovable. But in the fight department, Yen clearly steals the show with some intense martial arts and just as much sass as Diesel. The movie practically blows its wad early with Yen smashing through the glass into a boardroom and taking on an entire room of gun-toting suits with his fast footwork and gunplay.
Read more for the rest of the xXx: Return of Xander Cage movie review:
Review: "Incredibles 2" is a Fantastic and Fresh Return to Form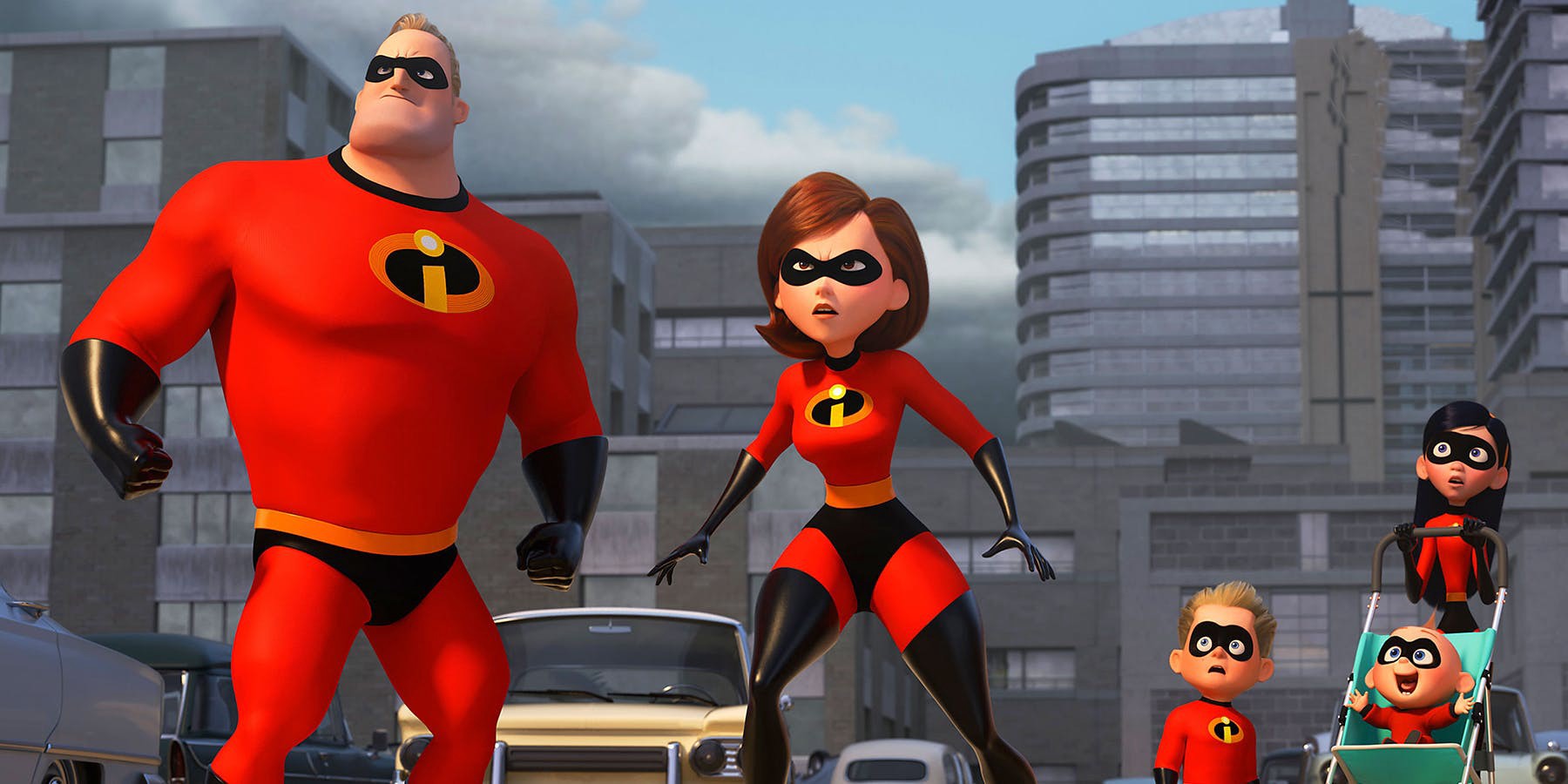 Oh, how we waited so long for that sequel to Pixar's The Incredibles, arguably their most exciting, inventive, and dynamic of animated films. Sure, they could have tossed it off to another director to deliver a film in 2009 or maybe even craft an animated series in 2012. But they didn't. And so we watched and longed as Pixar churned out sequel after sequel to other properties; some brilliant (Toy Story 3), some mild (Finding Dory), and some confoundingly conceived (Cars 3). The good news is that patience for Brad Bird's return to the franchise as writer/director was not in vain. He has returned to give us something fresh, bold, and intelligent out of a franchise that deserves nothing less.
While the Incredible family was last seen bonding while bashing robots, they still have some issues to solve. Socially, there's a disconnect between working together and taking responsibility. Role-wise, there's an unease of trust when shifting duties. And legally, superheroism is still a big no-no in their society. Naturally, the immediate problem is trying to lift the ban on superheroes, and it's going to take careful consideration to ease the public trust. That's where Elastigirl (Holly Hunter) comes into play, teaming up with a tycoon (Bob Odenkirk) to reshape perceptions of heroism with her body-reshaping superpowers. And since Bob Incredible (Craig T. Nelson) pulled the solo hero path last time, he takes on the more onerous task of maintaining a household. Being a stay-at-home isn't so bad, but it's a draining nightmare when dealing with his speedster son Dash (Huck Milner), his emotional daughter Violet (Sarah Vowell), and the baby Jack-Jack that is more of a hodgepodge of powers than he was in the last film.
While Incredibles 2 both mimics and restructures the focus on family dynamics, it's amplified more than enough to be its own thing rather than a retread. Elastigirl's crime-stopping crusade pits her against the hypnotizing villain Screenslaver, a masked and technological terrorist that may be a pawn in a bigger conspiracy. Bob's new mission of raising the kids on his own is not a mere mess of parenting malaise, but as much of a hilarious and visual feat as Elastigirl's cityscape adventure. There are relatable challenges of Dash's homework and Violet's troubled love life at school, but how many dads have to stop their infant from fighting raccoons outside with laser eyes?
Everything in the film has been expanded to the degree where this world is more open, dwarfing the previous film's scope. Frozone (Samuel L. Jackson) returns and has far more to do than chill between acts. The same is true for the world of superheroes that blows up to include Owl-men, lava-lurchers, and interdimensional portal weavers in the film's explosive climax. We see more of the cities and their striking 60s deco design of wonderment, from old-fashioned TV studios to state-of-the-art trains of the future. The film even goes deep into Bird's love and inspiration of Jonny Quest with a multitude of Easter eggs, including literally playing Jonny Quest on nearby television sets.
There's a unique balance of adult themes and engaging storytelling where the superheroes feel as though their perspective has been warped by misplaced perceptions, political bureaucracy, and a fear of the new manifesting in cultural roles. If this all seems a little heavy for the kids, worry not. The standout attraction is the adorable Jack-Jack, showcasing what appears to be an endless series of superpowers. Among his many attributes, he can set himself aflame, transform into a demon, hop through dimensions, and duplicate himself. This makes him troublesome, but all funnier for his adorable nature. Even the usually snooty hero-fashion designer Edna (Brad Bird) can't resist the little scamp that she's willing to be called an auntie.
For the basest of thrills, Incredibles 2 doesn't let down in the animation department, boasting plenty of gorgeous action sequences that involve everything from splitting motorbikes to missile-launching cars to runaway hydrofoils. But what makes Incredibles 2 just as strong for the second go is that it never loses the charm and smarts with the themes of struggling parents in every aspect of their lives. So strong is this writing that the heftier abundance of fights and feats never feel like filler for such a rich story. It seems fitting that the Incredibles would return amid the recent surge in superhero films, where an animated film fit for the family would be aptly timed. True, but, as with Marvel's most box office shattering pictures, it returns with a purpose and precision that aims to give fans and families more than capes and cowls. Edna hates capes, after all.
Ocean's 8 Snatches Box Office Top Slot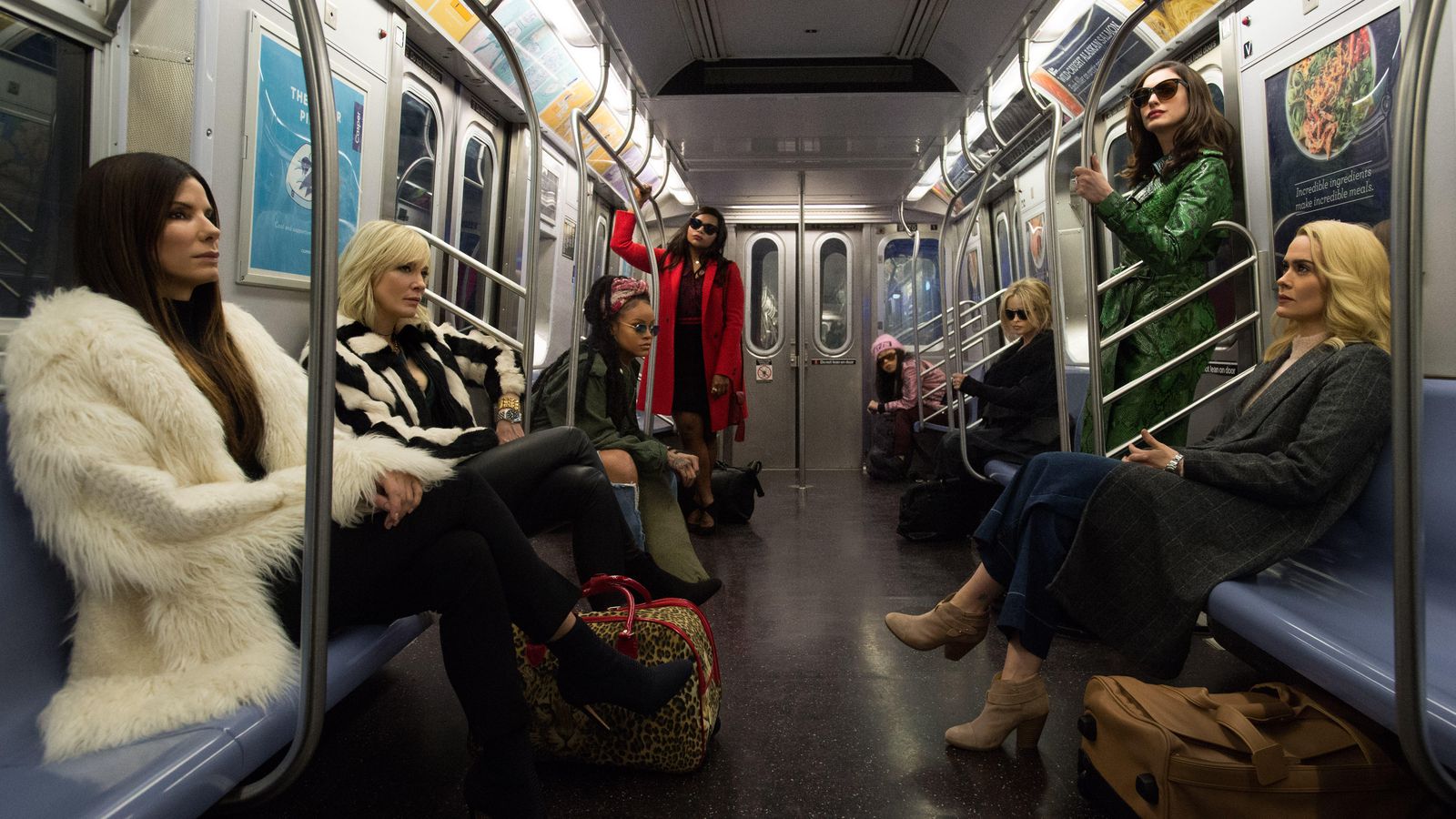 Box Office Report June 8-10, 2018
Ocean's 8, the all-female remake of the heist picture Ocean's 8, made a strong debut for its first weekend. The film starring the likes of Sandra Bullock, Cate Blanchett, and Anne Hathaway brought in $41.5 million. Considering the budget of $70 million, the movie still has a few weeks to go before breaking even.
Summer tentpoles are still lingering and are certainly not going to be leaving the top 10 any weekend soon. Solo: A Star Wars Story, despite a surprisingly low debut gross, remains at #2 with a weekend gross of $15.1 million, bringing its total to $176 million. Not bad for your average summer film, but significantly disappointing for a Star Wars movie that usually brings in a hefty sum. Just beneath it in the rankings is Deadpool 2, the superhero satire starring Ryan Reynolds, making $13.6 million for a total so far of $278 million. And Avengers: Infinity War continues to stay in the top 10 with another $6.8 million, adding to its already epic total amount of $654 million. It may be well on its way to toppling 2018's other superhero blockbuster, Black Panther, which as it happens is just one million away from making $700 million domestic. Infinity War is, however, only $2 million away from reaching $2 billion worldwide.
The two other new films this weekend were lost in the dust, though they may gain a small following. Hereditary, a surprising new horror form studio A24, debuted in under 3,000 theaters but came in at #4 for the weekend with a $13 million gross. Considering the good word of mouth the film has been getting, and an electrified ad campaign of being the "scariest movie ever", it may be sticking around in the top 10 for quite some time. Also debuting much lower is the sci-fi noir picture, Hotel Artemis, coming in at #8 with a small $3.1 million take.
Read the full top 10 below:
Ocean's 8 ($41,500,000)
Solo: A Star Wars Story ($15,154,000)
Deadpool 2 ($13,650,000)
Hereditary ($13,037,336)
Avengers: Infinity War ($6,836,000)
Adrift ($5,050,000)
Book Club ($4,200,000)
Hotel Artemis ($3,151,118)
Upgrade ($2,220,000)
Life of the Party ($2,105,000)
Next weekend's new films will include Pixar's long-awaited superhero sequel The Incredibles 2, the based-on-a-true-story comedy Tag, and the modern remake of blaxploitation classic Superfly. Considering the wealth of fans for The Incredibles, the 4,200 theaters it will be debuting in, and the projected massive take, it's clear as crystal who will be next weekend's winner of the top slot.
Review: An All-Star Cast Makes "Hotel Artemis" Worth Checking In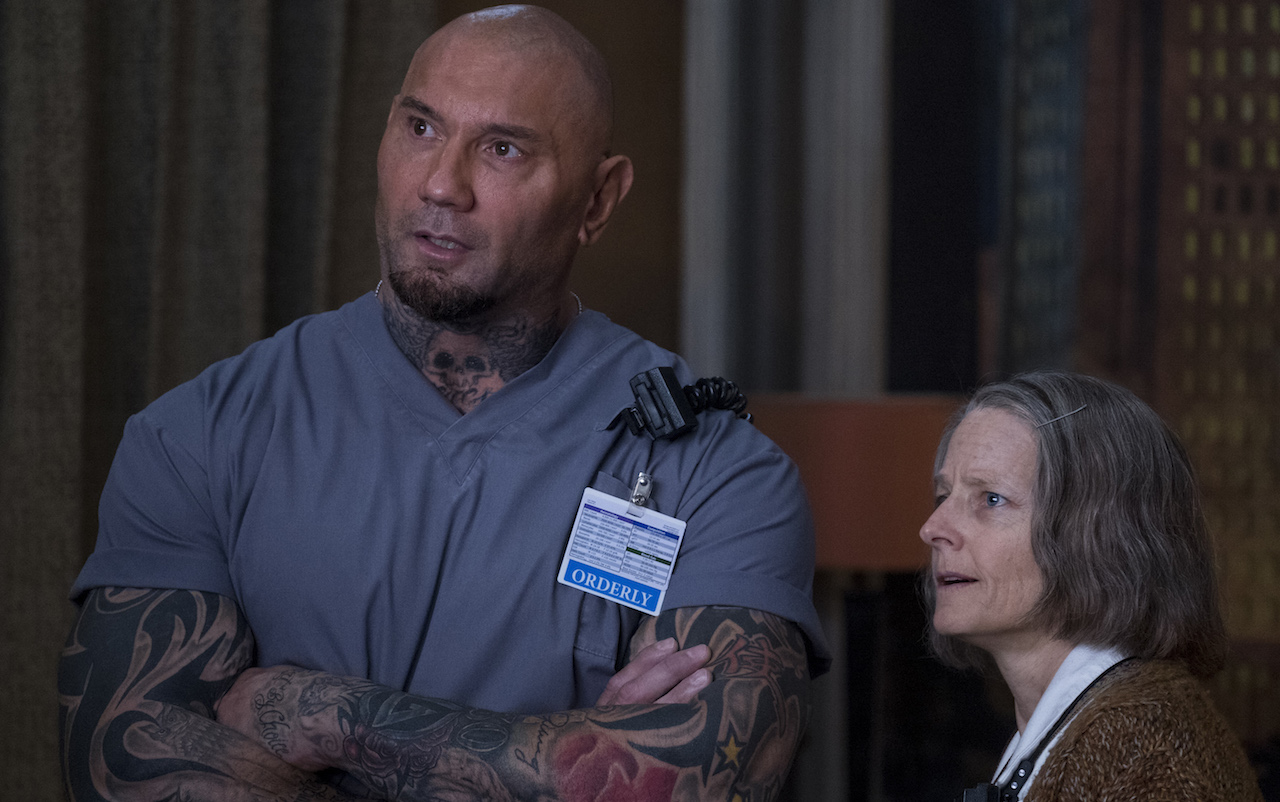 We don't know too much about the chaotic future of Los Angeles in Hotel Artemis. We know there is a water conglomerate, a city-wide shutdown of water services, and violent riots in the streets. That's about all Jean Thomas (Jodie Foster) knows and all she wants to know. She resides at the titular hotel on the top floor as the nurse for her secret hospital for criminals. It's dangerous work and she finds herself overbooked on the night of the city's most massive riot, where several unsavory people converge for hushed healthcare. It's a recipe for disaster, but for Nurse Thomas, it's just another Wednesday.
The rustic hotel becomes a stew of colorfully conspiring characters that will feud and toy with each other, despite the hospital rules of not killing the other patients. Sterling K. Brown plays a robber that needs some help for his brother (Brian Tyree Henry) after a botched robbery. Sofia Boutella plays a femme fatale assassin that always seems to be on the clock in her fancy dress, skilled with using coffee cups as deadly weapons. Charlie Day is a rich snob that can't wait to get out of the city and look on the lowlifes rather than receiving the same bedside manner. And even more guests will show up including a cop (Jenny Slate), a ruthless mob boss (Jeff Goldblum), and the boss' eager-to-kill son (Zachary Quinto). If it weren't for the muscle-bound assistance of Everest (Dave Bautista), the Artemis wouldn't last long with its failing power, rickety elevators, and blood-stained sheets.
Thomas is overworked and crippled with guilt and anxiety, but brushes off those questioning her with her standard response: "Busy night at the Artemis." That's an understatement. There is so much going on in this ensemble-filled enclosure that the various arcs wobble and topple all over each other. The trailers made the plot seem so simple with Sterling accidentally stealing a pen that contains million-dollar diamonds, belonging to Goldblum's character that is quite strict with his punishments for pilfering. And yet that's not the reason Goldblum stops by, as he has need of medical services and becomes intertwined in the many messy affairs. Some of the characters have contracts to kill from within the hotel, some have guilt they're trying to get over, and some have past relationships that rekindle. The film can't seem to settle on a central story with the same indecisiveness of the allegiances of the occupying scum.
There's an all-star cast on parade for this fast and frenetic futuristic crime tale, and they become the glowing center of this decadent ride. Jodie Foster is adorable as the slick-talking nurse. She has enough experience with lawbreakers to not only enforce her domain but do so with a knowing smirk and biting commentary. In any other film, she'd be present for a few minutes before stepping aside for lukewarm heroes, but Foster is a full-timer here, hobbling between rooms in her comfy nurse outfit and continuously checking her tablet to keep tabs on patients. Brown makes for a charming robber with his straight talk and ease of swagger. Bautista is as likable as always even when he's not showcasing his tattooed muscles. Armed with a slick and to-the-point script, all of the actors have a genuine nature to them, even for the understated performances of Jenny Slate and Jeff Goldblum.
Hotel Artemis has a bafflingly crowded assembly with too many plot irons are in the fire, an unfilled relationship between the remaining players, and an ending that I suspect may have been retooled with reshoots. But it's firmly glued with a stellar cast in top form, dashes of dazzling sci-fi tech (including a brilliantly brutal misuse of a 3D printer), and an intoxicating atmosphere amplified by golden synth from Cliff Martinez. All of this makes the film an exhilarating original film that you certainly don't see every Wednesday.