Movie Review: 'The Smurfs: The Lost Village' Is a Semi-Lost Cause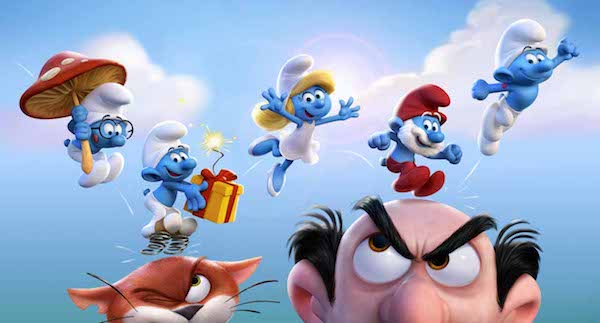 The Smurfs are back for their third movie! Read our movie review to get all the Smurfy details of The Smurfs: The Lost Village:
[dropcap]A[/dropcap]s the first fully computer-animated Smurfs movie – a major improvement over the two previous live-action hybrid movies – I'll admit that The Smurfs: The Lost Village does match the original cartoon in many aspects. The characters appear more faithful in their cartoony nature, favoring eyeballs that run together, noses that jut outward and short legs with big feet. The evil wizard Gargamel and his sinisterly smart cat Azrael are as devious and comical as they were in the cartoon. Everything from the setting to the character motivations (limited as they are) is as faithful as a Smurfs movie can get. But were the Smurfs all that engrossing a cartoon to begin with?
While the Smurfs were a staple of 1980s animated television – spanning the entire decade – they were a fairly simple concept that seemed to just barely hold a half-hour of programming. The spirited blue Smurfs, coordinated by their designations for specific functions of their society, do their best to live in peace in their mushroom community, trying to avoid Gargamel's grasp. As a kid of the era, it was enough to keep me entertained. As an adult, it's a premise that wears thin in retrospect. And as an adult watching The Lost Village, this fault becomes all the more apparent.
To be fair, the movie does address a long-held debate about Smurf lore: Why are there no other female Smurfs besides Smurfette? Not only is Smurfette the only woman among the all-boy tribe, but also she's a bit of a blank slate having previously been an infiltration creation of Gargamel. Whereas every Smurf knows exactly what they were born to do, Smurfette is distant from the rest of her clan in trying to find her niche. So, of course, she must discover a new tribe of all-female Smurfs in a secret part of the magical forest. To discover this tribe, she embarks on a journey with the more visually distinct Smurfs of Clumsy, Brainy and Hefty who must learn to not only work together, but also see Smurfette as more than just the local blonde without direction.
This is very much the Smurfette movie with a feminist edge. The female tribe is not a similarly peaceful collective, but one of tough and defensive women, armed with pikes and cautious of outsiders that make the male Smurfs remark "lady Smurfs mean business." The Smurfs begin the film describing Smurfette as someone who is good at nothing, later looking directly into the camera as they state she can be anything she wants to be. Sure, I like when a movie can support a message about girls being able to do anything, especially from a franchise where there was only one girl. But I think girls deserve something that doesn't pander either.
Also searching for the female tribe of Smurfs is Gargamel, but surprisingly not as cartoonish as Hank Azaria's portrayal from the previous movies. Oh sure, he does have plenty moments that made me smile, but the gags are more amusing on paper. The bulk of his comedy relies on the silly lines about being one step behind his cat Azrael and how his ego causes him to stammer, but Rainn Wilson can simply not do his character justice. Gargamel should be a cackling and devilish goof, per both the history of the character and the faithful design present in this movie. Hearing Rainn deliver such a lackluster performance for such a funny character is rather shocking from a usually comedic actor. He can perform deadpan dorkiness with gusto, but isn't as multi-talented to play a one-toothed wizard bent on capturing little blue creatures.
Related: 'The Boss Baby' Takes #1 Spot in Opening Weekend Smackdown
The same goes for the rest of the cast that doesn't deliver strong performances, but I suppose they couldn't for being so tightly wedged into atypical cartoon roles. Joe Manganiello feels fitting in the role of the muscle-obsessed Hefty, but tries too hard to push the tough guy voice that his casting seems almost pointless. Jack McBrayer does his usual blubbering as Clumsy, but I've heard him do much better in this same type of role. Danny Pudi seems to be putting the most into his role as Brainy and while he does fit the character well, he never really breaks out in such a role either.
And the casting of Demi Lovato is a solid choice for Smurfette, but this role seems pointless if she's never given a moment to bust out with a song, considering the lyrically heavy soundtrack. Shouldn't she be the one singing the closing song "I'm a Lady" and not Meghan Trainor?
Read more for the rest of The Smurfs: The Lost Village movie review:
Review: Pleasing Heists and Nagging Winks in "Solo: A Star Wars Story"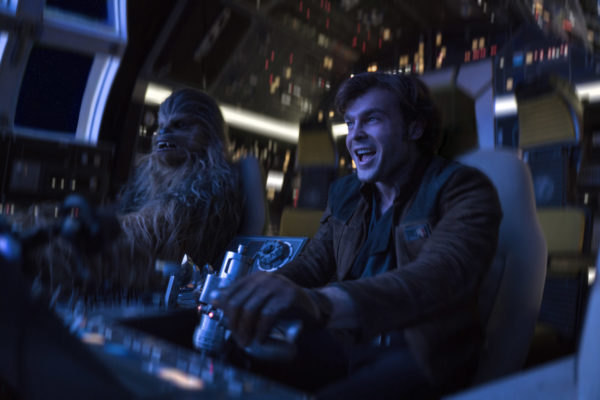 Solo is a prequel that teeters between pointless backstory and rousing world exploration. By its very conception, it is an unneeded movie, tracing origins I didn't need to see of Han Solo acquiring his blaster, ship, and Wookie. But when the story can pull itself away from its tiring foreshadowing of the Star Wars trilogy, the film nears its more engaging aspect of the swashbuckling nature a Han Solo movie should be.
Alden Ehrenreich plays the young Han Solo with a certain swagger that doesn't seem quite there yet. In many ways, this works for the benefit of an origin story by not starting off the outlaw as such. His story begins as that of a slave who escapes a nasty overlord, smuggling his way off a manufacturing planet with his thieving and piloting skills. But he needs to go back for his love Qi'ra (Emilia Clarke), giving him more of a purpose besides scoring the biggest take. This aspect sends Han down many paths, from working for the Empire in the battlefields, to snatching loot from gravity-shifting train cars, to staging a rebellion on a mining planet.
As with any prequel, there's a problem with care for the characters when we know more or less what will happen to them. We know the dashing romance between Han and Q'ira won't go anywhere and that Han's new acquaintance of the gambler Lando (Donald Glover) will make it out of this film alive. Han's questionable ally of Becket (Woody Harrelson) and his bitter crime boss Vos (Paul Bettany) probably don't have a chance of surviving this ordeal. While I'd like to set the original Star Wars trilogy aside to enjoy Han's heist film, I can't help bringing it up when there are so many knowing nudges and winks to forming the character. As if we really needed to see where Han first picked up his iconic blastr or hear a variation on the line "I've got a bad feeling about this."
When the film does decide to put down the callbacks, however, it does start to become the fast and adventurous caper that can exist on its own. There's real zip to scenes of high-speed chases through snowy mountains and dangerous maelstroms. There's a multitude of romances and twists that always keeps the blood pumping, even if it feels more like gas churning through an engine, seeming more exciting by design than delivery. And per the Star Wars design is lots of color in the settings with creative alien designs. It just wouldn't be a gangster bar in the Star Wars universe if there wasn't a singer in strange attire singing next to a crooning blob in a jar.
The cast is sufficient enough, particularly Donald Glover embodying a smirking scoundrel and Paul Bettany as a sinister force, even if his facial makeup makes him look as though a cat scratched him. Alden Ehrenreich does a decent job at trying to match the cocky nature and boastful posture of a Han Solo in the making, but there's not much time for him to fit into the role. The film is in such a rush to zoom towards a robot rebellion or a fighting an octopus near a black hole that the charisma never simmers enough to the point where Ehrenreich makes the character his own. The most unique character, despite being overtly bold in its message, is the droid of L3-37 (Phoebe Waller-Bridge), a supposed female droid that is more infatuated with droid rights than piloting for Lando. She has a romantic attraction to Lando which opens up a whole new can of worms for the Star Wars universe.
Much like the Millenium Falcon, which appears in the film as a less dirty spaceship before Han got his hands on the controls, this is a film that stops and starts, making me want to kick the projector every few minutes. When slowing down for its underwhelming conversations of how Han met Chewy, the film stalls in easy and unnecessary nostalgia. Just before it grows tedious with references, the action kicks back in and there's a glee to Han's adventure of thieving, blasting, and deceiving. And I really wished the film kept up its own pep of being its own thing so the fate of Solo doesn't loom over the picture with a depressing realization that it's not going to end well for him. It's such a rusty movie that struggles to be fun and daring you can almost hear director Ron Howard muttering that old Han Solo line "Here me baby, hold together." Solo does hold together, but crashes towards the finish line in such a broken and battered state you wonder how it even took off.
Deadpool Dethrones Avengers With Triple-Digit Debut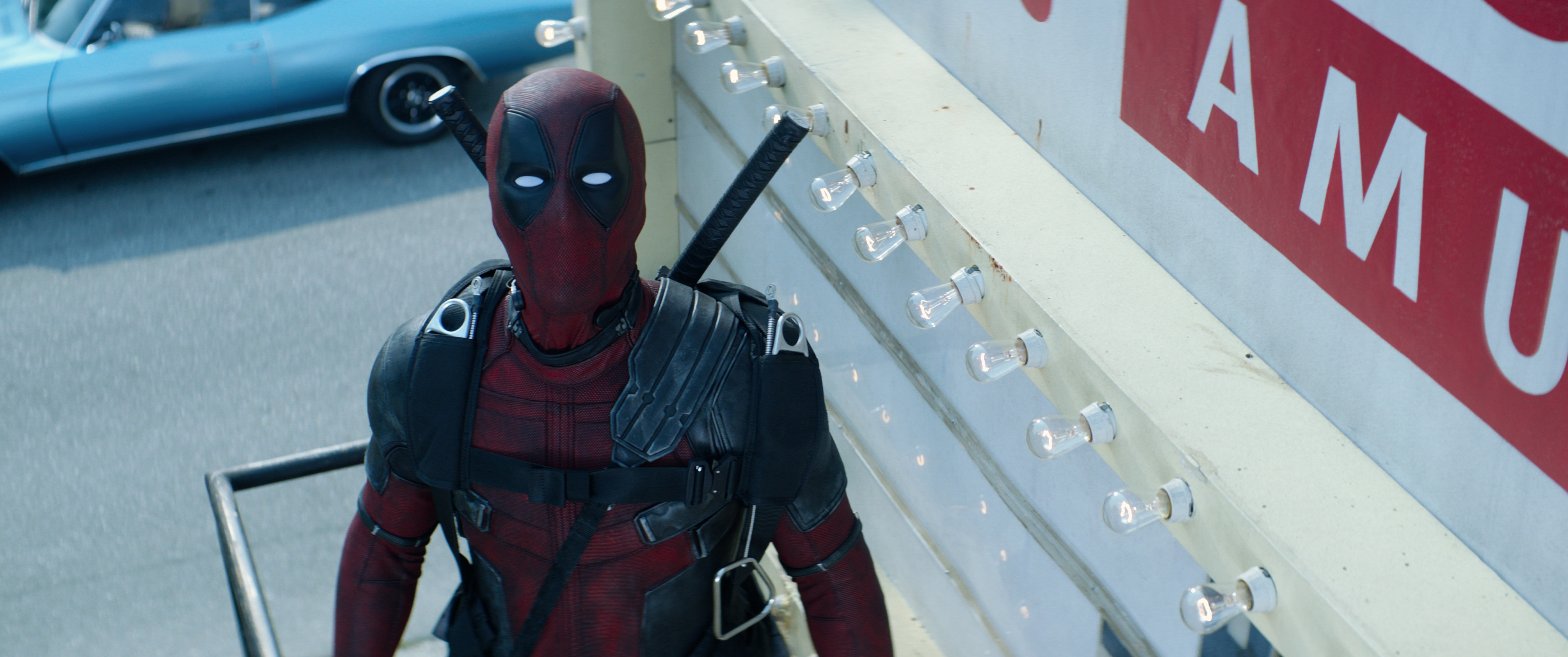 The first film to knock down Marvel Studio's towering juggernaut of Avengers: Infinity War from the #1 slot has arrived. It's no surprise that it would indeed be another superhero movie, but it is surprising by how much it overtook. Deadpool 2, Fox's Marvel property of a fourth-wall breaking anti-hero that satirizes comic book movies, premiered to a huge first weekend of $125 million domestic. Despite being just a few million dollars short of its previous film, it's still an impressive achievement for an R-rated Marvel movie that keeps the momentum going both in comedy and box office. Even more impressive is it's worldwide gross that is currently sitting at a beefy $301 million. Expect it to stick around for such a successful first weekend.
With such a high take from Deadpool, Avengers: Infinity War naturally took a big hit. Dropping by 53%, the blockbuster made only $28.6 million in fourth weekend. It's still standing tall with a domestic total of $595 million, but it's doubtful at this point that it'll reach the same heights as Marvel's earlier 2018 blockbuster of Black Panther. Other debuts this week were not so lucky with such limited takes. The all-female comedy Book Club premiered at #3 for the weekend with a $12.5 million domestic gross. The family comedy Show Dogs placed at #6 with $6 million in its domestic take.
Returning films are weathering the Marvel storm decently with expected drops. A Quiet Place is still hanging in there with the lowest drop of the weekend, bringing in another $4 million to boost its domestic total up to $176 million, still an amazing gross for the $17 million horror movie that could. The giant monster movie Rampage is clinging to the top 10 in its #9 slot, but it's not looking good for such expensive blockbuster still so far away from meeting its budget. And RBG, the documentary on Ruth Bader Ginsberg, remains in the #10 spot from last weekend with its domestic total now up to $3.8 million.
View the full top 10 for the weekend below.
Deadpool 2 ($125,000,000)
Avengers: Infinity War ($28,672,000)
Book Club ($12,500,000)
Life of the Party ($7,725,000)
Breaking In ($6,470,000)
Show Dogs ($6,034,770)
Overboard ($4,725,000)
A Quiet Place ($4,040,000)
Rampage ($1,500,000)
RBG ($1,280,000)
Next weekend will pit Deadpool against another anti-hero in Disney's Solo: A Star Wars Story, the Star Wars side story on Han Solo. It will indeed be interesting to see how a Star Wars movie plays in the summer as the previous three Disney Star Wars productions have all been massive blockbusters in December. For debuting in 4,200 theaters, the pressure is on to see Star Wars topple Marvel.
Another Astounding Weekend at the Box Office for Avengers: Infinity War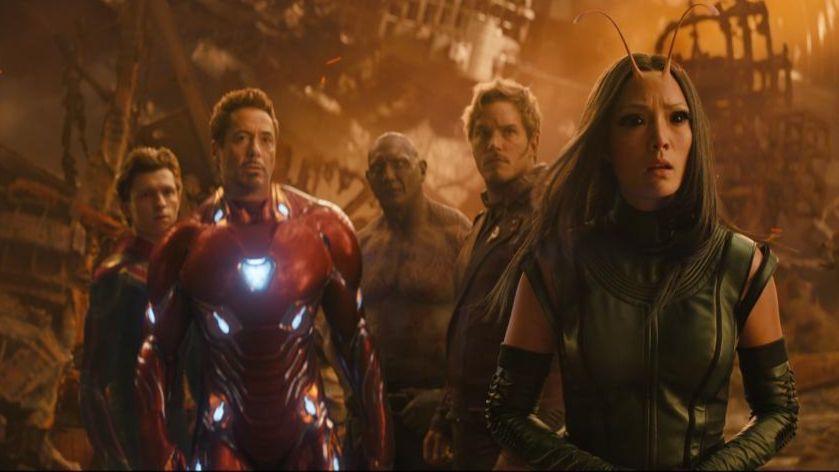 Box Office Weekend 5/4/18-5/6/18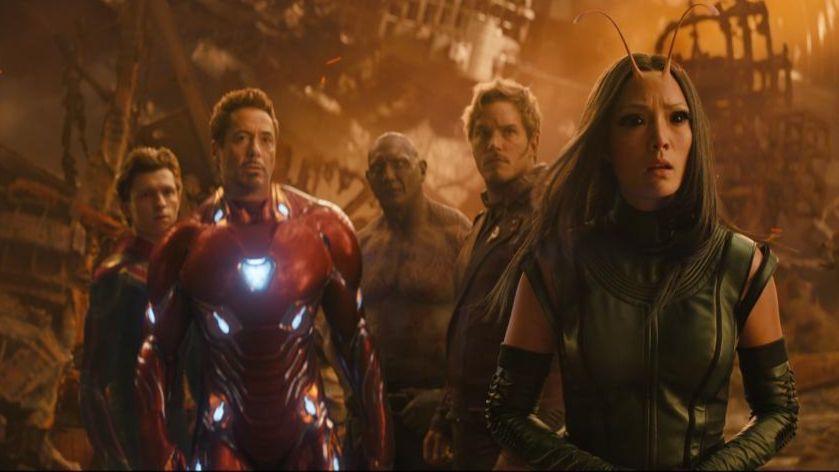 Not the least bit surprising, Marvel's Avengers: Infinity War has dominated the weekend box office with another massive gross. In its second weekend, the grandest superhero ensemble to date brought in $112.4 million. This brings its domestic total up to $450 million, and its worldwide take well over $1 billion. Time will tell if it has the legs, however, to hold its own against Marvel's other superhero epic this year, Black Panther. Considering Black Panther is still in the top 10, and has almost passed $700 million domestic, it'll be a close race between the two Marvel movies.
Of course, the success of the Avengers is due in no small part to this being a rather sparse weekend of premieres appearing in fewer theaters. Braving the Marvel storm to come in at #2 was the romantic comedy remake, Overboard, starring Eugenio Derbez and Anna Faris, making $14.7 million domestic. And if that's the gross of the #2 spot, you can imagine how lower the other films are. Tully, a new comedy Jason Reitman and starring Charlize Theron, came in at #6 with a domestic gross of $3.1 million. Further down at #10 is the new David Tennant starring thriller, Bad Samaritan, making $1.7 million for the weekend.
There were expected dips all around with no huge surprises, but many of the successful films that have hung around are growing a considerable gross. John Krasinski's A Quiet Place had the lowest drop and is currently sitting at a robust $159 million domestic total. Ryan Coogler's Black Panther has already blazed many records, but it's only $7 million away from clearing $700 million domestic.
See the full top 10 box office results below.
Avengers: Infinity War ($112,474,000)
Overboard ($14,750,000)
A Quiet Place ($7,600,000)
I Feel Pretty ($4,900,000)
Rampage ($4,620,000)
Tully ($3,186,000)
Black Panther ($3,146,000)
Truth or Dare ($1,885,000)
Super Troopers 2 ($1,815,000)
Bad Samaritan ($1,758,000)
Next weekend, Avengers will be battling against the Melissa McCarthy starring comedy Life of the Party and the Gabrielle Union starring thriller Breaking In. Considering that Life of the Party will have the most significant theater count, McCarthy has the only real shot at being the first film to knock the superhero giant down from the top 10, though it's doubtful of the Avengers hype will have died down by then.