Can Werner Herzog do no wrong? Find out by reading our movie review of Queen of the Desert:
W
erner Herzog
is an incredibly talented filmmaker that is able to shoot some amazing footage of great locations. He proved it last year with his volcano documentary
Into the Inferno
and he proves it here as well with
Queen of the Desert
.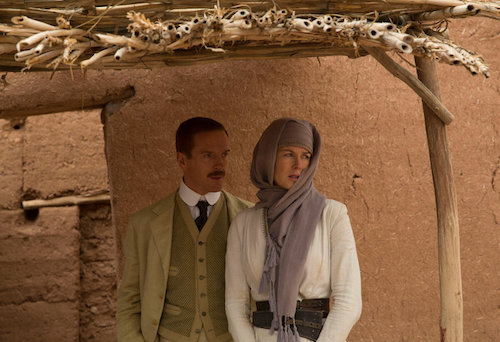 Shot on location in the Middle East, there is a multitude of beautiful vistas to ogle at their scale. But when Herzog tries to fill in these gorgeous locations with a biopic script, he falls hard into a pit of sappy and tedious drama that would make even the stuffiest of British period dramas blush.
The subject of this period piece is Gertrude Bell (Nicole Kidman), a woman who did quite a lot in the early 1990s. She was a traveler, an explorer and an archeologist and became involved in politics, most of her career spent amid the dunes of Arabia. She's had quite the interesting life for exploring the beauty of many lands and even befriending the famed T.E. Lawrence.
So why does Nicole Kidman seems so passive in such an attractive role? She spends most of the movie traveling across these physical locations of endless sand and acts more as though she's taking a dreary horseback ride through a grassy country.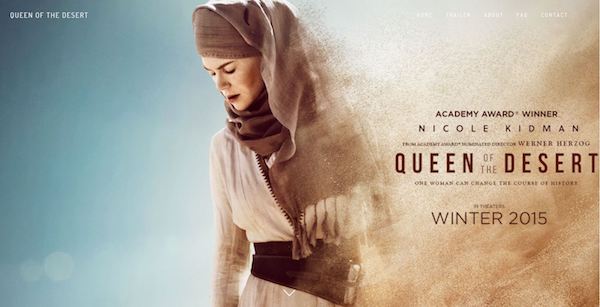 It seems like there should be more going through her head and heart during these travels, but both appear rather empty. When she's not coldly chatting with handsome suitors or political players, she's writing long passages of introspective nothingness in her diary on her adventures. Many of the key events in her life, from meeting the romantic Henry Cadogan (James Franco) to talking her way out of becoming a prisoner, seem too distant to be personal and too poorly edited to be relatable. How can one woman who did so much with her life be seen as someone so bereft of passion and rambling in boring monologues?
Related: Movie Review: 'Going in Style' Steals More Laughs than Substance
Her supporting cast doesn't fare much better either. In particular, Robert Pattinson comes off as an odd and wrong choice for the role of T.E. Lawrence. Even when distancing the actor from his Harry Potter and Twilight days, Pattinson doesn't come close to matching the wit and grit of an inspired revolutionary. He's no Peter O'Toole, that's for sure.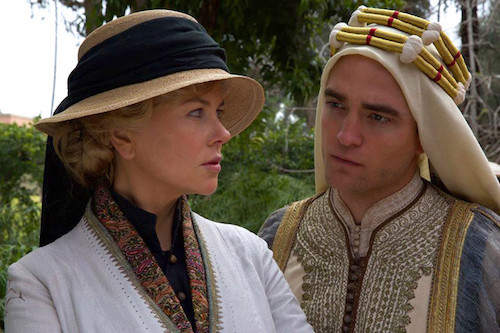 Speaking of Lawrence of Arabia, I could not believe Herzog's lazy choice in music for repeating the same theme on a continuous loop that plays as the cheap rendition of Maurice Jarre's iconic score. Over and over this music continues to slap the audience in the face, reminding us of Lawrence of Arabia and how much better that movie was in comparison.
Read more for the rest of the Queen of the Desert movie review: