Movie Review: 'Power Rangers' Mighty Morphs into a Clunky Blockbuster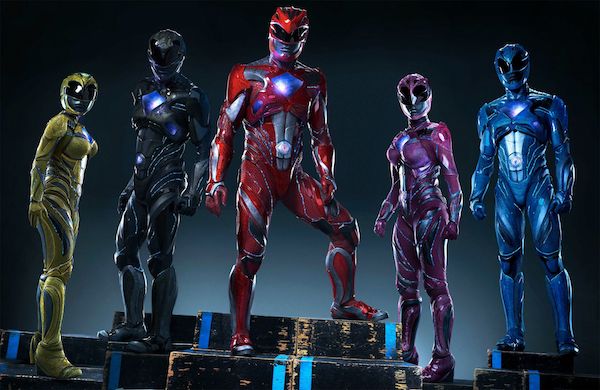 Power Rangers is heavy on the nostalgia, but does it do the old show justice? Read our movie review to find out!
[dropcap]I[/dropcap]t's the strangest feeling to view something you grew up watching after school on television replicated on the big screen for a new generation. I recall being so into the Power Rangers that did battle with monsters that I'd draw pictures of the golden-winged ape Goldar clashing swords with the heroic Megazord robot. I thought to myself while watching the new Goldar and new Megazord battle on screen if today's kids would be able to draw these figures. Even at the age of nine, I could easily draw the simple shapes and colors of the monsters and robots, but I think it'd be a lot tougher when the Megazord appears as a mess of metal and Goldar looks like a glob of living mustard. Why must we shirk iconic designs for cluttered and complicated splattering of computer graphics?
These odd redesigns all come with the package of trying to turn Power Rangers into a more serious young adult hero picture. Or at least as serious as it can be for a picture that seems to have taken a big cue from the Michael Bay school of toy franchise filmmaking. The opening scene of the previous heroes being grittily killed in combat is quickly followed up with a scene where a student has accidentally masturbated a bull. When I saw this scene, I strapped in and set my expectations low. Thankfully, this bull joke does not come full-circle and the most disgusting gag that follows is one of the teens referring to the act of Morphing as something you do in the shower.
If we must live in a world where a Power Rangers movie is to be given a serious treatment, director David Israelite does make a decent call of trying to focus more on the dynamic between the five teens chosen to defend Earth. We get to know most of these characters as the outsiders of high school, the majority of them introduced in a detention scene straight out of The Breakfast Club. Jason (Dacre Montgomery) is the jock that went one prank too far that resulted in him being kicked off the football team. He soon befriends the autistic nerd Billy (RJ Cyler) and begins to fall for the popular-turned-outcast Kimberly (Naomi Scott).
The remaining characters of the bad-boy Zack (Ludi Lin) and anti-social Trini (Becky G) are given rather abrupt introductions, as they don't show up until the other three venture to the town's local mines. What're they doing at the mines? Advancing the plot so they can get to the Power Rangers action. The five of them proceed quickly through most of the exposition in the most cliché and clunky of writing and editing. But considering how much of a long and daunting road they have to travel before we actually get to the star attraction, the audience must accept that the five of them are casual enough to proceed with the extraordinary superhero plot.
The story is nothing new or unexpected for a superhero origins tale. The evil Rita Repulsa (Elizabeth Banks) has awakened from her slumber and seeks to destroy Earth. After seemingly millions of years being stuck underwater, she looks very much like a modern movie witch. Her plan is to find a McGuffin crystal that can destroy the planet and needs her giant golden monster Goldar to retrieve it. One would need an awful lot of gold to assemble such a creature, but Rita seems to find just enough from tooth fillings and jewelry stores. I feel more robbed than the jewelry store that there wasn't a more impressive scene where she storms Fort Knox.
Related: Movie Review: 'The Boss Baby' is a Mess in Need of Changing
The all-powerful crystal McGuffin happens to be located inside a Krispy Kreme. Of course, the characters will clearly say Krispy Kreme whenever they refer to the crystal located inside a Krispy Kreme. The action-packed climax must temporarily cease so that Rita can enter a Krispy Kreme and eat a Krispy Kreme donut. I thought this was supposed to be a feature-length toy commercial, not a donut commercial.
While I'd like to praise the film for spending the majority of its time with the Power Rangers out of their suits and bonding together, it's handled rather poorly with an onslaught of lame humor and inconsistent valleys in their relationships. Throughout the picture is a constant repetition of basic team origin morals; they need to work together, they need to open up, they need to be honest, etc. True, the movie does adhere closely to this formula from the TV show, but it just goes to show how inconsistent this picture truly is with its tone. For every moment when a character makes a somber confession of their frustrating times at school and at home, there's another where they stammer for a funny line, desperate to insert comedy into nearly every scene. I don't know, I somehow thought there should be more knowing humor for a picture with a villain called Rita Repulsa.
Read more for the rest of the Power Rangers movie review:
Review: "Incredibles 2" is a Fantastic and Fresh Return to Form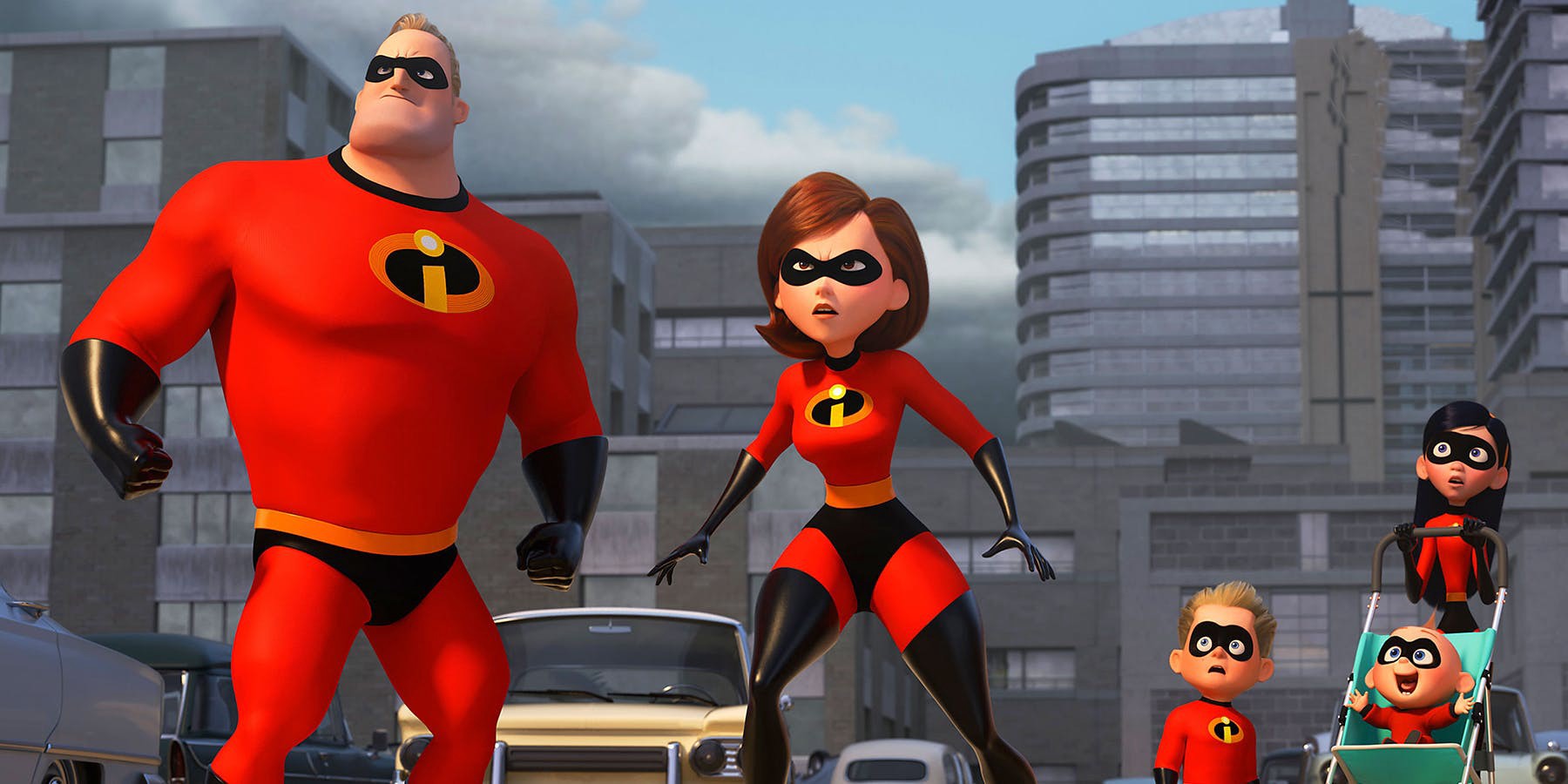 Oh, how we waited so long for that sequel to Pixar's The Incredibles, arguably their most exciting, inventive, and dynamic of animated films. Sure, they could have tossed it off to another director to deliver a film in 2009 or maybe even craft an animated series in 2012. But they didn't. And so we watched and longed as Pixar churned out sequel after sequel to other properties; some brilliant (Toy Story 3), some mild (Finding Dory), and some confoundingly conceived (Cars 3). The good news is that patience for Brad Bird's return to the franchise as writer/director was not in vain. He has returned to give us something fresh, bold, and intelligent out of a franchise that deserves nothing less.
While the Incredible family was last seen bonding while bashing robots, they still have some issues to solve. Socially, there's a disconnect between working together and taking responsibility. Role-wise, there's an unease of trust when shifting duties. And legally, superheroism is still a big no-no in their society. Naturally, the immediate problem is trying to lift the ban on superheroes, and it's going to take careful consideration to ease the public trust. That's where Elastigirl (Holly Hunter) comes into play, teaming up with a tycoon (Bob Odenkirk) to reshape perceptions of heroism with her body-reshaping superpowers. And since Bob Incredible (Craig T. Nelson) pulled the solo hero path last time, he takes on the more onerous task of maintaining a household. Being a stay-at-home isn't so bad, but it's a draining nightmare when dealing with his speedster son Dash (Huck Milner), his emotional daughter Violet (Sarah Vowell), and the baby Jack-Jack that is more of a hodgepodge of powers than he was in the last film.
While Incredibles 2 both mimics and restructures the focus on family dynamics, it's amplified more than enough to be its own thing rather than a retread. Elastigirl's crime-stopping crusade pits her against the hypnotizing villain Screenslaver, a masked and technological terrorist that may be a pawn in a bigger conspiracy. Bob's new mission of raising the kids on his own is not a mere mess of parenting malaise, but as much of a hilarious and visual feat as Elastigirl's cityscape adventure. There are relatable challenges of Dash's homework and Violet's troubled love life at school, but how many dads have to stop their infant from fighting raccoons outside with laser eyes?
Everything in the film has been expanded to the degree where this world is more open, dwarfing the previous film's scope. Frozone (Samuel L. Jackson) returns and has far more to do than chill between acts. The same is true for the world of superheroes that blows up to include Owl-men, lava-lurchers, and interdimensional portal weavers in the film's explosive climax. We see more of the cities and their striking 60s deco design of wonderment, from old-fashioned TV studios to state-of-the-art trains of the future. The film even goes deep into Bird's love and inspiration of Jonny Quest with a multitude of Easter eggs, including literally playing Jonny Quest on nearby television sets.
There's a unique balance of adult themes and engaging storytelling where the superheroes feel as though their perspective has been warped by misplaced perceptions, political bureaucracy, and a fear of the new manifesting in cultural roles. If this all seems a little heavy for the kids, worry not. The standout attraction is the adorable Jack-Jack, showcasing what appears to be an endless series of superpowers. Among his many attributes, he can set himself aflame, transform into a demon, hop through dimensions, and duplicate himself. This makes him troublesome, but all funnier for his adorable nature. Even the usually snooty hero-fashion designer Edna (Brad Bird) can't resist the little scamp that she's willing to be called an auntie.
For the basest of thrills, Incredibles 2 doesn't let down in the animation department, boasting plenty of gorgeous action sequences that involve everything from splitting motorbikes to missile-launching cars to runaway hydrofoils. But what makes Incredibles 2 just as strong for the second go is that it never loses the charm and smarts with the themes of struggling parents in every aspect of their lives. So strong is this writing that the heftier abundance of fights and feats never feel like filler for such a rich story. It seems fitting that the Incredibles would return amid the recent surge in superhero films, where an animated film fit for the family would be aptly timed. True, but, as with Marvel's most box office shattering pictures, it returns with a purpose and precision that aims to give fans and families more than capes and cowls. Edna hates capes, after all.
Ocean's 8 Snatches Box Office Top Slot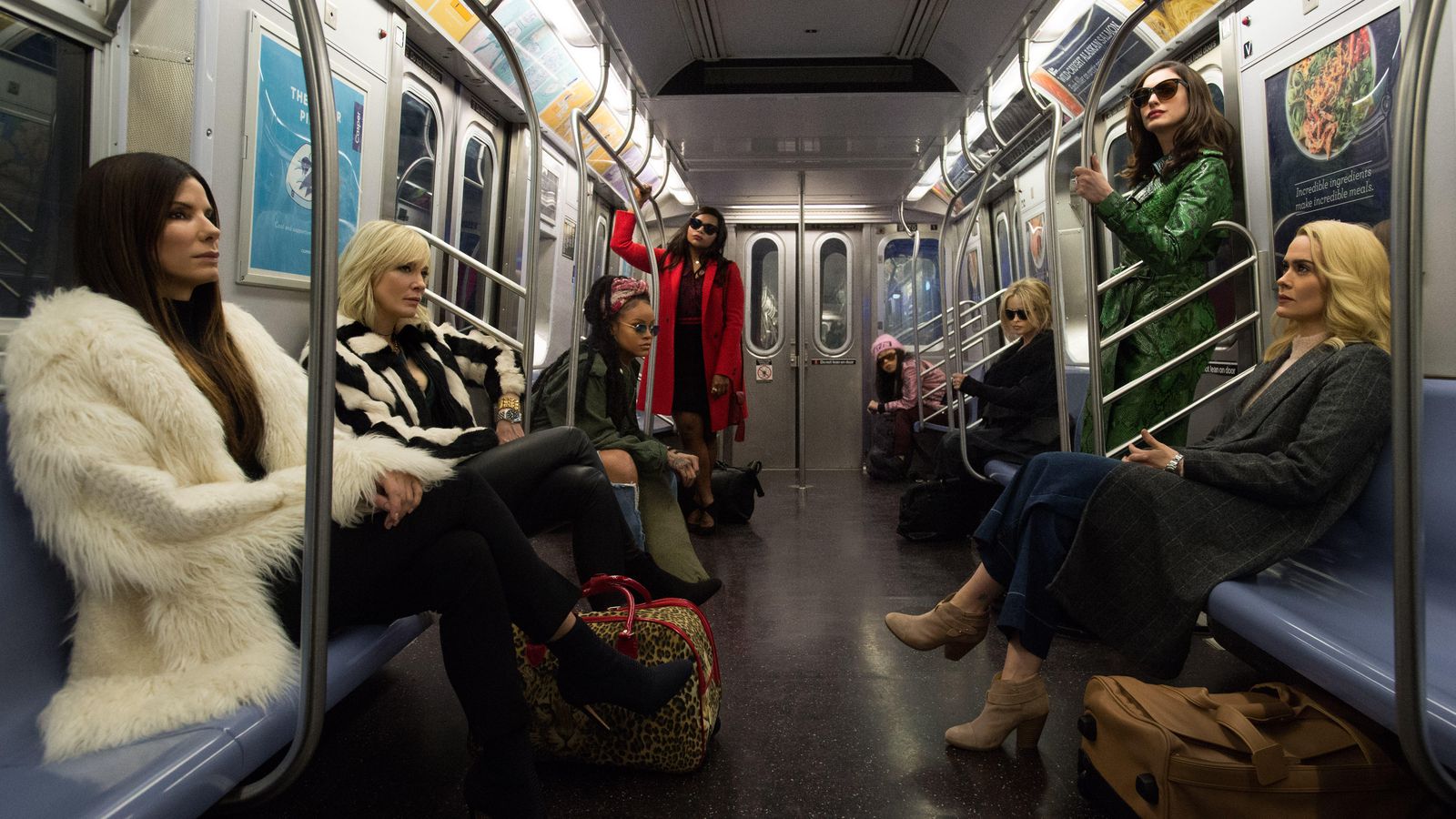 Box Office Report June 8-10, 2018
Ocean's 8, the all-female remake of the heist picture Ocean's 8, made a strong debut for its first weekend. The film starring the likes of Sandra Bullock, Cate Blanchett, and Anne Hathaway brought in $41.5 million. Considering the budget of $70 million, the movie still has a few weeks to go before breaking even.
Summer tentpoles are still lingering and are certainly not going to be leaving the top 10 any weekend soon. Solo: A Star Wars Story, despite a surprisingly low debut gross, remains at #2 with a weekend gross of $15.1 million, bringing its total to $176 million. Not bad for your average summer film, but significantly disappointing for a Star Wars movie that usually brings in a hefty sum. Just beneath it in the rankings is Deadpool 2, the superhero satire starring Ryan Reynolds, making $13.6 million for a total so far of $278 million. And Avengers: Infinity War continues to stay in the top 10 with another $6.8 million, adding to its already epic total amount of $654 million. It may be well on its way to toppling 2018's other superhero blockbuster, Black Panther, which as it happens is just one million away from making $700 million domestic. Infinity War is, however, only $2 million away from reaching $2 billion worldwide.
The two other new films this weekend were lost in the dust, though they may gain a small following. Hereditary, a surprising new horror form studio A24, debuted in under 3,000 theaters but came in at #4 for the weekend with a $13 million gross. Considering the good word of mouth the film has been getting, and an electrified ad campaign of being the "scariest movie ever", it may be sticking around in the top 10 for quite some time. Also debuting much lower is the sci-fi noir picture, Hotel Artemis, coming in at #8 with a small $3.1 million take.
Read the full top 10 below:
Ocean's 8 ($41,500,000)
Solo: A Star Wars Story ($15,154,000)
Deadpool 2 ($13,650,000)
Hereditary ($13,037,336)
Avengers: Infinity War ($6,836,000)
Adrift ($5,050,000)
Book Club ($4,200,000)
Hotel Artemis ($3,151,118)
Upgrade ($2,220,000)
Life of the Party ($2,105,000)
Next weekend's new films will include Pixar's long-awaited superhero sequel The Incredibles 2, the based-on-a-true-story comedy Tag, and the modern remake of blaxploitation classic Superfly. Considering the wealth of fans for The Incredibles, the 4,200 theaters it will be debuting in, and the projected massive take, it's clear as crystal who will be next weekend's winner of the top slot.
Review: An All-Star Cast Makes "Hotel Artemis" Worth Checking In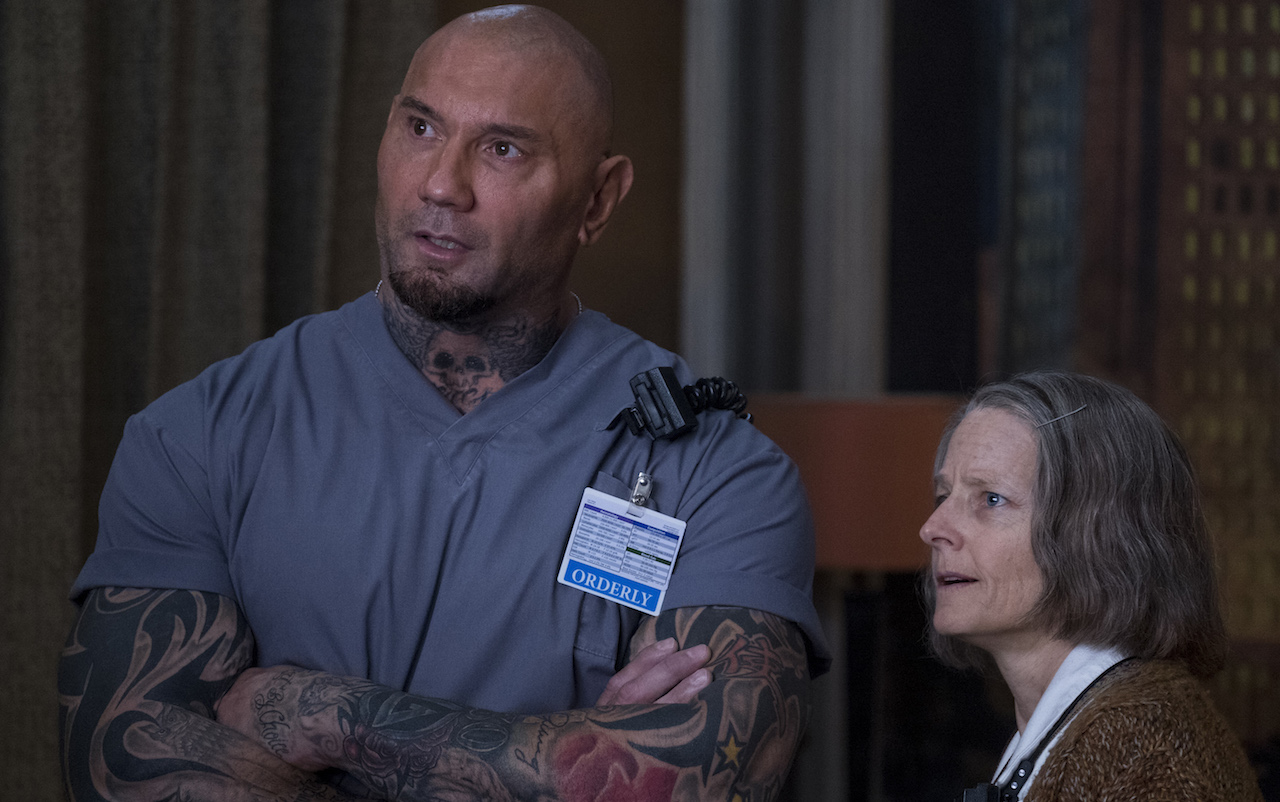 We don't know too much about the chaotic future of Los Angeles in Hotel Artemis. We know there is a water conglomerate, a city-wide shutdown of water services, and violent riots in the streets. That's about all Jean Thomas (Jodie Foster) knows and all she wants to know. She resides at the titular hotel on the top floor as the nurse for her secret hospital for criminals. It's dangerous work and she finds herself overbooked on the night of the city's most massive riot, where several unsavory people converge for hushed healthcare. It's a recipe for disaster, but for Nurse Thomas, it's just another Wednesday.
The rustic hotel becomes a stew of colorfully conspiring characters that will feud and toy with each other, despite the hospital rules of not killing the other patients. Sterling K. Brown plays a robber that needs some help for his brother (Brian Tyree Henry) after a botched robbery. Sofia Boutella plays a femme fatale assassin that always seems to be on the clock in her fancy dress, skilled with using coffee cups as deadly weapons. Charlie Day is a rich snob that can't wait to get out of the city and look on the lowlifes rather than receiving the same bedside manner. And even more guests will show up including a cop (Jenny Slate), a ruthless mob boss (Jeff Goldblum), and the boss' eager-to-kill son (Zachary Quinto). If it weren't for the muscle-bound assistance of Everest (Dave Bautista), the Artemis wouldn't last long with its failing power, rickety elevators, and blood-stained sheets.
Thomas is overworked and crippled with guilt and anxiety, but brushes off those questioning her with her standard response: "Busy night at the Artemis." That's an understatement. There is so much going on in this ensemble-filled enclosure that the various arcs wobble and topple all over each other. The trailers made the plot seem so simple with Sterling accidentally stealing a pen that contains million-dollar diamonds, belonging to Goldblum's character that is quite strict with his punishments for pilfering. And yet that's not the reason Goldblum stops by, as he has need of medical services and becomes intertwined in the many messy affairs. Some of the characters have contracts to kill from within the hotel, some have guilt they're trying to get over, and some have past relationships that rekindle. The film can't seem to settle on a central story with the same indecisiveness of the allegiances of the occupying scum.
There's an all-star cast on parade for this fast and frenetic futuristic crime tale, and they become the glowing center of this decadent ride. Jodie Foster is adorable as the slick-talking nurse. She has enough experience with lawbreakers to not only enforce her domain but do so with a knowing smirk and biting commentary. In any other film, she'd be present for a few minutes before stepping aside for lukewarm heroes, but Foster is a full-timer here, hobbling between rooms in her comfy nurse outfit and continuously checking her tablet to keep tabs on patients. Brown makes for a charming robber with his straight talk and ease of swagger. Bautista is as likable as always even when he's not showcasing his tattooed muscles. Armed with a slick and to-the-point script, all of the actors have a genuine nature to them, even for the understated performances of Jenny Slate and Jeff Goldblum.
Hotel Artemis has a bafflingly crowded assembly with too many plot irons are in the fire, an unfilled relationship between the remaining players, and an ending that I suspect may have been retooled with reshoots. But it's firmly glued with a stellar cast in top form, dashes of dazzling sci-fi tech (including a brilliantly brutal misuse of a 3D printer), and an intoxicating atmosphere amplified by golden synth from Cliff Martinez. All of this makes the film an exhilarating original film that you certainly don't see every Wednesday.