Movie Review: 'Power Rangers' Mighty Morphs into a Clunky Blockbuster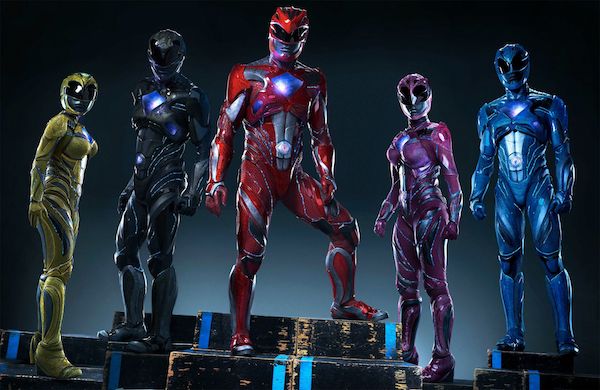 Power Rangers is heavy on the nostalgia, but does it do the old show justice? Read our movie review to find out!
[dropcap]I[/dropcap]t's the strangest feeling to view something you grew up watching after school on television replicated on the big screen for a new generation. I recall being so into the Power Rangers that did battle with monsters that I'd draw pictures of the golden-winged ape Goldar clashing swords with the heroic Megazord robot. I thought to myself while watching the new Goldar and new Megazord battle on screen if today's kids would be able to draw these figures. Even at the age of nine, I could easily draw the simple shapes and colors of the monsters and robots, but I think it'd be a lot tougher when the Megazord appears as a mess of metal and Goldar looks like a glob of living mustard. Why must we shirk iconic designs for cluttered and complicated splattering of computer graphics?
These odd redesigns all come with the package of trying to turn Power Rangers into a more serious young adult hero picture. Or at least as serious as it can be for a picture that seems to have taken a big cue from the Michael Bay school of toy franchise filmmaking. The opening scene of the previous heroes being grittily killed in combat is quickly followed up with a scene where a student has accidentally masturbated a bull. When I saw this scene, I strapped in and set my expectations low. Thankfully, this bull joke does not come full-circle and the most disgusting gag that follows is one of the teens referring to the act of Morphing as something you do in the shower.
If we must live in a world where a Power Rangers movie is to be given a serious treatment, director David Israelite does make a decent call of trying to focus more on the dynamic between the five teens chosen to defend Earth. We get to know most of these characters as the outsiders of high school, the majority of them introduced in a detention scene straight out of The Breakfast Club. Jason (Dacre Montgomery) is the jock that went one prank too far that resulted in him being kicked off the football team. He soon befriends the autistic nerd Billy (RJ Cyler) and begins to fall for the popular-turned-outcast Kimberly (Naomi Scott).
The remaining characters of the bad-boy Zack (Ludi Lin) and anti-social Trini (Becky G) are given rather abrupt introductions, as they don't show up until the other three venture to the town's local mines. What're they doing at the mines? Advancing the plot so they can get to the Power Rangers action. The five of them proceed quickly through most of the exposition in the most cliché and clunky of writing and editing. But considering how much of a long and daunting road they have to travel before we actually get to the star attraction, the audience must accept that the five of them are casual enough to proceed with the extraordinary superhero plot.
The story is nothing new or unexpected for a superhero origins tale. The evil Rita Repulsa (Elizabeth Banks) has awakened from her slumber and seeks to destroy Earth. After seemingly millions of years being stuck underwater, she looks very much like a modern movie witch. Her plan is to find a McGuffin crystal that can destroy the planet and needs her giant golden monster Goldar to retrieve it. One would need an awful lot of gold to assemble such a creature, but Rita seems to find just enough from tooth fillings and jewelry stores. I feel more robbed than the jewelry store that there wasn't a more impressive scene where she storms Fort Knox.
Related: Movie Review: 'The Boss Baby' is a Mess in Need of Changing
The all-powerful crystal McGuffin happens to be located inside a Krispy Kreme. Of course, the characters will clearly say Krispy Kreme whenever they refer to the crystal located inside a Krispy Kreme. The action-packed climax must temporarily cease so that Rita can enter a Krispy Kreme and eat a Krispy Kreme donut. I thought this was supposed to be a feature-length toy commercial, not a donut commercial.
While I'd like to praise the film for spending the majority of its time with the Power Rangers out of their suits and bonding together, it's handled rather poorly with an onslaught of lame humor and inconsistent valleys in their relationships. Throughout the picture is a constant repetition of basic team origin morals; they need to work together, they need to open up, they need to be honest, etc. True, the movie does adhere closely to this formula from the TV show, but it just goes to show how inconsistent this picture truly is with its tone. For every moment when a character makes a somber confession of their frustrating times at school and at home, there's another where they stammer for a funny line, desperate to insert comedy into nearly every scene. I don't know, I somehow thought there should be more knowing humor for a picture with a villain called Rita Repulsa.
Read more for the rest of the Power Rangers movie review:
"Glass" Glows Amid Dim Weekend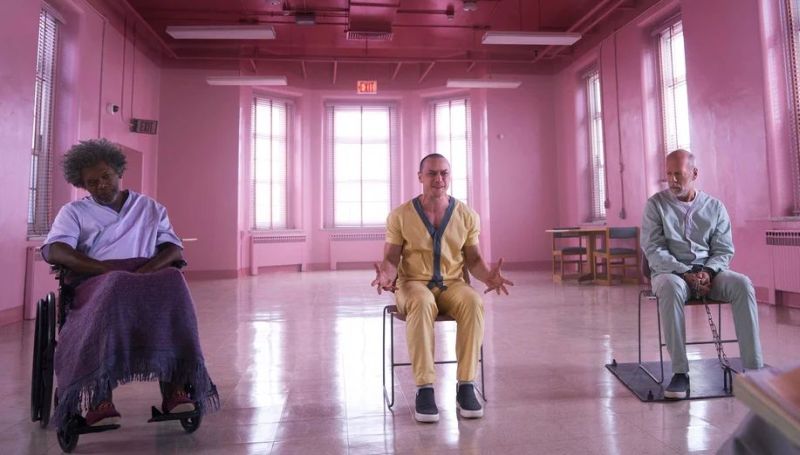 The weekend of the Super Bowl found the box office low about as expected with not a single film making over $10 million for the weekend. As such, there were very few surprises with which films ended up where. Just as with last week, Glass is at #1 for its third weekend, coming in with $9.5 million, shaping up to be another financially successful film from M. Night, though it'll start dropping as we head into February. Just behind it is the dramedy The Upside, pulling up close with $8.8 million as it expanded into a few more theaters for the weekend.
The premiere for the weekend, Miss Bala, a cartel thriller, only debuted at #3 with a box office debut of $6.7 million. Not a very strong opening but it did manage to get just above the December box office hang-on superhero movies of Aquaman and Spider-Man: Into the Spider-Verse, still in the top 5. Green Book, coming up on awards season, soared higher in the box office upon expansion and The Kid Who Would Be King, unfortunately, won't be seeing much of an audience going into February.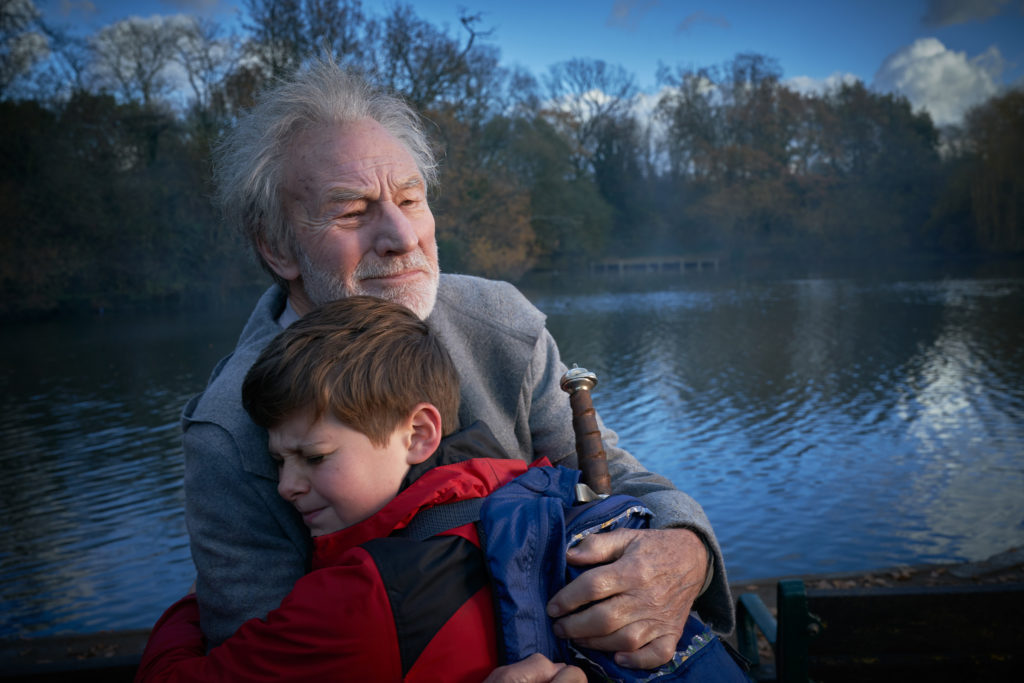 Debuting in a very limited engagement is Peter Jackson's They Shall Not Grow Old, a WWI documentary with restored footage. The film had originally opened the last week of December in a handful of theaters but thankfully expanded into more theaters where it was strong enough to make it to #10.
Glass ($9,535,000)
The Upside ($8,850,000)
Miss Bala ($6,700,000)
Aquaman ($4,785,000)
Spider-Man: Into the Spider-Verse ($4,410,000)
Green Book ($4,317,000)
The Kid Who Would Be King ($4,200,000)
A Dog's Way Home ($3,510,000)
Escape Room ($2,900,000)
They Shall Not Grow Old ($2,405,000)
Next weekend is all about the LEGO. LEGO Movie 2, the animated sequel, will be hitting over 4,000 theaters. Also opening will be the thriller Cold Pursuit in 2,500 theaters, the killer-kid horror The Prodigy opening in 2,500 theaters, and the gender comedy What Men Want in 2,800 theaters.
"Glass" Holds Firm, "King" and "Serenity" Sink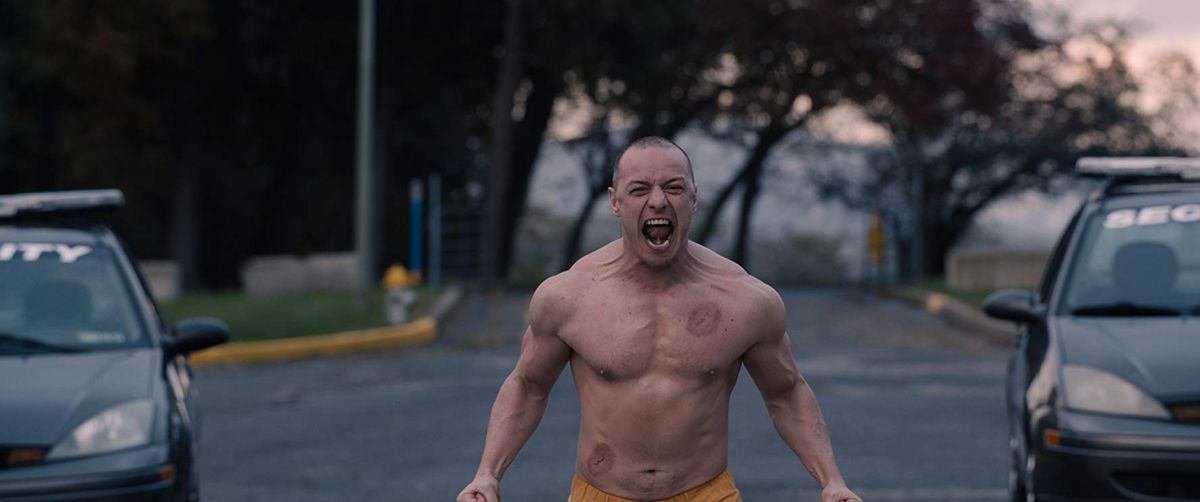 M. Night's Glass already had a lot of hype for being the most anticipated movie of January and the popularity is proving it. Now in its second weekend, the thriller has made another $19 million and has shown itself to be a box office success even in the colder months of January where it's not exactly pulling in the largest of box office numbers. Not exactly a twist from a director known for twists.
The premieres for the weekend didn't fare well at all. The Kid Who Would Be King, Joe Cornish's kid-oriented fantasy of modern knights and demons, debuted only at #4 with a weekend gross of $7.2 million, lagging not far behind Aquaman which made $7.3 million. It seems strange that family entertainment wouldn't be a bigger hit in a month with little of that. But then again, Spider-Man: Into the Spider-Verse is still in theaters and still doing well at #5, proving to have the legs to stick around into February as it continues to win awards for being a groundbreaking animated film.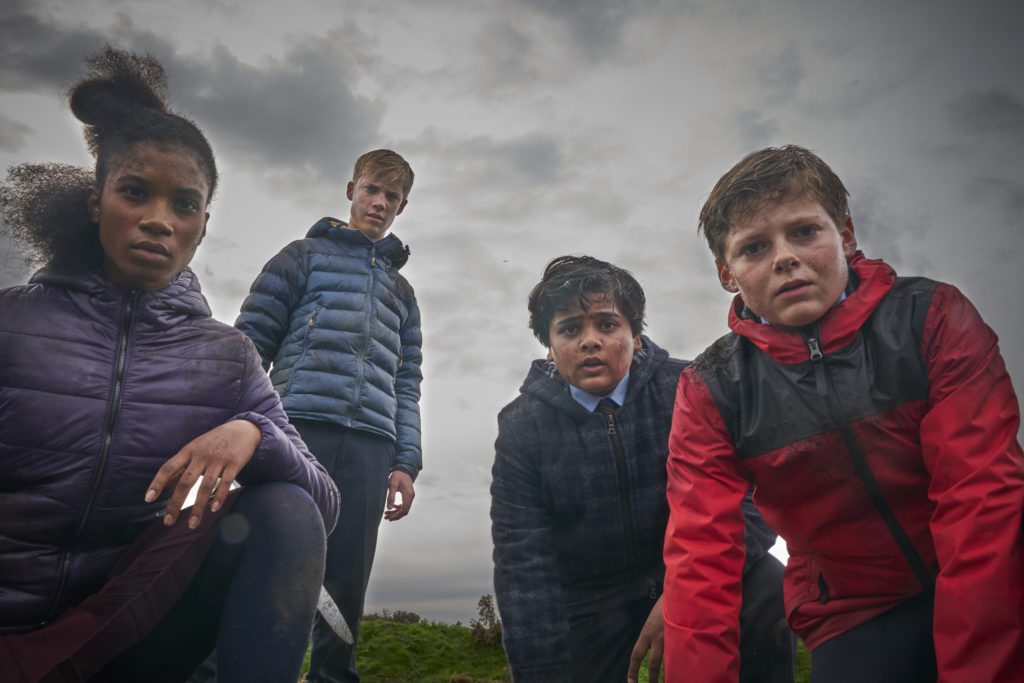 Also debuting lower is Serenity, a new drama by Steven Knight. This one doesn't seem as surprising given both the lack of promotion for the picture and the abysmally negative critic reviews, declaring the film as an early front-runner for the worst of the year. The movie only came in at #8 for the weekend with a gross of $4.8 million.
Worth noting is that Dragon Ball Super: Broly is still hanging in the top 10, latching onto the #10 spot with a gross of $3.6 million. Though not the biggest box office compared to its competition, it's a big success for FUNimation pushing anime into theaters given they've yet to have as big of a release as this one and for such a long time. Most anime they release in theaters are only present for a weekend if that and tend not to crack the top 10 as often. Dragon Ball Super has become the exception and may lead to more anime screenings to larger theater counts in the future.
See the full top 10 for the weekend below:
Glass ($19,049,000)
The Upside ($12,240,000)
Aquaman ($7,350,000)
The Kid Who Would Be King ($7,250,000)
Spider-Man: Into the Spider-Verse ($6,150,000)
Green Book ($5,413,000)
A Dog's Way Home ($5,225,000)
Serenity ($4,800,000)
Escape Room ($4,275,000)
Dragon Ball Super: Broly ($3,600,000)
Review: "Alita: Battle Angel" Fights Faithful, Dark, Fun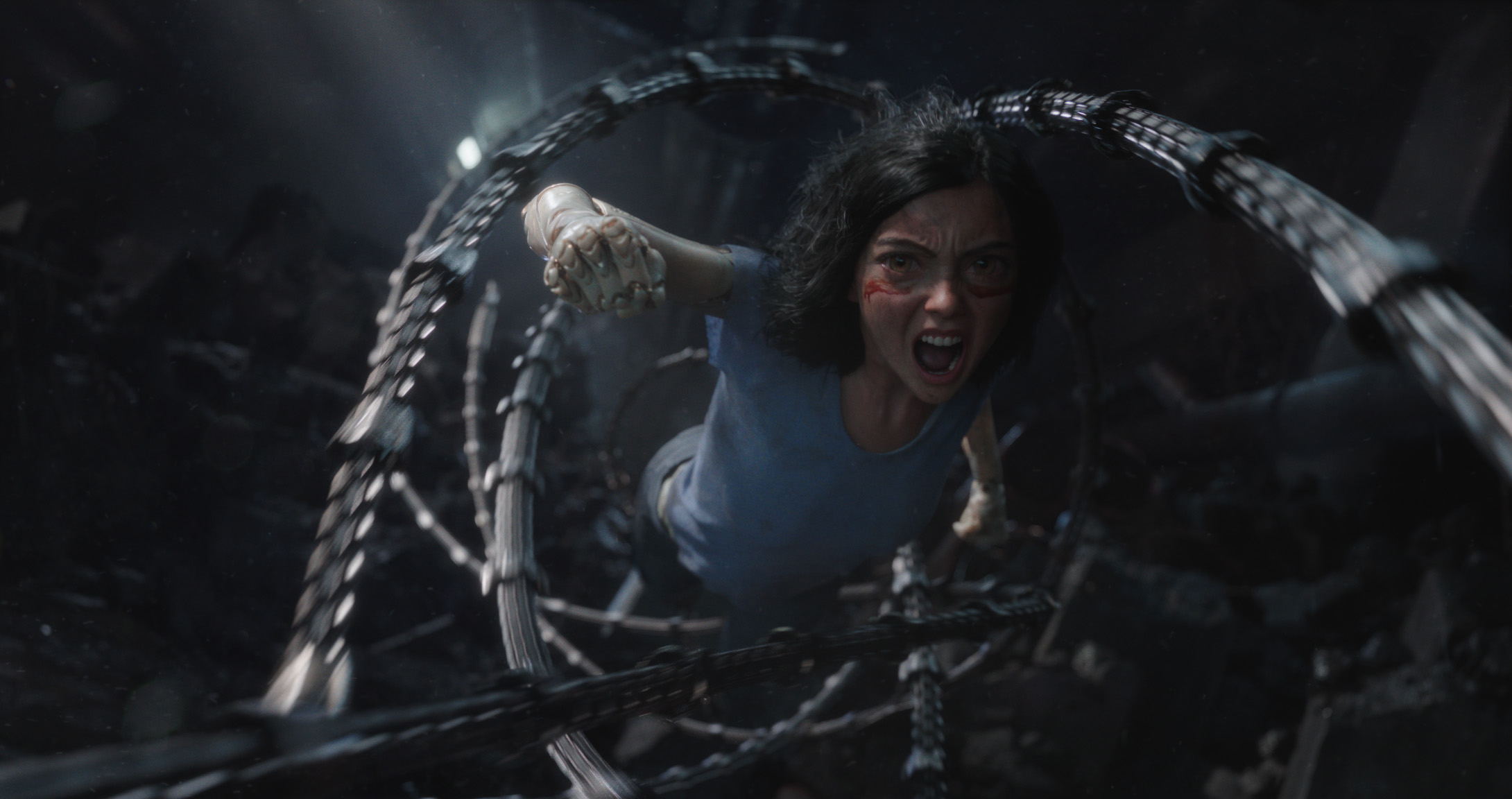 When it comes to films based on Japanese anime and manga, they have a record far more stumbling than that of video game movies. These types of movies have been plagued with everything from confused direction (Dragonball Evolution) to cheap translations (Fist of the North Star) to awkward whitewashing (Ghost in the Shell). But Alita: Battle Angel may just be the first film to break that mold, at least from a translation point.
One would hope that the screenplay writer James Cameron would put some dedication into this project he had been talking about making happen for nearly two decades. Surprisingly, he matches the source material well. The world is perfectly defined with a cyberpunk dystopia of the far future, the elites residing in a metropolis of the sky while the poor cyborgs struggle on the surface world of garbage. Also present is the grim atmosphere which I questioned if Cameron would delve into, given that the original story was a depressing one of pathos, amputation, decapitation, bifurcation, and the murdering of a dog.
The film has all of this in telling the story of Alita (Rosa Salazar), a mysterious teenage cyborg found with very little of her body in a heap of dumped robot parts. Determined to rebuild her and give her a new life as a teenage girl is Doctor Ido (Christoph Waltz), committed to being a charity of a cybernetics doctor when so few can afford so much in artificial limbs they need. Alita is a kind girl, made all the more sweet with those artificially giant eyes added digitally. While this may really give her the look of an uncanny valley creation in hopes of replicating that anime style, it works well in defining Alita as both an artificial being and fitting in with the odd nature of cyborg society.
There's a progressive build of Alita discovering both the world around her and uncovering her cloudy past. She takes as much of an interest in the fast-paced violent sport of Motorball as she does the scrappy young Hugo (Keean Johnson), potential boyfriend material. But she'll soon come to learn that not everybody is who they appear to be, as both Hugo and Ido have secrets they haven't revealed as the web of corruption in the city runs deep. All of it relates back to the giant floating paradise in the clouds that everybody shoots for, including the smug gangster leader Vector (Mahershala Ali) who acts as a puppet for those above, sometimes literally. Everyone wants to make it to the top and they're willing to break any rule to get there.
Of course, it's no shock that Alita is the girl to shake things up and fight the system. This is where director Robert Rodriguez takes the helm of this project and gives it his own flavor of slick and violent action. He really pushes that PG-13 rating to the limit of how much you can get away with in dicing up cyborgs, staging intimidating barroom brawls and vicious battles on a giant racetrack. Even for a director known for plenty of violence in his films, Rodriguez still manages to cram in a number of ouch-worthy moments where characters are sliced in half or have their faces chopped at an angle. Also present is Rodriguez's trademark humor that manages to fit in snugly amid the more tragic parts of this cyberpunk tale.
Alita still has a few kinks in the armor with some clunky bits of dialogue and emotions that run a little flat here and there. But I must admit I was surprised with how well this film holds together for being so ambitious in pursuing such a story, sticking to its essentials while still giving off a vibe all its own. I recall far back as being a teenager when hearing about Cameron's plan to adopt the original manga into a live-action movie and doubting it would ever see the light of day, especially with his crowded schedule and the lacking adaptations over the years. But, lo and behold, I'm astounded to not only see the movie made but that it's also well-made and true to its roots. A solid picture for fans of the manga/anime and a pleasing cyberpunk tale for newcomers of a teenage cyborg kicking metallic butts.