Movie Review: 'The Fate of the Furious' Runs Low on Originality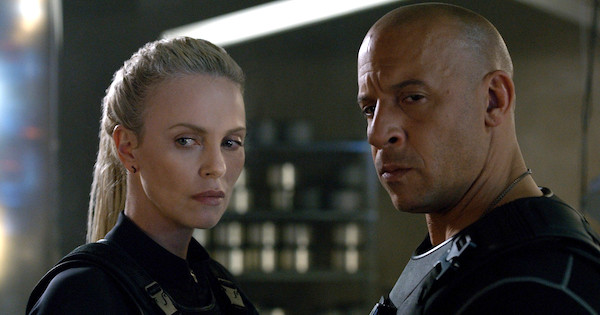 The Fate of the Furious has more cars and stunts than ever! Read our movie review here:
Before the screening for The Fate of the Furious film began, an advertisement was played for a Fast and Furious live event to be held at arenas. The footage featured all the familiar stunts of the previous movies, promoted as a thrilling show where cars would perform all sorts of ludicrous stunts as some strange cross between a circus and a demolition derby.
The stunts seem to have overtaken the humans for these movies and it's understandable given how intense and creative all these sequences are. They carry this film and will likely be carrying future installments for the long haul. Long after Vin Diesel and Jason Statham have passed on this series, the big draw will continue to be the sight of cars pulling more wicked maneuvers than Speed Racer with nitro in his coffee. And while these scenes still have a bit of fun to them, the gray hairs are starting to form on this series that struggles to make cars do more ridiculous things.
The action set pieces have to pull a bit of overtime with this installment, however, around to keep this average action plot a little more engaging. The whole gang returns to face a new enemy known as Cipher (Charlize Theron). She's probably one of the blandest villains of the franchise considering her plans and her personality. Her ultimate goal: To acquire nukes and hold the world hostage. Not exactly an original idea or even a cunning one based on how the stages of her plans involve causing mass destruction.
But I guess her scheme would have to be simple to utilize Dominic Toretto (Vin Diesel) as her muscle for her operations. Cipher pulled a few strings and played on Toretto's love of family to make him do her bidding, so her odds are at least better than the average Bond villain. I only wish she were more of a Bond villain so that she'd have a little more personality beyond her bland threats, passionless sexuality and infrequent tone. The most memorable thing about her is her hair that resembles spaghetti.
Meanwhile, the rest of the team is assembled to find Toretto and Cipher with the help of special agent Frank Petty (Kurt Russell) and his agency's unlimited supply of cool looking cars. Requiring extra help, the bitter enemies of agent Hobbs (Dwayne Johnson) and rogue assassin Shaw (Jason Statham) are forced to work together. Both actors are lovable in their genuine charisma, what with Johnson's smugly cuddly nature and Statham's hard-nosed sneering, but it felt as though there should be more to them than just trading insults. Most of their banter involves discussing foreign objects they loved to smash into each other's orifices. Such talk is fine for throwaway dialogue in the heat of combat, but not exactly the best for making character connections.
There's more for the rest of the characters to say than do. Roman (Tyrese Gibson) struggles with the frustration of only being number eleven on Interpol's most wanted list, but this leads to little more than lots of screaming and one-liners from the reliably funny character. A romance could have formed between hackers Tej (Chris Bridges) and Ramsey (Nathalie Emmanuel), but there's no electricity between their clicks and clacks of keyboards. Even Kurt Russell feels almost criminally unused as an agent that can do little more than comment from the corner with his greenhorn apprentice played by Scott Eastwood. So many wonderful opportunities for chemistry and wit are mostly kicked aside in favor of the most stock of action movie plots.
Related: Movie Review: 'Going in Style' Steals More Laughs than Substance
The stunts are far more engaging, creative and fun than anything human in this picture. Heck, some of the cars show more personality, even in a scene where a handful of them are unoccupied. Dom's crew latch onto Toretto's car with grappling hooks on their own vehicles, trying to both hold him in place and tear his car apart. Later on these cars will band together to form a shield against an explosion, protecting one of their own from the blast. Even the opening scene where Toretto drives a car backwards and on fire in a drag race is more admirable for the construction of the stunt itself as opposed to Dom's desire to win.
Read more to get the rest of The Fate of the Furious movie review:
"Crazy Rich Asians" is a Crazy Good Time

For those seeking a romantic comedy that's a classic romp of colorful characters and a compelling story, Crazy Rich Asians should have big neon signs directing towards its spectacle. There's an irresistible bounciness, a sugary-sweet charm, and a story with real meat past simple cultural antics of meeting the parents. So many beautiful notes are played with a breezy melody and meaningful awareness that it's one of the most joyous experiences I've had at the theater this summer. I can't remember the last time I said that about a romantic comedy.
Based on the novel by Kevin Kwan, this is a classic love story given one of the most dazzling of displays and meatiest of stories. American-raised Rachel Chu (Constance Wu) is excited to follow her boyfriend, the United Kingdom-raised Nick Young (Henry Golding), from their place in New York City to his family's home to Singapore for a family wedding. What she doesn't know is that Nick's family is the wealthiest in all of Asia, priding themselves on their lineage. They're so concerned for Nick that before the couple is even on the plane, word has spread throughout the family about Rachel's arrival. She's not prepared for how decadent and discriminatory a time she's in for in the dream-like land of wealthy Singapore.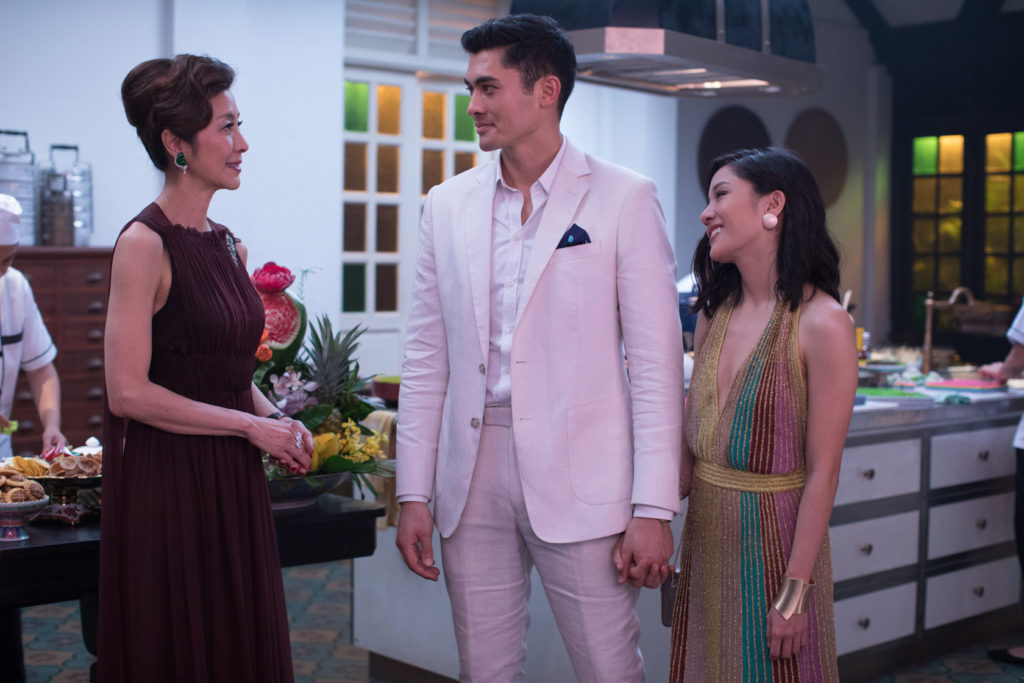 Though Nick's family is tough to please past some artificial smiles for the not-so-rich girl dating their family's company heir, Rachel undoubtedly gets a kick out of Singapore. The city looks stunningly vibrant with its towering structures, delicious food district, and a nightlife that brings out every color of the rainbow. But it's even more eye-popping when visiting Nick's lavish and spacious family home, with its many staircases, treasures, and a gorgeous garden fit for the largest of parties. She has remarkable restraint for not gushing over all of this.
But Rachel's accompanying college friend Goh Peik Lin (Awkwafina) isn't above going gaga over the glamour. Every scene she occupies she eats for breakfast with her Southern accent and over-the-top fashion sense that makes her explode with sass and smiles. Her wealthy father (Ken Jeong) refers to her as Asian Ellen for her haircut, but I see her as more of a young and Asian Joan Rivers. She has the unstoppable energy to her commentary and reactions that she walks away with any scene she fills, quickly packing up the attention and shoving it in her designer handbag.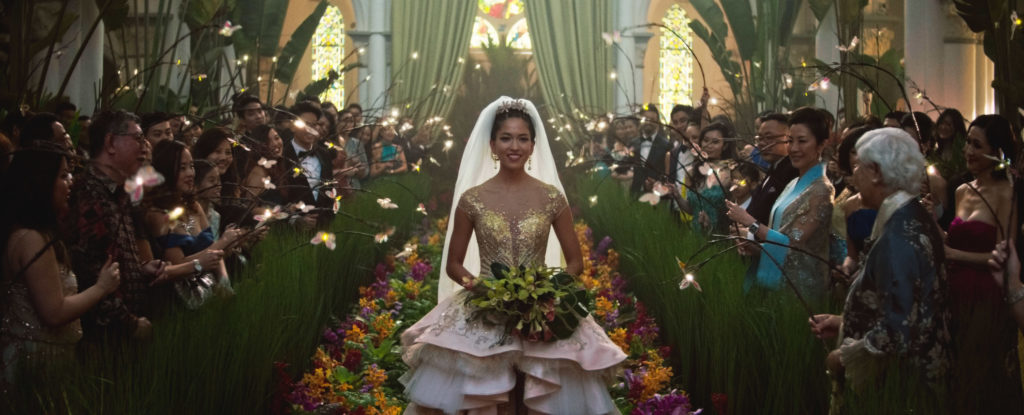 While most of Nick's kin is a bunch of partiers and dedicated pairs, it is his mother (Michelle Yeoh) that is the most judging. The only thing she values more than family tradition is rich blood. She finds Rachel's American values offensive to her regal Young line, soiling Nick's mind with passions that value individuality more than family. If her judging expressions weren't enough to send shivers down Rachel's spine with disapproval, she'll occasionally drop the niceness and whisper the harshest of words. And it's up to the charming Nick to make the tough call if a family is more important than love, the choice being distinct but not easy.
In between the more profound questioning of coming to terms with one's past and people, the comedy is top-notch amid the sordid family history drama. Any scene where Nick and Rachel share the screen is a genuine treat, where they effortlessly cuddle and comfort with ease to crack the right joke at the right time. Ken Jeong never fails to deliver some laughs, providing the memorably hilarious line to his wealthy children about eating their chicken nuggets: "There are starving kids in America." Some characters are just entertaining to watch without hearing their dialogue, as with Nick's cousin, a director from Hong Kong who works with his high-haired actress wife, never missing an opportunity to ravish each other. I've already said how much I adored Awkwafina's humor, but it needs to be stated again because she's the most unforgettable comedy goldmine of the picture.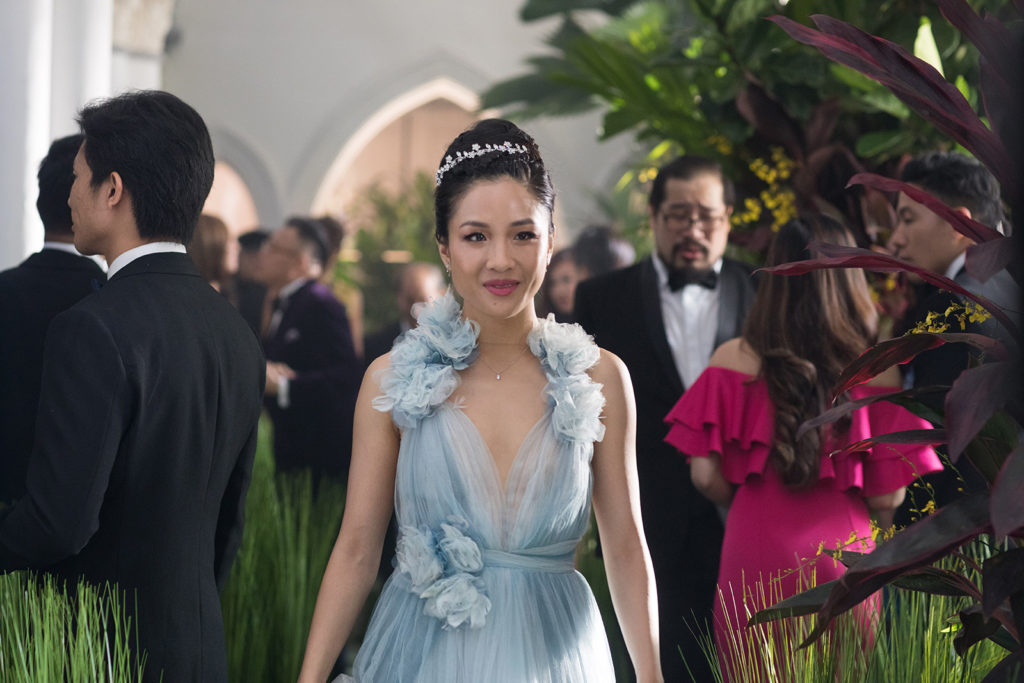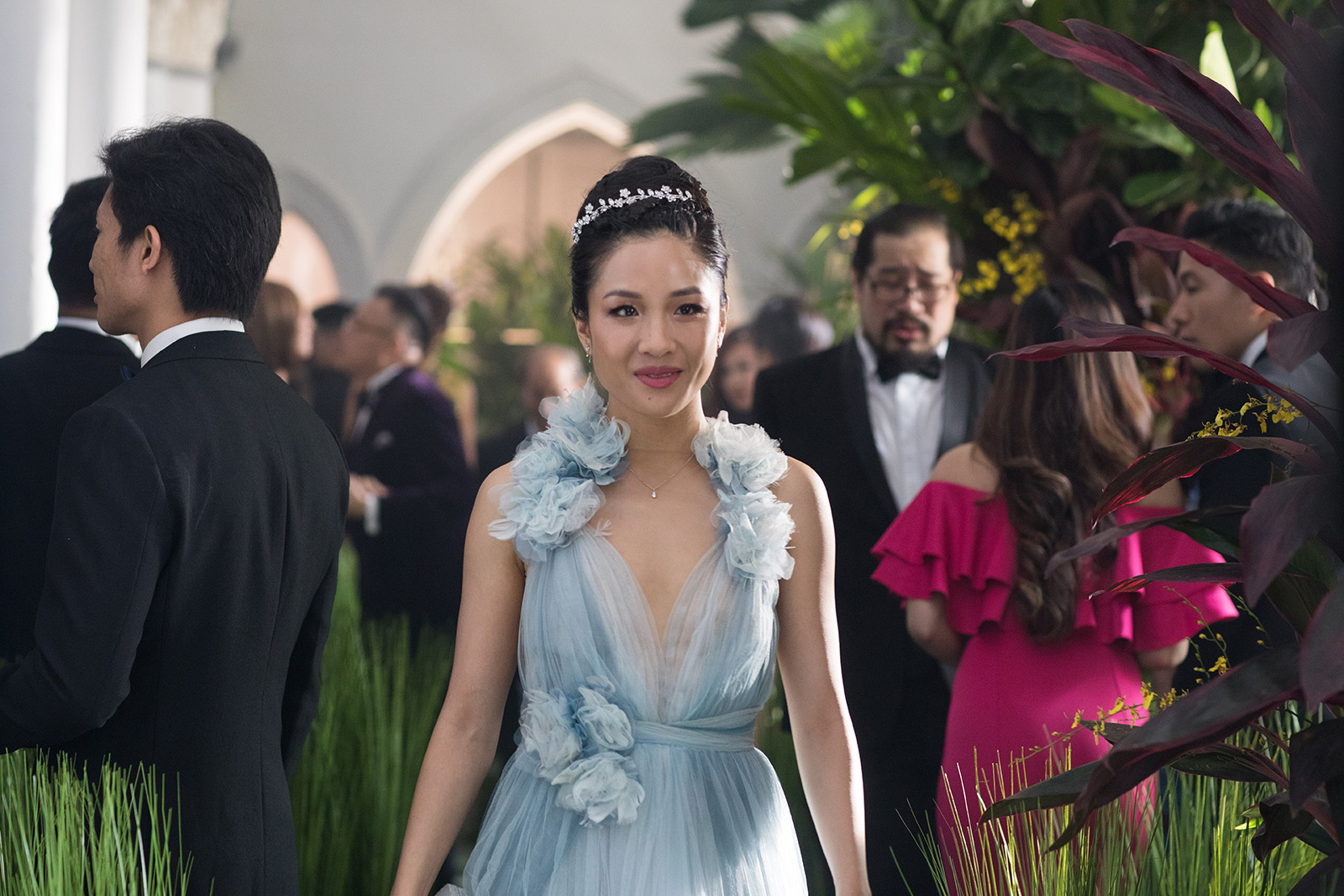 Despite a bookend-ish and somewhat lesser subplot of another marriage that takes a somber turn, there's so much emotion, laughs, and amazing design to make Crazy Rich Asians an easy recommendation for just about anyone, Asian or not. In addition to being a sweet romance with a divine dressing of sublime cinematography, it also stands firm as a film about shaping cultural values, making it far more than a universal romance with an Asian coating. This type of filmmaking not only elevates the representation of Asians in more significant theatrical films but raises the bar for romantic comedies in general. With such a perfect blend of cultural importance and bouncy romantic glee, this is a movie that can have its wedding cake and eat it too.
The Meg Munches For Box Office For Debut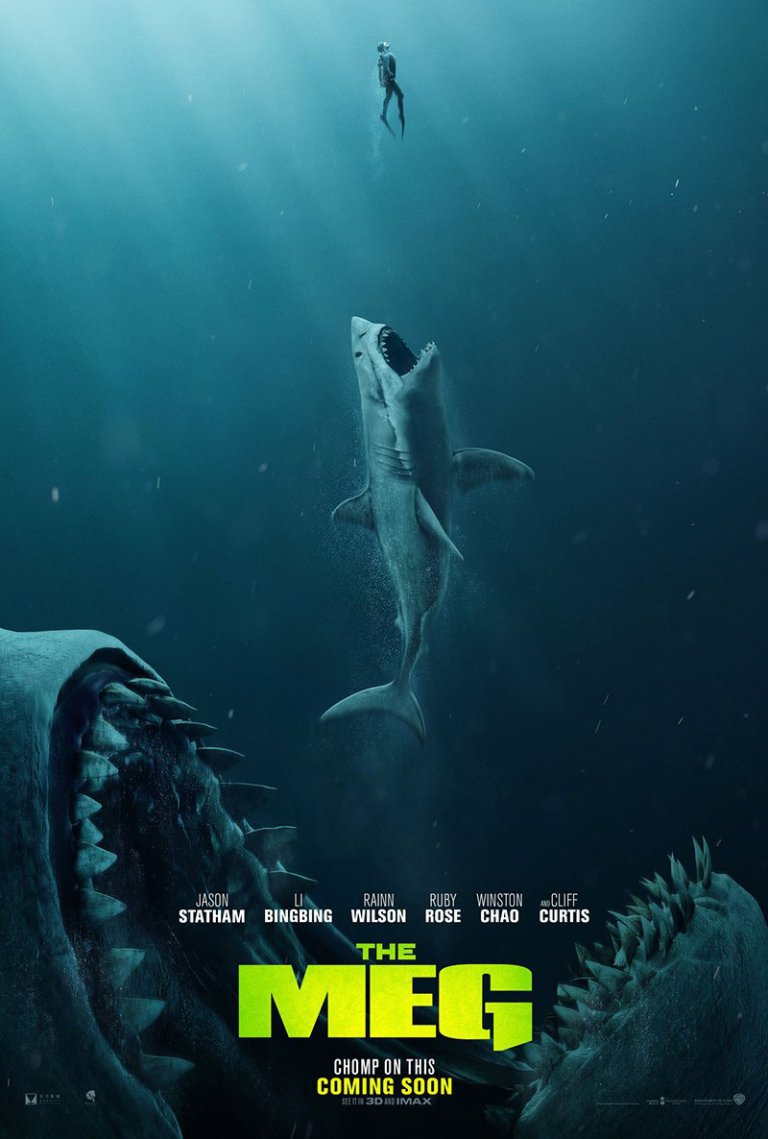 The final month of summer seems to be the time for creature feature horror. The Meg, the giant shark movie starring Jason Statham, made a splash to debut at #1 with a box office gross of $44.5 million. Not exactly a big wave for a summer blockbuster with a budget of $130 million, but still a decent premiere as the box office begins to wind down during the end of summer. Expect it to linger around for most of the month.
Still a top contender in the box office and easily one of the biggest success for the second half of the summer is Mission: Impossible – Fallout. As the sixth entry in the saga, starring Tom Cruise as the action-hungry agent Ethan Hunt, the film has pulled in another $20 million in its third weekend for a domestic total of $161.9 million. Also lingering in the top spot is Disney's Christopher Robin, the live-action adaptation of the Winnie the Pooh stories, now in its second weekend to add $12.4 million to bring up its domestic total to $50 million. With no significant family-friendly movies coming out for the month, you can expect this film to cling to the top 10 for quite some time.
A few new films debuted lower on the list but with what could be considered success. Slender Man, the horror film based on the online legend, made $11 million for its debut, clearing the $10 million budget. BlacKkKlansman, the latest film by Spike Lee that focuses on the investigation of the racist Ku Klux Klan, made $10.7 million for its premiere. While it still has yet to clear its $15 million budget, the positive word of mouth around this film may keep it steady in the box office for August. One premiere that wasn't so lucky was Dog Days, the new animal-centric comedy starring Vanessa Hudgens, came in at only #12 for a debut of $2.6 million.
Though the rest of the films had expected drops, one milestone was crossed for Ant-Man and the Wasp, despite only being at #10 for the weekend. After six weeks, the film has made $200 million domestic and $448 million worldwide. While this doesn't make it equal to Marvel's previous successes his year, it's still proving to be a solid summer for the unstoppable Marvel superhero franchise.
View the top 10 box office results for the weekend below:
The Meg ($44,500,000)
Mission: Impossible – Fallout ($20,000,000)
Disney's Christopher Robin ($12,430,000)
Slender Man ($11,325,000)
BlacKkKlansman ($10,799,000)
The Spy Who Dumped Me ($6,600,000)
Mamma Mia! Here We Go Again ($5,820,000)
The Equalizer 2 ($5,500,000)
Hotel Transylvania 3: Summer Vacation ($5,110,000)
Ant-Man and the Wasp ($4,048,000)
Next weekend will be a three-way battle between the new romantic comedy Crazy Rich Asians, the survival action picture Alpha, and the gritty action/drama Mile 22. Considering Crazy Rich Asians and Mile 22 will both be debuting in over 3,000 theaters, they'll be the top contenders, although Crazy Rich Asians will get an early start by debuting on Wednesday.
"The Meg" is Without Bite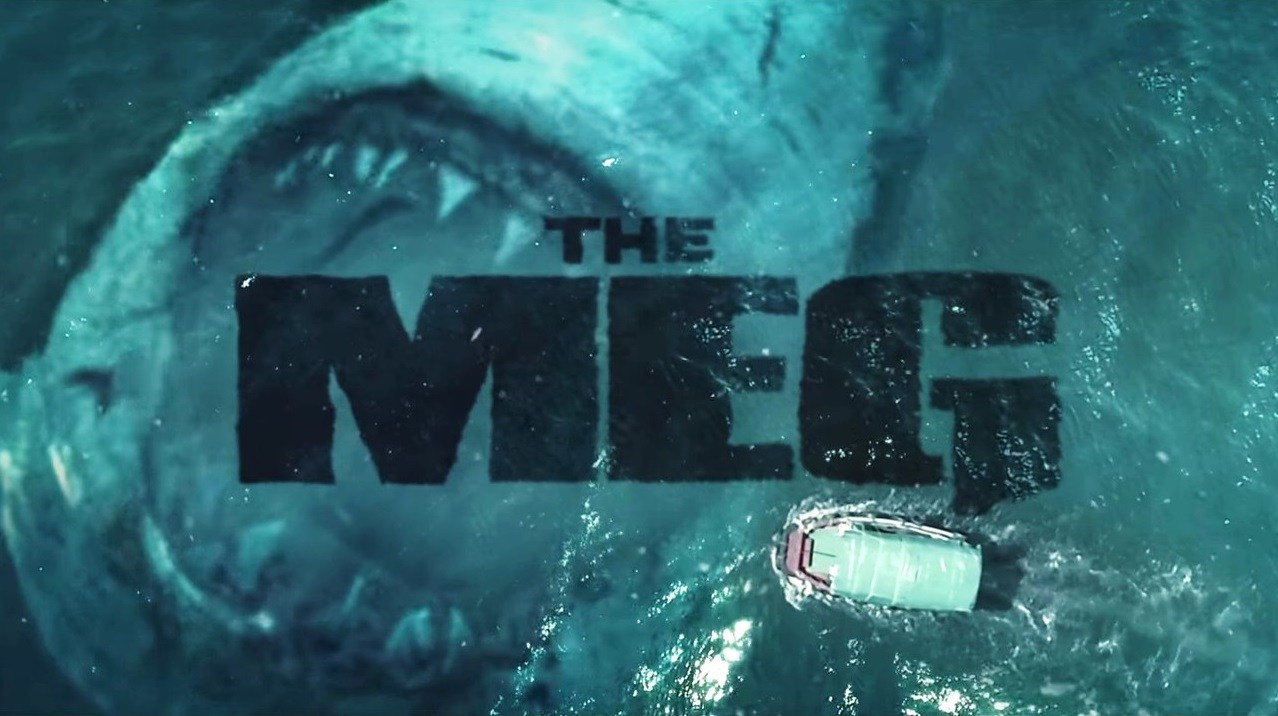 In the swarm of killer shark movies, The Meg does so little to stick out as being more worthy of the theater than the plethora of other B-movies in this subgenre. It's not stern enough to match the character and terror of Jaws. It's not silly enough to duplicate the delicious camp value of Deep Blue Sea. And it's undoubtedly not wild and insane enough to be as goofy a concept as Sharknado. It's rather sad to admit that a heftier dose of special effects for this usually cheap type of movie amounts to little more than a forgettable B-movie, putting in the minimum effort to be earnest and campy.
An expensive underwater research facility is run by a greedy billionaire (Rainn Wilson) with a research team that includes the tattooed bad-girl (Ruby Rose), the "no way" black engineer (Page Kennedy), and the eager to prove herself Chinese scientist (Li Bingbing) with a child randomly wandering the halls. When the facility discovers an unexplored part of the ocean floor, they're excited to discover all the new species. One animal they're not too keen on getting to personally know is the legendary Megalodon, a shark so monstrous in size it can chew through the largest of whales as though they were breadsticks.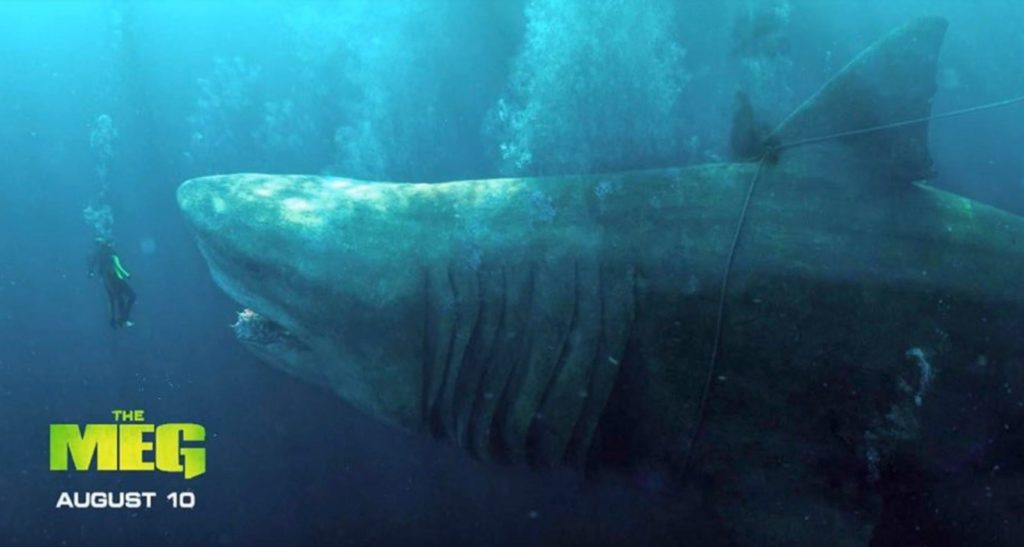 The giant shark damages an exploration vessel that leaves the crew stranded below. The only man for such a rescue is former deep-sea rescuer Jonas Taylor (Jason Statham). He was previously disgraced for leaving people behind during life or death situations, but maybe this time he'll save everyone. Well, perhaps not everyone; the shark has got to eat. And given the PG-13 rating, he won't be eating much off the human menu, feasting more on the filling meals of giant squids and whales.
While there are no quality kills to be had in this creature feature, the film does its best to be as showy and shlocky as possible, striving to be the most average of B-movie storytelling with a blockbuster budget. There are plenty of great shots of the monster looming over vessels and toppling over ships, including a high-tech chase of mini-seacrafts zooming around reefs as the Megalodon pursues. There are also plenty of brilliantly bad lines delivered with a tongue almost too deep in its cheek; scientists will laugh at the term "insertion," the billionaire will mutter that he can't swim, Statham will do his expected trash talking while battling the sea-beast, and a little girl will ask point-blank if her mother bound on a dangerous mission will end up dead. All the actors are trying their best to make this overly expositional monster movie fun, though this tone comes easy for Statham who seems always to have a knowing smirk on his face.
Maybe I've been spoiled by the more bombastic shark movies, but the lack of graphic violence felt like the film was holding back from its grander camp potential. How can you have a shark movie where such an enormous creature attacks one of the most populated beaches on the planet and mostly knocks a few boats and platforms around? I started to spring from my seat when I saw that wide shot of the beach with all those people, hoping the shark would ascend from the waters and swallow a few victims whole. And those hopes were quickly dashed when even the dog is spared from this slaughter, most likely edited back in because people don't like seeing dogs as appetizers. While there are no humans bloodied or gored too visually, there is plenty of underwater life that become massacred. It's an interesting study in MPAA logic; a human mother and daughter being torn to bloody shreds by a giant shark is most likely an R rating, but a whale mom and daughter are PG-13 approved when their tails are bitten off as their blood clouds the ocean.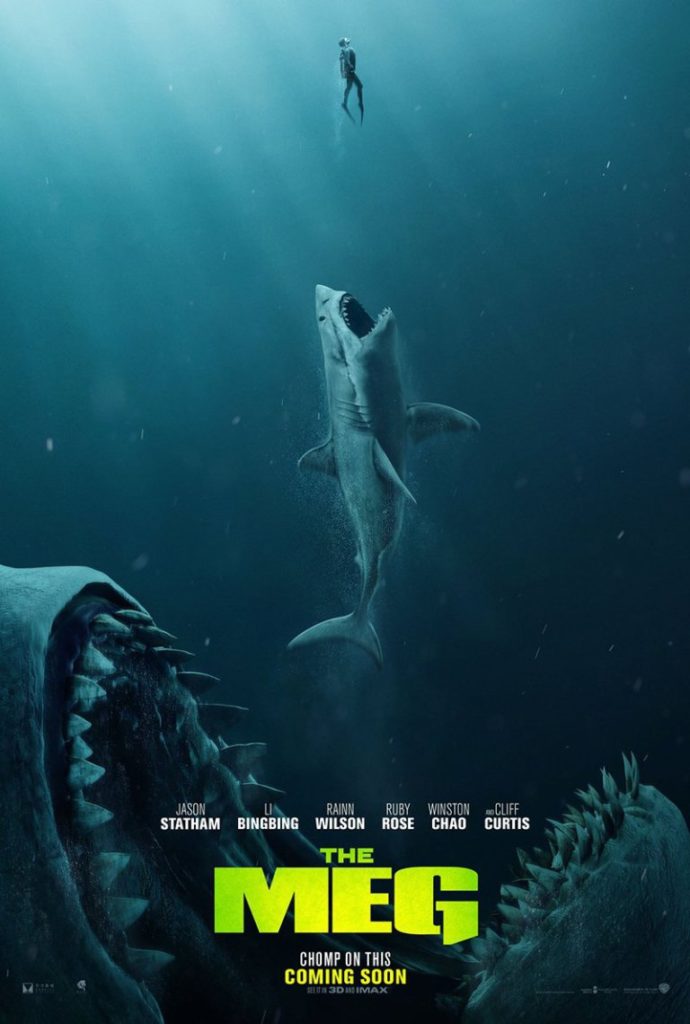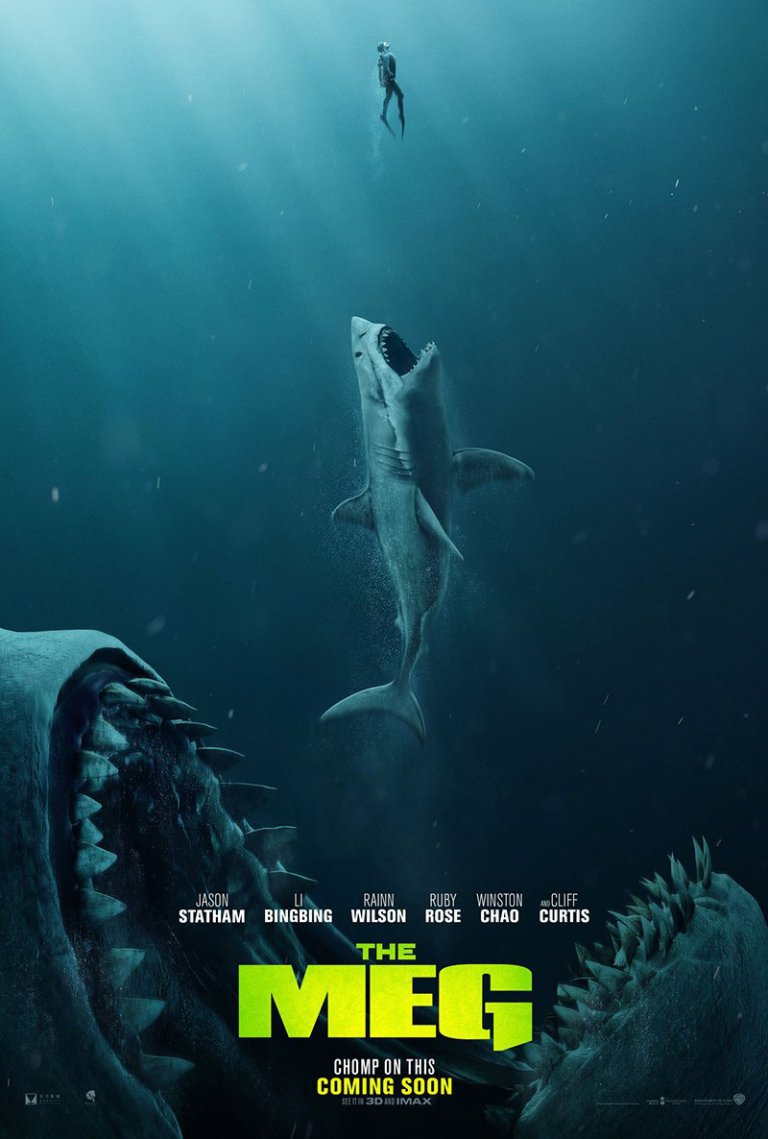 Despite some second-act melodrama that made me ask "where did this subplot come from," there's nothing all that memorable to The Meg. The film's sharper teeth for both horror and comedy are trimmed down to a standard summer blockbuster formula, best suited for those who want a killer shark movie without all the blood and gore, except for some chum and plenty of gored sea creatures. It's a monster movie so severely mid-tier, garnering laughs by formula and scares that come telegraphed, that it'll easily be lost in the endless pile of marine life massacre films. Okay, maybe it'll be remembered as the one with Statham in it; it's hard to forget such a smile.