What's going on in Buster's Mal Heart? No idea. Read our movie review as we attempt to figure it out:
F
ew films leave me perplexed on the fence as much as
Buster's Mal Heart
. There are three tones to this picture. The first is the vague and esoteric allusion to the inversion of one's own being and the divide they form in dire straights. The second is the relatable nature in how one man feels powerless in his desire to be free and happy. The third is the odd and quirky humor of the protagonist pooping in a pot and leaving cryptic symbols that law enforcement compare to butt holes.
Maintaining a trifecta, there are three stories at play in this non-linear story of Buster, played by Rami Malek with massive bags under his eyes. In the beginning, he's a family man struggling to acquire his own land to no longer live off the government, but finds this a nearly impossible task working his dead-end job as a hotel night clerk. In the middle, he's a bearded man on the run from authorities, taking refuge in empty vacation homes while making phone calls to radio stations about "the inversion." Somewhere towards the end, we see him bearded once more, but in a boat on the ocean.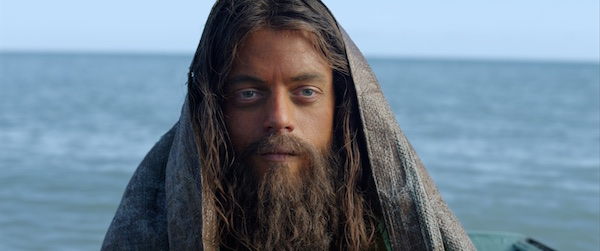 Phasing in and out of each story, the movie attempts to shift our perspective and make us wonder what is real and what is a hallucination of Buster's warped mind. He spends most of his work breaks watching a conspiracy theory show about the universe and chatting with a conspiracy theorist/computer programmer (DJ Qualls) who warns him of the coming Y2K epidemic. Is there truth to these babblings or is it all in Buster's head? Given the film's unfocused themes and surrealism, it's ripe for film theorists to overanalyze for eternity.
Related: Movie Review: 'The Promise' Muddily Mixes Melodrama with Genocide
Though slightly unnerving for striving to be so weird and existential, I'm at least grateful that writer/director Sarah Adina Smith provided more mystery to balance out her blunt anti-establishment rants. Her previous script – Goodbye, World – proved that she has all the subtlety of a mad conspiracy theorist with a matching level of storytelling. Sarah's writing has a loud voice for speaking out against a flawed society that has grown dependent on technology and destroying the environment, but is lacking in the words and actions to make coherent commentary.
Moments where Buster explodes at his wife with bitterness for not being able to escape the daily grind are embarrassingly blunt. Buster's wife fires back about how he can do little more than shout and can't find a solution as he doesn't know the first thing about being self-sufficient. So I guess they'll both just shout about such topics rather than explore them.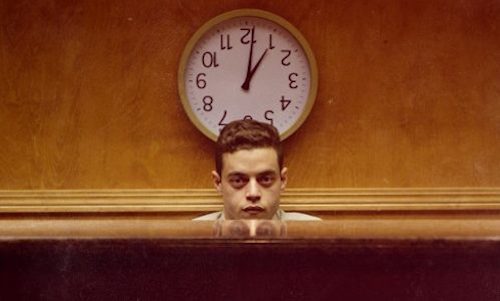 It's for the best that those scenes are few and between. The film works far better for its mysteries of murders and the universe than any commentary the script hopes to have on society. Rami does a fantastic job playing a man that can appear as a burnt out weirdo in one scene and a timidly loving father the next. The music is perfectly moody and atmospheric for a man doomed to a night job of dark and lonely halls, slowly losing his sanity over how he views his uncertain future. He's even semi-relatable in his crazy drifter phase as a lonely man who finds himself antisocial and distant from nearly everyone. There is a modicum of sense to his disorientation with the world, even if his acts of defecation and dialing up phone sex lines seem random. Again, a feast for movie theorists.
Read more for the rest of the Buster's Mal Heart movie review: