Movie Review: 'Coco' is a Sweet Mix of Music, Family, and Fantasy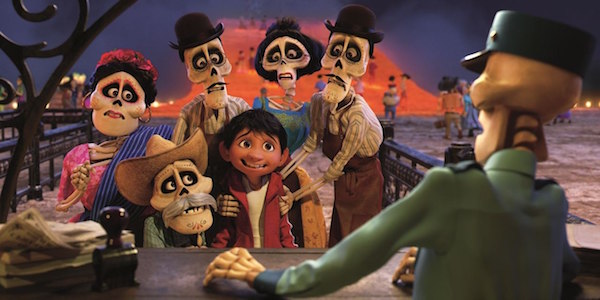 There was talk amongst the parents at the screening about that other animated film about the Mexican holiday, the Day of the Dead. It took them a moment to remember, but it was 2014's The Book of Life. For approaching this mythology once more in animated form, Pixar's Coco already has a comparison for that old argument amongst animated movies of which came first. Thankfully, Coco not only outshines The Book of Life in art and story but is surprisingly meaningful, emotional and perfectly timed for a Thanksgiving release, given the heavy themes of family.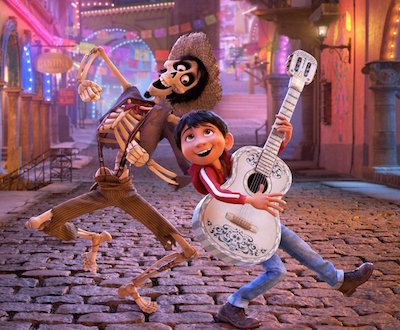 In a small Mexican village, the 12-year- boy Miguel Rivera (Anthony Gonzalez) has a dream of music, but one his family does not share. Music has apparently been a burden on the Rivera family, dating all the way back to great-great grandpa who left his family to pursue a music career. He is so despised by the family that his photo has been ripped from their Day of the Dead tribute and his name never spoken. The Riveras are more proud of their successful shoe business. All except Miguel, who'd instead pick up a guitar.
Aiming to play music at the local festival, he borrows the guitar of the famed singer/actor Ernesto de la Cruz (Benjamin Bratt), a famous man whom Miguel believes to be his great-great grandpa. It turns out the guitar magically sends him to the Land of the Dead, where the spirits of the dead reside without skin. To find his way back home, he needs the blessing of his ancestors, but the only ones present forbid him to go back and play music. Surely Ernesto will respect Miguel's love of music to send him back.
One significant advantage that Coco has over The Book of Life is that there's a more grounded vision of the Land of the Dead. Clear rules are established for how the afterlife functions. On the Day of the Dead, spirits can cross a bridge into the Land of the Living, but only if their picture is displayed by the family on that day. Not only can spirits not crossover if their photo isn't placed in tribute, but they pass away to another realm for being forgotten. Visiting mortals cannot crossover either without a family blessing, and too long a visit will result in their death, as Miguel slowly starts turning into a skeleton. This creates a real goal and consequences for Miguel. There's also enough of an incentive for the forgotten Hector (Gael García Bernal) to help him out for the trade of placing Hector's portrait in tribute in the mortal world.
The tale is mostly a family drama with Miguel peeling back the mysteries of his lineage as he traverses the colorful world of the dead. Though some obvious twists are foreshadowed in the film's opening exposition by Miguel, I was surprised how twisty and revealing the story became of the Rivera family's history.There's some fun to be had, as when Miguel outsmarts the LoD authorities by disguising himself as a skeleton and later teaming up with Hector for a musical performance. The little details of how this world works, from the facial recognition system for guiding spirits to the swanky clubs for elite souls, are fantastic and wondrous, even if there isn't much an explanation how the neon spirit animals work. I guess you to slam some cute animals in there somewhere.
In the same way that Inside Out explored how it's okay to feel sad, Pixar's Coco stresses the importance of family and the remembrance of legacy. It's a grand theme, but well-presented with gorgeous animation and heart so full that the touching climax is bound to make the audience cry. There are many animated films out there that can be classified as more kid-friendly than family friendly, but Coco is the very definition of a family film, featuring and acknowledging characters of all ages. It's complex without being convoluted, silly without being frenetic and somber without being dark. This is Pixar at their finest, crafting stunning new worlds with powerful writing behind them.
[author title="About the Author" image="http://popstermedia.com/wp-content/uploads/2015/07/mark_mcpherson-300×221-150×150.jpg"]Movie Reviewer Mark McPherson has been all about movies since working at a video store in his youth. His talents range from video editing to animation to web development, but movies have always been his passion to write about.[/author]
"Captain Marvel" Retains Top Slot at the Box Office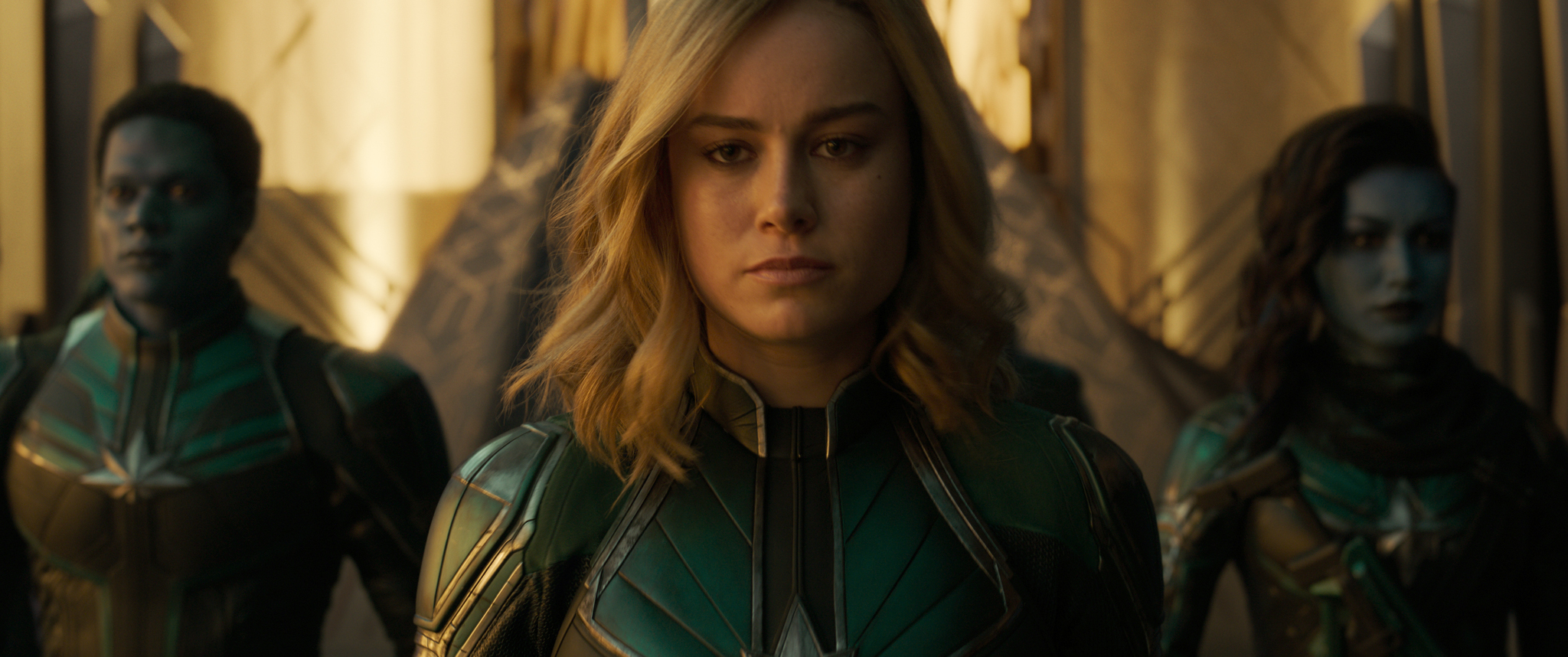 It's no surprise that in its second weekend, the first Marvel Cinematic Universe of 2019 is still riding high. Captain Marvel, the latest in the MCU with Brie Larson starring as the lead, generated another $69 million over the weekend, placing its domestic total at $266 million. Tallying up the international box office, the film's global total to date is $760 million. Despite the online controversy, the film is looking to be another strong box office smash for Disney and Marvel.

As for the premieres for the weekend, and there were plenty, they were all over the map. Just below Captain Marvel was the animated adventure Wonder Park, bringing in $16 million, another film with controversy when the director's name was removed from the picture after sexual harassment charges. Five Feet Apart, the dying teen drama about a romance amid cystic fibrosis, only came in at #3 with a weekend gross of $13 million. And debuting the lowest in the top 10 for debuts was Captive State, a sci-fi dystopian tale, only making $3 million. The film debuted so low the little film No Manches Frida 2 was able to sneak about it at #6 with a gross of $3.8 million.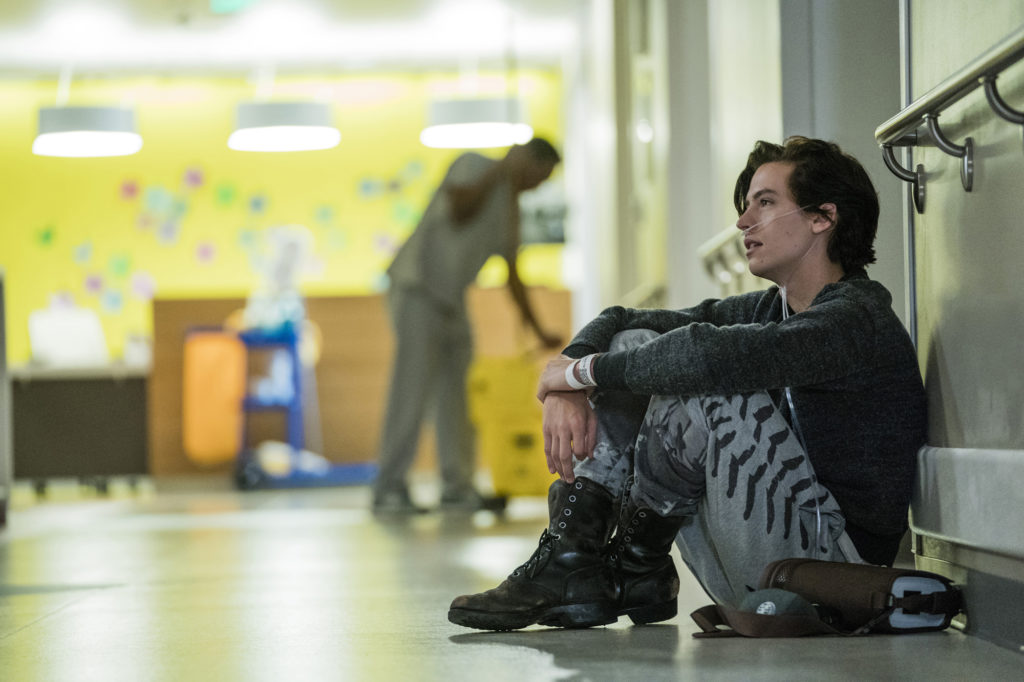 Drops were fairly low all around for the returning films, mostly because Captain Marvel was dominating the previous weekend. The only milestone worth noting is that The LEGO Movie 2, after six weeks at the box office, finally cracked $100 million. And the sun is now setting on Green Book's post-Oscar run by coming in at #10 for the final weekend of its top 10 run over the past few weeks.

View the full top ten weekend box office results below:
Captain Marvel ($69,318,000)
Wonder Park ($16,000,000)
Five Feet Apart ($13,150,000)
How to Train Your Dragon: The Hidden World ($9,345,000)
Tyler Perry's A Madea Family Funeral ($8,085,000)
No Manches Frida 2 ($3,894,000)
Captive State ($3,163,000)
The LEGO Movie 2: The Second Part ($2,135,000)
Alita: Battle Angel ($1,900,000)
Green Book ($1,277,000)

Next weekend, Captain Marvel may very well have some competition when Jordan Peele's new horror film Us hits over 3,600 theaters.

"Dragon" Continues To Soar, "Funeral" Close Behind, "Green Book" Back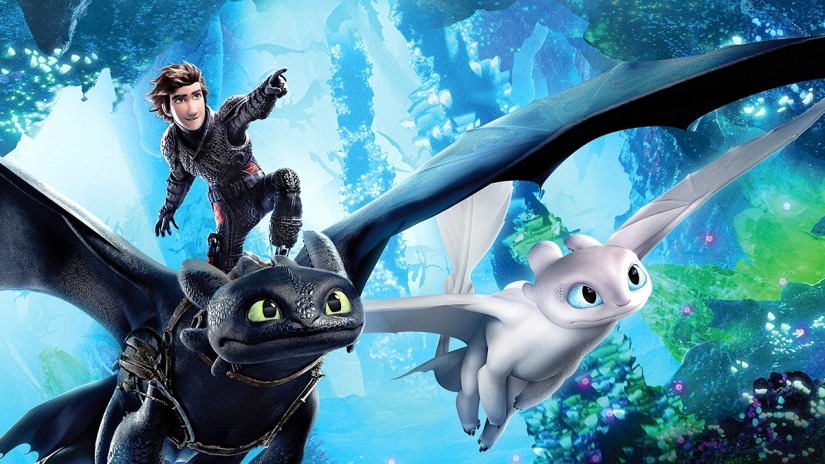 With little competition for the weekend, How to Train Your Dragon: The Hidden World, the third in the animated fantasy saga, was able to secure the box office once more. In its second weekend, the animated epic made $30 million to push its domestic total to $97 million. So far the film has done about the same as the previous film and is on track to stay in the top 10 for a few more weeks in March.
Debuts this weekend were small with one big exception. Tyler Perry's latest Madea film, A Madea Family Funeral, naturally made a relatively big splash with its dedicated audience. Starting at #2, the film made $27 million for its first weekend. No word on the budget yet but it's most likely on a budget as most Tyler Perry productions are, so it's safe to call this a success, especially for debuting with a box office so close to Dragon.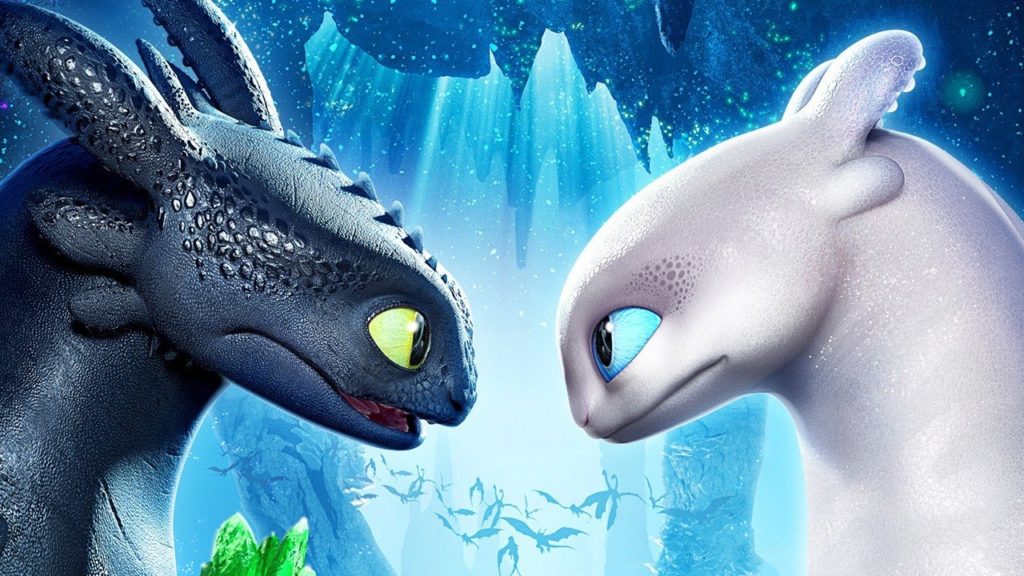 The rest of the premieres were not as strong at all. Greta, the new thriller starring Chloe Moretz, debuted all the way down at #8 with $4.5 million box office. To be fair, however, the film was in a constant battle for its spot as three other films also reported earnings around $4 million for the weekend. Of note, Green Book, fresh off winning the Academy Award for Best Picture one weekend ago, splashed back into more theaters to arise even higher in the top 10 with its domestic total now sitting at $73 million. Don't count on it remaining there long as bigger blockbusters will be swooping as we plow through the last remnants of winter movies.
Check out the full listing of the top 10 box office weekend results below:
How to Train Your Dragon: The Hidden World ($30,046,000)
Tyler Perry's A Madea Family Funeral ($27,050,000)
Alita: Battle Angel ($7,000,000)
The LEGO Movie 2: The Second Part ($6,615,000)
Green Book ($4,711,000)
Fighting With My Family ($4,691,284)
Isn't it Romantic ($4,645,000)
Greta ($4,585,000)
What Men Want ($2,700,000)
Happy Death Day 2U ($2,516,000)
Next weekend is once again all about Marvel as their latest superhero solo film, Captain Marvel, will be appearing in 4,100 theaters.
Review: "Captain Marvel" is a Solidly Sensational Sci-Fi Adventure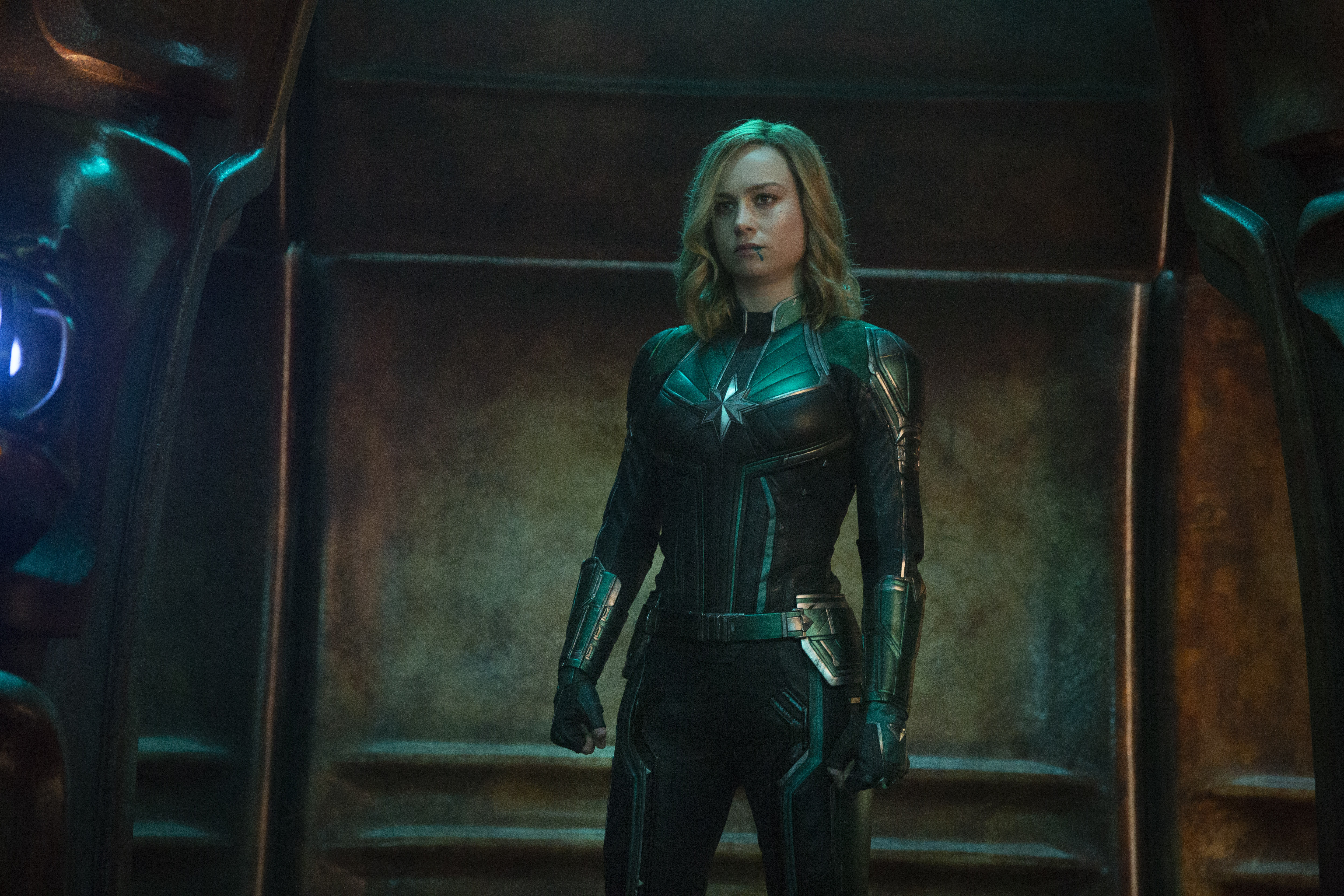 Captain Marvel joins the ranks of the Marvel Cinematic Universe in a much different way. She slides into the MCU via a twisty sci-fi adventure of the 1990s, before the Avengers were formed. And though the film does serve as a strong bridge picture that answers a few more questions about the Marvel universe, the film quickly becomes its own thing and gives its hero a real identity as the powerful addition to the superhero ensemble.

Brie Larson plays Carol Danvers, a woman not sure if she's a human pilot of Earth or a soldier of the Kree empire's Starforce. There's little time to explore these conflicting visions she's having when there's special energy powers to control and a war being waged against the shape-shifting Skrull alien creatures. A detour to 1990s Earth gives her a bit of time to find out more while also hunting down some more Skrulls, leading to some interesting scenarios when combatting aliens that could look like old ladies.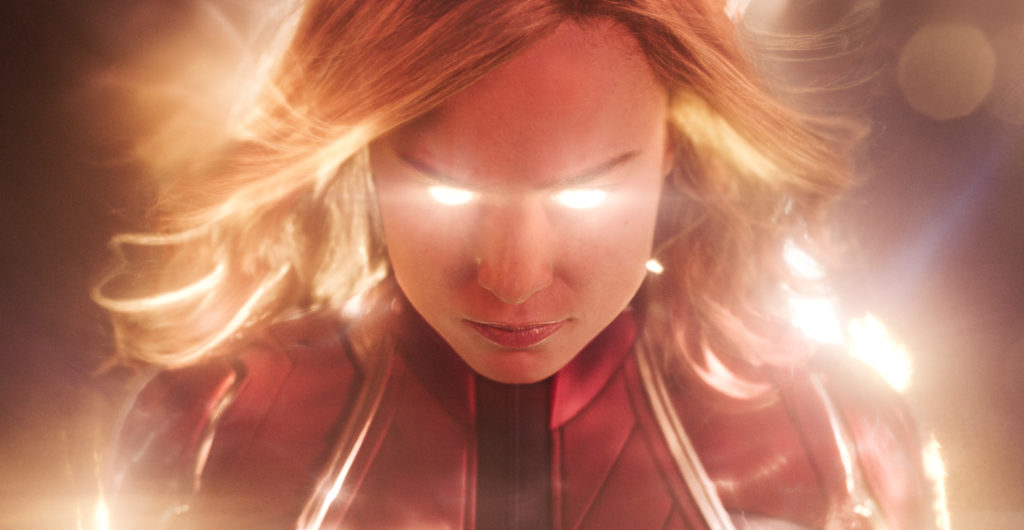 Carol's landing on Earth leads to treading down familiar Marvel timeline territory as well as evoking plenty of dated 1990s bits. What started drawing me into the picture was how the film holds itself back from the obvious. The 1990s setting is used for some gags of video stores and Windows 95, sure, but never goes the extra mile of becoming an aggravating reference fest, keeping a certain vibe the way Guardians of the Galaxy embraced the 1970s and 1980s. And just like that film, there's a nostalgic soundtrack to boot, with choice tracks for just the right cue.

Samuel L. Jackson pops up in the film as a younger Nick Fury with his two eyes still intact. He teams up with Carol in her intergalactic spy adventure and thankfully never goes to the booming lengths he was known for that decade. And the filmmakers could have easily made this younger Fury go full Die Hard 3 or Pulp Fiction but he never does, always keeping that cool persona he has been known for in the Marvel Cinematic Universe.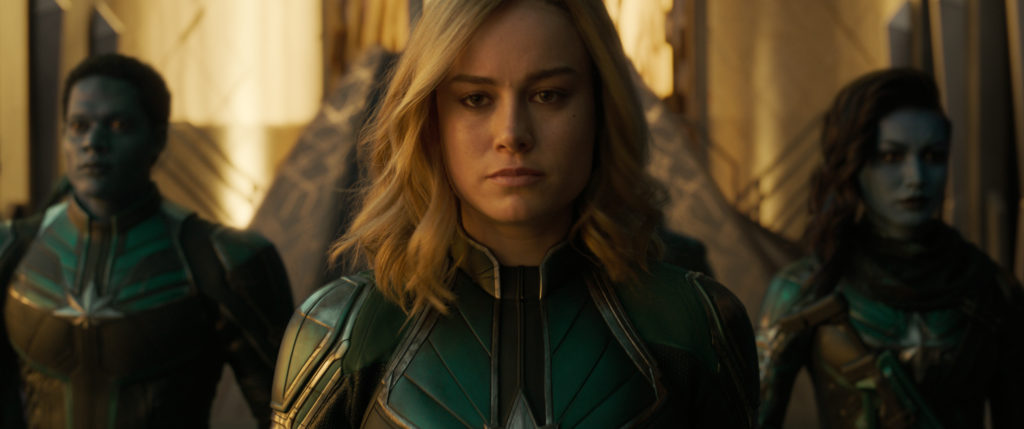 But the one aspect that is never shunned and built up grandly is the aspect of female empowerment. Danvers is established as a woman who doesn't have a clear identity or mindful nature of galactic politics and has to build herself up when she realizes she may be a very powerful pawn in a big game of intergalactic chess. Her memories are that of always being told to back off from non-traditional activities for girls and, sure enough, she rises up to become the smirking and energy-shooting hero when the final piece of her character puzzle is pieced together. It's just unfortunate that the film spends so much time doing the building amid a twisty sci-fi spy story that Brie never gets a moment to shine as brightly as she could, despite a very enthusiastic third-act closer.

If we're being blunt, no, Captain Marvel doesn't quite have the same gravity to be a cultural milestone of a comic book movie. Where others have pointed to Black Panther as not the first the most insightful and cultural of black-led superhero movies, I doubt many will look towards Captain Marvel as the grandest of female-led comic book movies, making its motives known with the power and subtlety of a supernova. But, in terms of what the film is aiming towards, it doesn't have to prove anything to anyone and that's perhaps the point. I just wish that Captain Marvel's astounding powers to destroy starships and aliens had a much bigger punch for a picture that wants to obliterate the glass ceiling and merely cuts a narrow hole within the MCU. It's a nice hole, mind you, and still weaves a capable and compelling sci-fi adventure with a surprisingly more engaging finale than most Marvel solos.