Movie Review: 'Coco' is a Sweet Mix of Music, Family, and Fantasy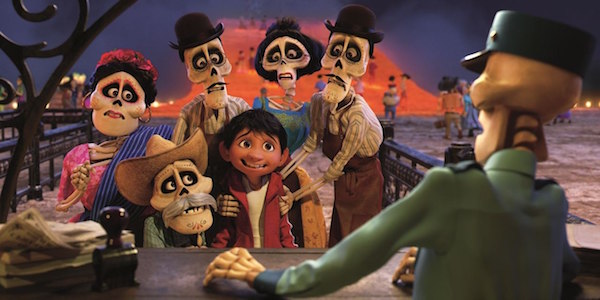 There was talk amongst the parents at the screening about that other animated film about the Mexican holiday, the Day of the Dead. It took them a moment to remember, but it was 2014's The Book of Life. For approaching this mythology once more in animated form, Pixar's Coco already has a comparison for that old argument amongst animated movies of which came first. Thankfully, Coco not only outshines The Book of Life in art and story but is surprisingly meaningful, emotional and perfectly timed for a Thanksgiving release, given the heavy themes of family.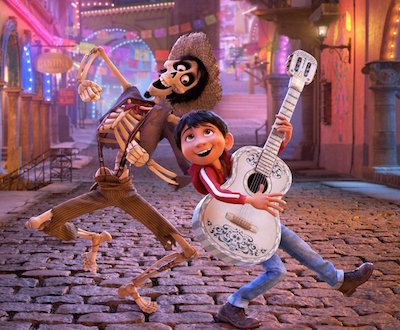 In a small Mexican village, the 12-year- boy Miguel Rivera (Anthony Gonzalez) has a dream of music, but one his family does not share. Music has apparently been a burden on the Rivera family, dating all the way back to great-great grandpa who left his family to pursue a music career. He is so despised by the family that his photo has been ripped from their Day of the Dead tribute and his name never spoken. The Riveras are more proud of their successful shoe business. All except Miguel, who'd instead pick up a guitar.
Aiming to play music at the local festival, he borrows the guitar of the famed singer/actor Ernesto de la Cruz (Benjamin Bratt), a famous man whom Miguel believes to be his great-great grandpa. It turns out the guitar magically sends him to the Land of the Dead, where the spirits of the dead reside without skin. To find his way back home, he needs the blessing of his ancestors, but the only ones present forbid him to go back and play music. Surely Ernesto will respect Miguel's love of music to send him back.
One significant advantage that Coco has over The Book of Life is that there's a more grounded vision of the Land of the Dead. Clear rules are established for how the afterlife functions. On the Day of the Dead, spirits can cross a bridge into the Land of the Living, but only if their picture is displayed by the family on that day. Not only can spirits not crossover if their photo isn't placed in tribute, but they pass away to another realm for being forgotten. Visiting mortals cannot crossover either without a family blessing, and too long a visit will result in their death, as Miguel slowly starts turning into a skeleton. This creates a real goal and consequences for Miguel. There's also enough of an incentive for the forgotten Hector (Gael García Bernal) to help him out for the trade of placing Hector's portrait in tribute in the mortal world.
The tale is mostly a family drama with Miguel peeling back the mysteries of his lineage as he traverses the colorful world of the dead. Though some obvious twists are foreshadowed in the film's opening exposition by Miguel, I was surprised how twisty and revealing the story became of the Rivera family's history.There's some fun to be had, as when Miguel outsmarts the LoD authorities by disguising himself as a skeleton and later teaming up with Hector for a musical performance. The little details of how this world works, from the facial recognition system for guiding spirits to the swanky clubs for elite souls, are fantastic and wondrous, even if there isn't much an explanation how the neon spirit animals work. I guess you to slam some cute animals in there somewhere.
In the same way that Inside Out explored how it's okay to feel sad, Pixar's Coco stresses the importance of family and the remembrance of legacy. It's a grand theme, but well-presented with gorgeous animation and heart so full that the touching climax is bound to make the audience cry. There are many animated films out there that can be classified as more kid-friendly than family friendly, but Coco is the very definition of a family film, featuring and acknowledging characters of all ages. It's complex without being convoluted, silly without being frenetic and somber without being dark. This is Pixar at their finest, crafting stunning new worlds with powerful writing behind them.
[author title="About the Author" image="http://popstermedia.com/wp-content/uploads/2015/07/mark_mcpherson-300×221-150×150.jpg"]Movie Reviewer Mark McPherson has been all about movies since working at a video store in his youth. His talents range from video editing to animation to web development, but movies have always been his passion to write about.[/author]
The Meg Munches For Box Office For Debut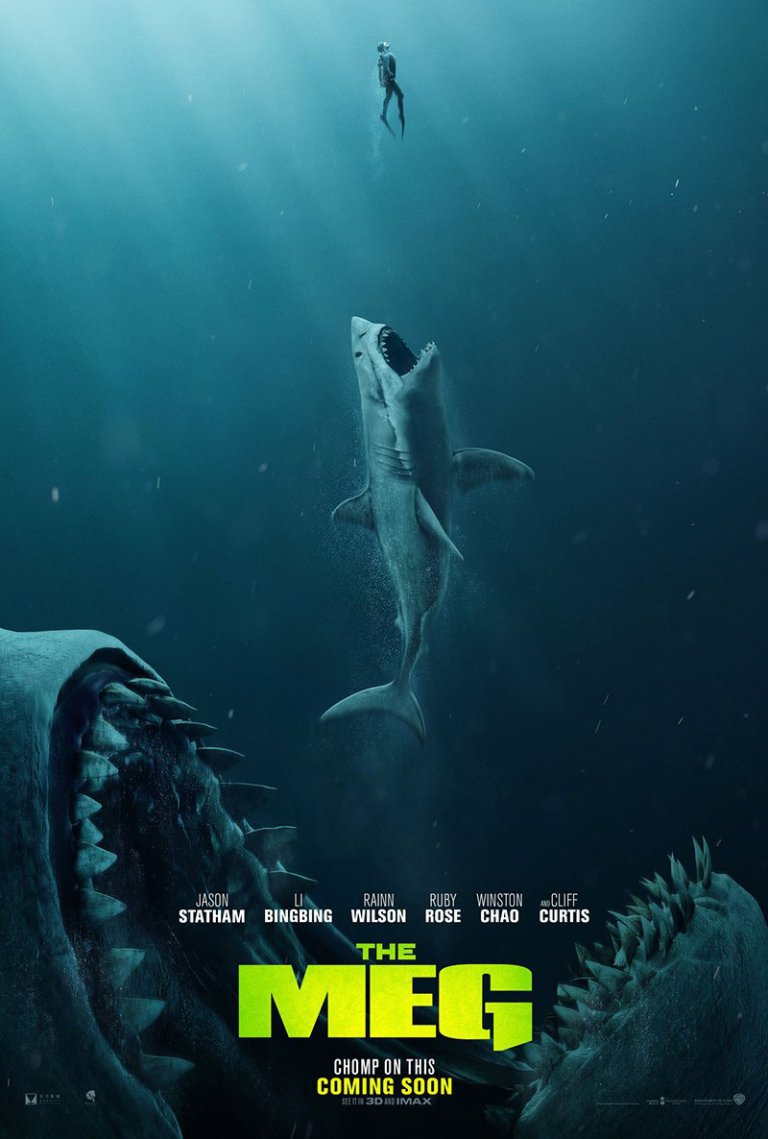 The final month of summer seems to be the time for creature feature horror. The Meg, the giant shark movie starring Jason Statham, made a splash to debut at #1 with a box office gross of $44.5 million. Not exactly a big wave for a summer blockbuster with a budget of $130 million, but still a decent premiere as the box office begins to wind down during the end of summer. Expect it to linger around for most of the month.
Still a top contender in the box office and easily one of the biggest success for the second half of the summer is Mission: Impossible – Fallout. As the sixth entry in the saga, starring Tom Cruise as the action-hungry agent Ethan Hunt, the film has pulled in another $20 million in its third weekend for a domestic total of $161.9 million. Also lingering in the top spot is Disney's Christopher Robin, the live-action adaptation of the Winnie the Pooh stories, now in its second weekend to add $12.4 million to bring up its domestic total to $50 million. With no significant family-friendly movies coming out for the month, you can expect this film to cling to the top 10 for quite some time.
A few new films debuted lower on the list but with what could be considered success. Slender Man, the horror film based on the online legend, made $11 million for its debut, clearing the $10 million budget. BlacKkKlansman, the latest film by Spike Lee that focuses on the investigation of the racist Ku Klux Klan, made $10.7 million for its premiere. While it still has yet to clear its $15 million budget, the positive word of mouth around this film may keep it steady in the box office for August. One premiere that wasn't so lucky was Dog Days, the new animal-centric comedy starring Vanessa Hudgens, came in at only #12 for a debut of $2.6 million.
Though the rest of the films had expected drops, one milestone was crossed for Ant-Man and the Wasp, despite only being at #10 for the weekend. After six weeks, the film has made $200 million domestic and $448 million worldwide. While this doesn't make it equal to Marvel's previous successes his year, it's still proving to be a solid summer for the unstoppable Marvel superhero franchise.
View the top 10 box office results for the weekend below:
The Meg ($44,500,000)
Mission: Impossible – Fallout ($20,000,000)
Disney's Christopher Robin ($12,430,000)
Slender Man ($11,325,000)
BlacKkKlansman ($10,799,000)
The Spy Who Dumped Me ($6,600,000)
Mamma Mia! Here We Go Again ($5,820,000)
The Equalizer 2 ($5,500,000)
Hotel Transylvania 3: Summer Vacation ($5,110,000)
Ant-Man and the Wasp ($4,048,000)
Next weekend will be a three-way battle between the new romantic comedy Crazy Rich Asians, the survival action picture Alpha, and the gritty action/drama Mile 22. Considering Crazy Rich Asians and Mile 22 will both be debuting in over 3,000 theaters, they'll be the top contenders, although Crazy Rich Asians will get an early start by debuting on Wednesday.
"The Meg" is Without Bite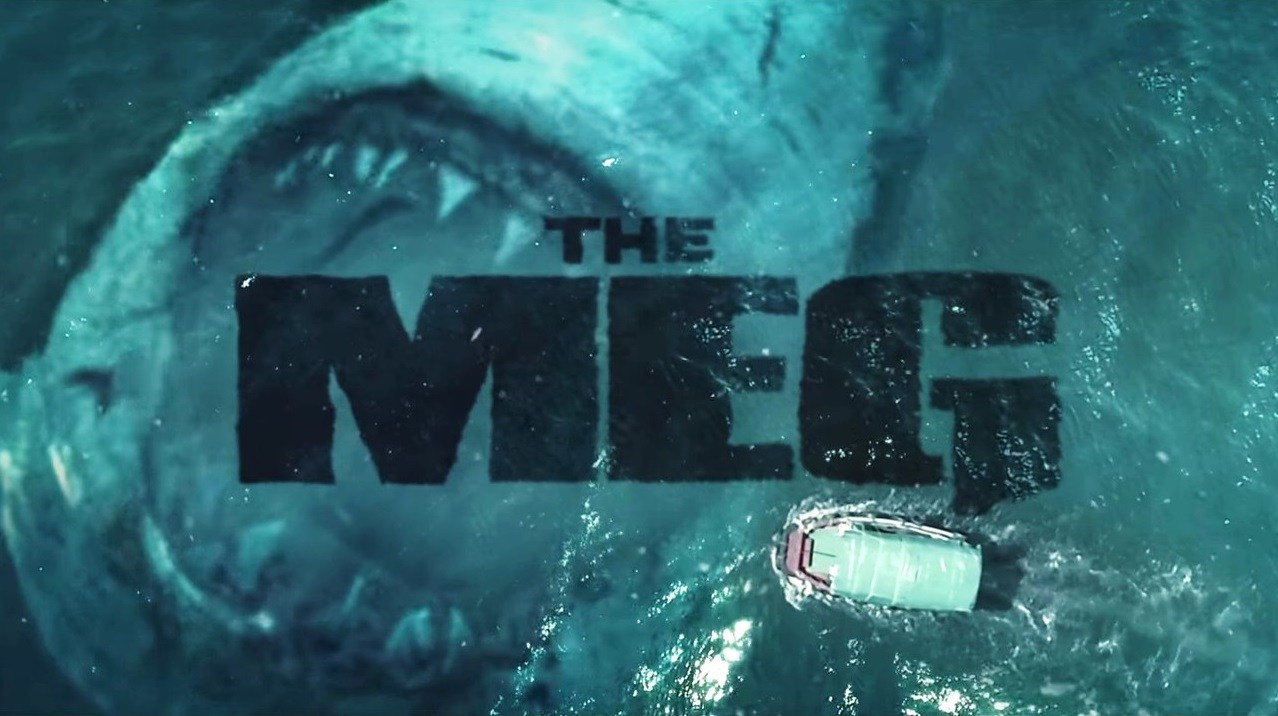 In the swarm of killer shark movies, The Meg does so little to stick out as being more worthy of the theater than the plethora of other B-movies in this subgenre. It's not stern enough to match the character and terror of Jaws. It's not silly enough to duplicate the delicious camp value of Deep Blue Sea. And it's undoubtedly not wild and insane enough to be as goofy a concept as Sharknado. It's rather sad to admit that a heftier dose of special effects for this usually cheap type of movie amounts to little more than a forgettable B-movie, putting in the minimum effort to be earnest and campy.
An expensive underwater research facility is run by a greedy billionaire (Rainn Wilson) with a research team that includes the tattooed bad-girl (Ruby Rose), the "no way" black engineer (Page Kennedy), and the eager to prove herself Chinese scientist (Li Bingbing) with a child randomly wandering the halls. When the facility discovers an unexplored part of the ocean floor, they're excited to discover all the new species. One animal they're not too keen on getting to personally know is the legendary Megalodon, a shark so monstrous in size it can chew through the largest of whales as though they were breadsticks.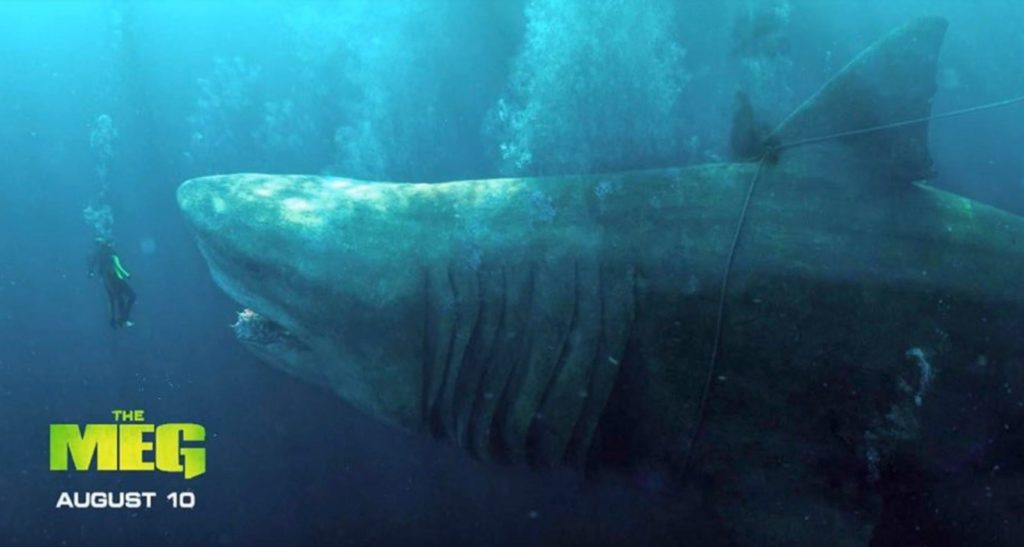 The giant shark damages an exploration vessel that leaves the crew stranded below. The only man for such a rescue is former deep-sea rescuer Jonas Taylor (Jason Statham). He was previously disgraced for leaving people behind during life or death situations, but maybe this time he'll save everyone. Well, perhaps not everyone; the shark has got to eat. And given the PG-13 rating, he won't be eating much off the human menu, feasting more on the filling meals of giant squids and whales.
While there are no quality kills to be had in this creature feature, the film does its best to be as showy and shlocky as possible, striving to be the most average of B-movie storytelling with a blockbuster budget. There are plenty of great shots of the monster looming over vessels and toppling over ships, including a high-tech chase of mini-seacrafts zooming around reefs as the Megalodon pursues. There are also plenty of brilliantly bad lines delivered with a tongue almost too deep in its cheek; scientists will laugh at the term "insertion," the billionaire will mutter that he can't swim, Statham will do his expected trash talking while battling the sea-beast, and a little girl will ask point-blank if her mother bound on a dangerous mission will end up dead. All the actors are trying their best to make this overly expositional monster movie fun, though this tone comes easy for Statham who seems always to have a knowing smirk on his face.
Maybe I've been spoiled by the more bombastic shark movies, but the lack of graphic violence felt like the film was holding back from its grander camp potential. How can you have a shark movie where such an enormous creature attacks one of the most populated beaches on the planet and mostly knocks a few boats and platforms around? I started to spring from my seat when I saw that wide shot of the beach with all those people, hoping the shark would ascend from the waters and swallow a few victims whole. And those hopes were quickly dashed when even the dog is spared from this slaughter, most likely edited back in because people don't like seeing dogs as appetizers. While there are no humans bloodied or gored too visually, there is plenty of underwater life that become massacred. It's an interesting study in MPAA logic; a human mother and daughter being torn to bloody shreds by a giant shark is most likely an R rating, but a whale mom and daughter are PG-13 approved when their tails are bitten off as their blood clouds the ocean.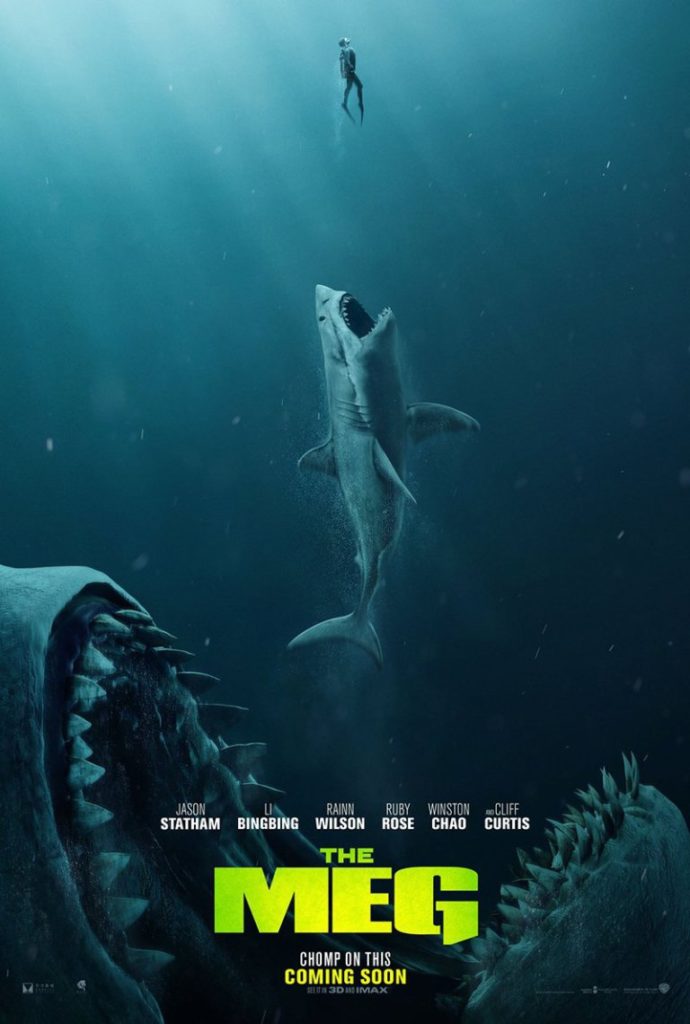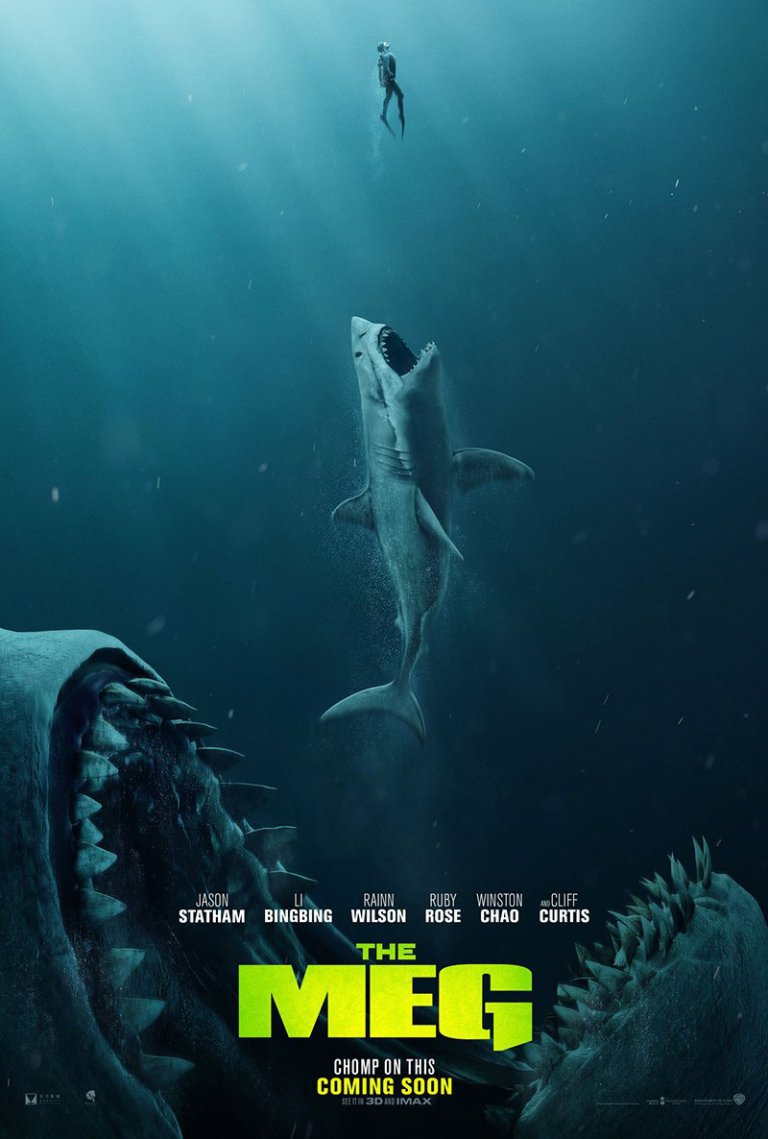 Despite some second-act melodrama that made me ask "where did this subplot come from," there's nothing all that memorable to The Meg. The film's sharper teeth for both horror and comedy are trimmed down to a standard summer blockbuster formula, best suited for those who want a killer shark movie without all the blood and gore, except for some chum and plenty of gored sea creatures. It's a monster movie so severely mid-tier, garnering laughs by formula and scares that come telegraphed, that it'll easily be lost in the endless pile of marine life massacre films. Okay, maybe it'll be remembered as the one with Statham in it; it's hard to forget such a smile.
Review: "Christopher Robin" Brings Happiness and Heavy-handedness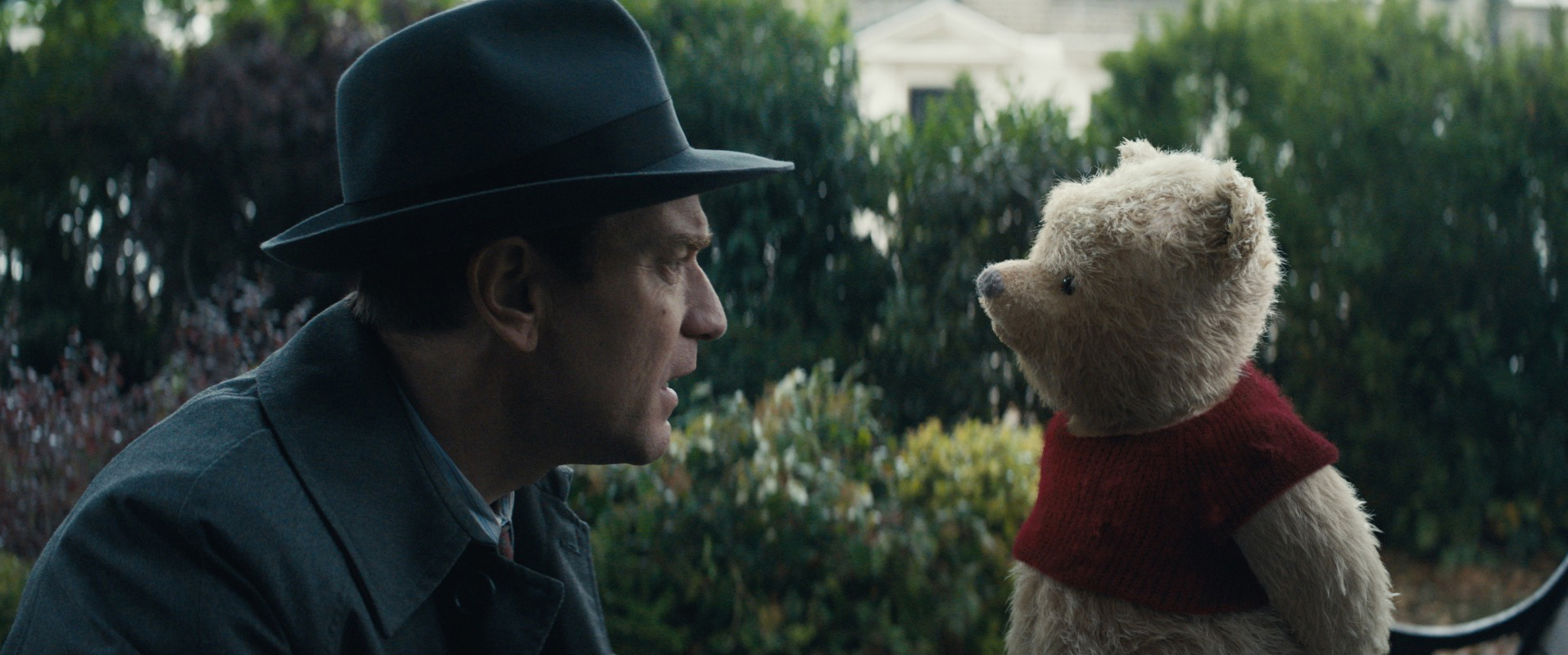 There's something so enduring about the characters of Winnie the Pooh that even the most simplistic of their stories have a certain intelligent charm to tales of talking stuffed animals. Disney's Christopher Robin is a perfect example of how they can save a film too safe, sappy, and overbearing with its message about growing up without losing your sense of play. There's thankfully no darkness in its depiction, despite the dreary streets of London and the more muted tones of Hundred Acre Wood. At its core, it's same old Pooh antics that have made this fluffy collective the most wholesome, smart and funny of the Disney ensembles.
The film centers on a question that always lingered in Christopher Robin's conversations with Pooh but never adequately addressed: What will happen when Christopher grows up? Not surprisingly, he leaves behind the woods for boarding school, the war, a job, and to raise a family. But he's not the same Christopher (Ewan McGregor), more of a worrying worker that puts business ahead of family. He arrives home and can't even smile at his wife. His daughter wants him to read her a bedtime story, and he selects text on the industrial revolution. He's lost his playful ways that once helped his animal friends.
Into his world comes Pooh, the silly old bear willing to venture out of his fantastical woods and into the stuffy world of post-war England. This could be a dangerous development, as we've seen from previous experiences of fantasy cartoon characters coming to life in fish-out-of-water tales, the sourest being The Smurfs that should've stayed in their land of mushrooms and magic. Thankfully, the familiar characters, despite looking a little odd as more realistic computer-generated depictions, haven't lost their touch. Pooh is still a dopey questioner of the world, Piglet is still a fearful creature, Rabbit is still a worrying wart, Owl is always a wise sage, Eeyore is still a sad sack, and Roo still a cute little kangaroo. Oh, and of course Tigger still bounces. Why wouldn't he? It's a wonderful thing, bouncing.
It helps that the story is simplified to keep Pooh's adventure free of convolution and modern world set pieces, despite some silly accidents of Pooh breaking Christopher's house and Tigger causing a ruckus in traffic for little reason with forced hilarity. After much denial from Christopher and rushing of Pooh back to his home before more Englishmen are freaked out by a talking teddy bear, the film finally starts to take off with its whimsy. Watching Ewan McGregor get back into the swing of things and embrace Pooh's impeccable logic of play and doing nothing brings back the familiar and powerful charm the characters were known for.
It's just unfortunate that the characters find themselves trapped in a live-action film with morals so painfully spelled with overblown scenes of sentimentality that themes of favoring family and imagination feel artificial. Once more, Pooh and company come to the rescue with their well-defined comedy, whereas the human characters spell everything out within big, bold letters that are sure to give a concussion of good intentions. While I fully expected Christopher Robin to realize that life is more than business meetings and studying, I wasn't ready for him to point these lessons out like the review of an after-school special, making sure the message is loud and clear.
Christopher Robin has the tricky balance of fantasy and reality where honey-seeking and Heffalump-hunting trump a standard plot of Christopher trying to save a business and his family. It seems like the type of film Disney would have made in the late-1990s and thankfully not the mid-2000s of trying to fathom how Pooh would handle driving a car or eating honey out of the head of a plastic bear container. Whenever the characters are on screen getting into their usual squabbles and discoveries laced with witty commentary on life, I smirked and even laughed, perhaps harder as I wanted to push the predictable plot aside, which must insert scenes of Christopher at war and telling off his bosses in an almost cartoonish manner.
Much like Christopher Robin's arc, I wish the film would learn its lesson about embracing woodland adventures sooner than its brief dip into a more somber story, teetering on the edge of becoming as awkward as Hook. The film, if nothing else, is a testament to how you can't help but love Pooh. Well, until he's forced into a movie where he uses an MP3 player and does a suggestive dance with a honey pot on his head. Let's hope we never reach that point where I find myself looking at this franchise with a sigh and an "oh, bother."