W
ith a title like
Captain Underpants: The First Epic Movie
, fart jokes come standard. Why wouldn't they? You can't make an animated film about a superhero that literally runs around in his underwear and not have a single reference to the bodily functions of a gluteus maximus. And, yes, there are plenty of farts present to make every child smirk and giggle.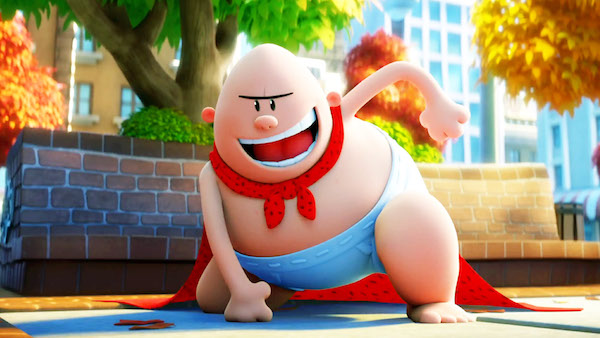 It is aimed at kids for the lowest form of comedy, but there's a consistent wink towards the adults that the director is aware of the cheap gags, coming more from a fearless nature than a lazy excuse. I'd probably be labeled juvenile for deeming Captain Underpants a creative movie for its layered and witty use of potty humor, but having just sat through the lazy filth fest that was Diary of a Wimpy Kid: The Long Haul, this movie is surprisingly clean for being so gross.
The movie centers on George (Kevin Hart) and Harold (Thomas Middleditch), two kids who have been best friends since their first Uranus joke in kindergarten. When they're not working on their comic books – one of them writing the story while the other illustrates – they're pulling the most masterful of pranks on their teachers and the easily aggravated Principal Krupp (Ed Helms). But now Krupp has devised the most evil of schemes to put an end to the hijinks of George and Harold by placing them in separate classes. This is devastating! If they can't see each other all day in their dreary school, how will they be able to complete their latest comic book?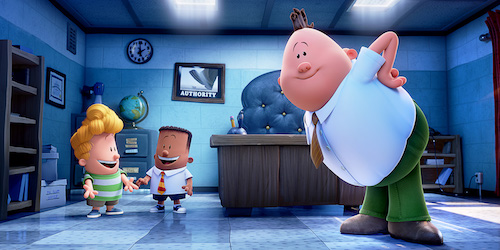 Desperate to stay together, George and Harold attempt to hypnotize Krupp with a plastic hypnotism ring they found in a cereal box. Surprisingly, it works! It doesn't matter how – George and Carl don't question it much as they can now make their principal squawk like a chicken. And how could they resist making their principal believe he is their favorite original superhero Captain Underpants? Off come the pants, on goes the cape and out he goes into the world as an overweight, naked and ineptly innocent superhero, trying to free mimes from invisible traps and battling giant inflatables. George and Harold have no idea how far their latest prank will go.
Related: Movie Review: 'Diary of a Wimpy Kid: The Long Haul' Proves Long and Wimpy
Or maybe they do. Just as Krupp transforms into Captain Underpants, the school has hired a new science teacher by the name of Professor Poopypants (Nick Kroll). He has a diabolical plan to rid the world of laughter so nobody will ever laugh at his silly last name. It would be much easier to simply change your name, but he must be too proud of his Poopypants lineage to let go of it.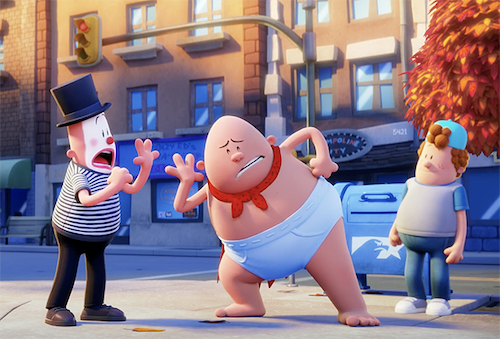 The movie thankfully never delves too deep into this character's evil origins or makes his plan all that complicated as a villain for Captain Underpants to battle. His scheme is to shrink the part of the brain in children that finds names such as Poopypants funny, located south of the portion that wants candy and east of the section that will only eat cheeseburgers, chicken nuggets and macaroni and cheese. Finally, a diagram of a child's brain every parent can understand.
For featuring a plethora of potty humor, there's a surprising amount of creativity and spirit. The animation has a distinctive style of characters with beady eyes and big mouths, but also experiments with 2D drawings and sock puppets. There's playfulness to this world where George and Harold live right next to each other with a magnificent tree house between their yards, where they can laugh and draw their comic books for hours. For finding so much humor in fart jokes, they have wildly imaginative minds that conceive all sorts of weird comic books and elaborate pranks.
Read more for the rest of the Captain Underpants movie review: