Movie Review: 'American Assassin' Misses the Mark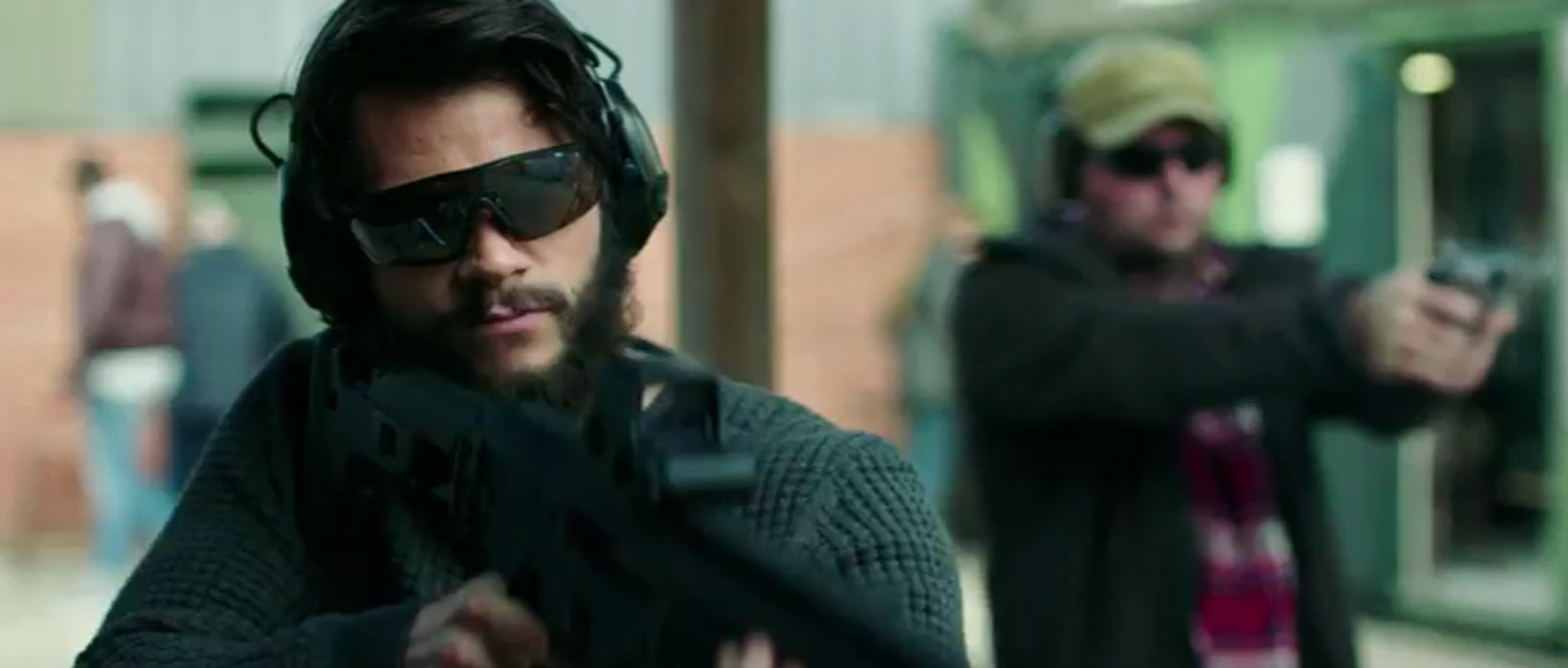 [dropcap]T[/dropcap]he opening scene of American Assassin is one too familiar in action-thrillers. The hunky Mitch (Dylan O'Brien) has just proposed to his girlfriend at the beach while filming it for all the world to see. She says yes, a surrounding crowd claps and he goes to the outdoor bar to grab her a drink.
You don't have to be a genius to know something horrible is going to happen to this girl. I was prepared to watch her die in slow motion. I was not, however, prepared for that death to be part of a gruesome attack on the beach by gun-toting Muslim terrorists. That's not fair. How can I laugh at the cliche and expected death when it comes slathered in blood, bullets and innocent people being gunned down ruthlessly?
A major flaw with a thriller such as this is that it takes a cue from current events more than it should. It's bad enough that the beach massacre reminds me of the many Muslim terror attacks with its gruesome and graphic violence, but it's even worse to follow that up with a terrorist recruitment video, complete with rock music and footage of what looks like real deaths in the Middle East. This is where American Assassin lost me. Unless there is some meditation on how inhumane all this hatred and war has made the world, I'm not interested in the film's central plot of revenge and nukes. Those silly and overused writing devices don't deserve such reality.
The film seems to be on a mission to make its world as ugly, cynical and mean-spirited as possible. When we catch up with Mitch 18 months later, he's overcome with fury to avenge his fiancee. He works out at a gym to strengthen himself, but he's too aggressive with his trainers and is kicked out. He throws knives in his apartment, angering the landlord. He's also trying to infiltrate a Muslim terrorist group so he can join them and then kill their leader. The CIA doesn't like that, but he still leads the organization to a terrorist so they figure they could maybe use him. After all, they've run tests on him and they're off the charts. I'm assuming these tests included how muscular he looks with his shirt off and how good he looks holding a gun.
He is trained to be an operative by Stan Hurley (Michael Keaton), a Cold War veteran that only teaches the best of the best CIA agents. Hurley's training program is entirely combat oriented. He teaches knife-killing techniques by handing a knife to Mitch, instructing him to kill his instructor. He'll awaken his troops with a gun fired wildly into the air, asking why nobody was on watch and declaring everyone now dead. They'll later play a virtual reality simulation of shooting terrorists out of a crowd, a sharp electric charge coursing through their bodies if they get shot before they shoot first. I'm seeing an awful lot of combat here and not a whole lot of secrecy. I dunno, something about working for the CIA makes me think these guys should know more than where to stick a knife and who to shoot.
Mitch and Hurley, as well as some other operatives to act as terrorist fodder, are on a mission in Rome to stop some terrorists from making a nuke. Hurley tells Mitch an important aspect of the job is not to make it personal. Of course, the mission will become personal and Mitch will disobey orders to chase after leads. Hurley will also let the mission get personal when his former student has gone rogue. Even the supporting Turkish agent of Annika (Shiva Negar) also has a personal dog in this fight.
Related: Movie Review: 'It' Floats with Fear and (Horror) Fun
By Hurley's logic, these are the worst CIA operatives for the job. Don't pull that building character nonsense on me to justify their stupidity. There is no character here. Not when our leads are constantly talking about the mission, condescendingly arguing with each other or growling in expletives at the terrorists. There's a scene where Keaton eats off the ear of a terrorist holding him hostage, smiling with blood on his teeth and snarling like a dog. This is just one of many opportune times to showcase him as a deeply flawed man with severe psychological problems. But, no, he's just a quirky old coot.
Read more for the rest of the American Assassin movie review:
Deadpool Dethrones Avengers With Triple-Digit Debut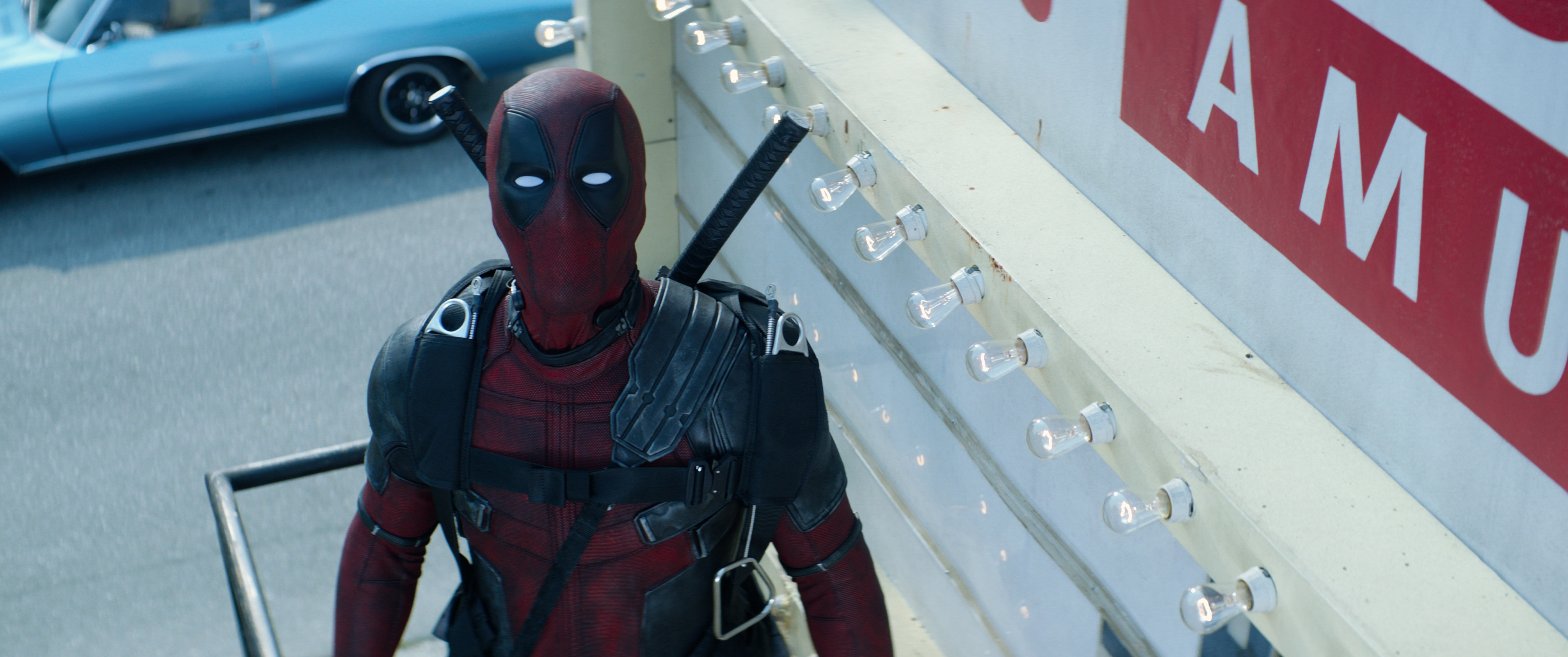 The first film to knock down Marvel Studio's towering juggernaut of Avengers: Infinity War from the #1 slot has arrived. It's no surprise that it would indeed be another superhero movie, but it is surprising by how much it overtook. Deadpool 2, Fox's Marvel property of a fourth-wall breaking anti-hero that satirizes comic book movies, premiered to a huge first weekend of $125 million domestic. Despite being just a few million dollars short of its previous film, it's still an impressive achievement for an R-rated Marvel movie that keeps the momentum going both in comedy and box office. Even more impressive is it's worldwide gross that is currently sitting at a beefy $301 million. Expect it to stick around for such a successful first weekend.
With such a high take from Deadpool, Avengers: Infinity War naturally took a big hit. Dropping by 53%, the blockbuster made only $28.6 million in fourth weekend. It's still standing tall with a domestic total of $595 million, but it's doubtful at this point that it'll reach the same heights as Marvel's earlier 2018 blockbuster of Black Panther. Other debuts this week were not so lucky with such limited takes. The all-female comedy Book Club premiered at #3 for the weekend with a $12.5 million domestic gross. The family comedy Show Dogs placed at #6 with $6 million in its domestic take.
Returning films are weathering the Marvel storm decently with expected drops. A Quiet Place is still hanging in there with the lowest drop of the weekend, bringing in another $4 million to boost its domestic total up to $176 million, still an amazing gross for the $17 million horror movie that could. The giant monster movie Rampage is clinging to the top 10 in its #9 slot, but it's not looking good for such expensive blockbuster still so far away from meeting its budget. And RBG, the documentary on Ruth Bader Ginsberg, remains in the #10 spot from last weekend with its domestic total now up to $3.8 million.
View the full top 10 for the weekend below.
Deadpool 2 ($125,000,000)
Avengers: Infinity War ($28,672,000)
Book Club ($12,500,000)
Life of the Party ($7,725,000)
Breaking In ($6,470,000)
Show Dogs ($6,034,770)
Overboard ($4,725,000)
A Quiet Place ($4,040,000)
Rampage ($1,500,000)
RBG ($1,280,000)
Next weekend will pit Deadpool against another anti-hero in Disney's Solo: A Star Wars Story, the Star Wars side story on Han Solo. It will indeed be interesting to see how a Star Wars movie plays in the summer as the previous three Disney Star Wars productions have all been massive blockbusters in December. For debuting in 4,200 theaters, the pressure is on to see Star Wars topple Marvel.
Another Astounding Weekend at the Box Office for Avengers: Infinity War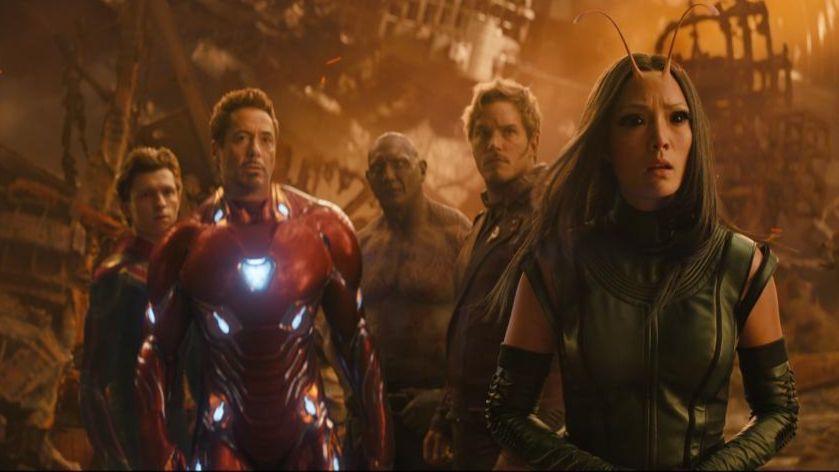 Box Office Weekend 5/4/18-5/6/18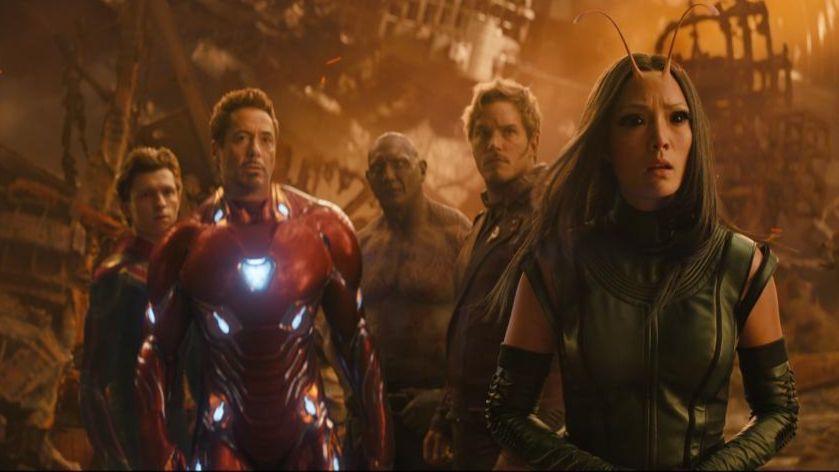 Not the least bit surprising, Marvel's Avengers: Infinity War has dominated the weekend box office with another massive gross. In its second weekend, the grandest superhero ensemble to date brought in $112.4 million. This brings its domestic total up to $450 million, and its worldwide take well over $1 billion. Time will tell if it has the legs, however, to hold its own against Marvel's other superhero epic this year, Black Panther. Considering Black Panther is still in the top 10, and has almost passed $700 million domestic, it'll be a close race between the two Marvel movies.
Of course, the success of the Avengers is due in no small part to this being a rather sparse weekend of premieres appearing in fewer theaters. Braving the Marvel storm to come in at #2 was the romantic comedy remake, Overboard, starring Eugenio Derbez and Anna Faris, making $14.7 million domestic. And if that's the gross of the #2 spot, you can imagine how lower the other films are. Tully, a new comedy Jason Reitman and starring Charlize Theron, came in at #6 with a domestic gross of $3.1 million. Further down at #10 is the new David Tennant starring thriller, Bad Samaritan, making $1.7 million for the weekend.
There were expected dips all around with no huge surprises, but many of the successful films that have hung around are growing a considerable gross. John Krasinski's A Quiet Place had the lowest drop and is currently sitting at a robust $159 million domestic total. Ryan Coogler's Black Panther has already blazed many records, but it's only $7 million away from clearing $700 million domestic.
See the full top 10 box office results below.
Avengers: Infinity War ($112,474,000)
Overboard ($14,750,000)
A Quiet Place ($7,600,000)
I Feel Pretty ($4,900,000)
Rampage ($4,620,000)
Tully ($3,186,000)
Black Panther ($3,146,000)
Truth or Dare ($1,885,000)
Super Troopers 2 ($1,815,000)
Bad Samaritan ($1,758,000)
Next weekend, Avengers will be battling against the Melissa McCarthy starring comedy Life of the Party and the Gabrielle Union starring thriller Breaking In. Considering that Life of the Party will have the most significant theater count, McCarthy has the only real shot at being the first film to knock the superhero giant down from the top 10, though it's doubtful of the Avengers hype will have died down by then.
Life of the Party and Breaking In Dominated by Avengers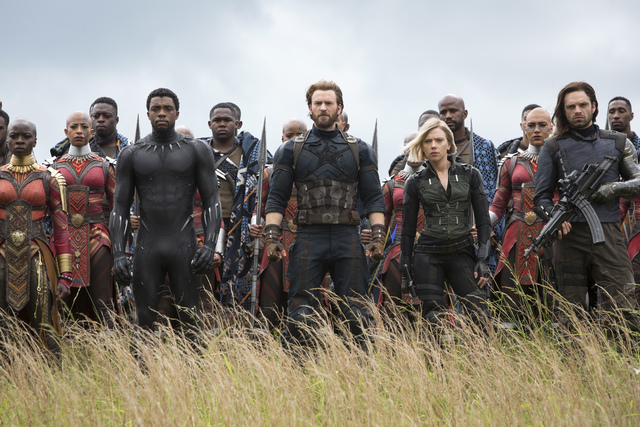 Box Office Report 5/11/18 – 5/13/18
In its third weekend, Avengers: Infinity War is still going strong with a beefy #1 spot that has yet to be bested. Marvel Studio's latest superhero epic amassed $61.8 million for the weekend, soaring its total domestic gross up to $547 million. The film has managed to make more than Marvel's other 2018 hit, Black Panther, in the same amount of time, but whether it'll reach the same domestic gross remains to be seen. With the oncoming superhero film next week and a Star Wars film following, it'll have some fierce competition.
The two newest films this week slid comfortably into the slots just below. Life of the Party, the new back-to-school comedy with Melissa McCarthy, predictably hit the #2 spot for being a female-centric comedy released on Mother's Day weekend. While it didn't exactly take the cake, the film did make $18.5 million to earn its spot during another Marvel cinematic snowstorm of a weekend. Just below it was the new thriller Breaking In, grossing $16.5 million, which is not too shabby for a film debuting in only 2500 theaters.
There were surprisingly low dips all around in the top 10. The smallest drop was for A Quiet Place, still hanging in there as the surprise horror hit, earning $6.4 million to boost its domestic total to $169.5 million. It's not too surprising that the most significant drop was for Black Panther, grossing only $1.9 million. It's a predictable drop considering the movie has been out for thirteen weeks, is already available to buy digitally, and will be out on DVD and Blu-ray by this Tuesday. It's still a considerable feat for a film that has domestically grossed $696 million so far.
One film worth mentioning that snuck into the top 10 is RGB, the documentary on Ruth Bader Ginsburg, expanding for the weekend into 180 theaters. That's very impressive for such a small film to conquer the #10 spot on Mother's Day weekend with a $1.1 million gross.
View the full top 10 list below.
Avengers: Infinity War ($61,817,000)
Life of the Party ($18,500,000)
Breaking In ($16,500,000)
Overboard ($10,100,000)
A Quiet Place ($6,400,000)
I Feel Pretty ($3,710,000)
Rampage ($3,380,000)
Tully ($2,240,000)
Black Panther ($1,932,000)
RGB ($1,165,000)
Next weekend, Infinity War will be going up against a real contender with Deadpool 2, the sequel to the Ryan Reynolds starring superhero comedy that broke records in 2016. Also vying for the box office will be the dog comedy, Show Dogs, and the aged female-oriented comedy, Book Club.