Director Duel: J.J. Abrams And George Lucas Battle In Head To Head Matchup!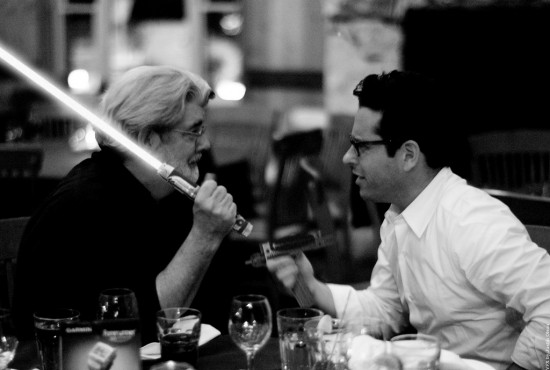 For our George Lucas – J.J. Abrams director matchup we've graded them each on five categories: Script Writing, Comedic Flair, Action Sequences, Casting/Actors and "The Big Picture." Read below to see who scored the best!
When it comes to a head to head battle of the directors, there is no question that a J.J. Abrams bout versus Star Wars creator George Lucas is the current fight of the century.
From the director's chair, this is the equivalent of Mohammed Ali v. Joe Frazier, two heavy-weight champions who went toe-to-toe for three bouts in the early 1970s. You know, back before light sabers were invented and all that.
Abrams, of course, has only one Star Wars film to his credit, Star Wars: The Force Awakens, which is battering down box office records as we speak. It is headed at a gallop towards the all-time worldwide record of $2.8 billion, set by James Cameron's Avatar in 2009.
Still, to be fair, we have to review more films than one. So, while we open up the Abrams portfolio to include movies like Six Degrees of Separation (1993), Mission Impossible III (2006), Star Trek (2009) and Super 8 (2011).
Then, to even up the match, Lucas has some non-Star Wars films to consider, including one of my favorite comedies: American Graffiti (1973) and four Star Wars films, including the renamed Star Wars: Episode IV, A New Hope (1977) and three others: Episode I: The Phantom Menace, Episode II: Attack of the Clones and Episode III: Revenge of the Sith.
OK – Let's have at it:
Script Writing:
Lucas has 17 feature film scripts to his credit, including American Graffiti, four Star Wars films and Indiana Jones and the kingdom of the Crystal Skull and, well, let's face it, Lucas is no William Shakespeare. His jokes are usually hackneyed and stale, but he pulls them off with his talents at theatrics. He has great timing, I'll give him that. As a writer, let's give him a solid B.
Abrams' writing is both more pithy and wittier than Lucas. With nine scripts to his credit, he has shown a much wider range of talent than Lucas, writing high torque action films and moving dramas, like Regarding Henry (1991, staring Harrison Ford) about a man recovering his speech and mobility after a shooting. Score: B plus.
Lucas B | Abrams' B +
Comedic Flair:
Lucas has made some funny films. The aforementioned American Graffiti is a classic. The humor is subtle and touching. He has a distinct flair for adolescent humor, but when is humor not at least a little bit adolescent? Still, with C3PO, Jar-Jar Binks, the entire first Star Wars film notched on his belt, let's Lucas an A minus for comedic flair.
Abrams' shows with Star Wars: The Force Awakens that he can breathe new life into the franchise and he did this with a one-two combo of action and comedy. His jokes were verbal and visual, including great creatures and a classic robot with BB-8.
Lucas A – | Abrams B +
Action Sequences
Star Wars has always relied on packing a wallop with action scenes, but it is safe to say Abrams took the bull by the horns with this year's masterpiece. After all, we are now in the post-Transformers era and those films defined the term non-stop when it came to sustained action sequences.
Transformers set the bar that much higher for audience expectations. An action film used to be a bumpy ride; now they are veritable roller coasters with just a few dips in their – and not to many of those.
Any-who. On actions sequences, Lucas gets a fine A minus score, but Abrams gets an A plus. Action sequences, after all, is where these guys live.
Lucas A – | Abrams A +
Casting/Actors
It has to be said that with a George Lucas film casting and acting are not the man's forte. In fact, they often seem like an afterthought.
Yes, Lucas has bragging rights for launching the career of Hollywood's biggest ever box office draw in Harrison Ford, who stars in four of the top 11 highest grossing films in the United States, when figures are adjusted for inflation. (Three Star Wars, one Indiana Jones film.) But, Lucas has also been able to cast and direct a few abominable actors, who helped make Star Wars a clownish spectacle in many moments.
Not to name names, but Mark Hamill, Carrie Fischer and Hayden Christensen have all caused me to wince more than once on the big screen, while Ewan McGregor, Liam Neeson, Samuel L. Jackson and were plug-ins to fill holes in the screen, adding little to the big Star Wars picture.
Abrams, however, is being hailed for his casting prowess. He may have launched two bonafide Hollywood careers with Star Wars: The Force Awakens in John Boyega and Daisy Ridley. Further, his standout casting instincts brought us the ensemble masterpiece Super 8 and many other fine films.
Abrams: A + | Lucas: C –
The Big Picture
It is unfair to judge Lucas and Abrams in the so-called category of the Big Picture. Lucas, it can be said, invented the Star Wars universe. It has a culture, a sense of history, rock star level heroes and the world's most recognizable evil doer in Darth Vader. His inventions include inventions. The light saber, the personable droid, Jar-Jar Binks, Jabba the Hut, Yoda. There is almost no end to the space-oriented Star Wars universe.
And yet, truth be told, Star Wars started as little more than a Muppet-like cowboys and Indians shoot 'em up that took place in outer space. It was more cute and funny than anything else.
Abrams is much more of a big picture director, who knows how to put many, many moving pieces into orbit and spin them all in different directions and have the scenes come together right at the end. He can block out action sequences, keep the dialogue going at a frenetic pace and throw in some humor along the way.
However, it is also unfair to compare Lucas of 1977 with Abrams of 2015. Abrams has so many Big Picture masters to thank for his education – Steven Spielberg, Michael Bay and Peter Jackson to name just three. Furthermore, they have all learned from George Lucas. Without George Lucas there would be no Force. Plain and simple.
Score on Big Picture: Abrams A – | Lucas: A +
DeadPool Cuts Through A Crowded Field Of 2016 Superhero Movies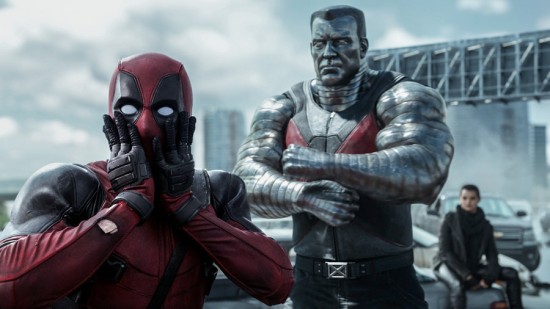 2016 is looking to be a crowded year for superhero movies with the inclusion of Batman v Superman: Dawn of Justice, Captain America: Civil War and X-Men: Apocalypse among others. I'm positive they'll all be at the very least decent action romps, but only about as much they've ever been in their respective franchises. With all these films sticking close to their formula, Ryan Reynolds and Deadpool comes as a welcome bit of foul divergence that mocks and vomits all over the idea of playing it safe.
The actual story isn't all that original – Deadpool was a man experimented on by a secret organization, they turn him into a mutant and he vows revenge on the man who turned him into a monster. We've seen this plot before with the Wolverine and X-Men movies. Thankfully, the comedic dressing more than makes up for the unoriginal plot. And, at the very least, I'm glad the story wasn't blown up into our hero having to stop some city-destroying blue laser. It's a simple revenge story with no need for such additions – very unlike Fox's last Marvel Comics movie, Fantastic Four, where it appears as if the blue laser was added in at the last minute (why must it always be blue?).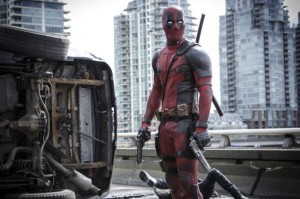 As Deadpool shoves two swords through a gun-toting goon, he proudly boasts that this is a different superhero movie. While it's not wildly different to see an R-rated superhero picture (anybody remember Punisher: War Zone or Watchmen?), it is divergent to see Fox and Marvel take a risk in an era that has settled on a PG-13 format for superheroes. Deadpool never wastes a moment to gleefully sever a limb, crush a body or decapitate a head. The character of Deadpool has the same regenerative powers as Wolverine, but liberally uses it to absurd degrees. When handcuffed, Deadpool doesn't hesitate to cut off his own hand to escape. It's bloody and gross, especially in how he slowly regrows his hand, but it's also rather refreshing to see him use this power for more than just healing papercuts.
At a time when movie audiences are now fully aware of more superhero lore, Deadpool's trademark of franchise referencing and fourth-wall breaking is quite timely. When talking about Professor Xavier, Deadpool asks if he's the James McAvoy or Patrick Stewart version ("These timelines are so confusing"). As he addresses the audience about having his own movie, Deadpool will crack jokes about Wolverine and Hugh Jackman's accent. We never see Xavier or Wolverine in this movie as the audience is now fully aware of these characters. Superheroes movies have become so commonplace in current cinema that Deadpool is able to joke about everything from characters in other franchises to the budgetary constraints of not being able to afford more X-Men.
While Ryan Reynolds does a fantastic job at capturing the childish and vulgar humor of Deadpool, a little of him goes along way. When he's not making Marvel jokes or slaughtering his enemies,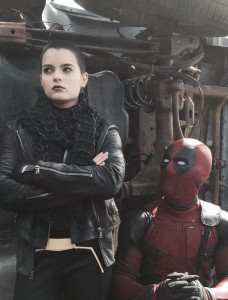 his dialogue is mostly a string of curse words and poop jokes. These bits starts to wear thin as the movie goes on, especially when repeated as if the joke about wearing brown pants to prepare for bowel movements is funnier the second time around. The best moments of comedy are when Deadpool can play off of the two X-Men characters present. With the classic heroism nature of Colossus and silent angst of Negasonic Teenage Warhead, the scenes Deadpool shares with these characters are a riot. Deadpool makes reference to Nega's hair resembling Ridley from Alien 3, to which Nega scoffs at how old he is for making such a reference.
Years from now, Deadpool's comedic antics may age poorly and not have the same punch. But at this current time, having watched three trailers for superhero movies before this one, Deadpool hits the right spot for mocking the unstoppable beast of comic book blockbusters.
It's an admirably vulgar and low-brow addition to a genre in dire need of an R-rated kick in the pants.
~ Mark McPherson
Huge Release Weekend Is Upon Us
One of the biggest movie release weekends of the year is upon us with at least 15 big-budget releases set to open February 12. The leader of the pack is Deadpool, the story of a terminally ill special forces operative Wade Wilson, who is turned into a superhero – except that the greatest feature that will concern movie-goers is his wry, deadpan sense of humor.
Ryan Reynolds is reprising the role that he has already played in the 2009 feature X-Man Origins: Wolverine, although in that film Reynolds played Wilson, while Scott Adkins played Deadpool after Wilson had morphed into the superhero.
Also out this weekend will be How To Be Single, an ultra-chick flick that should be among the year's most talked about comedies. This get-it-while-you-can knee-slapper stars Dakota Johnson, Rebel Wilson, Dan Stevens and Leslie Mann.
Also due out is the Zoolander 2, the off-beat comedy franchise featuring Owen Wilson and Ben Stiller as two rival male models who seem to be stuck with a goldfish pucker as their one famous fashion look. Will Ferrell, Penelope Cruz and Billy Zane are also featured.
Going the other direction is The Final Project, the story of six college students working together on a graduation project, which is to make a documentary about a haunted house – a famous one, at that: The Lafitte Plantation in Vacherie, Louisiana, which is said to be connected to horrors of the Civil War.
Horror fans might also enjoy Cabin Fever. It's about, well, a flesh-eating virus, of course, that, well, is well sated by the end of the film – after feasting on five teenagers on spring break.
Back to the planet earth: Touched With Fire is a romance drama with a twist. It's about two poets (played by Katie Homes and Luke Kirby) both of whom have bi-polar disorder and happen to meet in a psychiatric hospital. That's a good start … but no spoilers here.
Where To Invade Next is the latest Michael Moore comedy in which documentary film maker Moore, known as a "subversive comic" questions which direction the risk of war is headed.
Touchdown is a romantic comedy featuring a bearded Jason Sudeikis and a non-bearded Rebecca Hall.
Prayer Never Fails is legal battle concerning a high school basketball coach fired for leading prayers with his team.
Already Tomorrow In Hong Kong is a romance between a Chinese American toy designer who visits Hong Kong on business and falls in love with ex-patriot, who shows here around the city.
What else this weekend? Nine Forever (macabre comedy), Bad Hurt (a family drama), Providence (Christian romance) and Glassland (domestic drama from Ireland).
Box Office Blizzard: Leonardo and 'The Revenant' Snowball Star Wars To Lead Weekend Receipts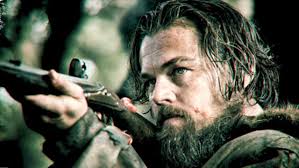 Leonardo DiCaprio vehicle The Revenant snowballed past Star Wars on its way into first place in domestic box office sales over the snowy winter weekend, taking in a cool $16 million, while notching $33.8 million in international sales. That topped $14.3 million on the home front netted by for Star Wars: The Force Awakens, which took in $23.3 million in theaters outside of the United States.
The weekend's take was seen as a storm-ravaged, given the point that the most populated section of the country, the East Coast, was battered by a monster winter storm that closed roads, keeping many movie-goers at home watching Netflix.
Revenant Upstages Star Wars
The muscle-flexing by the Alejandro G. Inarritu-directed story of frontier legend Hugh Glass is significant on several fronts. First and foremost, it has managed to upstage the historic ticket sales path carved out by the Star Wars release, where sales are fading fast after a glorious early run. But The Revenant also has Oscar possibilities that could give director Inarritu his second statue on Oscar night and DiCarprio his first.
DiCaprio, of course, is absolutely overdue for recognition at the Oscars, where he has been nominated five times previously without winning an award. The first nomination was his memorable performance in What's Eating Gilbert Grape, for which he received a nomination for Best Supporting Actor. He was nominated twice previously for Best Actor – in 2005 for The Aviator and 2007 for Blood Diamond. He was also eligible for a Best Picture award in 2014, when The Wolf of Wall Street was nominated, which DiCarpio produced.
The more stunning achievement, of course, would be a back-to-back win for director Inarritu, who won in 2015 for his work on Birdman. Of course, two wins in a row would be an historic coup, but just as impressive is the point that The Revenant is only Inarritu's six feature film as a director.
In other box office numbers for the weekend, Ride Along 2, which was on top of the domestic charts last weekend, slipped to third place with $12.4 million on the home front. Newer releases Dirty Grandpa, The Boy and The 5th Wave managed respectable sales, all things considered, with domestic sales of $11.1 million, $10.7 million and $10.3 million, respectively.
The rest of the Top 10 in U.S. theaters: 13 Hours: The Secret Soldiers of Benghazi ($9 million), Daddy's Home ($4.9 million), Norm of the North ($3.8 million) and The Big Short ($3.1 million).