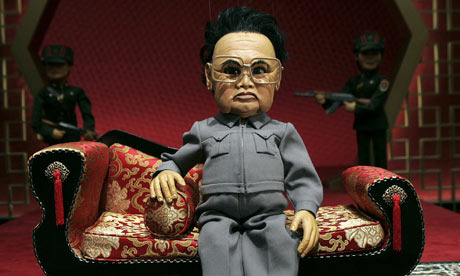 Hours after it was determined that North Korea was behind the Sony hack the studio cancelled the 'The Interview' premiere in New York and has "no further plans" for the movie.
The Guardians of Peace threatened a 911 style attack against movie goers at the premiere of 'The Interview,' which depicts a fictional assassination plot of North Korean leader Kim Jong Un.
Ironically enough, this could be a field day for the South Park creators Trey Parker and Matt Stone, the team behind 'Team America,' which was released back in 2004. Parker and Stone are no strangers to controversy and this could provide fodder for a sequel.
In the wake of the film's cancellation, some of theaters owners have vowed to screen 'Team America' in place of 'The Interview.' In the 'Team America' parody, Un's father Kim Jong-il was depicted as an alien cockroach.
Twitter lit up with other entertainers weighing in on Sony's decision to back down and lent their support to Seth Rogen and James Franco.
#SonyHack "This is beyond the wildest dreams of these attackers". Sony is making a mistake. #TheInterview http://t.co/gSBGSdH42B @Sethrogen

— Sarah Silverman (@SaraSilverman) December 18, 2014
#TheInterview Is that all it takes – an anonymous threat and the numbers 911 – to throw free expression under the bus? #PussyNation — Bill Maher (@billmaher) December 17, 2014
All joking aside, we just gave a comfy foothold to censorship & it doesn't get any better from this point on. #TheInterview

— Patton Oswalt (@pattonoswalt) December 18, 2014