Super Bowl weekend left the box office pretty dry with box grosses and new releases. So it should be no surprise that Jumanji: Welcome to the Jungle is once again back in the #1 slot, but not by much. In its seventh weekend, Jumanji brought in $11 million, bringing its domestic gross now crossing $350 million. Not too far behind is Maze Runner: The Death Cure, in its second weekend, to bring in $10 million. It's not looking like a strong run for the end of this young adult series so expect it to drop harder in the weeks to come.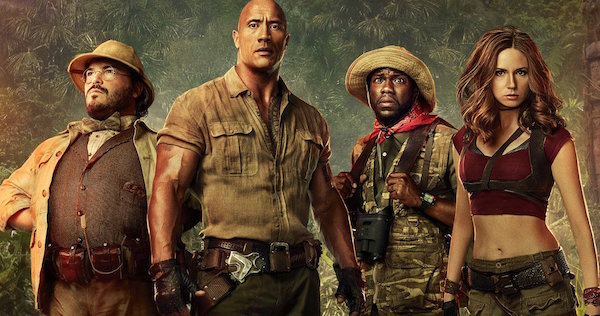 The only new release for the weekend was the small horror film Winchester, a film so under the radar critics were not given screeners. The Helen Mirren starring horror picture brought in $9.2 million for its debut, placing it at #3 for the weekend. Given the low scores and aloof marketing, don't expect it to stick around.
The rest of the lot had expected dips. The Greatest Showman, Hugh Jackman's P.T. Barnum musical, remains at #4 with only an 18% drop to bring in $7.8 million, boosting its domestic gross up to $137 million. Action pictures 12 Strong and Den of Thieves took the most significant declines of 45% to descend to about $4 million for the weekend. Oscar-expanding pictures The Post and The Shape of Water each dropped down a slot. And Paddington 2 is still hanging in the top 10 for one last weekend with its domestic gross now at $36 million.
Read the full results below.
Jumanji: Welcome to the Jungle ($11,000,000)
Maze Runner: The Death Cure ($10,200,000)
Winchester ($9,250,000)
The Greatest Showman ($7,800,000)
Hostiles ($5,523,000)
The Post ($5,200,000)
12 Strong ($4,710,000)
Den of Thieves ($4,670,000)
The Shape of Water ($4,300,000)
Paddington 2 ($3,110,000)
Next week will find a new crop of contenders for the top spot including the Clint Eastwood directed drama The 15:17 to Paris, the erotic romance sequel Fifty Shades Freed, and the CGI/live-action kids film Peter Rabbit. All of them will be opening in wide release, and it's fair to say that at least one of them will overtake Jumanji.