Box Office: 'Star Wars' Surrenders To Ride Along 2, Revenant After Oscar Snub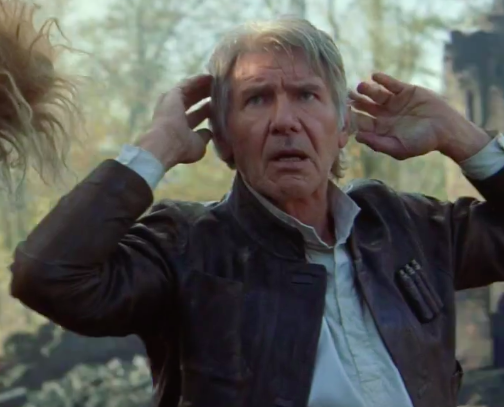 Did Star Wars: The Force Awakens suffer at the box office this week with its lack of Oscar nomination nods?
For Best Picture, members of the Academy of Motion Pictures gave nominations to The Big Short, Bridge of Spies, Brooklyn, Mad Max: Fury Road, The Martian, The Revenant, Room and Spotlight – not a light saber in sight. F
or Best Actor, the nominees are: Brycan Cranston in Trumbo, Matt Damon in The Martian, tar ship in sight, unless you count the rocket ships in the Ridley Scott epic, The Martian, Leonardo DiCaprio in The Revenant, Michael Fassbender in Steve Jobs and Eddie Redmayne in The Danish Girl. Again, there isn't a storm trooper or a rebel leader's name on the list.
This goes down the line for the best of the best, which means any of the awards that makes for the blocked out headlines in U.S. papers the day after the gala awards show, which takes place February 28 this year. The J.J. Abrams blockbuster that is smashing box office receipt records, hasn't any nominations for Best Director, Best Actress or any of the two supporting actor categories.
It isn't on the list of nominees until we get down to Best Film Editing, Best Sound Editing, Best Visual Effects and Best Original Score.
The film, currently aiming for its second billion in box office receipts, doesn't even get a nod for best Makeup and Hair Styling. The three nominees for that category are Mad Max: Fury Road, The Hundred-Year-Old Man Who Climbed Out The Window And Disappeared (that's a real movie, folks) and The Revenant.
So, how did Star Wars: The Force Awakens fare at the box office this week. After four weeks atop the domestic charts, the blockbuster's domestic sales slowed down to a take of $25 million – a slip down to third place behind the Kevin Hart – Ice Cube feature Ride Along 2, which took in $34 million, and The Revenant, which took in a respectable $29.5 million.
The rest of the top 10 for domestic box office receipts included 13 Hours: The Secret Soldiers of Benghazi with $16 million, Daddy's Home with a $9.3 million take, Norm of the North ($6.6 million), The Forest ($5.7 million), The Big Short ($5.2 million), Sisters ($4.4 million), and The Hateful Eight ($3.4 million).
Oscar nominations did give The Revenant and The Big Short a boost in sales this week.
The Big Short has garnered three high-profile award nominations with director Adam McKay and supporting actor Christian Bale up for awards, as well as the film, which is up for Best Picture of the year. The Revenant is up for Best Picture, Best Actor (Leonardo DiCaprio), Best Director, Alejandro G. Inarritu, Best Makeup and Hair Styling, Best Editing, Best Sound Editing, Best Film Editing, Best Visual Effects and Best Cinematography.
Deadpool Dethrones Avengers With Triple-Digit Debut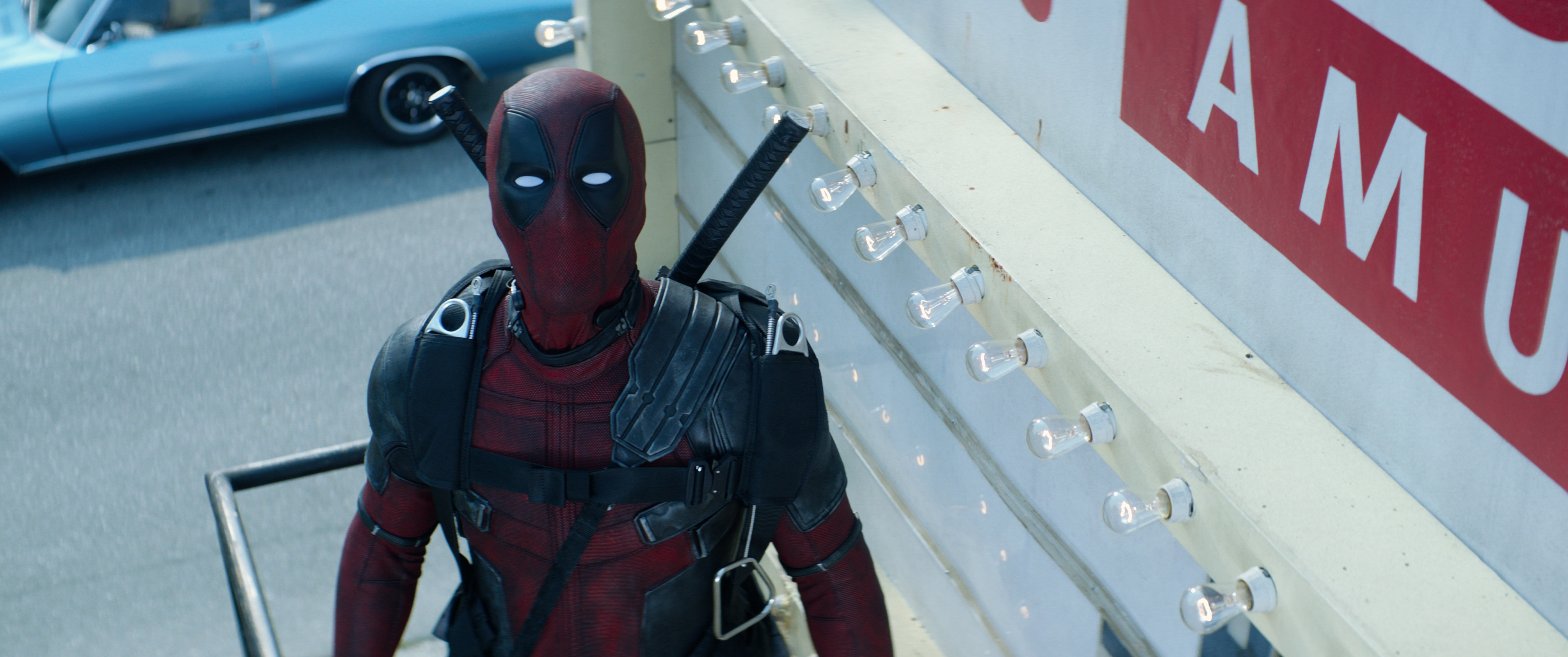 The first film to knock down Marvel Studio's towering juggernaut of Avengers: Infinity War from the #1 slot has arrived. It's no surprise that it would indeed be another superhero movie, but it is surprising by how much it overtook. Deadpool 2, Fox's Marvel property of a fourth-wall breaking anti-hero that satirizes comic book movies, premiered to a huge first weekend of $125 million domestic. Despite being just a few million dollars short of its previous film, it's still an impressive achievement for an R-rated Marvel movie that keeps the momentum going both in comedy and box office. Even more impressive is it's worldwide gross that is currently sitting at a beefy $301 million. Expect it to stick around for such a successful first weekend.
With such a high take from Deadpool, Avengers: Infinity War naturally took a big hit. Dropping by 53%, the blockbuster made only $28.6 million in fourth weekend. It's still standing tall with a domestic total of $595 million, but it's doubtful at this point that it'll reach the same heights as Marvel's earlier 2018 blockbuster of Black Panther. Other debuts this week were not so lucky with such limited takes. The all-female comedy Book Club premiered at #3 for the weekend with a $12.5 million domestic gross. The family comedy Show Dogs placed at #6 with $6 million in its domestic take.
Returning films are weathering the Marvel storm decently with expected drops. A Quiet Place is still hanging in there with the lowest drop of the weekend, bringing in another $4 million to boost its domestic total up to $176 million, still an amazing gross for the $17 million horror movie that could. The giant monster movie Rampage is clinging to the top 10 in its #9 slot, but it's not looking good for such expensive blockbuster still so far away from meeting its budget. And RBG, the documentary on Ruth Bader Ginsberg, remains in the #10 spot from last weekend with its domestic total now up to $3.8 million.
View the full top 10 for the weekend below.
Deadpool 2 ($125,000,000)
Avengers: Infinity War ($28,672,000)
Book Club ($12,500,000)
Life of the Party ($7,725,000)
Breaking In ($6,470,000)
Show Dogs ($6,034,770)
Overboard ($4,725,000)
A Quiet Place ($4,040,000)
Rampage ($1,500,000)
RBG ($1,280,000)
Next weekend will pit Deadpool against another anti-hero in Disney's Solo: A Star Wars Story, the Star Wars side story on Han Solo. It will indeed be interesting to see how a Star Wars movie plays in the summer as the previous three Disney Star Wars productions have all been massive blockbusters in December. For debuting in 4,200 theaters, the pressure is on to see Star Wars topple Marvel.
Another Astounding Weekend at the Box Office for Avengers: Infinity War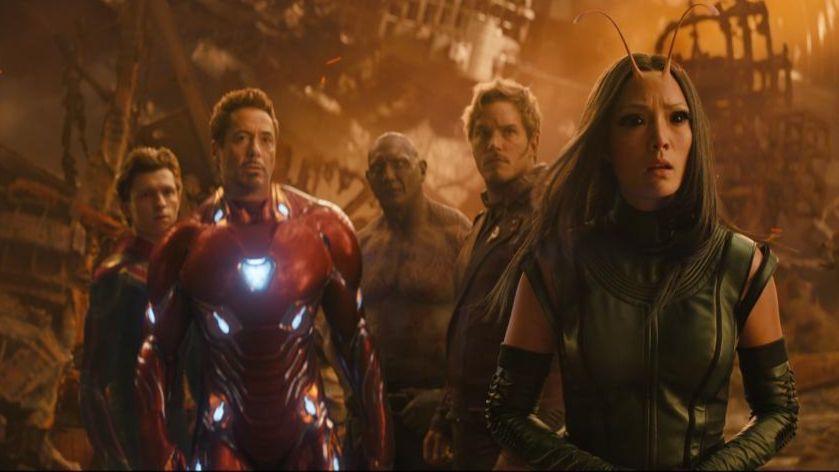 Box Office Weekend 5/4/18-5/6/18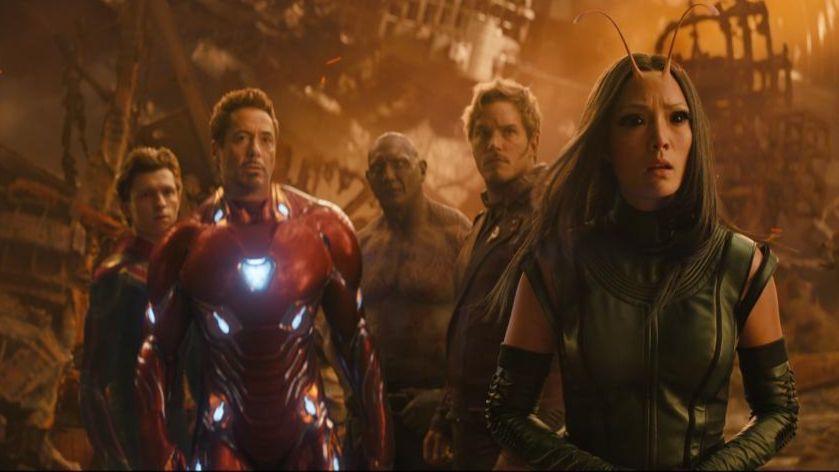 Not the least bit surprising, Marvel's Avengers: Infinity War has dominated the weekend box office with another massive gross. In its second weekend, the grandest superhero ensemble to date brought in $112.4 million. This brings its domestic total up to $450 million, and its worldwide take well over $1 billion. Time will tell if it has the legs, however, to hold its own against Marvel's other superhero epic this year, Black Panther. Considering Black Panther is still in the top 10, and has almost passed $700 million domestic, it'll be a close race between the two Marvel movies.
Of course, the success of the Avengers is due in no small part to this being a rather sparse weekend of premieres appearing in fewer theaters. Braving the Marvel storm to come in at #2 was the romantic comedy remake, Overboard, starring Eugenio Derbez and Anna Faris, making $14.7 million domestic. And if that's the gross of the #2 spot, you can imagine how lower the other films are. Tully, a new comedy Jason Reitman and starring Charlize Theron, came in at #6 with a domestic gross of $3.1 million. Further down at #10 is the new David Tennant starring thriller, Bad Samaritan, making $1.7 million for the weekend.
There were expected dips all around with no huge surprises, but many of the successful films that have hung around are growing a considerable gross. John Krasinski's A Quiet Place had the lowest drop and is currently sitting at a robust $159 million domestic total. Ryan Coogler's Black Panther has already blazed many records, but it's only $7 million away from clearing $700 million domestic.
See the full top 10 box office results below.
Avengers: Infinity War ($112,474,000)
Overboard ($14,750,000)
A Quiet Place ($7,600,000)
I Feel Pretty ($4,900,000)
Rampage ($4,620,000)
Tully ($3,186,000)
Black Panther ($3,146,000)
Truth or Dare ($1,885,000)
Super Troopers 2 ($1,815,000)
Bad Samaritan ($1,758,000)
Next weekend, Avengers will be battling against the Melissa McCarthy starring comedy Life of the Party and the Gabrielle Union starring thriller Breaking In. Considering that Life of the Party will have the most significant theater count, McCarthy has the only real shot at being the first film to knock the superhero giant down from the top 10, though it's doubtful of the Avengers hype will have died down by then.
Life of the Party and Breaking In Dominated by Avengers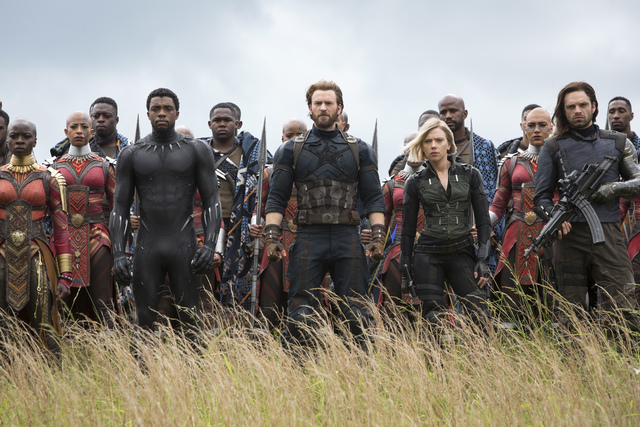 Box Office Report 5/11/18 – 5/13/18
In its third weekend, Avengers: Infinity War is still going strong with a beefy #1 spot that has yet to be bested. Marvel Studio's latest superhero epic amassed $61.8 million for the weekend, soaring its total domestic gross up to $547 million. The film has managed to make more than Marvel's other 2018 hit, Black Panther, in the same amount of time, but whether it'll reach the same domestic gross remains to be seen. With the oncoming superhero film next week and a Star Wars film following, it'll have some fierce competition.
The two newest films this week slid comfortably into the slots just below. Life of the Party, the new back-to-school comedy with Melissa McCarthy, predictably hit the #2 spot for being a female-centric comedy released on Mother's Day weekend. While it didn't exactly take the cake, the film did make $18.5 million to earn its spot during another Marvel cinematic snowstorm of a weekend. Just below it was the new thriller Breaking In, grossing $16.5 million, which is not too shabby for a film debuting in only 2500 theaters.
There were surprisingly low dips all around in the top 10. The smallest drop was for A Quiet Place, still hanging in there as the surprise horror hit, earning $6.4 million to boost its domestic total to $169.5 million. It's not too surprising that the most significant drop was for Black Panther, grossing only $1.9 million. It's a predictable drop considering the movie has been out for thirteen weeks, is already available to buy digitally, and will be out on DVD and Blu-ray by this Tuesday. It's still a considerable feat for a film that has domestically grossed $696 million so far.
One film worth mentioning that snuck into the top 10 is RGB, the documentary on Ruth Bader Ginsburg, expanding for the weekend into 180 theaters. That's very impressive for such a small film to conquer the #10 spot on Mother's Day weekend with a $1.1 million gross.
View the full top 10 list below.
Avengers: Infinity War ($61,817,000)
Life of the Party ($18,500,000)
Breaking In ($16,500,000)
Overboard ($10,100,000)
A Quiet Place ($6,400,000)
I Feel Pretty ($3,710,000)
Rampage ($3,380,000)
Tully ($2,240,000)
Black Panther ($1,932,000)
RGB ($1,165,000)
Next weekend, Infinity War will be going up against a real contender with Deadpool 2, the sequel to the Ryan Reynolds starring superhero comedy that broke records in 2016. Also vying for the box office will be the dog comedy, Show Dogs, and the aged female-oriented comedy, Book Club.