For the first time in weeks, the Jumanji has been knocked down from the top spot of the January box office. It was the debut of Maze Runner: The Death Cure, the third film in the young adult trilogy, was the lead film for the weekend with a gross of $23.5 million. Not exactly a strong opening, but strong enough to topple the current competition. Jumanji: Welcome to the Jungle wasn't far behind, however, bringing in $16.4 million, has surpassed $300 million domestically. For a film that has stuck around since Christmas, that's rather remarkable considering it went head-to-head with Star Wars: The Last Jedi.
Just beneath Jumanji was the expansion of Hostiles, the new Scott Cooper period drama starring Christian Bale and Rosamund Pike. The film debuted in limited markets last December and has now expanded to an additional 2,600 theaters, bringing in $10.2 million for the weekend. Another expansion worth noting is The Shape of Water, the horror romance by Guillermo del Toro, that has been added to an additional 1,000 theaters and brought in $5.7 million, increasing its domestic gross to $37 million. It will likely stick around given its awards chatter.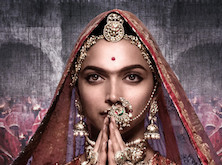 We have another box office surprise with an Indian film that snuck into a few theaters and did incredible business. Wedging into the #10 spot is Padmaavat, a medieval Indian epic, making an astounding $4.7 million for the 324 theaters it played at. That's roughly a $13,000 average per theater, making it leagues ahead of any other film in the top 10.
The rest of the films took likely dips with one exception. The Greatest Showman, still riding its appeal as a big and beautiful musical, notched up a slot to #4 for the weekend with $9.5 million. 12 Strong, the Chris Hemsworth war epic that was met with mixed reviews, dipped all the way to #6 with an $8.6 million take. And Paddington 2 sadly slips down to #9 with $5.5 million, despite the slight uptick from last weekend.
The full top 10 is listed below:
Maze Runner: The Death Cure ($23,500,000)
Jumanji: Welcome to the Jungle ($16,400,000)
Hostiles ($10,205,000)
The Greatest Showman ($9,500,000)
The Post ($8,850,000)
12 Strong ($8,635,000)
Den of Thieves ($8,360,000)
The Shape of Water ($5,700,000)
Paddington 2 ($5,570,000)
Padmaavat ($4,272,998)
Next weekend will be pretty dry with new releases as the only significant film will be the Helen Mirren horror film, Winchester, playing in less than 3,000 theaters. Don't expect it to shake up the top 10 too much.