Box Office: Black Panther Narrowly Succumbs to Pacific Rim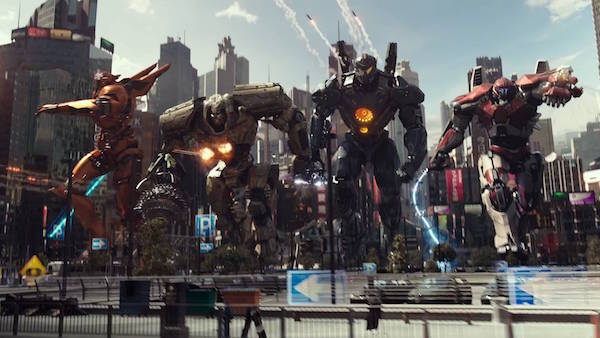 Box office report March 25, 2018
After six weeks at the box office, Marvel's Black Panther has finally been taken down from the #1 slot. It was Pacific Rim Uprising, the sequel to the 2013 giant robot action picture, that was finally able to dethrone the king. For its debut weekend, Uprising brought in $28 million domestic. That's not a stellar opening for a big-budget action picture of giant robots and giant monsters, but enough to kick down Black Panther to the #2 slot, earning $16.6 million for the weekend. Still, it should be worth noting that Black Panther's domestic box office is now sitting at $630.9 million, making it Marvel Studio's most successful superhero film by a margin that could grow wider considering it's just now descending in the box office.
There was a slew of new releases for the weekend that are all over the map. Sherlock Gnomes, the animated sequel to Gnomeo and Juliet, debuted with a $10.6 million gross, placing it in the #4 spot. Sony's religious epic Paul, Apostle of Christ had a small opening of $5 million domestic, but the budget for the film, oddly enough, was $5 million, making its #8 placement not as discouraging. The romantic drama Midnight Sun also had a small opening of $4.1 million to be placed in the #10 spot. But perhaps the weakest debut for the weekend was Steven Soderbergh's psychological drama Unsane, debuting at #11 with a $3.8 million gross.
There was also a heaping dose of massive drops from previous films. The new Tomb Raider starring Alicia Vikander took the biggest tumble of a 55% drop, falling from #2 to #5 after two weekends. A Wrinkle in Time, Ava Duvernay's big-budget take on the classic novel, suffered a 50% drop to descend from #4 to #6. And while Game Night has proven to have legs to stick around in the box office, Peter Rabbit took a 51% fall to be pushed out of the top 10, an odd dip considering Easter is right around the corner.
The films that are proving to have legs is the Christian drama I Can Only Imagine, dipping only 19%, and the teen romance Love, Simon, dipping 33%.
See the full top 10 below.
Pacific Rim Uprising ($28,003,000)
Black Panther ($16,658,000)
I Can Only Imagine ($13,837,495)
Sherlock Gnomes ($10,600,000)
Tomb Raider ($10,430,000)
A Wrinkle in Time ($8,044,000)
Love, Simon ($7,800,000)
Paul, Apostle of Christ ($5,000,000)
Game Night ($4,160,000)
Midnight Sun ($4,119,000)
This week will be an odd one with Steven Spielberg's virtual reality adventure Ready Player One will be debuting mid-week, which could offset how much it will make for the weekend. Debuting that Friday will be two films with devoted audiences: the Christian drama God's Not Dead 3 and the black thriller Tyler Perry's Acrimony. Based on the theater count, it's clear that Ready Player One will be the big winner.
Ocean's 8 Snatches Box Office Top Slot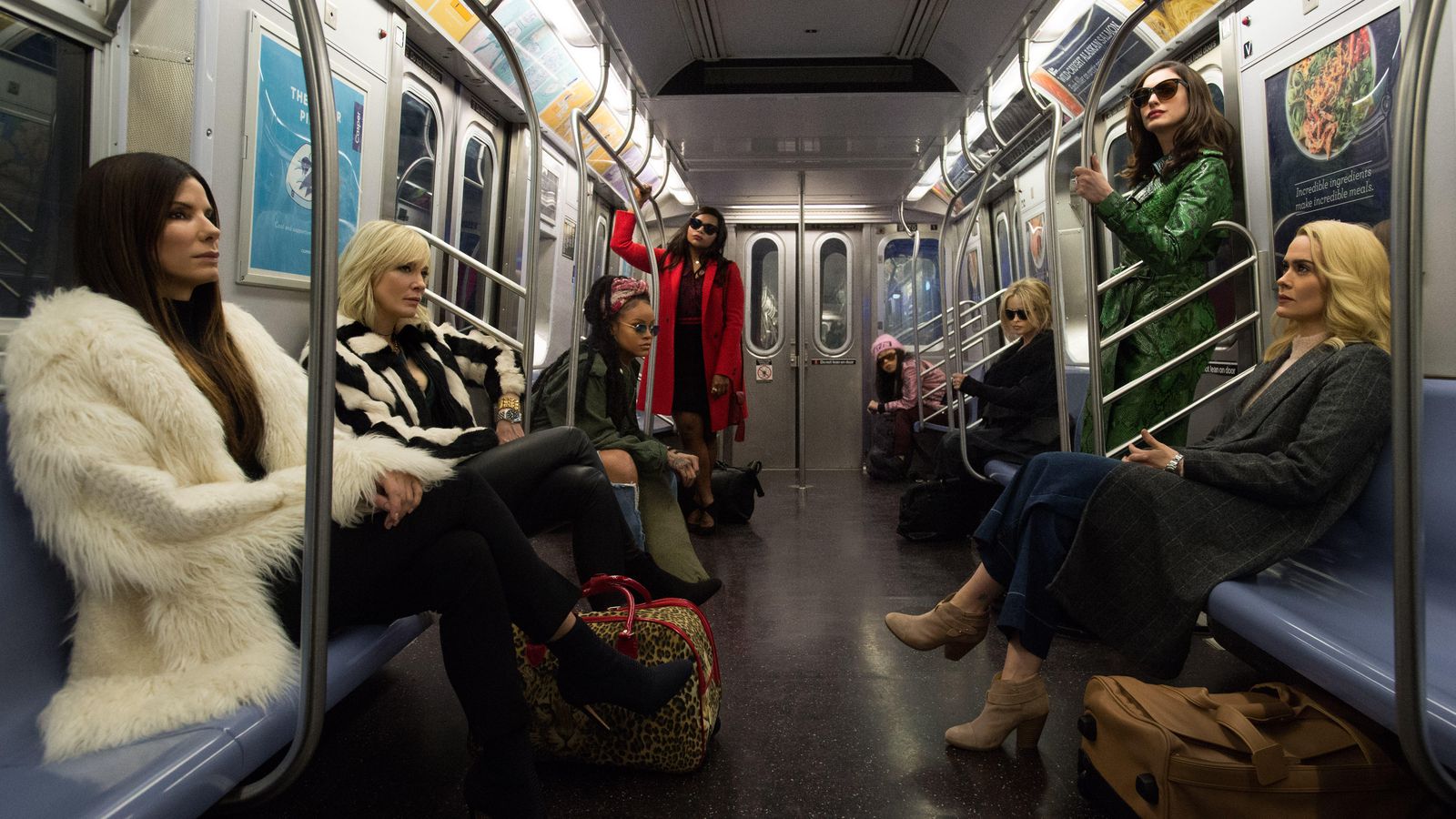 Box Office Report June 8-10, 2018
Ocean's 8, the all-female remake of the heist picture Ocean's 8, made a strong debut for its first weekend. The film starring the likes of Sandra Bullock, Cate Blanchett, and Anne Hathaway brought in $41.5 million. Considering the budget of $70 million, the movie still has a few weeks to go before breaking even.
Summer tentpoles are still lingering and are certainly not going to be leaving the top 10 any weekend soon. Solo: A Star Wars Story, despite a surprisingly low debut gross, remains at #2 with a weekend gross of $15.1 million, bringing its total to $176 million. Not bad for your average summer film, but significantly disappointing for a Star Wars movie that usually brings in a hefty sum. Just beneath it in the rankings is Deadpool 2, the superhero satire starring Ryan Reynolds, making $13.6 million for a total so far of $278 million. And Avengers: Infinity War continues to stay in the top 10 with another $6.8 million, adding to its already epic total amount of $654 million. It may be well on its way to toppling 2018's other superhero blockbuster, Black Panther, which as it happens is just one million away from making $700 million domestic. Infinity War is, however, only $2 million away from reaching $2 billion worldwide.
The two other new films this weekend were lost in the dust, though they may gain a small following. Hereditary, a surprising new horror form studio A24, debuted in under 3,000 theaters but came in at #4 for the weekend with a $13 million gross. Considering the good word of mouth the film has been getting, and an electrified ad campaign of being the "scariest movie ever", it may be sticking around in the top 10 for quite some time. Also debuting much lower is the sci-fi noir picture, Hotel Artemis, coming in at #8 with a small $3.1 million take.
Read the full top 10 below:
Ocean's 8 ($41,500,000)
Solo: A Star Wars Story ($15,154,000)
Deadpool 2 ($13,650,000)
Hereditary ($13,037,336)
Avengers: Infinity War ($6,836,000)
Adrift ($5,050,000)
Book Club ($4,200,000)
Hotel Artemis ($3,151,118)
Upgrade ($2,220,000)
Life of the Party ($2,105,000)
Next weekend's new films will include Pixar's long-awaited superhero sequel The Incredibles 2, the based-on-a-true-story comedy Tag, and the modern remake of blaxploitation classic Superfly. Considering the wealth of fans for The Incredibles, the 4,200 theaters it will be debuting in, and the projected massive take, it's clear as crystal who will be next weekend's winner of the top slot.
Solo Box Office Dwindles in the Second Weekend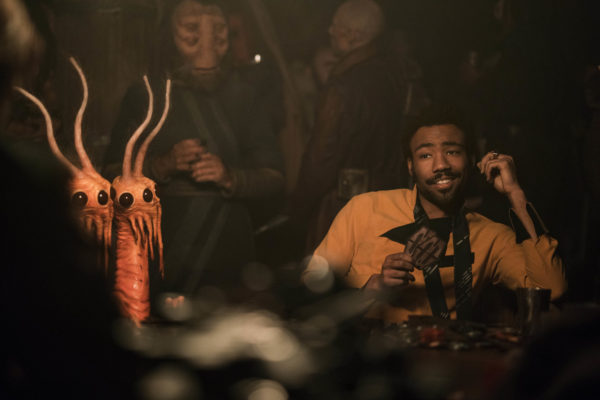 A Star Wars film usually brings about a strong box office, from the groundbreaking blockbuster of the 1977 original to even the prequel films of the early 2000s. But Solo: A Star Wars Story is shaping up to be the most underwhelming of Star Wars pictures, with the exception of 2008's animated Clone Wars movie. In its second weekend, the Star Wars side-story prequel pulled in $29.2 million, a steep drop of 65% from the previous weekend. This brings the domestic total up to $148 million, considerably low for a Star Wars movie, especially when the last Star Wars Story entry made $286 million in this amount of time.
Solo's low box office could also be attributed to the butting up of other blockbusters. Deadpool 2, Marvel's silly anti-hero in its third weekend, brought in $23 million to bring its domestic total to $254 million. Marvel's other superhero juggernaut, Avengers: Infinity War, made $10 million to boost its beefy domestic total to $642 million. Despite strong openings from these two films, it's looking as though their box office takes are going to be hindered by the coming weeks of more chart-stealing summer movies.
The new movies for the weekend blanketed the box office chart in various positions. Adrift, the survival drama starring Shailene Woodley and Sam Claflin came in at #3 with a weekend total of $11.5 million. Upgrade, the bloody sci-fi horror from Blumhouse, arrived at #6 with $4.4 million. And all the way down at #9 is Action Point, the slapstick comedy starring Johnny Knoxville, making only $2.3 million in its debut.
Full box office results are listed below.
Solo: A Star Wars Movie ($29,296,000)
Deadpool 2 ($23,325,000)
Adrift ($11,510,000)
Avengers: Infinity War ($10,371,000)
Book Club ($6,800,000)
Upgrade ($4,458,000)
Life of the Party ($3,455,000)
Breaking In ($2,815,000)
Action Point ($2,315,000)
Overboard ($1,975,000)
Next weekend will feature another plentiful crop of films vying for the top slot. Ocean's 8, the all-female remake of the classic heist film, will smash into 4000 theaters. Hotel Artemis, an all-star cast of a futuristic action picture, will sneak into 2000 theaters. And A24's sleeper horror hit Hereditary will also be targeting many theaters.
Deadpool Dethrones Avengers With Triple-Digit Debut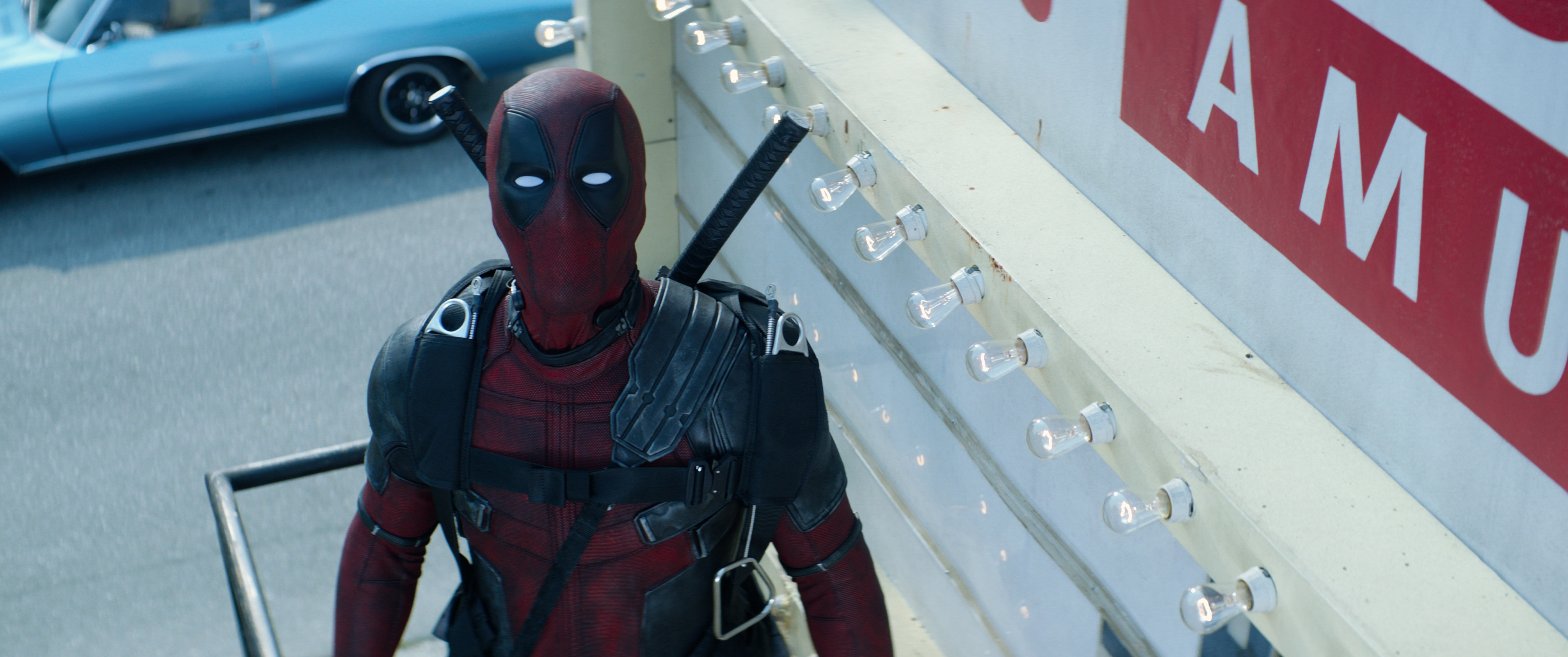 The first film to knock down Marvel Studio's towering juggernaut of Avengers: Infinity War from the #1 slot has arrived. It's no surprise that it would indeed be another superhero movie, but it is surprising by how much it overtook. Deadpool 2, Fox's Marvel property of a fourth-wall breaking anti-hero that satirizes comic book movies, premiered to a huge first weekend of $125 million domestic. Despite being just a few million dollars short of its previous film, it's still an impressive achievement for an R-rated Marvel movie that keeps the momentum going both in comedy and box office. Even more impressive is it's worldwide gross that is currently sitting at a beefy $301 million. Expect it to stick around for such a successful first weekend.
With such a high take from Deadpool, Avengers: Infinity War naturally took a big hit. Dropping by 53%, the blockbuster made only $28.6 million in fourth weekend. It's still standing tall with a domestic total of $595 million, but it's doubtful at this point that it'll reach the same heights as Marvel's earlier 2018 blockbuster of Black Panther. Other debuts this week were not so lucky with such limited takes. The all-female comedy Book Club premiered at #3 for the weekend with a $12.5 million domestic gross. The family comedy Show Dogs placed at #6 with $6 million in its domestic take.
Returning films are weathering the Marvel storm decently with expected drops. A Quiet Place is still hanging in there with the lowest drop of the weekend, bringing in another $4 million to boost its domestic total up to $176 million, still an amazing gross for the $17 million horror movie that could. The giant monster movie Rampage is clinging to the top 10 in its #9 slot, but it's not looking good for such expensive blockbuster still so far away from meeting its budget. And RBG, the documentary on Ruth Bader Ginsberg, remains in the #10 spot from last weekend with its domestic total now up to $3.8 million.
View the full top 10 for the weekend below.
Deadpool 2 ($125,000,000)
Avengers: Infinity War ($28,672,000)
Book Club ($12,500,000)
Life of the Party ($7,725,000)
Breaking In ($6,470,000)
Show Dogs ($6,034,770)
Overboard ($4,725,000)
A Quiet Place ($4,040,000)
Rampage ($1,500,000)
RBG ($1,280,000)
Next weekend will pit Deadpool against another anti-hero in Disney's Solo: A Star Wars Story, the Star Wars side story on Han Solo. It will indeed be interesting to see how a Star Wars movie plays in the summer as the previous three Disney Star Wars productions have all been massive blockbusters in December. For debuting in 4,200 theaters, the pressure is on to see Star Wars topple Marvel.