Bill Murray Joins Adam Sandler And Will Ferrell In Search Of Box Office Gold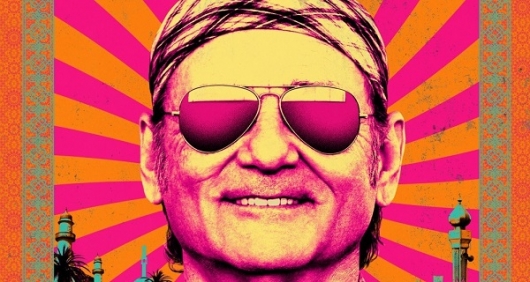 It's a bit of a puzzle to figure out who was the target audience for the latest Bill Murray feature, Rock the Kasbah, which was given an 8 percent approval rating by Rotten Tomatoes and took in less than $2 million in ticket sales in the combined audiences of the United States and Canada.
My first complaint – besides the simple fact that it is a pandering piece of work – revolves around the concept of Bill Murray figuring out what he should do now that he is 65 and his best years in comedy are behind him.
His last two attempts have been efforts in which he continues the same shtick that worked for him when he was younger. In St. Vincent, with Melisa McCarthy, he played an old timer still clinging to his drinks and his pot, as a ne'er-do-well neighbor who was irresistibly incorrigible – in other words, the same old Bill Murray. In Rock the Kasbah, Murray again tries to cash in on his ne'er-do-well persona as a hip, but aging music manager, which allowed the script writers to drop as many references to famous rocker as they could.
Does Hollywood get it yet? Murray's schtick always cashed in on the point that he isn't a good actor; he just knew how to compensate for that. On the surface, Murray was always insincere, which meant he could be a ham instead of a talent. But now the talent Gods are calling and he hasn't got much left.
Of course, this same demon has also exposed both Will Farrell and Adam Sandler, two other Saturday Night Live veterans, for their collective lack of acting chops. Sandler's love me, even though I'm a stoner, routine, has run its course. Meanwhile, I could never tolerate Farrell long enough to understand his shtick, except for very loud and demanding. What else has he got? Don't ask me.
No question, the men from Saturday Night Live have had a far better run than the women. Dan Aykroyd, Bill Murray and Eddie Murphy have had numerous high-rolling successes in Hollywood. (Notice, I don't include Steve Martin, who was a frequent guest, but never a cast member of Saturday Night Live.) In addition, Chris Farley, Dave Spade, and Mike Myers, among others, had sporadic success on the big screen.
The women from SNL who have made it in Hollywood include Kristin Wiig, who is finding dramatic and comedic work in California, Tina Fey, who also a versatile film star, and who can be Maya Rudolph, who can be silly and serious, as well.
But IMDb's list of the top 20 female stars from SNL show few others with any noteworthy success on the big screen. Jane Curtin has had a stellar career, but most if it has been in television – Third Rock From The Sun was one of her follow ups. Julia Louis-Dreyfus has also asserted herself, but mostly on the show Seinfeld. Still, she has notched nominal success in Hollywood with Fandango listing her in nine feature films – not many compared to 25 for Chevy Chase, 27 for Eddie Murphy, 45 for Will Farrell, 46 for Dan Aykroyd, 50 for Adam Sandler and 53 for Bill Murray.
That said, many are saying that Sandler can no longer find a job; his popularity has run its course. Will Farrell shows no indication of slowing down, although shameless defines most of his career. Murray and Aykroyd – what about getting together again? Lastly, Eddie Murphy, who is only in his 50s and is listed as the fourth highest grossing actor of all time. Yes, finding the right role is hard for him, too, but give it a go, Mr. Murphy. You've got years of options ahead of you. Certainly, we need you now, as much as we ever did.
"Aquaman" Washes Out Christmas, "Bumblebee" and "Poppins" Close Behind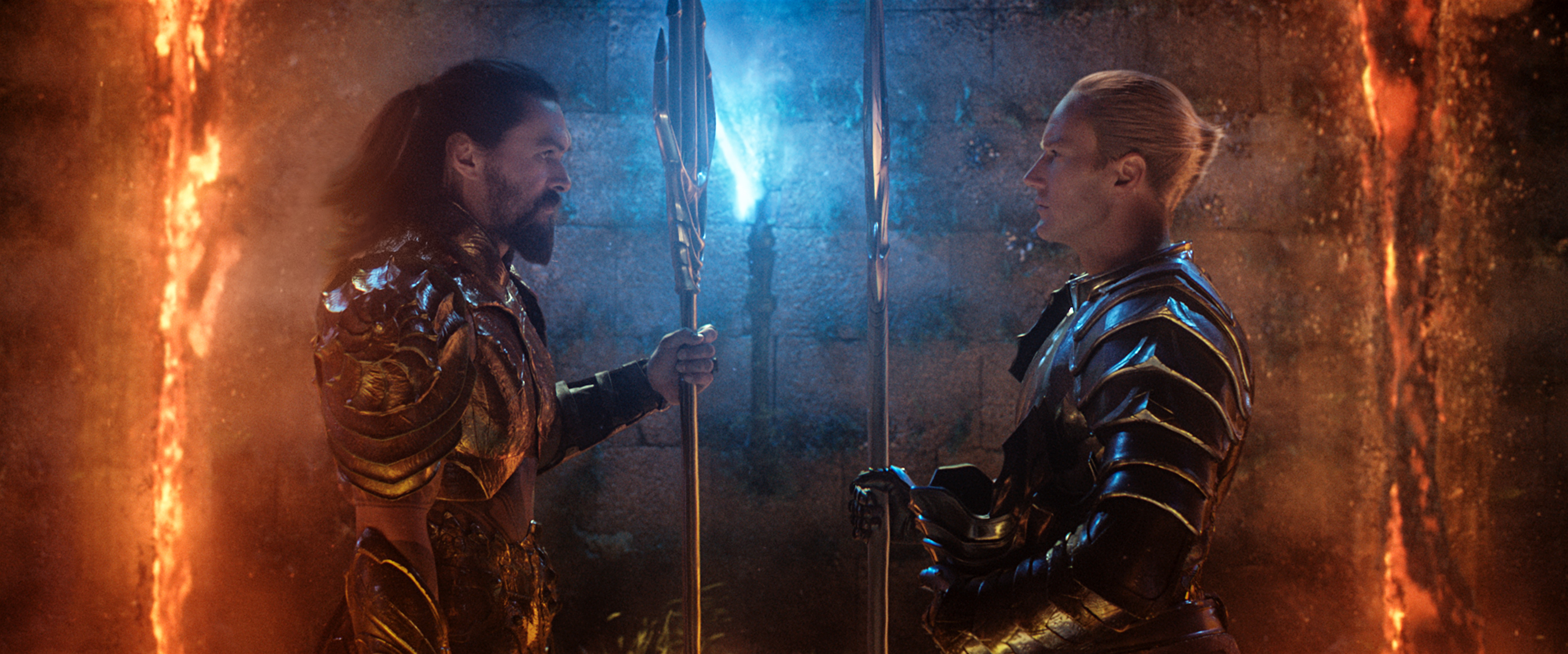 Christmas weekend was a savage one. All manner of genre films came out to play, eager to be the biggest blockbuster of holidays. But there could only be one winner and it was the king of the oceans. Aquaman, the Jason Momoa starring superhero epic based on the DC Comics character, arrived at #1 for the weekend with a domestic gross of $67 million. Though it has a ways to go as such an epic to make its money back, the film is off to an enthusiastic start.
Following closely behind Disney's Mary Poppins Returns, the sequel to the Disney musical classic now starring Emily Blunt, earning a weekend debut of $23.5 million. Despite opening early on Wednesday, the film still only made about $32 million which isn't looking especially strong for Disney during the holidays. This is especially concerning given that the film is a close call for the #2 slot as Bumblebee, the Transformers spin-off of the titular heroic transforming robot, came up with a $21 million gross. That being said, Bumblebee's opening is concerning given the big opening grosses of the previous Transformers film that were usually massive.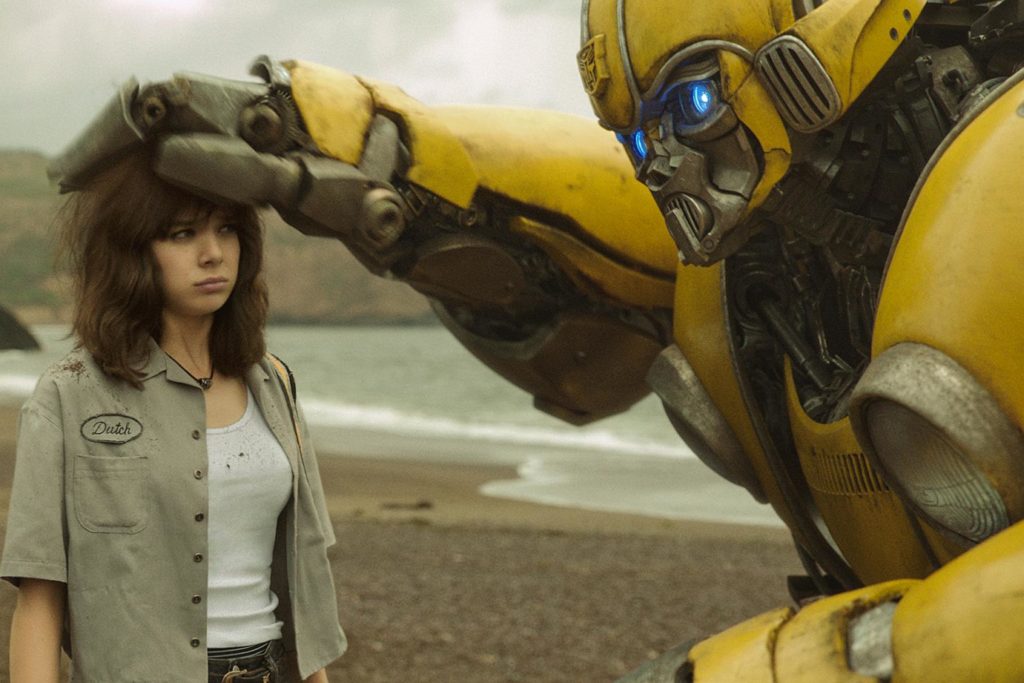 But that's nothing compared to the low debuts of the films that were not intended as genre blockbusters. Second Act, a romantic comedy starring Jennifer Lopez, would debut at #7 with a domestic gross of $6.4 million. Even further down the list is Welcome to Marwen, the new Robert Zemeckis directed drama starring Steve Carell, came in at #9 with a box office of $2.3 million. Brutal.
View the full top 10 box office results below:
Aquaman ($67,400,000)
Mary Poppins Returns ($23,523,121)
Bumblebee ($21,610,000)
Spider-Man: Into the Spider-Verse ($16,635,000)
The Mule ($9,727,000)
Dr. Seuss' The Grinch ($8,548,370)
Second Act ($6,480,000)
Ralph Breaks the Internet ($4,702,425)
Welcome to Marwen ($2,366,560)
Mary Queen of Scots ($2,277,820)
Next weekend may be a bit of quiet one as we shall see how the films released on Christmas Day will fair. Holmes and Watson, the new Sherlock Holmes comedy starring Will Ferrell and John C. Reilly, opens to 2,700 theaters. Vice, Adam McKay's new biopic dramedy about Dick Cheney with Christian Bale playing the character, is opening to 2,300 theaters. Stan & Ollie, a biopic on Laurel & Hardy starring Steve Coogan and John C. Reilly, will be in a limited number of theaters on December 28th.
First Box Office Weekend of 2019 Finds "Aquaman" King (Again)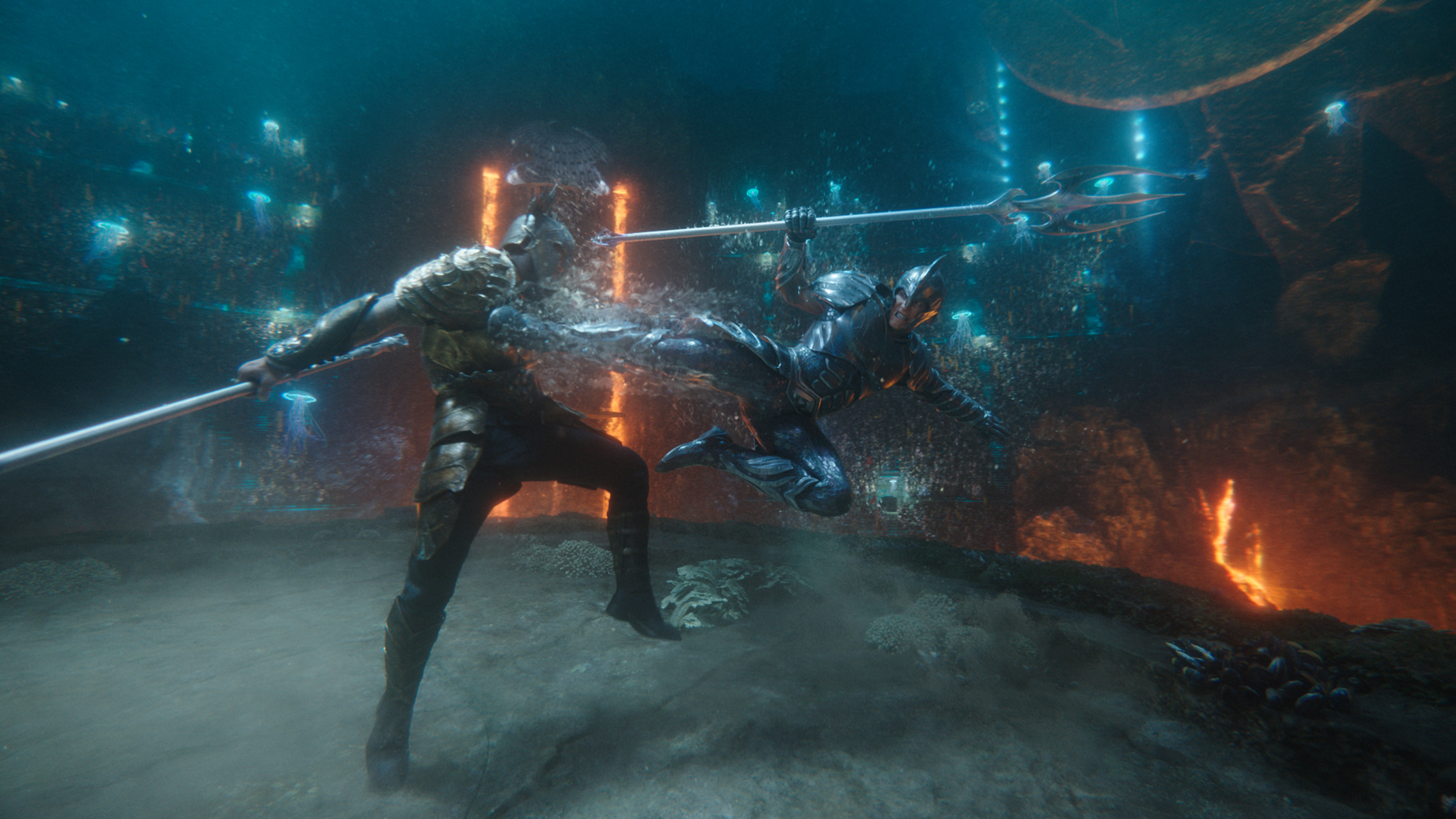 It's a new year and so we enter into the chilly month of January, usually reserved for Oscar nominations to strut their stuff and mediocre-to-decent films to swoop in and make a mint. Similar to last year, the first big new film a lukewarm horror picture. Escape Room, the horror film based on the party activity craze of escape rooms, debuted at #2 with a decent January take of $18 million. Not a terrible opening at all for such a horror film but most of its bigger gross was eaten up by Aquaman, the DC superhero epic that continues to make waves. Even though the film took a 41% dip from last weekend, the movie has currently $259 domestic with a worldwide gross total of $940 million. It's a big success for DC Comics trying to catch up with Marvel Comics at the box office and Aquaman is still looking good coming into a slow January.
With Escape Room being the only major release, there are no big surprises for the shifting of placement. Mary Poppins Returns holds firm as a family film for winter, the domestic total now sitting at $138 million. Spider-Man: Into the Spider-Verse, having recently won the Golden Globe for Best Animated Feature, is still just below with a domestic gross of $133 million. Still struggling to crack $100 million is Bumblebee, the Transformers spin-off. Despite being the highest-rated Transformers movie by miles, the film has only made $97 million after three weekends.
The longest holdout in the top 10 box office is Ralph Breaks The Internet, Disney's cyberspace adventure sequel. Released during Thanksgiving, the Disney animated film has to date made $187 million domestic after seven weekends. Just below it, however, is a film that has been in theaters for two weekends but has already seen a massive drop, Holmes and Watson, making headlines for being one of the worst films of the year with a descending box office.
View the full top 10 box office for the weekend below:
Aquaman ($30,700,000)
Escape Room ($18,000,000)
Mary Poppins Returns ($15,773,000)
Spider-Man: Into the Spider-Verse ($13,010,000)
Bumblebee ($12,775,000)
The Mule ($9,040,000)
Vice ($5,803,490)
Second Act ($4,910,000)
Ralph Breaks the Internet ($4,685,000)
Holmes and Watson ($3,400,000)
Next weekend will feature some bigger competition of dogs, clones, and soft human drama. A Dog's Way Home, a spiritual sequel to A Dog's Purpose, will debut in 3,000 theaters. Replicas, a sci-fi thriller starring Keanu Reeves, will hit 2,500 theaters. The Upside, a dramedy where Bryan Cranston plays a paraplegic and Kevin Hart is an inept assistant, will premiere to 3,000 theaters. The battle is ultimately between A Dog's Way Home and The Upside but I'm willing to bet a PG dog movie will take the top spot or about as high a spot it can muster with Aquaman still in play.
"The Upside" Topples Over "Aquaman", "Dog's Way Home" Trails Behind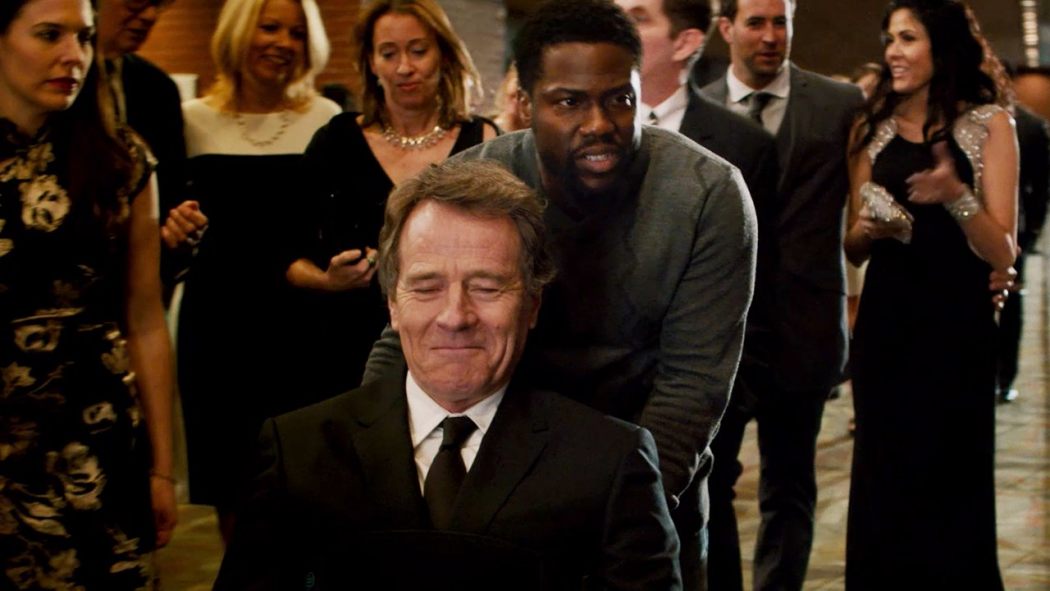 Delving deeper into January, the King of the Ocean has finally been toppled by a thin wave of the right drama at the right time. The Upside, the paraplegic dramedy starring Bryan Cranston and Kevin Hart, debuted at #1 for the weekend with a domestic gross of $19.5 million. It wasn't exactly a huge opening but it was just high enough to conquer over Aquaman. The DC Comic book character played by Jason Mamoa has been the biggest money-maker since its debut before Christmas and it continues to grow in box office even after being bumped down to #2. In its fourth weekend, the superhero epic made $17 million, the domestic total now sitting at $287 million. Worth noting is that the international box office is now sitting at over $1 billion.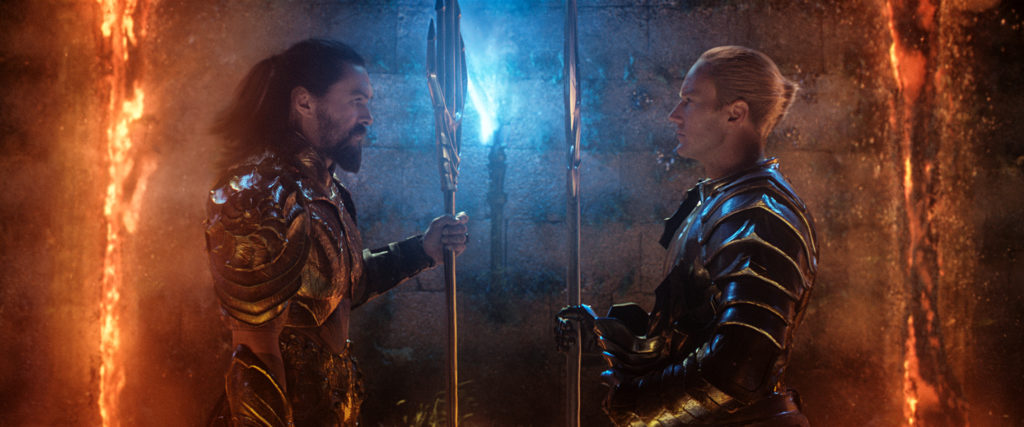 Another premiere for the weekend trailing slightly behind is A Dog's Way Home, the spiritual sequel to the dog drama A Dog's Purpose. The film came in at #3 with a domestic gross debut of $11 million. Not a terrible opening for the $18 million dog movie, fairing far better than the other debut, the sci-fi thriller Replicas, which was so low it's not even in the top 10.
Spider-Man continues to prove he has the moves to stick close to the top in the box office since its December debut. In its fifth weekend, the animated superhero adventure made $9 million with a total of $147 million domestic. Considering the movie moved up slightly from its spot last weekend with a rather low percentage drop, expect Spider-Man to hang around until the end of January and maybe a bit into February.
Expanding this weekend and shooting up in the box office is the Ruth Bader Ginsburg biopic On the Basis of Sex. After blowing up into 1,800+ theaters, the film made a weekend gross of $6 million, boosting its domestic total to $10.5 million. It probably won't stick around too long as January continues to crowd for awards season but we'll wait and see how much staying power it has over the coming weeks.
View the full top 10 box office results for the weekend below:
The Upside ($19,590,000)
Aquaman ($17,265,000)
A Dog's Way Home ($11,300,000)
Spider-Man: Into the Spider-Verse ($9,000,000)
Escape Room ($8,900,000)
Mary Poppins Returns ($7,215,000)
Bumblebee ($6,775,000)
On the Basis of Sex ($6,227,000)
The Mule ($5,545,000)
Vice ($3,278,644)
Next weekend will be all about Shyamalan Glass, the sequel to 2016's Split, will be hitting 3,500 theaters. Does director M. Night Shyamalan still have the box office draw for his closure of a trilogy? Stay tuned for next weekend to see if he can best Aquaman and The Upside for the top spot.